Posts Tagged 'moving'
January 17th, 2012 | Rachel
… is that it is a total logistical hassle.
I have been so worried about my stuff not fitting in the U-Haul trailer (and a myriad of other moving-related matters) that I haven't been able to sleep.  Falling asleep isn't the problem, but then I wake up five hours later with my mind racing with everything I need to do.  Add on top of that the list of things I want to do and the people I want to see, and there just isn't enough hours in the day.  And add on top of that the incredibly loud hissing that comes out of the radiator in my bedroom every morning, and I have no hope of going back to sleep.
Fortunately, I have the unyielding support of my family, my friends and Steve, and everything is slowly but surely coming together.
Speaking of friends, these two criminals (pictured below) totally surprised me last week with a going-away party at one of my favorite happy hour bars in the city, Essex, along with about 25 of my favorite New Yorkers.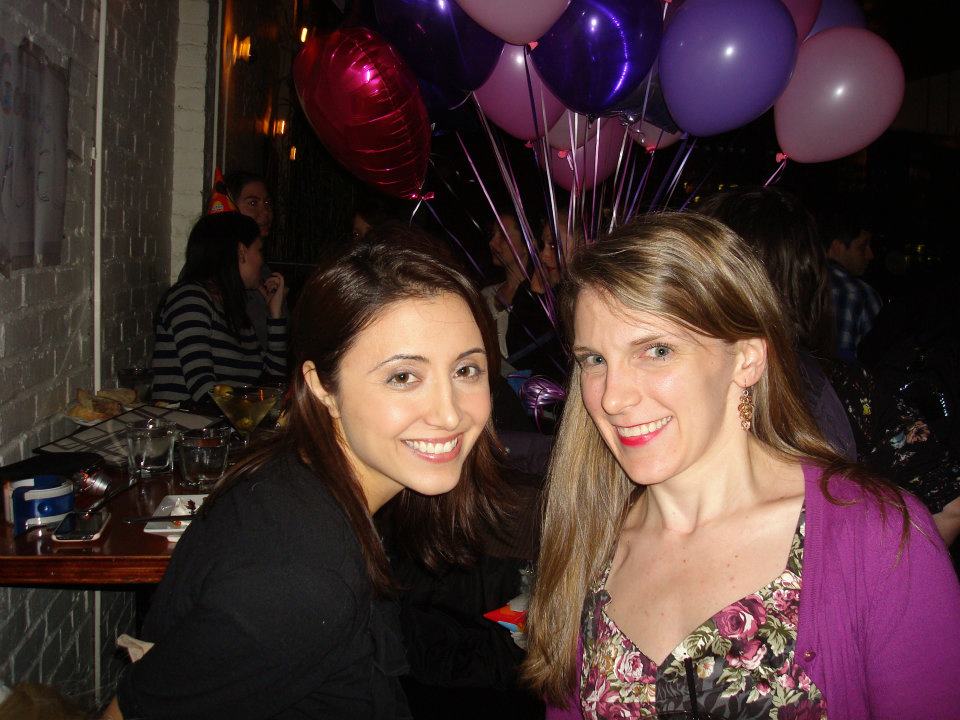 Davina and Carey, the masterminds behind my surprise going-away party
I'll be posting a few more photos from that event (including some of me embracing the full California Girl persona in a long blonde wig) when I get them.  I also had little going-away gatherings with my co-workers from the bakery and my church friends (the latter of which was sweetly organized by Arthur).
This final week I am having a little drop-in get-together at Arctica Bar that was planned well before I knew of the surprise party.  After that, it'll be time to pack up and head out of town.
I'm starting to get sad about leaving all of my friends.  I knew that was going to be the part I miss the most, but it didn't really hit me until the surprise party.  I'm also starting to freak out a little about the fact that I am unemployed and will remain so for at least the next three weeks.
I'm excited to get on the road, though.  Davina is joining me for the first leg, and we have a great itinerary of people we want to visit on our drive down.  I'm also excited to spend some extended time with my family in Alabama while I wait for Steve to meet up with me.  Finally, I am especially excited about seeing Steve on my birthday (January 31st), as it will have been six weeks since I last saw him.
I figured out the space issue with the trailer, by the way.  I opted this morning for a last minute U-Box, which is a small container that will be delivered to my storage so I can load it up.  Then they will ship it over to California and store it until I can come get it.  It was quite a bit more expensive than renting the trailer (although considerably less than hiring a mover), but I think it is more than worth it due to the peace of mind it is already bringing me.
Stay tuned for those photos of me as a blonde.  They actually aren't as bad as I would have expected.