Posts Tagged 'Reasons I Love New York'
January 5th, 2012 | Rachel
Join me in the comments or on your own blog as I give thanks every day this month.
View from the roof of my first apartment building in New York City
Dear New York City,
As you may have heard, I am leaving you in a few short weeks.  I assure you this isn't due to anything you have done.
I never planned on living in this self-acclaimed "center of the universe."  I was interviewing for summer law firm jobs during law school — mostly because everyone else was doing it — and a classmate suggested I interview with the New York office of a particular firm.  I did the interview, got the summer job, and eventually got a full time job with the same New York office after I graduated.  It was an opportunity too good to refuse, so when I returned from my travels in southeast Asia and Italy after taking the New York state bar exam, I packed my bags and moved to the big city.
Even then, I didn't think I was going to stay very long.  My plan at that point was actually to move back to North Carolina after a few years.  Did I want to move back to North Carolina?  No way, but I didn't truly consider a future in New York City until my reason for moving to North Carolina — a relationship — ended.
Only then did I start to see the city for the ocean of possibilities that it is.  There is literally something for everyone here.  I don't care who you are or who you want to be, there is a place for you in New York.  I don't think any city in the world can compare to the diversity of this city.  Not only that, but at any given time there are a hundred interesting activities to do.  At times there are too many things to do because I find it impossible to do the necessary boring things like laundry and grocery shopping.
I know New Yorkers get a bad rap for being rude.  In truth, it is more focus than anything else that causes people here to steam forward at full speed with seemingly little regard for those around them.  People actually go to great lengths to speed around others rather than other them.  If there is a reason for someone to shift their focus outward, they will.  I've never seen someone ask for directions and be turned away or ignored.  I've also been on the subway several times where someone dropped something as they were leaving — keys, a glove, a Metrocard — and had several people jump up to hand them the dropped item before the subway doors closed.  I find it kind of amazing that people get along as well as they do considering the constant close contact we have with each other.
So why am I leaving, you ask?
There's not much about you, New York, that I can point to.  Your rent is a little high (and by a little, I mean obscenely, and your real estate brokers are some of the worst people I've ever had the curse of doing business with).  Weather-wise, you get a little too cold during the winter and too hot during the summer (and this is coming from someone who spent every summer as a kid in either Alabama or South Carolina).  Also, although I don't consider New Yorkers rude for the most part, it sure is nice to be around friendly strangers every now and then.
None of those things are dealbreakers, though.
In truth, I'm leaving because I am starting to realize that the opportunities and life I want are better found elsewhere.  I want to settle down a little and plant some roots in a community where I can be involved.  I want to start a business, something that would be cost-prohibited in New York City.  I want to be able to ride my bike to the beach or pack up my car and go camping.  I want the air to be a little fresher, the noise to be a little softer, and the pace of life to be a little slower.  I also want a yard with a big dog.
None of these things reflect negatively upon you, New York, and I hope you won't take my move personally.  I am thankful for the many lessons you have taught me: to be a little tougher, a little more confident, a little more open-minded, a little more adventurous.  I hope I can take the best parts of you with me when I leave.  I am most thankful for the incredible friendships you have given me, and fortunately those are portable too.
I am so thankful for the four years I've spent here.  I can honestly say I am a better person for it.  Whether it is only for six months, six years, or even sixteen years, I think anyone who has a dream of living in New York City should come give it a try.  This is the city where dreams are made, even if those dreams ultimately lead elsewhere.
Thank you, New York.  This isn't the last you'll see of me.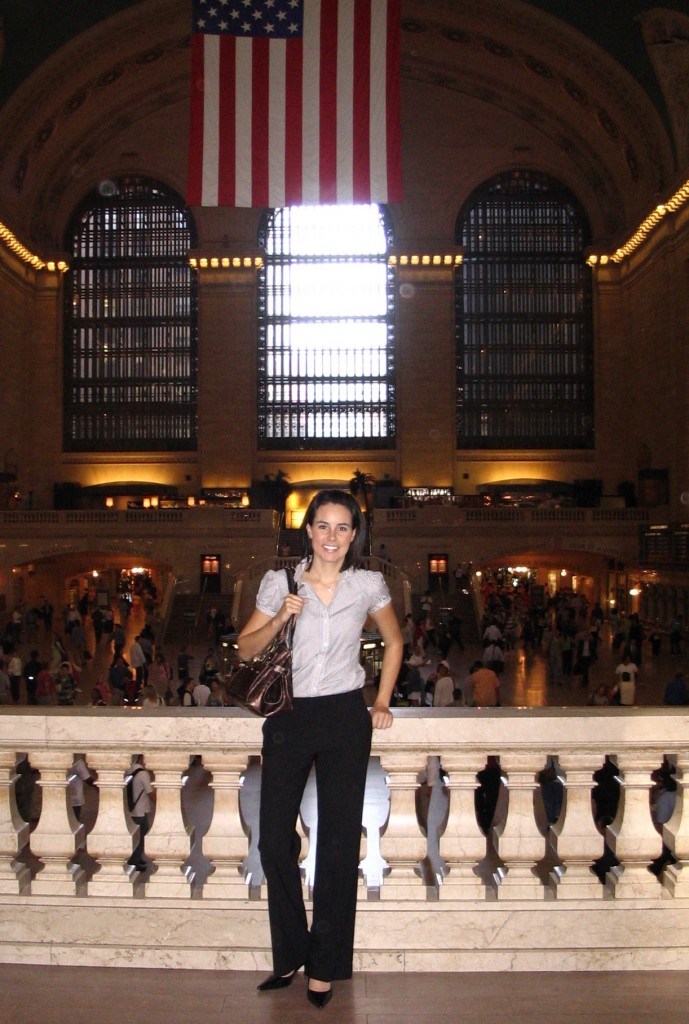 Passing through Grand Central Station on my way to work as a summer associate