{Thankful November} 6: Sleep
November 6th, 2011 | Rachel
Join me in the comments or on your own blog as I give thanks every day this month.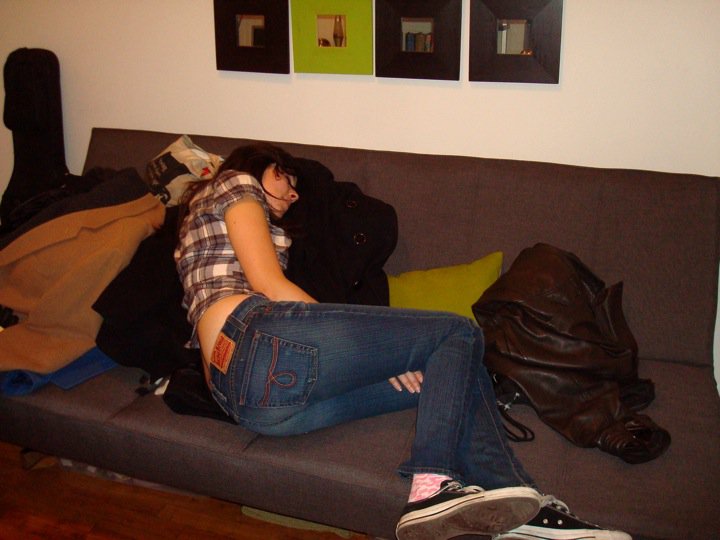 Sneaking off and falling asleep at Carey's birthday party
I stayed out late last night singing karaoke in honor of a co-worker's birthday (and rapping, I should add).  Then I had to wake up at 5:30am this morning because I had to open the bakery.  After a very  busy day of work due to the New York City Marathon spectator crowd, I attempted to take a nap at my friend Arthur's house.  The nap never happened, but Arthur and I did plan a menu for our jointly hosted "southern-style" Thanksgiving dinner for all of the orphans in the city who can't go home.  I'm actually scheduled to work on Thanksgiving, so unfortunately I will not be spending it with my family this year.
Later this afternoon, I remembered my former co-worker Amelia was running the marathon and having a little celebratory get together afterward.  Despite my increasing exhaustion. I drug myself back to the bakery to pick up some cupcakes for Amelia.  Afterward giving her my congratulations in person, I went back to the east side for church, and then grabbed dinner with a friend after that.
All of that on four hours of sleep, and I suspect the night before was similar.
Right now the only thing I can think about is lying down on our fancy tempurpedic bed and instantly falling asleep.  It is going to feel so good.
Whenever I am living alone, or in this case when Steve is on the ship, I develop terrible sleeping habits.  I fall asleep on the sofa or sit and waste hours on the internet.  This past week my average schedule involved sleeping on the sofa from about 1am to 4am, attempting to be productive from about 4am to 8am, and then finally putting myself to bed a few hours before I have to wake up.  Even right now I am fighting the urge to lie down on this sofa and sleep for a few hours.
I'm so tired I already forgot what the point of this post was.
Oh, right, sleep.
Sleep is essential to being a balanced, sane person, and we could all stand to get a little more of it.  I'm thankful for the bliss of lying down on my soft bed after a hectic day and the refreshing feeling that comes after getting a good night's sleep.
On that note, good night and thank you sleep.
Join me in the comments or on your own blog as I give thanks every day this month.