{Thankful November} 24: Steve
December 22nd, 2011 | Rachel
Join me in the comments or on your own blog as I give thanks every day this month.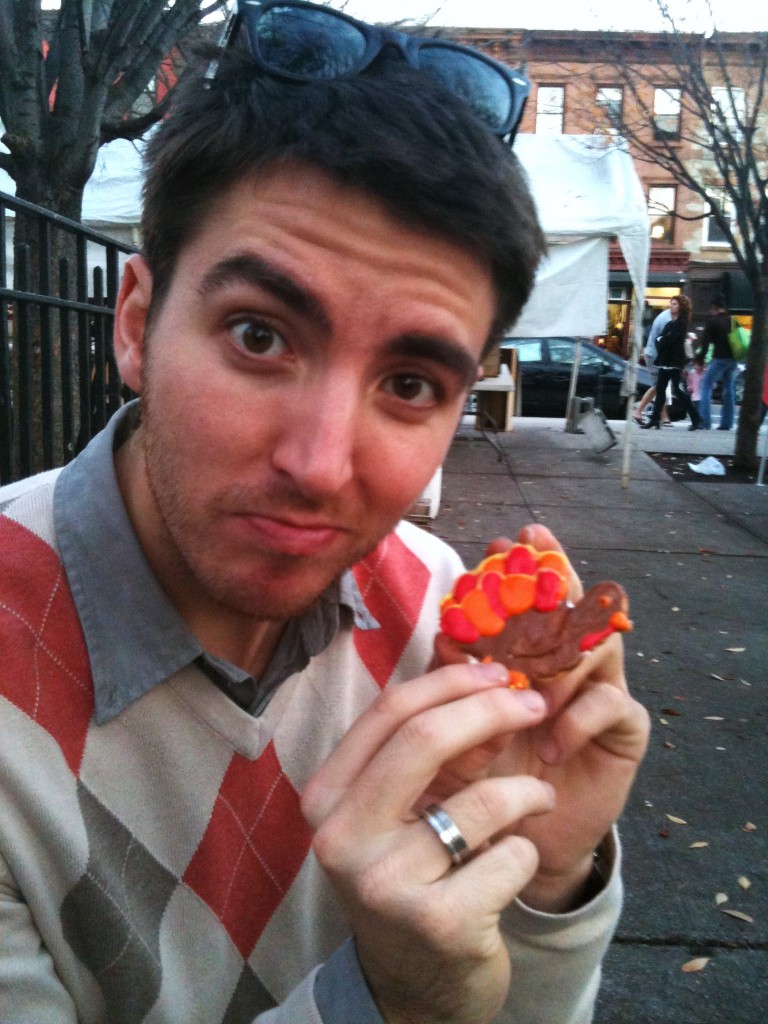 Steve with turkey cookie in Park Slope (2009)
This is the first photo I took of Steve a little over two years ago.  I've been documenting his every move with my iPhone ever since.  Ok, it's not that extreme, but the album of Steve and Rachel photos would be pretty extensive already if I ever took the time to put it together.
Steve and I have somewhat of an unconventional relationship due to the fact that he works on a ship and is away roughly three to five weeks at a time and then returns for a similar duration before going back to the ship.  When we first started dating, Steve was working at a shipyard in South Korea.  Right now he is five miles off the coast of South Africa.
Steve and I met probably the only way a merchant mariner with penchant for traveling and a busy New York City litigator could meet: Match.com.  I had been sifting through messages from lame 40-year olds and guys with severe grammatical impairments when I did some browsing of my own and found Steve's handsome face and witty profile. It took us three months to finally meet due to Steve's work schedule and the fact that I kept cancelling our dates.  When we finally did meet, it was at a wine bar near Flat Iron and I was already three or four glasses down the rabbit hole thanks to a wine class right before our date.
We sat and talked for several hours, well past closing time, until we could no longer ignore the daggers coming from the eyes of the waiter and bartender.  We had our second date a few days later and a third date a few days after that.  Fast forward two years and we've island-hopped in Greece, road-tripped in France, house-hunted in California, Magic-Kingdomed in Disney World and taken full advantage of the cultural and culinary offerings of New York City.
I was initially captivated by Steve because of his love of adventure and great listening skills.  Steve is *almost* as well-traveled as I am ;-) and when you talk to Steve, it really feels like he cares about what you are saying.
Not long after that, I learned that Steve is also really good at planning things.  A few months after our first date, Steve sent me a detailed list of 24 dates he wanted to go on, including "23. Tango lesson… followed by Argentinean Steak dinner and pisco sours" (which we did) and "2.  New York Philharmonic and afterwards visiting the famous cheese cart guy" (we've been to the Philharmonic several times, but I don't know about the cheese cart guy).
Steve has a great sense of style (in his own special Steve kind of way… both in his wardrobe and his apartment), and he really cares about his family.  He is very smart, very supportive, very sweet and a little spontaneous.  And he's good at fixing things.
Steve is a lot to be thankful for, and he's the perfect companion for this crazy adventure that is going to start next year.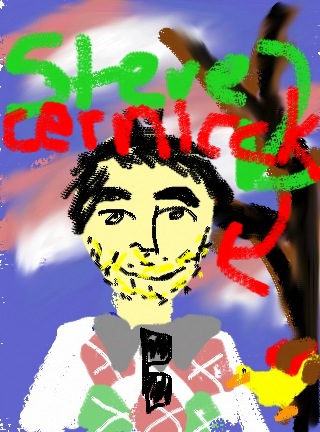 Artistic representation of Steve with turkey cookie (2009)
One Response to "{Thankful November} 24: Steve"