Archive for the 'Travel' Category
January 18th, 2013 | Rachel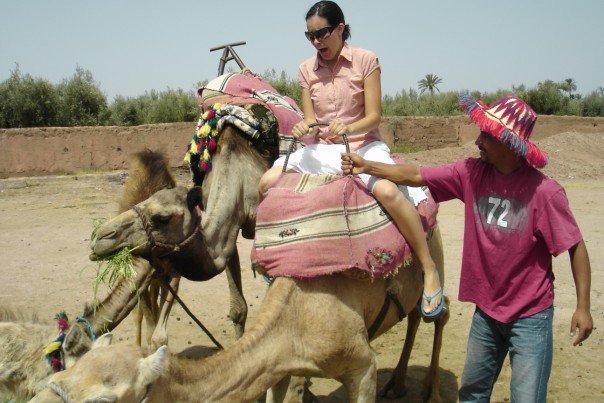 #11: Morocco
One of the travelers I met in India recently posted something about achieving 30 by 30, that is 30 countries by the time she turned 30. What a great goal to have! I hadn't tallied my own travel checklist in a while, so I made a list to see if I met that challenge. My thirtieth birthday is fast approaching at the end of this month.
I'll preface this exercise by acknowledging that lists such as this aren't always the best measure of travel experience because they don't distinguish a single short weekend trip from repeat visits from actually living somewhere. Some people include layovers, but unless you exit the airport and tread on actual soil, I say it doesn't count. It also gets fuzzy when you are dealing with socially distinct regions that are technically a part of another country. The United Kingdom is one example, which comprises England, Scotland, Wales and Northern Ireland. Taiwan and Tibet are other examples, as they are technically a part of China. Despite my personal opinions regarding Tibet's independence, I have listed them together. On the other hand, some tiny places like Vatican City are a country all of their own.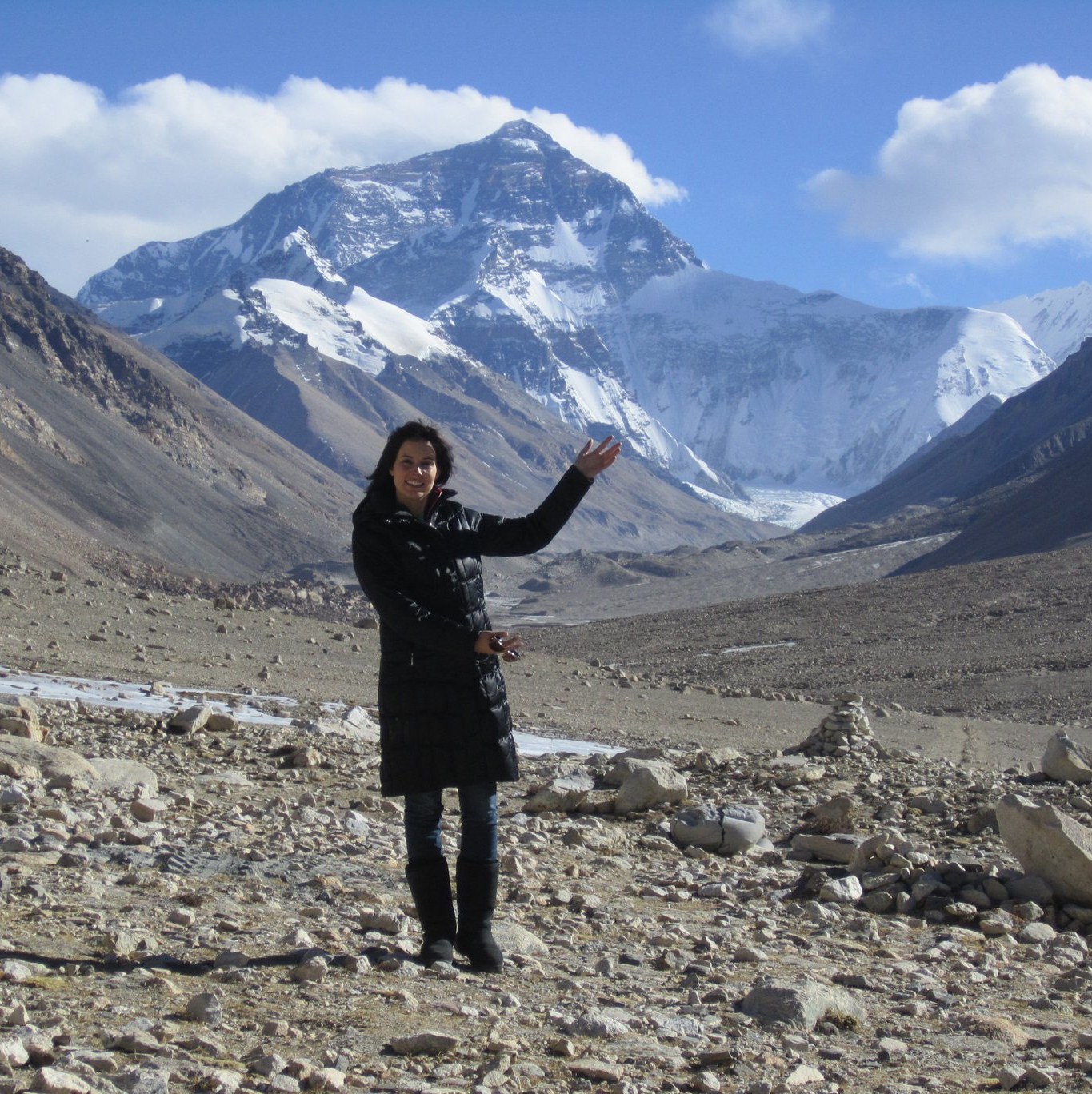 #29: China, Tibet, Taiwan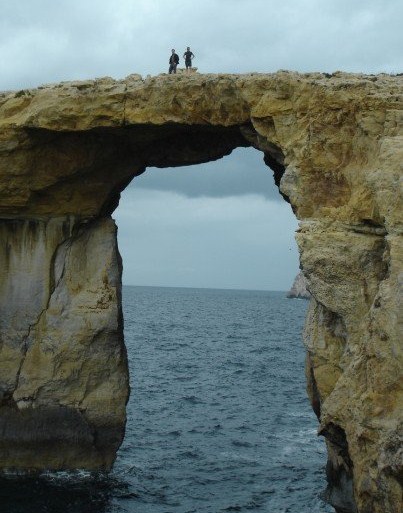 #20: Malta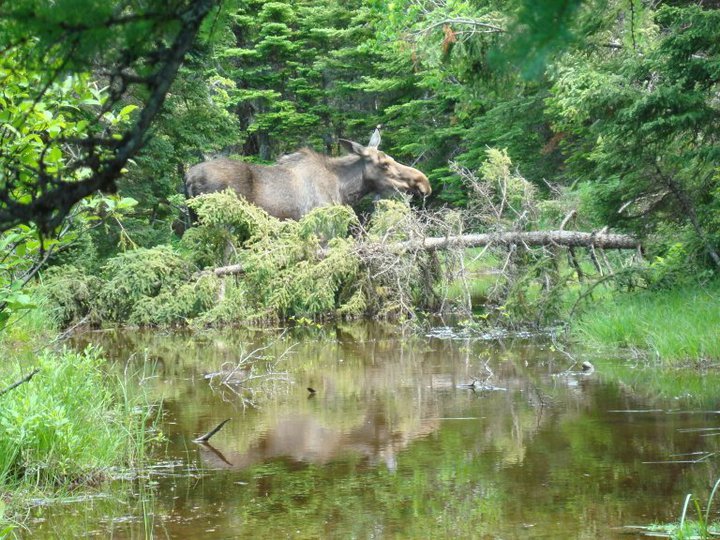 #4: Canada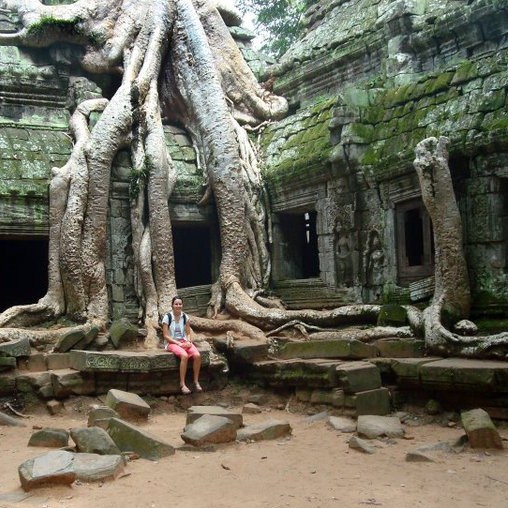 #25: Cambodia
Anyway, here is my list in chronological order, with repeat trips in parentheses. Now you know where I've been, so if you are traveling somewhere else, please invite me to join you! Below this list, I've also included my short list of places I'd like to go in the next five to ten years. Perhaps 40 by 40?
Mexico
Canada (4)
Germany (3)
Austria (2)
Switzerland (3)
Australia
New Zealand
United Kingdom (England, Wales and Scotland) (3)
Ireland
France (4)
Morocco
Costa Rica
The Netherlands (2)
Luxembourg (2)
Belgium (2)
Hungary
Sweden
Denmark
Italy (2)
Malta
St. Maarten
Dominican Republic
Thailand
Vietnam
Cambodia
Vatican City
Chile
Greece
China, Tibet, Taiwan
Nepal
India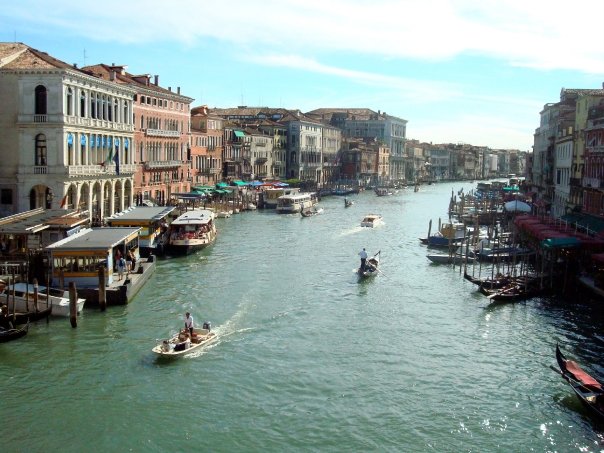 #19: Italy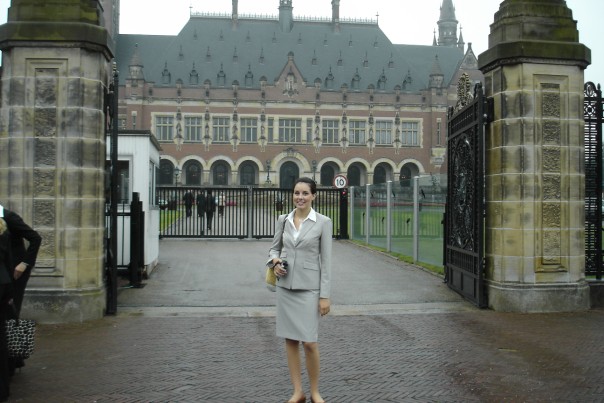 #13: The Netherlands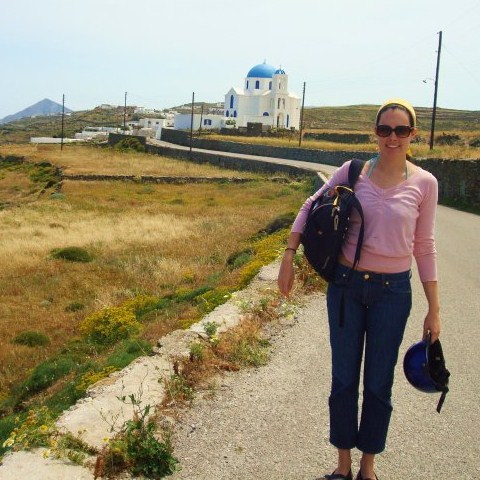 #28: Greece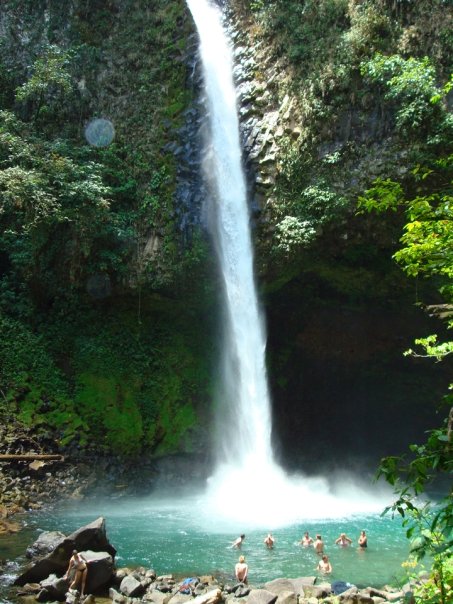 #12: Costa Rica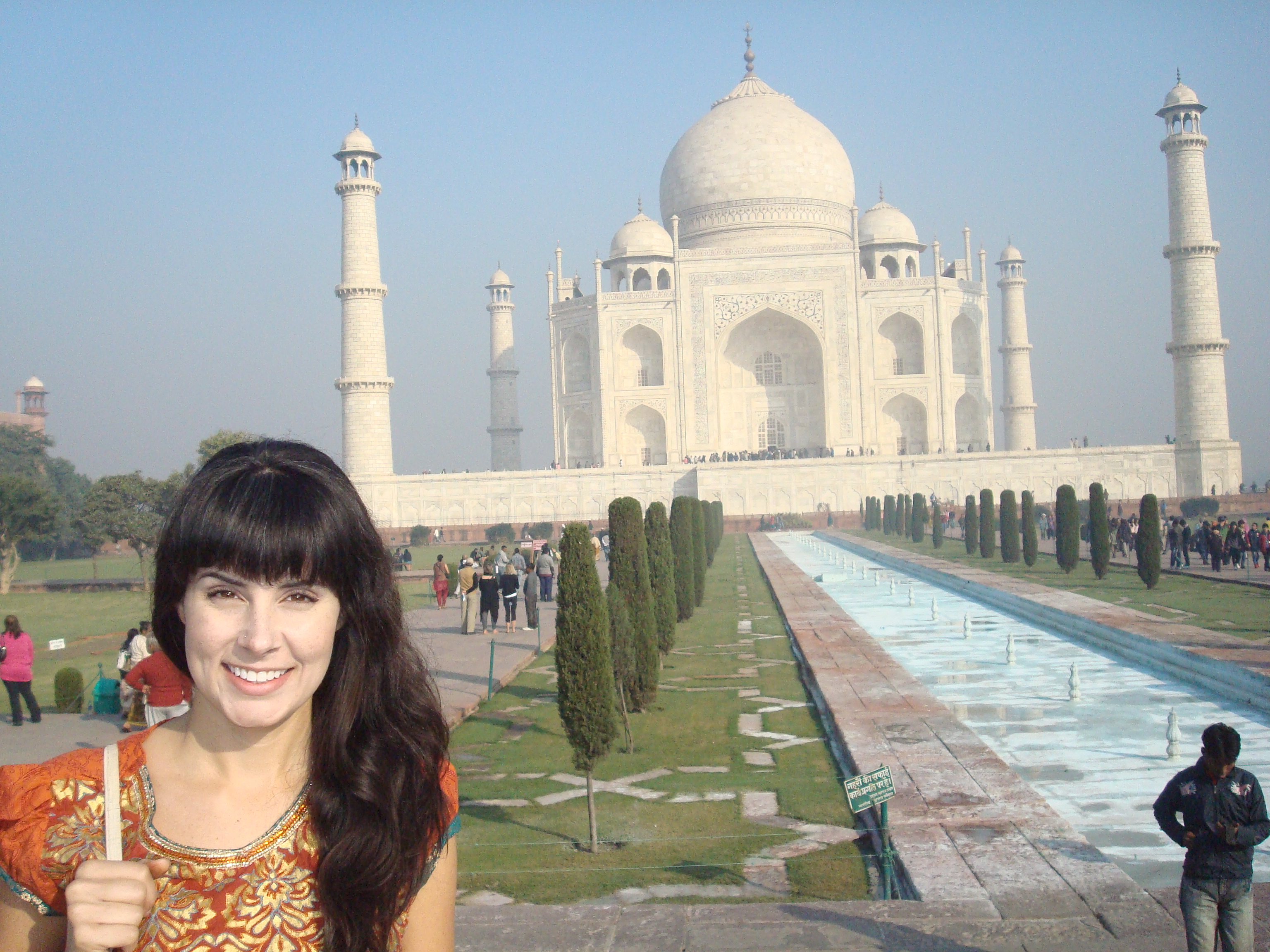 #31: India
Where to next?
Turkey
Argentina, Peru
Tanzania, Kenya
Czech Republic
Malaysia, Singapore, Indonesia
Antarctica
United States National Parks!
Places where I would love to return include Australia, New Zealand, Greece and, of course, France.
What about you? Where have you been? Where do you want to go?
January 12th, 2013 | Rachel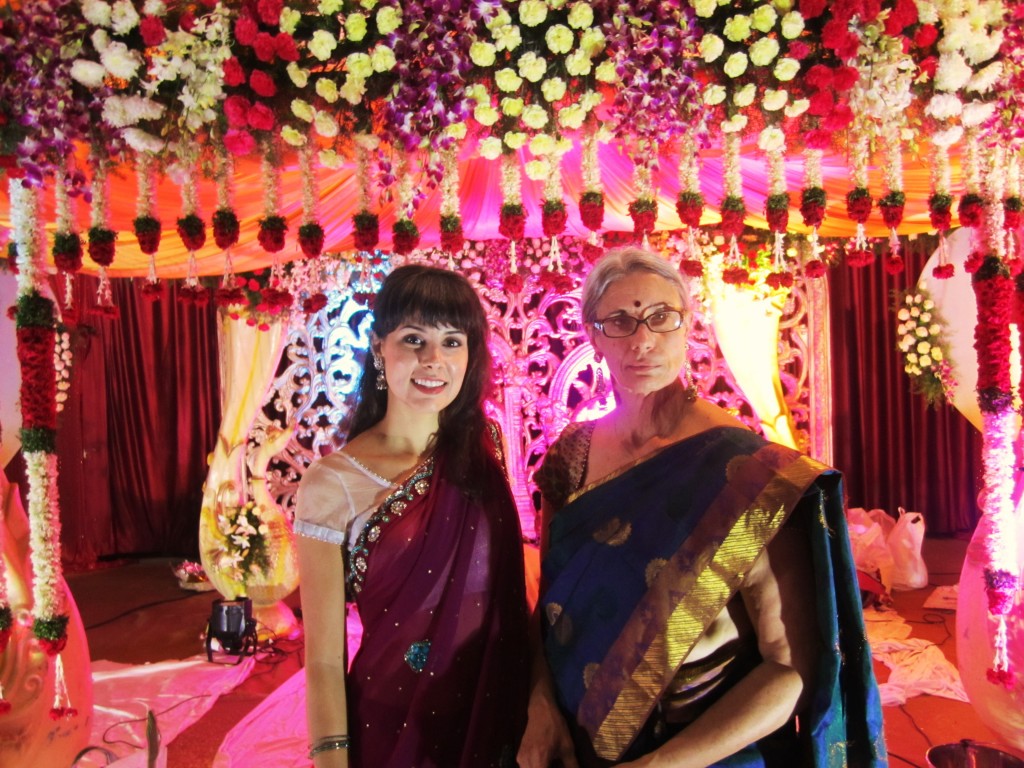 The inspiration behind my recent trip to India with my mom was an invitation to the wedding of my mom's former teaching assistant at Auburn University, Priyanka. The bride- and groom-to-be actually met while they were in school at Auburn (a "love marriage," as it was called throughout the wedding weekend).
Because I have so many photos to share in this post, I'll keep my commentary to a minimum. Suffice it to say, it was a fascinating cultural experience, and I wish the newlyweds all the happiness in the world. I'm also extremely grateful to Priyanka, her family, and her family's friends who took excellent care of use while we were visiting.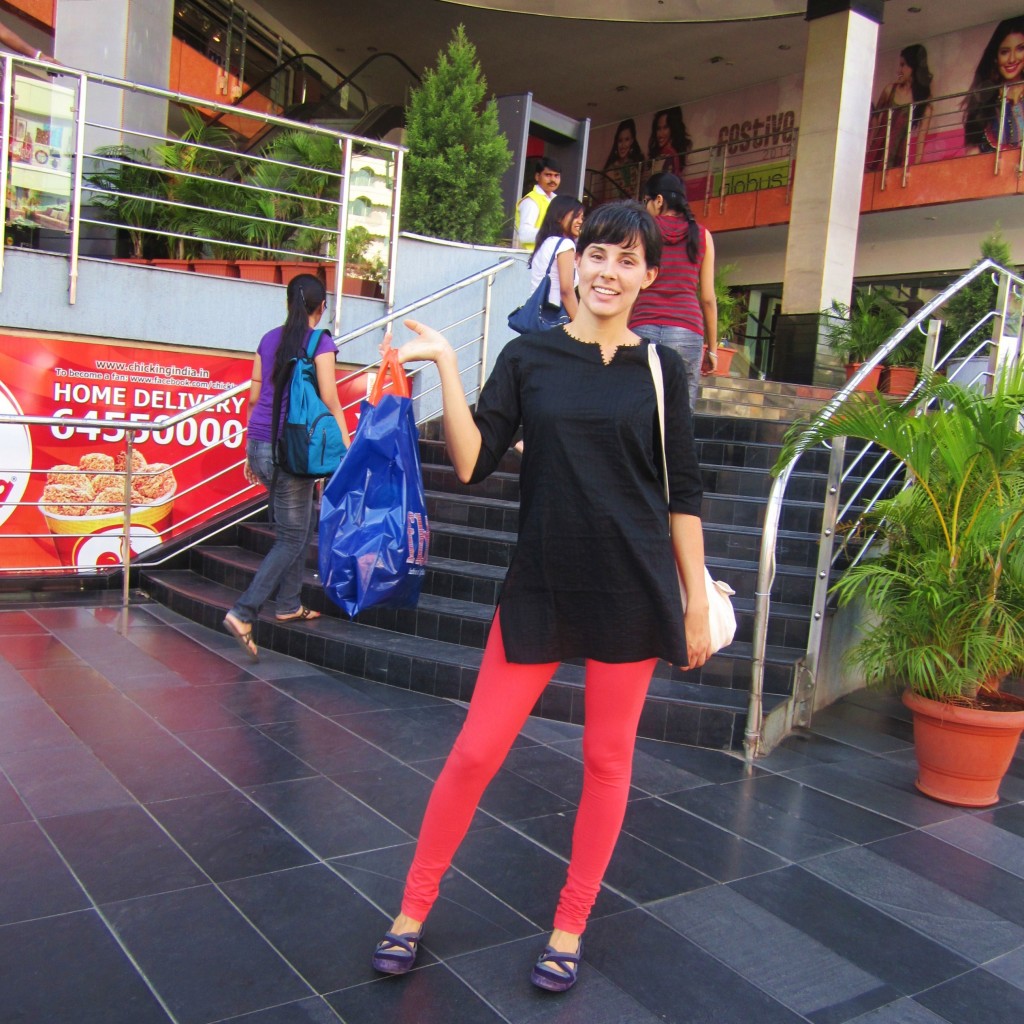 After flying to Hyderabad where Priyanka grew up and where the wedding would be held, the first stop was a trip to the mall to buy outfits that weren't quite so American.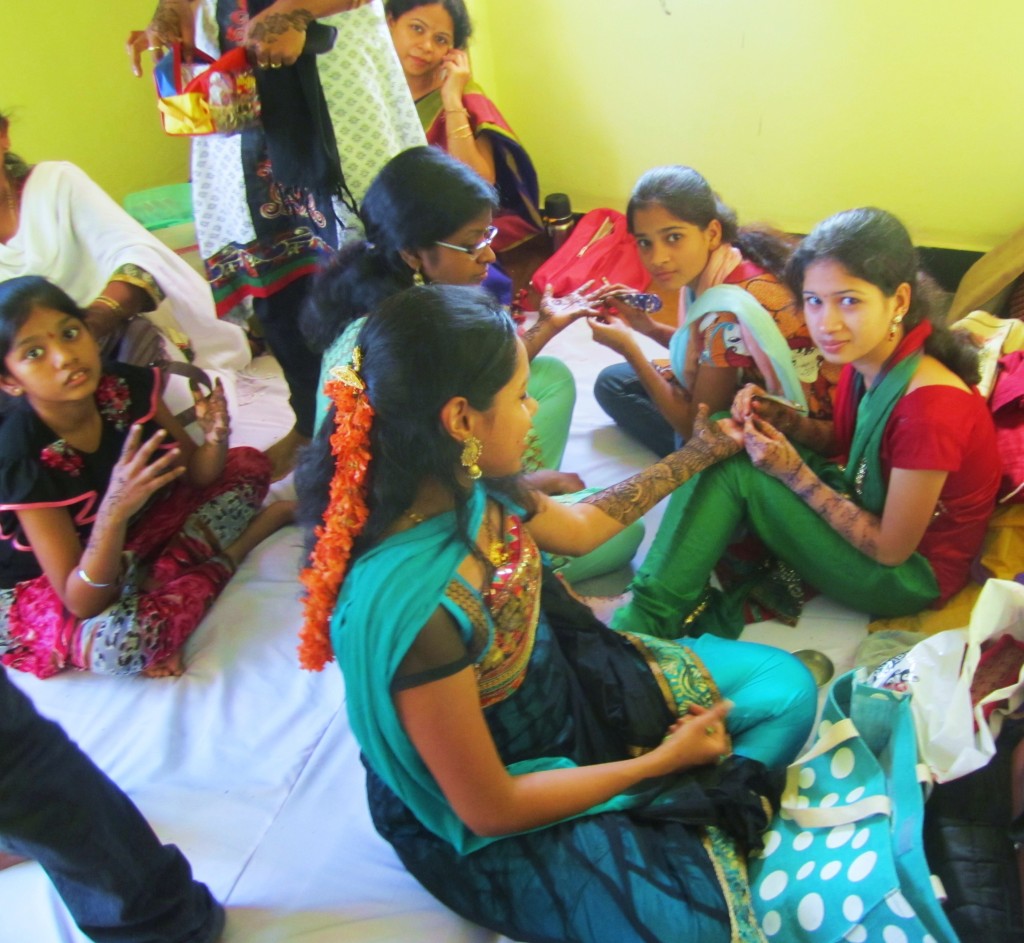 We arrived at Priyanka's parents' home Saturday evening in the middle of the mehndi ceremony. This informal ceremony was held in an empty apartment upstairs, and involved dozens of women and girls sitting on the floor and in chairs chatting as they waited for their turn to have their hands decorated with henna by several women who were hired for the occasion. The bride, above, had the most elaborate designs, which covered her lower arms and her feet. Her designs took about four hours to complete.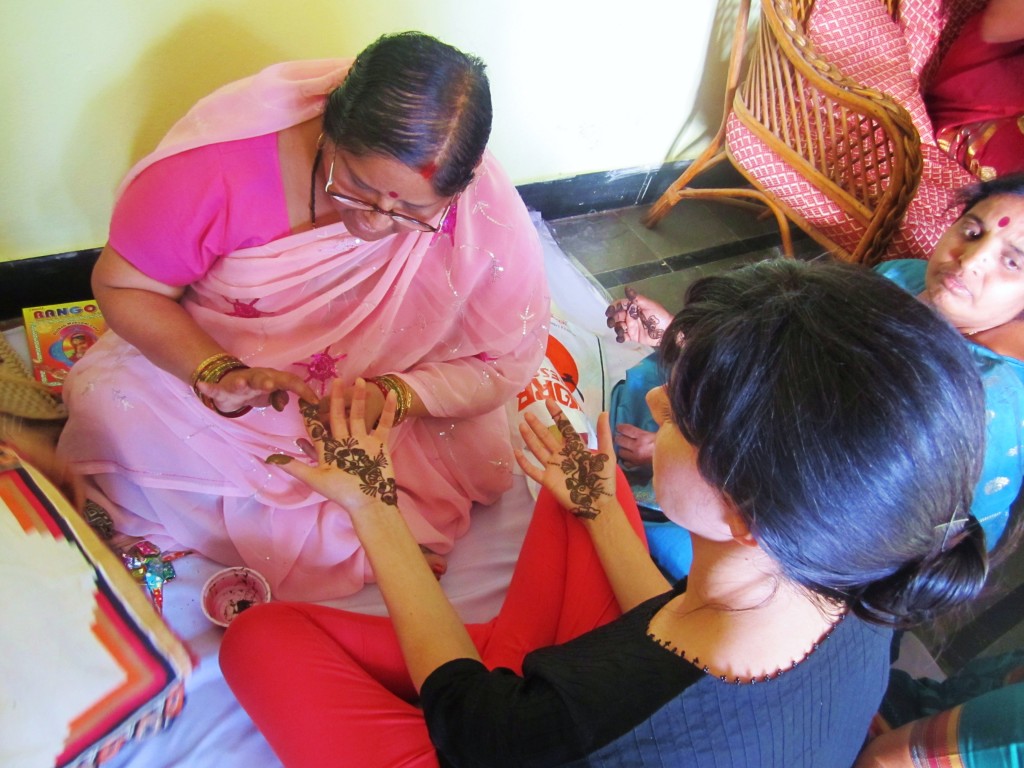 This was the first time we met Priyanka's family and close friends, and they couldn't have been more welcoming.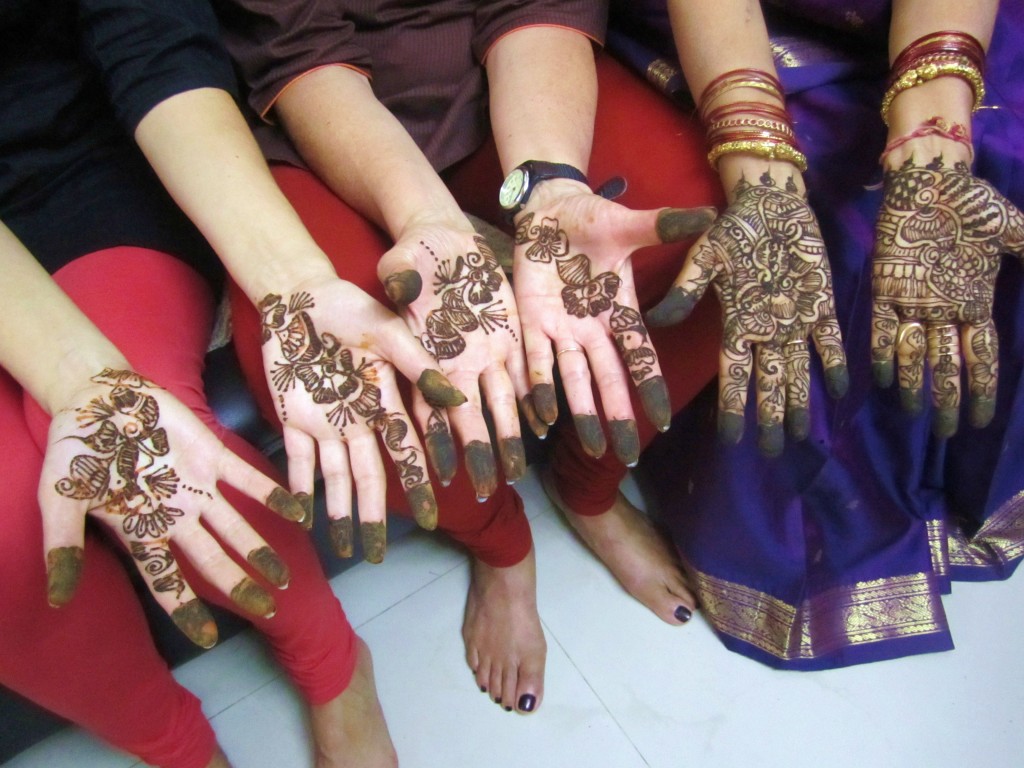 My mom's and my hands (middle and left) alongside a woman who opted for a more elaborate design. This woman, Anjali, ended up taking us shopping for sarees that same night (more on that later).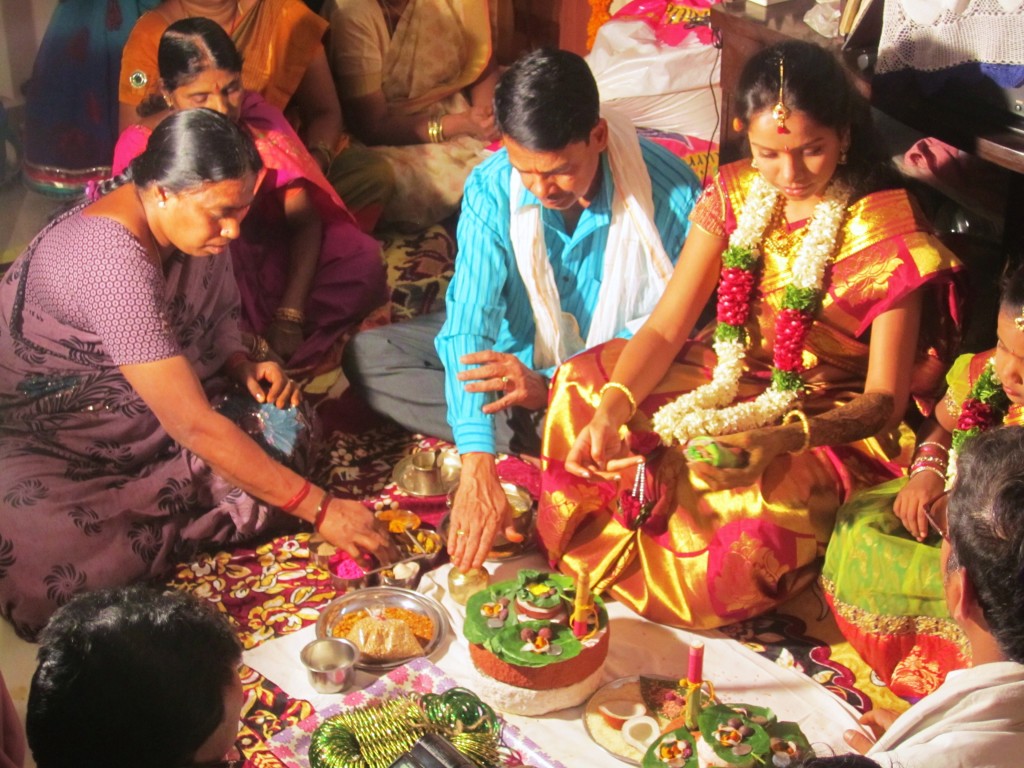 A pre-wedding ceremony was held in her parents' living room later that evening.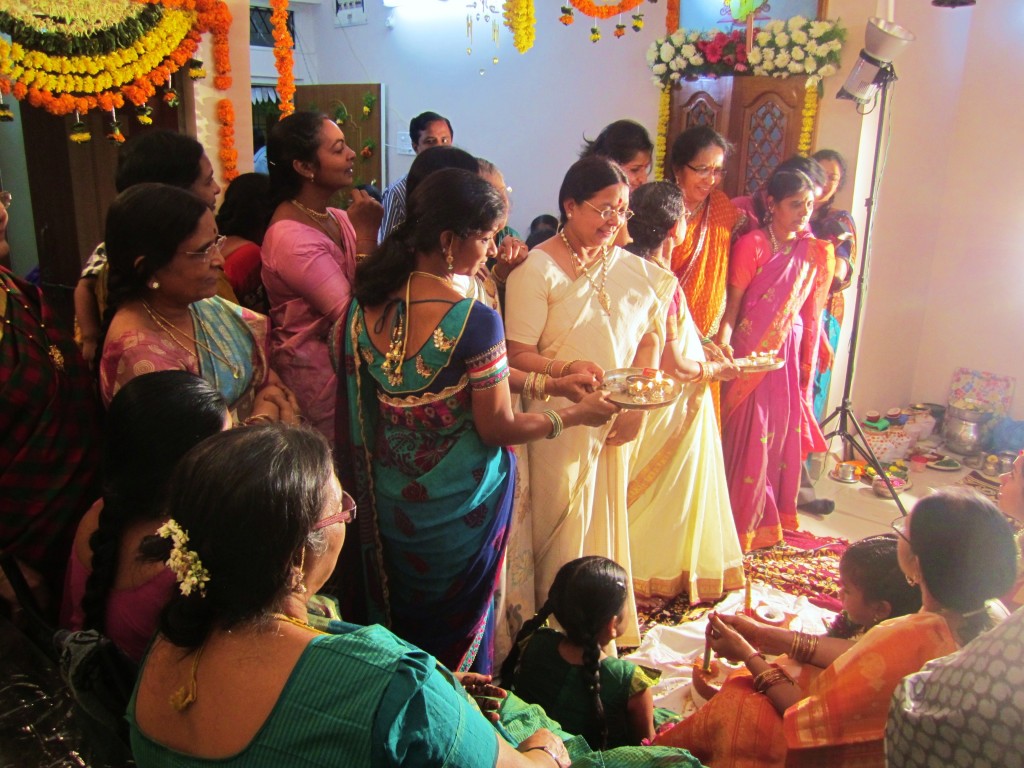 At the end, after they ground grain and sifted flour onto Priyanka's head through a cloth, a group of women held small lanterns and sang a song.
As I mentioned above, we ended up going shopping later than evening for sarees for the wedding. When Anjali learned of our intent to buy traditional outfits to wear to the engagement party the next night and the wedding the day after that, she insisted she take us shopping in her neighborhood. Otherwise, we wouldn't get all of the proper pieces and we would pay too much, she said.
A plan was formed to meet her the next day to shop, but when she realized the shops might be closed because it was Sunday, she arranged for us all to ride to her neighborhood that evening to catch the shops before they closed an hour later. We weren't sure what was going on because the conversation involved ten different people and was in Hindi, but we did what we were told and found ourselves at a beautiful store with four floors of sarees and other dresses.
One of the clerks at the store led me to an empty table, and after Anajli told him some basic guidelines based on questions she had asked me, he started pulling sarees from the shelves behind him. Based on my reaction to each saree, he would turn and pull out several more. Soon the table was covered. When I really liked on, he would put it on me. Anajali would exclaim something like, "This is the one!" but I kept going until I found what I was looking for, a magenta saree with blue accents and a moderate level of bedazzling.
Meanwhile, my mom was taken to another table and shown pure silk sarees in various colors and patterns. She found one she loved, and after they found tops for both of us to wear since there wasn't time to sew the custom top that usually comes with the sarees, we went through a similar process to pick out shalwar kameez (a dress-like tunic with match pants) for the engagement party.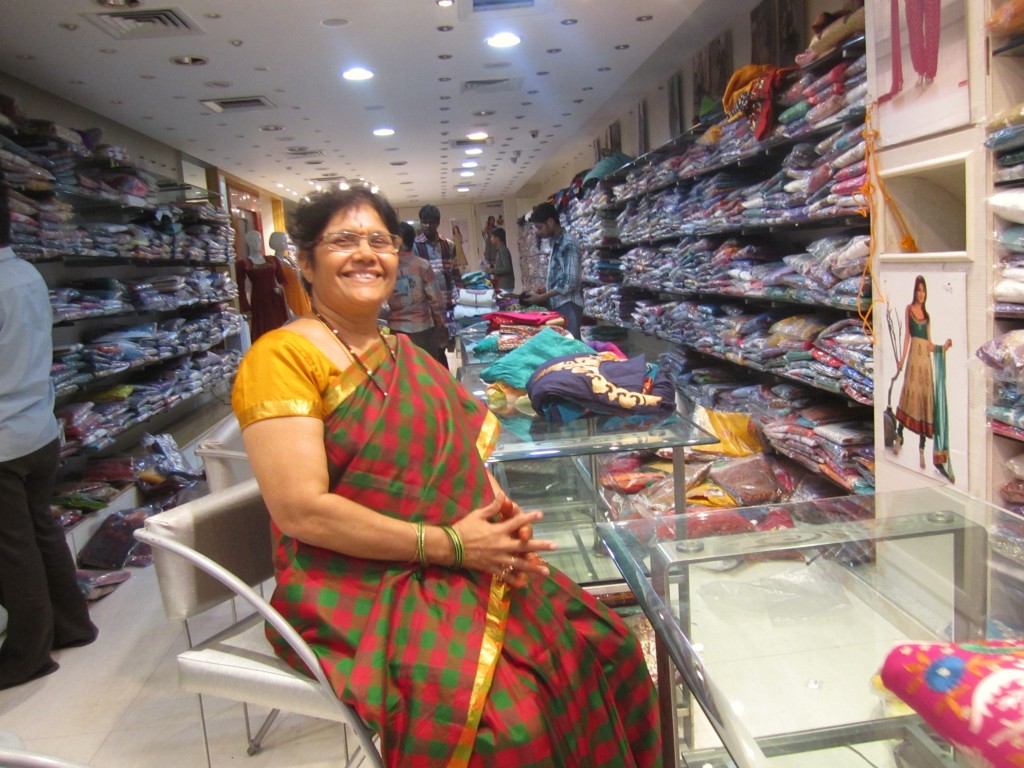 We finished at 10:30pm and only later learned the store actually closed at 9pm. We also learned Anajili, pictured above, owned the building. Sometimes it really helps to know the right people.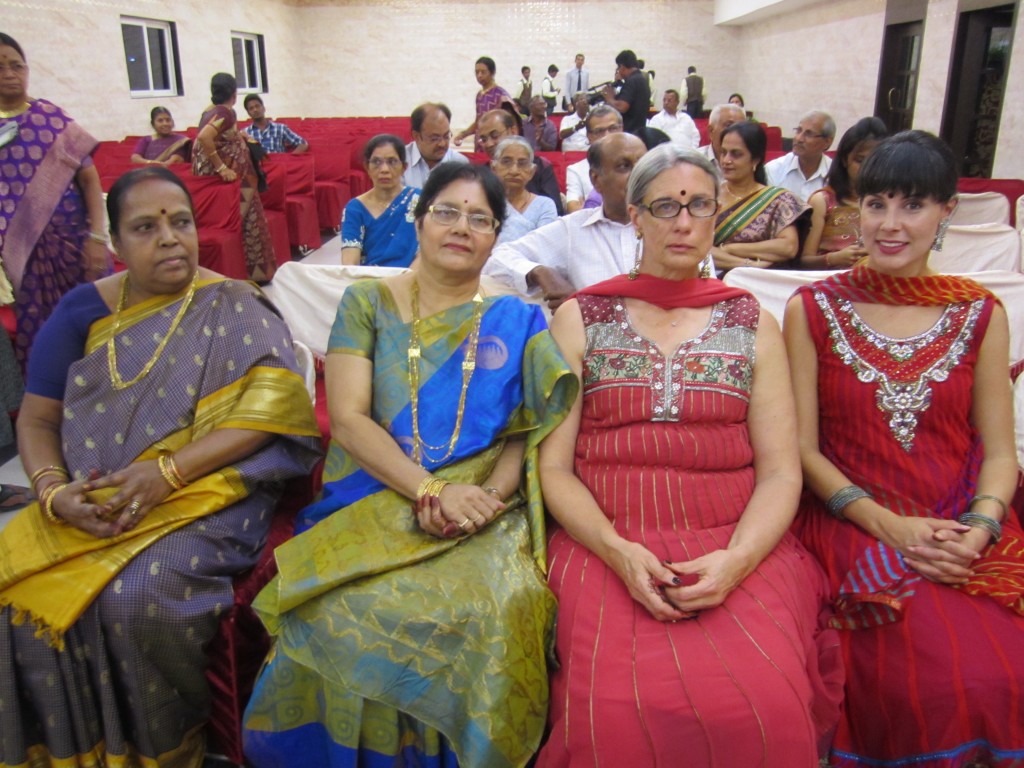 All dressed up for the engagement party!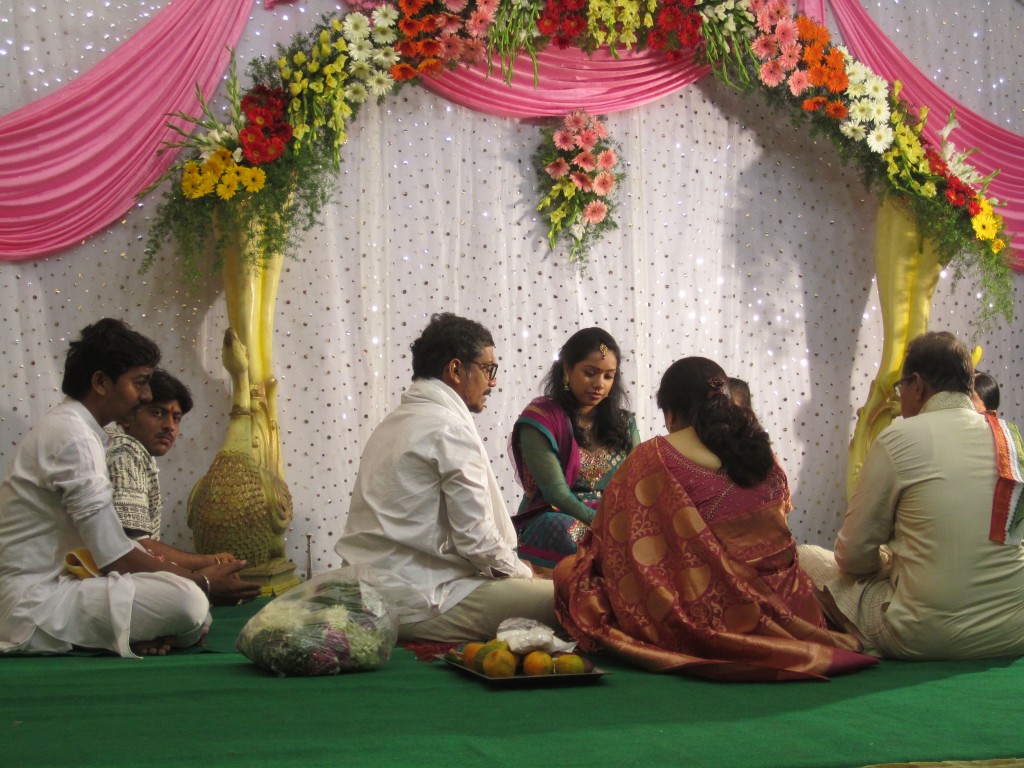 The engagement party entailed a number of separate ceremonies with the bride, the groom, and the bride and groom together.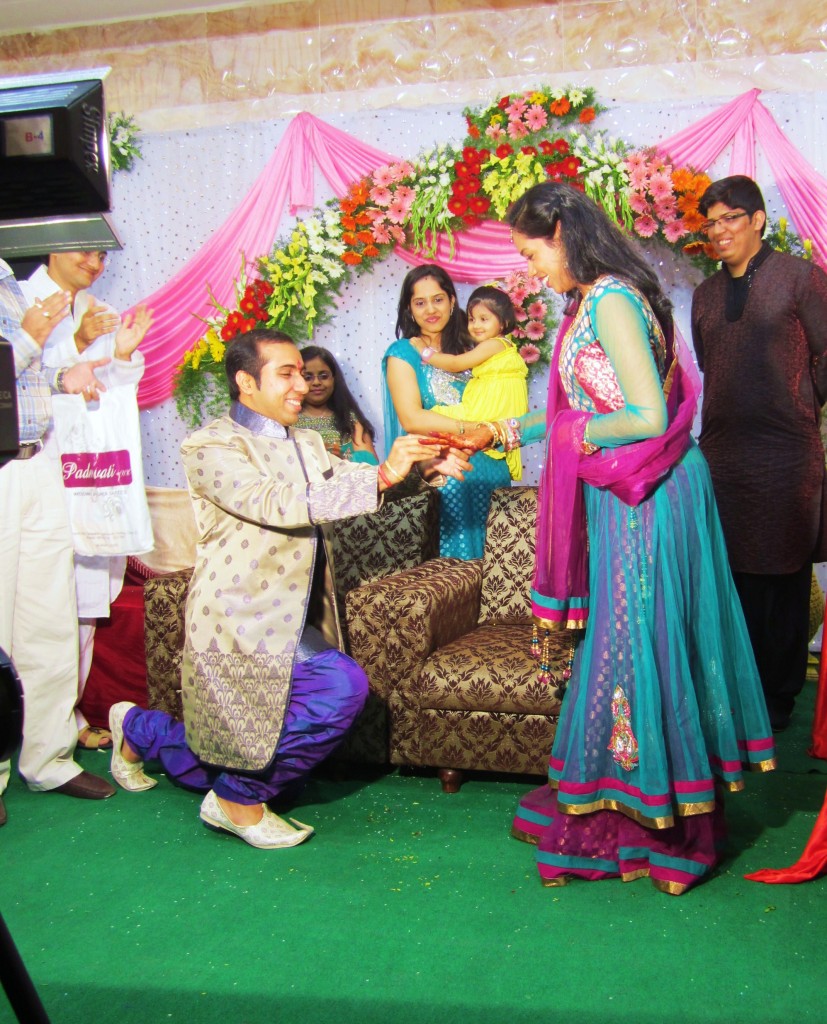 At the end of the ceremonies, the groom officially proposed. They also cut a cake and fed it not only to each other but to many of their family members as well (who in turn fed them cake… so much cake!).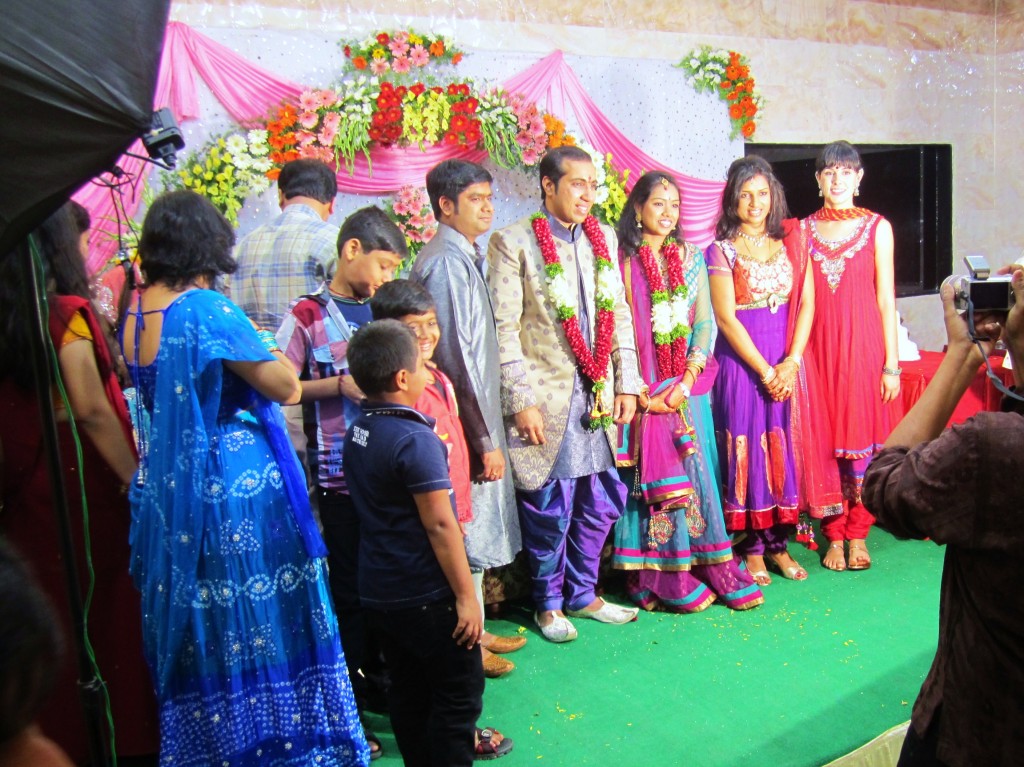 The bride- and groom-to-be with the bride's brother, his wife, and me.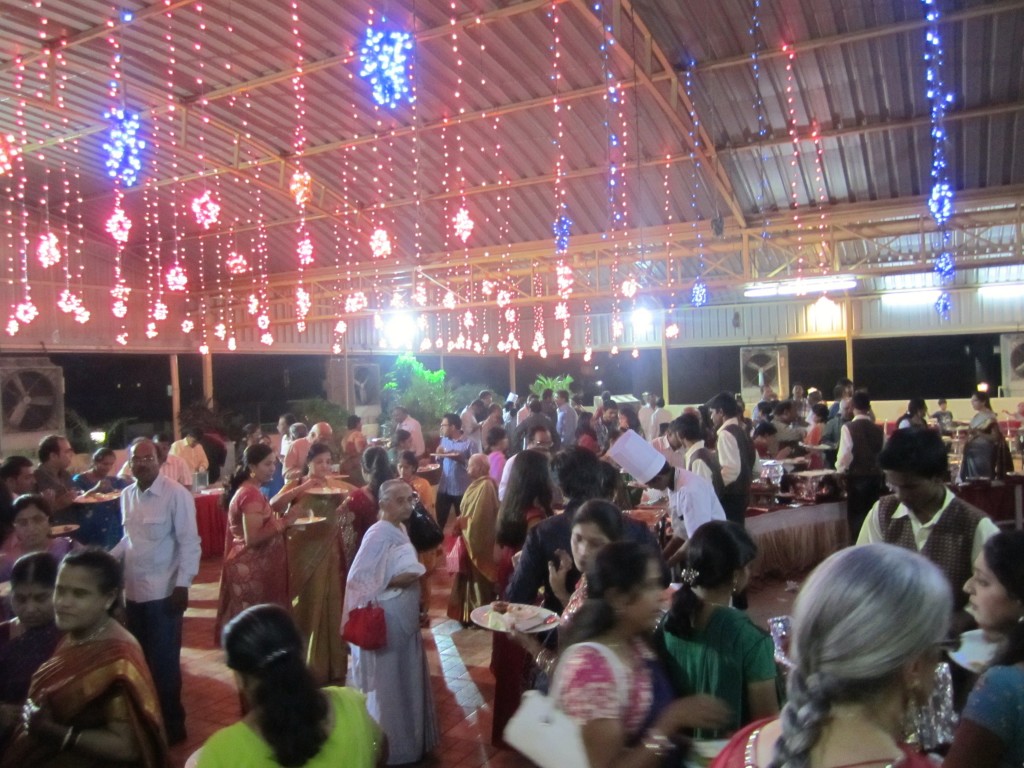 As with all of the events we went to, this one involved an impressive spread of food. Might I remind you that this was still just the engagement party!
The big day came, and after trying in vain to dress ourselves in our new sarees, we helplessly called the front desk at our hotel. This young woman came up and very sweetly helped us. When she was finished, our sarees were impeccably pleated and draped, and we were on our way.
Outside the wedding venue.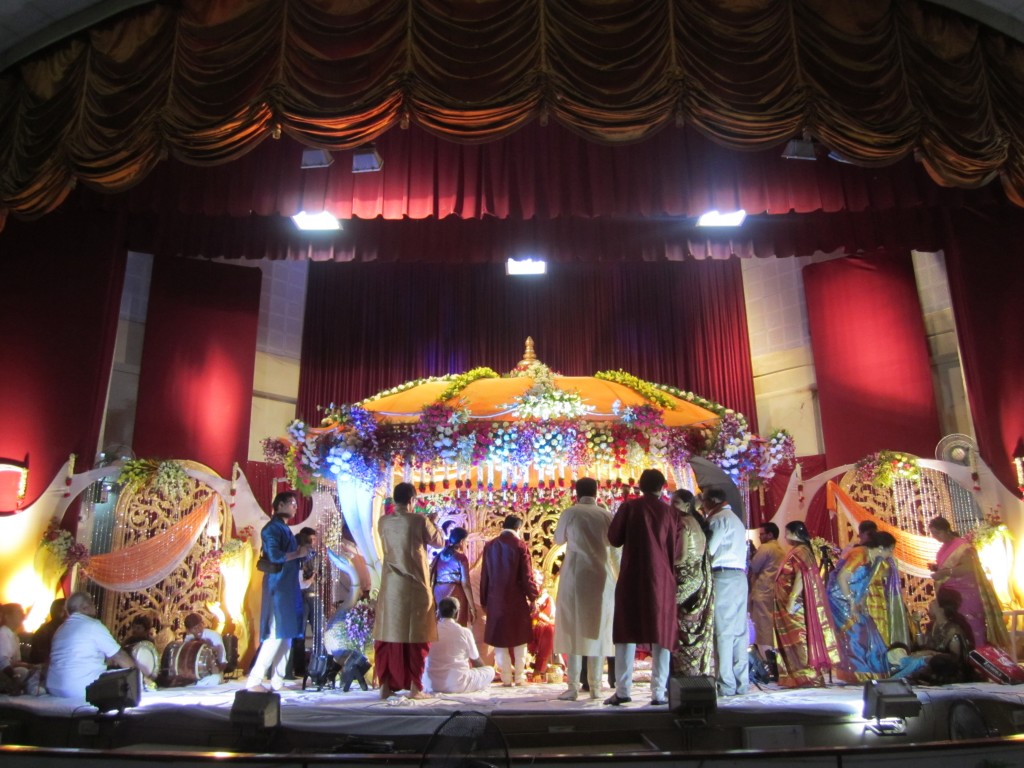 The wedding was an all-day affair and was held at a large venue with two separate stages. Because the bride was from Hyderabad and the groom was from Mumbai, their respective Hindu traditions required different ceremonies and thus different stages. The whole wedding party moved back and forth between the stages throughout the day.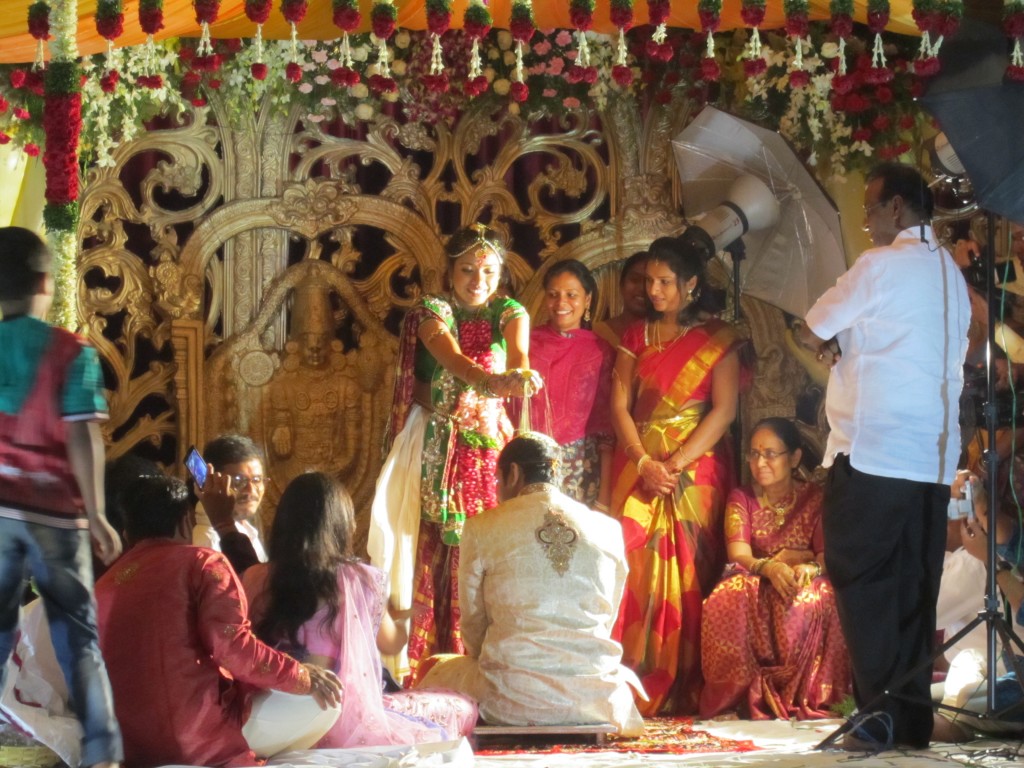 An interesting thing about the wedding was the independence of the ceremony from the audience. Unlike an American wedding where the ceremony is performed to the audience, these ceremonies began and ended without any grand announcement, and people in the audience moved around and chatted with each other throughout the day. Those who wanted to watch the ceremony would walk onto the stage and either sit or stand. At times, it was actually impossible to see the ceremonies from the audience seats because so many people were standing on the stage.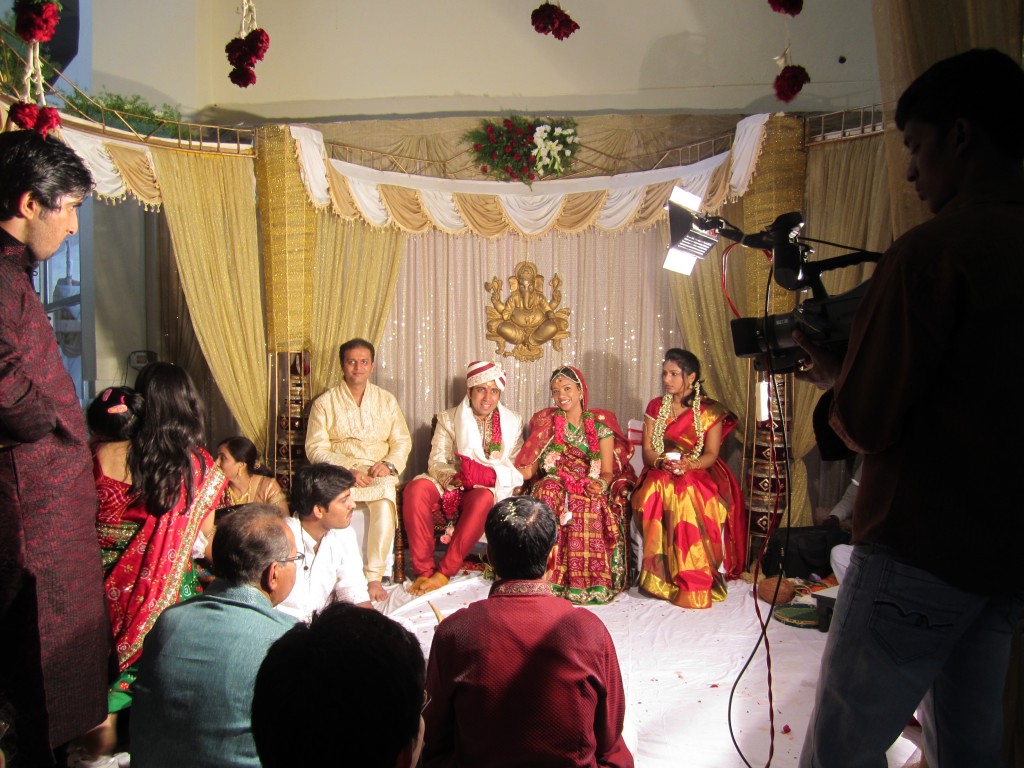 Almost married… I think.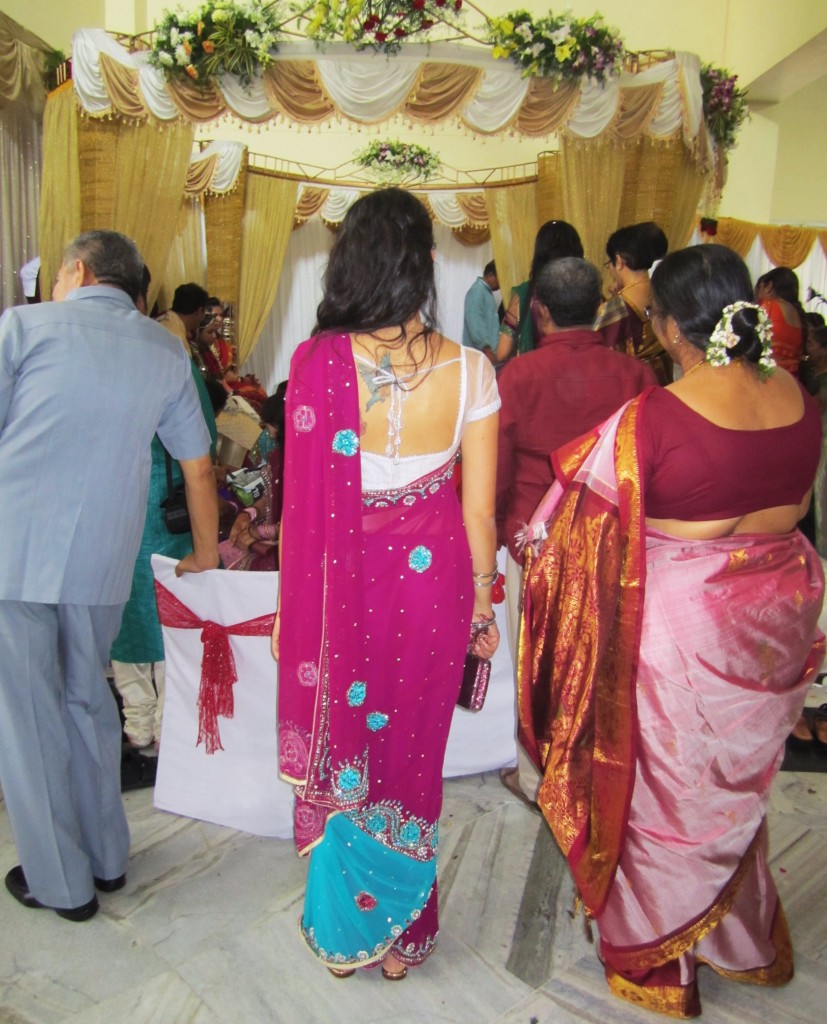 A peak at the back of my saree.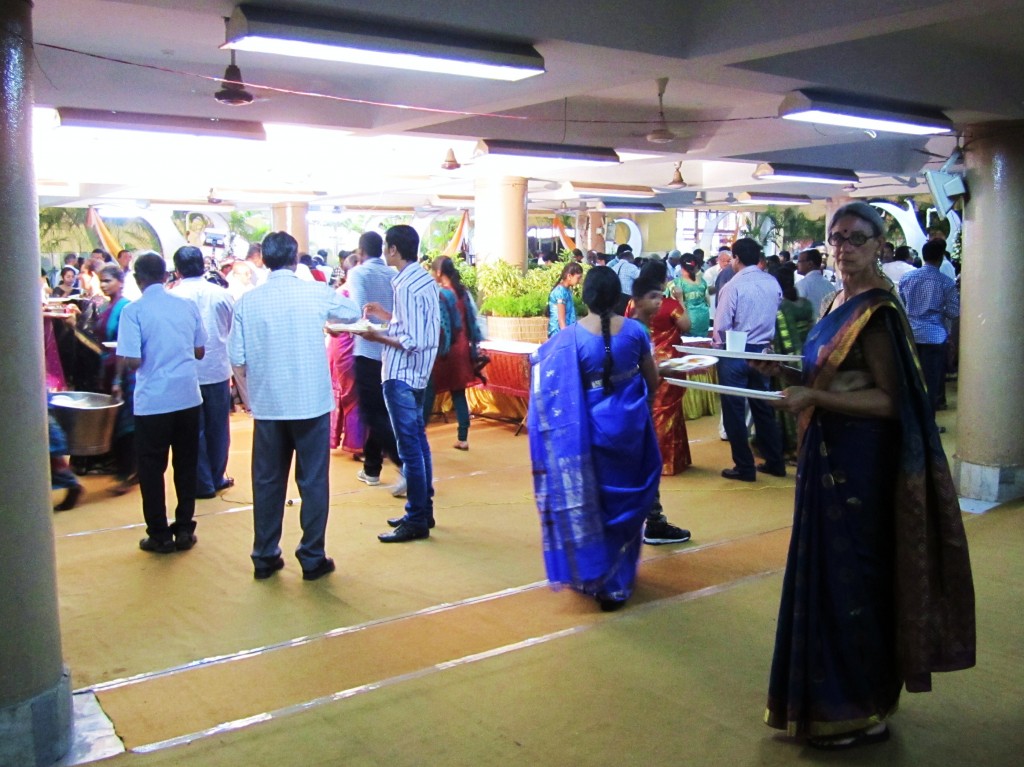 Throughout the day, an even bigger spread of food was served to the hundreds and hundreds of guests who came to the wedding.
We stayed for about seven hours and left before all of the ceremonies were complete. I don't see how Priyanka and her family survived the whole process (and still looked stunning!). Four days of ceremonies that concluded with a marathon wedding day attended by 500 or so guests (which is actually less than the typical Indian wedding due to the fact the ceremony was held on a Monday during the day).
This experience made me really made me think about the American weddings I've attended. Although I still am not in favor of tradition simply for the sake of tradition, I did admire the thoughtfulness and specificity of the Hindu ceremonies and the high level of symbolism involved. I also loved the amount of participation required from not only the bride's and groom's immediate families but their extended family and friends as well. At several points throughout the weekend, people even insisted my mom and I participate. I loved the part of the engagement ceremony where the bride and groom fed each other cake and then exchanged bites of cake with their parents, siblings, in-laws, and grandparents.
This demonstrates an even broader observation I made during the trip of the general interconnectedness of the Indian community. The reason so many people come to these weddings is that is how many people are active parts of the bride's and groom's (and families') communities. It made me question the relative independence of my own life.
Anyway, I'll save the Hyderabad sightseeing photos for another post. Thanks for reading :-)
January 8th, 2013 | Rachel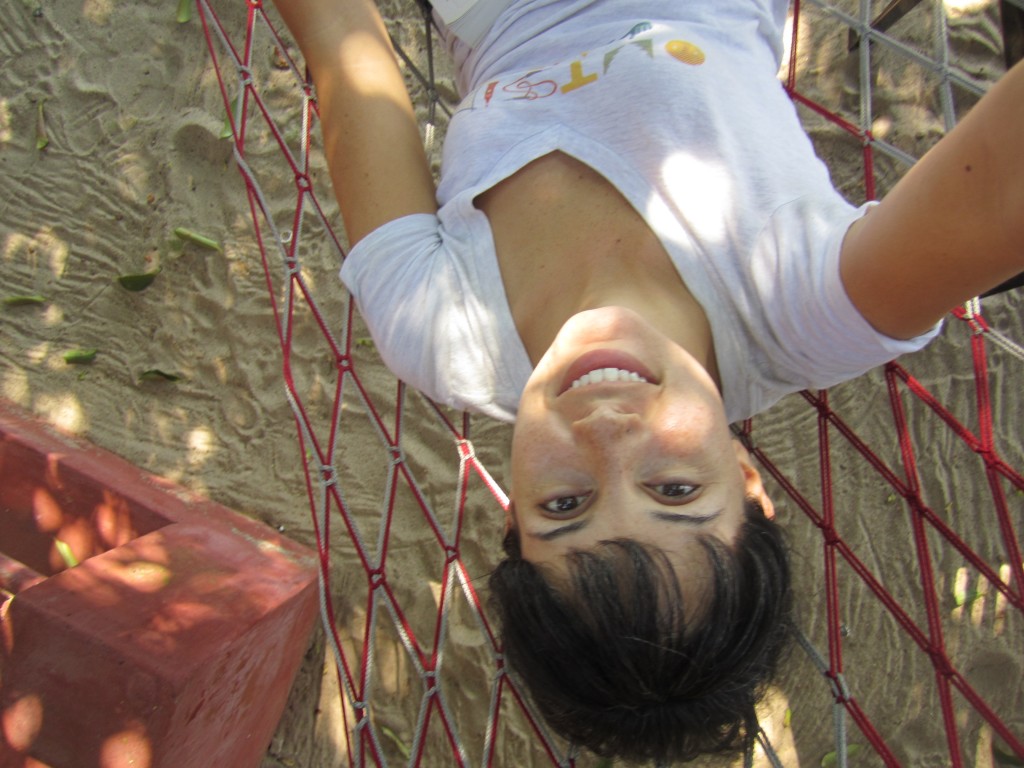 Relaxing beside the river in Kerala, India
I keep waiting for things to "slow down," but I'm not sure it'll ever happen for me. I'm not sure if I want it to.
Maintaining an unconventional schedule definitely has its perks. I didn't do any shopping until I got back and was delighted to find everything on sale! I also got really excited every time I went into a store or casino (I spent New Year's Eve in Las Vegas) that still had its holiday decor and was playing Christmas music. Other patrons did not share my sentiment. On my first day back to work, my coworkers — despite having expressed no preference as to the type of music we listened to — answered my suggestion of Christmas music with unenthusiastic blank stares.
I told Steve I felt like I missed Christmas since I was in India almost all of December and spent Christmas Day in transit (6-hour car ride, 45-minute taxi ride, 15-hour flight, 4-hour flight, and a 2-hour shuttle ride….whew!), so we are still pretending it is the holiday season. The "tree" is still lit (and by tree, I mean our bikes on the wall covered in Christmas lights) and we watched Love Actually the other night. I made Sunday brunch yesterday and used an apple cider-braised bacon recipe from Martha Stewart's Christmas Brunch menu. I'm going to see how long I can keep this pseudo-holiday spirit going.
The trip to India was incredible. Before we left, I was so nervous about getting sick from food poisoning or otherwise that I couldn't sleep. During the trip, I didn't verbalize my amazement at how smoothly everything was going until the last few days for fear of jinxing us.
Sure there were some stressful moments of uncertainty. Exiting the Delhi train station was probably the worst because we couldn't figure out where the pre-paid taxi stand was, and we were mobbed by men pretending to be "helpful" but really trying to lead us in a different direction. Even after we finally got to the stand, there were so many random people around me trying to talk to me that it was almost impossible to communicate with the dispatcher (who still overcharged me). After the transaction, one of the random men insisted that he was my driver, but when I turned to the dispatcher, pointed to the man, and asked if he was my driver, the dispatcher said no. It felt like a miracle when we finally arrived at our hotel.
Our itinerary was divided into three parts: 5 days in Kerala, the the southernmost state in India; 5 days in Hyderabad for a wedding, the inspiration for the whole trip; and 5 days traveling the "Golden Triangle" in north India. In hindsight, we planned it perfectly.
South India is an incredible region. Beautiful. Lush. Green. Tranquil. Unbelievably hospitable. It was the perfect introduction to India.
We started in Kochi, a bustling port city with only a few tourist attractions.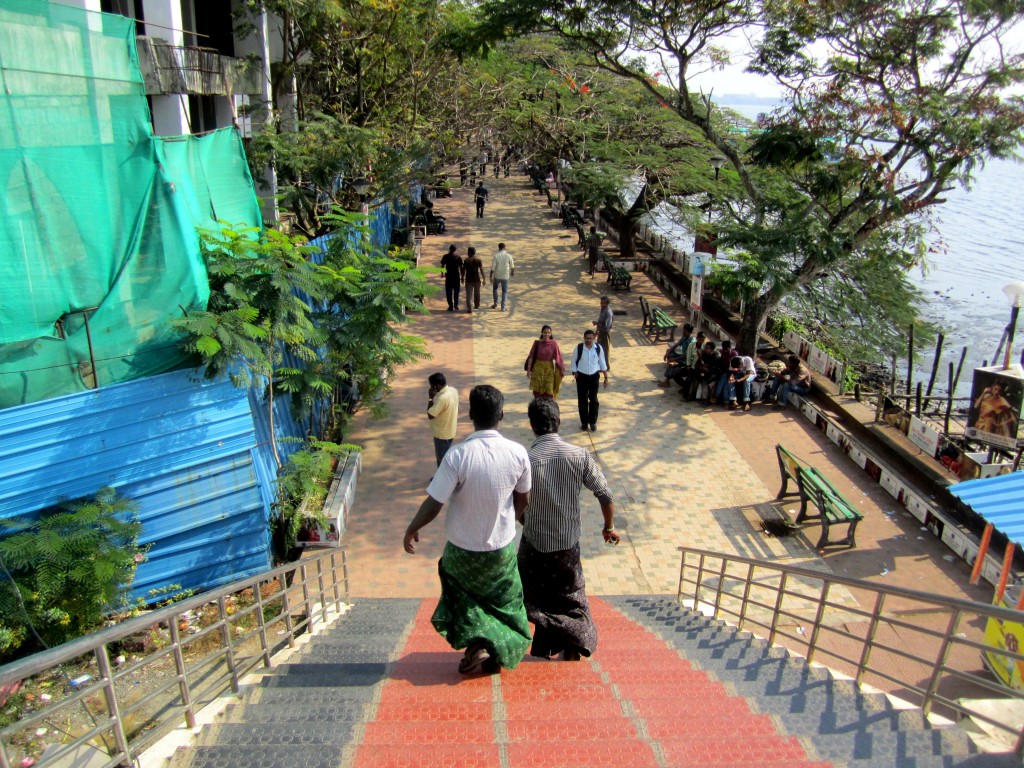 River promenade in Kochi, Kerala, India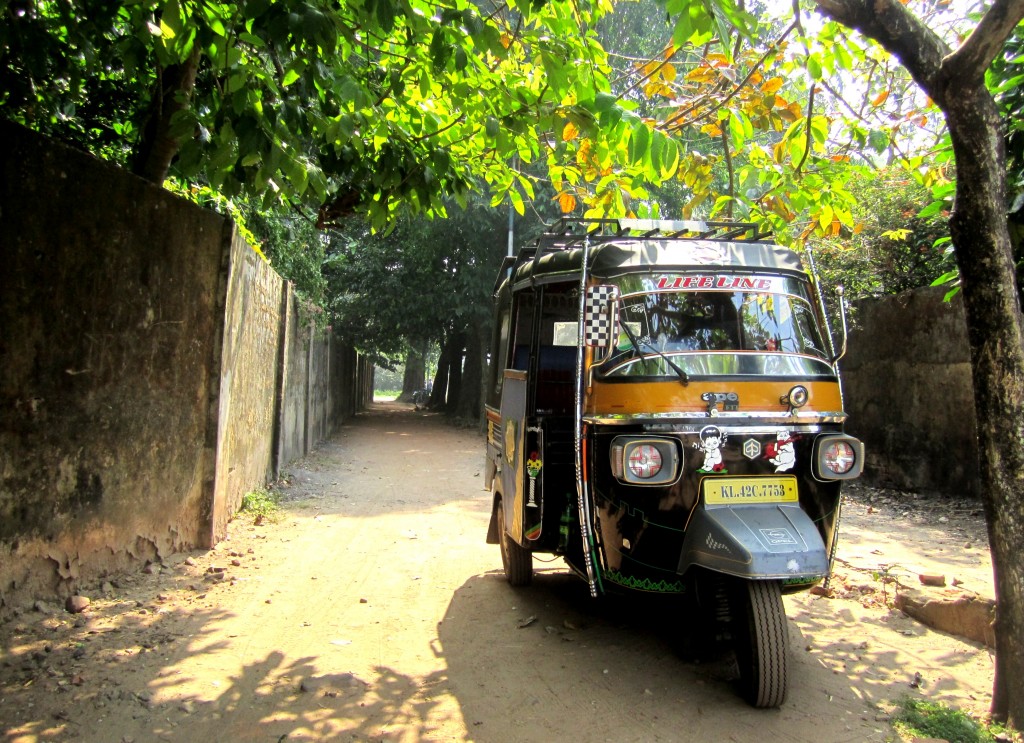 "Tuk tuk"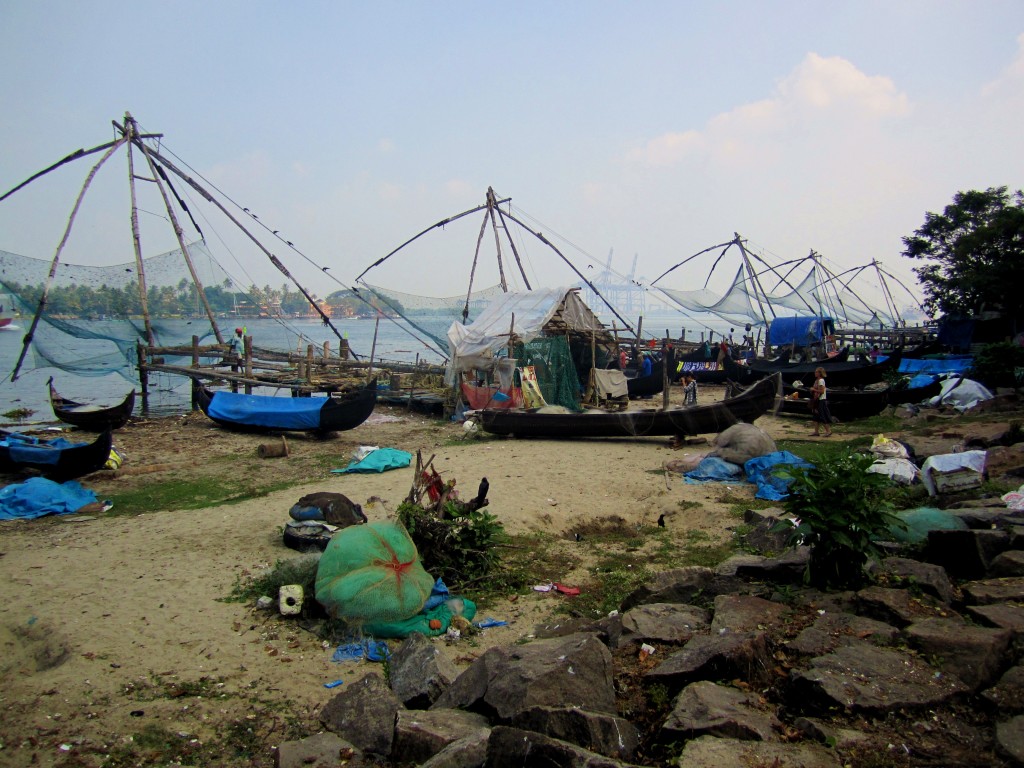 One of Kochi's main tourist attractions, Japanese fishing nets built in 1350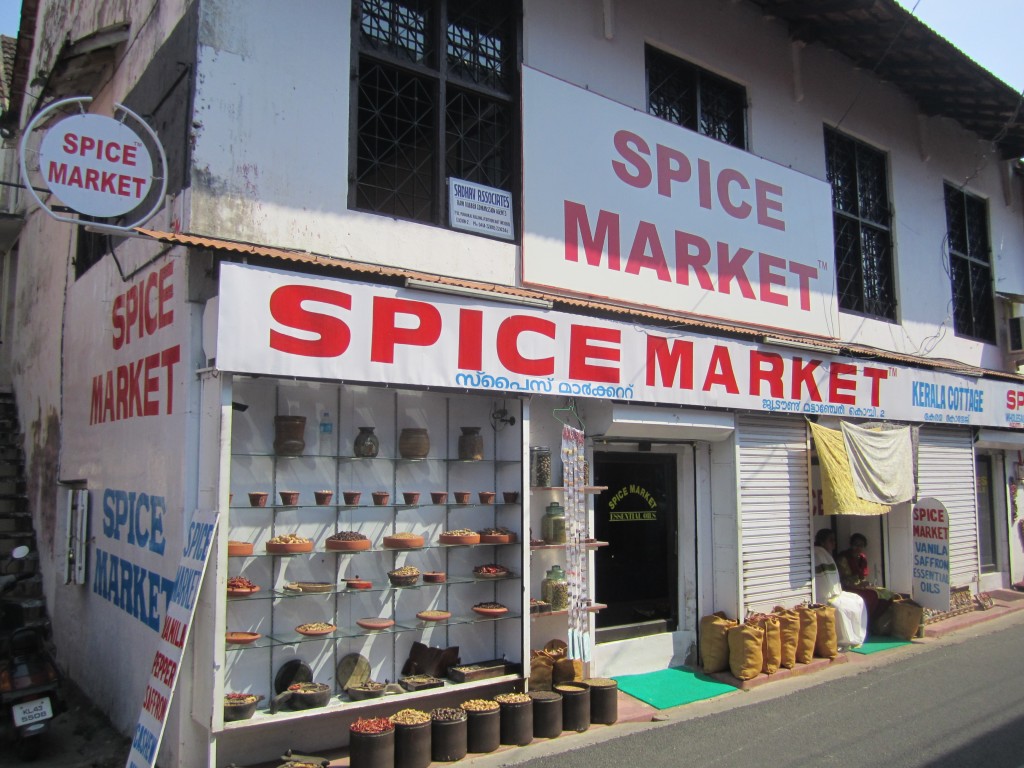 One of South India's claims to fame: spices!
After exploring the city for a couple of days, including watching a fascinating Kathakali dance performance, our driver drove us about two hours south of the city to Alappuzha, also known as Alleppey, where we spent a relaxing day and night at a "homestay" on a river. A homestay is like a bed & breakfast, only they provide all meals. This area has been appropriately called the "Venice of the East" because of its intricate network of rivers, lagoons and lakes. These backwaters create the perfect conditions for growing rice, so there are rice fields (and coconut trees!) as far as the eye can see.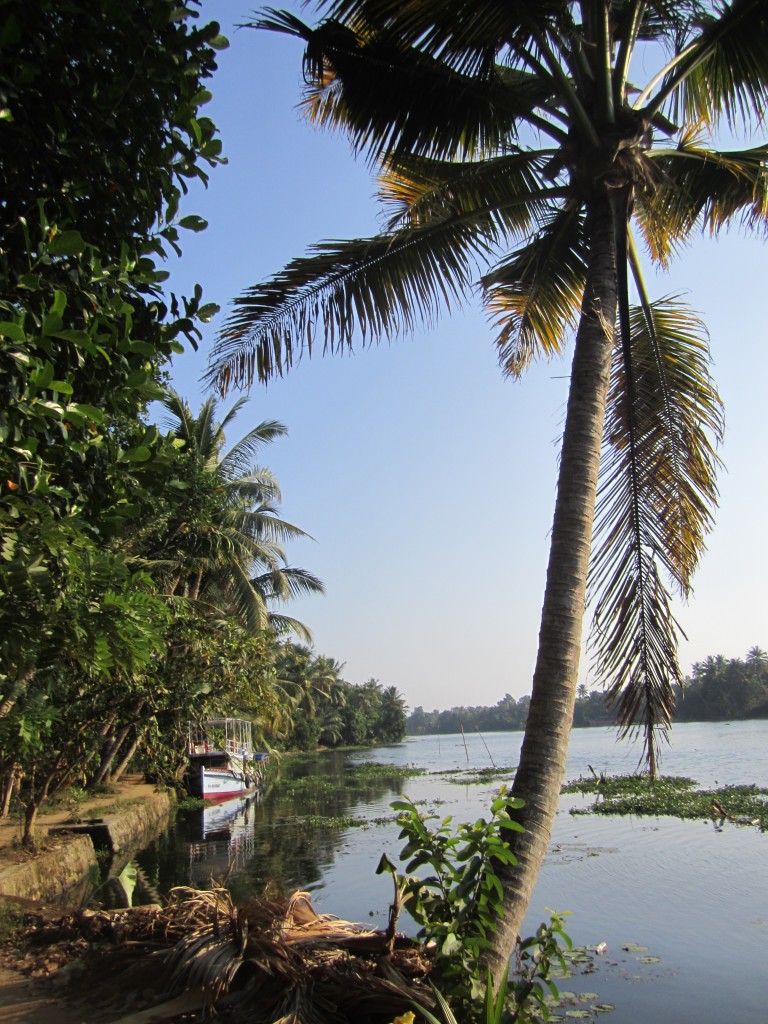 View from the front of our homestay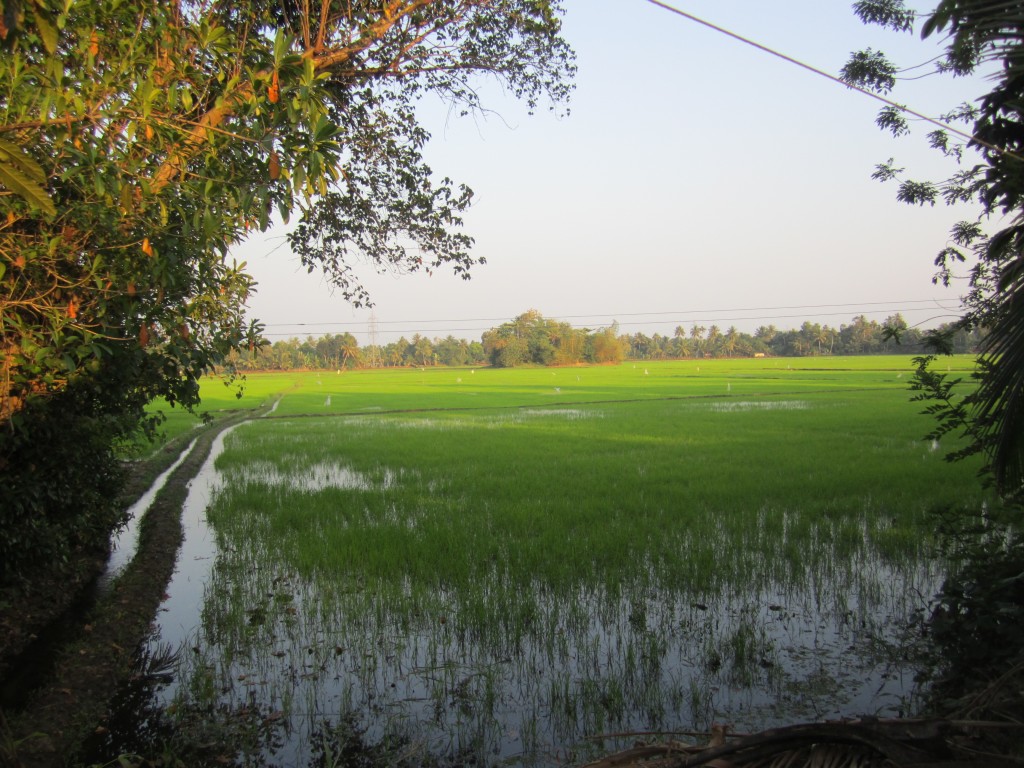 View from the back of our homestay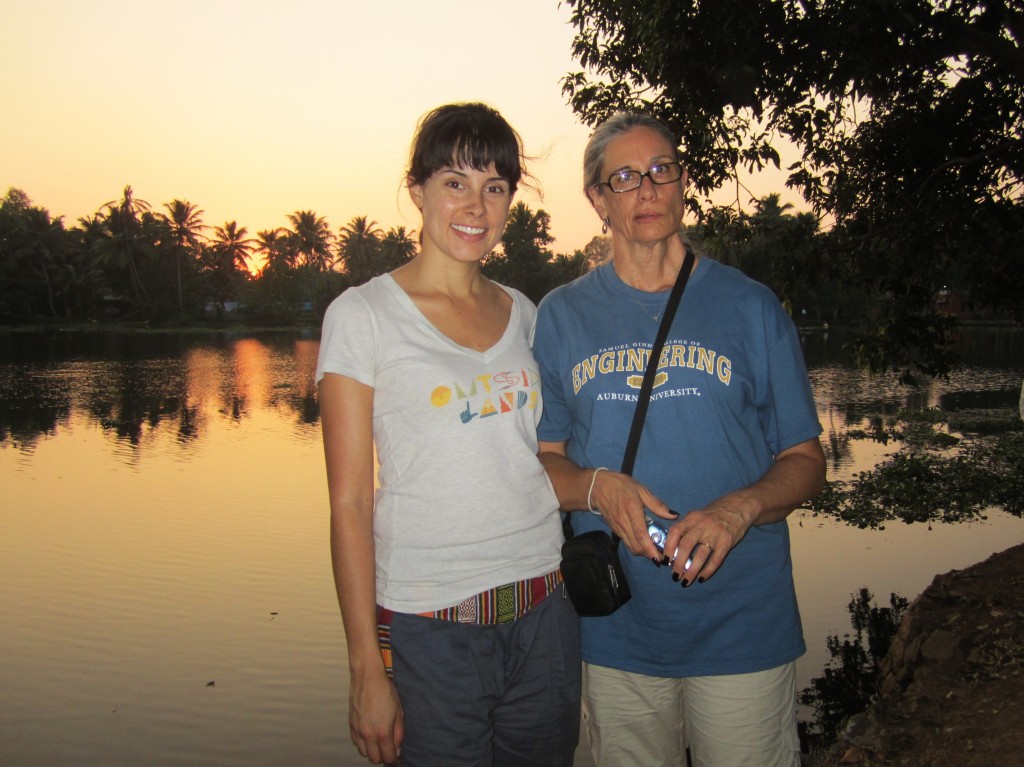 We went on an educational walk with our homestay host
The next day, we boarded a beautiful houseboat and spent 24hours cruising the rivers and lakes and eating home-cooked meals prepared by our new host. It was perfect.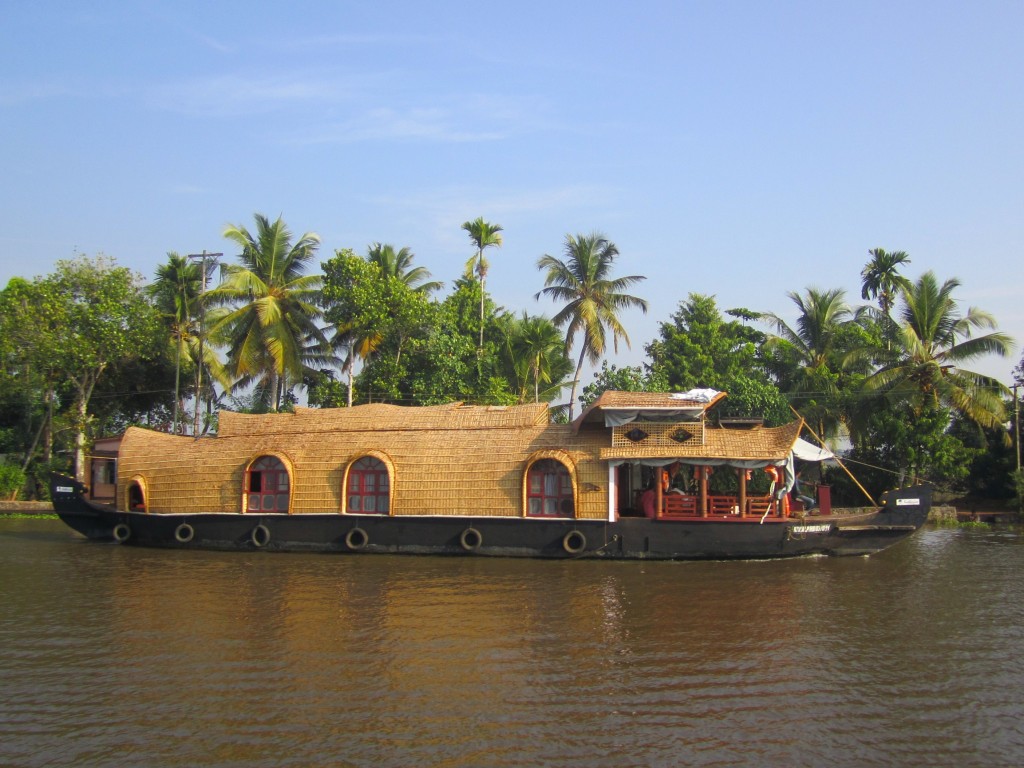 Houseboat in the backwaters of Kerala, India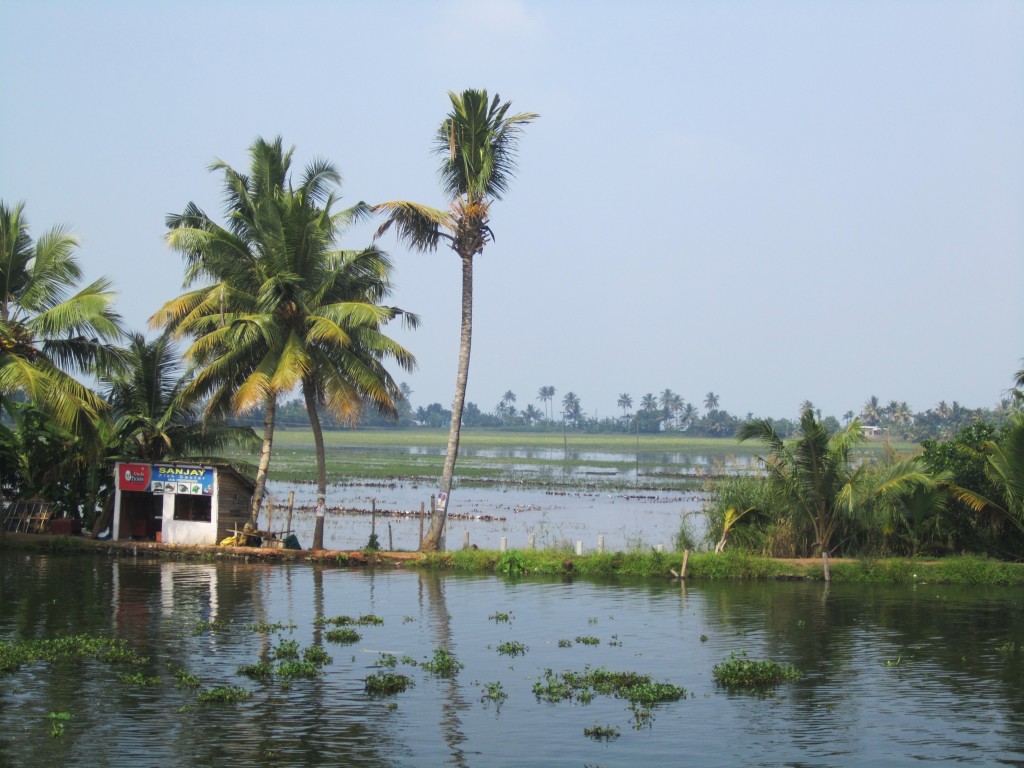 Flooded rice fields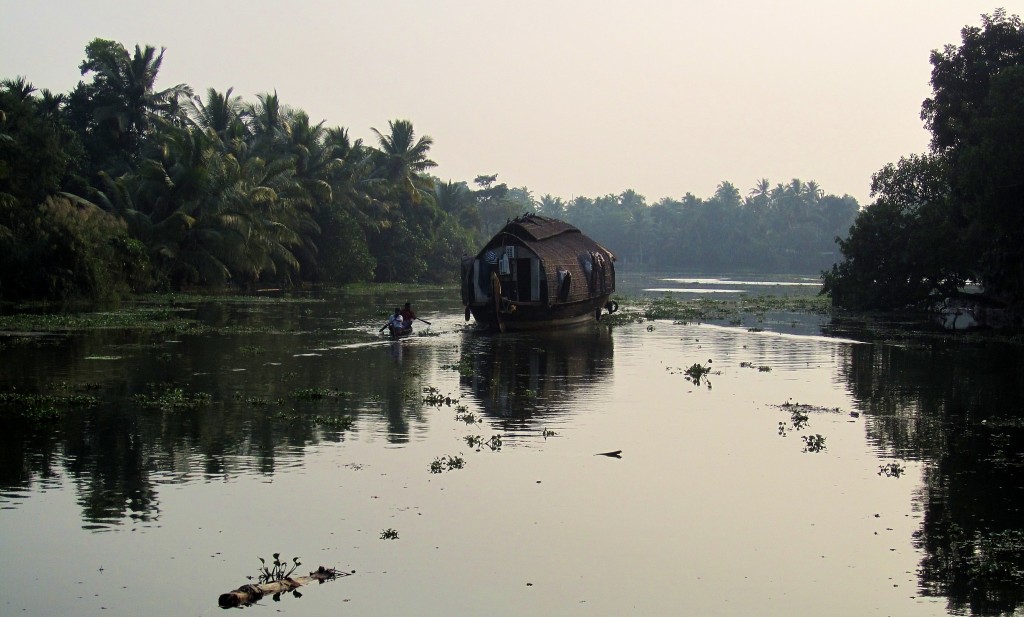 Dusk on the river in Kerala, India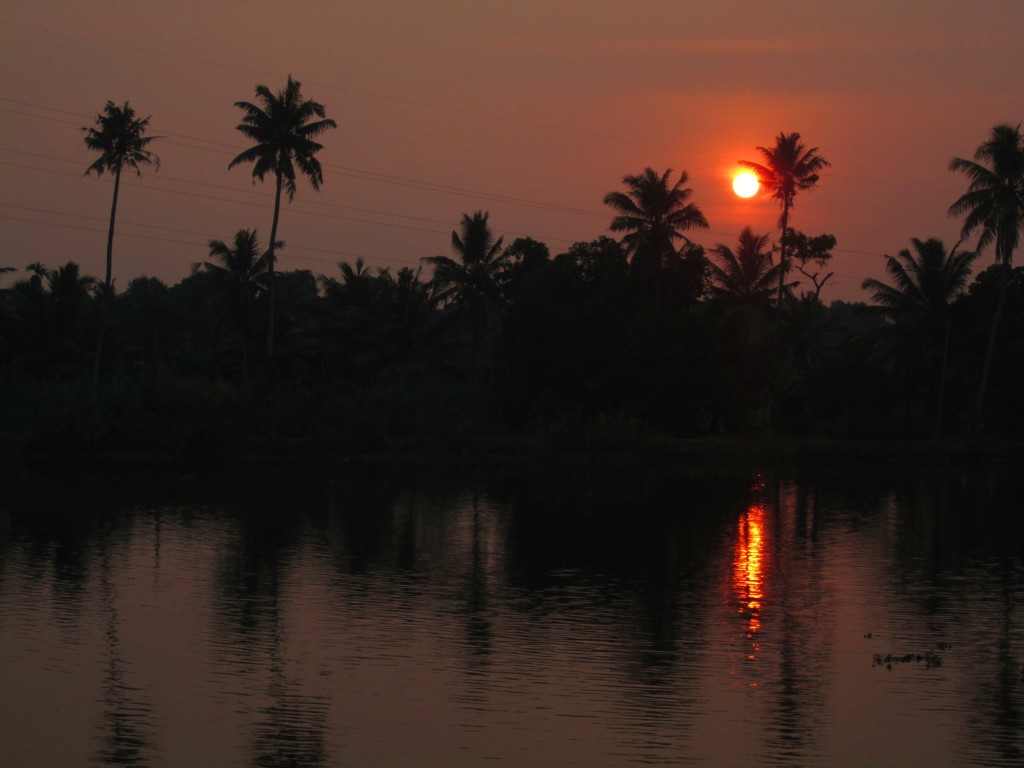 Final sunset in Kerala, India
We were sad to leave the houseboat.
Our flight to Hyderabad wasn't until that night, so we spent the day walking along a beach of the Arabian Sea, exploring a palace, and experiencing Ayurveda, a traditional form of medicine that incorporates a lot of herb-infused oils. Ayruveda can treat more serious medical issues, but my mom and I opted for a massage and Shirodhara, a treatment where warm oil is poured on the forehead. The massage was kind of crazy (which began when I walked into a brightly lit room and immediately had an elderly Indian woman tell me to take all of my clothes off) and it took a few washings to get all of the coconut oil out of my hair (the first of which involved only a bucket of hot water at the Ayruvedic facility), but it was all the perfect cap to a wonderful week in Kerala.
October 18th, 2011 | Rachel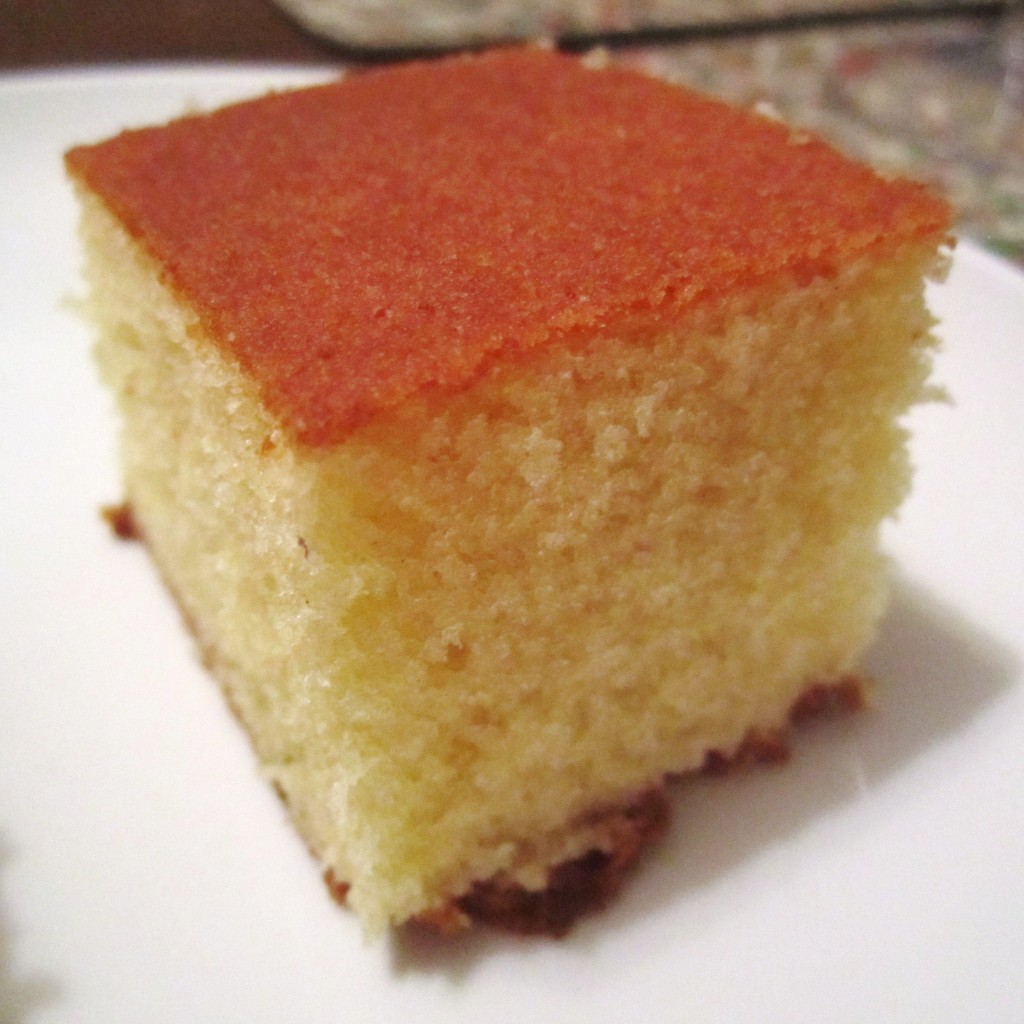 Square Cake?
It's amazing what a difference following directions can make.  Having rated that last yellow cake recipe a lowly C-, I decided to give it one more try, this time using the instructed quantities of milk and eggs.
The result was a very tasty and moist cake, although it felt a little bit gritty.  I have a 5 lb bag of organic cake flour coming in the mail this week, and I am curious to taste and feel the difference.  FYI, if you find yourself in need of cake flour and only have all-purpose flour, cornstarch and a flour sifter on hand, I find the ratio of seven parts all-purpose flour to one part cornstarch sifted together at least once to be a perfectly decent substitute.
Speaking of flour sifters, does anyone know the proper way to wash them?  I've been rinsing mine, but I hate the little hardened pieces of flour that get trapped inside.
Steve and I have less than a week until our California trip, and I couldn't be more excited.  I think I am still a little traumatized from my last job when it comes to planned vacations.  With that job, no matter how far ahead a trip was planned, there was always this lurking fear that something would come up and the trip would either have to be cancelled or I'd have to spend half the time typing away on my laptop.  That never happened to me, of course, but I heard stories.
I was recently reminded of a fateful weekend back in 2010 when I decided to take Steve on a last minute trip to Nova Scotia for the Fourth of July weekend.  The plane tickets were going to be $800 each, but I cashed in some frequent flyer miles and found us a beautiful lodge up in Cape Breton.
A couple of days before the trip, I got an email at work looking for a few extra people to work on a document review project.  I needed the extra hours, so I volunteered for the project and explained at the meeting that I was going to be out of town for the weekend but would work as much as I could before I left and after I got back.
Apparently, I was expected to either cancel my trip or spend all of my time in my hotel room reviewing documents because I got a scathing "I'm disappointed in you" email from the partner when the project was over and an even more scathing review at the end of the year — one that the practice group leader made sure I never forgot.  It didn't matter that my other reviews and day-to-day feedback (on projects that were actually substantive) were overwhelmingly positive.
For a long time, I looked back at that experience with mixed emotions.  I felt I had made the right choice, but I knew within the context of being an associate at a large law firm it was the wrong choice.  When things started to unravel at the beginning of 2011, part of me wished I had played it safe so I would have gotten a big end-of-the-year bonus (the denial of which was attributed to that very same negative review) and job security.
Only recently did I realize that the decision to go on that trip isn't quite the albatross that I've been making it out to be in my head.  As some of you know, I am an avid traveler (this year alone I've been to China, Tibet, Nepal, Taiwan, and France, in addition to California wine country with my mom and Yellowstone with my brother), and one of the ways that I have traveled so much is I have made it a top priority ever since I took a three-week trip to Australia and New Zealand when I was 18.  I still plan on living abroad one day.
There were a lot of things I enjoyed about working at a law firm, but being too afraid (and overworked) to make vacation plans — as most people seemed to be — isn't the kind of life I want to live.  Life is too short for that :-)  So, as it turns out, making the decision to go to Nova Scotia with Steve wasn't me sacrificing my cushy, New York law firm job.  It was me choosing to stay on my own path and not get trapped on someone else's.
Now that I have been away from that job for six months, I am started to see a completely different future take shape ahead of me.  It might not be as lucrative, but it is going to be a whole lot more fulfilling.
Stay tuned.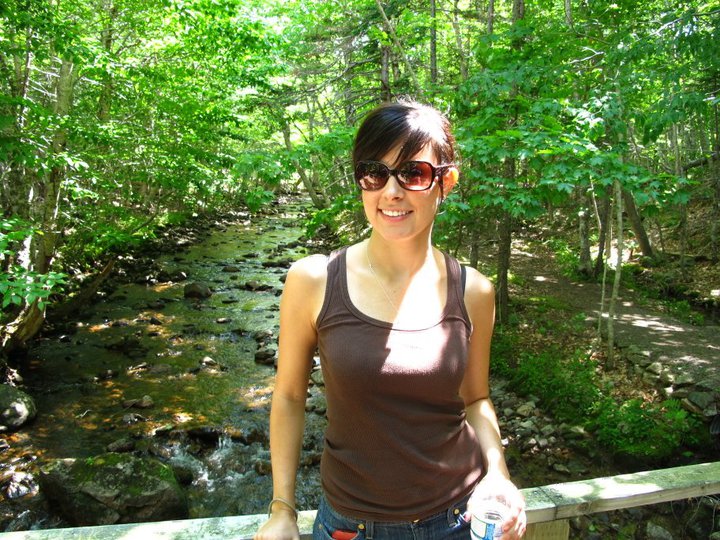 Hiking in Cape Breton, Nova Scotia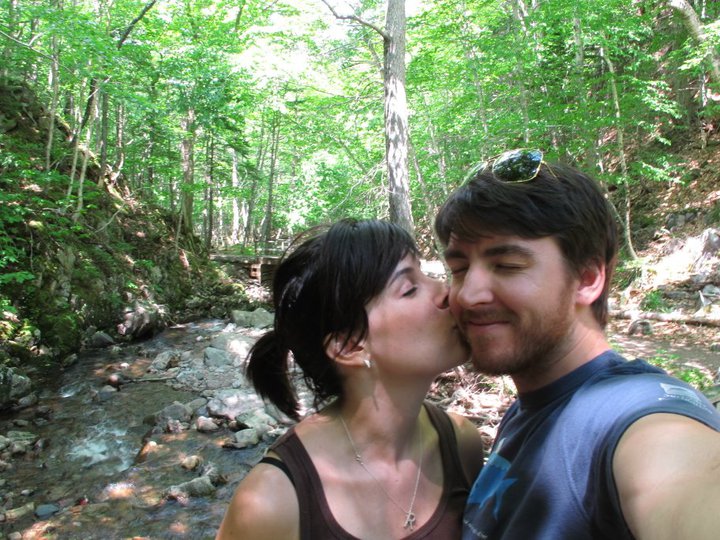 :-)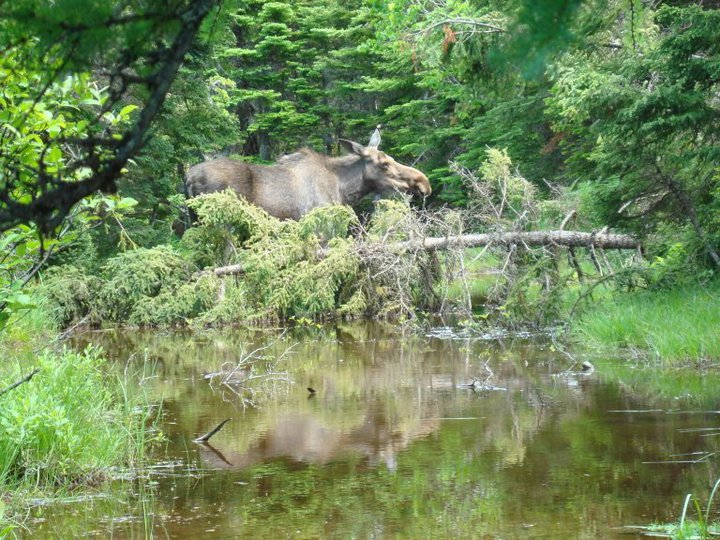 A Moose!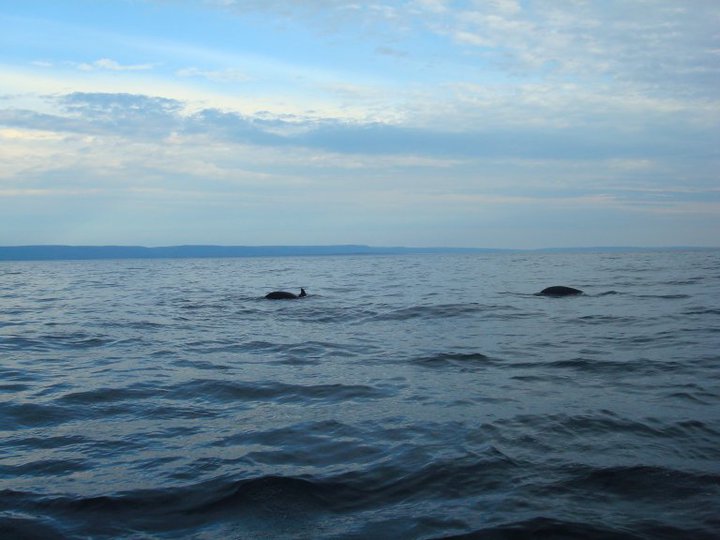 Whales!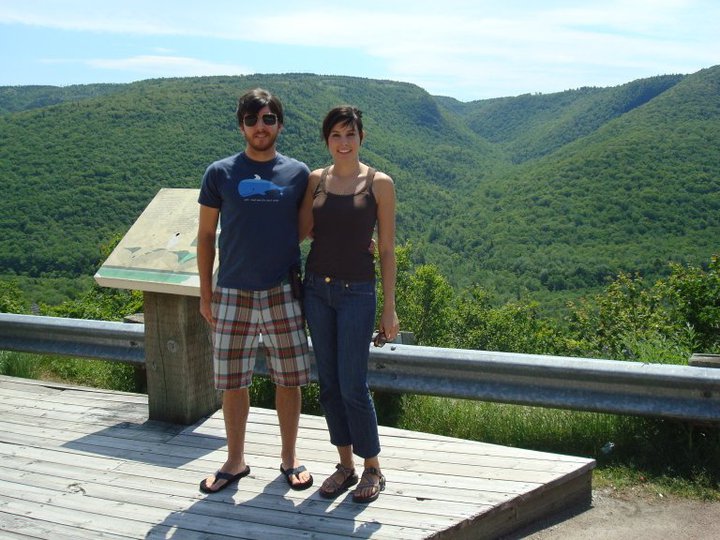 Driving the Cabot Trail in Cape Breton, Nova Scotia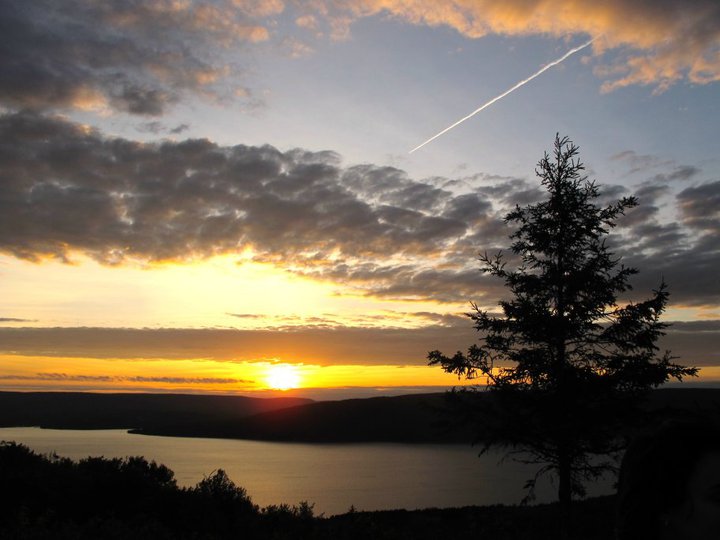 Sunset in Nova Scotia
July 7th, 2011 | Rachel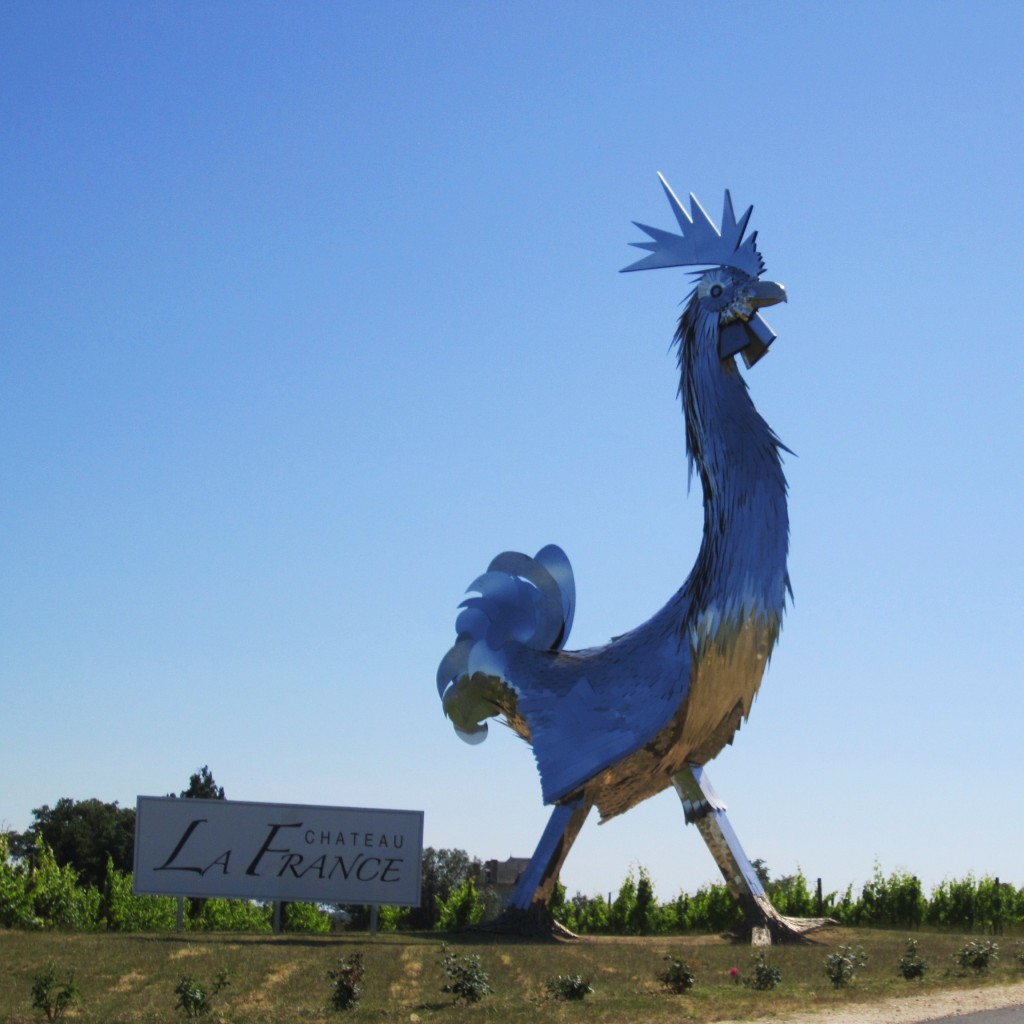 In honor of an upcoming trip to California wine country with my mom, here's a few notes on one of my favorite French wine regions.
I'm no expert on the wine side of things (for a more detailed assessment, you could start here), but I can testify to the fact that the town of St. Émilion and its surrounding countryside are gorgeous, and the wines are DELICIOUS (albeit a little on the expensive side).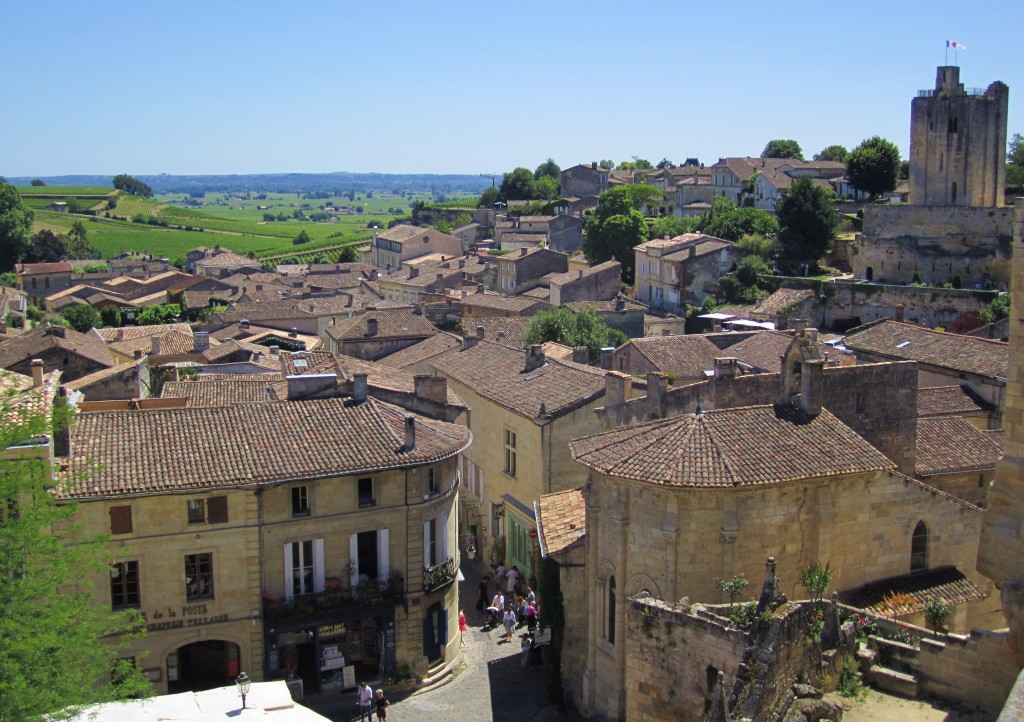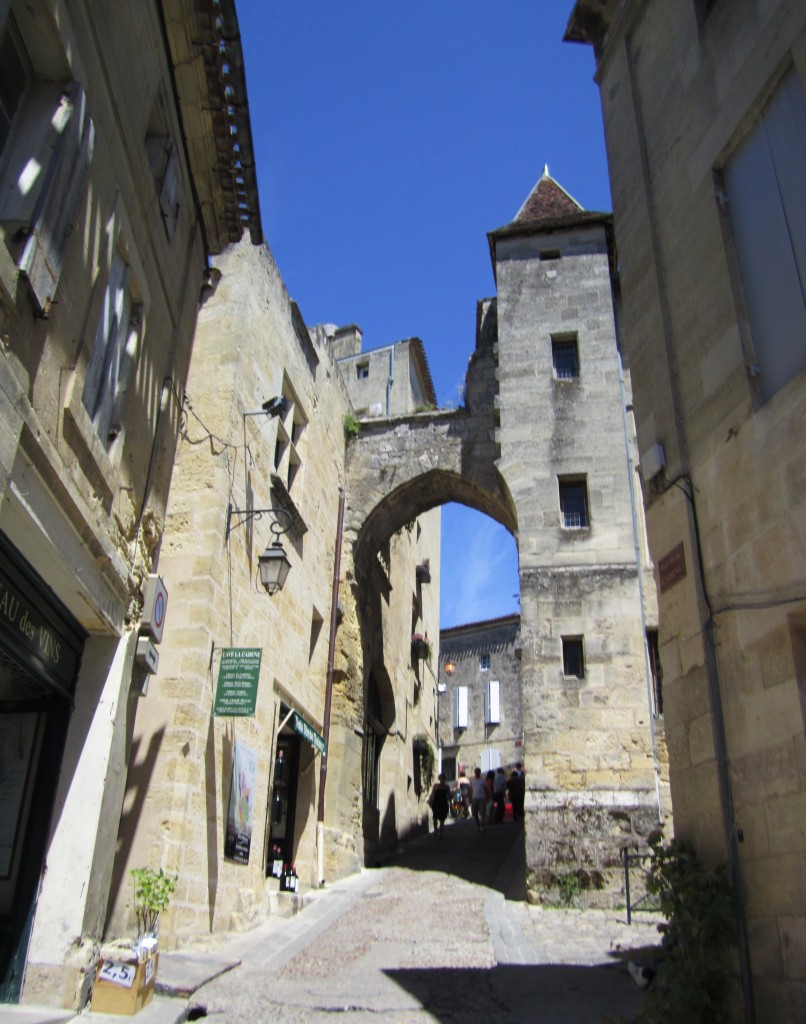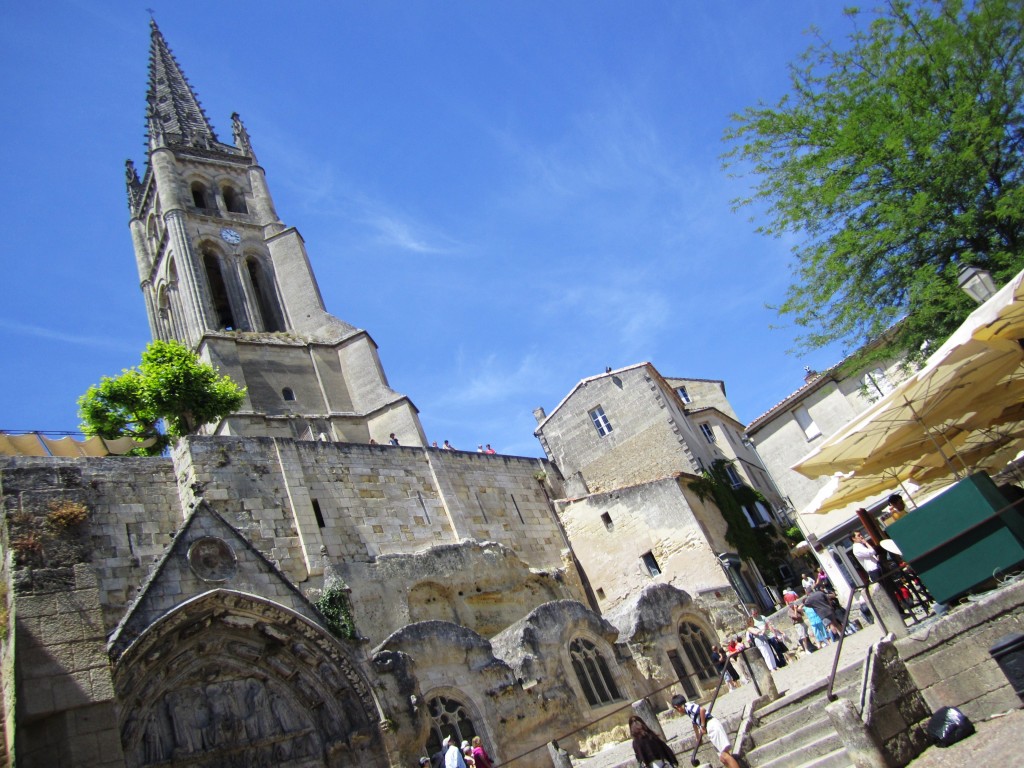 St. Émilion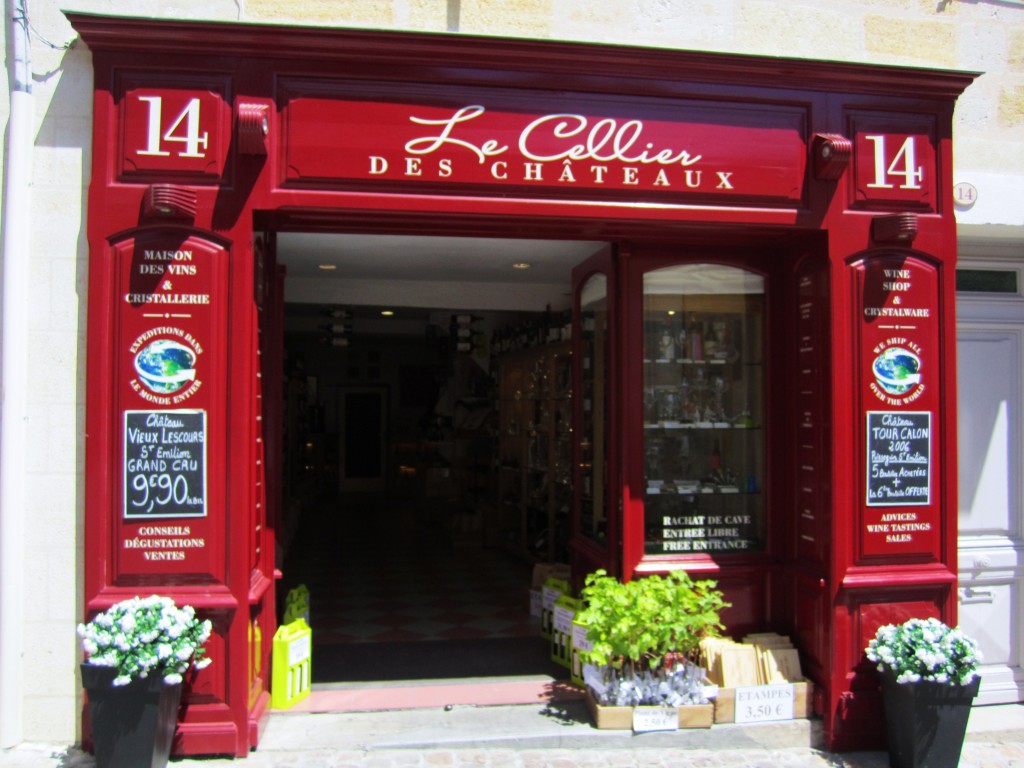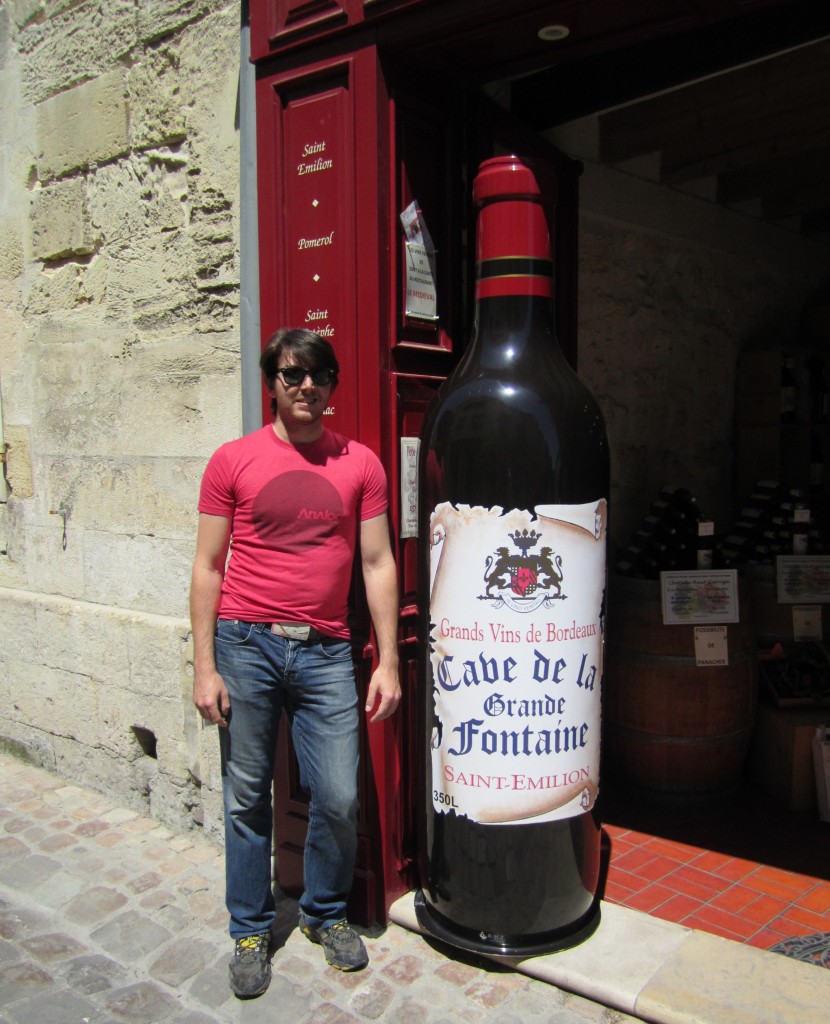 Two of many wine stores in St. Émilion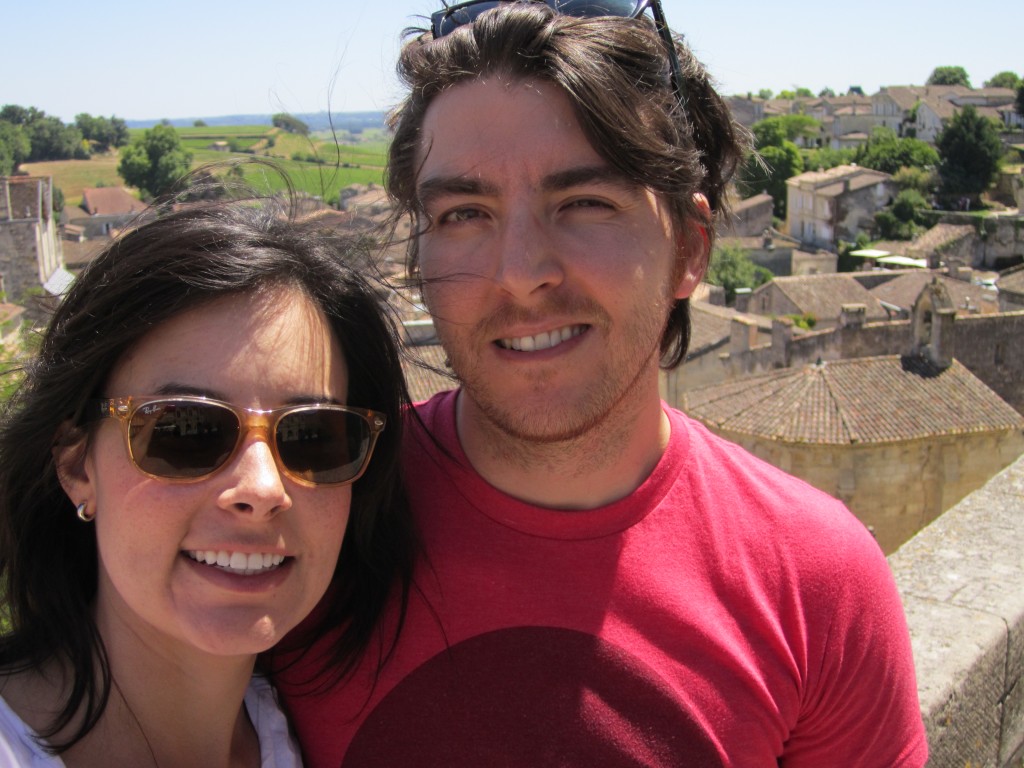 Steve and me in St. Émilion
 St. Émilion is the name of both the town and the appellation d'origine contrôlée (AOC) for wines originating in the surrounding region, which is located about thirty minutes west of Bordeaux.  The wines are predominantly made from Merlot grapes as the base with varying proportions of Cabernet Sauvignon and Cabernet Franc.
The wineries in this region take great pride in the classifications that are unique to the region and are reevaluated approximately every ten years.  These classifications are the Premiers Grands Crus Classés and the Grands Crus Classés.
Upon the recommendation of our innkeeper at Chateau De La Moune (more on it later), Steve and I spent a delightful afternoon at Chateau Fonplégade, a St. Émilion winery.  [As a reminder, you can click on the photos to view them larger.]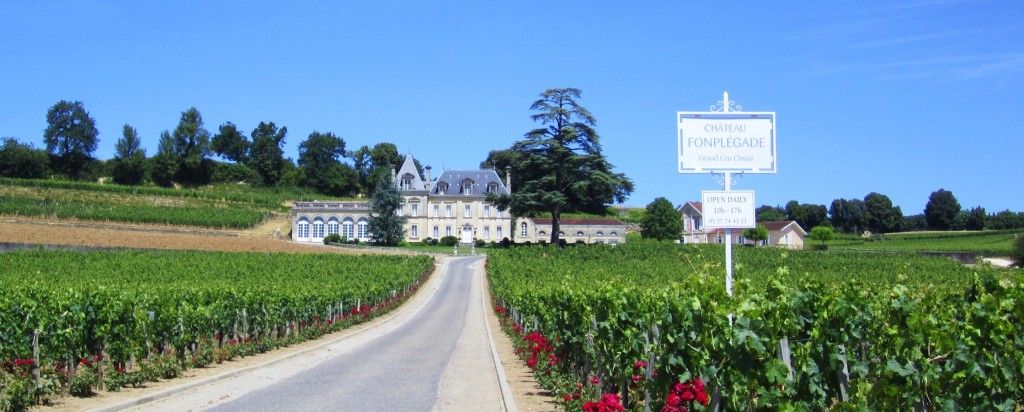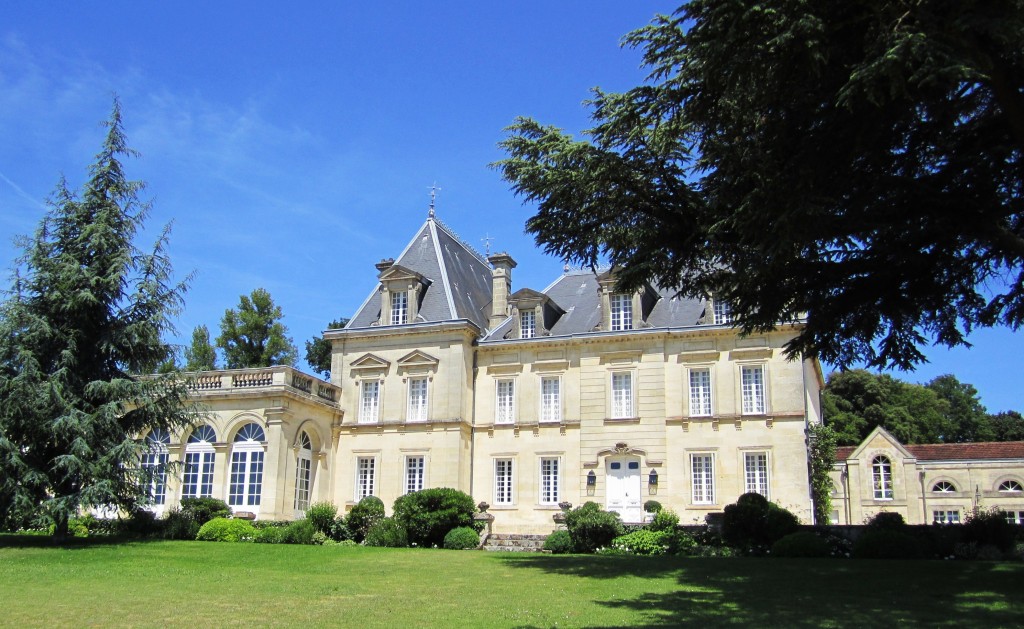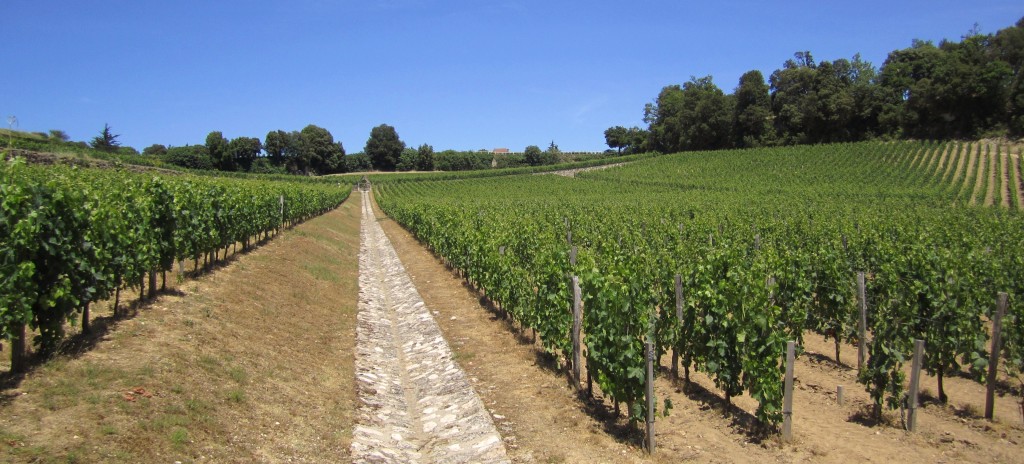 Chateau Fonplégade
This winery was purchased in 2004 by American billionaires Denise and Stephen Adams.  It is currently classified as Grands Crus Classé, but they are trying to achieve the higher classification of Premiers Grands Crus Classé.  The Adamses spent $7 million renovating the facilities and installing state of the art wine-making equipment.  They also have switched to organic farming methods.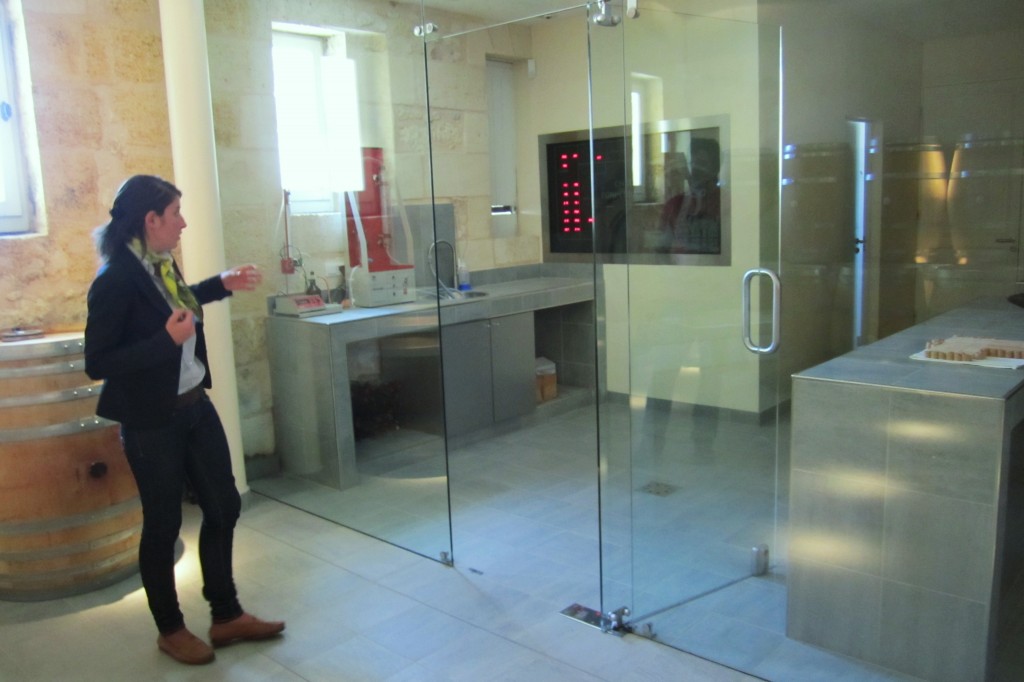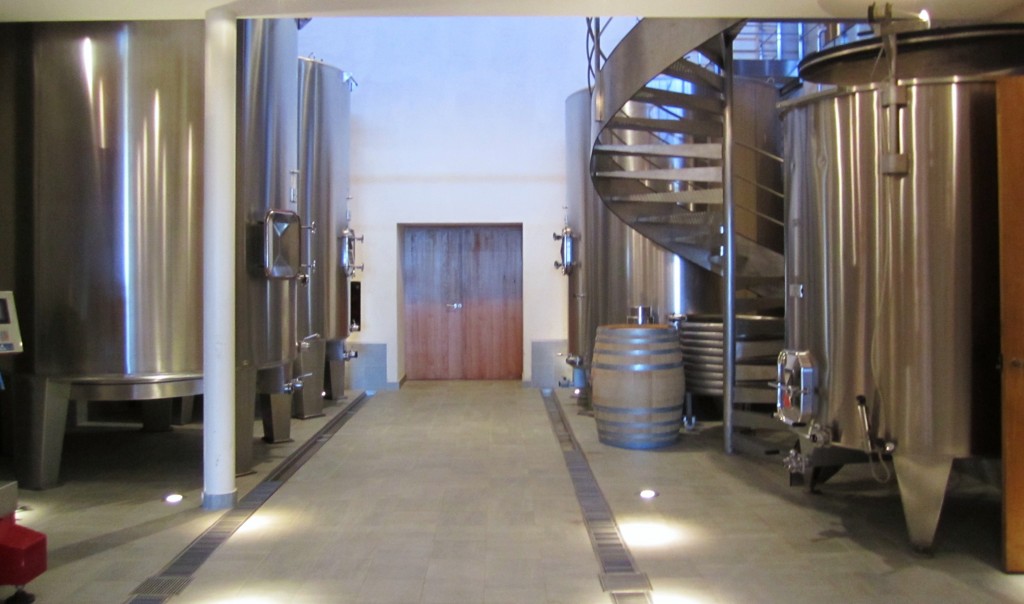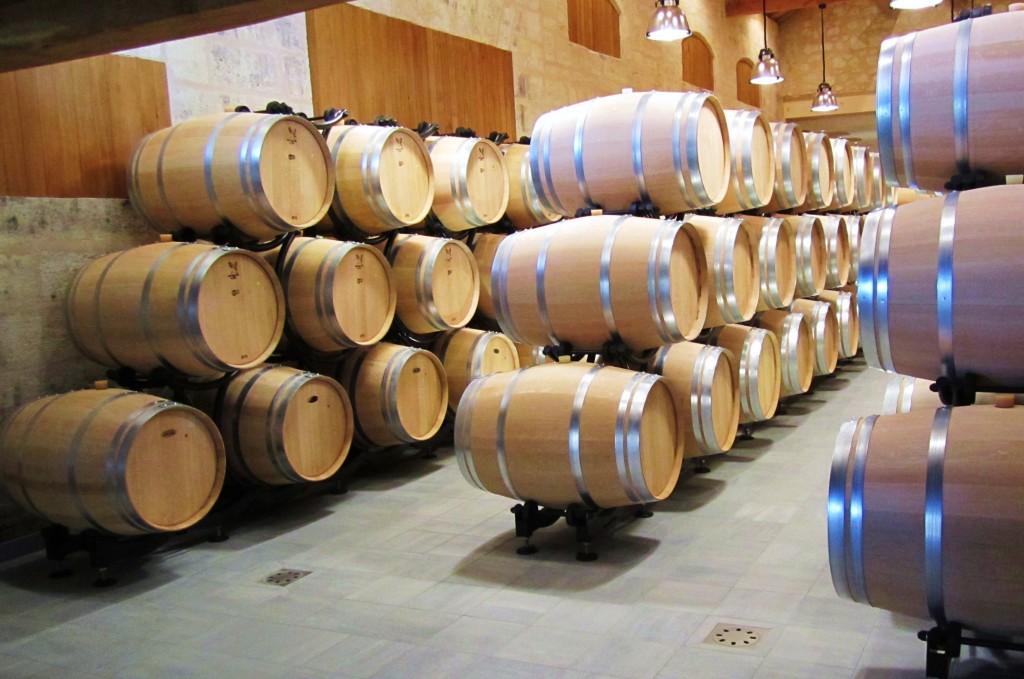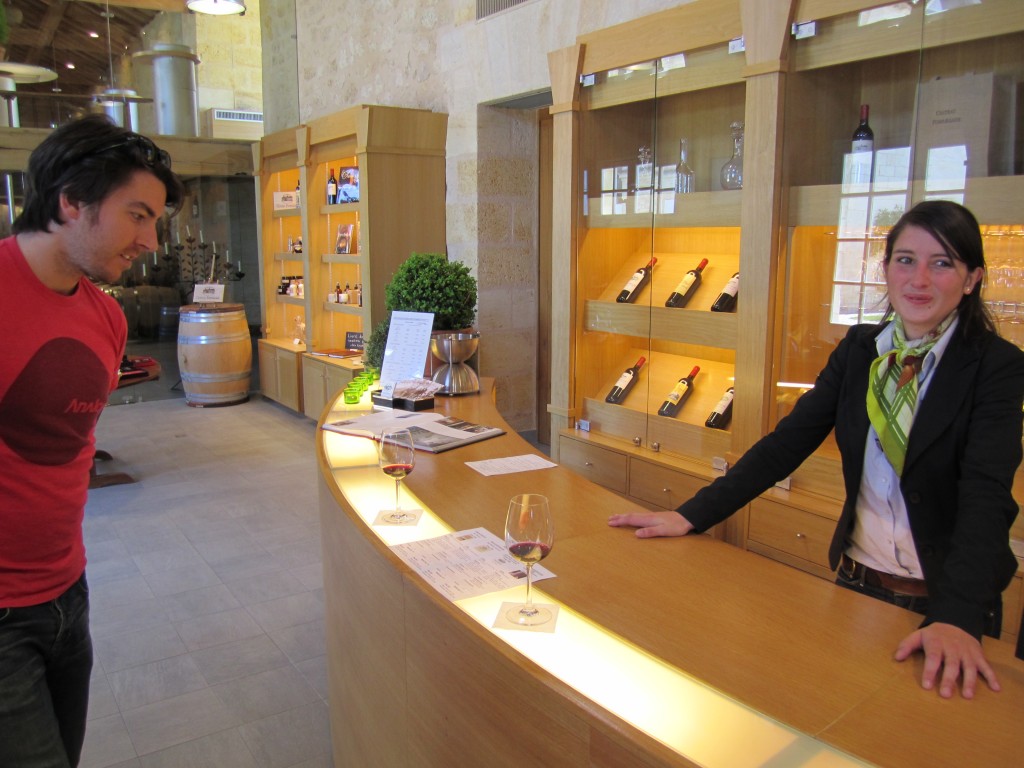 The facilities at Chateau Fonplégade
Whatever they are doing, they doing it right because the wines were so delicious that Steve and I joined their wine club (a concept the French we spoke to had never heard of).  With the exception of their rosé (also a relatively new concept for that region), many St. Émilion wines have to age ten or more years before they reach their true potential.  We hid the bottles we brought home with us and are trying to forget about them for the next eight or so years so we don't accidentally drink them prematurely.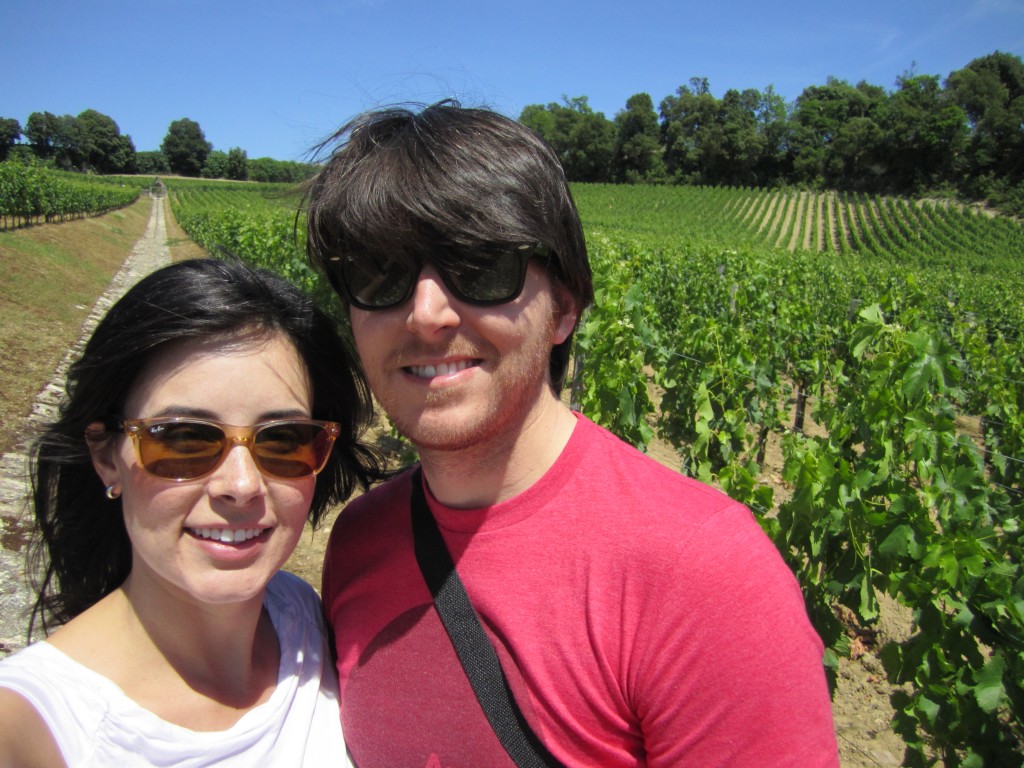 We tried to visit Chateau La France, pictured at the top of this post with the giant metal chicken, but sadly it was closed that day.
What about you?  Any favorite St. Émilion wines we should know about?