Posts Tagged 'Thanksgiving'
November 22nd, 2012 | Rachel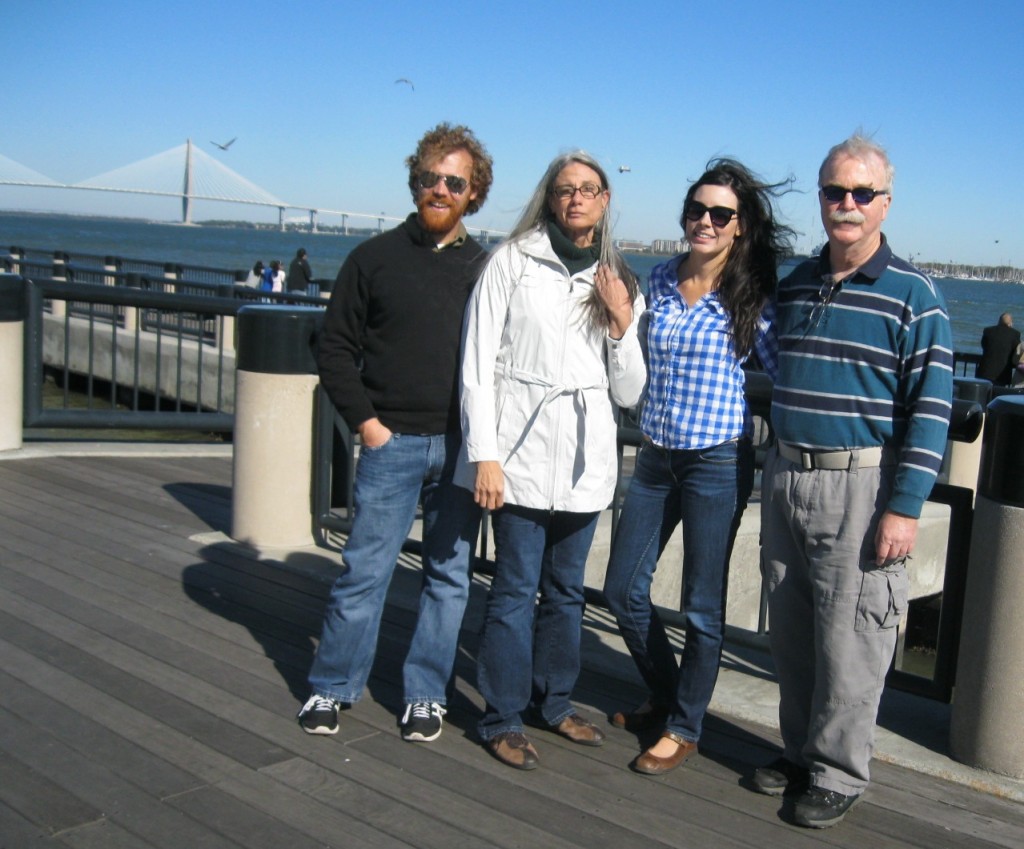 Happy Thanksgiving From The Hundleys!
 My family is gathered in Charleston, South Carolina for Thanksgiving this year. My parents sold the house we had here, so we are renting a condo on the beautiful Isle of Palms.
I got to spend some times with old friends the past two days, even passing through my college stomping grounds in Athens, Georgia.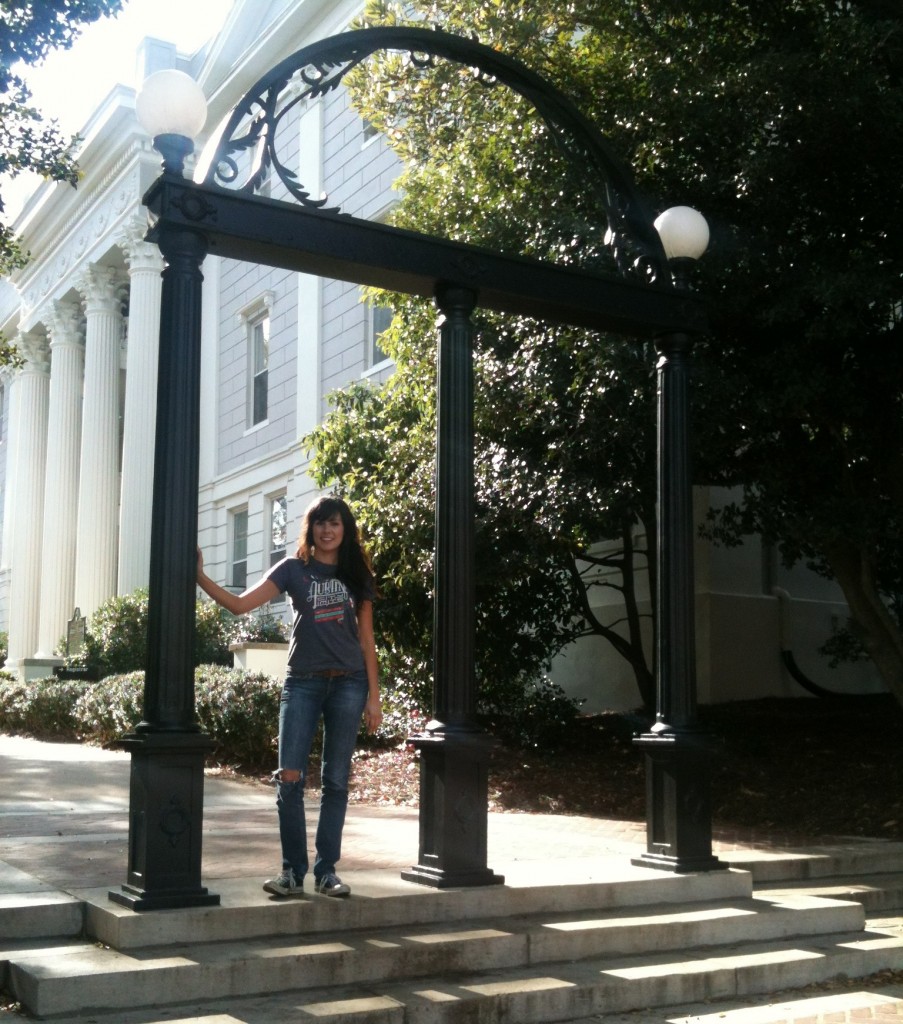 The Arch at The University of Georgia
Instead of cooking dinner in our rented kitchen, we decided to take it easy this year and have Thanksgiving lunch at Poogan's Porch, a great upscale Southern food restaurant downtown. We had perfectly prepared smoked turkey, ham, stuffing, gravy, corn pudding, mashed potatoes, green beans, cranberry sauce and exceptionally good biscuits. We framed our main course with she-crab soup, corn chowder, chocolate pecan bars, pumpkin cheese pie, and cranberry streusel.
Now we are back at the condo napping off the tryptophan. Tonight I'm introducing the rest of my family to Apples to Apples!
I hope you have had a wonderful day with your own loved ones, whoever they may be. If you had to work today, I hope you get to relax and celebrate tomorrow or this weekend.
Last November I wrote daily(ish) blog posts about things for which I am thankful. You can see that full list here. Thank you so much for reading my blog. I hope the next year will be even more interesting to follow as the new business comes to life.
Thank you!
December 23rd, 2011 | Rachel
…and other people or food-focused holidays.
Join me in the comments or on your own blog as I give thanks every day this month.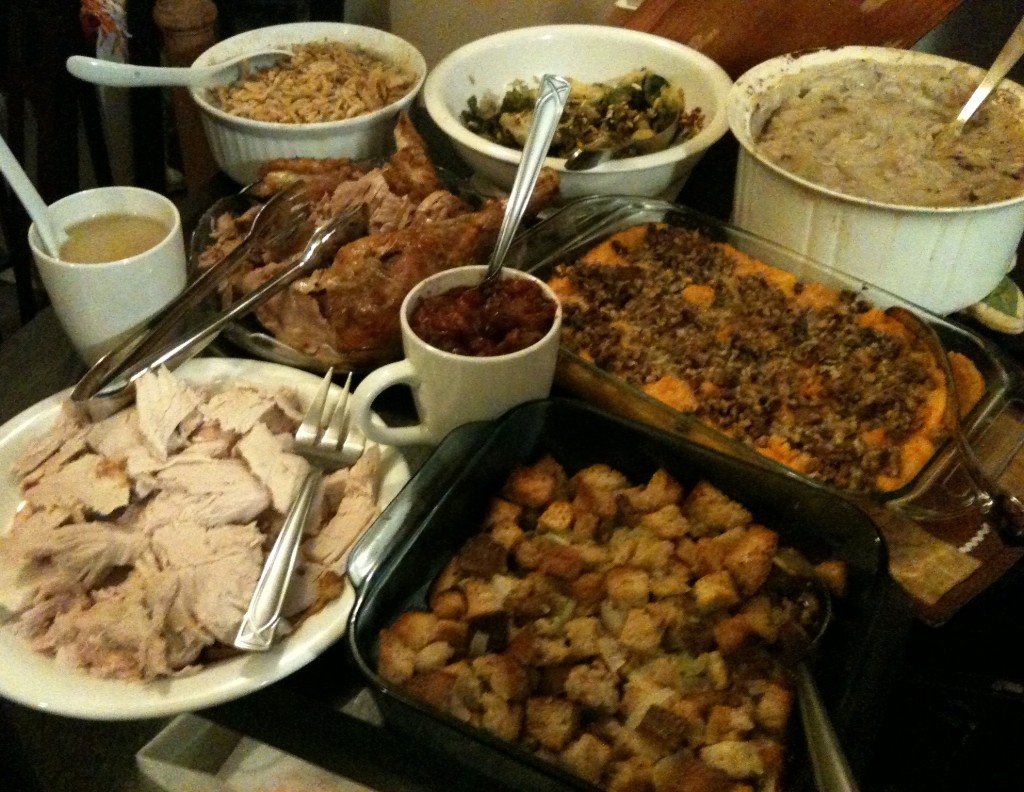 Thanksgiving Spread 2011
Here we are, the namesake of this whole "Thankful November" blog feature.
Thanksgiving has been my favorite holiday for a long time.  I remember contemplating the essence of Thanksgiving back in high school, so we're talking at least ten years now.
I don't particularly care for holidays and events that involve gifts.  This might make me look like a scrooge, but I don't like birthday presents or Christmas presents or even wedding presents per se.  What I do like is finding something that makes me think of someone and getting it for them or purposely seeking out some sort of token to show someone I am thinking of them.  I also prefer shared experiences over tangible things.
This is just one of the reasons Thanksgiving is my favorite holiday.  There are no gifts exchanged at Thanksgiving, no societal pressure to buy your kids the coolest toys or give your significant other something they can brag about to their friends.  No, the only purchases made at Thanksgivingtime are made at the grocery store.
The focal point of Thanksgiving is, usually, the Thanksgiving dinner.  With the food is the main event, a natural byproduct is sitting around a large table and conversing with one another.  It is in every way a communal holiday.
Although I was not able to spend Thanksgiving with my family this year, I did participate in a lovely Southern-style traditional Thanksgiving dinner c0-hosted by my friend Arthur.  We had a great group of about 12 guests including Steve, several of our church friends, a friend's visiting mother, a Canadian and a friend of mine who I hadn't seen since college who happened to be visiting from San Francisco.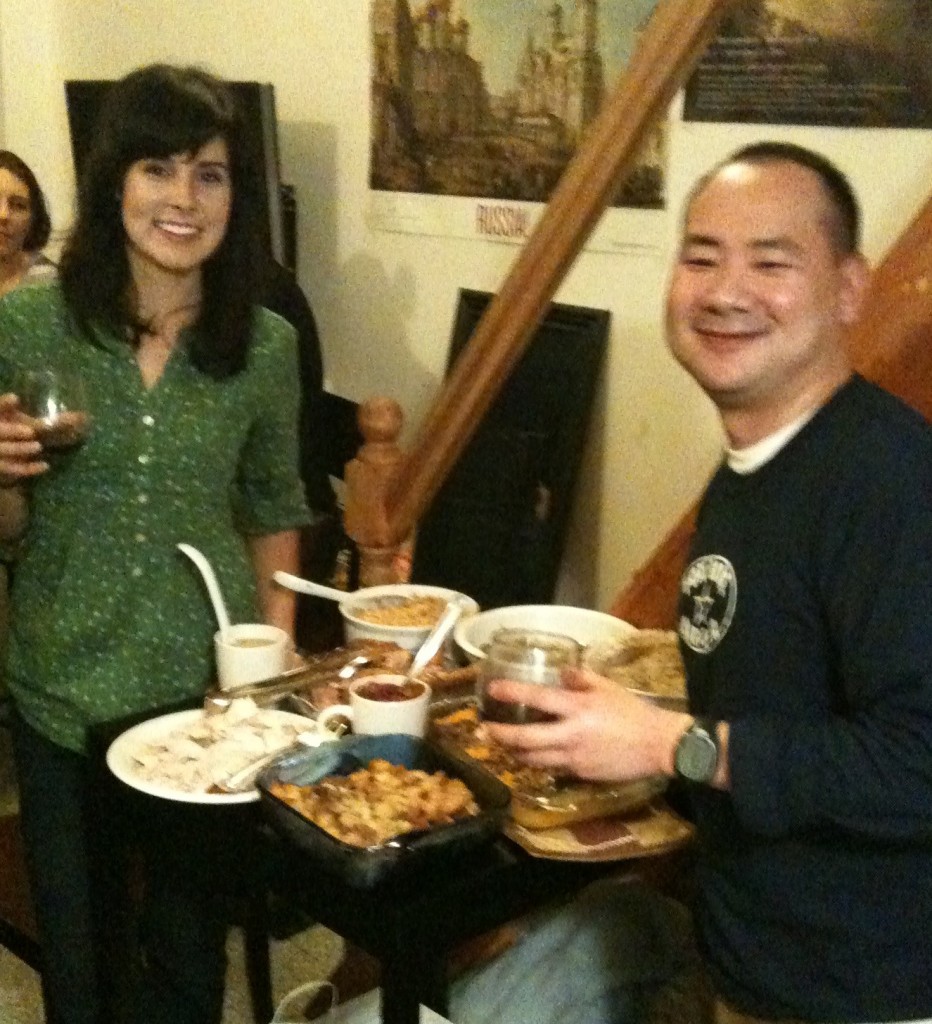 Thanksgiving Co-Hosts (2011)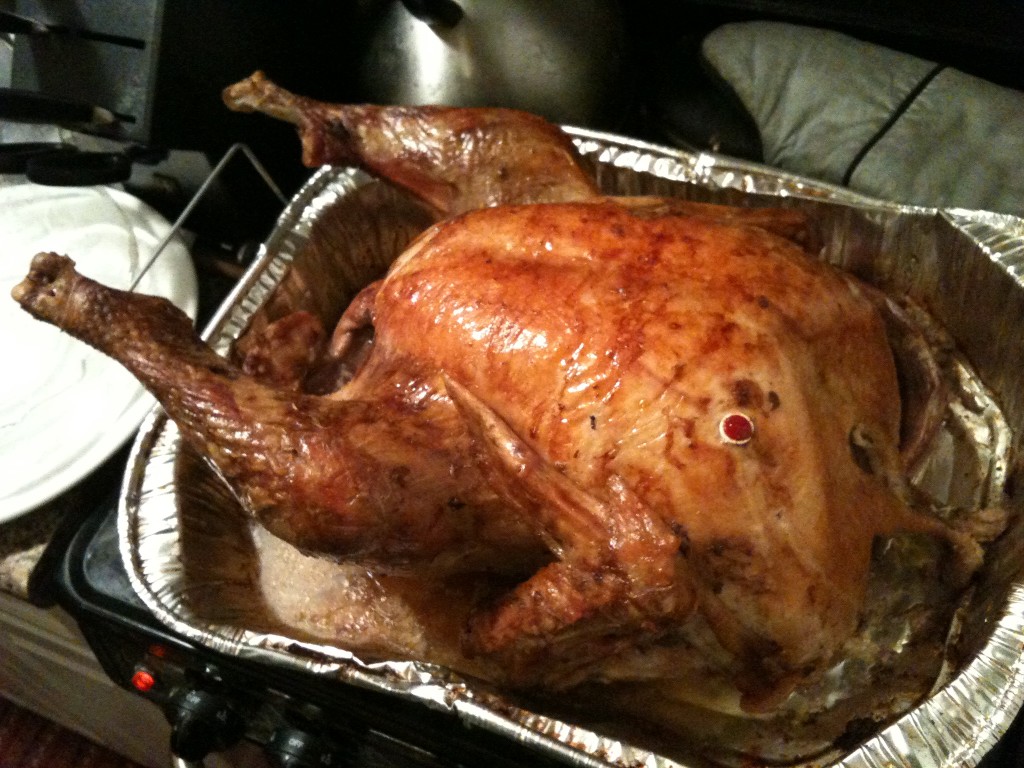 Delicious Roasted Turkey (2011)
Dinner was about an hour and a half behind schedule, so there was plenty of time for our guests to catch up with the people they knew and get to know the people they did not.  When the turkey — a gift from my bakery — was finally finished, there was much feasting, followed by even more fellowship.  It was everything a holiday should be.
Christmas is coming up this weekend, and even though gift-giving is an expected part, there will also be many opportunities to focus on the two far more important aspects: food and people.  I am greatly looking forward to both.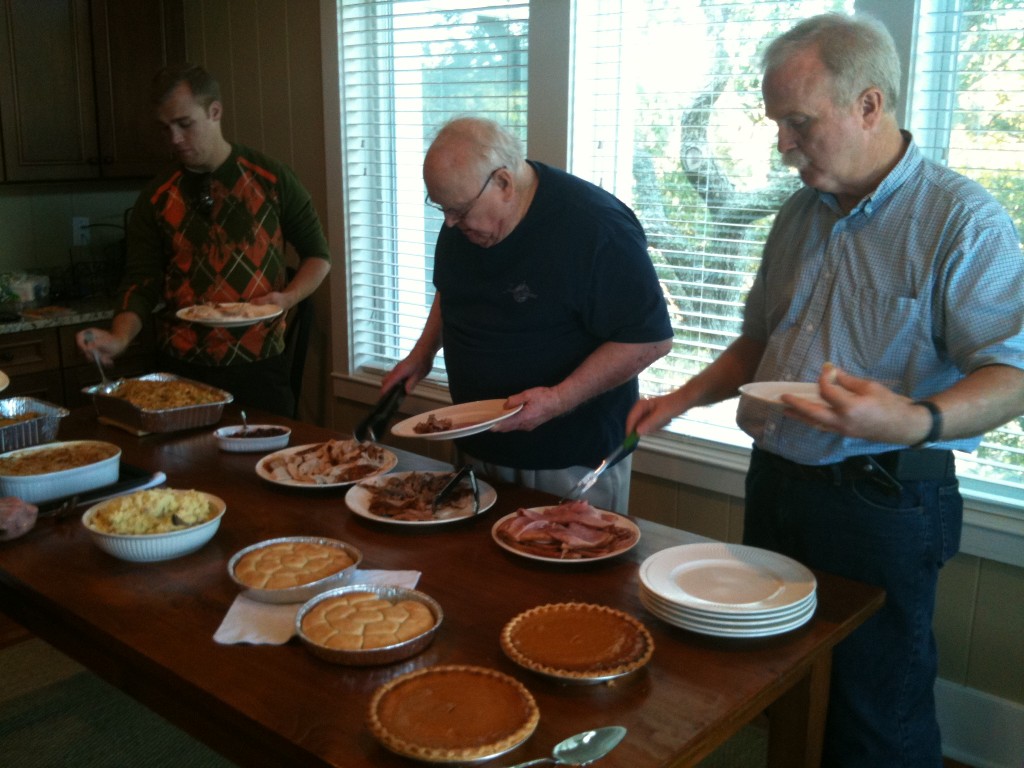 My brother, father, and grandfather loading up their plates on Thanksgiving 2010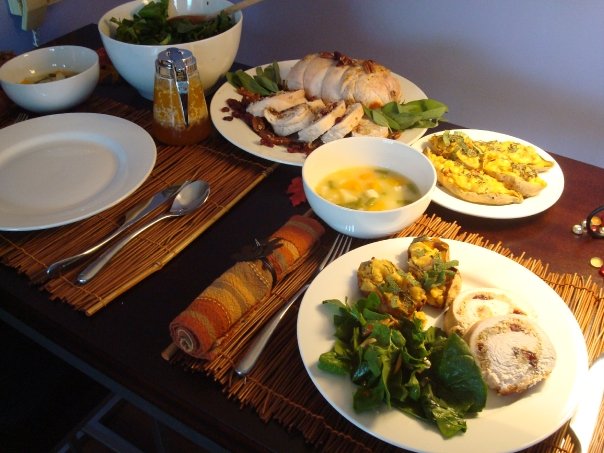 Thanksgiving for two with my mom (2008)
November 4th, 2011 | Rachel
Join me in the comments or on your own blog as I give thanks every day this month.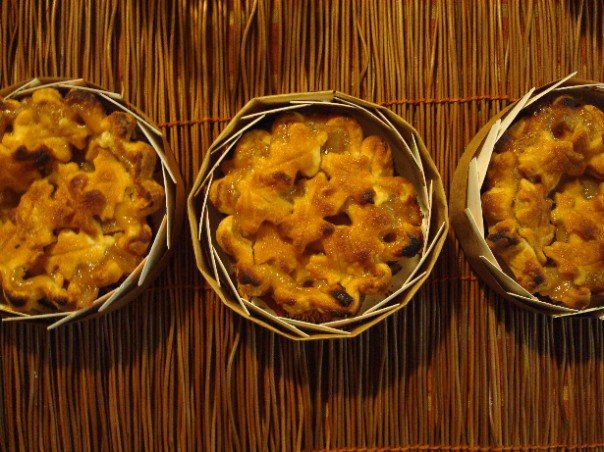 Mini Apple Pies
I started making pies back in 2007 during my final year of law school.  Although I wasn't a pie connoisseur growing up and do not have a history of pie-making in my family, I was drawn to the American tradition, visual simplicity and endless versatility of making pies.  Plus people seemed to think it was hard, and I like a challenge.
I started out with Pie: 300 Tried-and-True Recipes for Delicious Homemade Pie by Ken Haedrich, which is a great resource for getting started in this realm of baking (except for the fact that it is so heavy and all of my colored photo pages fell out on the first day).  Focusing initially on the innards of my pies, I made the first several using store-bought pie crusts (the ones that come in rolls and are found either in the dessert area of the freezer section or the butter section of the grocery store).  Honestly, if you have limited space or time or just don't like cleaning up floury messes, I think the pre-made crusts are a perfectly decent substitute.
My first pie was an apple pie, inspired by the cover of that month's Martha Stewart Living.  I made four or five of them before moving on to cherry (mostly because I wanted to use a cherry pitter), caramel walnut, maple custard, port and plum, fig and grape and many others.  Like I said, the versatility of pies is endless.
I briefly dreamed of opening a pie shop, particularly after watching the movie Waitress, but I don't think I enjoy eating pie enough to have it be my sole focus.  That being said, my absolute favorite thing at Three Green Ducks is the cherry pie, and I am about 10% finished with a pie recipe book I want to publish (I'm also 10% finished with a book about my first year dating in New York, City but that is for another day).
Pie represents a lot of things to a lot of people.  For many, it reminds them of their grandmothers who made the best apple pie in town.  For others, it means summer picnics and the Fourth of July.  For others, it is a sign of apple-picking season or family reunions or the end of an amazing home-cooked dinner.  Whatever it is, pie is good, and I am thankful for it.
Here are some favorites I've made in the past few years: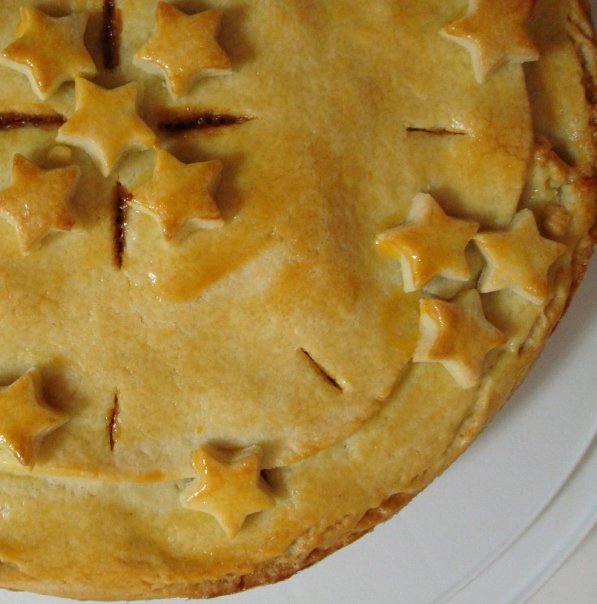 Caramel Walnut
Blackberry Sour Cream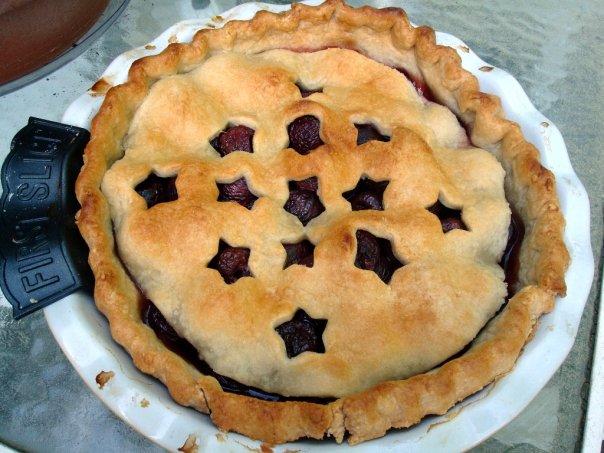 Classic Cherry With Floating Crust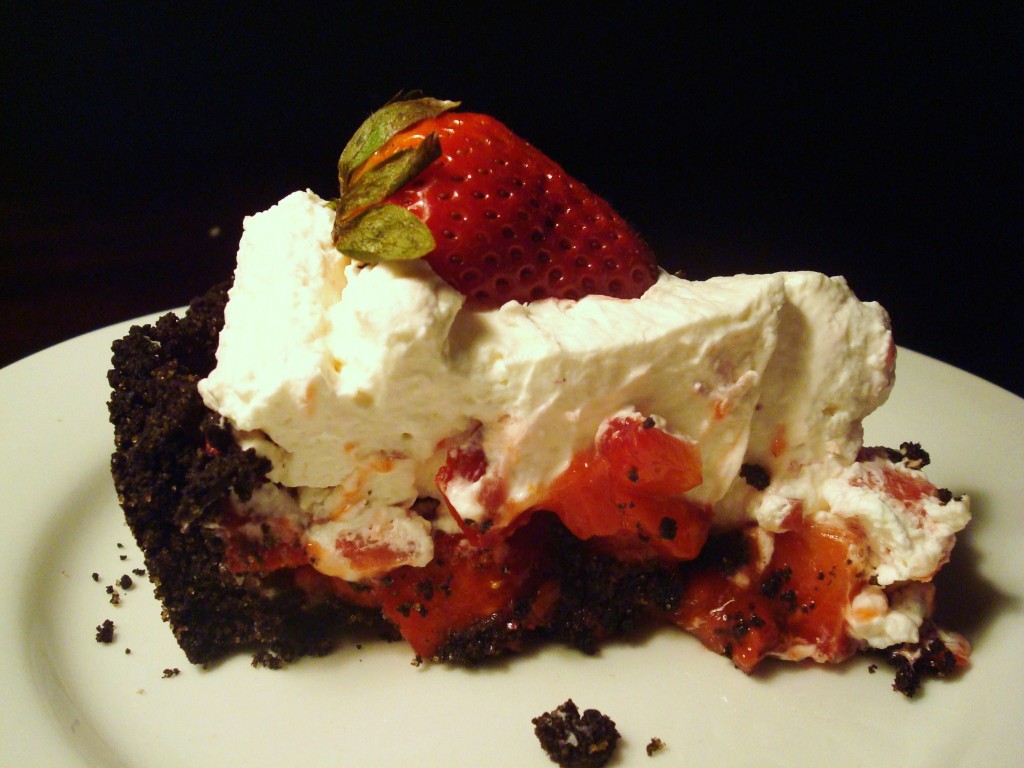 Triple Strawberry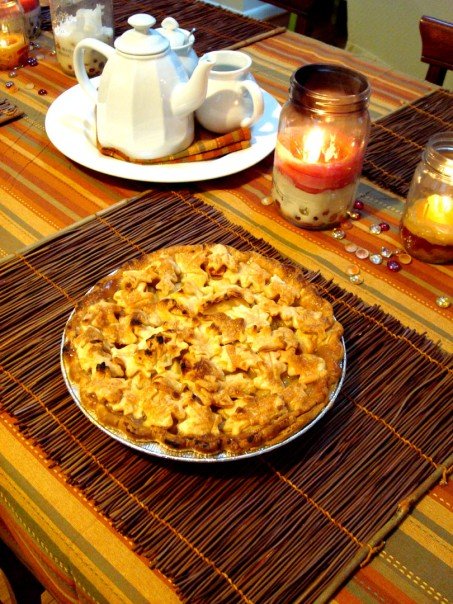 Apple Pie (replica of cover of Martha Stewart Living)
What does pie mean to you?
November 2nd, 2011 | Rachel
I just started this on Facebook and realized it'd be easier to record for posterity if I moved it to this blog.  For this month, I am giving thanks to something specific every day.  I'd love for you to join me in the comments or in your own blog!
Today (which I am still considering to be November 1 due to my night owl habits), I am thankful for the very basics: a roof over my head, a comfortable place to sleep and never having to worry about having enough food to eat.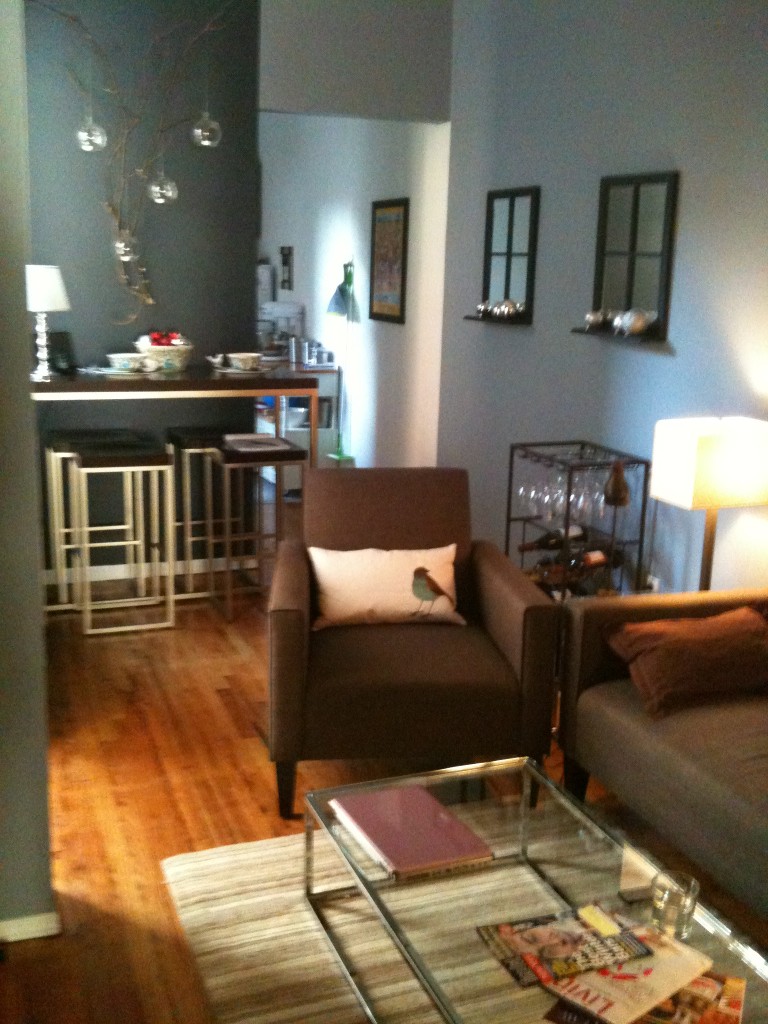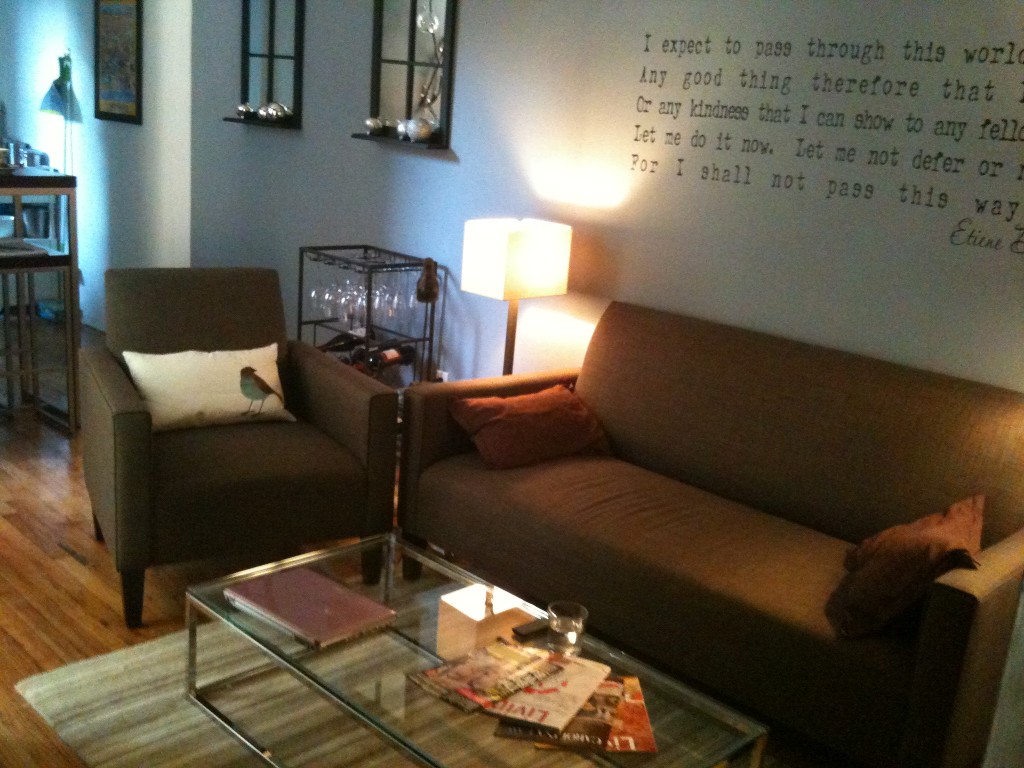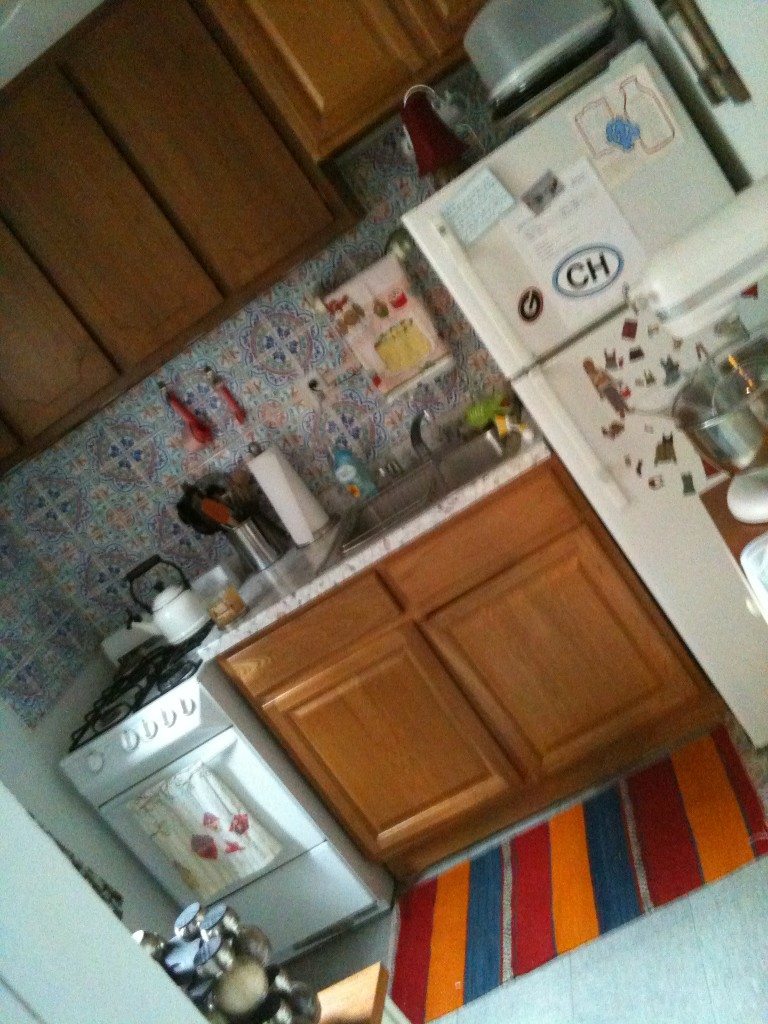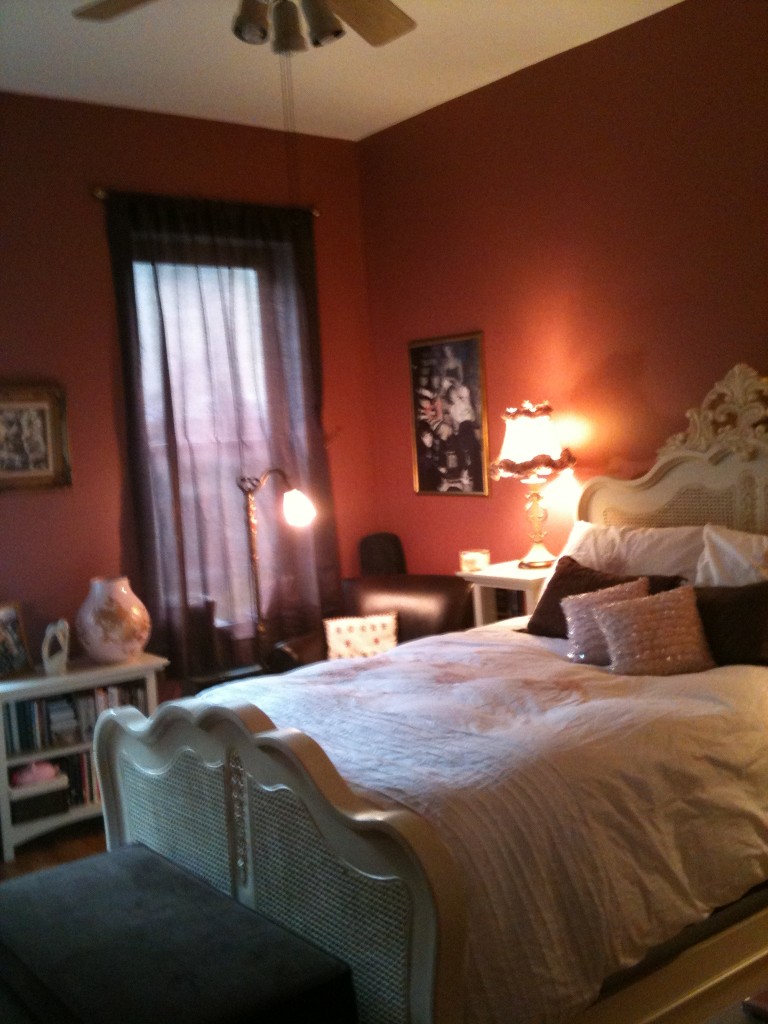 Photos of my last apartment in New York City
These are photos from my last apartment in the city.  Sorry about the quality… they were taken with my iPhone 3GS (ugh… so passé!).  Randomly, this apartment was featured in Time Out New York Magazine last year.  As a result, if you google 2BR Murray Hill, I'm the first search result.
Thank you also to my former law school classmate Jeni Smith for the idea behind Thankful November (who got the idea from one of her friends).  In my recent transition from the corporate legal world to bakery owner, I've already been making lists of things that I am thankful for in an effort to reconnect with my own core values.  Now its time to go public.
What about you?  What are you thankful for today?