Posts Tagged 'Three Green Ducks'
October 4th, 2011 | Rachel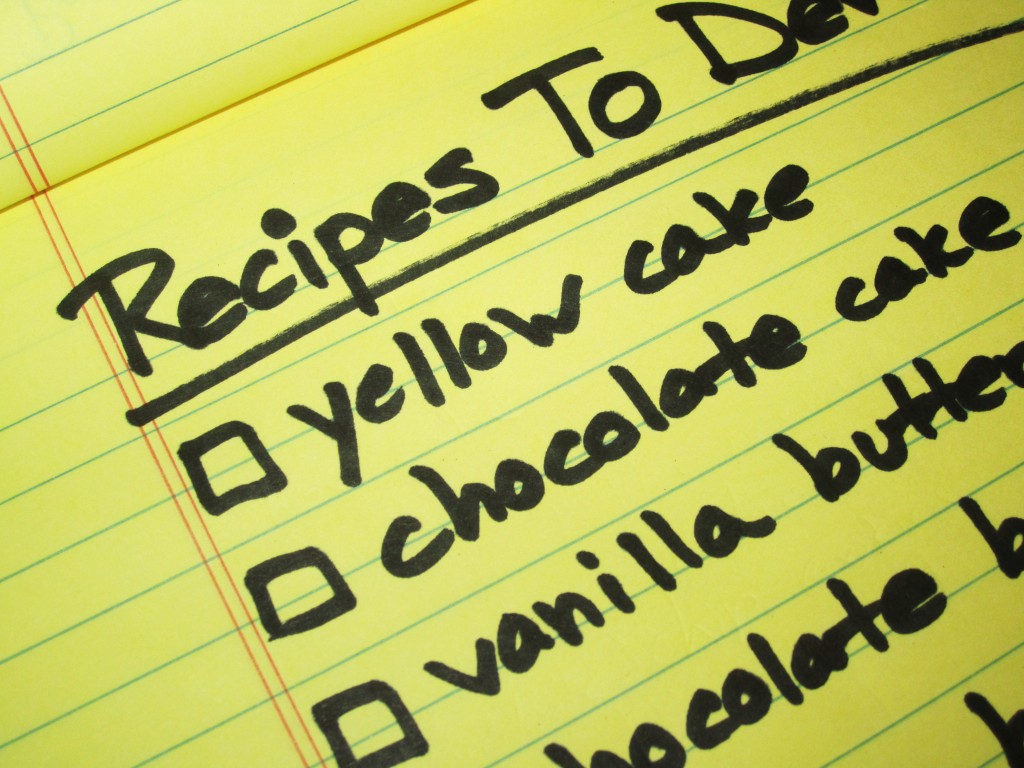 Hello!
Although I haven't been writing about it the past month or so, Operation West Coast Bakery is in full effect.  There are about a thousand things that need to be done, but right now I am focusing on recipe development and educating myself in the area of business management.
For the latter, I am reading this book, which has proven to be a great overview of the necessary steps and components to opening a small business: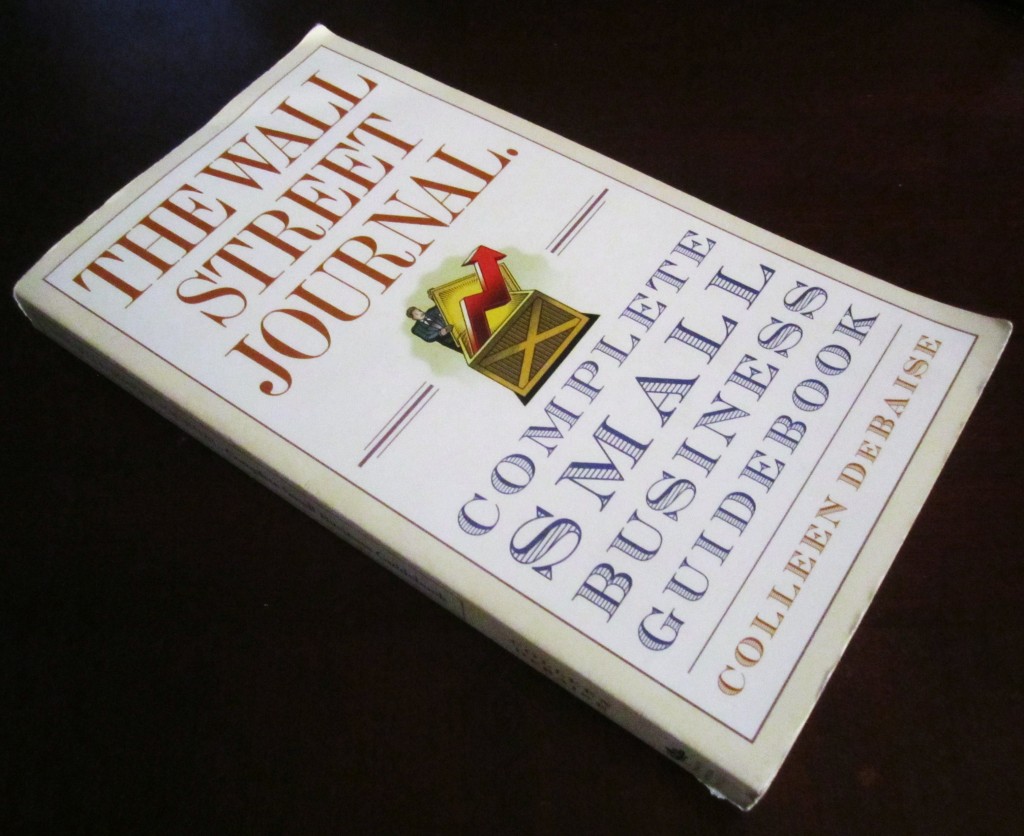 I have also begun the process of developing my recipes.
The owner of the Three Green Ducks told me her business started with her recipes, and she has made product quality a top priority ever since.  It's taken 20 years to get where they are now, but the bakery has earned itself a dedicated repeat customer base and are regularly ranked the "best of" in New York City.
I agree with this approach, and therefore I have drafted a preliminary list of recipes that need to be perfected: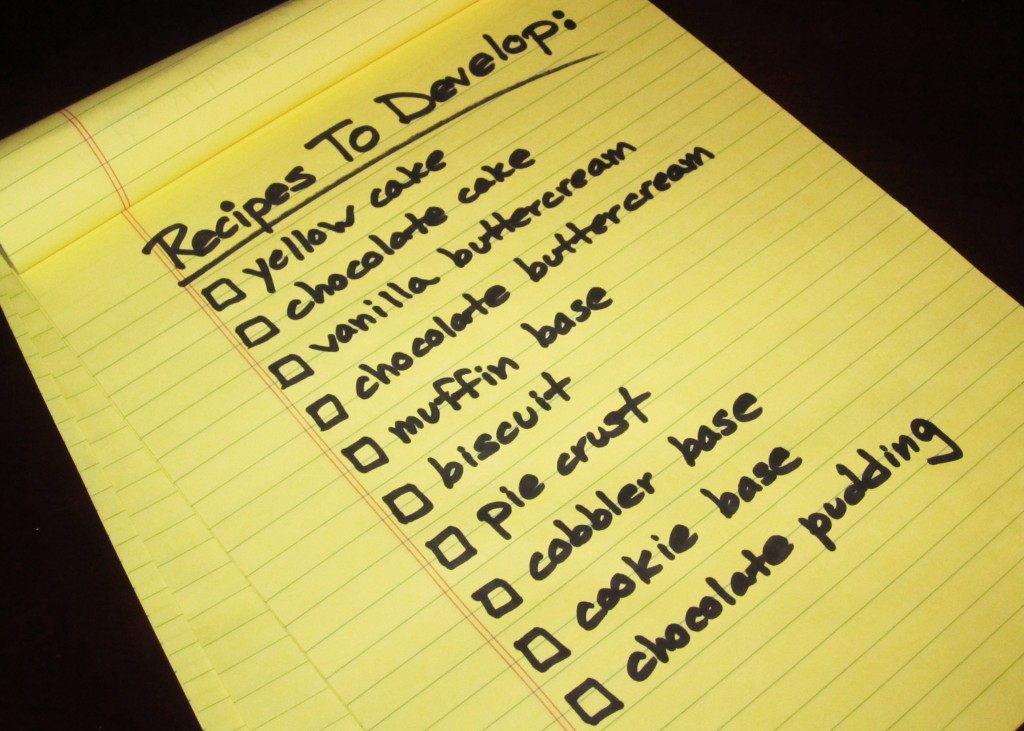 Like the Three Green Ducks, my bakery is going to focus on classic American baking.  I've done a little bit of market research to see what other kinds of bakeries currently exist near the area Steve and I think we want to live, and so far I've only found a few large-scale baking operations with a decidedly European influence.
My favorite item on the menu so far is the puddings.  I'm going to start with chocolate pudding, but the plan is to offer a standard selection of puddings (vanilla, butterscotch, etc.) and rotate a menu of more interesting flavors.  I think pudding might be on the verge of a comeback.  I said the same thing about pie when I was in law school, and I was right about that.  It's too bad chocolate pudding is so far down on my list.
I figured one of the most basic bakery recipes is yellow cake, so that is where I am starting.  I collected a number of yellow cake recipes that received rave reviews and put them into a chart so I can compare the proportions of each ingredient.  With the exception of baking soda and in one case buttermilk, they all use the same ingredients but in markedly different amounts.
As an additional step, I had to learn the volumes of the different pans so I could take that into account when comparing the recipes.  Who knew baking was so scientific and mathematical (other than Alton Brown and America's Test Kitchen)?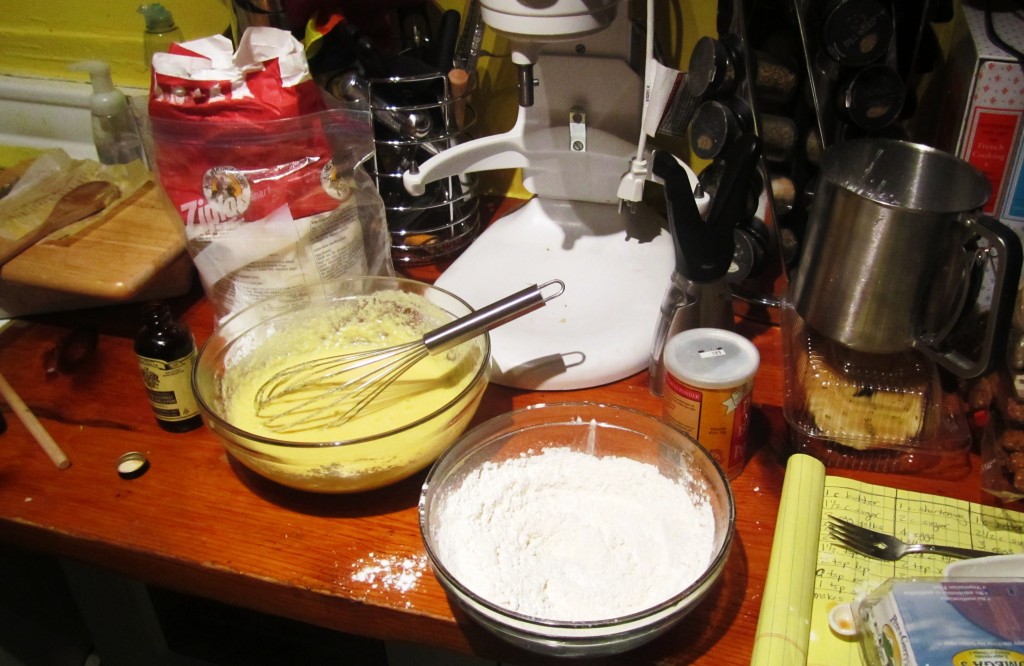 The makings of yellow cake  
Unfortunately, I'm not going to be sharing my bakery recipes with you.  Its trade secrets, so I hope you understand.  I will still be mixing in some french cooking into the blog and maybe some other random recipes, and those I will definitely be sharing.
The paranoid lawyer in me is nervous about sharing any information about the bakery.  I've actually come up with a name and a prototype for a logo, but I am still weighing the pros and cons of publishing it this early in the game.  If anyone has thoughts on that matter, I would love to hear them.
First attempt at yellow cake  
I've always been a little intimidated by made-from-scratch cakes.  The boxed cake industry has done a great job artificially creating super moist cake mixes that are hard to recreate texture-wise with just the traditional ingredients.  Fortunately for us bakers, the flavor of the boxed mixes can't compare to the real deal.  And that is why we take the more labor-intensive road and make our cakes from scratch.
That being said, my first recipe wasn't dry at all.  I was making half of a recipe and failed to notice that the full recipe called for 8 egg yolks.  I used four whole eggs in my half recipe.  The result was a very eggy but moist cake.  I also left my cake pans at my apartment (right now I am living at Steve's apartment), and I tried using a ceramic dish.  This clearly effected the way it baked.  Ceramic is good for recipes that need to be slow-cooked — like pies.  I don't know this for sure, but I suspect cakes benefit from the fast cooking of metal pans.
Perhaps I'll add that to my list of variables to test.
If you are in the New York City area, there will be some tasting parties in a month or two after I have some recipes figured out.  Stay tuned.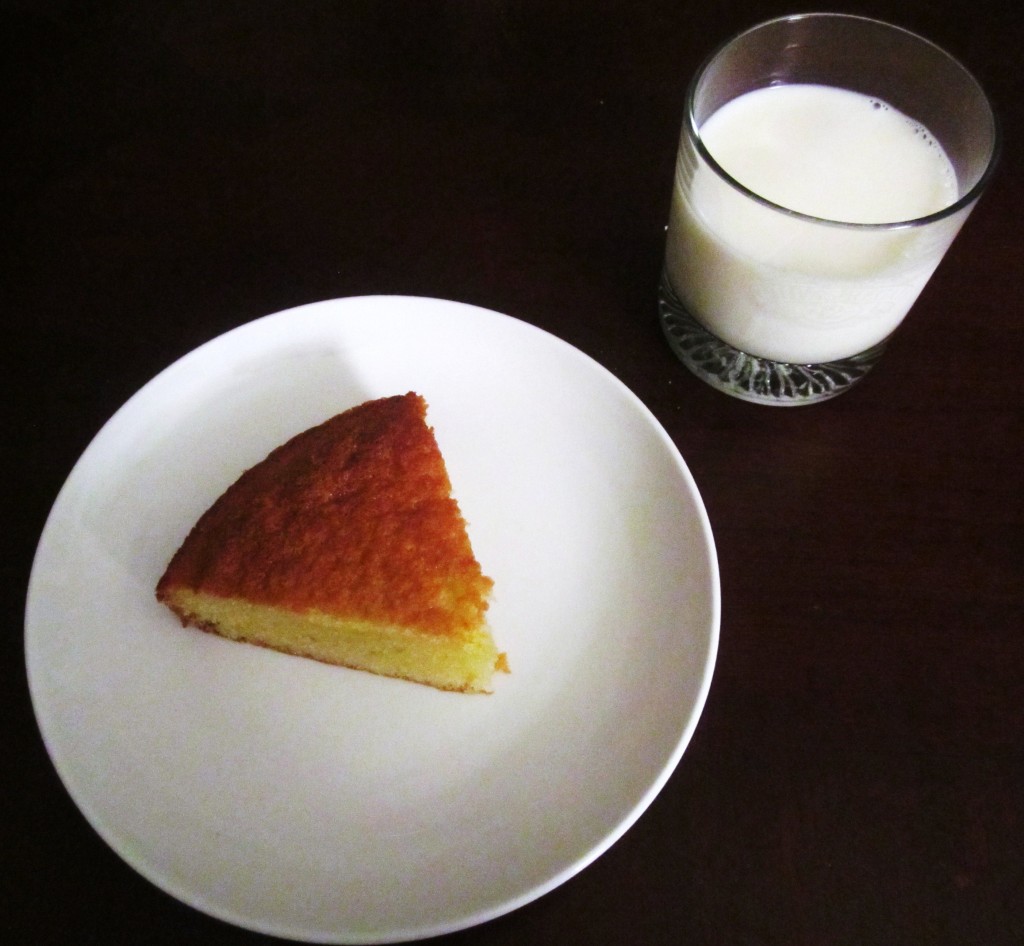 Between this and working at the Three Green Ducks, I need to join a gym.  
August 27th, 2011 | Rachel
If you have followed the news at all the past week, you may have heard that there is a hurricane heading toward New York City.  Its name is Irene.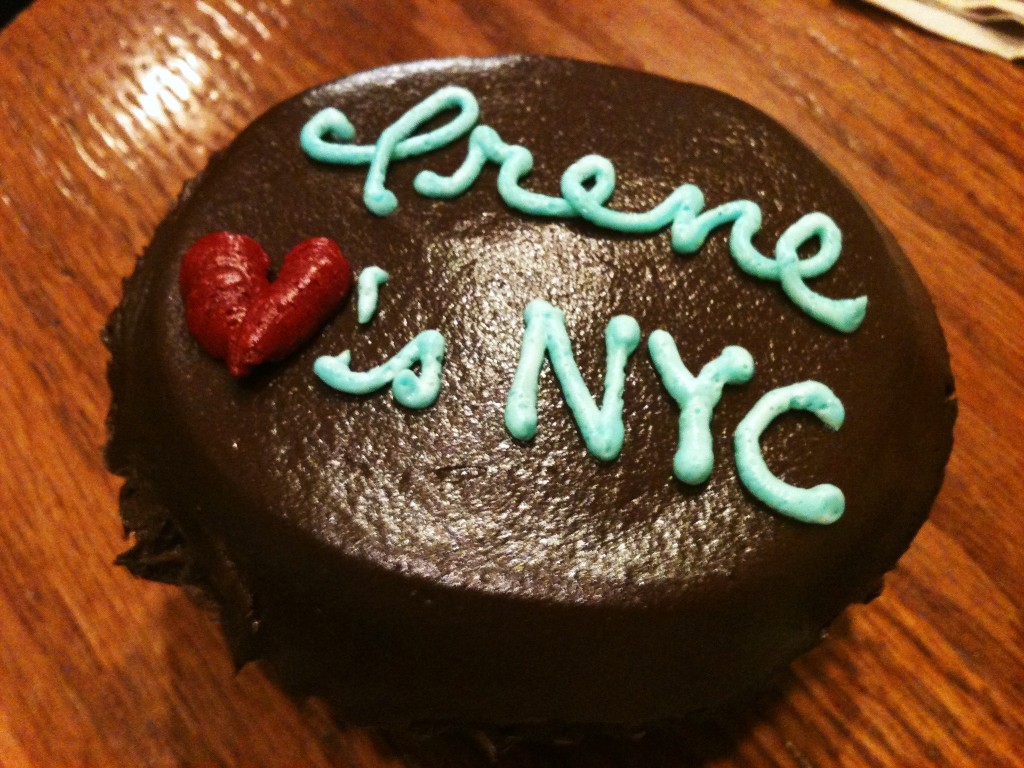 Although Irene is causing concern up and down the whole east coast, if it does hit NYC, it will present some unique problems and possibly cause quite a bit of concentrated damage.
In an abundance of caution, Mayor Bloomberg is shutting down our entire public transportation system starting at noon tomorrow.  Since the subways and buses are arguably the lifeline of the city, this is a huge deal.  Personally, I think everyone is going a little overboard, but after the national embarrassment New York City suffered this past winter when it was crippled by a series of snow storms, the powers that be aren't taking any chances.
I worked the afternoon shift today at the bakery today.  Fridays are great because they are busy enough to be fun but not so crazy that you want to pull your hair out.
Since I didn't have to be at work until 1pm, I ran some hurricane-related errands in the morning and stocked up on water and nonperishable food.  For all of you in the south who have done this drill so many times you could do it in your sleep… try doing it without a car!  I was lucky to find an old rolling cart in Steve's apartment that I used to drag my fifty pounds of water and canned food up the hill and, thankfully, into the elevator of Steve's building.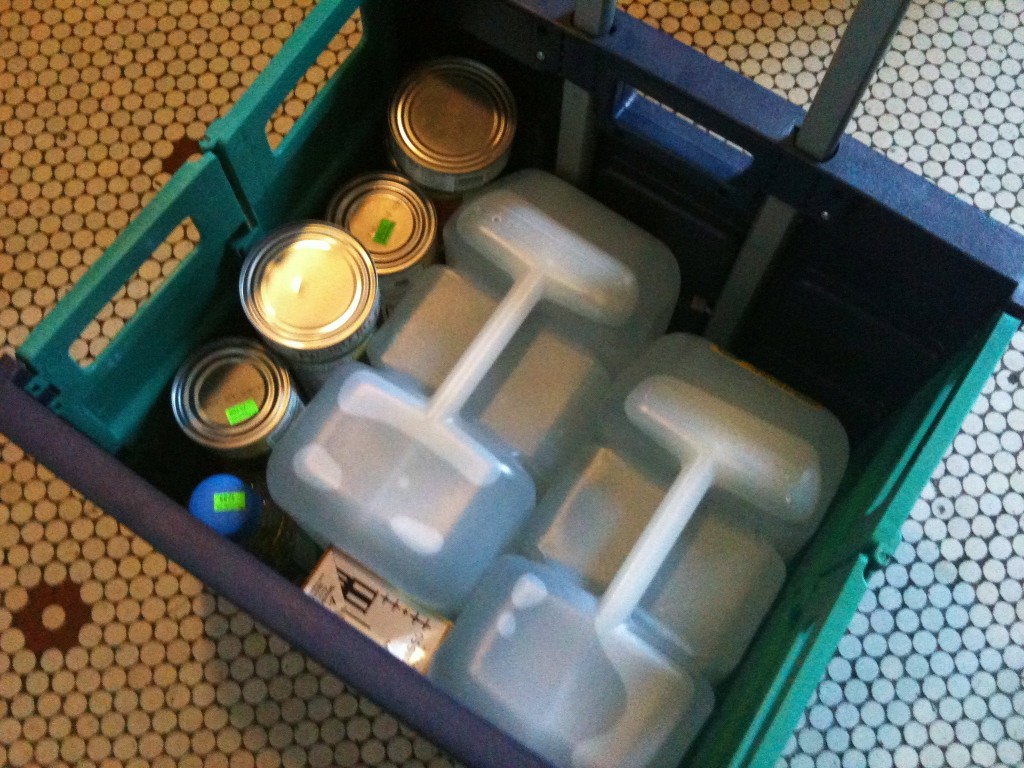 When I later decided to weather the storm at my own apartment, I had to pack one of my 2.5 gallon water jugs (carrying both was unthinkable) with my food in a large suitcase, drag it out to a cab, pay $20 for the ride, and sweet talk my friend Arthur into carrying it up the stairs to my fourth-floor apartment.
Soon after I arrived at work, I learned the bakery would be closed over the weekend due to the approaching storm.  The first order of business for the managers was to call all of the custom cake orders that were scheduled to be picked up Saturday and Sunday and tell them the bad news.  It didn't help that we had so many orders for the weekend that we had reached capacity earlier in the week and had to turn people away.  Meanwhile, the four of us working out front were left to deal with the steady stream of people coming into the shop.
At first we thought it was just the usual Friday business, but then the line reached the door — and out the door — and never died down.  The orders were unusual as well.  Many of our regulars came in, clearly concerned that we would be closed for the next two days, and ordered two or three times as much as they normally did.  A higher percentage of people bought cakes and declined the complimentary inscription — a sign that they would be eating them at home rather than taking them to a birthday or anniversary party.
We quickly sold out of our chocolate cream pies and peanut butter chunk cookies.  The lemon pucker cupcakes and banana chocolate chip muffins soon followed.  All were purchased by worried customers.
A woman came into the shop late in the afternoon to order a cake for her dinner party on Monday night.  The manager politely informed her that the bakery would be closed over the weekend because of the hurricane and would not be able to make any custom cakes for Monday.  "But I have a dinner party!" the woman exclaimed.  "What am I supposed to DO???"
A few customers came in to pick up their custom cakes for events that had already been canceled.  One man in particular picked up two birthday cakes for a party that was supposed to be in a town in New Jersey that had been evacuated.  Sadly, Grandma Jean wouldn't get to see her "Happy Birthday Grandma Jean" cake.  I hope they will at least send her a picture.  The cake was very pretty.
With an hour until close, we were sold out of most of our cupcakes, cookies, scones, muffins and pies.  Since our wholesale orders would not be delivered, we were able to sell those cupcakes as well.  During the final stretch, a customer asked for the last two red velvet cupcakes on the tray.  I told him the people in line behind him were going to hate him.  He said he had been thinking the same thing.  As I picked up those last two cupcakes, I could see a look of panic rise in the eyes of the woman behind him… and the man behind her.  "Are there any more?" she asked, desperately.  I reluctantly said no.  The woman and the man both scanned the rest of the store, considering their options.  Then I remembered the rest of the wholesale cupcakes.  I took the sad, empty tray into the kitchen and returned with it full of red velvet.  More than one person in line breathed a sigh of relief.
At 8:03pm the manager locked the door.  We bagged and boxed orders for the rest of the people in line, and then breathed our own sigh of relief after the last two stragglers finally left.  We ignored the couple with pleading eyes knocking on the door… and the man with the baby.  Sorry buddy, it'll take more than a cute baby to get a cupcake from us once we lock that door.
I'm anxious to see what this storm is going to do, but regardless, I will be eating a chocolate mousse cake while I'm waiting.