Grand Announcement #1!
January 27th, 2013 | Rachel
The question I've been asked the most frequently in the past year is, "So… what exactly are you doing?"
Today, I will tell you.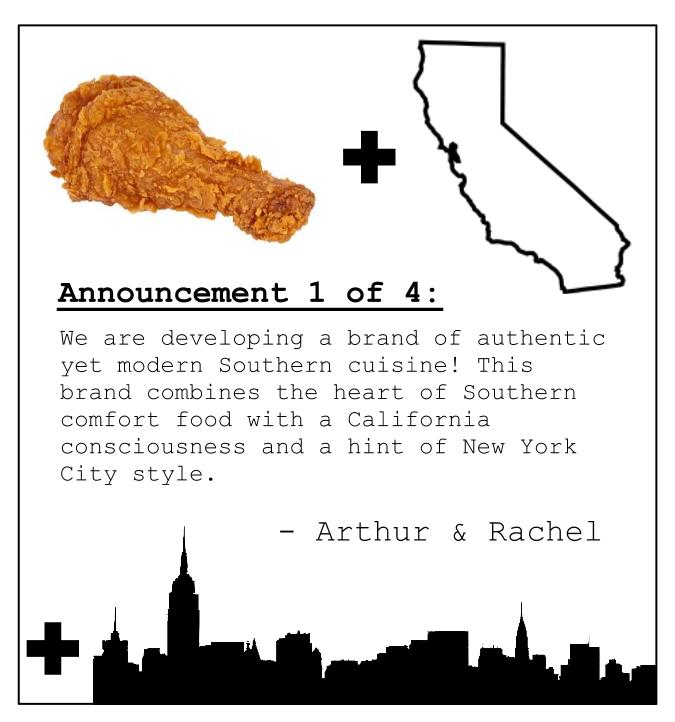 That's right. We are developing a brand of food businesses.
Arthur and I have designated ourselves missionaries for true Southern cooking (or maybe I chose that term, but you get the idea). Although there are a few food establishments in Northern California who purport to serve some sort of "country" food (Arthur and I have termed them "California country"), all seem to be based on generic, undefined caricatures. Indeed, when I mention the phrase "Southern cuisine," no one here seems to know what I am talking about.
In our business planning, we have been hard-pressed to find an existing food establishment that embodies the spirit that both Arthur and I recognize and value in authentic Southern cuisine. We see this void as an open door. Through this brand and the products it produces, we want to explore the roots of "comfort food" and demonstrate how much better this genre of cuisine can be when it is correctly and thoughtfully executed. Also, in joining the world of customer service, we hope to exemplify the truest form of "Southern hospitality."
Of course, we've decided to add a little twist to otherwise old favorites, and so we have committed ourselves to using all-natural (and organic where possible) ingredients from local sources. Further, in recognition of the city that imprinted itself into our hearts and brought us together, we are approaching the brand and the business from a decidedly New York City perspective (read: it is going to look amazing, and we are taking the behind-the-scenes business development pretty seriously).
I realize this might spark more questions than it answers, but please stay tuned for the rest of the announcements this week!
2 Responses to "Grand Announcement #1!"