Grand Announcement #3!
January 30th, 2013 | Rachel
Before I get into the third big announcement, I want to thank everyone who has turned their attention to our enterprise this week. It's nice to know people are interested in what we are doing, and we certainly couldn't do it without so much support. So thank you :-)
And now for our third announcement: our first venture is going to be a mobile restaurant.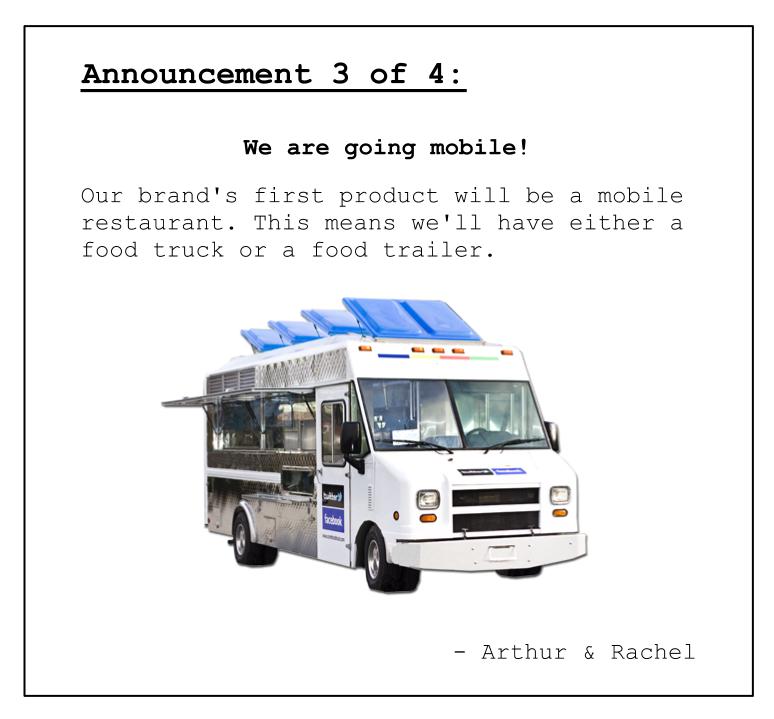 Arthur and I are trying to be a little bold with our new business, but we are also going to be practical. Opening a restaurant (a brick and mortar, if you will) requires a huge capital investment, and you only get one shot to find out if you are in the right market.
As you have probably noticed on a street near you, mobile food has had a huge surge in popularity in the last five years. Not only is it fun to eat gourmet fusion food out of a truck with a catchy name, its also more economical for both sides of the transaction. The business saves on overhead and can focus on a few specialties, and the savings is passed on to you (usually).
I don't think it is a coincidence that food trucks became so popular right as the economy was tanking. Money was tight, but culinary entrepreneurs still had great ideas to share, and customers still wanted to eat delicious, innovative food. Even now that things are picking up, people on both ends are still cautious with their funds.
I'm a lover of all food experiences, whether it is a gyro from a food cart or a five course dinner at a restaurant with a Michelin star. Although the price and the ambiance might vary drastically, the purity of ingredients and attention to detail doesn't have to.
I won't say too much about the projected plans for the brand except that there will be some bricks and mortar involved eventually, hopefully, but in the meantime we are really excited to explore the opportunities for a mobile restaurant in the Sonoma County and North San Francisco Bay area. We want to team up with wineries for regular and special events and will probably head up to Santa Rosa for the weekly lunch crowd. Once we make a name for ourselves, we want to join the San Francisco food trucks (who are super intimidating, by the way) for some of their events. And as I said in the last announcement, Petaluma is already putting itself on the foodie map, so we also would like to join forces with the breweries and other food businesses there.
Going the mobile route has its own set of challenges (many regulatory or political), but Arthur and I think we can handle it. Whether we can handle working in such a small space together without strangling each other, however, is another story.
2 Responses to "Grand Announcement #3!"