Guest Blogger: Fête de Printemps
May 4th, 2011 | Guest Blogger
Many thanks to Simon for sharing a bit of his life in Provence.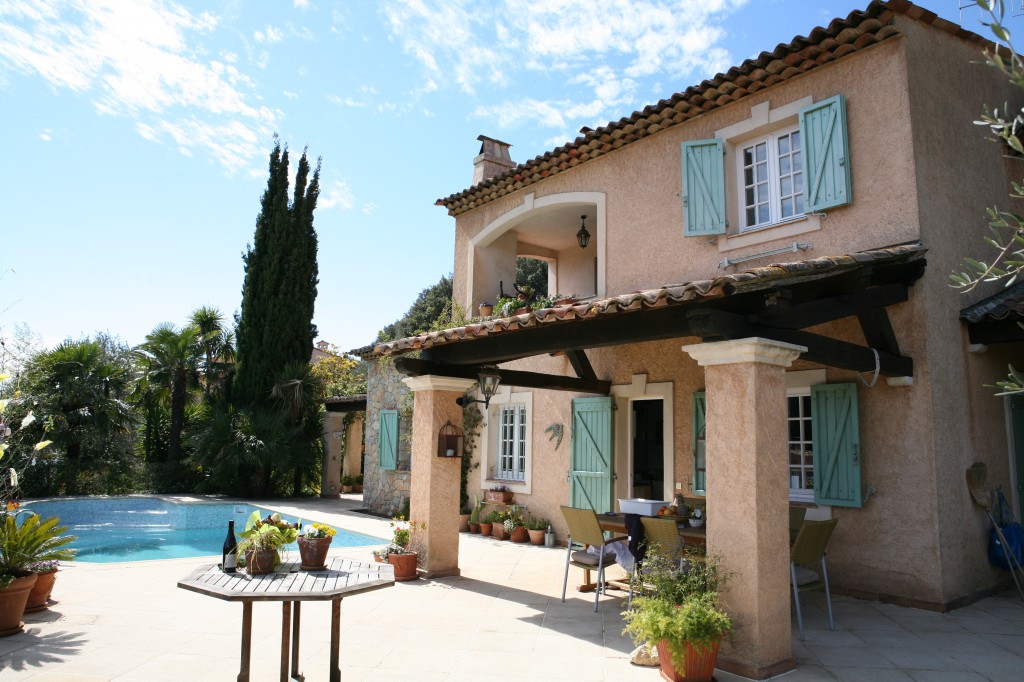 Springtime in Provence is always a magical time; warmer days, green plants, cicadas chirping, lavender blooming, and of course, the start of outdoor cooking.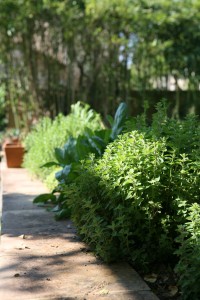 The end of March is the time when our Quartier (neighbourhood) has its first fête of the year; normally dozens of Pizzas and Socca[1] are the stars of the show.  This year however the local Sheppard happened to have two beautiful lambs that he promptly handed over to us. One thing you must understand in Provence is that some neighbours are extremely useful and somehow can solve anything (if they benefit of course!). Michel is one of these neighbours, he immediately made some phone calls, not an hour later there was a spit roast in my garden. Time to open a bottle of wine to celebrate the achievement, a cheeky Cote de Provence.[2] To get the lambs cooking as soon as they arrived, we set about making a nice slow burning fire in the garden. Once burning nicely, it was time for the next glass of wine.
Finally our lambs arrived, we covered them in herbs and olive oil, placed them on the spit whilst making sure they weren't too close to the fire so they cooked slowly. Just past 10:30 it was time to change wines to a Cote du Rhone, a bolder flavour that lingered longer than the Provence.
We now turned our attention to getting tables, chairs, benches, wines,[3] and nibbles in the form of Charcutrie, home grown olives and various other bits. At 12:30 the neighbours start arriving, bringing even more food, couscous, home made bread, vegetables in varying sauces, omelettes and tartes. It is at this point that the wine is traditionally served in copious amounts. There is not much like sitting in the sun on a beautiful day with a glass of wine in one hand and incredible nibbles prepared by your neighbours in the other, not to forget the great company as well.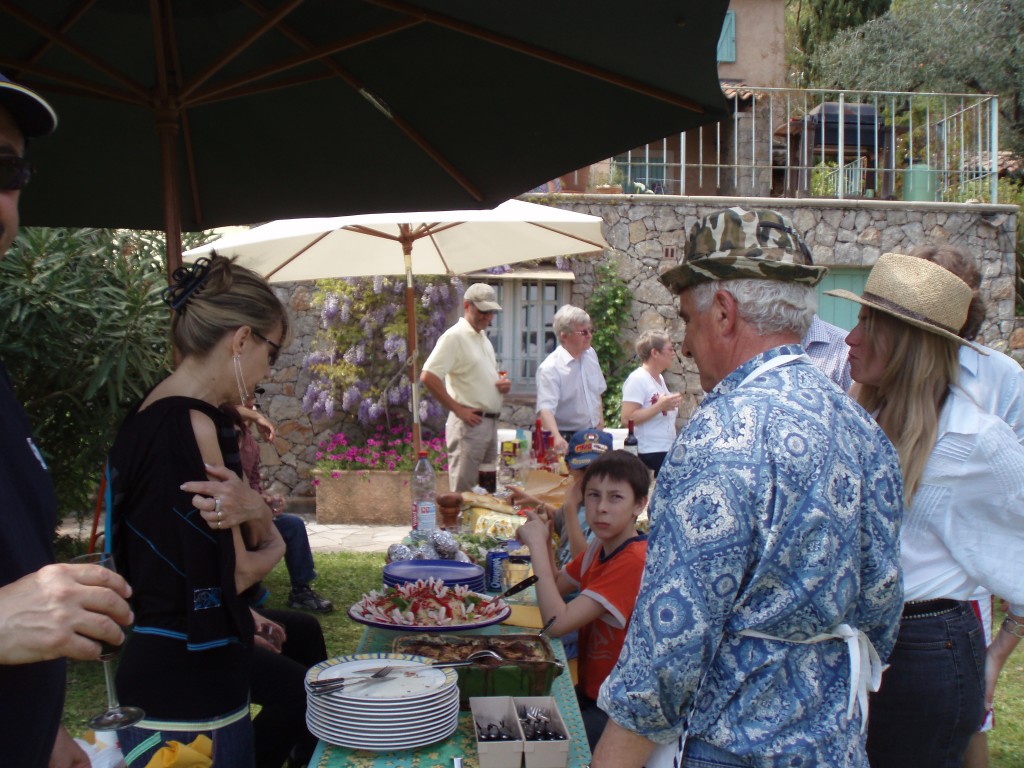 Finally we arrive at the pinnacle moment of the afternoon, the lambs are ready. Our tools are laid on the table: several cleavers, boning knives, 25cm chef's knife, carving knife and a saw for good measure. Reinforcements are needed: Bourgogne is poured. Now the carnage begins, hacking, chopping, sawing and any other means of getting at the meat. In what seems like no time at all the lambs are prepared, the meat going to the eagerly waiting friends, whilst the dogs, who have been patiently drooling for a number of hours, are rewarded with the bones.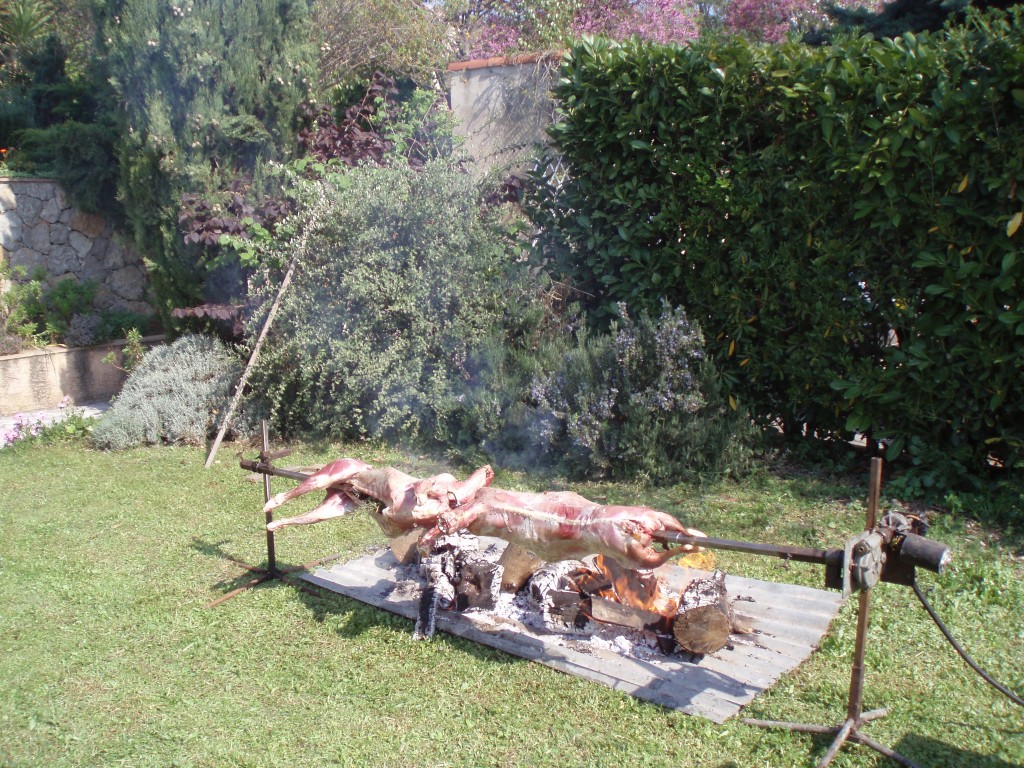 Lunch finally begins: food, wine and conversation make the time go by. The lamb was cooked to a perfect pink, served with potatoes rôti[4], salad from the garden, pasta, couscous and an assortment of other sides.
At about 6 in the evening people begin to leave, but a few stay on for apéritif and coffee. We begin discussing when to have our next fete and what to cook for it.
---
One Response to "Guest Blogger: Fête de Printemps"