Archive for the 'Guest Blogger' Category
November 29th, 2012 | Guest Blogger
This is the second installment of a guest post from my business partner, Arthur. As explained in the introduction to the first part, I officially introduced Arthur a couple of months ago. Here's his story of how he went from working in finance in New York City to moving to California to start a business with me. Thanks for the guest post, Arthur!
~ Rachel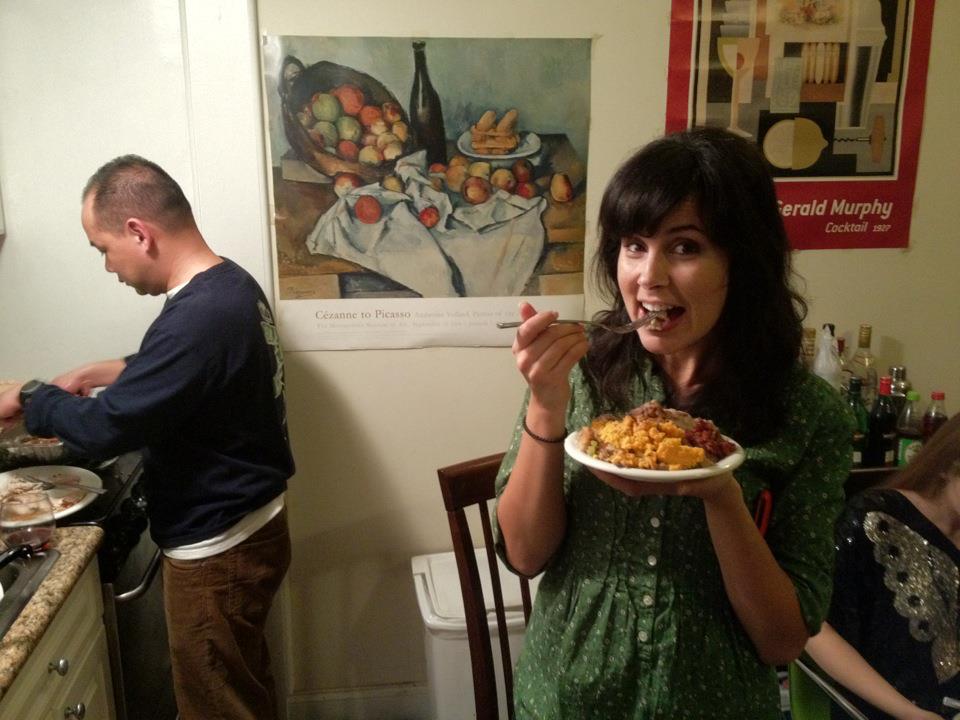 Thanksgiving 2011, Our First Culinary Collaboration
It wasn't until the summer of 2011 that my friendship with Rachel turned a corner toward the path we're on today as business partners.  As she has explained in previous entries, we had a fateful cupcake date where I convinced her to apply for a job at the Three Green Ducks bakery.  Rachel had been laid off from her law firm and was searching for her next step career wise.  I knew that baking was her passion and that she dreamed of opening some sort of establishment some day.  I immediately thought of my own childhood working in the restaurants, and I knew she had to get her hands dirty working in an actual bakery if she were able to be 100% sure she wanted to own one.  I am glad Rachel took that leap as it was the catalyst for her and Steve moving to California at the beginning of this year and for beginning her plans to start her own business.
While Rachel was starting her West Coast adventure, my own career in Finance had begun to stall.  Working in Finance in New York City had been very lucrative and allowed me to live a pretty comfortable lifestyle.  However after the recession of 2008, my working world had become more difficult and less fulfilling. I began to think about what my own next step would be.
Since Rachel moved, we had stayed in pretty good contact — often texting regularly and Skyping every other week to stay in touch.  It was during one of those Skype sessions, she jokingly floated the idea of me relocating out there to open a fried chicken shack to go alongside her bakery.  I laughed it off initially. Why would I move?  I loved New York City and had become a pretty established New Yorker. I had a good job — even if it was boring, and I couldn't see what my next position would be in my firm.  Would I risk that all to move a place I didn't know very well, not to mention the financial insecurity it meant to start something from scratch by myself?!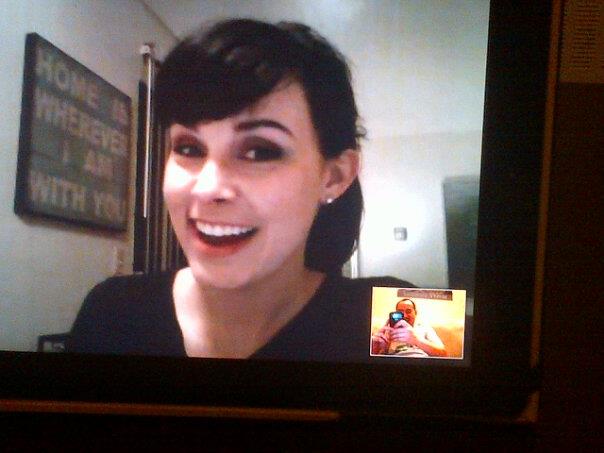 Skyping With Rachel
But, Rachel was insistent, and we kept going talking about it conceptually until I decided to come out for a visit this past July.  I spent time in San Francisco where a dear high school friend lived. I also visited Santa Cruz where Rachel lives.  She drove me all over the area, pointing out all the things she thought would persuade me to make the move.  Admittedly, as soon I landed I fell in love with the Bay area.  I had visited in the Spring of 2011, but this time coming as an interested observer rather than a tourist turned out to be a totally engrossing experience.  I loved San Francisco because it was all the nicer things that New York City is not.
New York City will always have first place in my heart, and I hope our business becomes so successful that we have the opportunity to establish something there as well. On the other hand, San Francisco is a new metropolis with a better climate, a more laid back lifestyle and seemingly more open citizens compared to NYC.  Wine Country enthralls me because I can visit all the wineries I read about and enjoy in just an hour's drive. Santa Cruz is beautiful with its beaches and hills, but it seems a little to quiet for this city boy (although being close to San Francisco is a definite plus).  So, after a long, heated, and (and somewhat tearful) conversation in Rachel's living room, I decided to take the plunge and join up with her in this insane yet fantastic undertaking.
I have spent the summer and fall closing out my life in New York City and saying good bye for now to so many dear friends. I also took one last grand vacation to London, England before moving out to what Rachel calls the Best Coast.  I have recently arrived in San Francisco and will be here until the New Year when I will make my way down to Santa Cruz and get settled in.
Rachel and I still have a lot do in terms of launching our business early next year.  Although we are already great friends, we are now learning to be successful business partners.  For every up we have, we do have our downs, and I know we have to take each in stride as the road ahead of us is long and will hold an abundance of both ups and downs.  As business partners, I have noticed we complement each other well, but we are also both strong willed (i.e. stubborn), and we have our moments of disagreement.  But, I am comforted by the fact, no matter how we may disagree, we can always come back to consensus because we want what is best for our business.
I think Rachel is one of the most talented, creative, genuine, and caring individuals I have ever met, and there is no one else I would choose to undertake this particular endeavor.  I know we are going to be a great success.  Thank you for joining us on this wild, fun journey, it's going to be one heck of a ride!
~ Arthur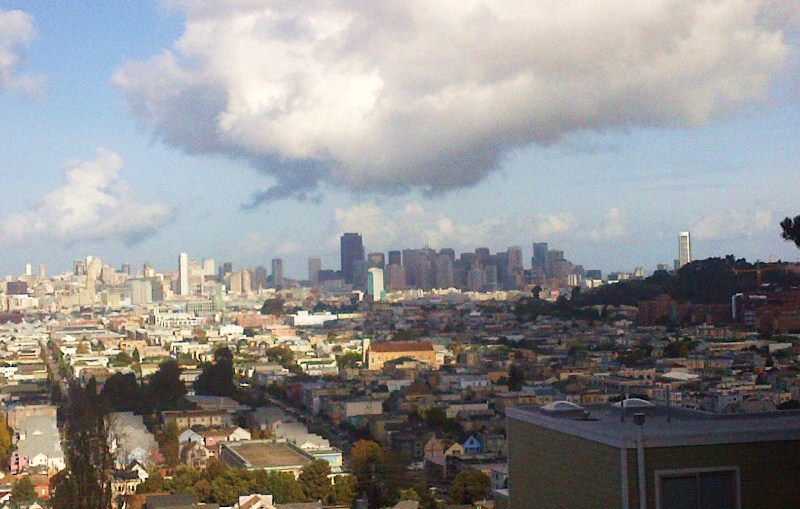 View From My Temporary Home In San Francisco
November 26th, 2012 | Guest Blogger
A couple of months ago, I introduced my business partner, Arthur. As promised, here is a little background information from his side of the story. I'm also introducing him to blogging because the business website has a blog too. Show him some love!
~ Rachel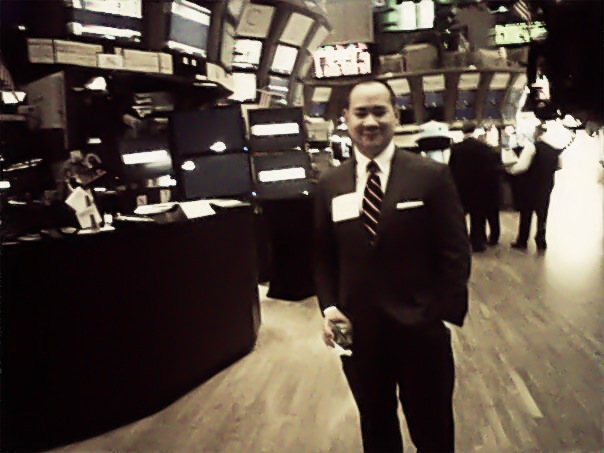 On the floor of the New York Stock Exchange
Hello everyone, I'm Arthur, and for those of you who follow Rachel here regularly, I am her business partner and friend.  It's my distinct pleasure to be writing this "guest" entry for I'd Rather Be in France.  I do apologize in advance if the quality of writing for this entry doesn't match up to the lyrical prose you are used to reading here.  I am fairly new to this blog stuff, but I hope you do find this entry informative and entertaining.
As written before in an earlier post, Rachel and I formed a friendship while she was living in New York City, and are now business partners in an intriguing, new food venture here in California. Before more details are revealed about that, I would like to tell you a little more about yourself and how Rachel and I became friends.
First off, I was born and raised in the great state of Tennessee, so like Rachel, I am a Southerner.  My parents were immigrants from the country of Taiwan, but both sides of my family can trace their roots to mainland China.  My parents' families fled China during it's civil war in 1949.  My father chose to come to the US, when he was accepted to the accounting program at what is now the University of Memphis.  After graduating, he loved America and the city of Memphis so much, he and my mom decided to stay and start a life in the Mid South.  It was here that my brother, who is four years younger, and I were born and raised.  I attended high school in Memphis, spent some time at the University of Chicago, and got my undergrad degree at The University of Tennessee (Go Vols!).  I experimented with law school at the University of Memphis before moving to Nashville, TN to work in financial services which ultimately brought me to New York City where I met Rachel.
As you all know, Rachel writes a lot about food and drink, and that is something we share in common.  I got my appreciation for good cuisine and drink from my dad.  Because you see, he had other plans than being an accountant.  He was a self taught chef and eventually opened a number of Chinese restaurants in Memphis.  During his career he became a very celebrated and accomplished chef and restauranteur before his death in 1995.  Among his many honors, he cooked for a couple of US Senators, a First Lady, and even the band ZZ Top.  He also had the real treat of cooking with the late Julia Child when she came through Memphis on a cooking tour.  Being raised in a traditional Chinese family, my brother and I grew up studying a lot and working in our family's business.  Whatever kitchen chore you could think of, I did.  I even have the distinction of being the youngest bartender in Memphis, but that is a whole other story.  It was working in my dad's kitchens, that I learned to appreciate how beautiful and delicious well made food could be of any cuisine.  It was also there that I learned that I had an innate talent in terms of cooking as well.
When I moved to New York City in 2005, I hit the culinary jack pot in terms of the diversity of high quality restaurants and markets.  In my seven years in the city, I was able to eat at some of the best restaurants this country has to offer and enjoyed every last bite, not to mention every glass of wine and beer too!
It was in New York City that I met Rachel as well.  We both attended the same Methodist Church on the Upper East of Manhattan. Our Church had a very vibrant and socially active 20's-30's adult group and we became acquaintances there.  I was always very fond of introducing aspects of Memphis soul food to my "yankee" friends and would frequently prepare and host Memphis dry rub BBQ cook outs and fried chicken dinners in the backyard of my apartment.  During those gatherings, Rachel and I discovered our mutual passion for good old fashioned Southern food and our friendship grew.
I'll stop there for now. In the second part, I'll explain how I got from going to church with Rachel to moving to California to start a business with her. Thanks for reading!
~ Arthur
May 16th, 2011 | Guest Blogger
In honor of my own road trip through France starting next week (!!!), today's guest blogger takes us on a drive to the Mediterranean.

Joanne Mathews, a UK native, has lived in France for three years.  Joanne is the co-owner of a photographic tour company called Escape2France.  Joanne and her husband, Peter, also own La Calade, a bed and breakfast located on the outskirts of a Corbieres wine-growing village in South France.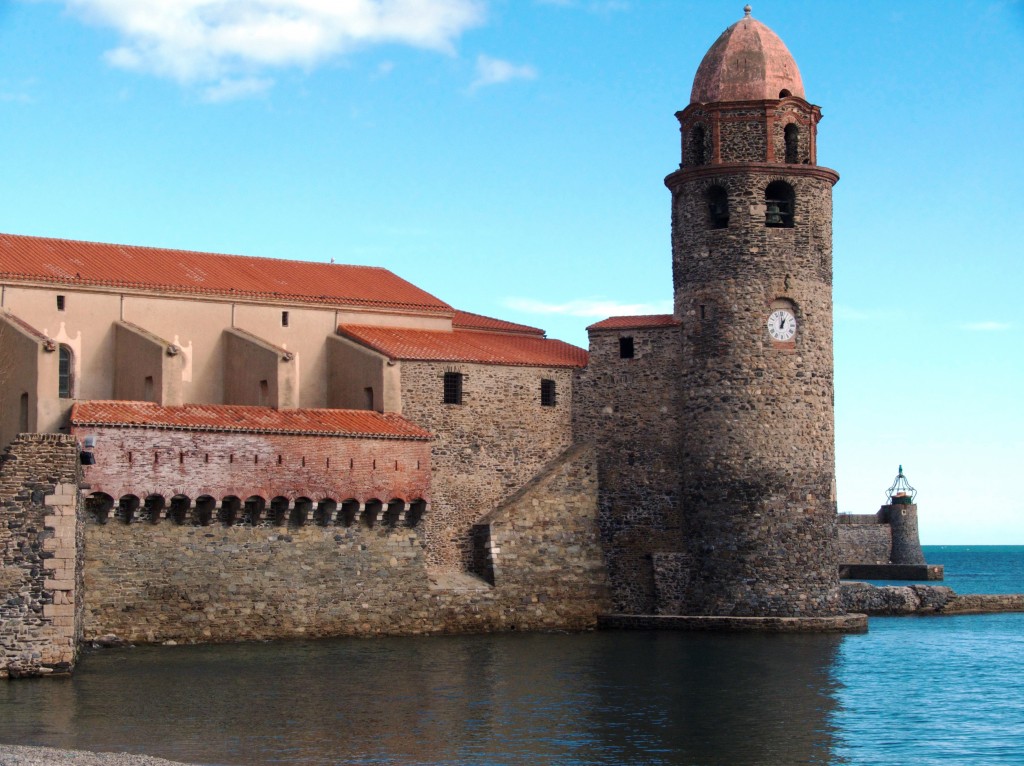 This beautiful area, from where Escape2France conduct all its France-based photographic tours, sits, geographically-speaking, alongside the Mediterranean coastline between the port of Marseille and the Spanish border. Having been subjected to a recent name change, we are now to be known as Sud de France rather than Languedoc-Roussillon – a simplification that will not be popular locally. Ah, the universal dislike of change!
The other half of the French Mediterranean coastline comprises Provence-Cote D'Azur, which sits between Marseille and the Italian border. Sud de France, saturated as it is in history and awash with chateaux and vineyards, also incorporates the foothills of the Pyrenees and through it all ambles deep gushing river gorges, colourful market towns, hovering birds of prey, slinky Pyrenean lynx hunting the wild boar and alongside it all, isolated and beautiful villages, each one built on a rising, almost nipple-like rock, topped with a chateau and a church, bells clanging regularly across the red tuille roofs.
Because of this stunning scenery, the region (whatever its name!) makes an excellent base for photographic tours and holidays with its undulating scenery and the dreadful history of the Cathars to absorb. Briefly, in the 13th century the church of Rome ruthlessly put down heretics and sects such as the Cathars who threatened their authority and financial stability. The church, with the strong support of the Kings of France, disbanded and persecuted the Templars and outright murdered the Cathars, who had sought refuge in a series of chateaux and towers along the Pyrenees.
However, today, the Cathar and Templar crosses are proudly displayed on the flags of the region. The local people, who don't consider themselves to be French but the d'Oc, are typically Mediterranean – friendly, chaotic and noisy – and, of course, everywhere, the superb quality wines produced in this, the largest vineyard in the world.
It's the start of springtime here in the Sud de France. Searching for inspiration, I decide to take the short road-trip to the coast. On the drive down to the favoured wine chateau – Château Rouquette sur Mer on the Massif de la Clape – a wine-growing area sited on a small cliff-faced mountain separating Narbonne from the Mediterranean Sea – I have my "plastique" wine container in one hand – and in the other, my camera.
All around, the mimosa is flowering – clear splashes of yellow against the wintery sunlight but most exhilarating of all, when I approach the Mediterranean Sea, are the colours of the sky. I have only ever seen such blues in the work of painters who flock to this coast for the intensity of the light. The deepest blues are high above me, the palest near the horizon, with every brilliantly reflected variation pulled in different directions across the water by the breezes and the currents. Such light can mesmerise – you feel pulled towards the sea, clutching your camera and feeling slightly breathless about these, the first truly possible outdoor shots of the year. Pink almond blossom illuminates the vineyards which are otherwise empty of colour and which appear slightly drab against the beautiful, newly emerging hedgerow greens.
I'm in a hurry – I'm afraid the scene will vanish if I don't catch it soon. But then one change in the wind direction, one cloud – everything will be altered, will have disappeared before the shot is in the bag!
As I drive over la Clape, I realise the windscreen is spattering – the rain is falling. This is one of the driest parts of France – less than 50 cms of rain each year – and virtually all of it in November and March. Recent descriptions of our weather in springtime include "you know the Mediterranean weather in the spring – up and down, like the mood of the people ……" a true to life description of everything Mediterranean.
I look out over the vineyards to my left – their sheltered situation meaning that even so early in spring, there is the merest hint of a green wash to the vines. The sun has encouraged a few buds to burst forth, whilst the edges of the fields are carpeted in deep-purple and pale lemon – hundreds of heavy headed Iris flowers peering at the sun, planted throughout the generations by vineyard owners, who consider the Iris their symbol, always giving a pictorial feeling that Easter has arrived early. Looking watery, the combination of sun and rain has produced a rainbow of course. More Mediterranean magic!
I take my photographs, fill my "plastique" and I drift away to the étangs, a string of lakes which sit along the Mediterranean shoreline and which, in the springtime, attract large quantities of migrating birds – pale, watery colours wash over this inland sea combined with pink flamingos, standing one-legged in the water – and I consider a summer full of light and sunshine. Always a hot summer, filled with photographers, summer food and wine, tours around the castles, chateaux and vineyards – and conclude that such idyllic times are there to be shared.
Come and join us! Follow the Escape2France link for further details of our summer tours.
– Joanne Mathews

May 4th, 2011 | Guest Blogger
Many thanks to Simon for sharing a bit of his life in Provence.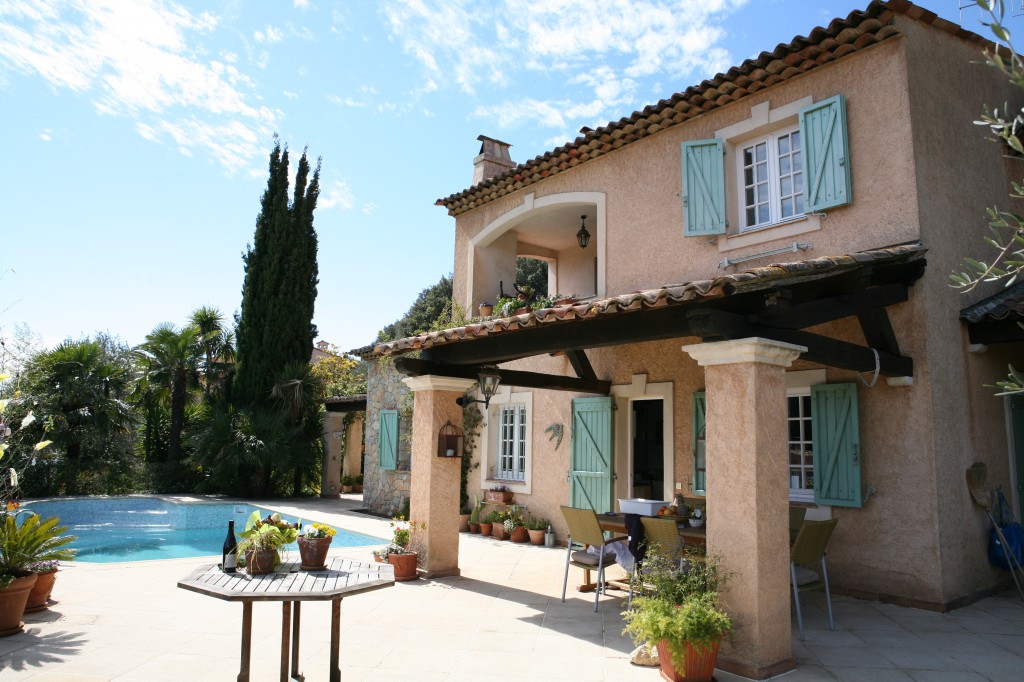 Springtime in Provence is always a magical time; warmer days, green plants, cicadas chirping, lavender blooming, and of course, the start of outdoor cooking.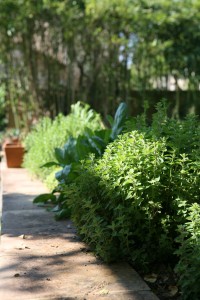 The end of March is the time when our Quartier (neighbourhood) has its first fête of the year; normally dozens of Pizzas and Socca[1] are the stars of the show.  This year however the local Sheppard happened to have two beautiful lambs that he promptly handed over to us. One thing you must understand in Provence is that some neighbours are extremely useful and somehow can solve anything (if they benefit of course!). Michel is one of these neighbours, he immediately made some phone calls, not an hour later there was a spit roast in my garden. Time to open a bottle of wine to celebrate the achievement, a cheeky Cote de Provence.[2] To get the lambs cooking as soon as they arrived, we set about making a nice slow burning fire in the garden. Once burning nicely, it was time for the next glass of wine.
Finally our lambs arrived, we covered them in herbs and olive oil, placed them on the spit whilst making sure they weren't too close to the fire so they cooked slowly. Just past 10:30 it was time to change wines to a Cote du Rhone, a bolder flavour that lingered longer than the Provence.
We now turned our attention to getting tables, chairs, benches, wines,[3] and nibbles in the form of Charcutrie, home grown olives and various other bits. At 12:30 the neighbours start arriving, bringing even more food, couscous, home made bread, vegetables in varying sauces, omelettes and tartes. It is at this point that the wine is traditionally served in copious amounts. There is not much like sitting in the sun on a beautiful day with a glass of wine in one hand and incredible nibbles prepared by your neighbours in the other, not to forget the great company as well.
Finally we arrive at the pinnacle moment of the afternoon, the lambs are ready. Our tools are laid on the table: several cleavers, boning knives, 25cm chef's knife, carving knife and a saw for good measure. Reinforcements are needed: Bourgogne is poured. Now the carnage begins, hacking, chopping, sawing and any other means of getting at the meat. In what seems like no time at all the lambs are prepared, the meat going to the eagerly waiting friends, whilst the dogs, who have been patiently drooling for a number of hours, are rewarded with the bones.
Lunch finally begins: food, wine and conversation make the time go by. The lamb was cooked to a perfect pink, served with potatoes rôti[4], salad from the garden, pasta, couscous and an assortment of other sides.
At about 6 in the evening people begin to leave, but a few stay on for apéritif and coffee. We begin discussing when to have our next fete and what to cook for it.
---
April 11th, 2011 | Guest Blogger
This is the first of hopefully many guest posts.  My friend Lisa recently traveled to Savoie, and she kindly agreed to shared some of her beautiful pictures.  If you would like to write about something or share some pictures, email me at rachel@idratherbeinfrance.com.  ~ Rachel
Last summer, I had the opportunity to visit the Savoie, which is in the Rhône-Alpes region of France and about four hours outside Paris. Upon arriving in the small town of Saint-Pierre-d'Albigny, I was immediately greeted by natural beauty–snow-capped mountains, lakes, waterfalls, fir trees, birds– and felt like I was on a set for "The Sound of Music." On my first day, I hiked up to the Chateau de Miolans, castle ruins from the Twelfth Century that later served as a prison, the most famous of whose convicts was the Marquis de Sade.
On later days, I enjoyed sunbathing at a natural lake, exploring the quaint town, and enjoying many of the locally-produced wines, which were a steal at € 2-4 a glass. Wine production is a large part of the agriculture of the region. Savoie wines are made from grape varietals that are rare elsewhere and best enjoyed young.
I also took a day trip to Annecy, in the Haute-Savoie. This scenic city offered a perfect blend of natural beauty with urban delights.
There is great shopping in Annency (I did some serious damage), including well known chains as well as independent shops, and abundance of aesthetically pleasing food, whether sold in patisseries or at a farmer's market.
You can also take out a paddle boat on Lake Annency.
Should you find yourself in the Savoie, I highly recommend visiting an Intermarche, which features the ingenious product Porteval=wine in juice boxes, which makes a great treat for the long trip home.
A bientot!
~ Lisa D.