A Quiet Saturday Evening & French Onion Soup
May 15th, 2011 | Rachel
Its the Saturday evening after a busy week.
On Tuesday you listed your apartment on Craigslist during lunch and had a renter for the summer lined up by the time you got home from belly dance class that same night (for $100 more a month than you asked for!).  On Wednesday you applied to about a bazillion jobs and went to two "girls' nights," and on Thursday you drank an unfortunate mixture of beverages that killed half of your plans on Friday (but you still managed to drag yourself to Ikea to help a friend pick out furniture for her new apartment).  And now, you are just a little bit tired.
So what do you do?
Perhaps you meet a friend and her visiting mother for cappuccinos at Stumptown and then spend the evening slow cooking some of Julia Child's French Onion Soup while watching random movies and tv shows on Netflix On-Demand.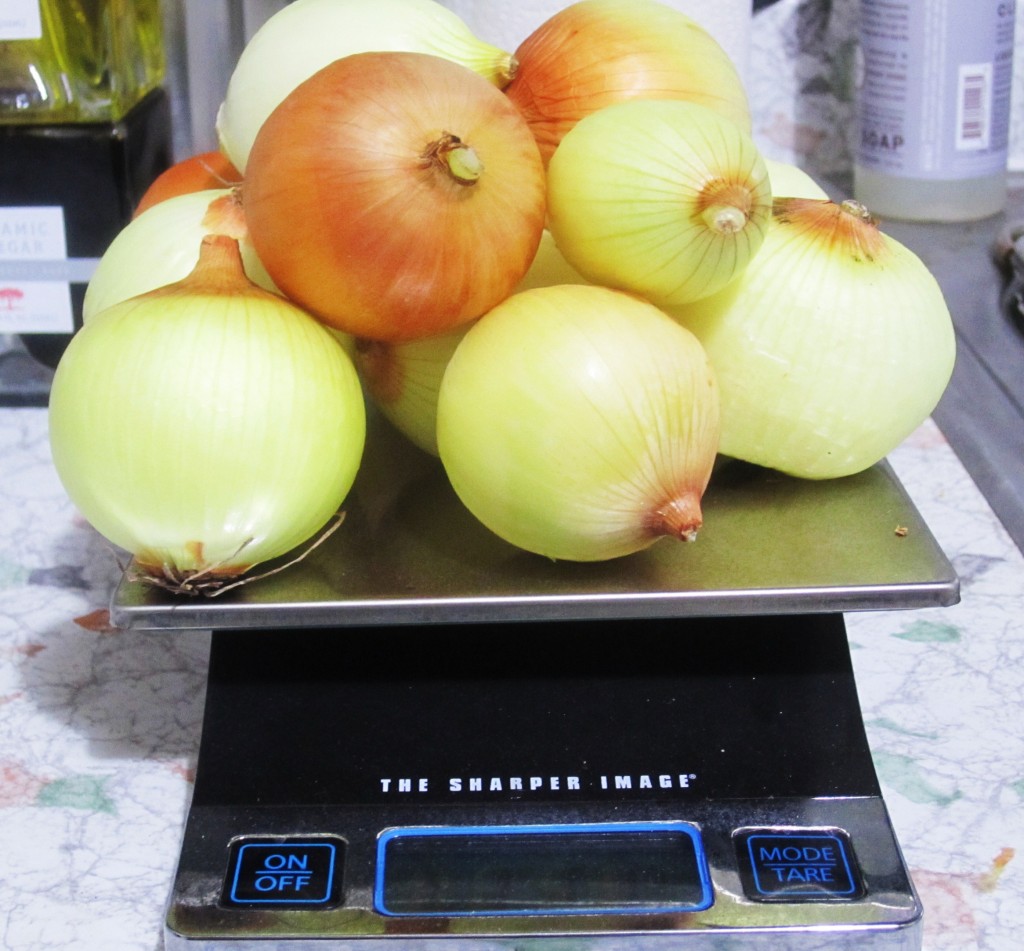 Start with a pound and a half of onions…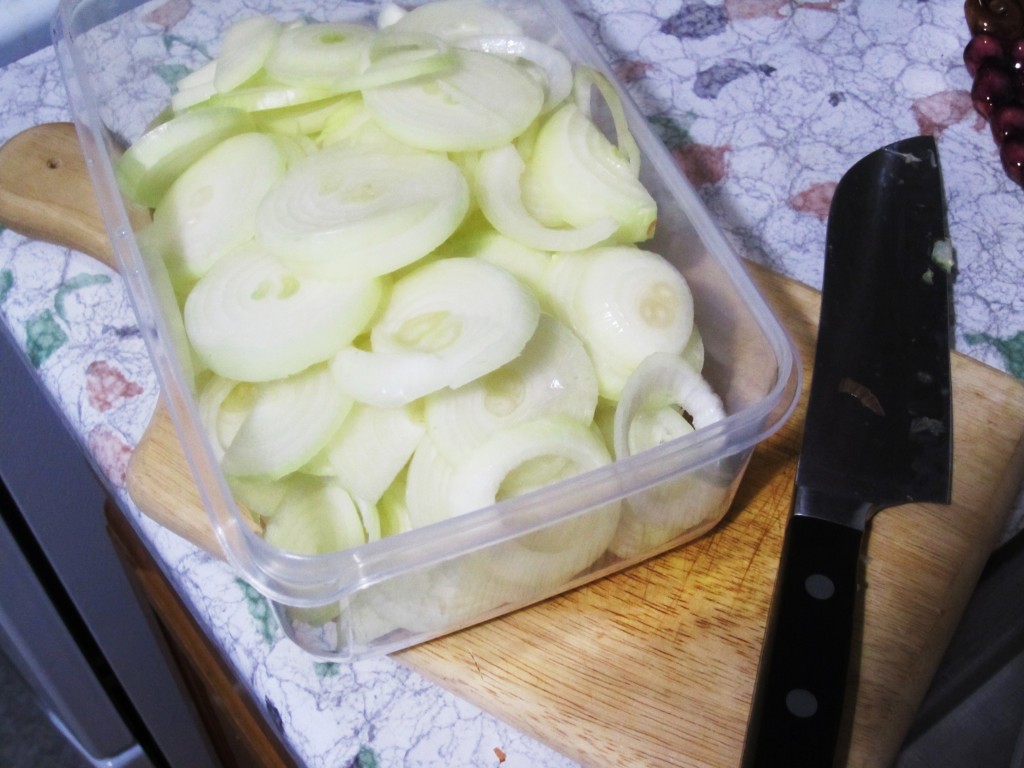 Thinly slice…
Sauté in butter for 15 minutes.  Then cook over moderate heat for 40 minutes until golden yellow.  Stir in three tablespoons of flour.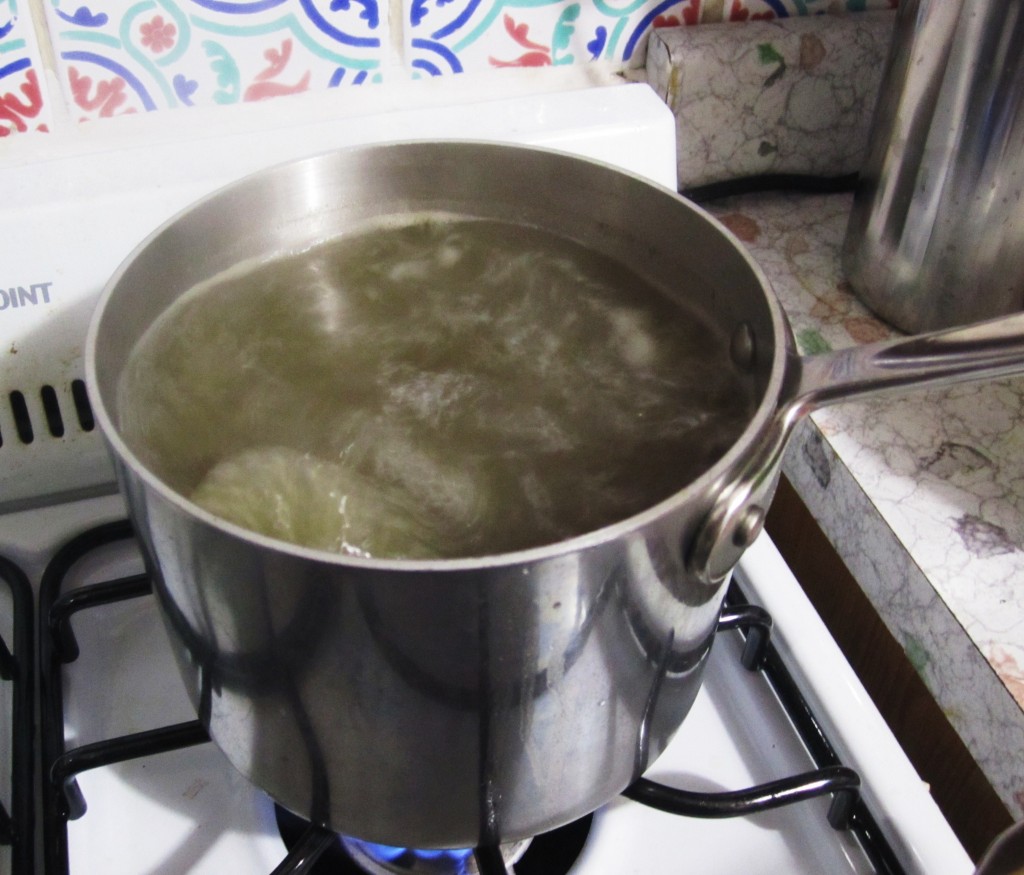 Add two quarts of your own homemade chicken stock (great use of the leftover carcasses that have been patiently waiting in your freezer since your many roasted chicken attempts).
I think I only used one quart of chicken stock.  Or maybe I lost count when I was measuring the volume of my new Ikea food storage containers.  Two quarts seemed like it would make the soup too thin.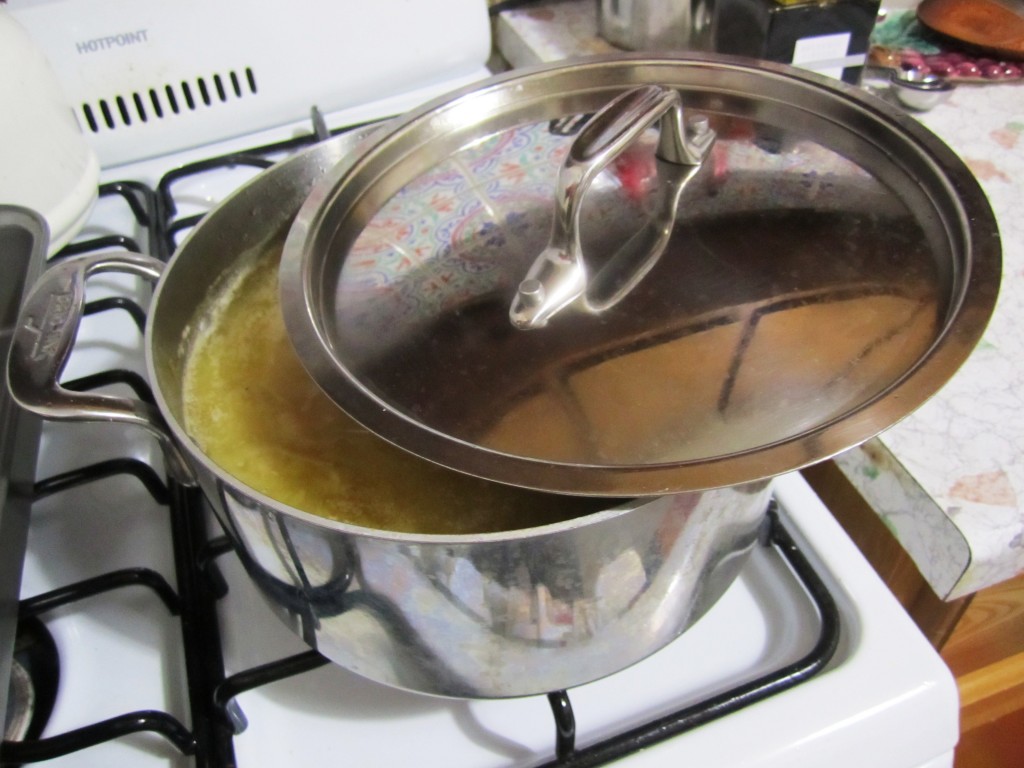 Let simmer partially covered for another 40 minutes.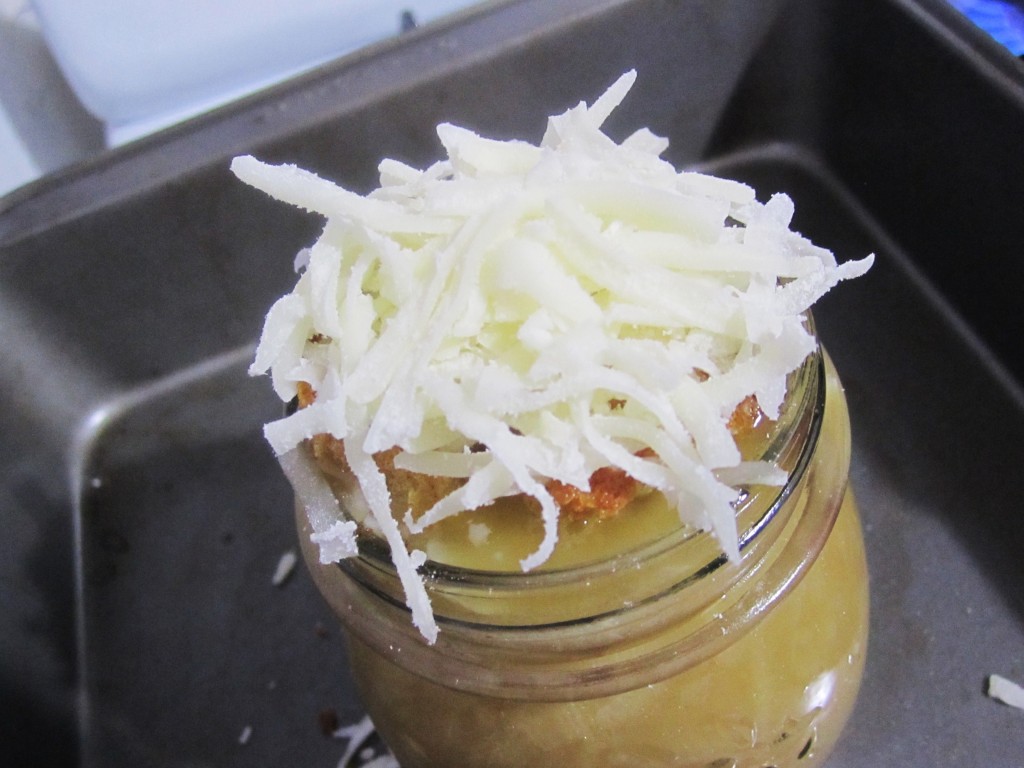 Mix in a few shreds of cheese and cover with a round of toasted bread and more cheese.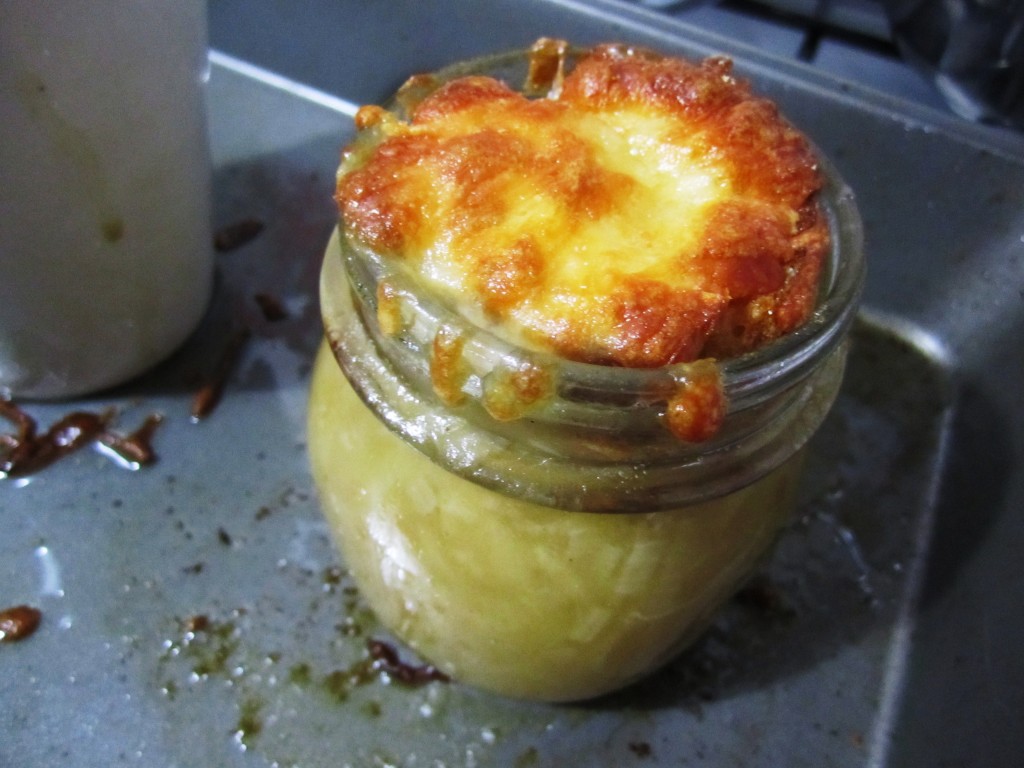 Then bake in the oven for 20 minutes.  Julia says to turn on the broiler for two minutes at the end, but it wasn't necessary (and my broiler doesn't work).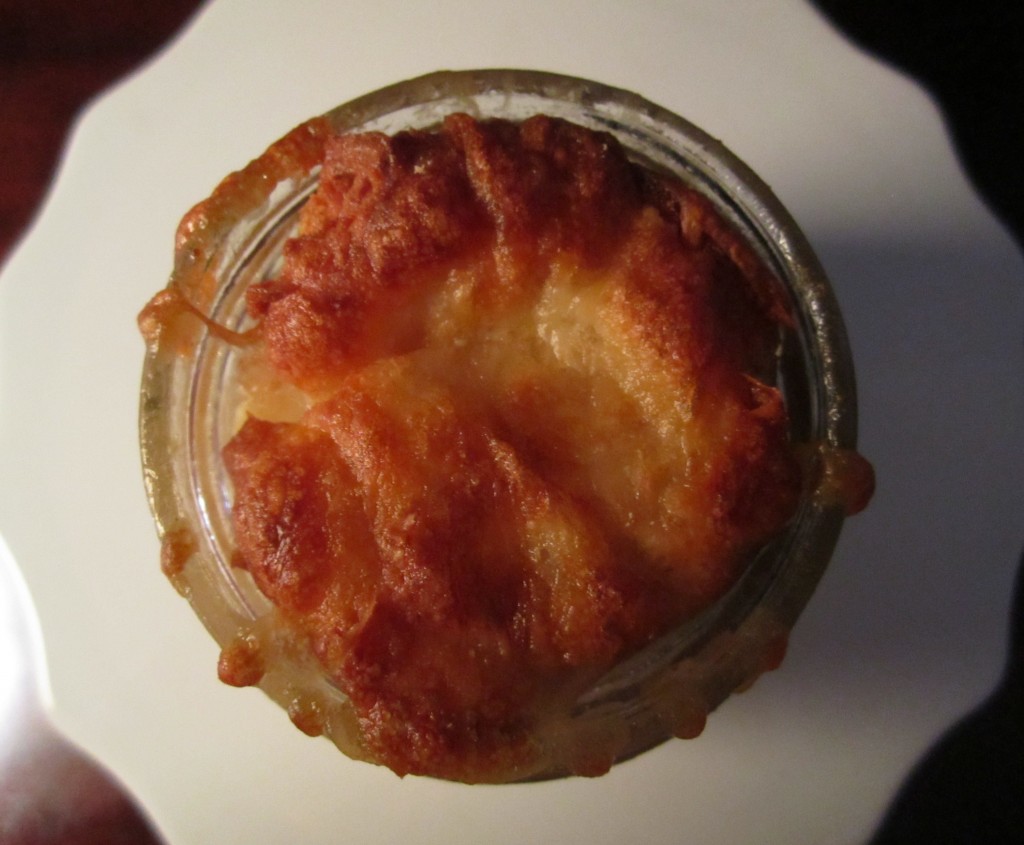 Toasted cheese perfection.
In case you don't have any cute mason jars on hand (or an "onion soup dish" like Julia recommends — whatever that is), a mug is a fine alternative:
Time for the second episode of Cashmere Mafia.
3 Responses to "A Quiet Saturday Evening & French Onion Soup"