Archive for the 'La Cuisine' Category
October 21st, 2012 | Rachel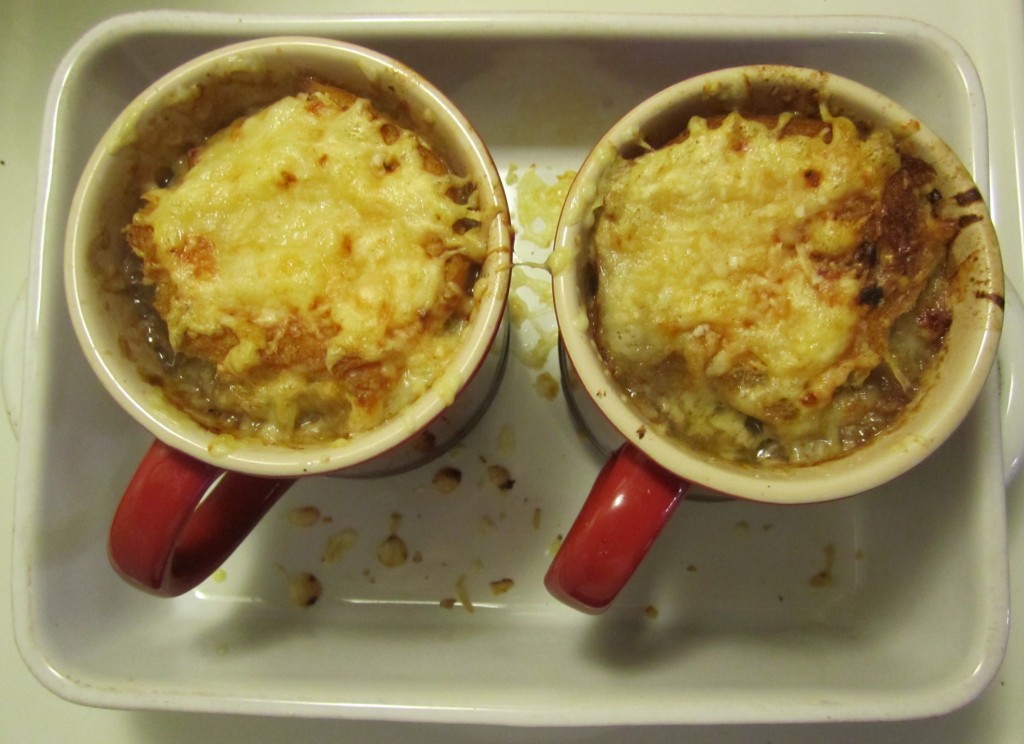 I was sitting in the office (still in the converted barn surrounded by chickens and homegrown vegetables, btw) on Friday when a former coworkers stopped by to pick up his coffee bean grinder. Now our only option for freshly ground beans is a manual grinder with a crank that takes a solid five minutes to grind enough coffee to fill one tiny K-cup filter.  Wah, life is hard.
This former coworker struck up a conversation about food, a frequent topic of discussion when we worked together, and he ended up telling me about a couple of bowls of French onion soup he recently had in Monterey. As soon as he said the words "French onion soup," I knew what I was having for dinner that night.
I stopped at the grocery store on the way home and ambitiously bought twice as many onions as I ended up needing, and spent the rest of the evening slowly caramelizing (half of) them and turning them into a large pot of sweet and salty French onion soup.
Making French onions isn't complicated, but it does take a bit of time and vigilance. I am beginning to see that starting a business is, in some ways, very similar.
You see, there is a lot of detail work in the beginning, thinly slicing a pound and a half of onions that will probably leave you in tears at some point (and cursing in vain at the onions for their particularly gaseous quality). Then there are the multiple stages involved, each of which is very important to the end product. I followed Julia Child's recipe for Soupe à l'Oignon Gratinée from Mastering the Art of French Cooking, which you can find here.
You start by heating oil and butter and then cook the onions on low heat with the lid on for 15 minutes. Fifteen minutes doesn't seem like a very long time and you may want to keep them in a little longer, but you can't. It's time to take the lid of and present your lightly cooked onions to the rest of the kitchen. Some people around might not like onions, and they may take one look at your pot still brimming with bright white onions and turn up their nose. You just have to shake it off  and keep moving forward. You are making French onion soup, and it is going to be delicious.
This might be a good time to pour yourself a glass of wine. One of my favorite wineries at the moment is Little Vineyards in Sonoma, California. They produce some pretty tasty Syrah and Zinfandel with a lot of character, no oak, and just the right level of dryness. If you are in the Sonoma area, you should visit them. If you are in the Santa Cruz area, you should come to my house and have a glass with me.
Anyway, back to our French onions. At this point, you have to turn up the heat. You'll add some unexpected ingredients, like sugar, and then spend the next 40 minutes painstakingly watching and stirring the onions while you wonder if they are ever going to turn the proper shade of golden brown. Your focus might lapse for a few minute and you may find a onion sliver or too has skipped the stage of caramelization and gone straight to burnt, but don't let this get you down. Just remove the offending sliver, turn down the heat ever so slightly, and remember to stir more frequently.
Then the moment comes and you realize your once full pot of onions has been reduced to a concentrated layer of rich and fragrant caramelized onions. You look down on them with satisfaction. Success.
But wait, its not over yet. You have to remove the onions from the heat, stir in flour, and pour in boiling stock (hopefully you planned ahead and had it ready). Mrs. Child says to add two quarts of stock, but I find this dilutes the soup too much, so I recommend cutting the stock by 25% or starting off with more onions. At this point you might realize you don't have everything you need after all, such as a bay leaf, but you improvise and make it work anyway.
Now its time to wait. Again. Things are kind of on autopilot now, so you don't have to make as many trips to the kitchen. The aroma filling your apartment lets you know the end is in sight, and it is time to gather your remaining ingredients. After all you aren't just making French onion soup. You are making it gratinée.
The makings of "Gratinée": Raw Onion and Parmesan and Swiss Cheeses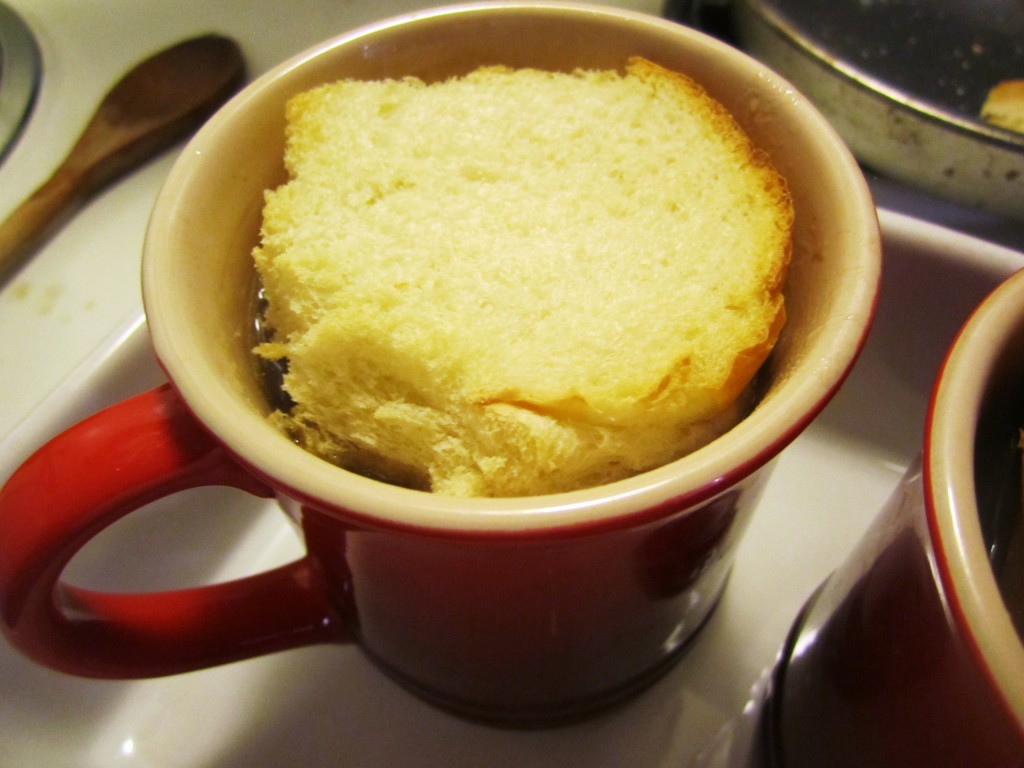 Bread sliced and trimmed to mug-size, then toasted in the oven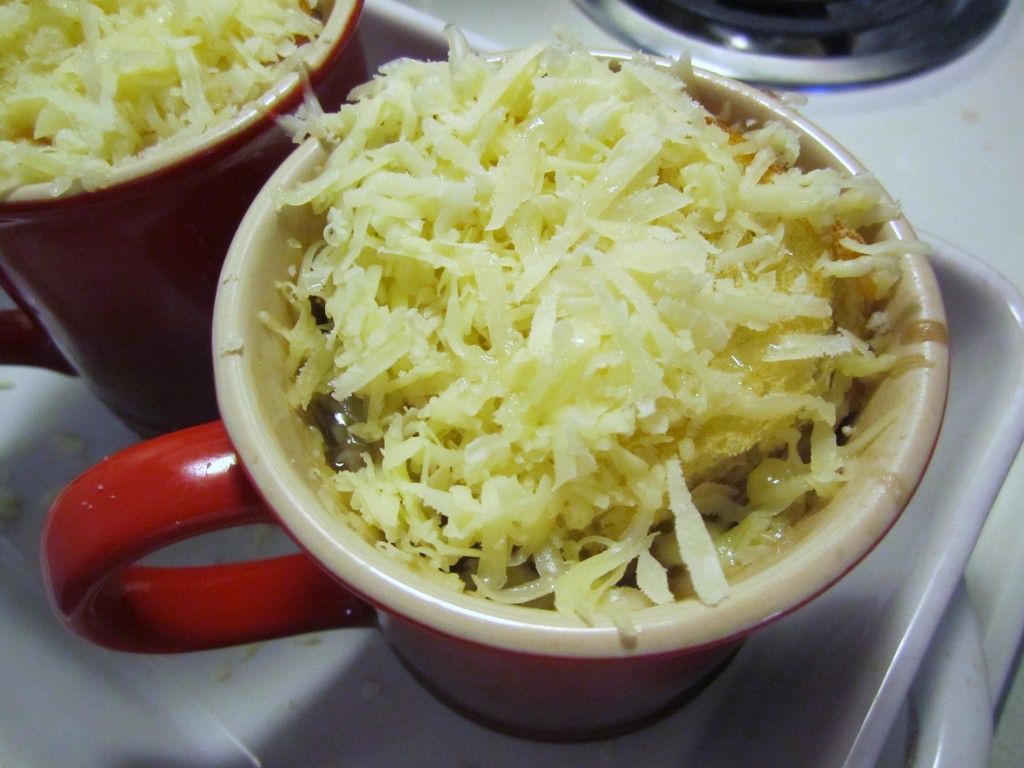 Shredded Parmesan and Swiss and a few drops of olive oil
I recommend adding more shredded cheese than I did. The cheese should completely cover the bread and, for the sake of aesthetics, extend to the sides of the bowl or cup. You'll want to add the grated onion and a few slivers of cheese directly into the pot of soup before you divide it up. For bread, I picked up a bag of dinner rolls from my local grocery store's bakery section and cut them in half horizontally before toasting them cut side up. I like the texture of the dinner roll more than french bread because it is easier to cut with your spoon as you eat your soup.
By now, your onion soup is made, the gratinée is added, and all that is left to do is pop the individual portions into the oven for 20 minutes (you didn't think you were going to be eating any time soon, did you?). At the end of the 20 minutes, if the cheese isn't as toasted as you would like, turn on the broiler for a minute or two.
Now take a sip of wine (if there is any left) and pat yourself on the back, because you just made French onion soup that will rival any restaurant you'll ever go to.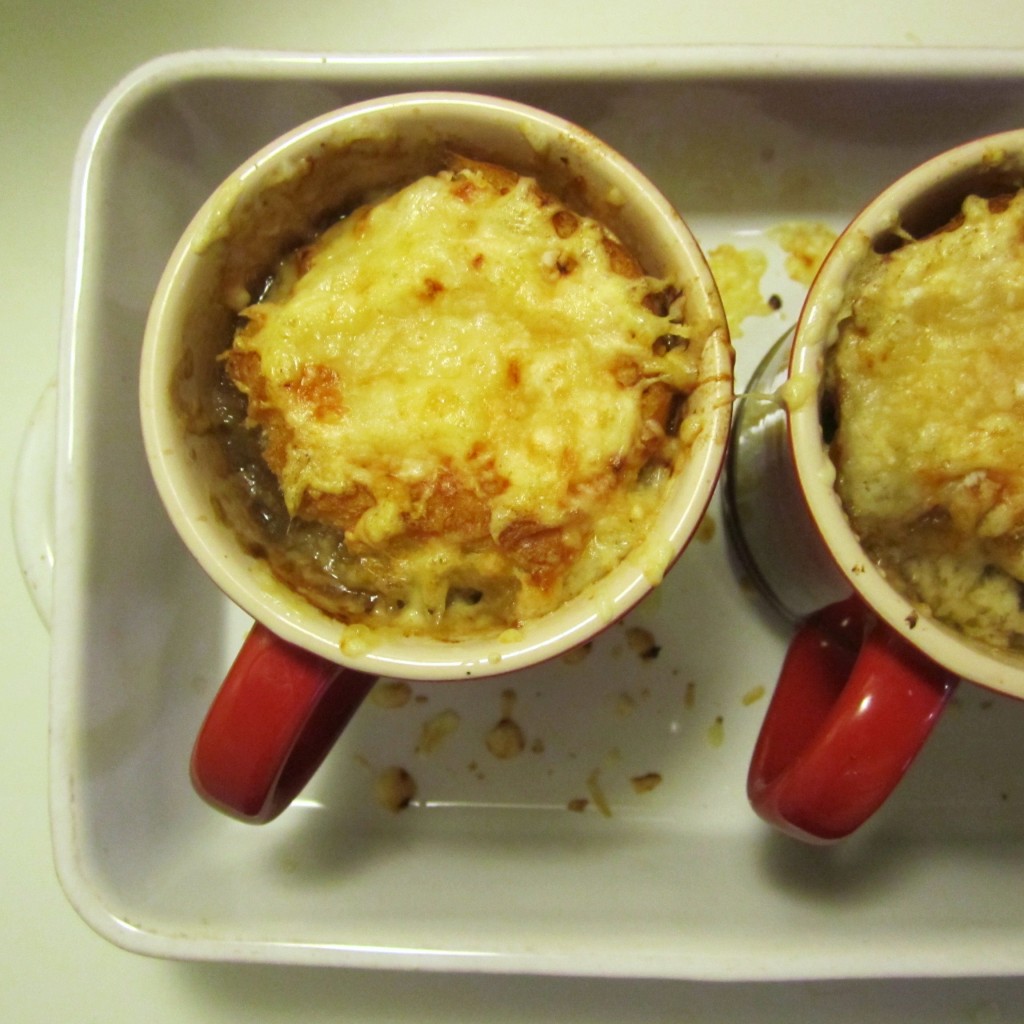 Soupe à l'Oignon Gratinée
I first staged this photo on the kitchen table in the glow of the late afternoon sunlight complete with a fall-themed placemat…
But then I thought, who am I kidding? I might as well admit that I enjoyed my cup of soup siting on the sofa watching an episode of Pretty Little Liars.
I can't say what it'll be like to finally have this business up and running (you know, the one I've only vaguely referenced and won't tell you anything about), because it is still just the beginning. I can say that there is a long and detailed road ahead of Arthur and I, and like the soup, it'll probably definitely involve tears and cursing.
We are just a week or two away from incorporating the business and registering our trademark, so I'll start dishing the details very soon.
Thanks for joining me on this journey.
May 28th, 2012 | Rachel
Last night, I declared an end to my infant baking career.
I probably didn't mean it, but the frustration and failure behind the proclamation was utterly deflating.  Let us rewind 24 hours.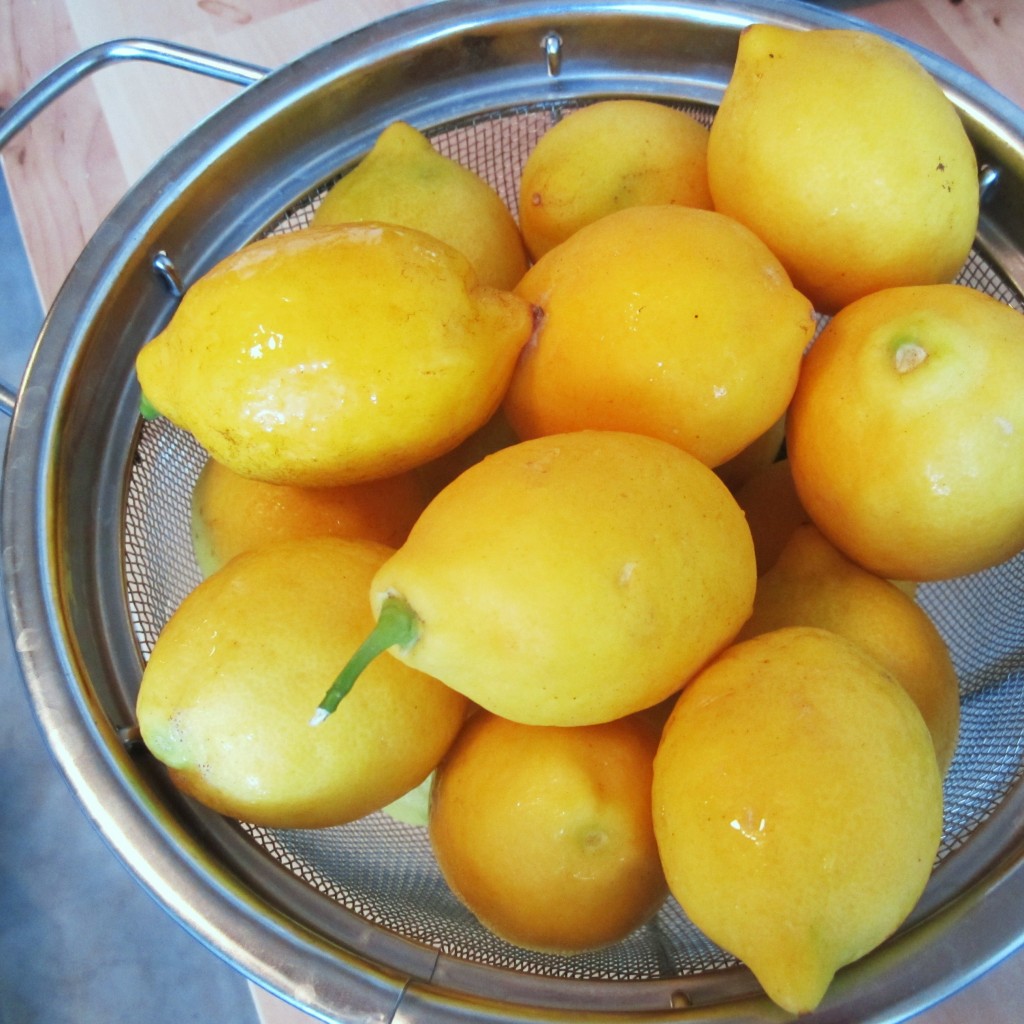 Meyer Lemons!
Last weekend, Steve and I made a trip to a nearby farmer's market and came home with eggs, carrots, strawberries, blood oranges, and homemade jam.  I also picked up four pounds of Meyer lemons to make a cake I saw in a recent issue of Martha Stewart Living… or at least I thought it was MSL.  I couldn't remember exactly where I saw the recipe and was unable to locate it in any of the recent issues.  Even the search results for googling "Meyer lemon cake" was a little underwhelming.  I eventually settled on a lemon cake with lemon curd filling and honey lavender whipped cream from epicurious.com.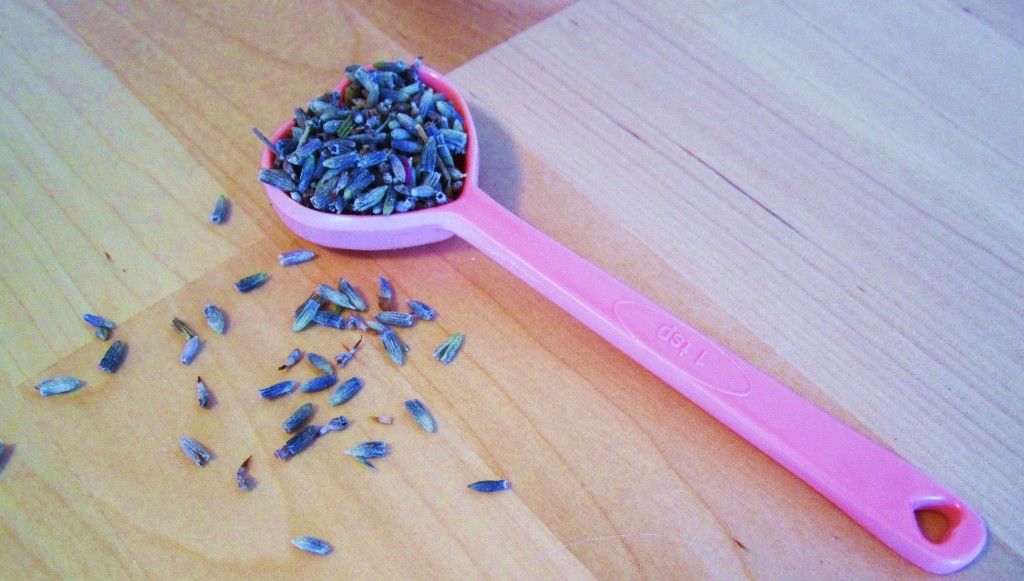 Lavender for the Honey Lavender Whipped Cream
The plan was to make the cake yesterday morning to take to a pool party in the afternoon.  My Memorial Day weekend plans had been thrown off by a last minute scheduling of the dinner shift yesterday evening.  I had been planning on going to the pool party hosted  by some church friends and then another party hosted by a co-worker at the office.  Even with the unexpected work shift, it was possible for me to spend a couple of hours by the pool, go to work, and then end the evening eating ribs at my co-workers house.
I ran into the first snafu early in the baking process when I realized I only have whole wheat cake flour.  Although I love the idea of using whole wheat, the fact remains that it is overwhelmingly "wheaty" in flavor and gritty in texture.  As one of the chefs reiterated during dinner last night, whole wheat flour just doesn't have a place in baking desserts.  Sorry, whole wheat flour lovers out there.
I should have paused for a moment and run to the store for proper flour, but I was a woman on a mission — and a tight schedule — and I went ahead with what I had.  Everything after that went really well: squeezing and zesting my four pounds of lemons, separating the eggs and folding in the beaten egg whites, making the lemon curd.  By the time the first two components of the recipe were completed, I was feeling pretty good.  And I was only running a half hour behind schedule.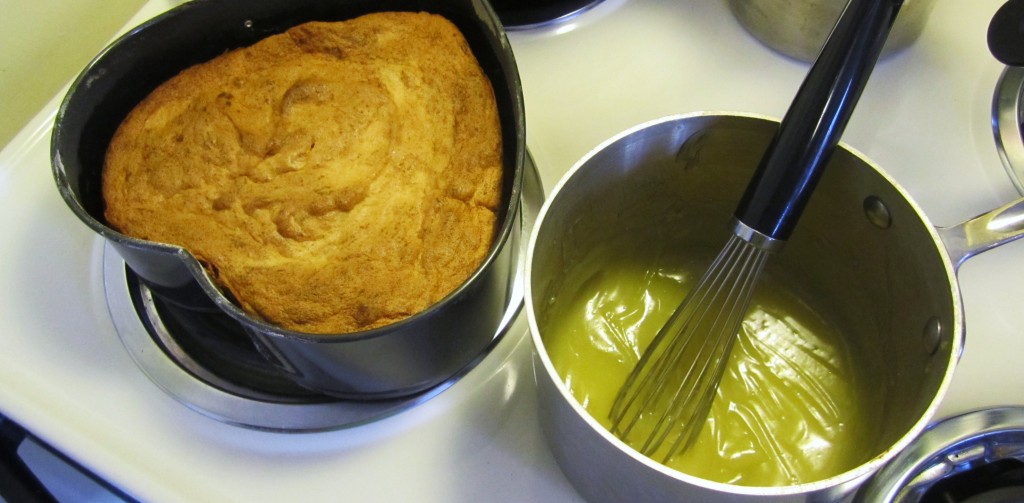 Whole Wheat Lemon Chiffon Cake With Meyer Lemon Curd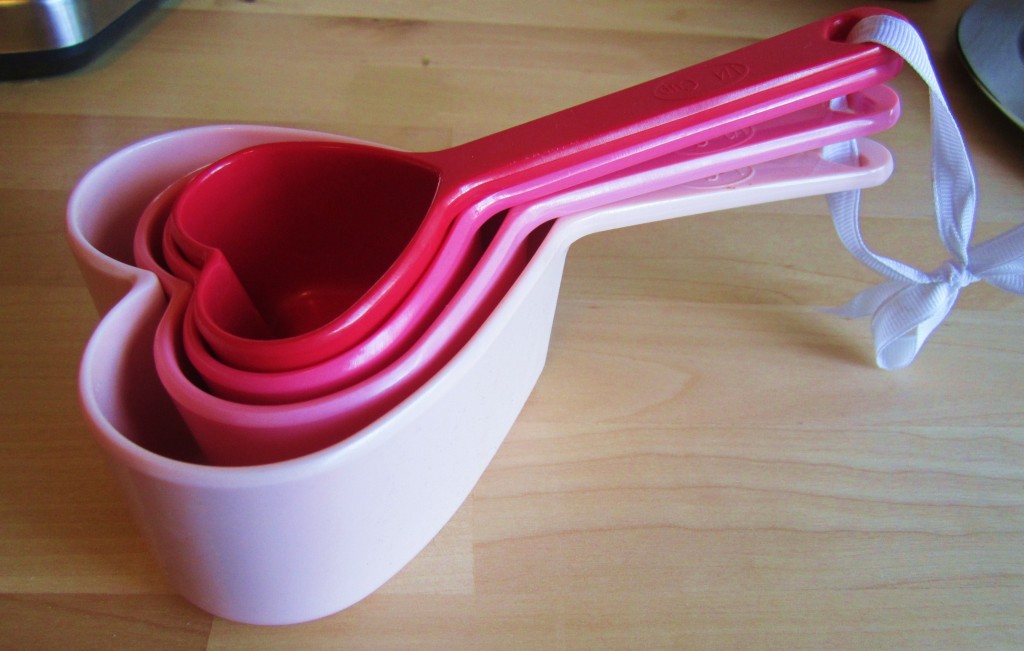 One day I should probably switch to proper measuring cups, but baking with these makes me feel like I am adding a little extra love to the mix
I did have to make a trip to the grocery store at this point to buy cream for the honey lavender whipped cream.  Upon my return, I followed the directions exactly:
Bring cream, honey, and lavender blossoms just to a boil in a small saucepan, then remove from heat and let steep, covered, 30 minutes. Strain through a fine-mesh sieve into a bowl, discarding solids, and chill lavender cream, covered, until cold.
If you are a seasoned chef, you might already spot the error in these instructions.
While my lavender cream was steeping, I jumped in the shower and got dressed for my full day of events.  When I was ready to go, I cut the cake into three layers, filled them with the lemon curd, and then took my strained and thoroughly chilled cream from the fridge for whipping.  Not wanting to get my huge 6-quart mixer bowl dirty, I left the cream in its small (and cold) stainless steel bowl and put the whisk attachment on my hand held mixer.  Ten minutes later, my cream was only slightly thicker than before and far from whipped.  Perhaps the bowl was too small, I thought, and I got out another bowl and divided the cream in half.  Ten minutes later, the only change in the cream were the splatters all over the stove, wall and my dress.
By this point I was slightly annoyed.  The only thing that was going to save my potentially grainy whole wheat cake was this delicious whipped cream.  I needed it!  Maybe I just needed to use one large bowl, I thought, as I pulled another stainless steel bowl from the cabinet.  Ten minutes later, no change.  This was ridiculous!  Perhaps my little handheld mixer wasn't enough for whipped cream (even though it whipped the egg whites perfectly two hours earlier).  I turned to the stand mixer.  Ten minutes of high-speed mixing later, the cream was still runny and a little waxy.  I was bewildered.
As a last ditch effort, I poured out two thirds of the lavender cream and added the leftover half of a cup of plain cream from the fridge.  Ten minutes later, nothing.  Failure.
I was afraid to look at the clock, but I knew I was running late.  I yelled obscenities at the mixer, dumped the runny cream into the sink with disgust and stacked up the dirty bowls.  Then I stood in the middle of the kitchen and looked up at the ceiling, waiting for the tears to come.  Alas, I was too frustrated to cry.
I gathered my things — and the whipped cream-less cake — and jumped in the car.  It was 3:45pm.  The pool party was 20 minutes out of town and I had to be at work at 5pm.  And I had to stop at the grocery store to pick up a can of gross spray whipped cream because I knew the whole wheat cake needed the added lubrication.  In case you don't want to do the math, that left me exactly 20 minutes to spend at the party.  If I wasn't so stubborn I would have just stayed home at this point and use the hour to calm down and mentally prepare myself for work.  But, I am, so I didn't.
The tears of failure of frustration finally came as I exited the store with a can of Reddi Whip.
At work that night, I told one of the chefs about my unwhippable cream and asked for an explanation.  He immediately recognized that my error was in boiling the cream.  Once you heat cream, it changes the proteins and makes it unwhippable.  Looking back at the recipe, I am perplexed because some of the comments express a positive outcome for the cream.  I am wondering if they didn't heat their cream as hot, although I brought mine barely to a boil.  After doing some internet research on the matter, I am also wondering if my problem was a result of using ultra-pasteurized cream.  I read several accounts of people having trouble whipping cream that has been ultra-pasteurized (which means it was heated to a higher temperature for longer shelf life).
[On a side note: I've noticed that a disappointing number of organic dairy products are ultra-pasteurized these days.  The only organic milk I can find that isn't ultra-pasteurized comes from a local dairy.]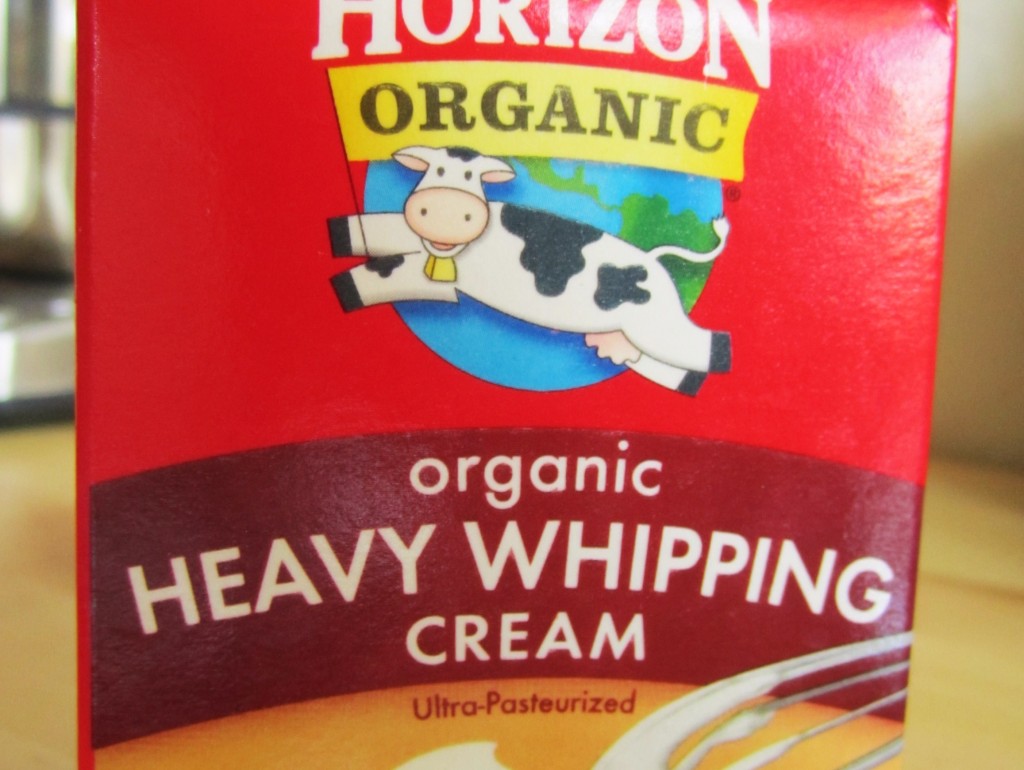 The Culprit
For next time, and for any of you who want to try your own hand at lavender whipped cream, the chef told me I don't need to heat the cream to infuse it.  I can just add the lavender to the cold cream and stick it back in the fridge over night.
The cake went over well enough, I suppose.  It was a crowd that seemed to appreciate the earthiness of the whole wheat.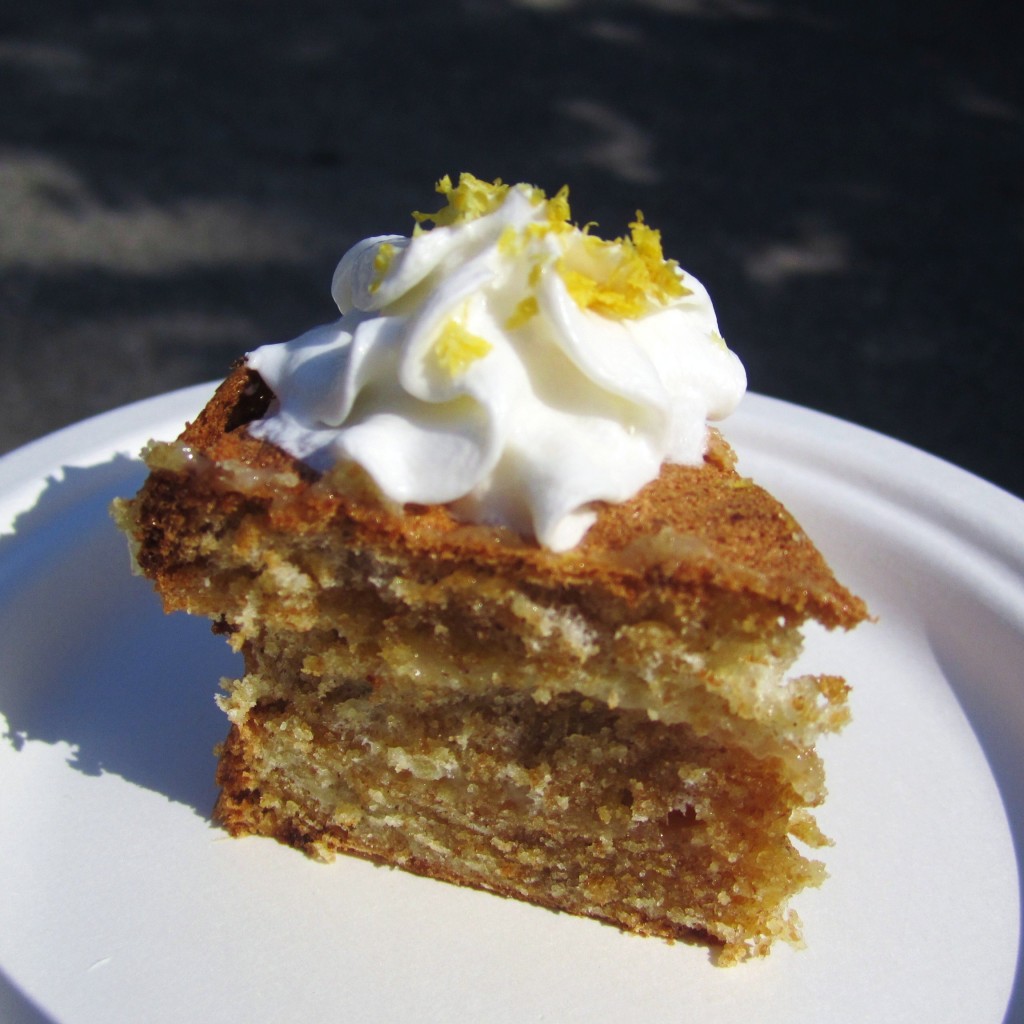 Whole Wheat Lemon Cake With Lemon Curd Filling
Now it is time to wash the pile of dirty bowls and put this experience behind me.  I can't end my baking career on a failure.
November 4th, 2011 | Rachel
Join me in the comments or on your own blog as I give thanks every day this month.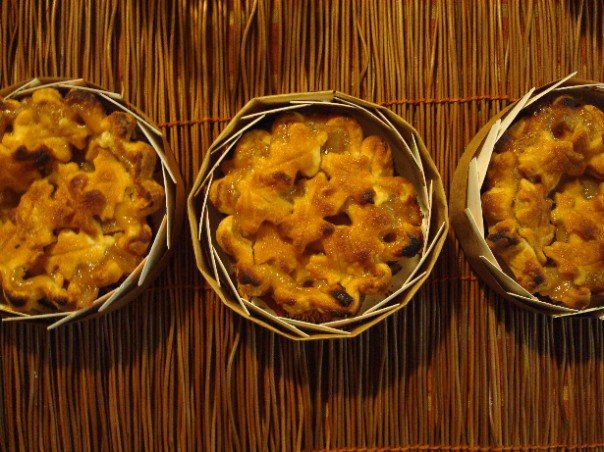 Mini Apple Pies
I started making pies back in 2007 during my final year of law school.  Although I wasn't a pie connoisseur growing up and do not have a history of pie-making in my family, I was drawn to the American tradition, visual simplicity and endless versatility of making pies.  Plus people seemed to think it was hard, and I like a challenge.
I started out with Pie: 300 Tried-and-True Recipes for Delicious Homemade Pie by Ken Haedrich, which is a great resource for getting started in this realm of baking (except for the fact that it is so heavy and all of my colored photo pages fell out on the first day).  Focusing initially on the innards of my pies, I made the first several using store-bought pie crusts (the ones that come in rolls and are found either in the dessert area of the freezer section or the butter section of the grocery store).  Honestly, if you have limited space or time or just don't like cleaning up floury messes, I think the pre-made crusts are a perfectly decent substitute.
My first pie was an apple pie, inspired by the cover of that month's Martha Stewart Living.  I made four or five of them before moving on to cherry (mostly because I wanted to use a cherry pitter), caramel walnut, maple custard, port and plum, fig and grape and many others.  Like I said, the versatility of pies is endless.
I briefly dreamed of opening a pie shop, particularly after watching the movie Waitress, but I don't think I enjoy eating pie enough to have it be my sole focus.  That being said, my absolute favorite thing at Three Green Ducks is the cherry pie, and I am about 10% finished with a pie recipe book I want to publish (I'm also 10% finished with a book about my first year dating in New York, City but that is for another day).
Pie represents a lot of things to a lot of people.  For many, it reminds them of their grandmothers who made the best apple pie in town.  For others, it means summer picnics and the Fourth of July.  For others, it is a sign of apple-picking season or family reunions or the end of an amazing home-cooked dinner.  Whatever it is, pie is good, and I am thankful for it.
Here are some favorites I've made in the past few years: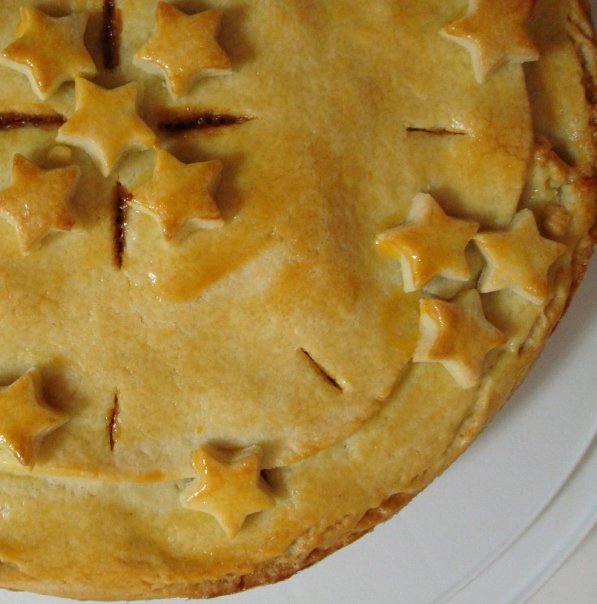 Caramel Walnut
Blackberry Sour Cream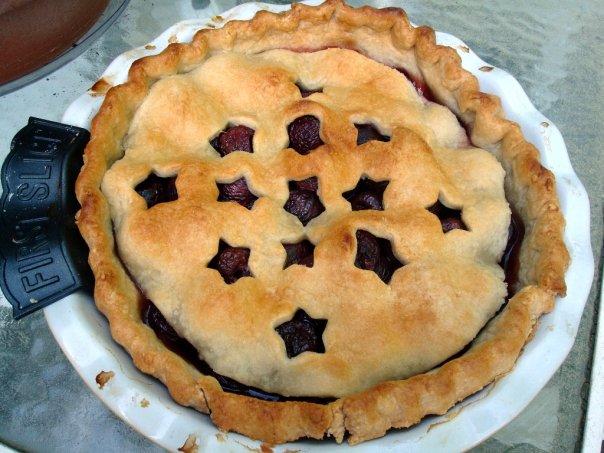 Classic Cherry With Floating Crust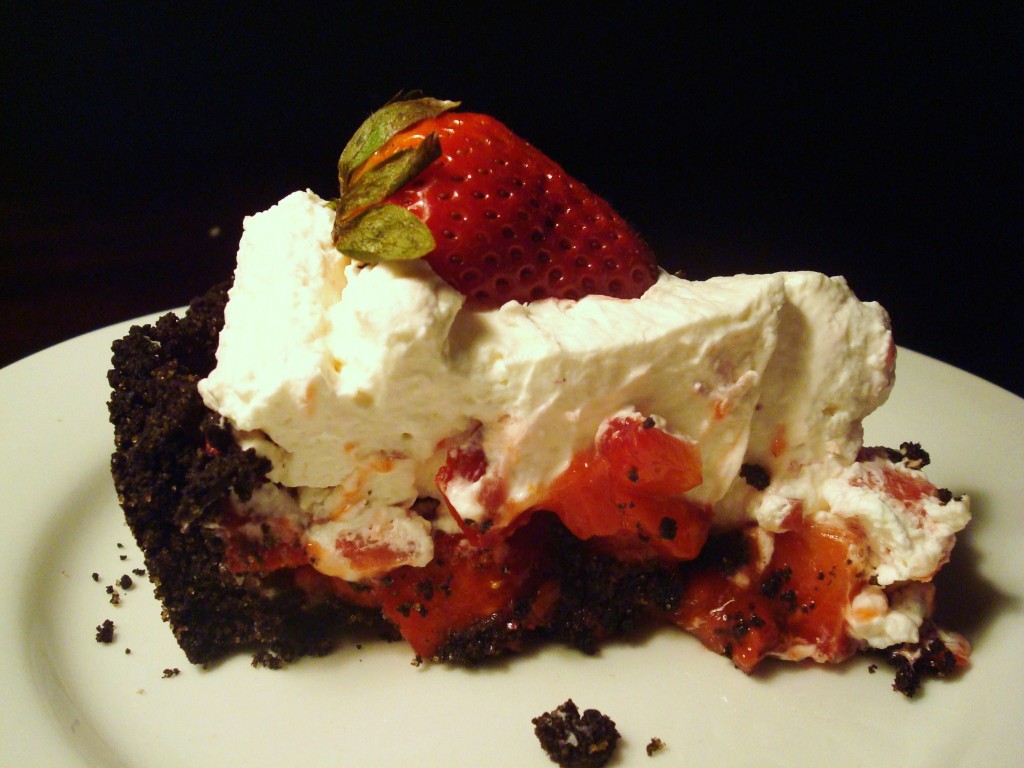 Triple Strawberry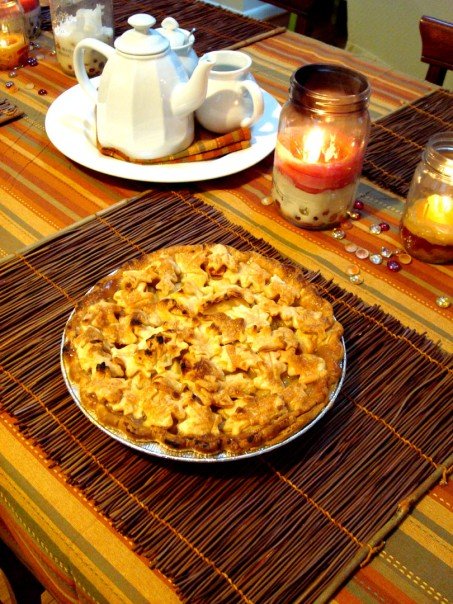 Apple Pie (replica of cover of Martha Stewart Living)
What does pie mean to you?
October 4th, 2011 | Rachel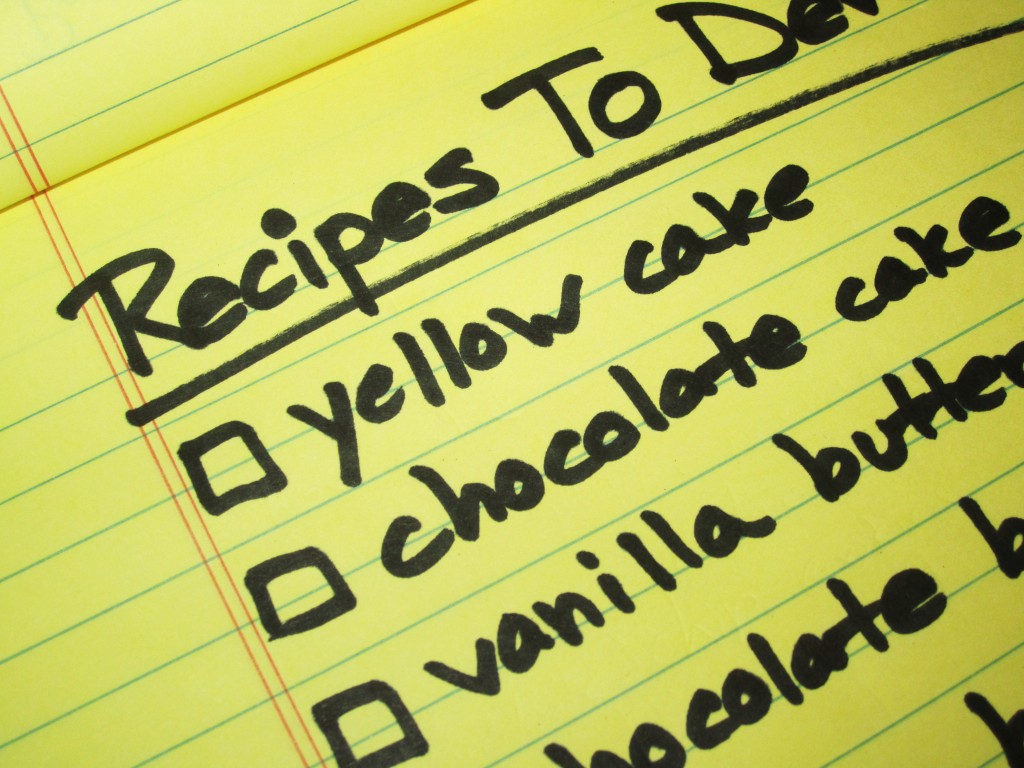 Hello!
Although I haven't been writing about it the past month or so, Operation West Coast Bakery is in full effect.  There are about a thousand things that need to be done, but right now I am focusing on recipe development and educating myself in the area of business management.
For the latter, I am reading this book, which has proven to be a great overview of the necessary steps and components to opening a small business: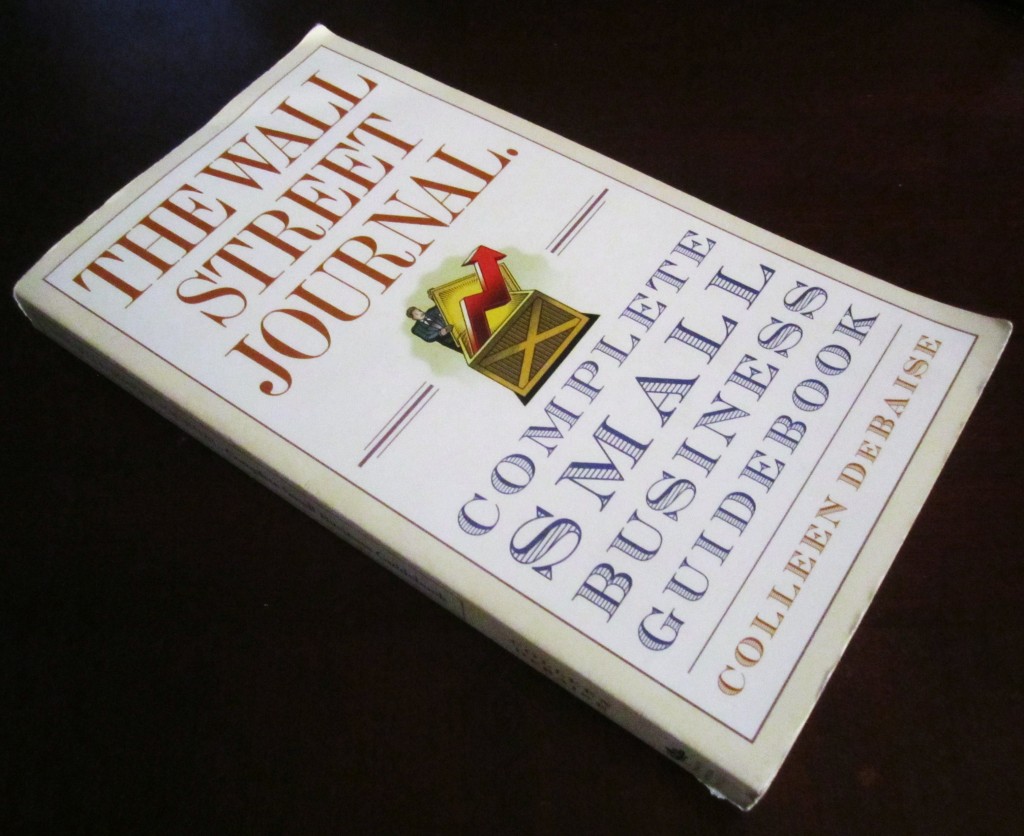 I have also begun the process of developing my recipes.
The owner of the Three Green Ducks told me her business started with her recipes, and she has made product quality a top priority ever since.  It's taken 20 years to get where they are now, but the bakery has earned itself a dedicated repeat customer base and are regularly ranked the "best of" in New York City.
I agree with this approach, and therefore I have drafted a preliminary list of recipes that need to be perfected: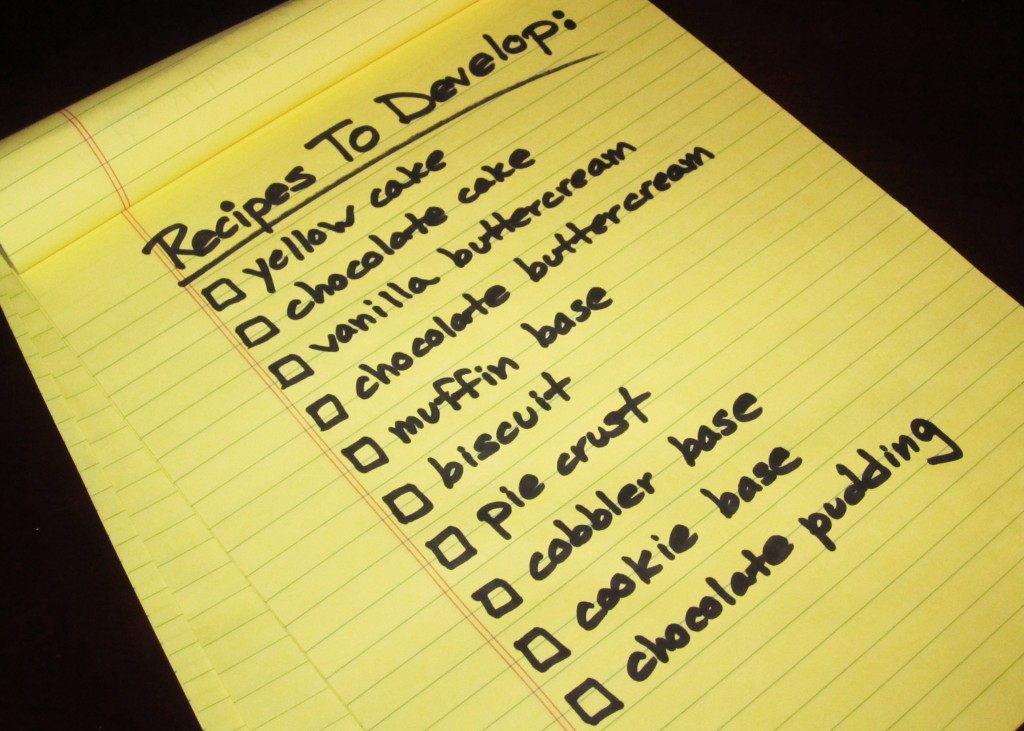 Like the Three Green Ducks, my bakery is going to focus on classic American baking.  I've done a little bit of market research to see what other kinds of bakeries currently exist near the area Steve and I think we want to live, and so far I've only found a few large-scale baking operations with a decidedly European influence.
My favorite item on the menu so far is the puddings.  I'm going to start with chocolate pudding, but the plan is to offer a standard selection of puddings (vanilla, butterscotch, etc.) and rotate a menu of more interesting flavors.  I think pudding might be on the verge of a comeback.  I said the same thing about pie when I was in law school, and I was right about that.  It's too bad chocolate pudding is so far down on my list.
I figured one of the most basic bakery recipes is yellow cake, so that is where I am starting.  I collected a number of yellow cake recipes that received rave reviews and put them into a chart so I can compare the proportions of each ingredient.  With the exception of baking soda and in one case buttermilk, they all use the same ingredients but in markedly different amounts.
As an additional step, I had to learn the volumes of the different pans so I could take that into account when comparing the recipes.  Who knew baking was so scientific and mathematical (other than Alton Brown and America's Test Kitchen)?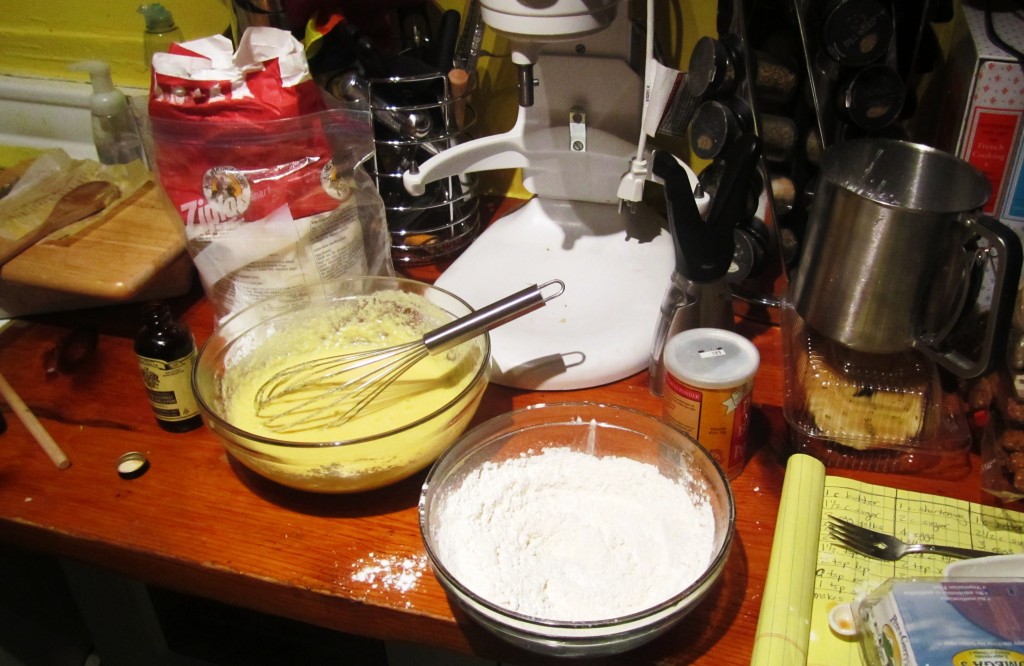 The makings of yellow cake  
Unfortunately, I'm not going to be sharing my bakery recipes with you.  Its trade secrets, so I hope you understand.  I will still be mixing in some french cooking into the blog and maybe some other random recipes, and those I will definitely be sharing.
The paranoid lawyer in me is nervous about sharing any information about the bakery.  I've actually come up with a name and a prototype for a logo, but I am still weighing the pros and cons of publishing it this early in the game.  If anyone has thoughts on that matter, I would love to hear them.
First attempt at yellow cake  
I've always been a little intimidated by made-from-scratch cakes.  The boxed cake industry has done a great job artificially creating super moist cake mixes that are hard to recreate texture-wise with just the traditional ingredients.  Fortunately for us bakers, the flavor of the boxed mixes can't compare to the real deal.  And that is why we take the more labor-intensive road and make our cakes from scratch.
That being said, my first recipe wasn't dry at all.  I was making half of a recipe and failed to notice that the full recipe called for 8 egg yolks.  I used four whole eggs in my half recipe.  The result was a very eggy but moist cake.  I also left my cake pans at my apartment (right now I am living at Steve's apartment), and I tried using a ceramic dish.  This clearly effected the way it baked.  Ceramic is good for recipes that need to be slow-cooked — like pies.  I don't know this for sure, but I suspect cakes benefit from the fast cooking of metal pans.
Perhaps I'll add that to my list of variables to test.
If you are in the New York City area, there will be some tasting parties in a month or two after I have some recipes figured out.  Stay tuned.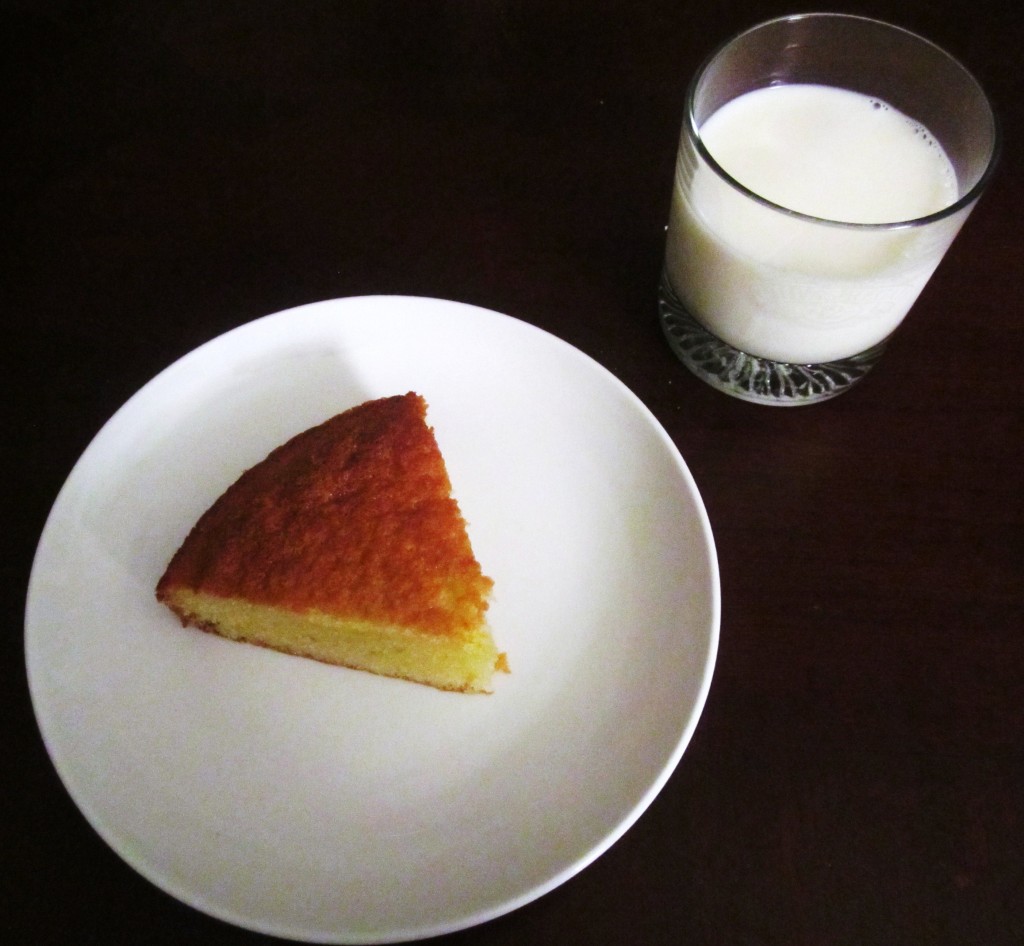 Between this and working at the Three Green Ducks, I need to join a gym.  
September 30th, 2011 | Rachel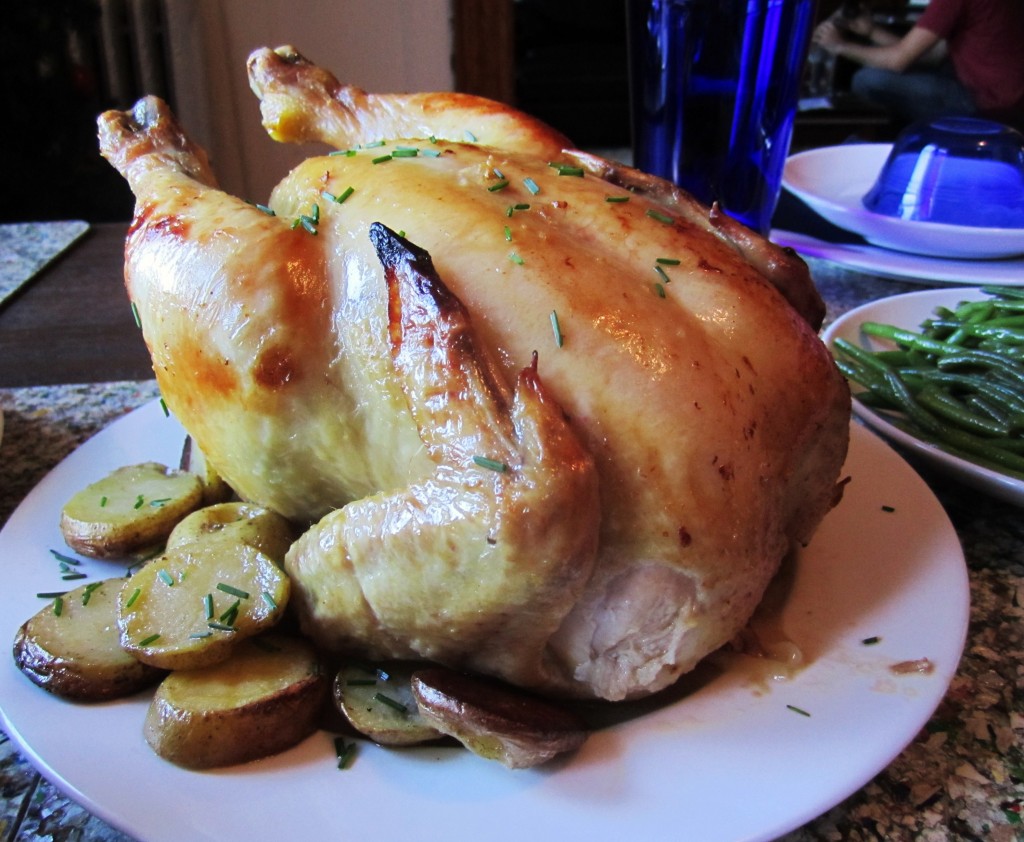 Roasted chicken dinner I used to bribe my friend into helping me clean my apartment
If you have been with me since the beginning of this blogging endeavor, then you might remember a quick succession of attempted roasted chickens.  (Wow, was that really six months ago??)
The word on the street is that the test of a true chef is his or her roasted chicken (I can't find a good cite for this statement but I swear I'm not making it up), and I have been determined to prove myself competent on this seemingly simple dish.
So many times have I slathered butter in the internal cavity of a raw chicken and tied its legs together into a tight bundle of poultry.
So many times have I hovered over a hot oven, obediently basting these baking bird bodies every 8-10 minutes and burning my fingers as I religiously go through the gymnastics of five minutes on the left side, five minutes on the right side, five minutes on the back side, thirty minutes on the left side, thirty minutes on the right side, and twenty minutes on the back side.
Every time, the chicken was a perfect toasted golden brown and juicy on the inside.
But the skin was not crispy.
Curses, ye gods of the French cuisine!
I was reduced to lamenting my failures through poetry:
Crispy roasted hen, My elusive great white whale. Why can't you be mine?   Succulent chicken, Why is your skin not crispy? Only Julia knows.   Oh, forgetfulness, That pesky paper towel! Dry your chicken first.
Finally, during the weekend of Hurricane Irene, having plenty of free time trapped indoors and with my two friends as captive dinner guests, I tried once more.
This time I remembered to dry the chicken first.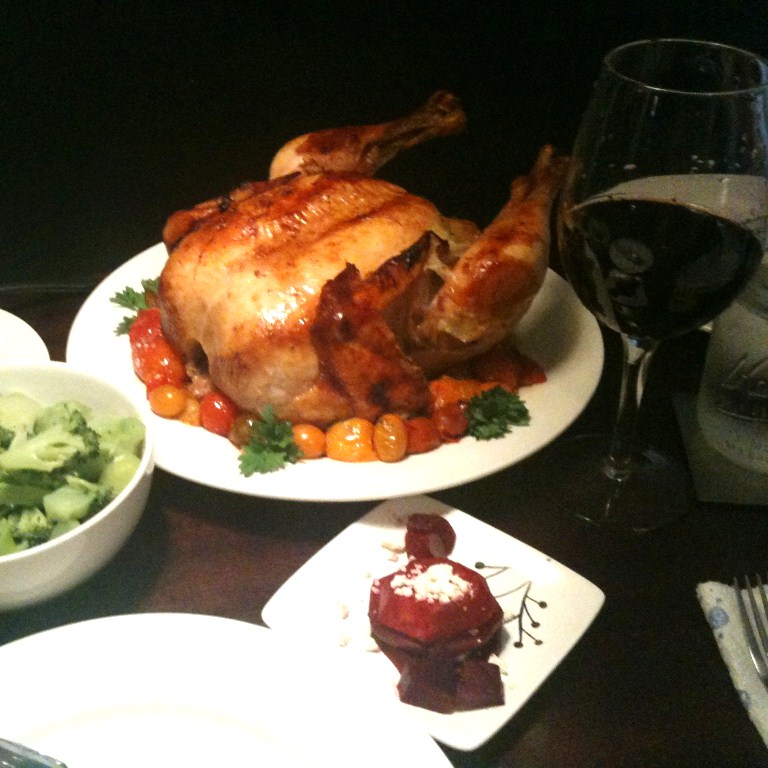 Hurricane roasted chicken
It was a textbook-perfect success.
The benefit of cooking this same recipe six times now (other than finally remembering to perform that crucial step) is that I have the whole process memorized.
You don't have to use Julia Child's labor-intensive protocol, but if you are a friend of the kitchen, you should have a roasted chicken recipe in your back pocket that you can whip out should a hurricane force you indoors for 48 hours.
It is also good for boyfriends or girlfriends or just friends or anyone else you want to treat to something special.