Archive for the 'A New Life' Category
November 3rd, 2012 | Rachel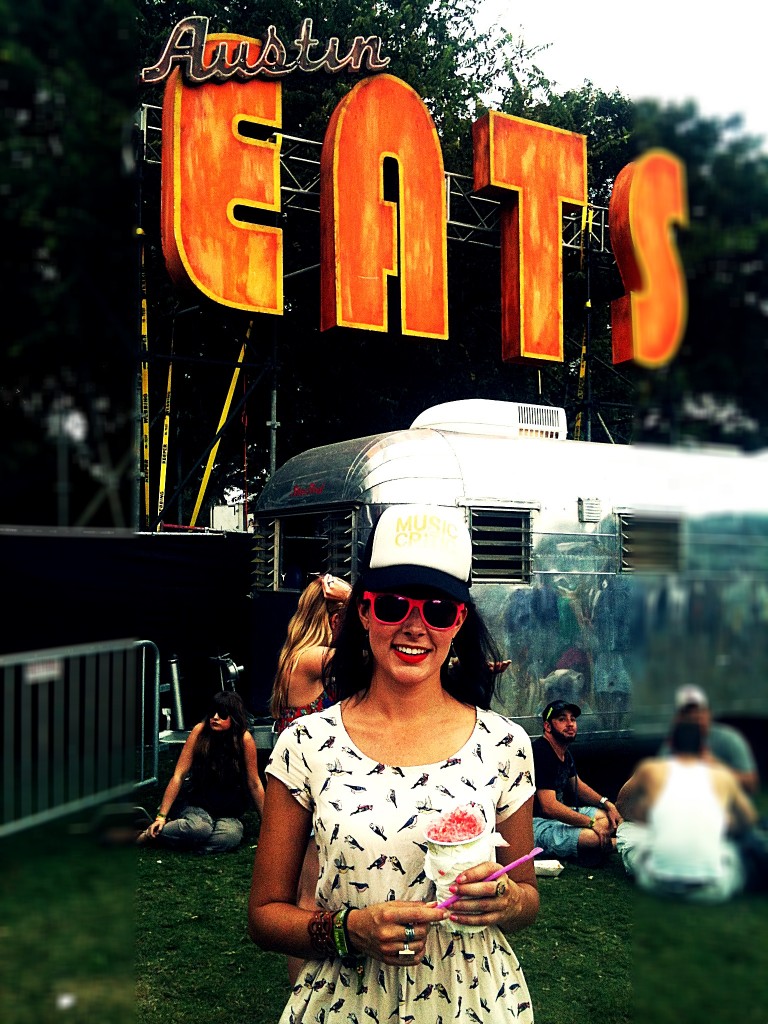 Austin City Limits Music Festival 2012
I still haven't gotten used to the 20-degree swings here on the central coast of California. The air is so crisp and chilly in the mornings that it feels like its going to be one of those Saturdays that you want to bundle up and read a book or watch a movie at home, but by the afternoon it is sunny and 70 degrees and you want to kick yourself for not leaving the house earlier.
I wasn't sure what fall would look like over here, but the leaves on some of the trees are starting to turn red and orange and fall to the ground. Of course they are dispersed amongst the palm trees and Redwoods, but it is still more of a fall than I was expecting. Steve is coming home this week, and I am hoping we will have a chance to take a motorcycle ride up into the Santa Cruz Mountains to see the grape leaves changing colors at some of the wineries.
Fall has always felt kind of "serious" to me. You've had all summer to play and now its time to buckle down and get ready for the winter. Maybe that would make more sense if I lived in a time when winter posed more of a threat to survival (and I didn't live in California), but maybe it also stems from school starting in the fall, so cooler weather means time to get back to the books. Invariably, fall is when I gain the discipline to go to the gym regularly (only to lose interest just in time for swimsuit season).
Things are also getting serious for Arthur and me. Arthur recently returned from his "last hurrah" trip to London and is making his big move to the west coast in less than two weeks. In the meantime, we are starting to get more specific with our plans and cross things off of our long to-do list.
We decided to postpone registering as an LLC until 2013 so we won't have to pay the $800 minimum tax for a business that barely existed in 2012. In the meantime, we are putting together our official mission statement and are collecting inspiration for the brand image.
We are going to be in the market for an awesome graphic designer pretty soon, so if you know someone — particularly an up-and-coming talent — let me know. As soon as we get the trademark registration out the door, we're going to go public on Facebook and a scaled-down website to start getting input from the community and the interwebs to help us make this thing a reality.
We also have a deadline set for finishing the business plan, which will be a satisfying way to end 2012 and set up 2013 to be a pretty exciting year.
In other news, despite its seriousness, October was a very fun month. I went back to New York for the first time since moving and co-hosted a successful Oktoberfest beer crawl. Thank you so much to everyone who came! I also went down to Austin, Texas for a long weekend for the Austin City Limits Music Festival. When I wasn't traveling out of state, I've been taking some beautiful Sunday drives. I have posted photos from two of those drives below.
As always, thanks for reading! For those of you in New York and New Jersey, I think about you constantly, and I wish I was there to help you recover from the hurricane.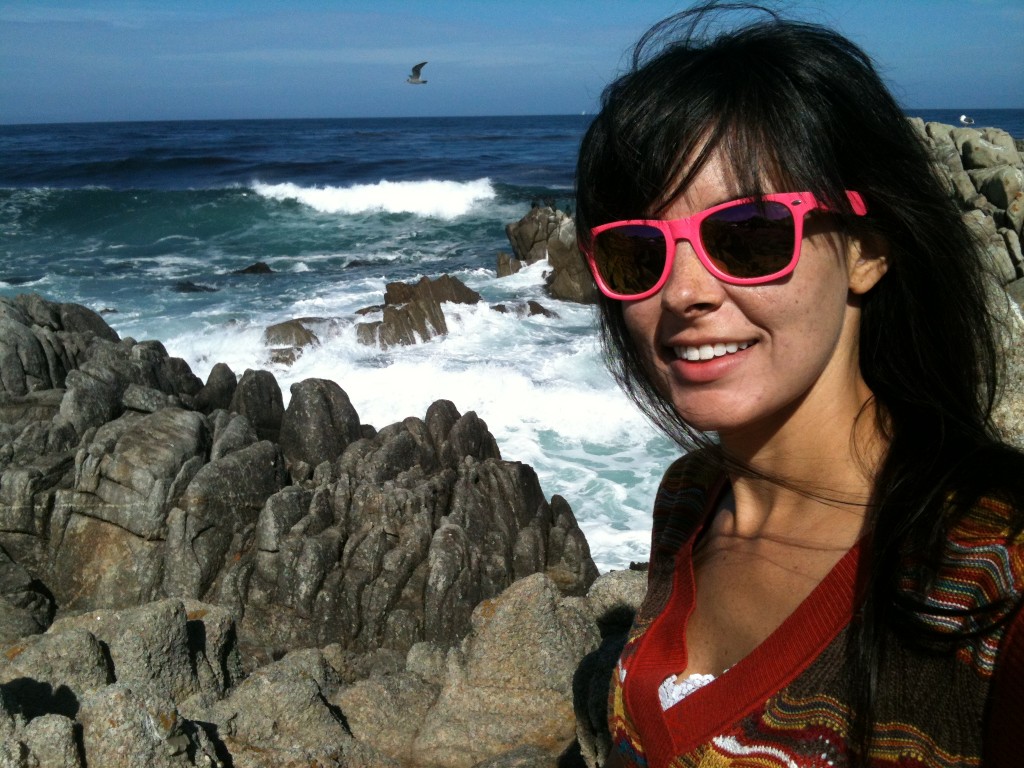 Sunday drive through Pacific Grove, near Monterey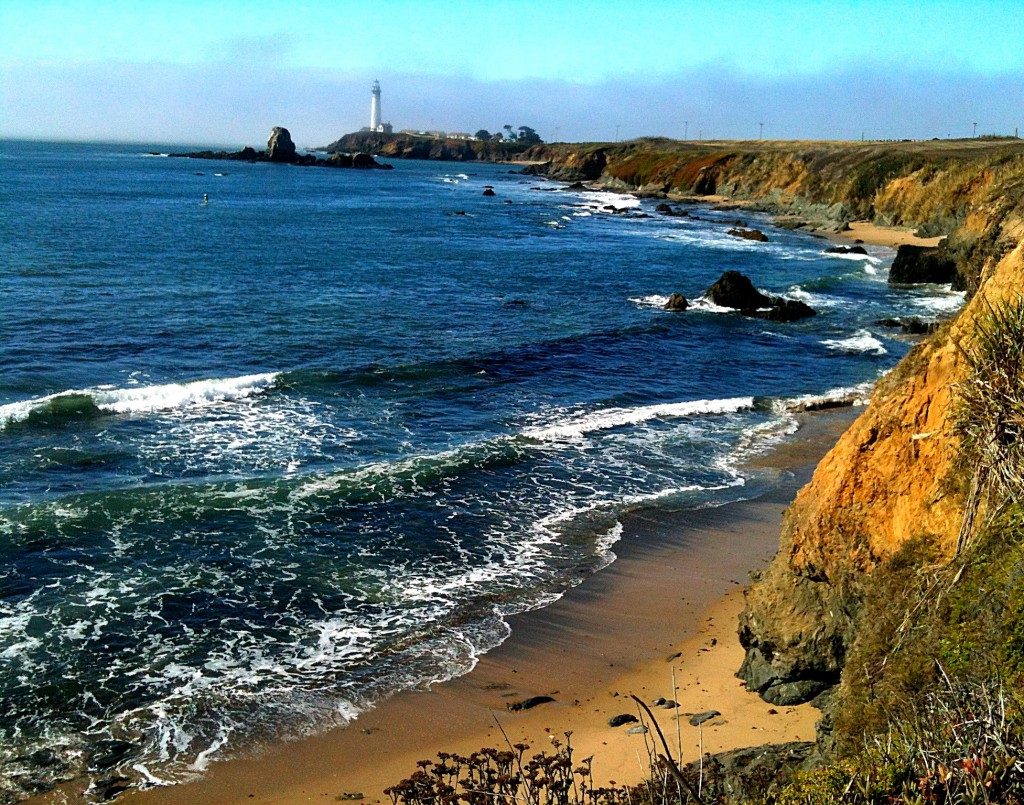 Just north of Santa Cruz
May 14th, 2012 | Rachel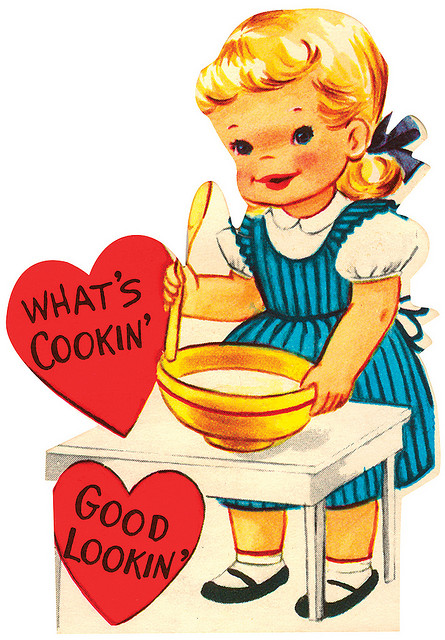 Oh dear.  I don't know how I could miss an anniversary as significant as that of my first blog post.  Please accept my sincere apologies and know how much I appreciate you for joining me on this journey.
I had toyed with the idea of having a blog for several years.  My fledgling culinary efforts were being documented on Facebook, but I wanted something that could reach a wider audience and be better archived for posterity.
The question, then, was what to call it?
I had been growing increasingly dissatisfied with my job at the law firm, and the vision of running a bed & breakfast in French wine country was slowly diverting my already-established career path as an attorney.  I was taking French classes and attending a lot of one-off wine classes.  I was currently reading Julia Child's memoir, "My Life In France," which had inspired me to request a copy of "Mastering The Art of French Cooking" as a late Christmas present from my parents.  Steve and I were were two months away from our heavenly two-week road trip around France and had started discussing possible routes and sites to see.
I had spent three amazing and life changing years in New York City, the Center of the Universe, but at that moment, I was certain my destiny was pulling me somewhere else.  I was having visions of sunlit fields and fresh air and vineyards and dusty old chateaus and country roads.  I felt drawn to a people who were less concerned with deadlines and money and status and running themselves ragged and more focused on quality of life and community.
And then it hit me… I'd rather be in France.
At first it was a very literal statement.  I love France.  I love the food.  I love the language.  I love the wine.  I love the geography and history and even the stereotypical snooty attitude.  I still think running a bed & breakfast in a small town outside of Bordeaux would be absolute heaven.
After my first trip to California last July, however, "France" turned out to be something bigger.  Today, in the context of this blog and my life, "France" represents the life I want to live.  It represents my priorities and realizations of the things that make me happy and fulfilled — and it represents actually doing those things.
Maybe one day I'll return to the original intention of this blog, which was to write about my love of French culture in the context of my Southern, New Yorker and now Californian life.  To this day, the most continuously popular blog entry is the snippet I wrote about the movie Amelie back when this blog was just getting started and I didn't know what else to write about.
So thanks for coming along with me this far.  It is my hope that my journey to "France" will inspire you to take inventory of what is meaningful and fulfilling in your own lives and make those things a priority.
Happy Anniversary!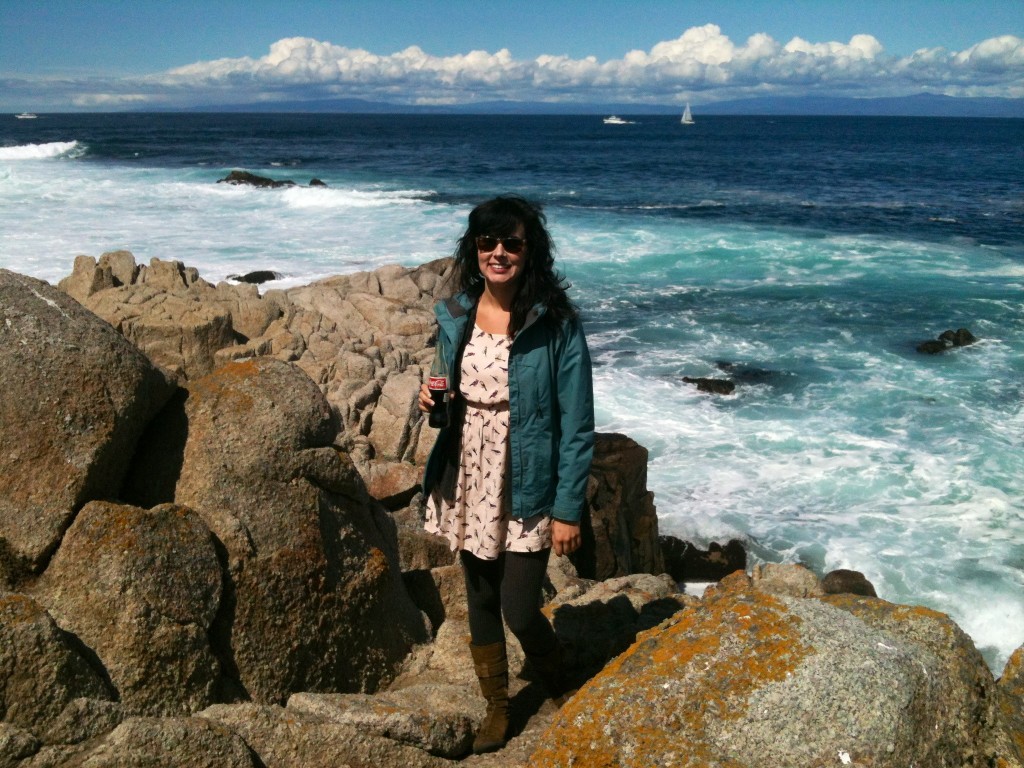 Exploring Pacific Grove, California (outside Monterey) with Steve
May 2nd, 2012 | Rachel
Today's post is more of a poll.  Please feel free to contribute your answer in the comments.
Looking back at my own brief life so far, my choices in location have almost always been inspired by external influences.  I first lived in South Carolina and Alabama (and South Carolina, again) because of my parents (who were influenced in large part by both my dad's jobs and the locations of my grandparents).
As a somewhat autonomous high school graduate, I chose to live in Athens, Georgia to attend the University of Georgia.  That decision was more of a process of elimination.  I didn't want to go to school in South Carolina, and I didn't want to follow my parents' footsteps at Auburn University in Auburn, Alabama, so I somewhat arbitrarily chose UGA and, consequently, Athens.
I next chose to live in Chapel Hill, North Carolina to study at the University of North Carolina at Chapel Hill School of Law.  That decision was a direct result of the influence of my high school advanced placement government teacher, Jerry Willard, who had attended UNC and often referred to it as "Chapel Hole."  I still consider him to be one of the most influential teacher's I've had, and I attribute my choice in law schools almost solely to him.
During law school, people made it seem like a big deal to do these on-campus interviews for large law firms around the country, so I followed suit and ended up with an offer to work at a firm in New York City.  I had never considered living in New York, but the prospect seemed exciting and it was a pretty good job, so that is where I moved next.
In case you haven't been keeping track, my influences for moving so far have been: family, school, school, work.  I suspect those are by far the three most common answers to my poll.
The decision to move to California was completely different.  There were no job offers waiting, and I have enough degrees and student loans as it is.  I also don't have any family west of Texas.
Without diving too much into the question of vocation (which will be a poll for another day), this time the considerations for my next physical home were based on factors such as: proximity to wine country, proximity to a large city, proximity to state and national parks, cultural diversity, proximity to academic community, population size, proximity to food sources, community attitude regarding the local economy, weather and general level of quirkiness.  Eventually I added proximity to water as a major consideration, mostly due to Steve's lobbying efforts.  I should also add "long-held stereotypes about the west coast," because I've always thought I would fit in on the west coast even though I had never been there.
The idea to move to California actually started off as an idea to move to France (hence the name of this blog).  France was presenting itself to be more of a logistical challenge, particularly in light of wanting to open a business, and Steve isn't quite the Francophile that I am.  It was on a mother-daughter trip to Napa and Sonoma that I first felt this deep connection between California and everything I loved about France (minus the romance language and affinity for butter).  It was an immediate, obvious choice, and the factors I listed above were then used to pinpoint a town within this huge state.
It is funny to think about because a majority of the people I have met in Santa Cruz are there either for school or because that is where they've always lived.  Would they choose to live here independently?  If they truly considered the world of possibilities, where would they live?  Where would you live, and why don't you live there now?
April 6th, 2012 | Rachel
Baby Trees
Last month, Steve told me I had a package coming my way: a cocktail tree, which is a single tree that produces different kinds of fruit.  In my case, it was going to be a citrus tree that grew lemons, limes and oranges.  Steve's mom has one in her front yard that I have been coveting ever since we visited her last December.  The trees arrived, but I was surprised to find not one but three tiny trees, each labeled as a different, single citrus species.
I dutifully researched the best way to care for my new plants.  I gave them plenty of time to adapt to their new environment before repotting them in two-gallon pots of cactus and palm soil.  I even splurged on the $8 citrus plant fertilizer that the guy at Home Depot said I probably didn't need.   I fretted over how much water to give them and how often, and when I determined from the color and droop of the leaves that my little trees were depressed from insufficient sunlight from my north-facing windows, I researched plant light bulbs and started giving them supplemental artificial light.  The leaves perked up and turned a bright shade of green, but weeks later the "trees" still more closely resembled twigs and only had the leaves they arrived with (or fewer, since I removed some that were damaged during shipping).
Then one day I noticed with great delight a tiny light green bump on the stalk of the naval orange plant.  I stopped and inspected it every time I walked through the kitchen that day.  Something was finally happening!  The next day, the bump had turned into three small, distinct leaves.  The day after that, the leaves were suspended by a slender green stem, and the day after that, the leaves had reached full size and more tiny leaves were emerging.
The Meyer lemon tree was also experiencing a transformation.  At the center of each cluster of dark green leaves were little neon green fingers that quickly turned into branches.   A week later, even the key lime tree showed its first sign of productivity when small leaves appeared at both the base of the branches and at the very top.  Now, the new stems and branches are growing so fast that I have had to cut them back to encourage thicker, fuller foliage.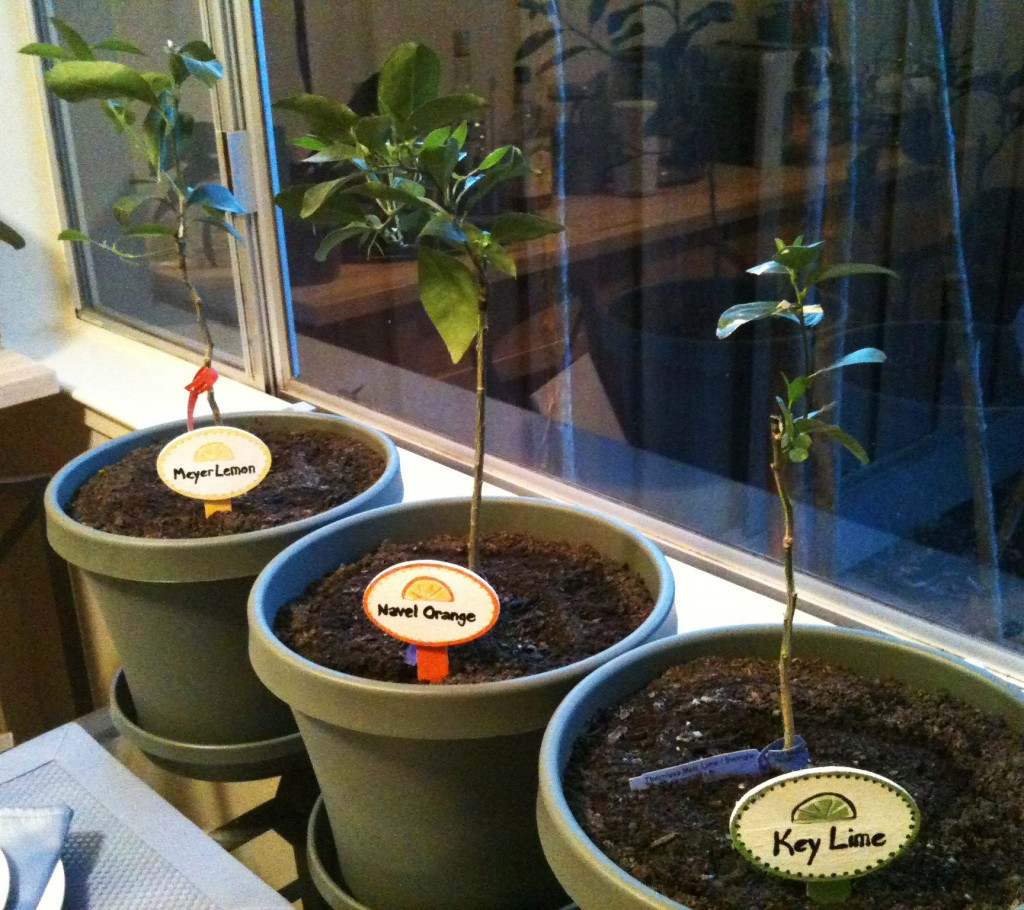 One day these little guys will bear full-sized fruit!
My experience moving here was pretty much the same thing.  Steve and I arrived in fury of excitement.  New city, new ocean, new apartment, new life.  We scrambled to get the basic necessities set up in the apartment, and then he went back to his ship and I dove into a job search.  I spent hours every day revising my resume and replying to job posts.  I visited stores and cafes and handed out my resume.  I subtly or not-so-subtly told everyone I met that I was looking for a job in hopes that they might know someone who was hiring.
And then I waited… and waited… and waited.
Nothing.
By this time I had been living here a month and unemployed for two.  The fear of draining my meager nest egg that was earmarked for my nonexistent business grew, as did the uncomfortable thought that this was all a huge mistake.  I expanded my job search — which had been focused on the food and beverage industry — to include everything from paralegal gigs to hotel reception.  I registered with a temp agency and obsessively checked Craigslist and Indeed.com.  I also spent more than one evening crying over the phone with Steve, who remained supportive and reassuring.
Then one day I got an email from a legal support start up company asking me to come in for an interview.  A few days after that I was offered the job, which paid considerably more than any of the food jobs I was hoping to get.  Best of all, this new job came with total flexibility.  I work 30 hours a week whenever and wherever I want.  The "office" is located on a small farm about a 10-minute drive from my apartment.  I share it with two other people and a dog named Kaya.  So far my work days have been filled with the sounds of chickens clucking, Kaya barking, and my coworkers singing along to the soundtrack from The Book of Mormon.
A week and a half into my new job, I got a call from a chic restaurant in Santa Cruz where Steve and I ate during our visit back in October.  It is owned by a nearby vineyard and winery and focuses on locally-sourced ingredients.  We were so impressed by this restaurant — the menu, the food, the wine, the staff, the decor — that it was one of the first places we visited when we returned, and it has remained at the top of my list of food and drink establishments where I would like to work.
The manager who called said he had seen my resume come across his desk a couple of times and wanted to meet me.  I remember his Craigslist ad was unusual in that it said it was looking for people not with experience but with an inherent sense of hospitality and a love for serving others.  I replied with a long email about growing up in Charleston, South Carolina where hospitality runs in the water (or is it the sweet tea?) and about my love for throwing parties and entertaining friends.  I also said I couldn't emphasize enough how much I LOVE (in all caps) good food and wine.
I went in for a  meeting the next day and had a great conversation about food and local ingredients.  At the end of the "interview", the manager told me he thought I seemed like I presented myself well in front of people and had good eye contact and a great smile.  And he wanted me to join his team.  On my first night of work as the host of this wonderful restaurant, the manager explained his philosophy of the role and of the "temporary relationships" built during the course of the evening.  In many ways it sounds more like a maître d' than a typical restaurant host.
So now I have two jobs: one that exercises the analytical side of my brain in a calm, country, quirky environment and one that exercises my customer service and hospitality skills and that hopefully will give me more insight into the inner workings of a successful, well thought out restaurant.  I also finally have a place to reuse some of my chic New York lawyer clothes.
A month ago when I was crying over my seemingly hopeless job search, I knew deep down that things were going to work out in some magical way that I couldn't imagine.  Still, my human brain couldn't help but be overwhelmed with doubt, anxiety, and fear.  It is unfortunate because even being unemployed comes with its own very unique benefits.  I had ample time to unpack and organize the apartment and explore the area.  I had more time to spend with my mom when she visited.  I only wish I could have enjoyed those things without the pervasive and sometimes paralyzing anxiety.
I guess the best I can do is add this to the archives of Things Just Working Out and maybe worry a little less the next time I am uncertain about the future.
March 4th, 2012 | Rachel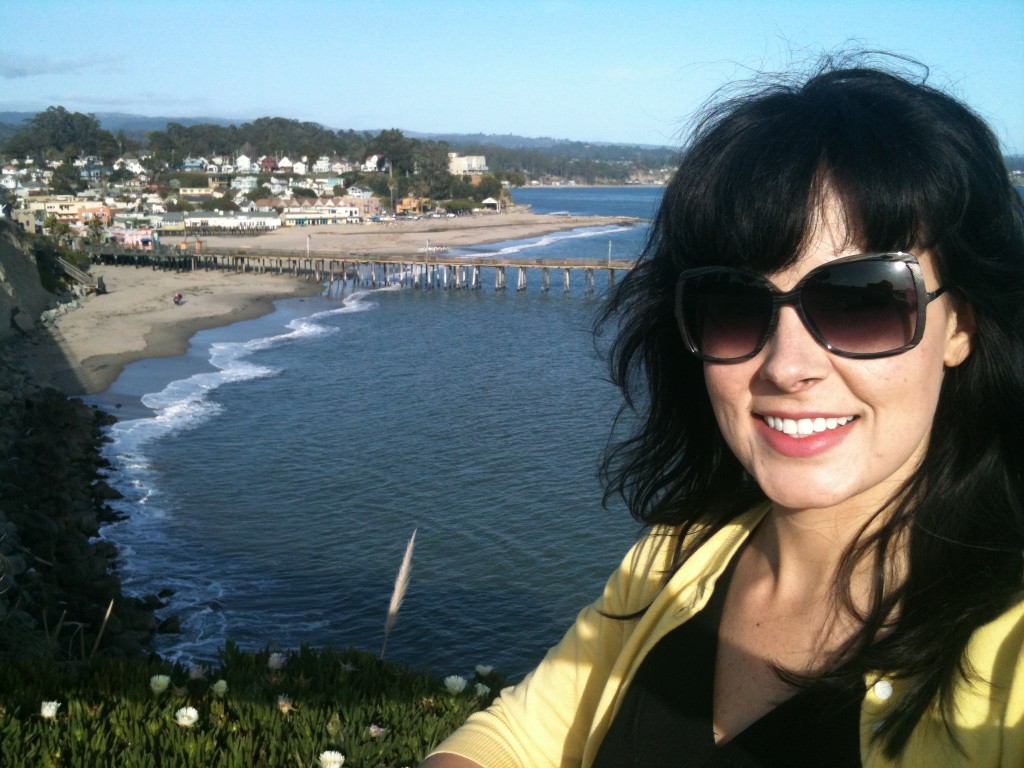 My new home: Capitola, California
After a truly epic cross-country drive, we finally arrived in sunny Santa Cruz County, California.  I say "county" because we stayed in hotel in Scott's Valley the first night and found an apartment in quiet Capitola the next day.
Capitola is a tiny town covering about two square miles between Santa Cruz and another town called Aptos.  Because all of the towns along Monterey Bay run together, you never really feel like you leaving one and entering another.  Despite this close proximity, the people in these communities still maintain a rather surprising sense of loyalty to where they live, and they are quick to tell you why their town is better than the others.  For example, Capitola is superior because it doesn't have the morning fog like Aptos or the crime of Santa Cruz (or, as one man put it, the "psychotic panhandlers").  From what I can tell, Capitola is the Mayberry of Monterey Bay.
Anyway, Steve and I got into town the day before Valentine's Day (I'm one of those Everday-is-Valentine's-Day! people, so  we usually don't explicitly celebrate it), and I told Steve that all I wanted for Valentine's Day was a place to live.
Fortunately for us, we met with the property manager in the morning, the paperwork went through smoothly, and we got our keys that afternoon.  That was the first of several nights that would require sleeping on the floor since we didn't have any furniture, but it felt so good to have a "home" again.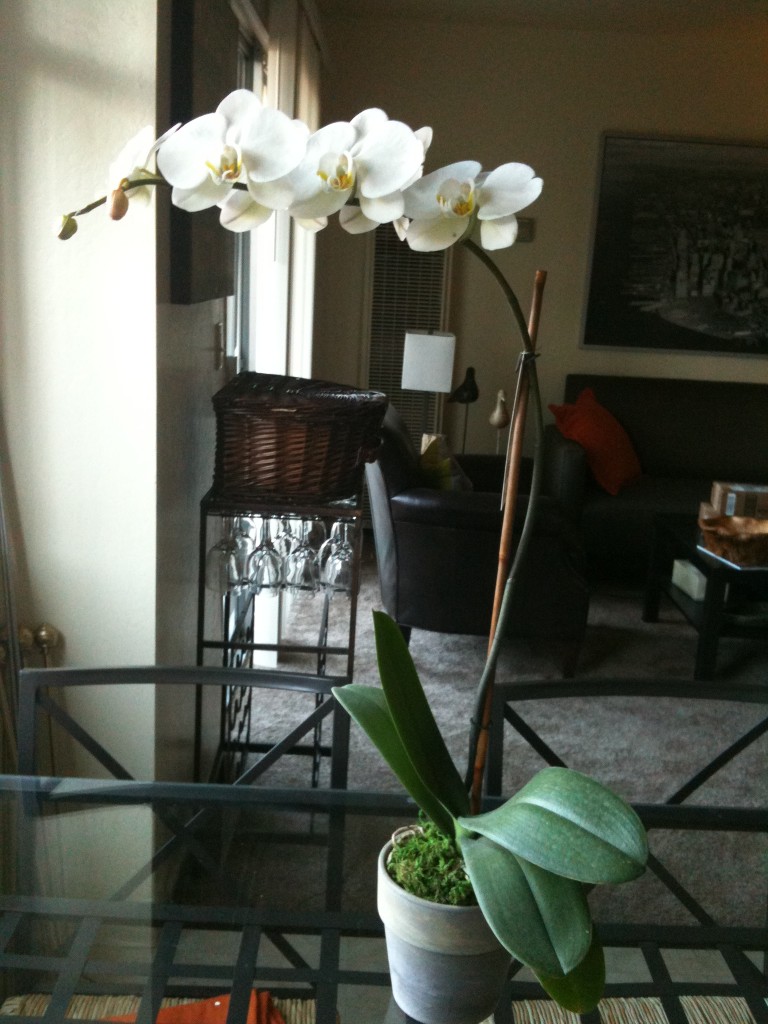 To make the sweet occasion even sweeter, Steve also gave me a cupcake and an orchid.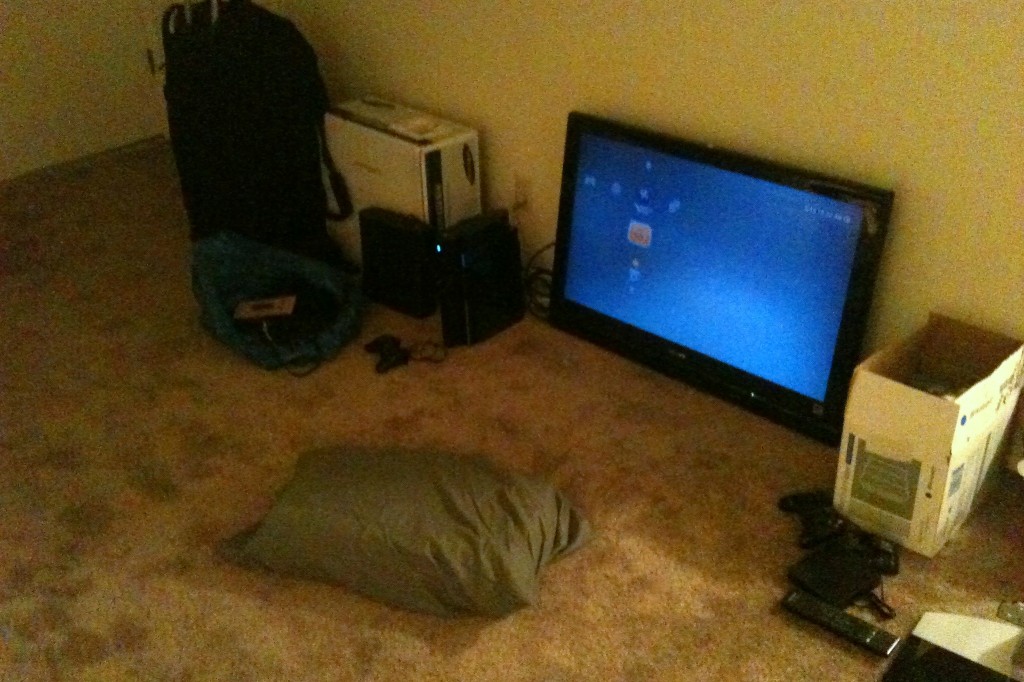 While we waited for the u-Box to arrive, we camped in the living room and watched several movies from the nearby Redbox. The minivan strategically contained, among other things, my tv, Steve's game systems, our sleeping bags and pads, and our clothes.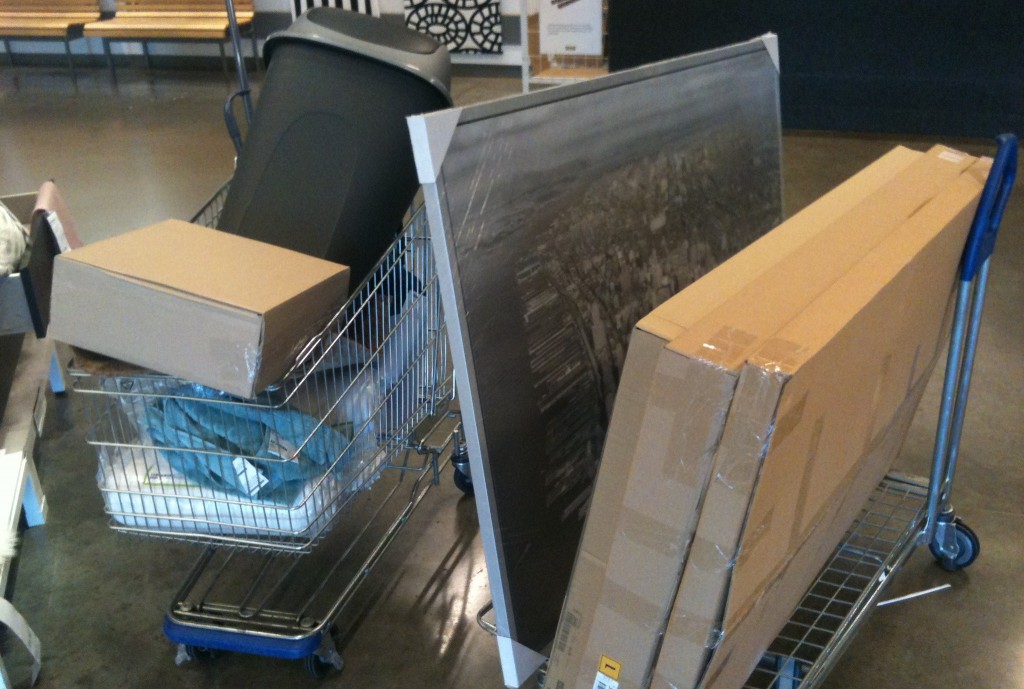 The first of two trips to Ikea (so far!)
While waiting for the u-Box to arrive, we had plenty of time to start exploring the area and stock up on boring stuff like cleaning supplies and groceries.  One afternoon we drove over to one of the popular surfing spots in Santa Cruz, Lighthouse Beach, to see what was going on.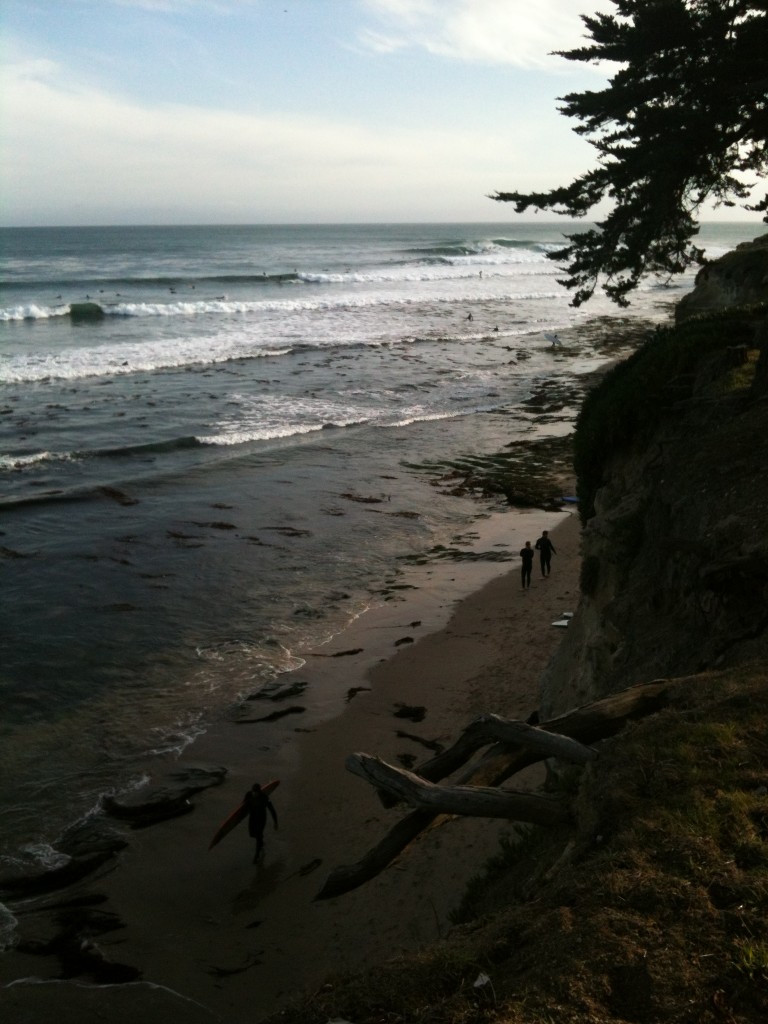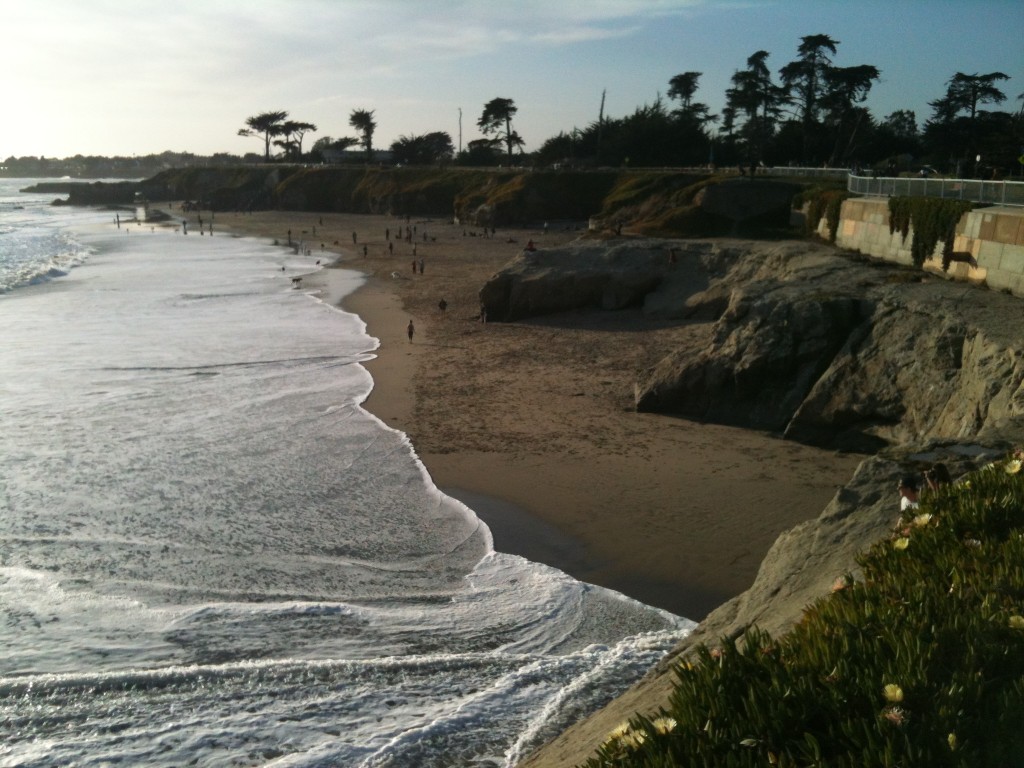 Lighthouse Beach in Santa Cruz (although it appears there aren't any surfers in the water, there were actually hundreds out that day)
When Steve and I were on our scouting trip last fall, we stayed in a bed and breakfast overlooking the bay that was just up the street from this beach.  There was a big surfing competition going on at that time.
There was only one snag in an otherwise seamless experience with the u-Box.  The automated system emailed me to alert me that my box had arrived and I should expect a call from the local u-Haul store in San Jose where it was delivered.  I waited a day to get the call, but since we were running out of time before Steve had to leave, I gave up and called them.  Despite repeated attempts, the store never answered the phone, and I got transferred to a centralized answering service.  That person was very nice and attempted to call the store six times.  The store never answered.  She finally transferred me to a regional office who again tried to contact the local store and, when that failed, called the manager on his cell phone.  The delivery of my box to the San Jose store was confirmed, and I was given the manager's phone number to call and schedule my pick up.  I scheduled it for the next day, and the manager said they would have it ready for me.  When we arrived, it wasn't ready because, the manager admitted, he forgot.  On the bright said, what that location lacked in organization and professionalism they made up in friendliness.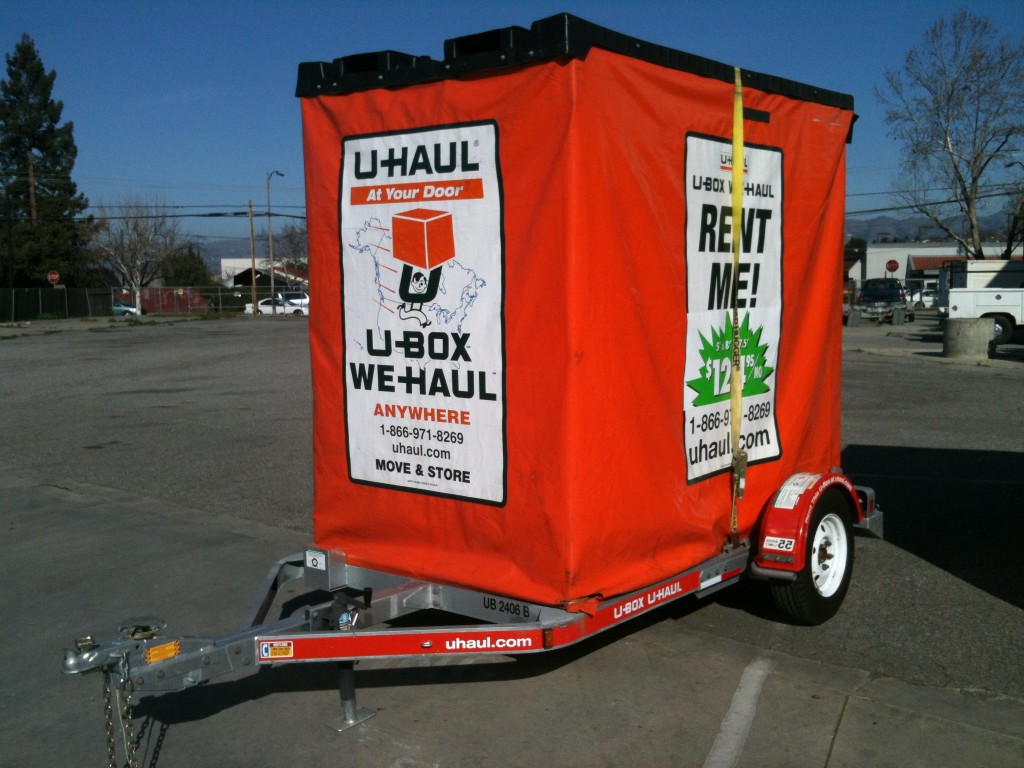 Well, old friend, we meet again
A few hours later, I was sifting through the mountain of boxes while Steve returned the empty box to San Jose.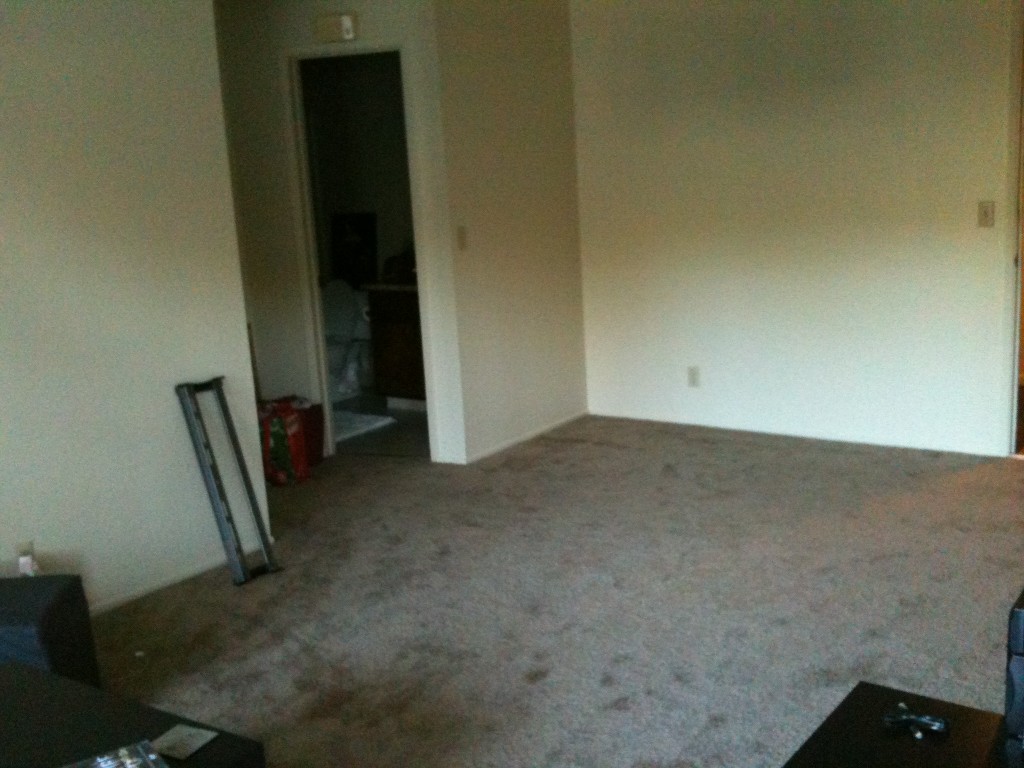 Before the u-Box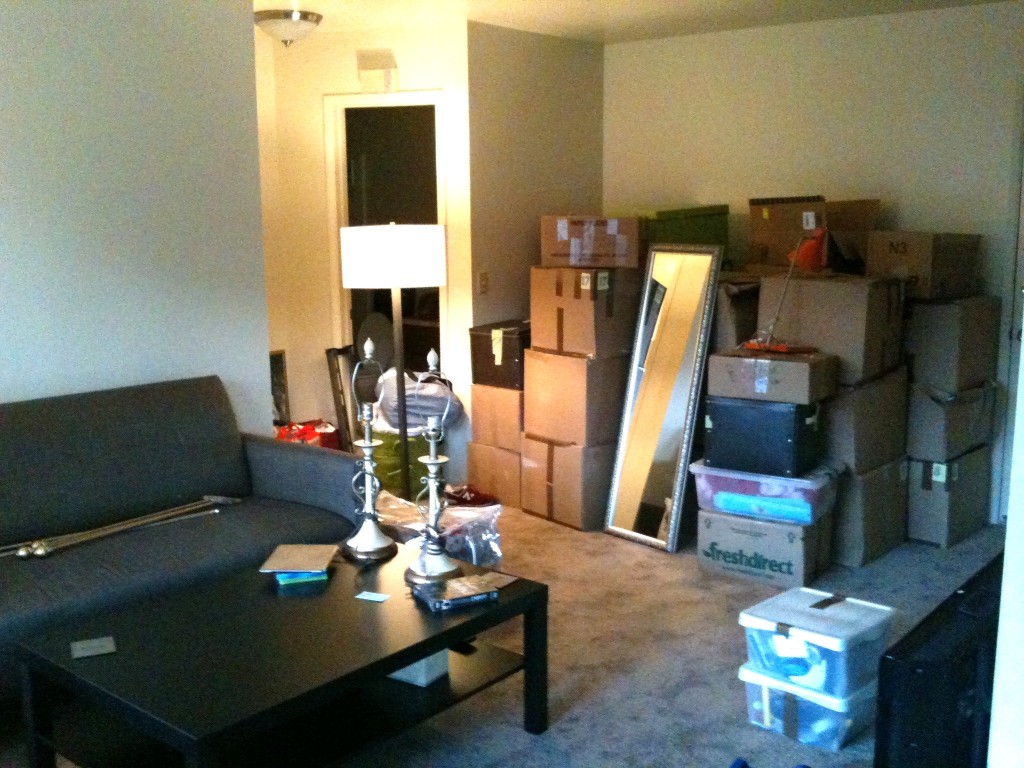 After the u-Box
That was two weeks ago, and I can happily report that all of the boxes have been unpacked or stored out of sight.  We still need to get a tv stand, so I am going to hold off on posting apartment photos.
Now that I've updated you with the physical journey, I'll dedicate the next post to the mental and emotional journey that comes accompanies uprooting an otherwise fulfilling, fabulous, and friend-filled life in New York City and starting anew in an unfamiliar and somewhat arbitrary beach town on the west coast.  Here's a hint: its a roller coaster.