Posts Tagged 'Life After The Law Firm'
December 22nd, 2011 | Rachel
Join me in the comments or on your own blog as I give thanks every day this month.
If you read the title of this entry and immediately thought of an ad for FiberOne, you are not alone.  It did not go over well with my test audience.  Still, no one could think of a word that better summed up my point.  If you have a suggestion, please share.
Simply put, I am thankful for the times we are inconvenienced, uncertain and uncomfortable because those are times we are the most creative and resourceful.  Those are also the times we are inspired to consider other possibilities and try new things because it is easier to see how much we have to gain… and how little we have to lose.
A prime example of this is my last job at the law firm.  It was no secret that I wasn't loving the job anymore, and I regularly joked about what I would rather be doing (namely, moving to France and opening a bed and breakfast, which is how this blog was named).  Even though I knew I would be happier doing something else, the fact remained that I was making a very comfortable salary at the firm and enjoyed a lot of other perks of being a "successful" professional in New York City.
Then the day came when two partners walked into my office and informed me the firm was "terminating its relationship" with me.
The first emotion to hit me was that of indignation.  How dare they tell me they didn't need me.
The second was of panic.  What did this mean about my financial stability?  My career?
The third and longest lasting emotion was that of annoyance.  The Plan was to work at the firm for five years and then take my life skills and nest egg elsewhere.  Instead, I was suddenly faced with the question of "what do I really want to do?" two years early with barely any legal experience or money in my bank account.
At first, I tried to find a similar law firm job to keep in line with my original plan.  However, as the months passed and my severance came to an end with no job prospects in sight, I realized I was going to have to start considering other possibilities.
I had already filled out the paperwork to collect unemployment when I stumbled upon the help wanted sign at my present bakery.  Sure, when it came to lawyer jobs I didn't want to consider anything that paid less than six figures, but when it was an issue of collecting piddly unemployment versus getting paid $9 an hour, the decision wasn't quite so extreme.  Unemployment would have paid more, actually, but I knew I needed the daily structure and was curious to gain more experience in the hospitality industry.  Plus the bakery offered health insurance.
Throughout those first few months after I got laid off, I kept telling people that I wished I could see myself in six months because I knew everything was going to be ok, but I didn't know how I was going to get there.  All I knew is that the transition was going to be very uncomfortable and little bit scary.
Curbing my spending habits and moving out of my apartment so I could sublet it and save money were a huge pain in the ass.  Sorting through the mountains of paper in my office and moving out all of my personal belongings was beyond inconvenient.  Packing up all of my kitchen supplies, furniture and clothes and putting them into storage until I move to California was downright annoying.
Still, I am thankful for all of the discomfort I've experienced over the past year because it is pushing me towards a life far more fulfilling than the comfortable life I was living before.
October 18th, 2011 | Rachel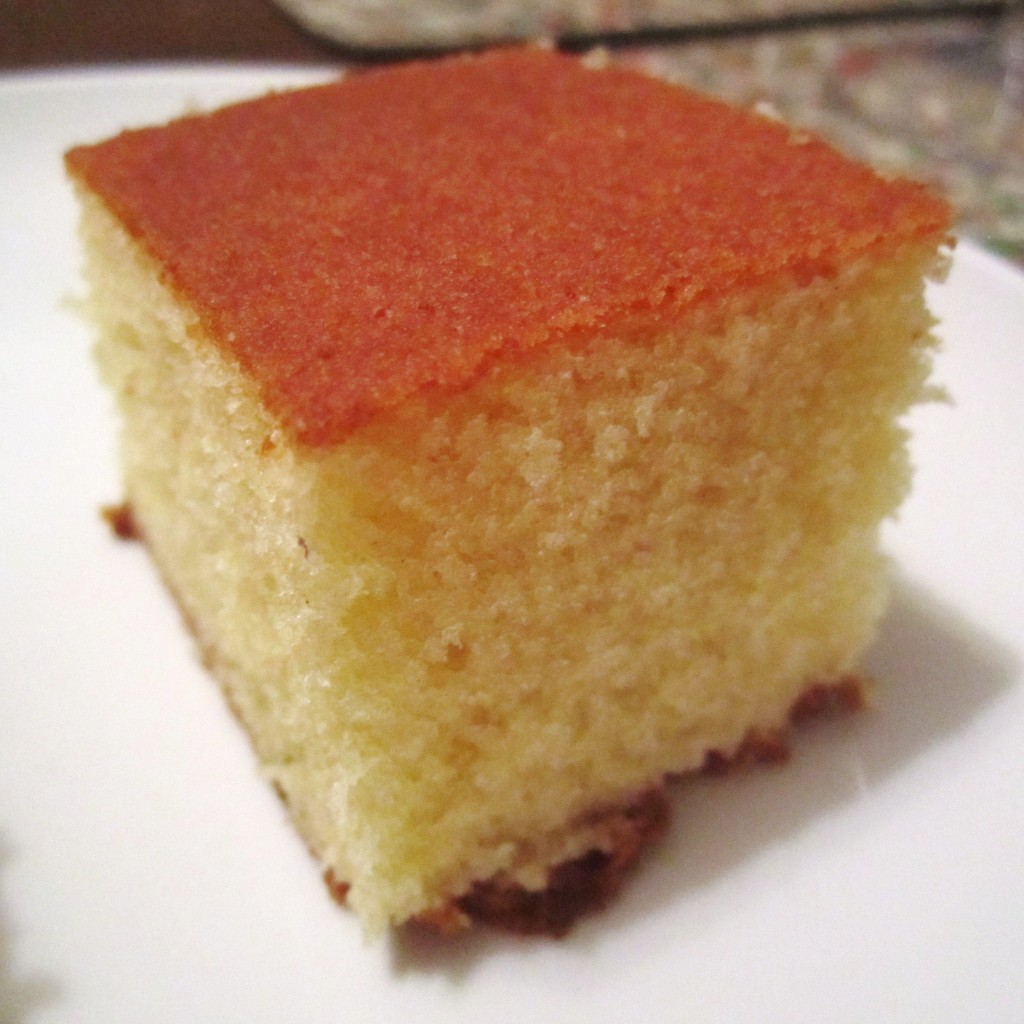 Square Cake?
It's amazing what a difference following directions can make.  Having rated that last yellow cake recipe a lowly C-, I decided to give it one more try, this time using the instructed quantities of milk and eggs.
The result was a very tasty and moist cake, although it felt a little bit gritty.  I have a 5 lb bag of organic cake flour coming in the mail this week, and I am curious to taste and feel the difference.  FYI, if you find yourself in need of cake flour and only have all-purpose flour, cornstarch and a flour sifter on hand, I find the ratio of seven parts all-purpose flour to one part cornstarch sifted together at least once to be a perfectly decent substitute.
Speaking of flour sifters, does anyone know the proper way to wash them?  I've been rinsing mine, but I hate the little hardened pieces of flour that get trapped inside.
Steve and I have less than a week until our California trip, and I couldn't be more excited.  I think I am still a little traumatized from my last job when it comes to planned vacations.  With that job, no matter how far ahead a trip was planned, there was always this lurking fear that something would come up and the trip would either have to be cancelled or I'd have to spend half the time typing away on my laptop.  That never happened to me, of course, but I heard stories.
I was recently reminded of a fateful weekend back in 2010 when I decided to take Steve on a last minute trip to Nova Scotia for the Fourth of July weekend.  The plane tickets were going to be $800 each, but I cashed in some frequent flyer miles and found us a beautiful lodge up in Cape Breton.
A couple of days before the trip, I got an email at work looking for a few extra people to work on a document review project.  I needed the extra hours, so I volunteered for the project and explained at the meeting that I was going to be out of town for the weekend but would work as much as I could before I left and after I got back.
Apparently, I was expected to either cancel my trip or spend all of my time in my hotel room reviewing documents because I got a scathing "I'm disappointed in you" email from the partner when the project was over and an even more scathing review at the end of the year — one that the practice group leader made sure I never forgot.  It didn't matter that my other reviews and day-to-day feedback (on projects that were actually substantive) were overwhelmingly positive.
For a long time, I looked back at that experience with mixed emotions.  I felt I had made the right choice, but I knew within the context of being an associate at a large law firm it was the wrong choice.  When things started to unravel at the beginning of 2011, part of me wished I had played it safe so I would have gotten a big end-of-the-year bonus (the denial of which was attributed to that very same negative review) and job security.
Only recently did I realize that the decision to go on that trip isn't quite the albatross that I've been making it out to be in my head.  As some of you know, I am an avid traveler (this year alone I've been to China, Tibet, Nepal, Taiwan, and France, in addition to California wine country with my mom and Yellowstone with my brother), and one of the ways that I have traveled so much is I have made it a top priority ever since I took a three-week trip to Australia and New Zealand when I was 18.  I still plan on living abroad one day.
There were a lot of things I enjoyed about working at a law firm, but being too afraid (and overworked) to make vacation plans — as most people seemed to be — isn't the kind of life I want to live.  Life is too short for that :-)  So, as it turns out, making the decision to go to Nova Scotia with Steve wasn't me sacrificing my cushy, New York law firm job.  It was me choosing to stay on my own path and not get trapped on someone else's.
Now that I have been away from that job for six months, I am started to see a completely different future take shape ahead of me.  It might not be as lucrative, but it is going to be a whole lot more fulfilling.
Stay tuned.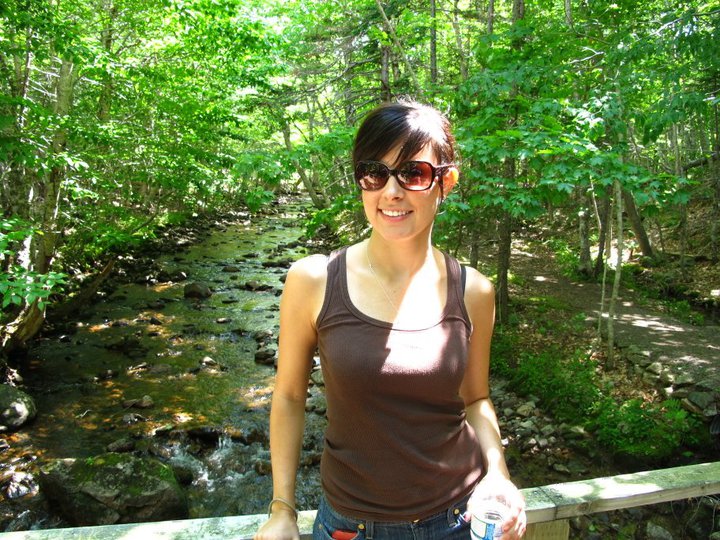 Hiking in Cape Breton, Nova Scotia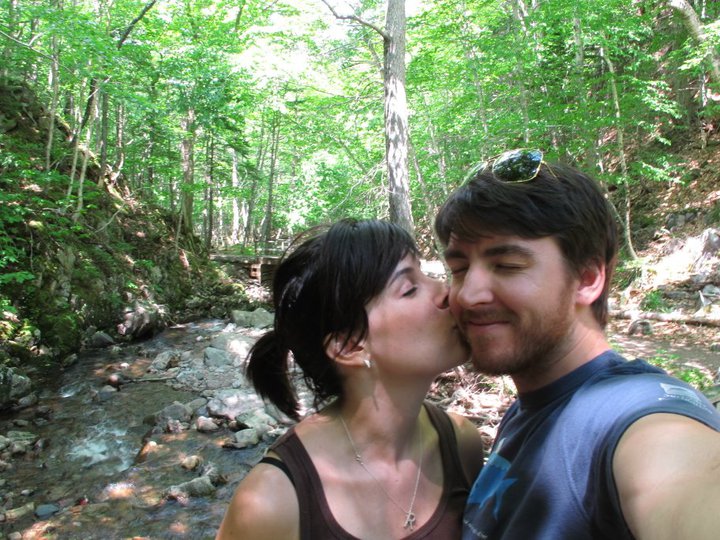 :-)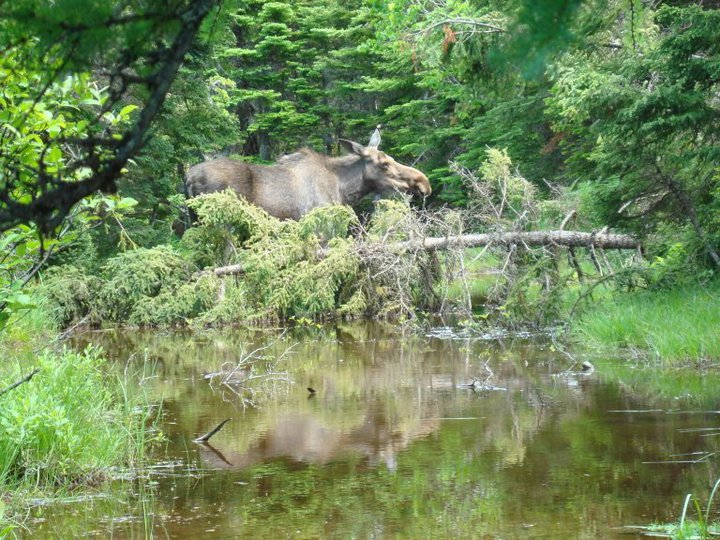 A Moose!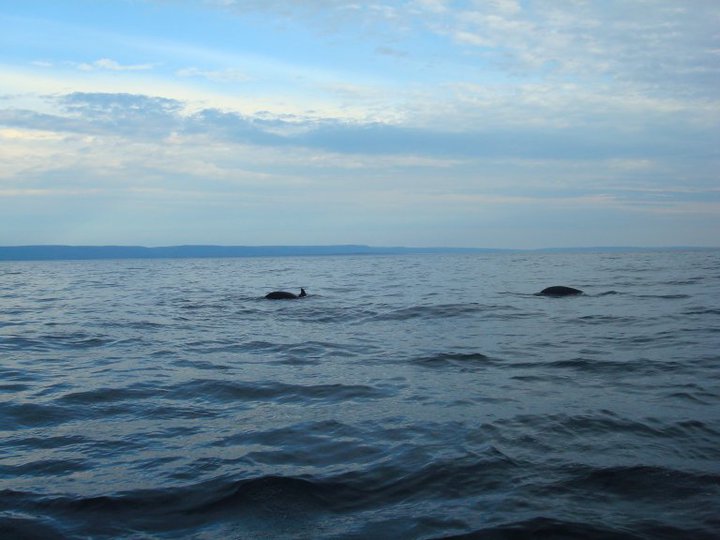 Whales!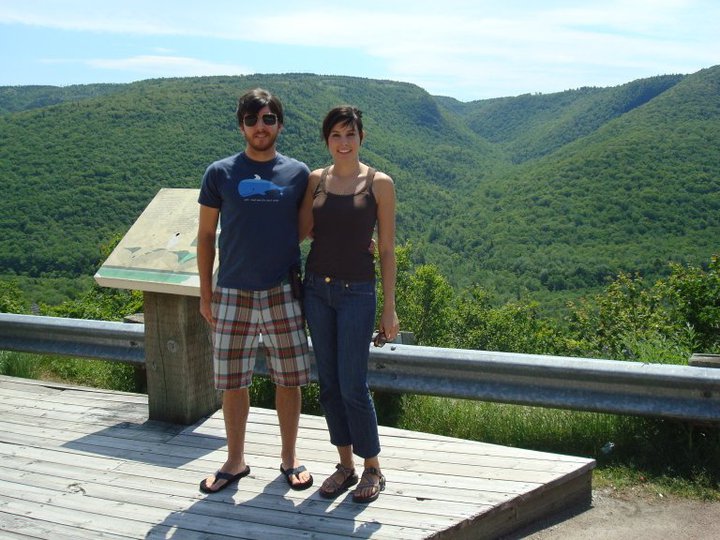 Driving the Cabot Trail in Cape Breton, Nova Scotia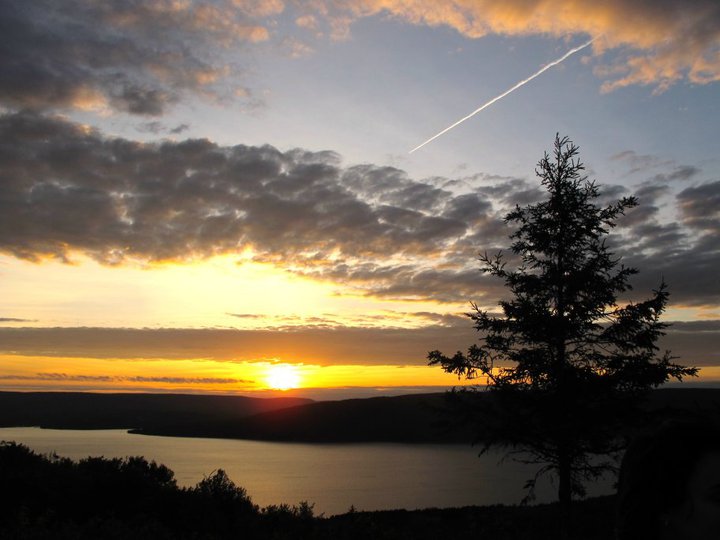 Sunset in Nova Scotia