Posts Tagged 'New York City'
December 27th, 2011 | Rachel
Join me in the comments or on your own blog as I give thanks every day this month.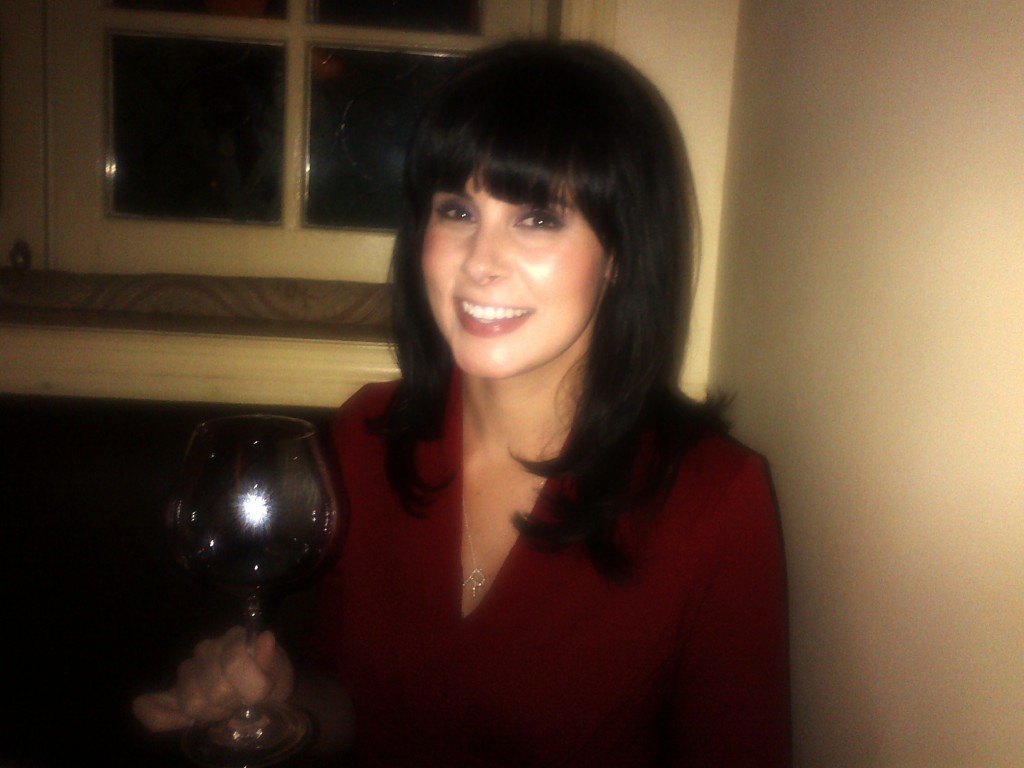 Hair freshly cut (Christmas 2011)
Since changing professions, I had been holding off on getting a real haircut.  Several months ago I took advantage of a discounted hair coloring deal that included a free "haircut", but it was so bad I'm not going to even call it a haircut.  Not long after, I decided to take matters into my own hands and gave myself bangs.  I did a lot of YouTube research, and the results actually weren't that bad after I thinned them out a little and let them grow out past the "Dumb and Dumber" length.  I have been trimming them every few weeks ever since.
Last week I decided it was time to let a profession intervene and saw Cheryl at Arrojo Studio, a true hair genius.  I discovered her through a friend of a friend soon after I moved to the city, and many other friends' hair has been artistically sculpted by Cheryl over the past three years.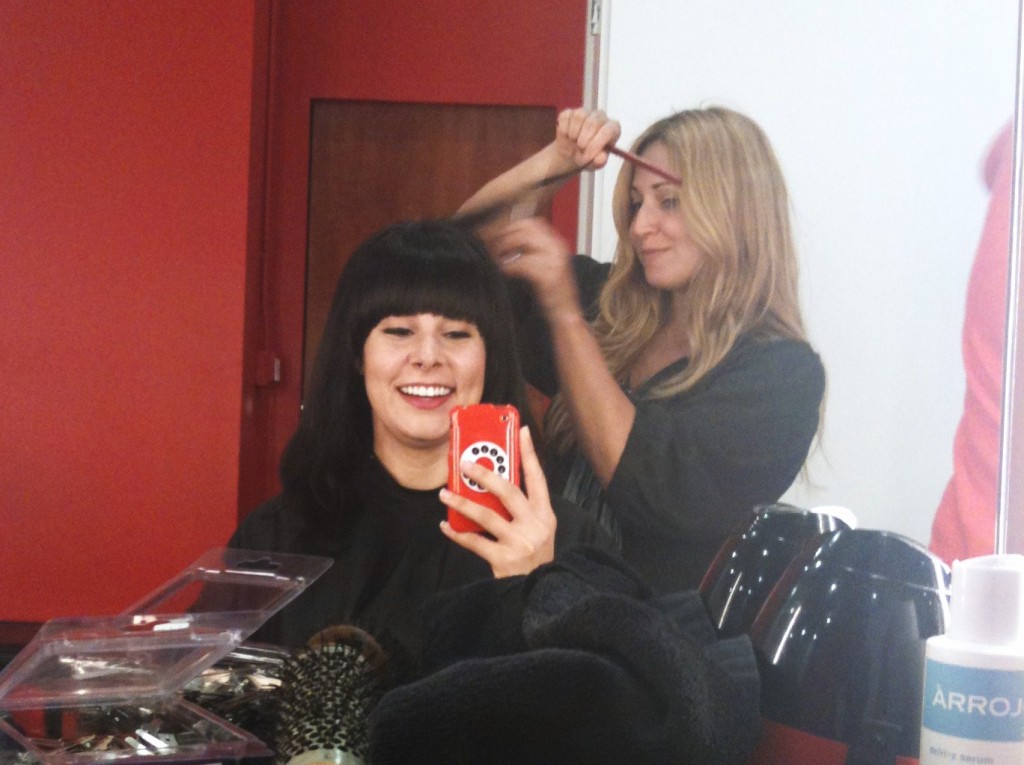 Getting my hair cut by Cheryl at Arrojo Studio (Christmas 2011)
When I was in middle school, my hair transformed from being stick straight as a child to a unfortunately fluffy mass.  Neither I nor any of my hair stylists at the time were equipped to deal with it.  As such, I spent many years with shapeless haircuts, attempting in vain to blow dry it straight.  In high school, I tried everything from drug store hair masks to dipping it in ice water after washing it to coax my hair strands into a cohesive shape.
More than once I've had my haircut by a stylist who haphazardly dried my hair into a unflattering poof and told me there was nothing I could do about the cowlicks.  One stylist even suggested I put my headband back on at the end of the haircut.  I can't believe I actually paid her.
My life changed when I was visiting my college roommate's family in Texas and had my hair cut by a stylist who introduced to the ceramic flatiron.  I finally found the tool I needed to compete with the cruel Georgia humidity.  This improved my hair aesthetic tremendously, but I still hadn't experienced anything more than the simple, lightly layered haircuts that boring stylists love to give.
Fast forward to Cheryl.  The first time I saw her I was just starting my job at the law firm, and I was nervous about how I was supposed to dress.  I told her I wanted to look professional but a little sexy.  It was a conservative request, but she gave me the perfect look: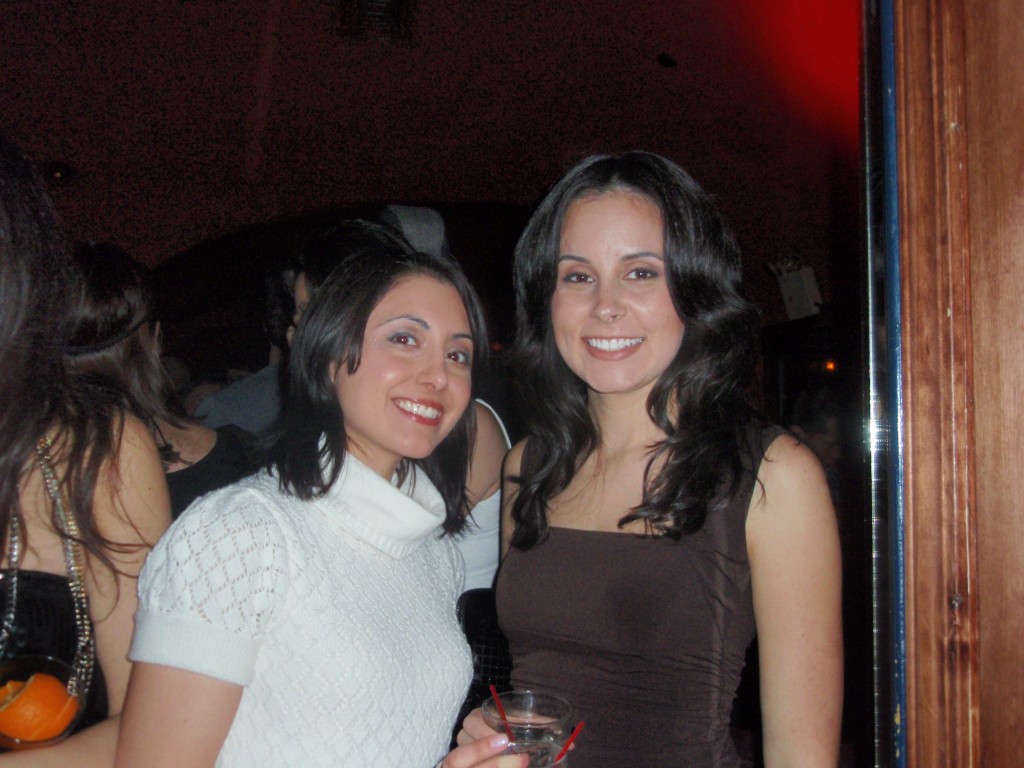 Davina and me, both clients of Cheryl (Fall 2009)
This was the first time someone cut my hair taking its natural wave into consideration.  She actually let it dry a little first to see where the waves were and then cut it so that the ends didn't stick out in a weird way.  It was simple but brilliant.
I made an appointment to see Cheryl again several months later.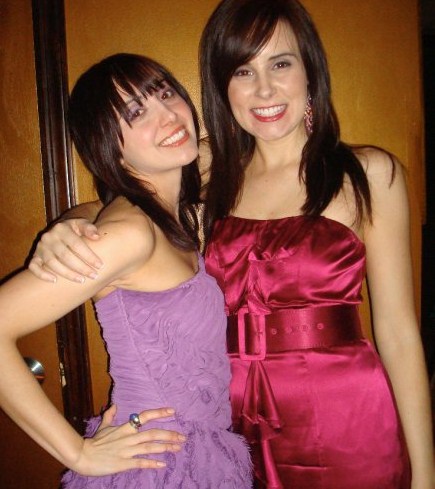 Davina and me (Winter 2010)
I was still being conservative the second time around (adding a swooping side bang… oh la la), but Davina (pictured above) went for something a little more funky.  Both haircuts were fantastic.
When I was getting my hair cut that time around, I asked Cheryl what she would do if she could do anything she wanted to my hair.  She told me she would cut it to chin length.  I agreed to come back in a few months.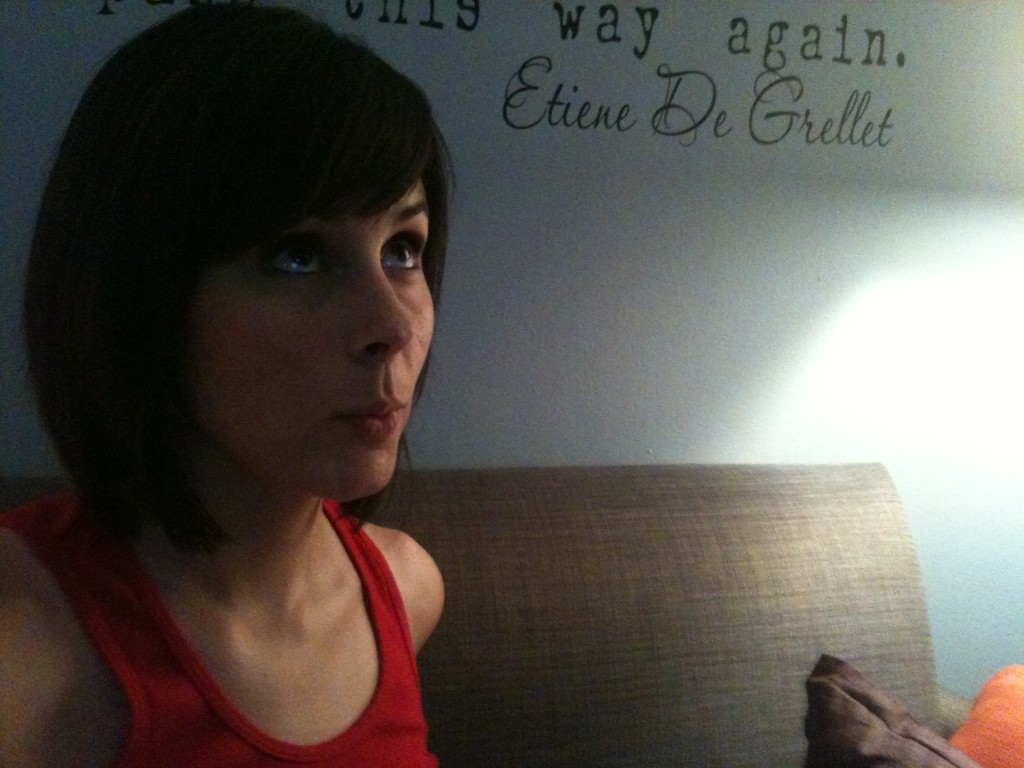 Summer 2010
By this time, I knew Cheryl could be trusted.  At my third appointment, I asked her to do whatever she thought would make me look the best.  She cut it short and added full bangs.  It was a huge success, and I felt amazing.
There is, at least for some, a definite connection between hairstyle and attitude.  A sassy haircut renders a sassier person.  When you can be confident that you look great, you tend to be more sure of yourself, which manifests in your life in so many positive ways.
If you are in the New York City area, whether permanently or simply for travel, do yourself a huge favor and book a hair appointment with Cheryl at Arrojo Studio.  She's not cheap, but she cares about and understand hair more than anyone I've ever met.  Consider it an investment in yourself.
I'm definitely going to miss Cheryl after I leave.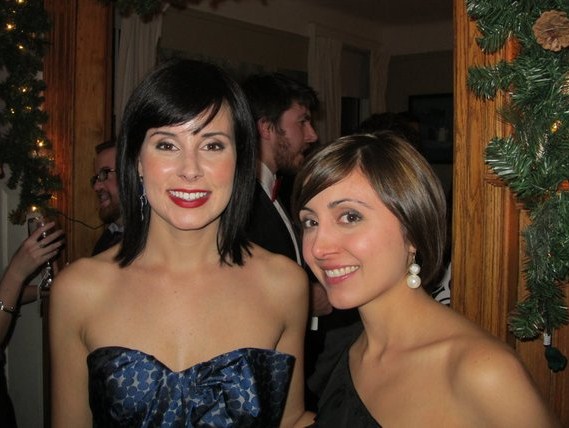 Davina and me (Christmas 2010)
July 30th, 2011 | Rachel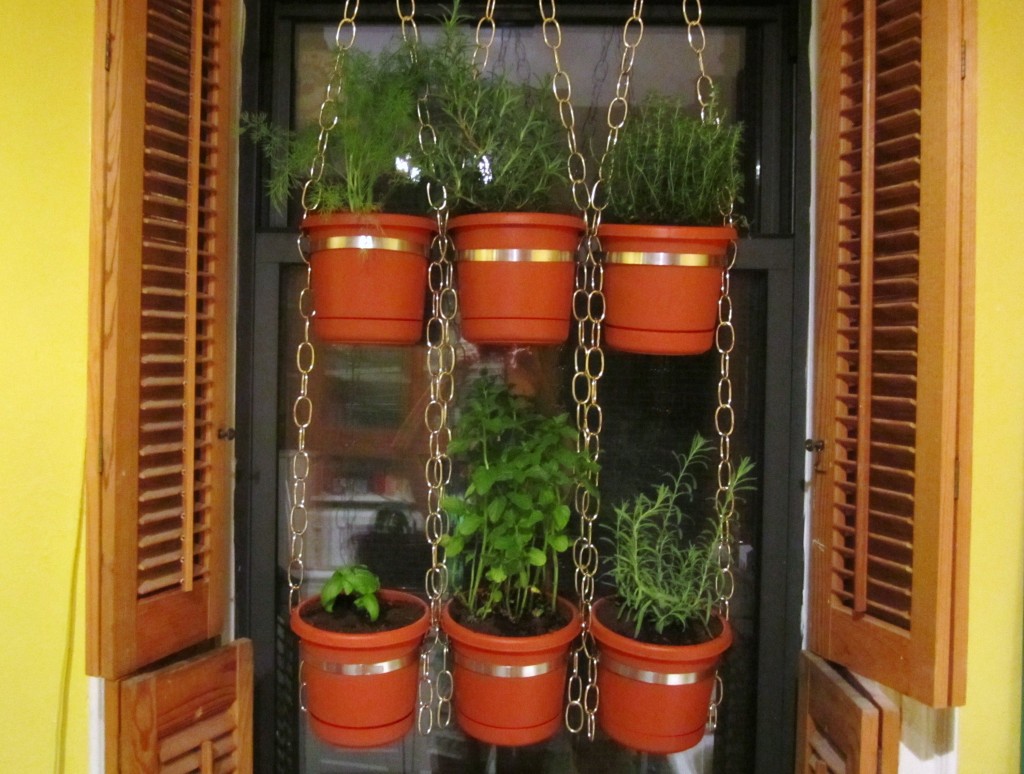 This hasn't been a how-to blog so far, but due to the dearth of information available on urban herb gardens (herban gardens?), I am going to share with you my (so far) successful design for a hanging window herb garden.  Even if you do not lack private outdoor space like I do, this could still be a good use of a particularly sunny window or an easy way to get all of your cooking herbs within reach.
I purchased all of the materials for this project from Home Depot (for the New Yorkers in the house, I went to the 23rd St. location).  I got the herb plants from the Chelsea Garden Center (11th Ave. @ 44th St.).
To make a hanging window herb garden, you will need:
– 6″ plastic flower pots
– 8″ adjustable pipe clamps
– Screw-in wall hooks
– Chain
– Small screws
You will also need:
– Measuring tape
– Drill
– Pliers
– Screwdriver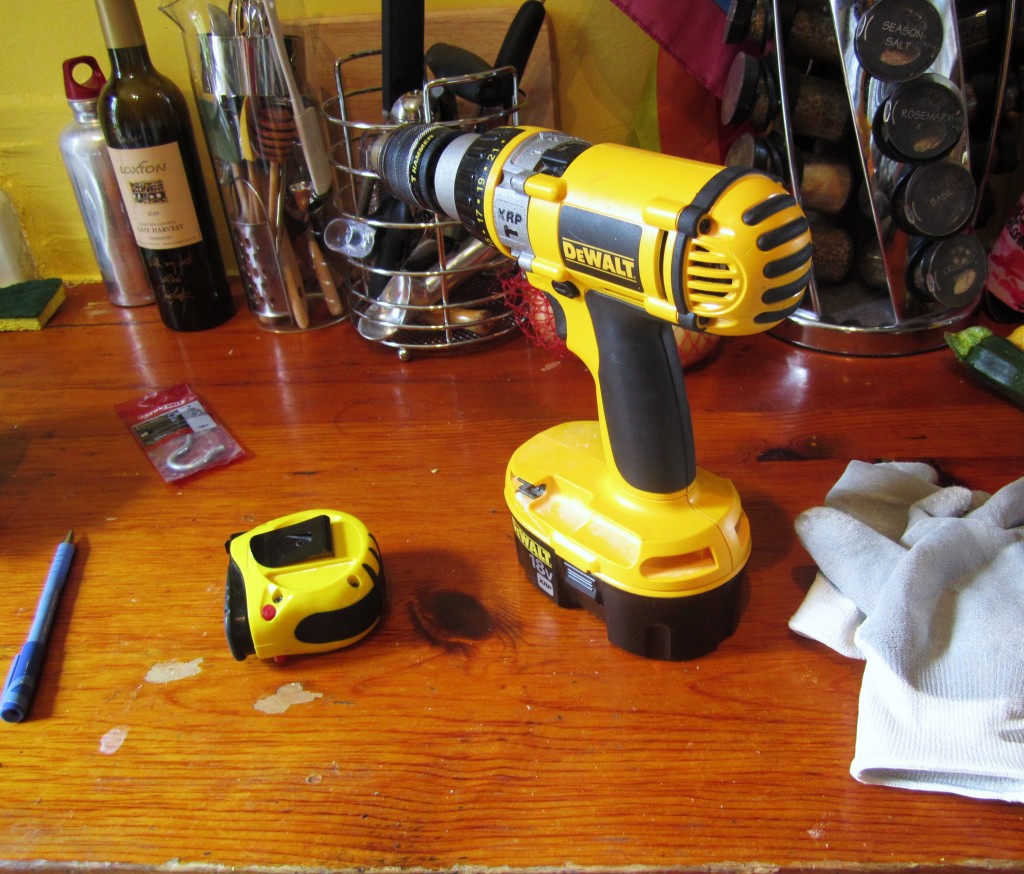 This project is best suited for a tall window with plenty of sun exposure… a window kind of like this one: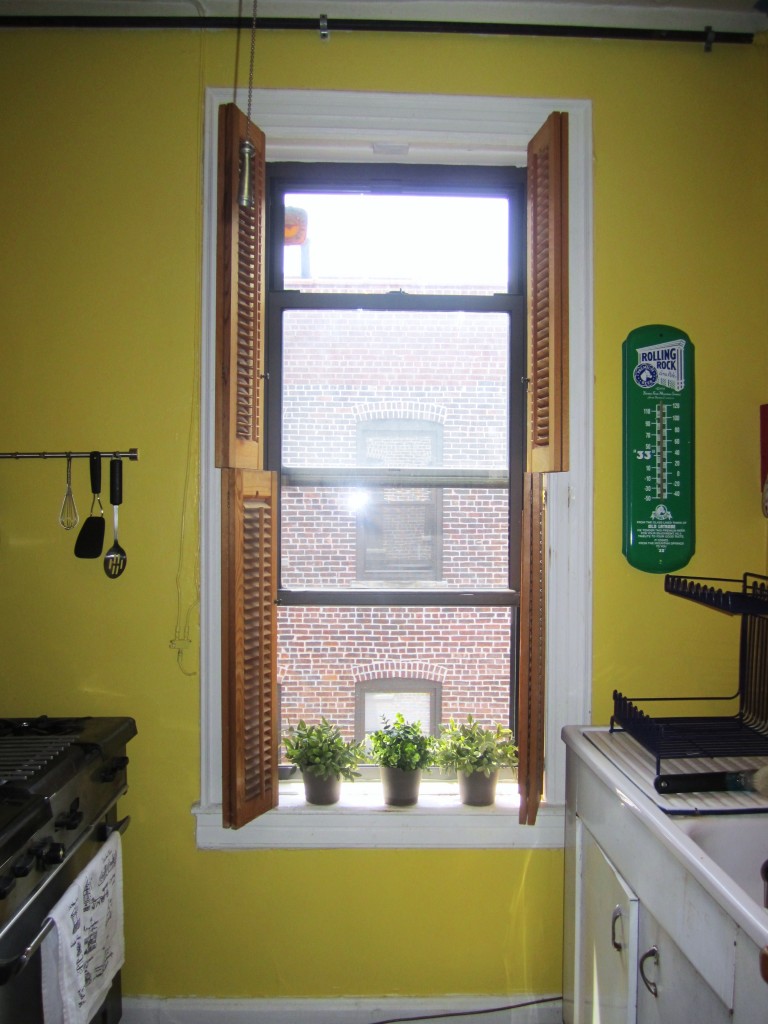 I decided to make my herb garden with three hanging columns of two flower pots each, but you could make yours with any number or configuration as long as your hooks can handle the weight of the plants.  Before your trip to the hardware store, measure your window and the space you wish to use for your garden.  You will need to know how tall your columns are going to be before you purchase the chain.
Once you have the proper supplies, the first step is to mark and drill pilot holes and install the screw-in hooks.  I got my hooks about halfway in before my wimpy hands couldn't turn them anymore.  They seem pretty sturdy already, but I am going to get Steve to finish the job when he gets back.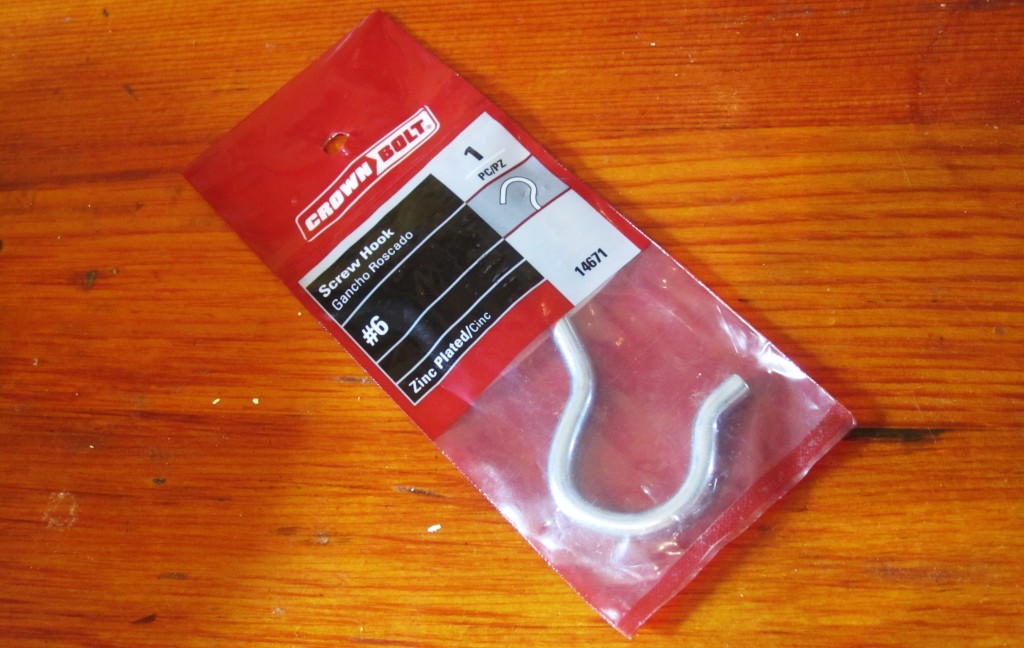 The hooks I got per the recommendation of an employee at Home Depot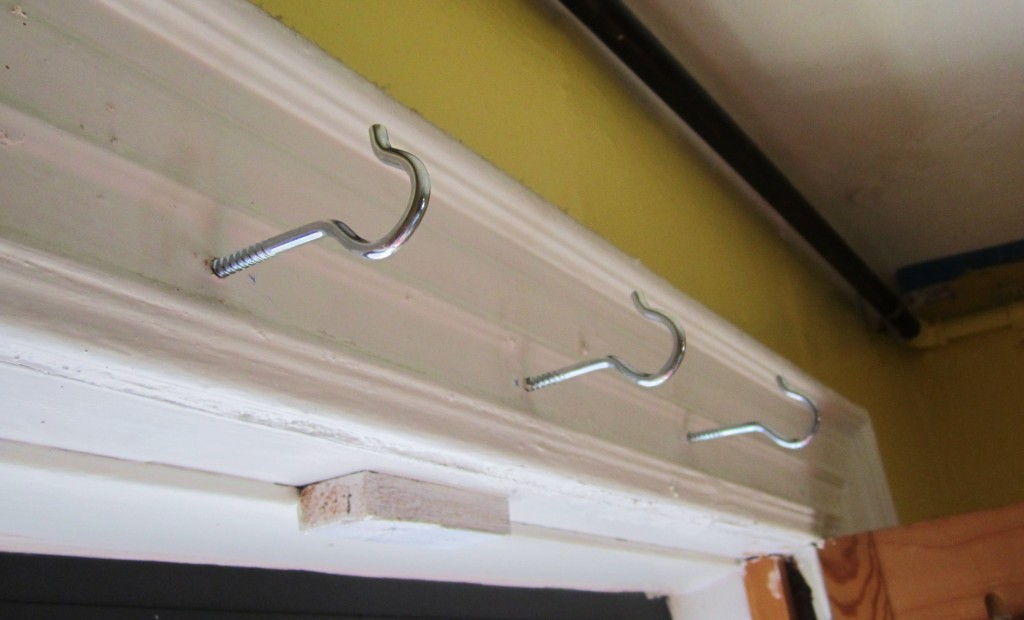 The hooks should go directly into the window pane — NOT the wall
The second step is simple: hang the custom-cut chains on the hooks.  It probably won't make a difference, but I looped two links on the hook instead of one to distribute the weight.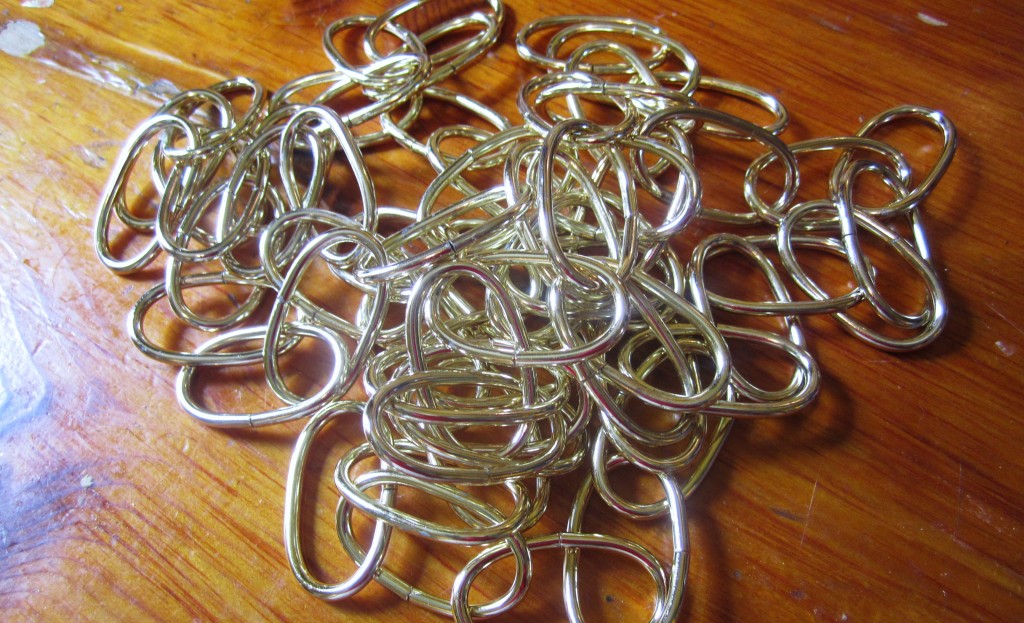 I had wanted to get a smaller chain, but the guy at Home Depot said he didn't think it would be strong enough.  This particular chain is intended to be used with plants.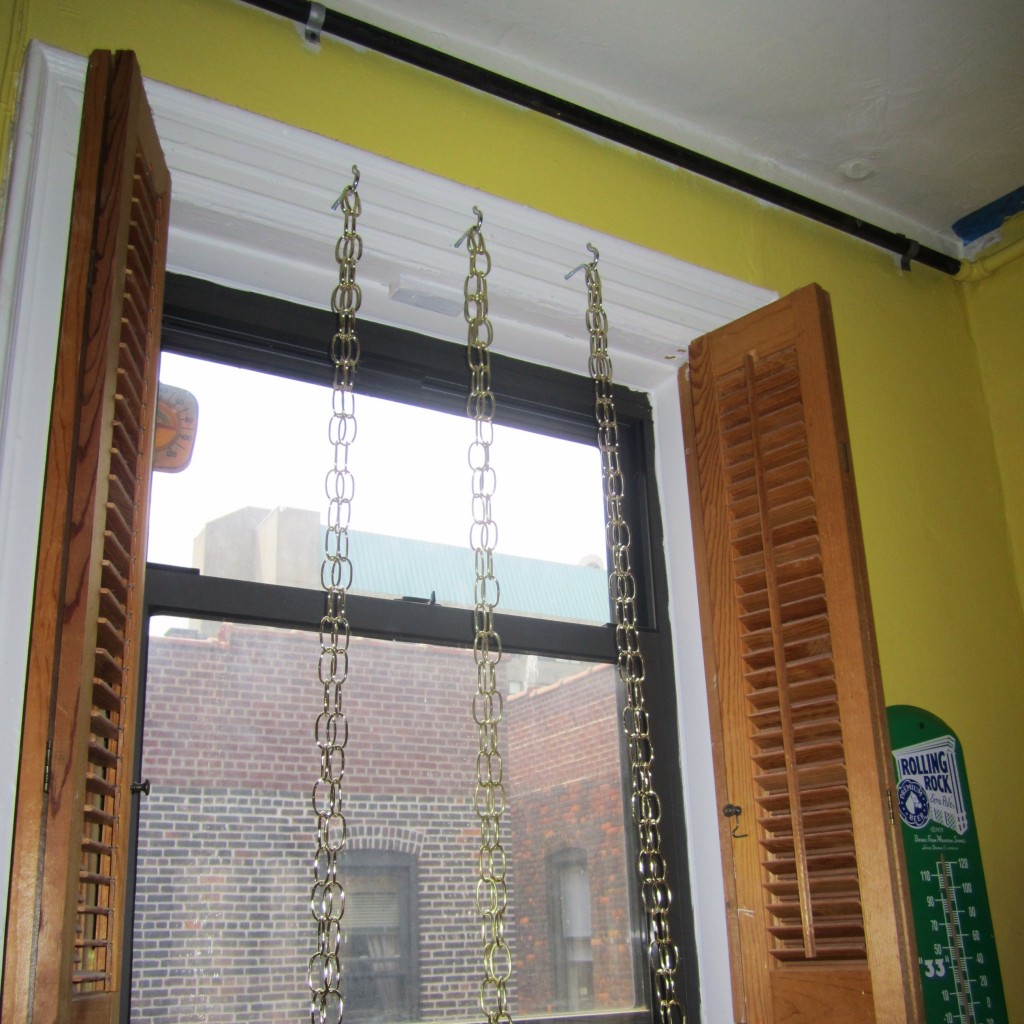 Chains are ready to go
The third step is to tighten the pipe clamps to fit the flower pots.  This perfectly suited part was suggested by one of the employees at Home Depot.  I showed him my drawing and explained what I was trying to do, and he simply said "Follow me," and led me to the plumbing section.  He then introduced me to the pipe clamp and explained how I could adjust the size of the circle with a screw driver.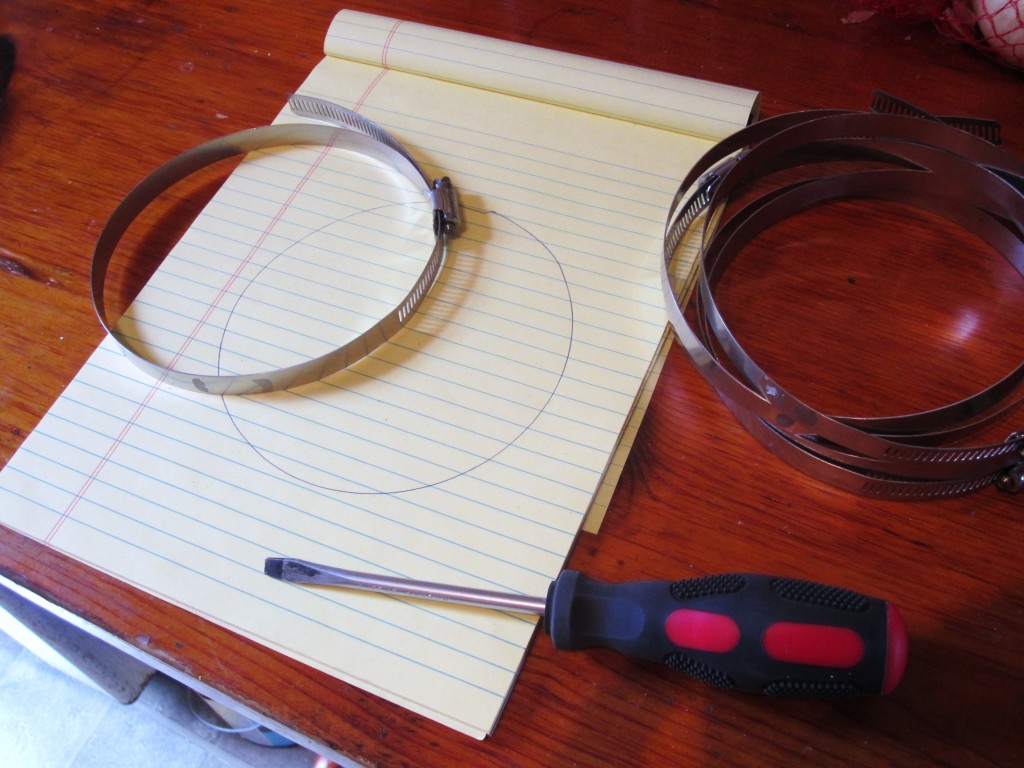 Adjusting the pipe clamps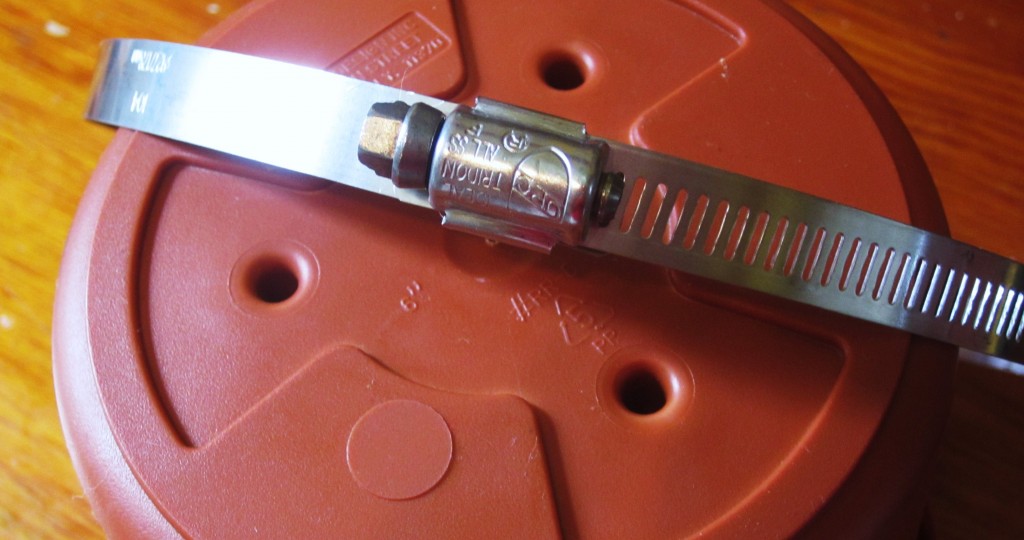 Turning this screw changes the circumference of the clamp
The fourth step is to attach the pipe clamps to the hanging chains.  You first will need to determine how far apart you want your flower pots to hang.  Then use pliers to pry open the designated chain links just big enough to slide in the pipe clamp.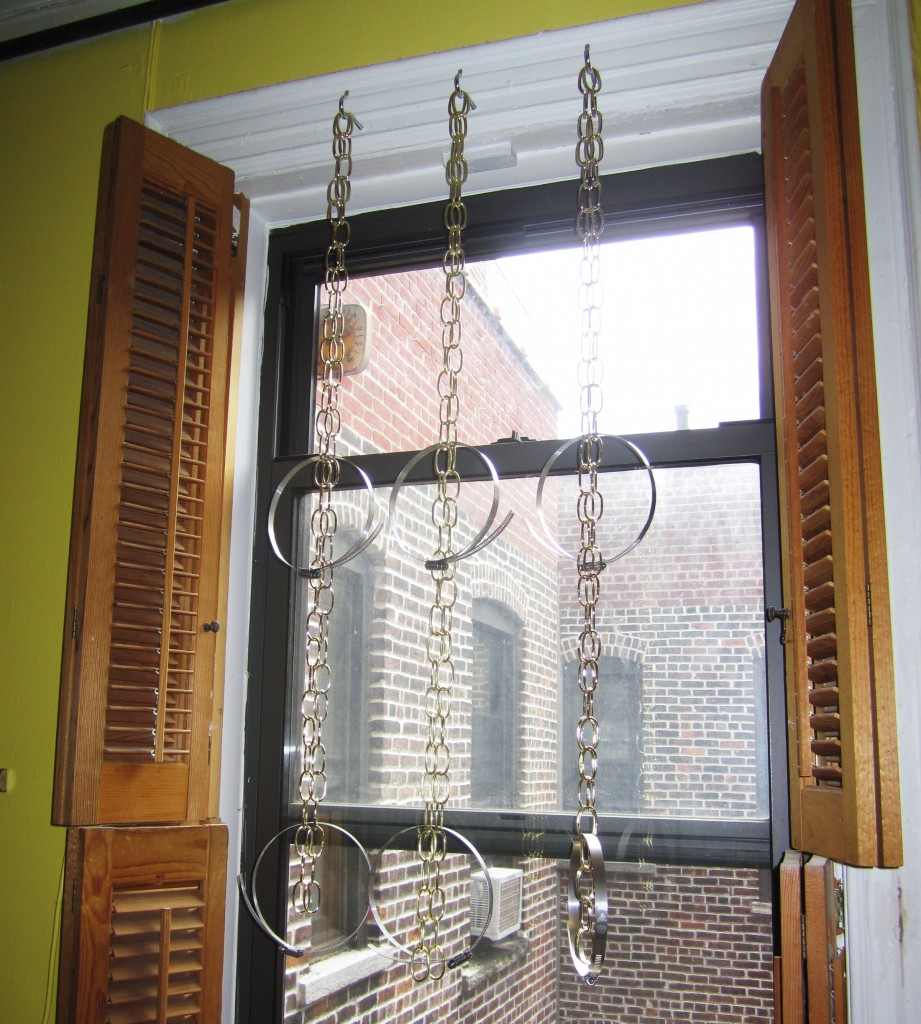 After this step, your neighbors will start wondering what sort of kinky torture device you are building in your kitchen.
I tried placing the flower pots into the pipe clamps at this point, but a design flaw became immediately apparent.  The flower pots inevitably tilted, and the chains slid around to one side of the pipe clamps causing the flower pot to tilt even more to the point that the contents of the flower pot would assuredly end up on the floor.  This was a frustrating discovery.
However, I then decided to put on my problem-solving lawyer pants, and added an anti-tilt device.  I got out Steve's magic bucket of odds and ends and found twelve small screws.  I then drilled holes into adjacent sides of the rims of the flower pots and inserted the screws.  The result were little Shrek-like ears that catch the links of chain above the pipe clamp and prevent the flower pot from tilting.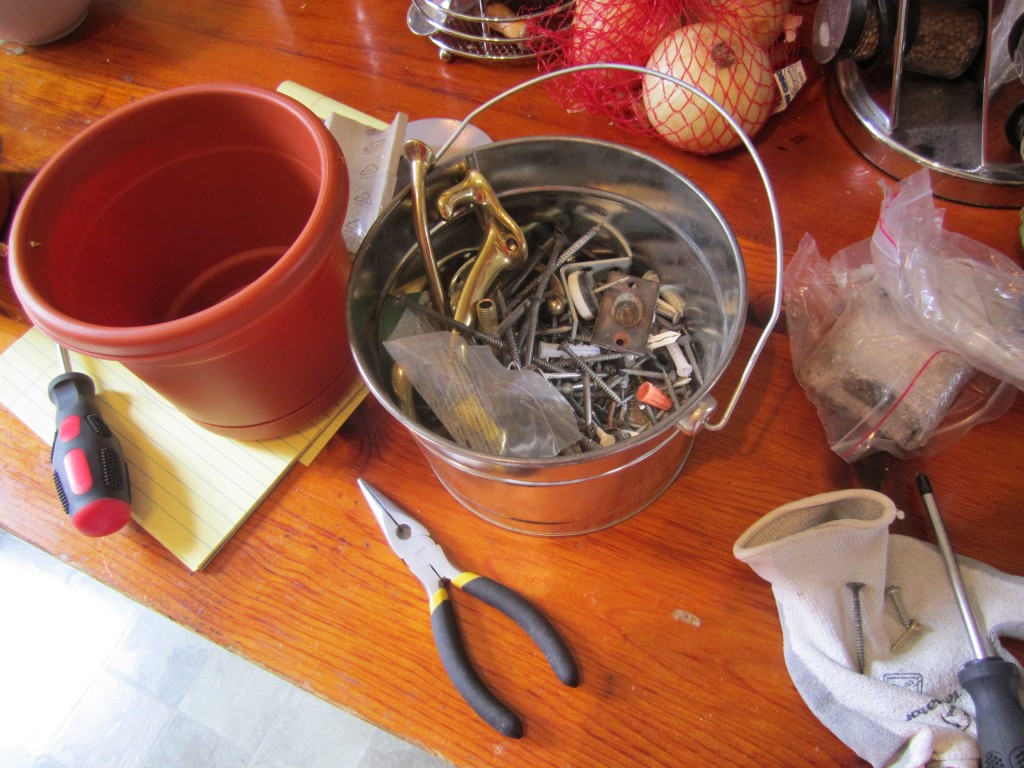 Steve's Magic Bucket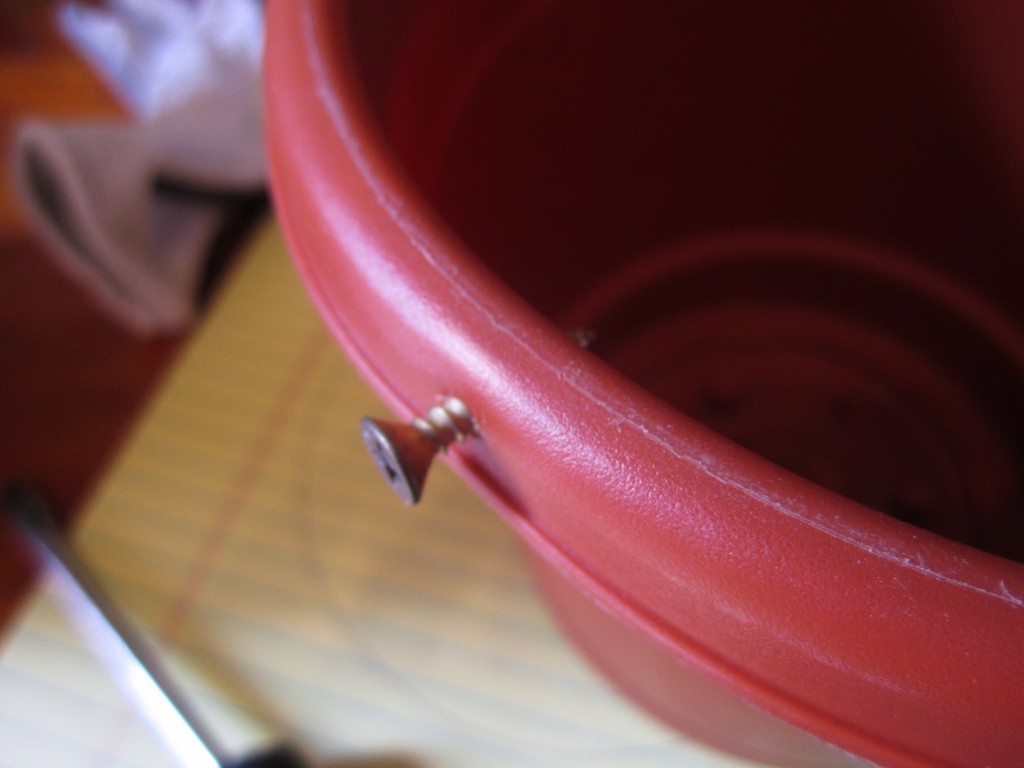 Anti-tilt device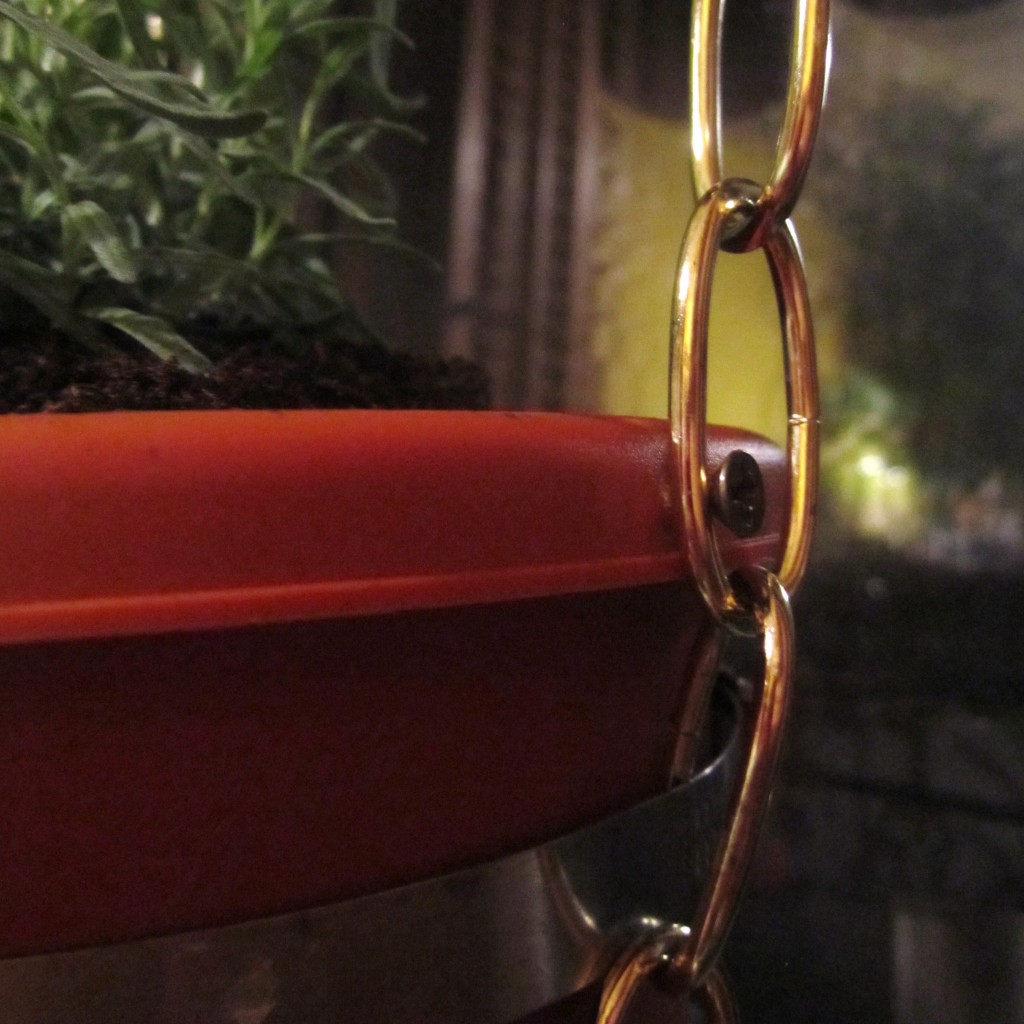 Anti-tilt device in action
The final step is to place the flower pots into the pipe clamps.  You might have to adjust the size of the clamps the first time you put the flower pots into the rings.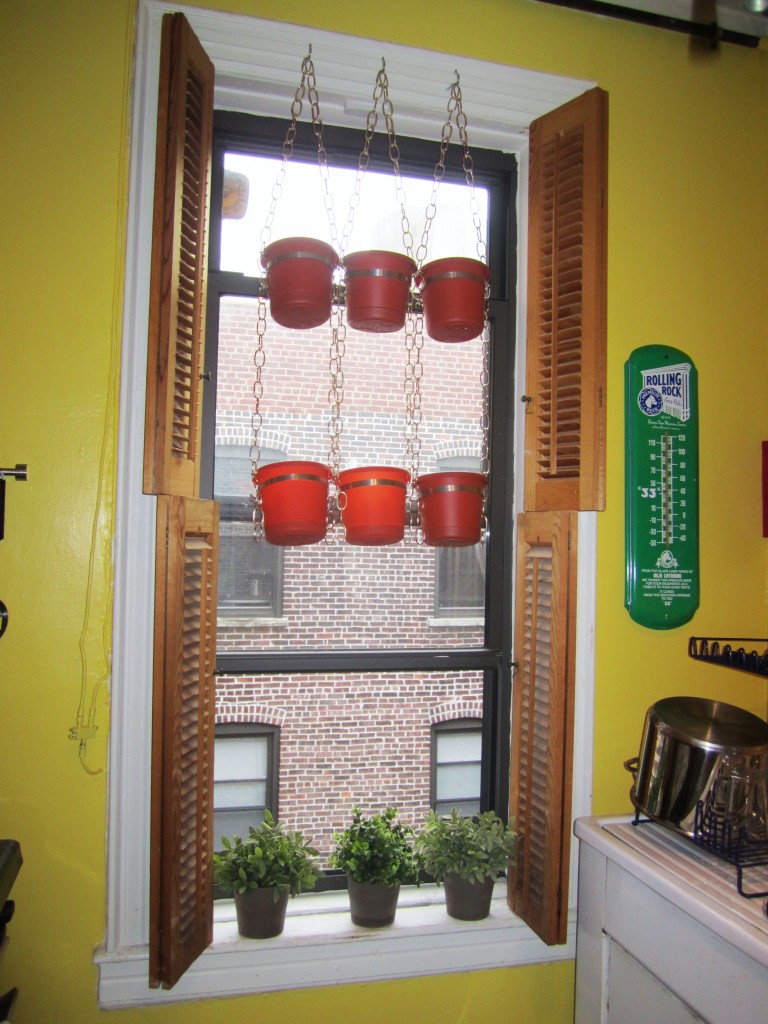 Hanging Window Herb Garden
Now all you need to do is add your herbs!  The beauty of this design is the flower pots are easily removed for planting and pruning.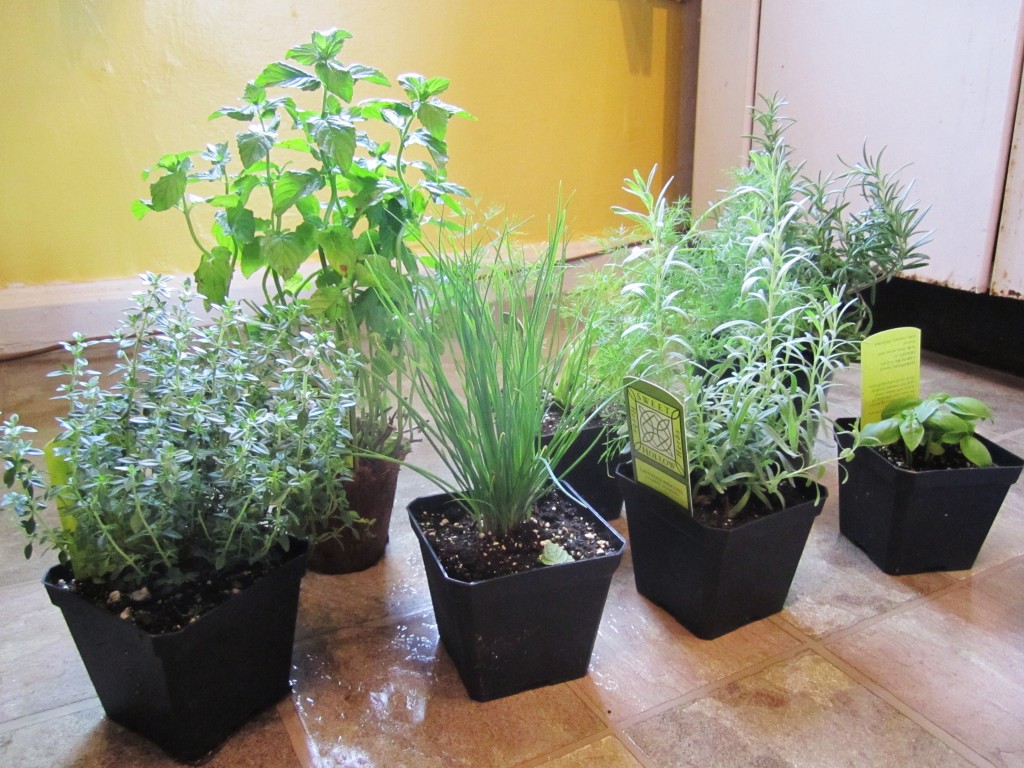 Thyme, mint, chives, rosemary, lavender, dill and basil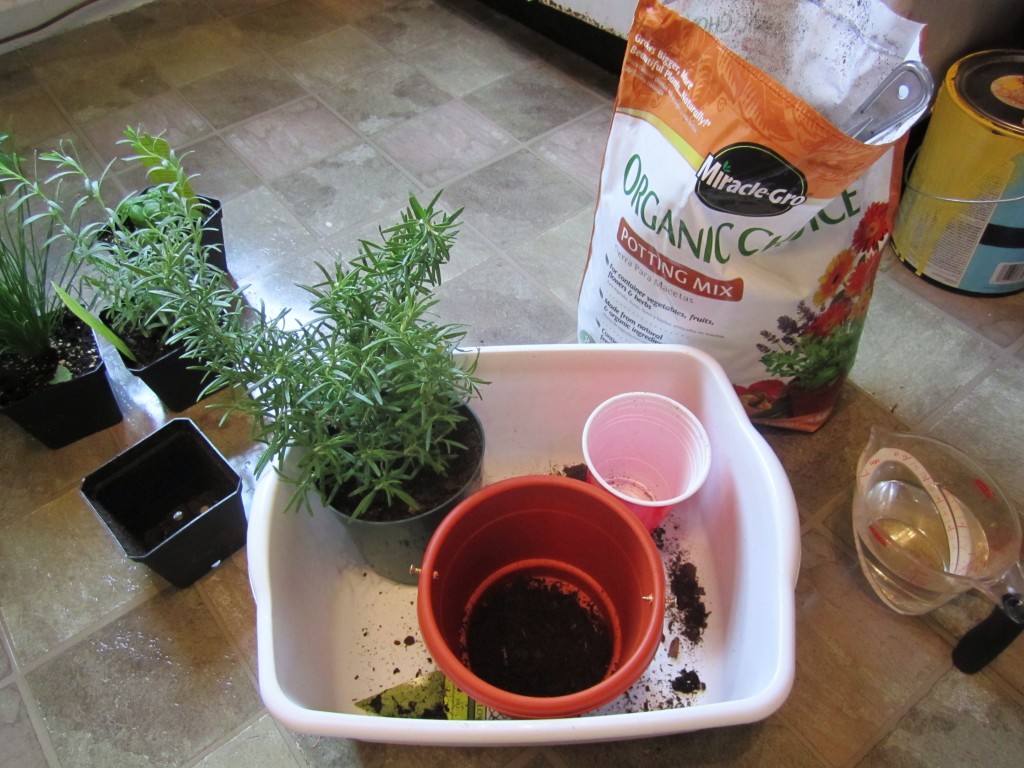 Urban Gardening
And that is how you make a hanging window herb garden!  If you have any suggestions or other ideas, please share.  If you make your own hanging window herb garden, definitely share that too.  Here are a few photos of the finished project: