{Thankful November} 2: My Family
November 2nd, 2011 | Rachel
Join me in the comments or on your own blog as I give thanks every day this month.
I was born into a family of engineers whose names all start with the letter "J".  Perhaps it was no coincidence that I was named Rachel because I definitely did not inherit my parents' (Jay and Jackie) technically-minded brains the way my brother did (Josh).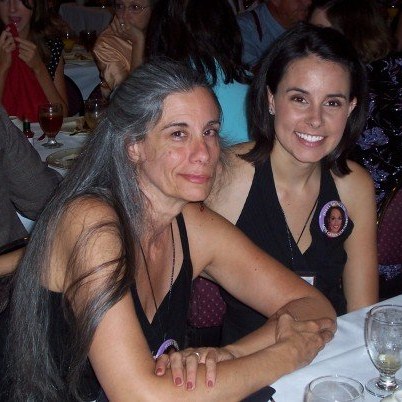 My mom and me supporting my cousin Julia at the Miss Oklahoma Pageant (2007)

My mother majored in mathematics as an undergrad, got a masters in industrial engineering, and is now finishing up a doctorate in software engineering (all at Auburn University).  My dad studied civil engineering at the same university and has worked as a civil engineer for various facets of the federal government my whole life.  He's actually currently using his engineering expertise over in Afghanistan.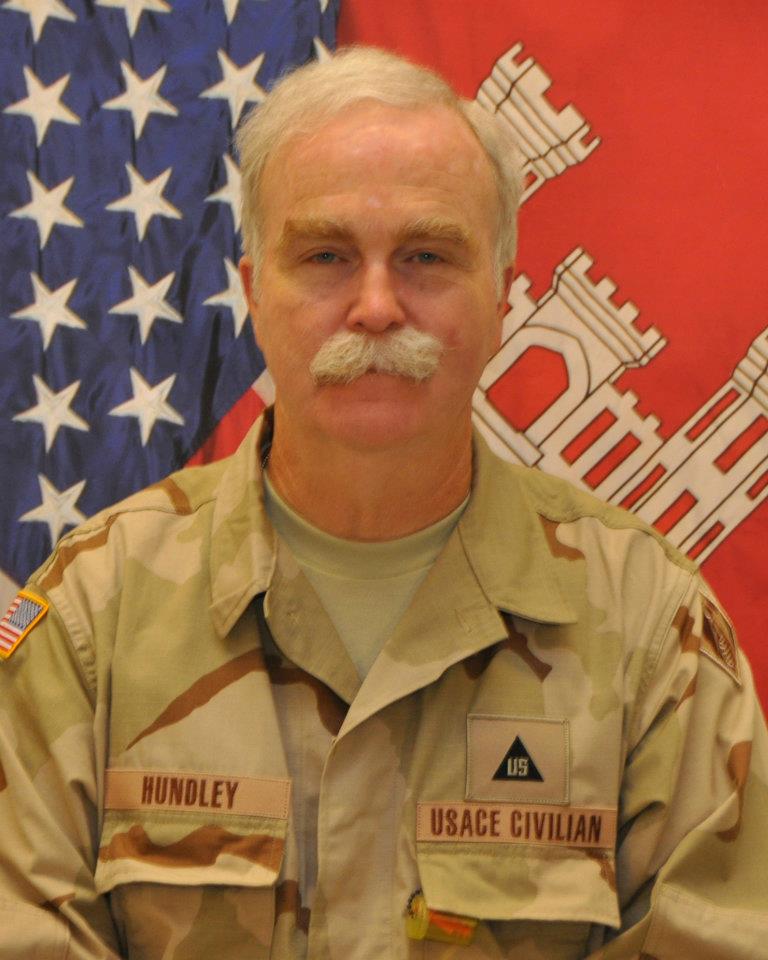 And this is my dad's excited face
My brother studied mechanical engineering at Clemson University before moving out to Seattle to work for Boeing as a stress analyst, and at one point moved down to Las Vegas to do the same for a crazy billionaire who is trying to develop the world's first space hotel.  He is now back in Auburn getting a masters in something aviation-related.  Its hard to keep up with what he is doing because when he talks about it, my poor liberal arts-minded brain can only comprehend about 1/4 of the words coming out of his mouth.
My brother and me on a first day of school (late-90s)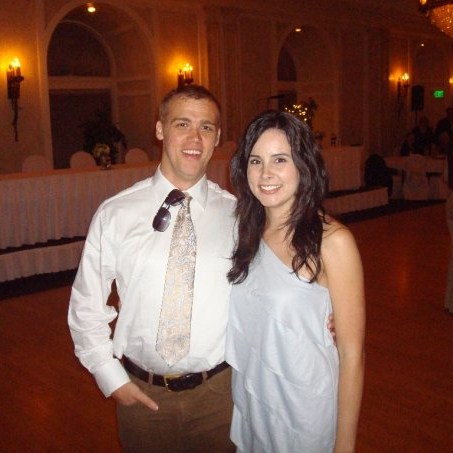 My brother and me at my cousin Paul's wedding (2009)

Even with their respective methodological geniuses, the Three J's also have active right sides of their brains.  They all are lovers and participants of music (mostly singing at this point, although my dad can play just about any instrument with strings).  My brother and my dad share my love of cooking (albeit in a very America's Test Kitchen kind of way, such as my brother's use of fancy thermometers to figure out exactly how hot the pan is).
My mother was the queen of DIY growing up, making everything from Halloween costumes to birthday cakes to a three-story mansion for my Barbie dolls out of a bookshelf to matching Auburn University outfits for my brother and me.  She even sewed her own wedding dress.  She's also the reason my brother and I always had impressively polished projects in school.  She wouldn't do them for us, but she would give us advice and stay up with us into the wee hours of the night as we scrambled to finish them before class the next day (procrastination is a trait my brother and I share).
My family has definitely shaped me into the person I am today.  My parents have always been extremely supportive without being the slightest bit pushy (much to my annoyance when I asked to get paid for my good grades… they refused and said they'd love me no matter what my grades were).  They fostered an environment where my brother and I could decide what we wanted to do and have the support to make it happen.
I wanted to play piano?  I got a piano and lessons.  I wanted to switch to violin?  I got a (rented) violin and signed up for the strings program at school.  I wanted to be in band?  I got a clarinet, years of band fees, transportation, and a personal cheer squad.  I wanted to go to the Air Force Academy?  I got a personal trainer (my dad) to help me get in shape for the fitness test (ultimately I decided I wanted a more "normal" college experience and went to The University of Georgia).
Going to law school was 100% my idea, but the Three J's immediately got behind me, emotionally and financially.  And now that life is once more veering off into a completely different direction, they are still there.  My dad and I were driving to Charleston last Christmas when I shared with him my growing uncertainty about working at the law firm.  His response: "I know you rose to financial success very quickly, but eventually you are going to have to figure out what makes you happy."
Late this summer when my parents were visiting me in New York before my dad headed off to Afghanistan, they again affirmed their support in whatever I decided to do with my life, and when I told my dad I felt like I was losing my mind for leaving the legal field, he assured me that going to law school and practicing for several years was time well-spent and has given me practical knowledge that I will take with me no matter what I do.
Particularly at this junction in life, the Three J's are lot to be thankful for.  (Did I mention my mom volunteered to drive to New York from Alabama to help me move even though her schedule is slammed with school?  I declined her generous offer.)
Thank you mom, dad and brother!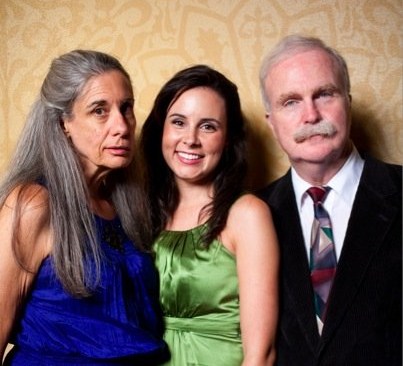 With my parents at my cousin Julia's wedding (2009)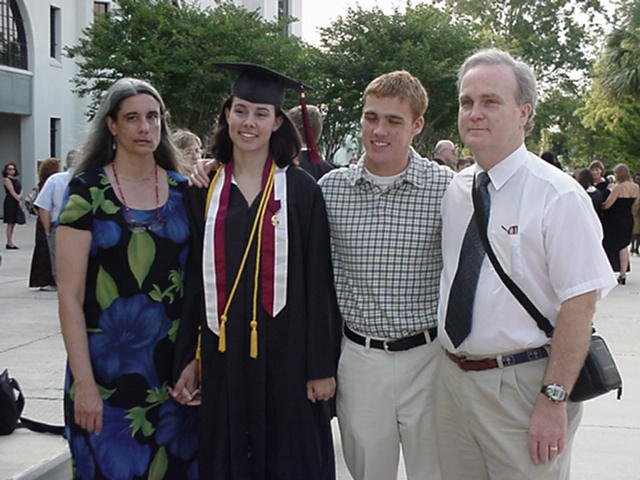 Me with the fam at my high school graduation (2001)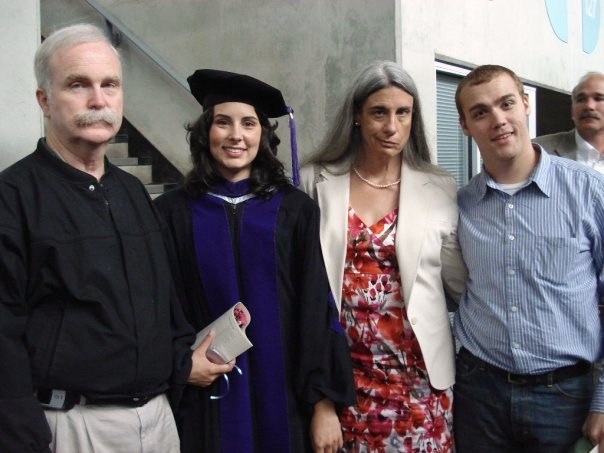 Me with the fam at my law school graduation (2008)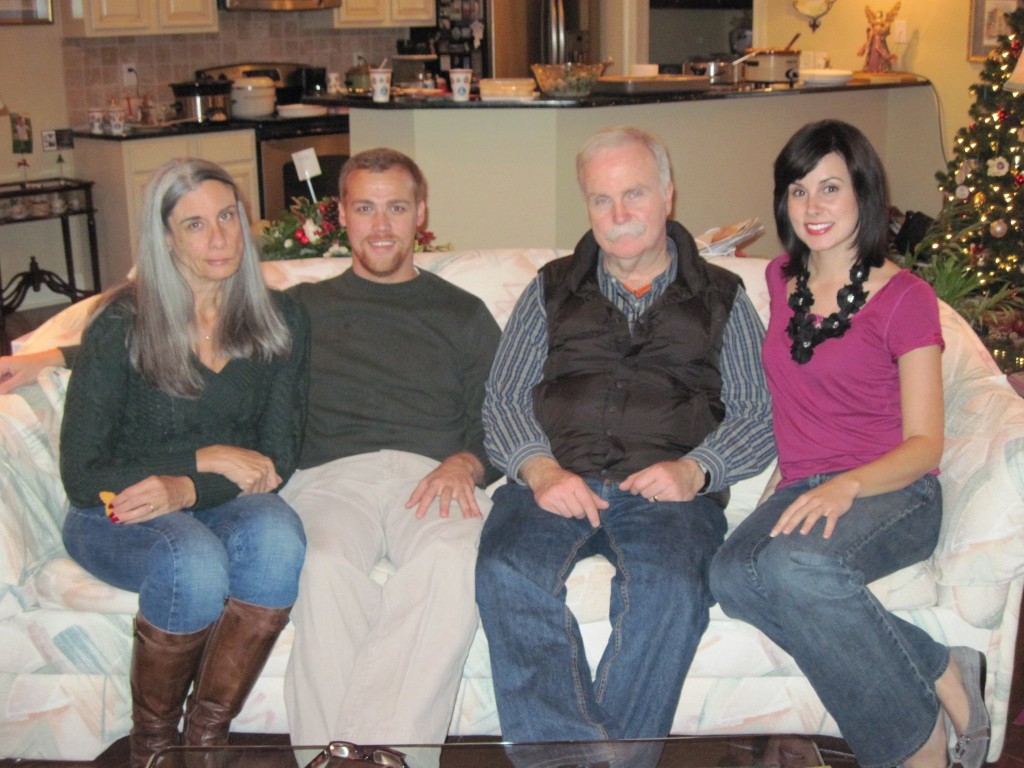 The Hundleys – Christmas 2010
5 Responses to "{Thankful November} 2: My Family"