Posts Tagged 'Happiness'
August 11th, 2011 | Rachel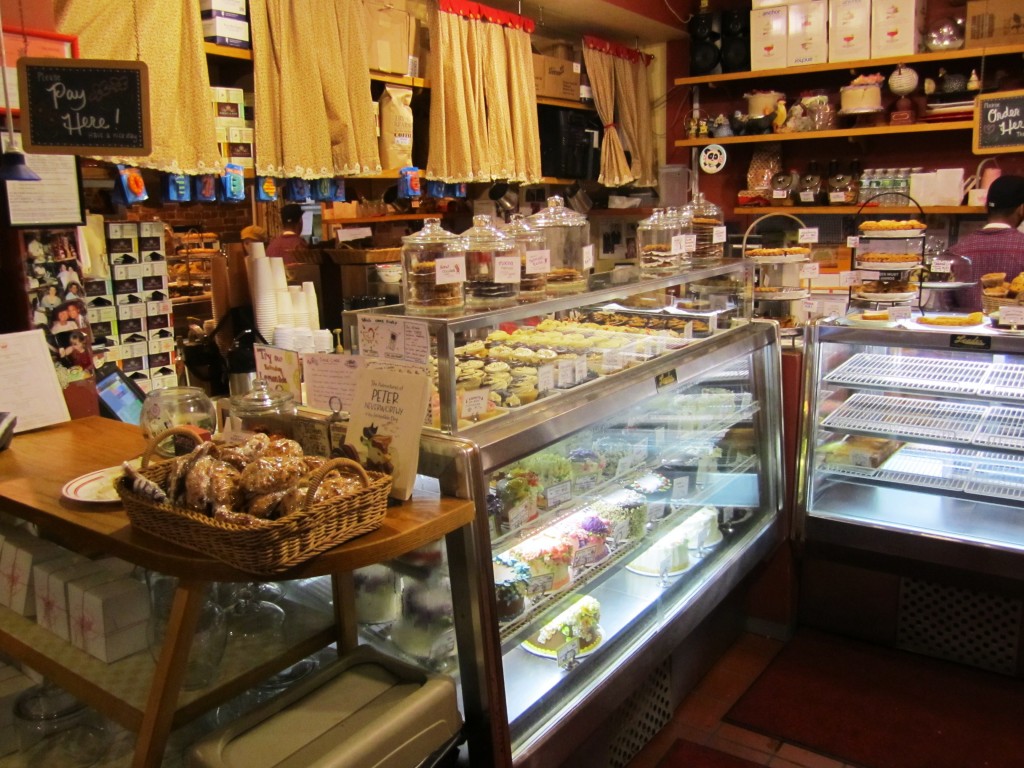 I've been at the new job at the Three Green Ducks for about a week and a half now.  So, what it is like finally living out my five-year-old fantasy of working at a bakery?  Honestly, it's kind of awesome.
I've sampled about 15% of the products in the store — cookies, cupcakes, slices of pie, cake, coffee cake, and muffins (still need to try some scones and bars) — and everything is truly wonderful.  The owner, who is downstairs baking with the team most days, puts a lot of thought into the recipes, and most of them are pretty close to perfect.  The bakers are careful and consistent, and we don't sell anything that doesn't meet the bakery's high standards.  Even if it tastes right but looks kind of weird, we'll cut it up and give it out as free samples (or eat it ourselves).
I've had a slice of the cherry pie every day this week, and if we are slicing it again today, I just might have to have another one.  Its my favorite thing in the store right now.
Coming from my last job, it feels kind of strange to be involved in something I so strongly and personally believe in.  I know, it's sad to say, but I'm not used to it.  At my last job, I was part of the general litigation group at a big law firm.  We usually dealt with contract disputes between large companies.  Our job was to help our huge corporate client protect their money whether they deserved it or not.
I'm not hating on the system.  If a huge corporation wants to spend its own money to hire sophisticated lawyers to try and get more money from another huge corporation that can also afford sophisticated lawyers, then fine.  Everyone knows what they are getting themselves into, and the lawyers all get paid at the end of the day.  The legal side of it can actually be pretty interesting at times… determining which rules and laws are relevant and strategizing about how to present the laws and facts in a way that is most beneficial to the client.  I rather enjoyed the intellectual side of it, and I never had any moral hesitations about the work I was doing.  I was only in the biz for three years, but I never saw any shady deals or unscrupulous acts by the lawyers.
However, at the end of the day, it wasn't something I could really believe in.
I do believe in in cupcakes.
In the past week and a half, many people have asked me, "What do you actually do at the bakery?"  To clarify, I am not a baker, and I am not a decorator.  We have two separate teams for those functions, and they are awesome.  We also have a management team that keeps everything running.  The fourth team, of which I am now a member, is the retail and hospitality team.
We say hello and smile at you when you come into the store.  We ask you how we can help you, and we tell you about the wonderful things we are selling.  We help you decide what kind of cake you should buy and how big it should be.  We write complementary phrases on the cakes (well, I don't, but I have been practicing my cake calligraphy) and tell you the best way to serve them.  We also put muffins and scones in paper bags, make lattes and cappuccinos, and run the cash register.  If you are a regular, we might ask you how the kids are doing or chat about the weather.
I guess you could say I'm a salesperson, but, honestly, the baked goods pretty much sell themselves.  One of the managers told me the other day that Living Social has been calling the bakery relentlessly trying to get us to be one of their daily deals.  For those of you unfamiliar with websites like Living Social, they offer special discounted deals every day for businesses in certain cities.  Living Social takes half of the voucher price (which is usually already discounted 50%), and the business gets exposure.
The Three Green Ducks gets all of the exposure it needs from people taking our baked goods to their offices and family get togethers.  People come in every day looking for something they tried outside the bakery.  I spoke to two women last week from Arizona who were in the city visiting and ventured up to see us because someone told them we were the best bakery in the city.
Going back to my original point, I believe in what I am doing now because my whole purpose is to make people's days a little bit better.  Baked goods make people happy… I discovered that back in law school when I picked up cake decorating as a creative balance to my otherwise wholly academic existence.  Whether someone is buying themselves a treat or picking up a cake for a loved one, they all come into the store with a look of excitement and anticipation and then leave with a smile on their faces.  Most people are truly thankful when I hand over their bag of muffins and scones or box of cupcakes or pie.  They don't come to us because they have to, they come because they want to.
Here's a little bit of what I have to deal with everyday: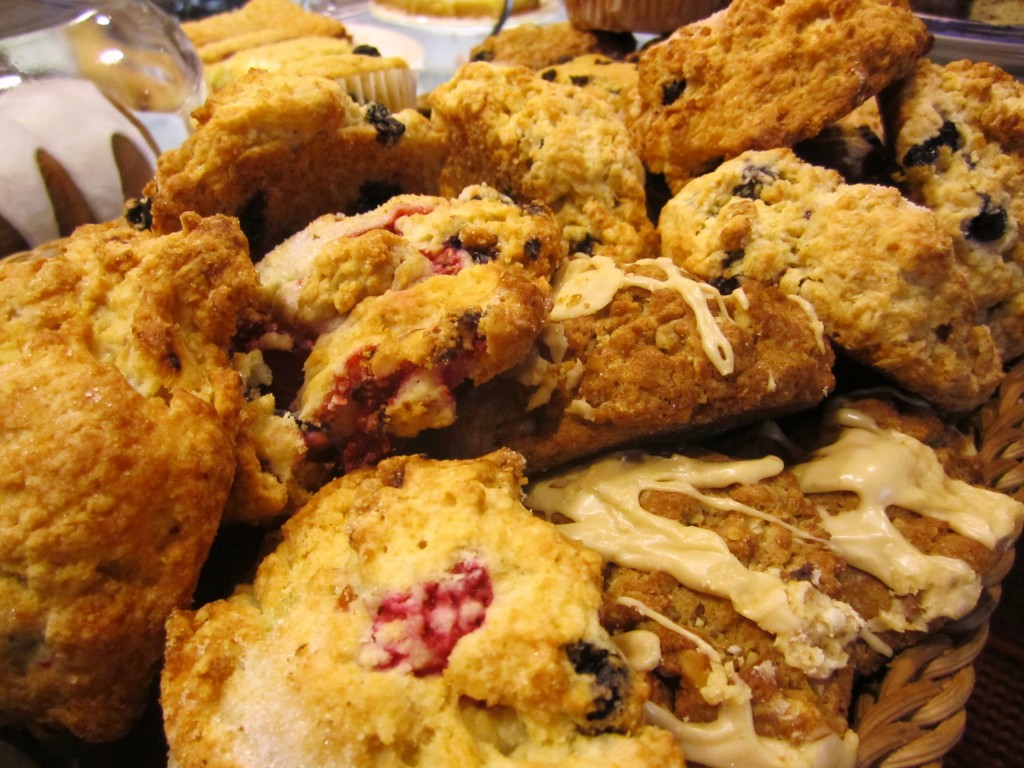 Selection of scones baked daily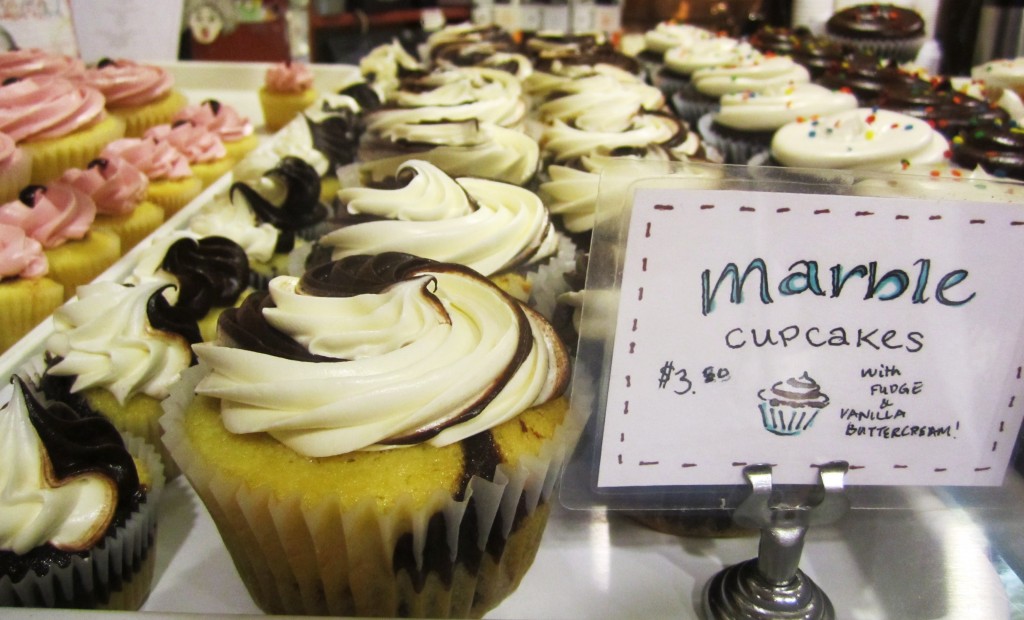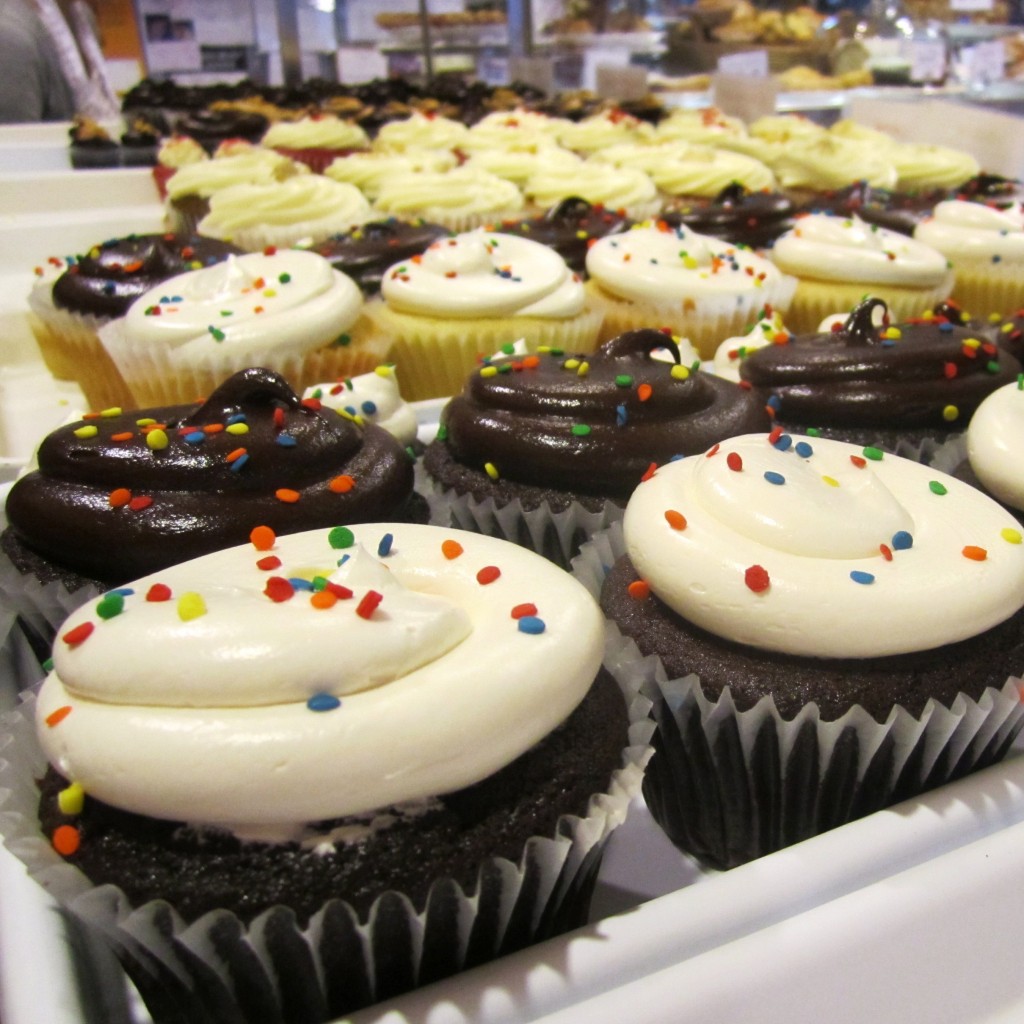 Part of our huge selection of cupcakes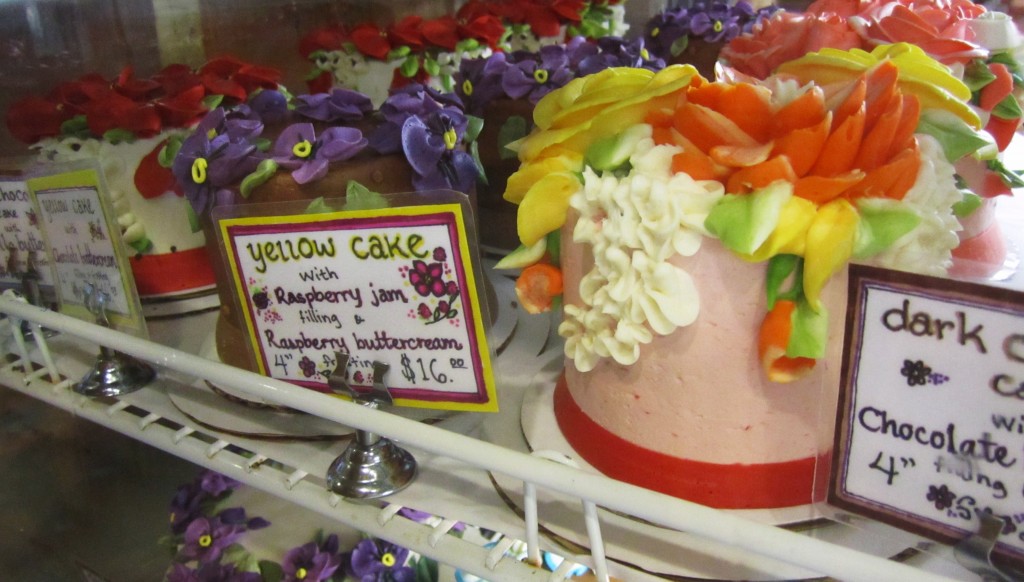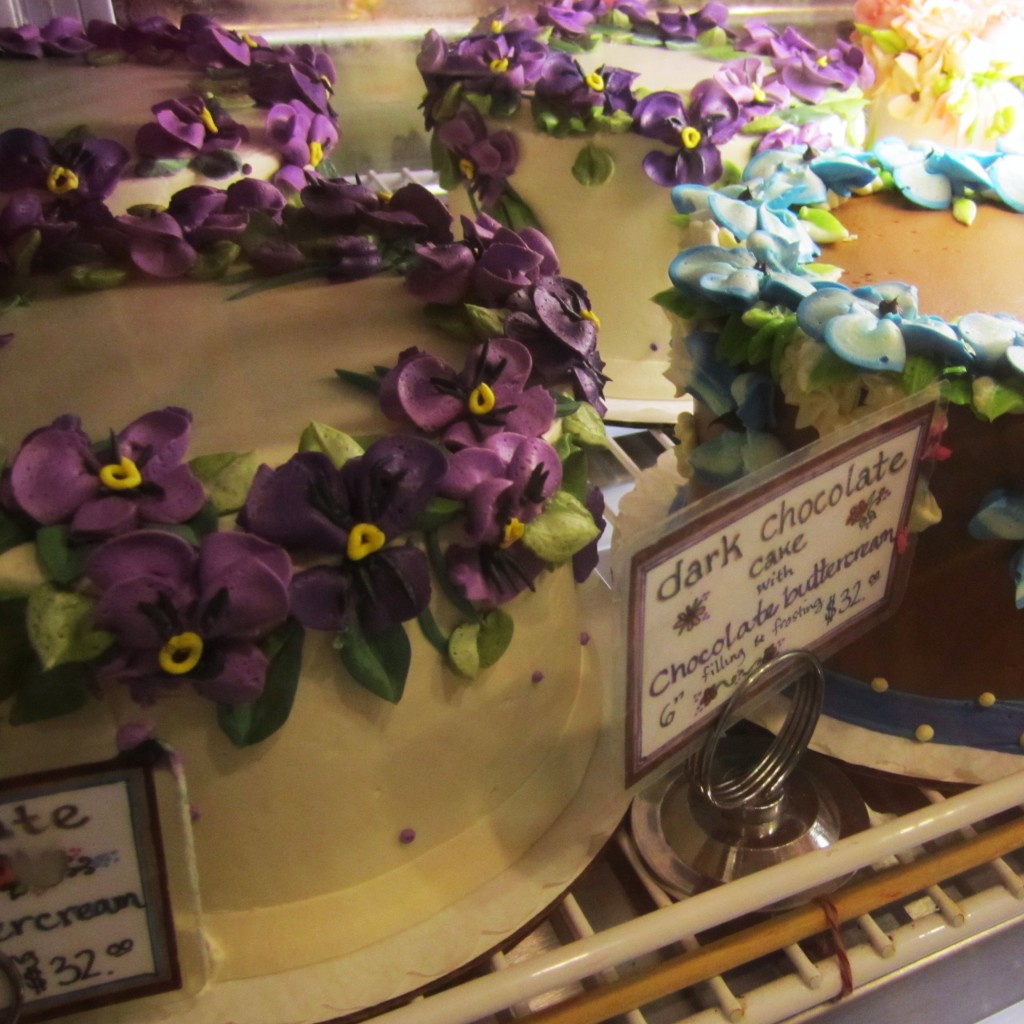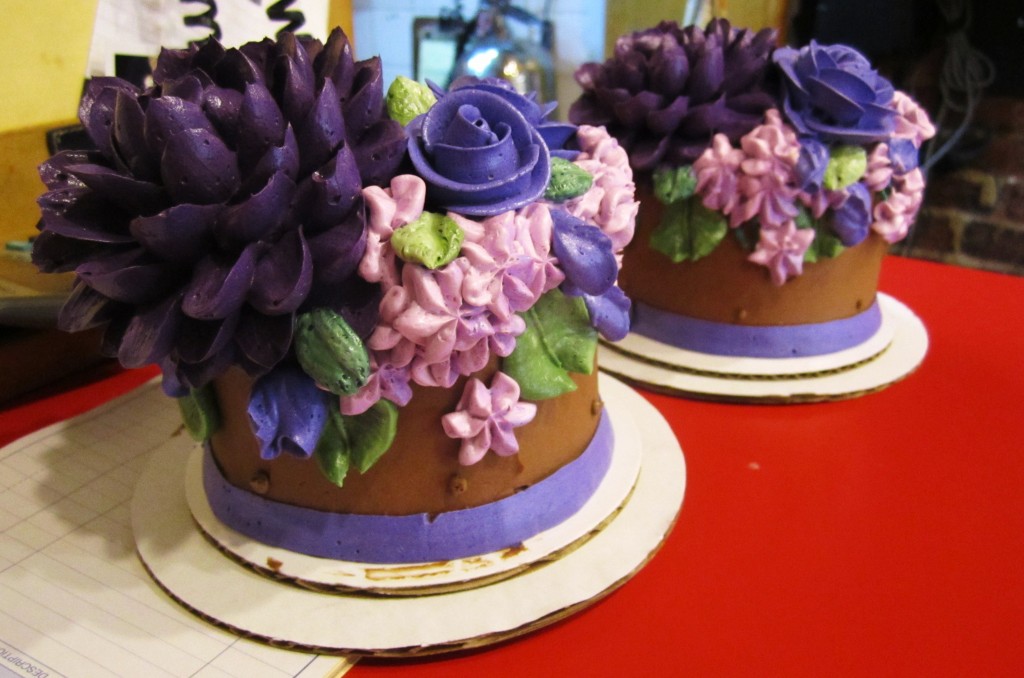 Decorated cakes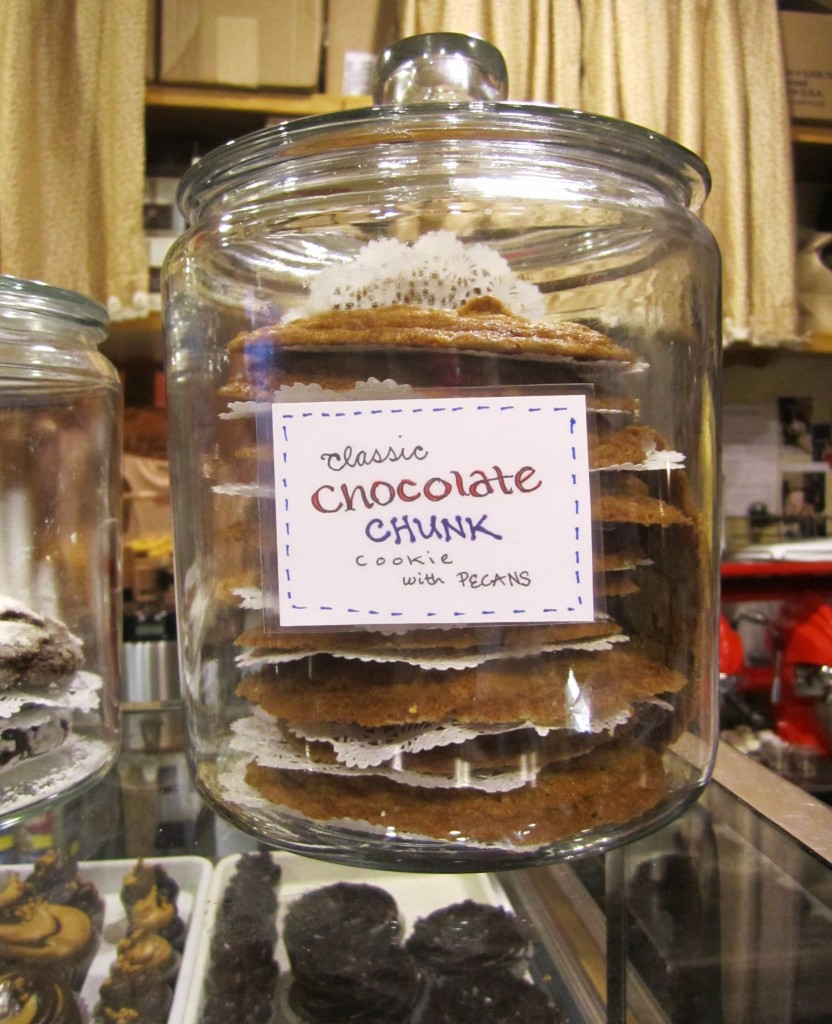 Everyone's favorite cookie
It's refreshing, to say the least.
By the way, thank you to everyone who has stumbled upon my blog.  If you haven't done so already, scroll to the bottom of this page and subscribe to my blog.  That way you can keep up with my somewhat sporadic posts.  I promise I won't spam you.