The Big Cross-Country Move, Part I
January 24th, 2012 | Rachel
Well, I'm officially a homeless vagrant.
I (with my dad's help) emptied my storage unit into a U-Box that is now on its way to the U-Haul center in Santa Cruz.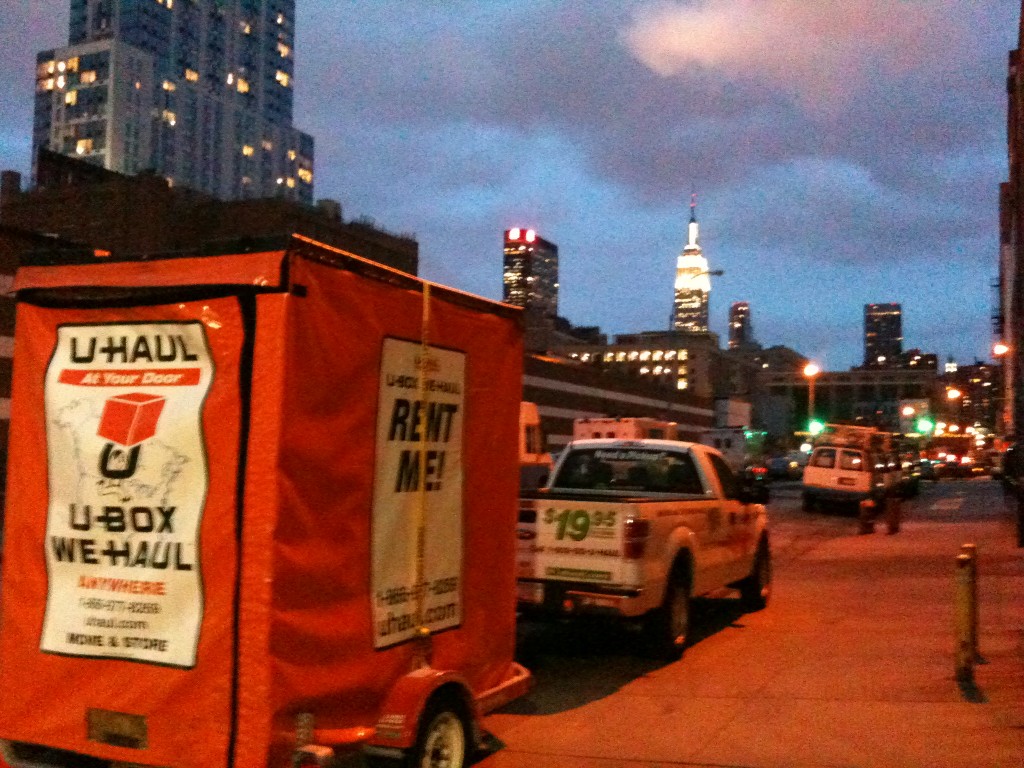 Loaded U-Box under the watchful gaze of the Empire State Building
I said goodbye to my friends in New York City over the course of several farewell gatherings, the first of which was an amazing surprise party organize by my two best friends Carey and Davina.  This is the part that made me sad about leaving.  I was blessed with a lot of amazing friends in the city.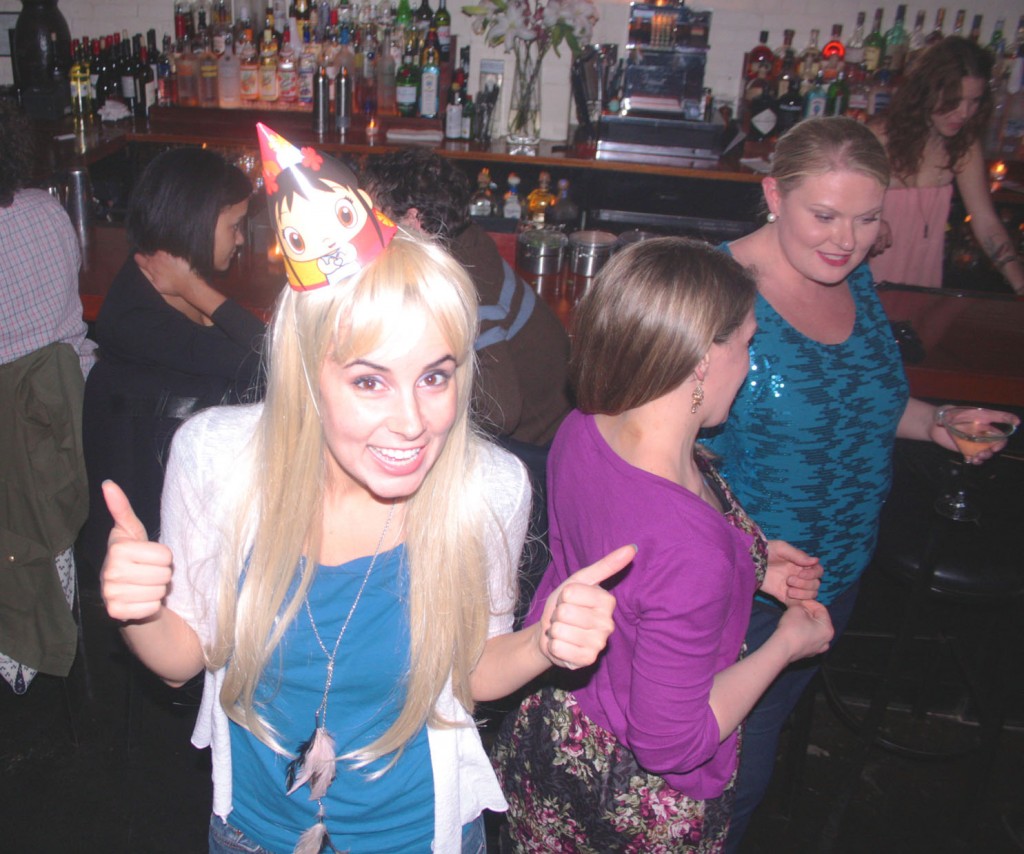 Preview of California Rachel ? (from my surprise going-away party… a huge thanks to Zeke for taking photos!)
The time finally came to pack up the last of my belongings that I've been living with the past eight months at Steve's apartment.  As the pile got taller and taller, I got more and more anxious that it was not going to fit in the minivan I would be driving first to Alabama and then to California.  It took me until 3am to get it all together, and I had exactly three hours to nap before we had to pack the car and leave.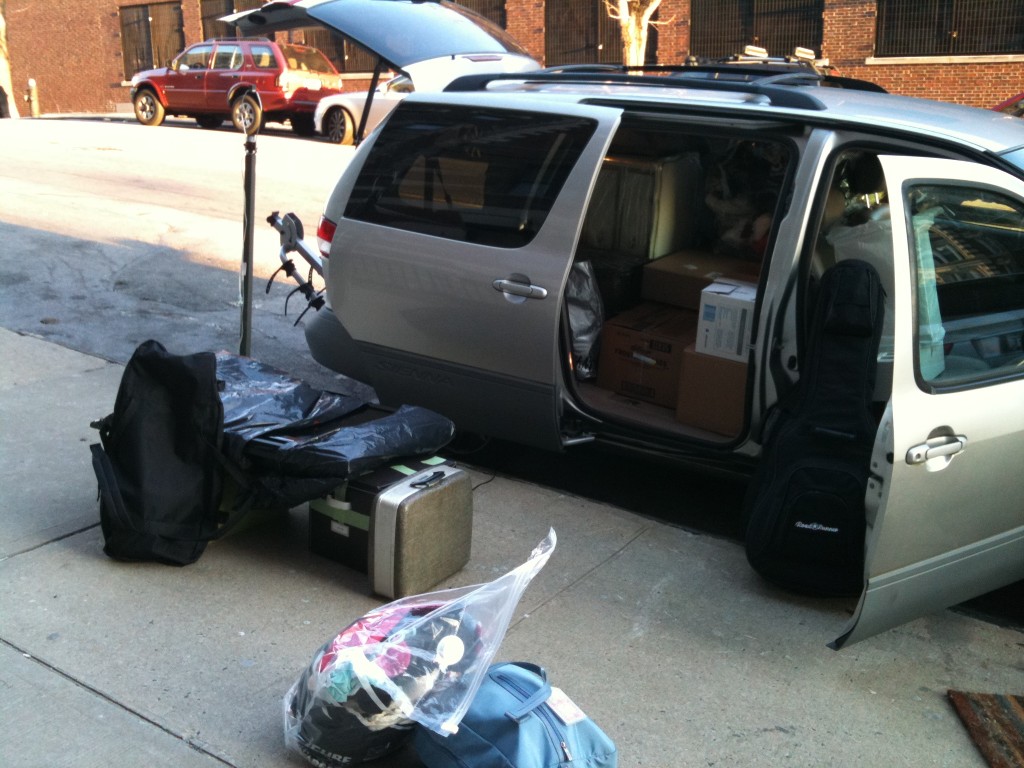 Loading the minivan
As I had feared, there was just too much to take with me.  I could leave a few things at the apartment for Steve to deal with, but I was trying to keep that to a minimum.  My dad suggested taking out the passenger seats (the rear bench was already back at his house in West Virginia), and without them I managed to fit everything except two boxes, a rug and a large painting.
My dad had to leave at 8am to catch his series of flights back to Afghanistan, and Davina and I finally finished loading everything (including the bicycles on my snazzy new bike rack — thanks dad!) at 10am.  It was an hour behind schedule, but I felt 1,000 pounds lighter driving out of the city (well, riding… Davina didn't trust me driving on three hours of sleep).  I kept waiting to feel sad about it, but the overwhelming emotion was excitement.
The first stop was State College, Pennsylvania to see my old friend Travis who is finishing up a phD in higher education at Penn State.  Apparently it had snowed the night before, and everything was covered in a beautiful blanket of snow!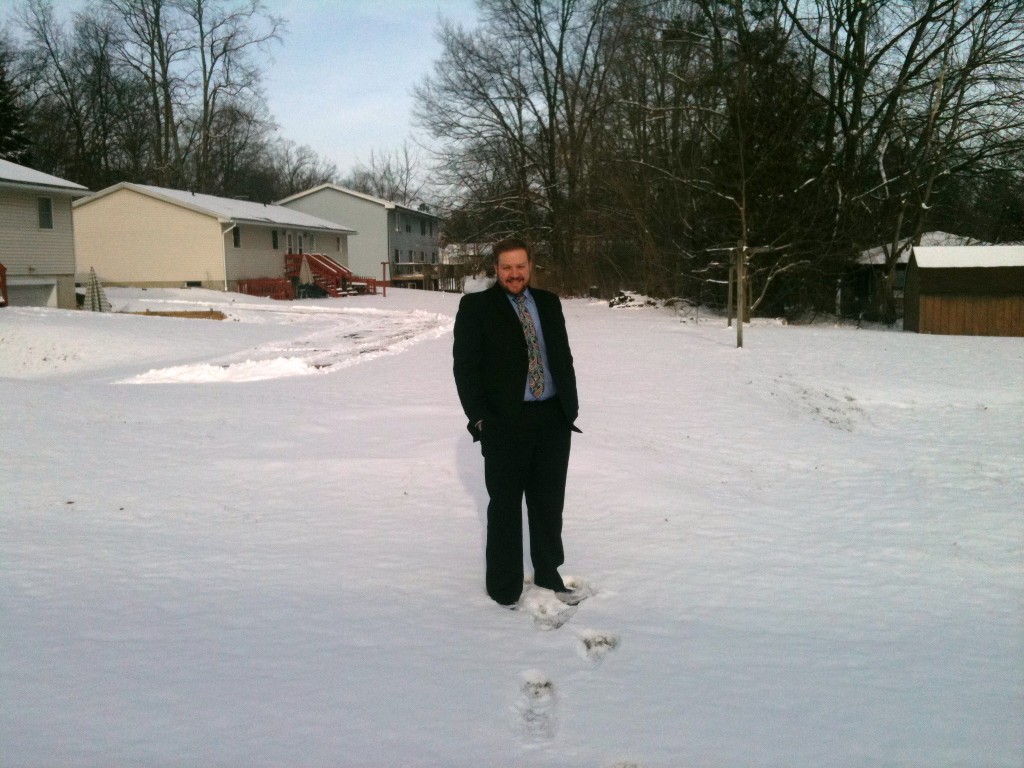 Travis in the snow
We stayed in State College a little longer than planned, so by the time we were rolling out of town it was almost 6pm.  The plan was to drive south to Asheville, but that was a 9-hour drive, and neither of us had slept enough to be driving until 3am.  Still, there was a winter storm coming our way, and weather reports as far south as Virginia had warnings in effect until the following afternoon.  We (and by we, I mean Davina because she still didn't trust my driving) decided to push ahead and get as far south as possible before finding a hotel.
The last couple of hours in Virginia were a little precarious as the snow set in with high winds gusting around us and the surrounding semi trucks.  I was so exhausted I couldn't keep my eyes open, but then I'd wake up startled by the trucks and snow and convinced we were going to die.  Davina, fortunately, stayed cool and got us to Lexington, Virginia where it wasn't going to drop below freezing and thus we didn't have to worry about the roads the following morning.  Our hotel, which I got through Priceline, was a lot nicer than we expected, and we both slept great that night.
The next day was gray but benign, and we finished the drive to Asheville without any problems.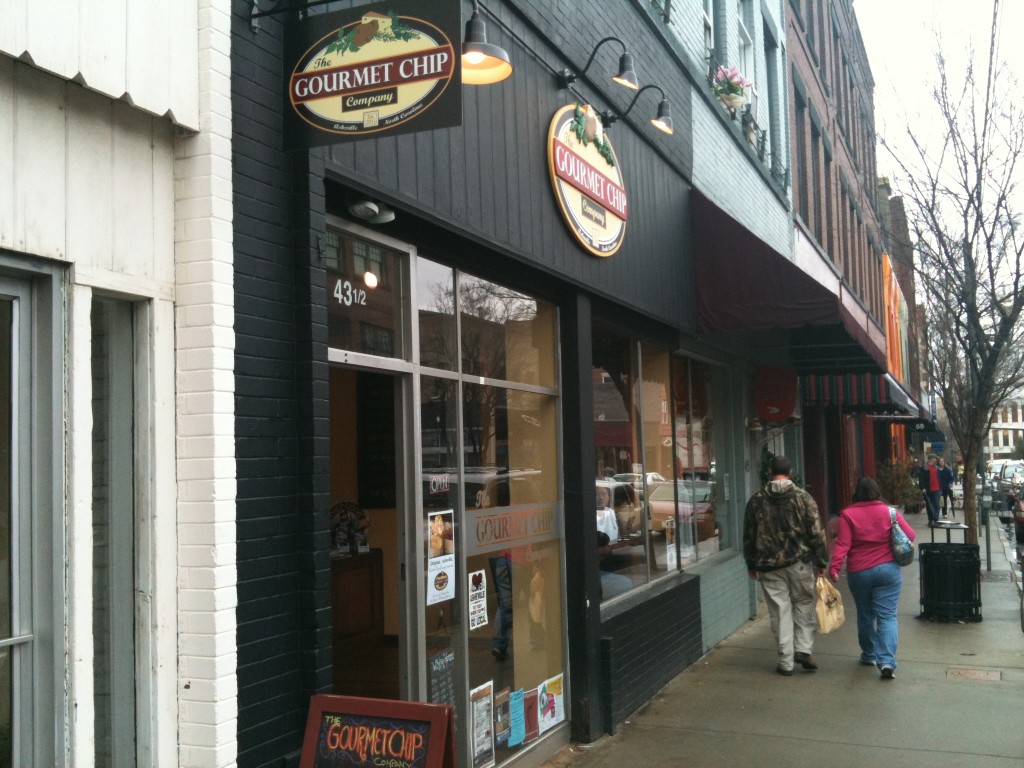 Storefront of the building in downtown Asheville, NC owned by Davina's grandfather
While in Asheville, Davina and I stayed with her aunt and grandfather, got a tour of the downtown area (where Davina's grandfather owns a building), visited her grandmother who is recovering from a back injury, and had dinner with several other members of her extended family.  If felt so good being around so many friendly southern accents.
The next morning we went to breakfast with Davina's grandfather at the Moose Cafe, a restaurant my own family frequented back when my dad lived in Asheville.  The next leg was Atlanta, Georgia, where Davina had a chance to catch up with a friend from a study abroad program in Nice, France.  Her friend, Amy, was also a UGA graduate, and we actually know a few people in common.
The last leg was a short two-hour drive to Auburn, Alabama where my mom, brother and grandmother live.  This was Davina's first time in this great state, so we gave her a proper introduction by taking her to Country's Barbecue, a staple in my family since I was a kid.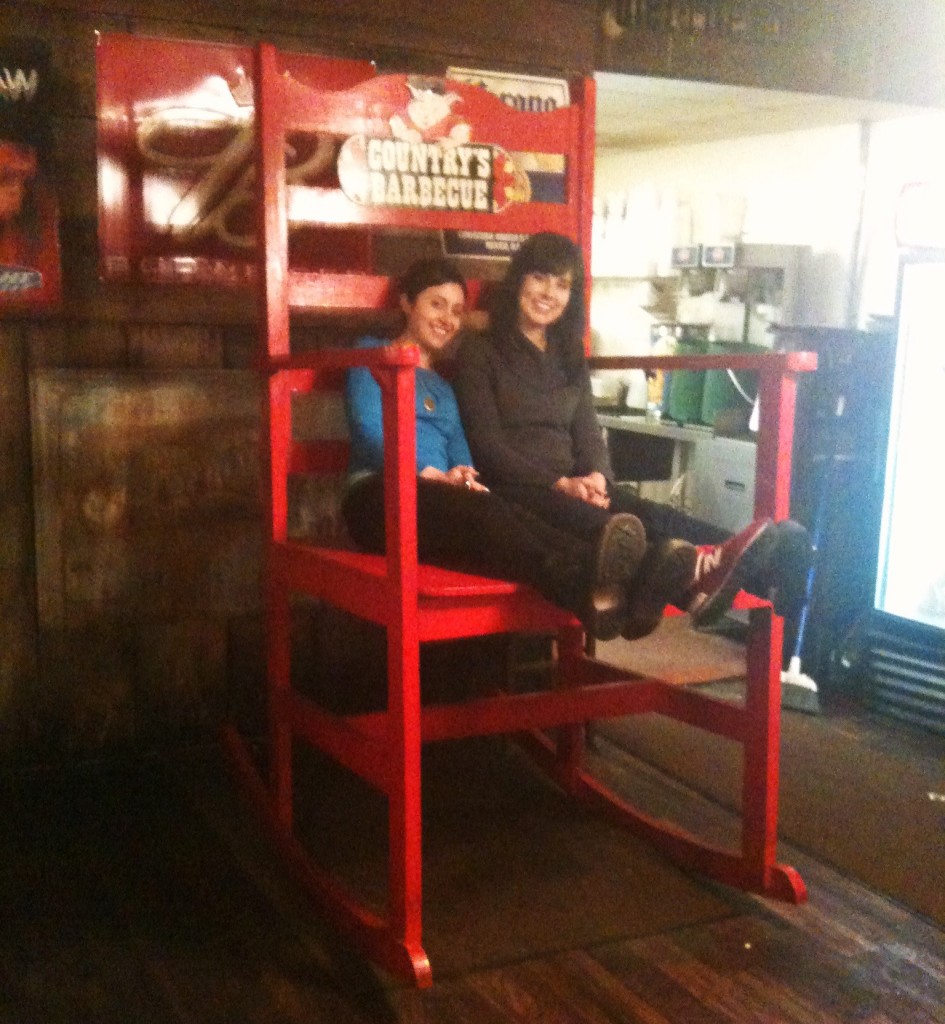 Giant rocking chair at Country's Barbecue
And now, I am hanging out at my grandmother's house for the next week and a half.  I took Davina to the Atlanta airport where she jetted off to California to snowboard for a week before returning to New York City.  I am catching up on my sleep and starting to think about all of the stuff I stopped thinking about when my brain became completely preoccupied with moving.
It is weird to not be in the city right now, but it still feels like I'm just away for a visit.   Maybe it won't hit me until Steve and I are settling into our new home in California.  Or maybe it won't be until I see my friends continuing on with their New York City lives without me.  Regardless, it feels right for the time being, so I guess I'll enjoy that before the inevitable crisis of faith occurs and I feel sad about missing out on some fabulous event in NYC.
2 Responses to "The Big Cross-Country Move, Part I"