The Big Cross-Country Move, Part II
February 8th, 2012 | Rachel
Greetings from Roswell, New Mexico!
For those of you just joining me, here's the deal.  I was practicing law in New York City.  Now I am moving across the country to California to open a bakery.
Two and a half weeks ago I loaded up my dad's minivan and, with my friend Davina, drove out of the city.  Our first stop was State College, Pennsylvania to see Travis, a close friend since high school.  After that, Davina and I headed south to Asheville, North Carolina to see Davina's grandfather and other extended family.  The next day, we drove through Atlanta, stopping to see one of Davina's friends before ended up in Auburn, Alabama where my mom, brother and grandmother all live.
I drove Davina to the Atlanta airport the next day, and then hung out in Alabama for a week.  I caught up on some sleep, inventoried my growing collection of vintage cookbooks, answered a lot of my grandmother's technology-related questions, and caught up with my mom and brother.  For the first time in a month I could think about something besides packing and moving logistics.
Steve joined me about a week ago.  His ship is drilling off the coast of West Africa, and he had to be away for a little longer than usual.  Then he had to move some of his stuff from New York to Maryland before flying down to Atlanta to join me on the cross-country drive.  He spent a few days meeting and catching up with my family in Alabama, and then we set off for the next leg of the trip.
Our first stop was a pit-stop in New Orleans!  We were there less than 24 hours, but we had a great night out, stayed in the heart of the city (thank you, Priceline!) and had delicious beignets the next morning.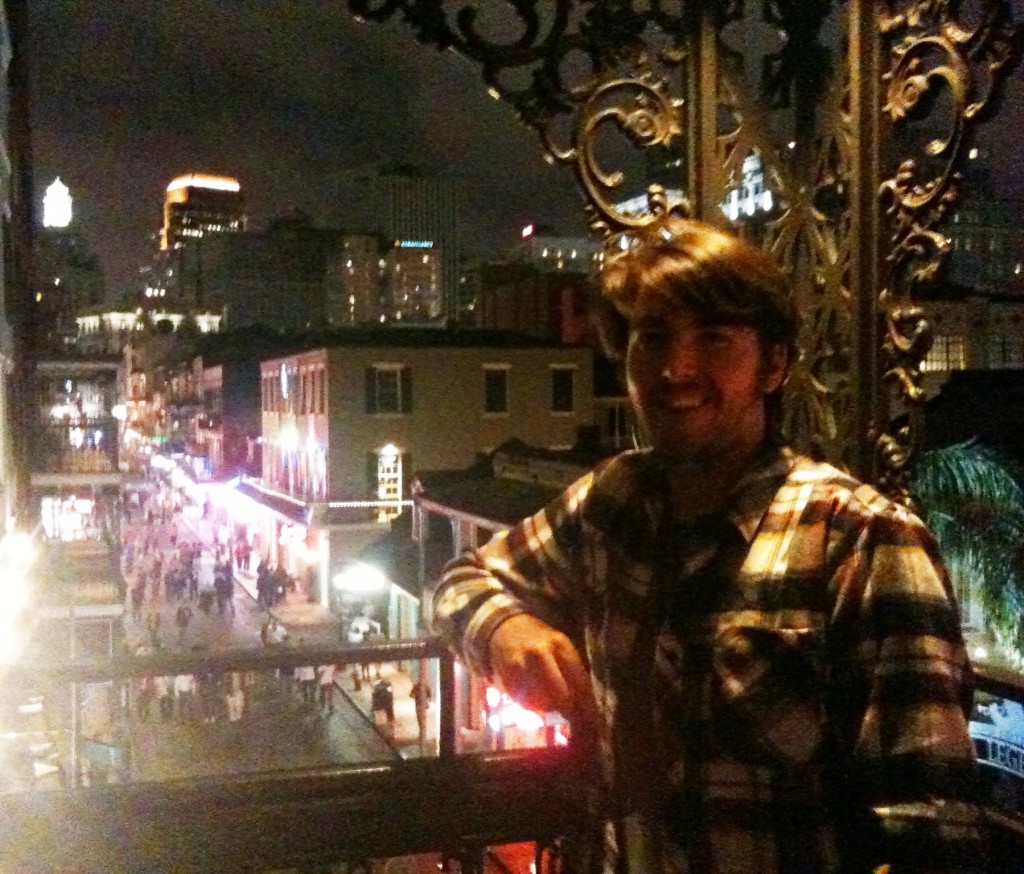 Steve on our hotel balcony in New Orleans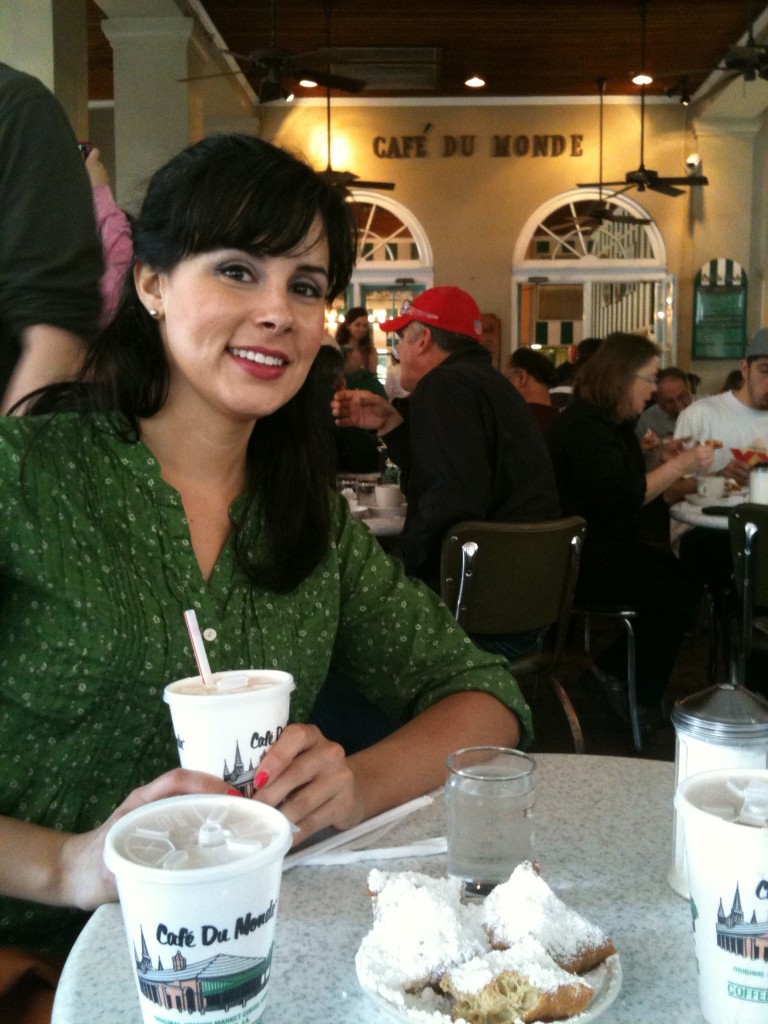 Breakfast at Cafe Du Monde in New Orleans
After New Orleans, we continued the drive to Houston where Steve's brother and dad live.  Steve's sister was also visiting over the weekend, so Steve got to catch up on some family time of his own.  We went to a Rockets game (thanks to some shmancy box seats!), saw some dueling pianos, went bowling, and had a Superbowl party.  We also had a birthday party for Steve's adorable twin nephews and took a trip over to Galveston to see Steve's brother's girlfriend's salon and eat crawfish.  It was a great weekend, and Steve and I both really enjoyed spending so much time with his family.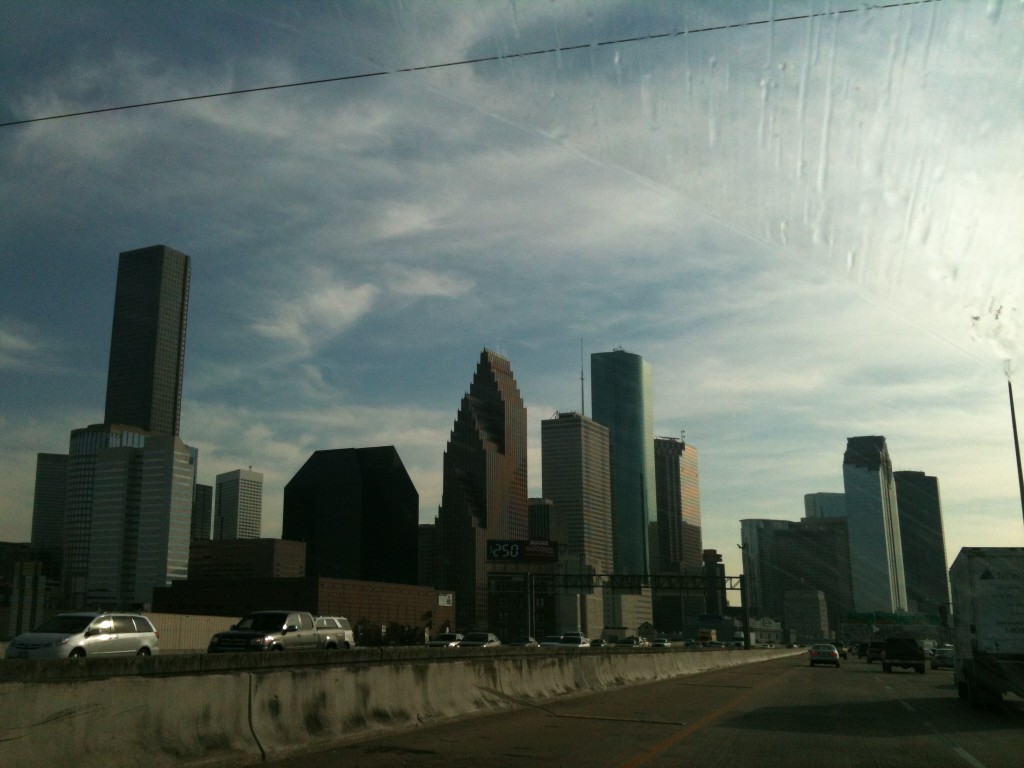 Houston Skyline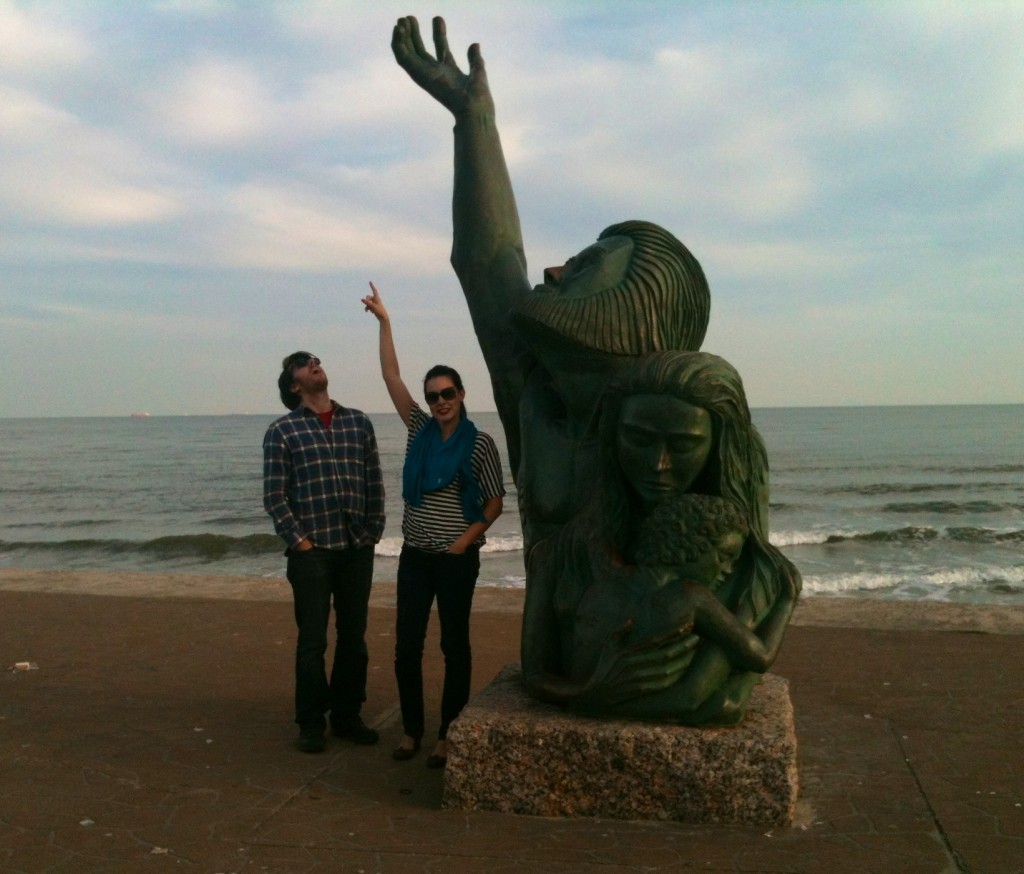 Hurricane Memorial in Galveston
That leads us to today.  Steve and I got up early this morning, repacked the van, and hit the road.  Although Google told us the drive to Roswell, New Mexico was going to be 12 hours via the interstate, we followed the state road route recommended by the car GPS system and made it in 10 hours.  We got to Roswell with just enough time to have a relaxing dinner and catch up on some mindless television.  This morning, we are going to go look at some tacky alien stuff before getting back on the road.
One Response to "The Big Cross-Country Move, Part II"