Archive for the 'California??' Category
June 19th, 2013 | Rachel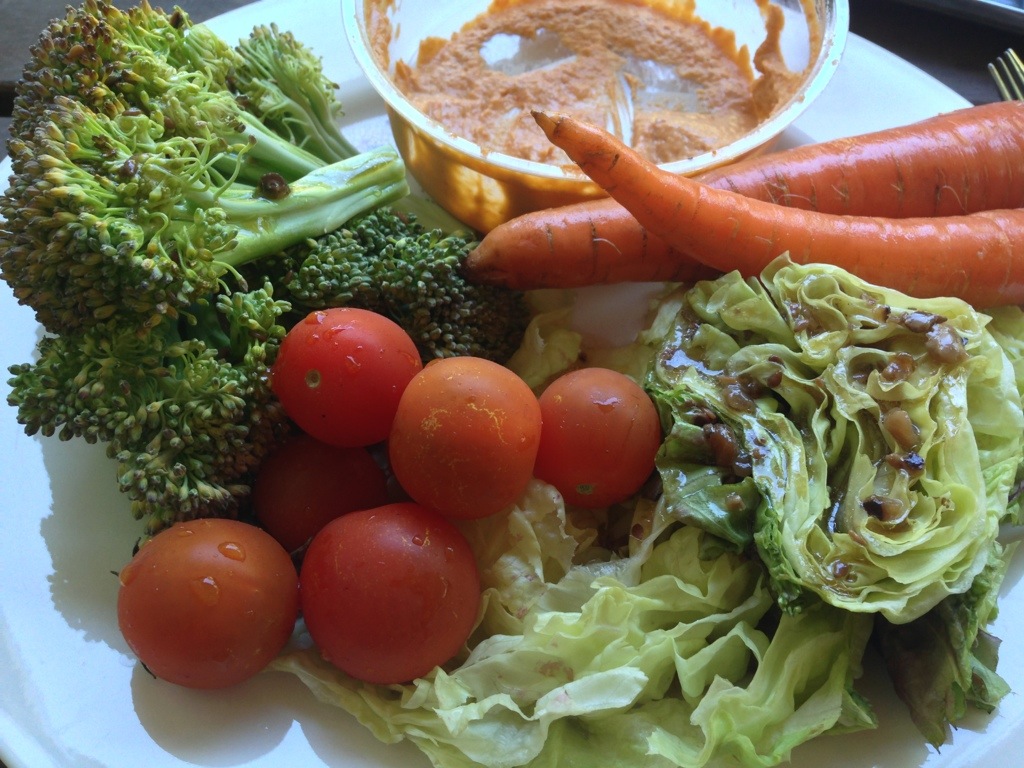 Bounty from the farmer's market
I wouldn't call myself particularly health conscious. My love of cocktails and pie should be beyond question at this point. I also sell fried chicken for a living.
The constant ebb and flow of fad diets and exercise routines in my Facebook newsfeed inspires an internal eye roll on a nearly daily basis. Don't get me wrong, I appreciate a steady workout routine. I happen to love going to the gym, and I am currently getting into long distance cycling. I also am fully cognizant of the temporary nature of these fads that have been so clearly illustrated through status updates and photos.
I started thinking about all of this today as I sat down to eat a plate of local organic salad greens topped with local organic tomatoes and homemade hummus and pesto, the latter of which was made with herbs grown in my own garden.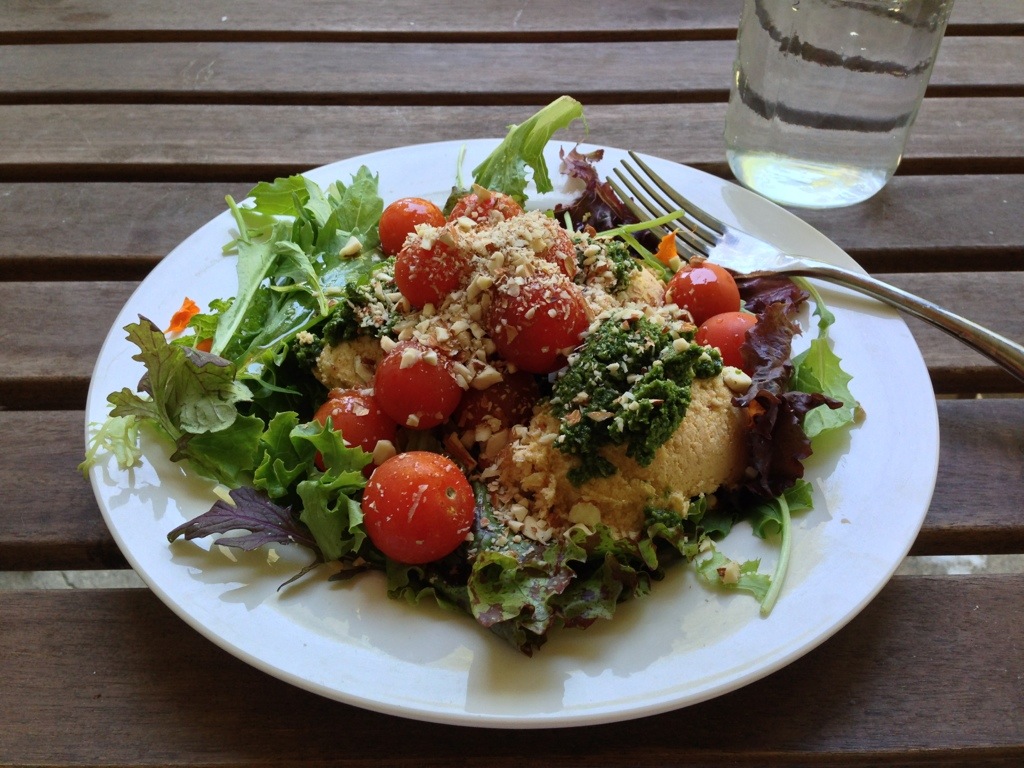 Local spring mix with tomatoes, almonds and homemade hummus and pesto
When I moved to California, I instantly lost ten pounds. I credited it to the fresh air and need to drive to the bars (and not knowing anyone with which to spend time at said bars). Now that I live in Sonoma, I can honestly say I feel the healthiest I've ever remembered feeling. The contents of my daily meals has drastically improved from whatever I was eating two years ago.
For example, I eat vegetables. So what, you say? Well, I've never really liked vegetables. Some people talk about craving a big plate of leafy greens. I talk about how crazy those people are. I also eat a lot of fruit, something that usually did not appeal to me because the fruit sold in most grocery stores doesn't really taste like anything and has a terrible texture. I don't regularly eat meat anymore, and except for what I sell, I have just about stopped eating processed sugar and flour altogether (and even then I bake with organic flour and sugar). I'd even say a gross majority of the food I eat is organic.
All of these things fall into a number of the fad diets I chastised above. At various points in my life, I think I even consciously tried to adopt some of these principles but never followed through. Yet, somehow here I am eating homemade organic granola and local berries for breakfast and couldn't feel more satisfied.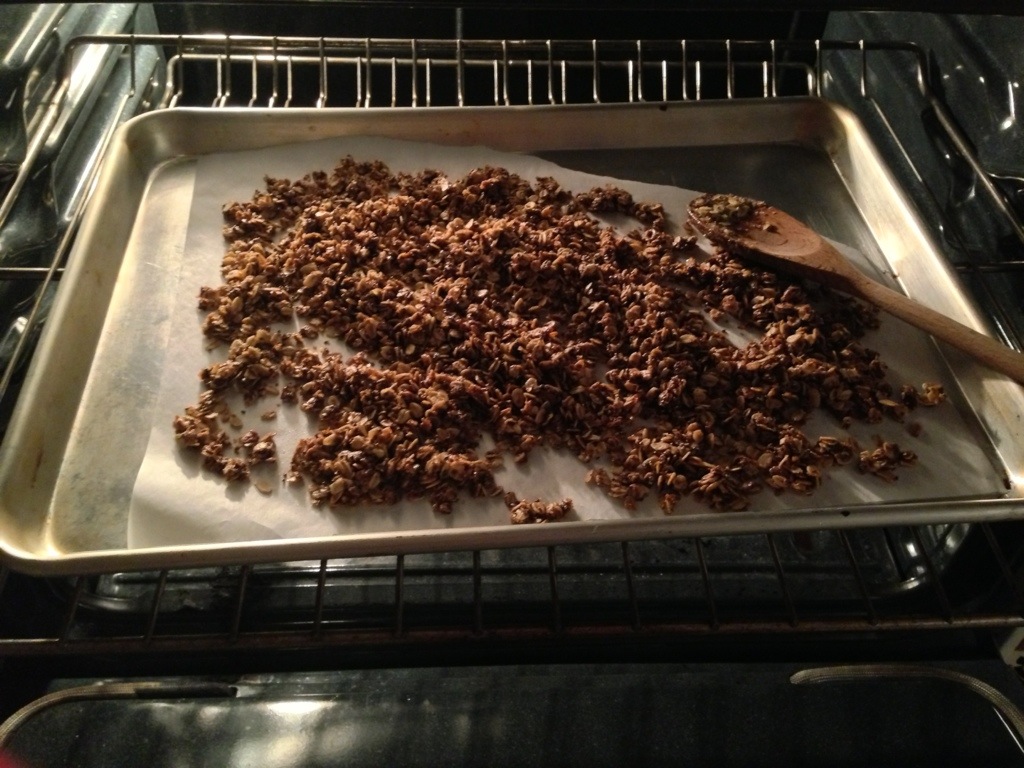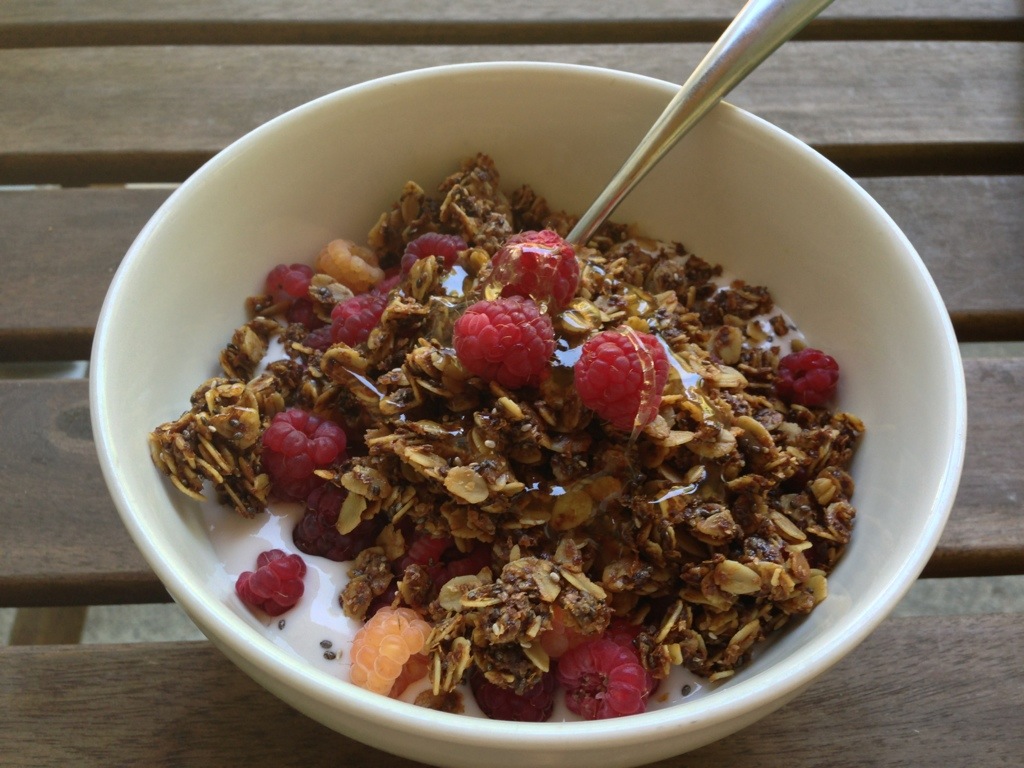 First batch of homemade granola… so much cheaper to make at home!
So what gives?
The difference, and the reason I even bring this up, is the motivations behind not the food consumption but the food purchases.
Specifically, these motivations are my concern for and support of the local community and economy and the effect certain agricultural practices have on both a global and personal health level. I'm not going to go into these things in detail. They are all complex issues with no real consensus.
Suffice it to say, and without diving too deep, these are beliefs that I hold that are fundamental to my identity as a human being on this earth. I'd put this kind of motivation right up there with primal instinct and religion.
The motivation to fit into some societal norm or even to feel better or be stronger can certainly inspire change. But even those things are somewhat amorphous. On the other hand, these social, economic, global and personal health motivations were strong enough to convince me to leave a city that I absolutely adored and start my own business in a town of 20,000 people (and hopefully become mayor of said town one day).
What's the point of all of this, you ask, other than sounding like a Northern Californian cliché? The point is, I know a lot of people out there struggle with eating "healthy" (which will mean different things to different people).
For me, once I made the conscious decision to buy local and organic (or otherwise responsibly farmed) and to start preparing more food at home, the rest took care of itself. I never thought to limit my meat or processed flour consumption (which probably would not have been successful because I really really really like cookies). It just happened without me even noticing. As an added level of inspiration, I find eating homemade and home grown food to be exceptionally gratifying. The most exciting radish I've eaten so far is the one I pulled out of the dirt myself and rinsed with a garden hose.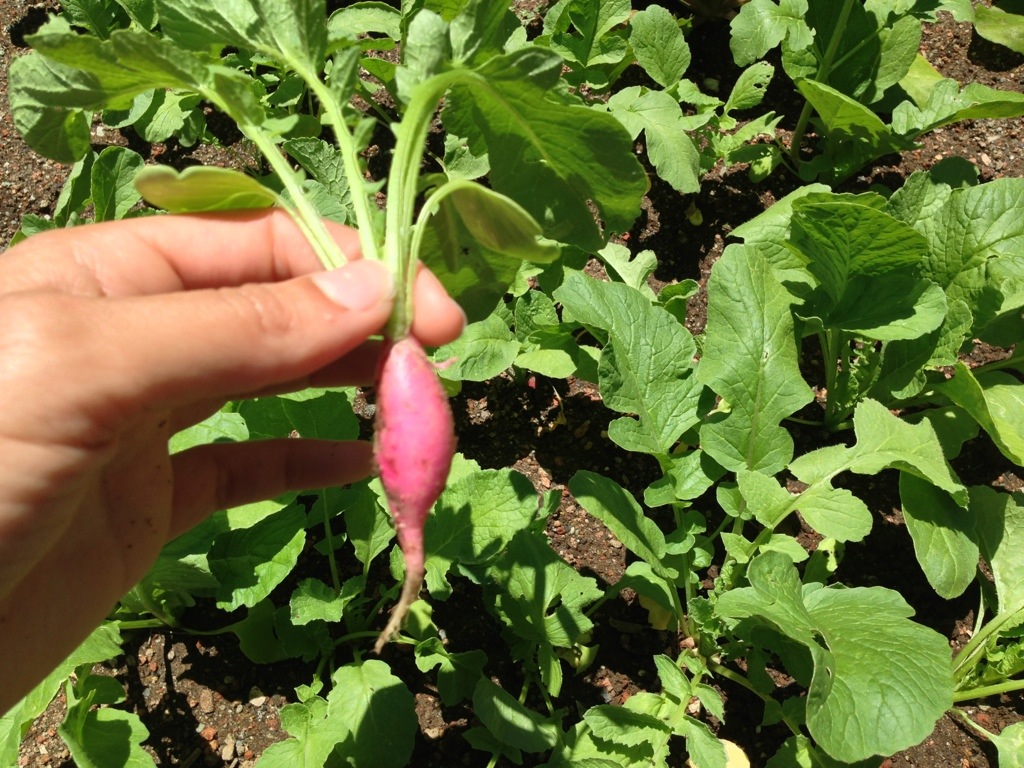 First pick from the garden
In my experience, the moment I tell myself I can't have something is the moment that thing is the only thing I can think about. Had I cut myself off from beef, I would be dreaming of hamburgers and boeuf bourguignon. On the other hand, now that I'm trying to stick to locally sourced and responsibly raised meat, my beef consumption is limited by both price and availability. That is not to say I wouldn't take a trip to Peter Luger in a second if I could. Mmmm….Porterhouse for two.
Anyway, if you are struggling to eat healthier, perhaps you should reconsider your motivation.
Thanks for reading…. Now let me brag about my garden :-)
This is a photo of my garden at the very beginning (note self-installed automated irrigation):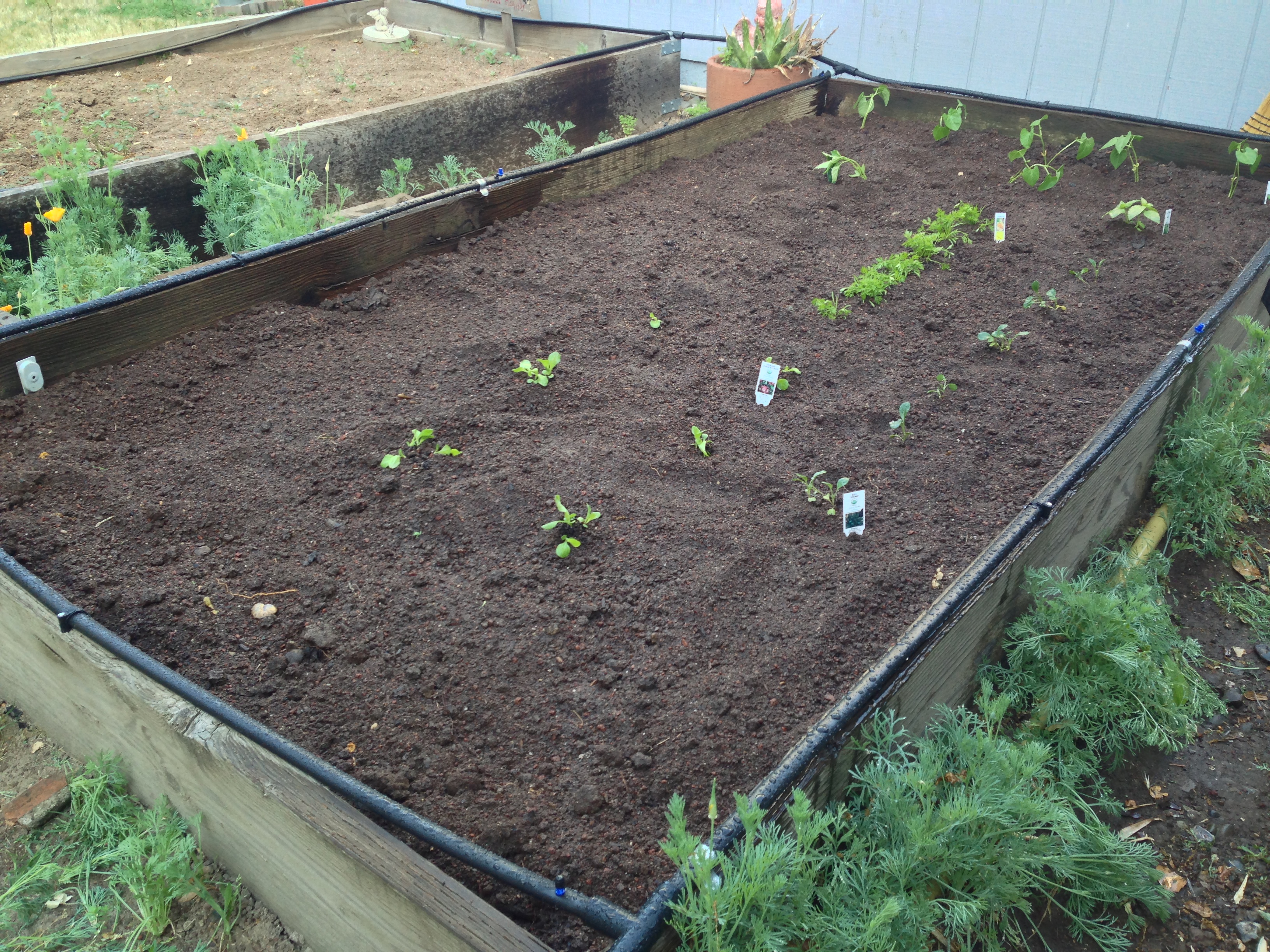 And here it is today!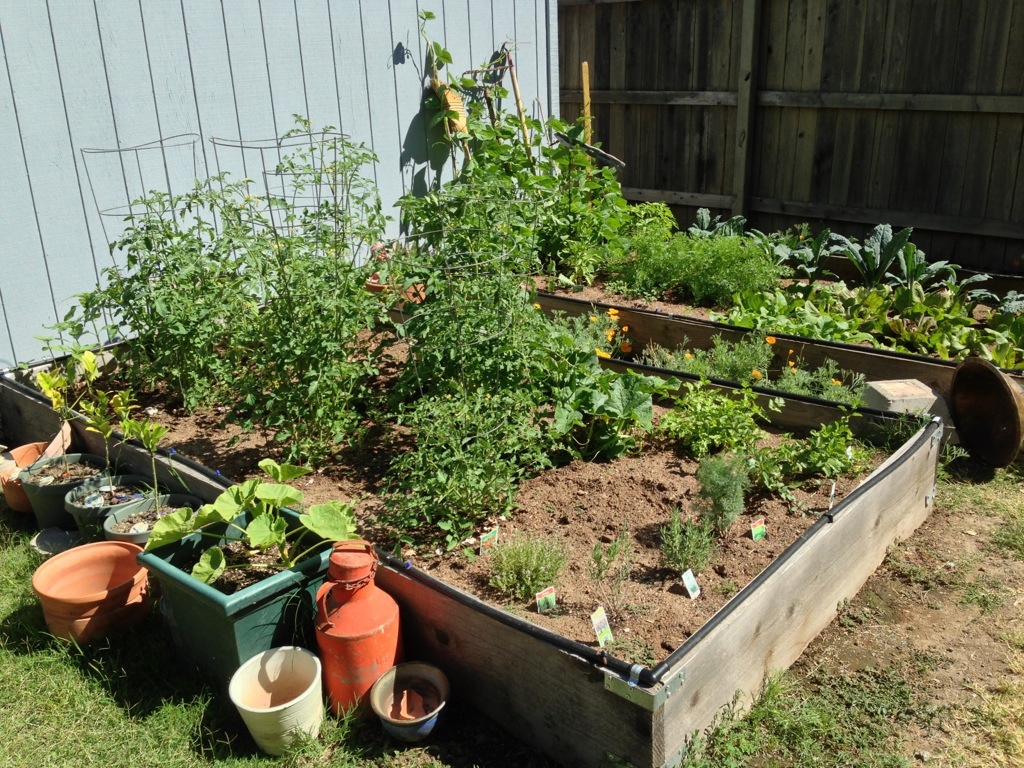 May 14th, 2012 | Rachel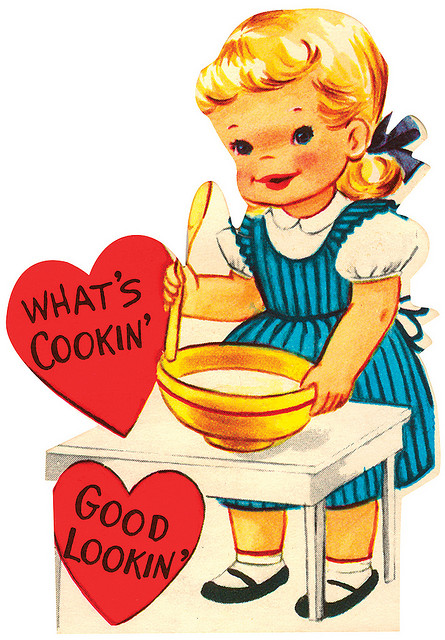 Oh dear.  I don't know how I could miss an anniversary as significant as that of my first blog post.  Please accept my sincere apologies and know how much I appreciate you for joining me on this journey.
I had toyed with the idea of having a blog for several years.  My fledgling culinary efforts were being documented on Facebook, but I wanted something that could reach a wider audience and be better archived for posterity.
The question, then, was what to call it?
I had been growing increasingly dissatisfied with my job at the law firm, and the vision of running a bed & breakfast in French wine country was slowly diverting my already-established career path as an attorney.  I was taking French classes and attending a lot of one-off wine classes.  I was currently reading Julia Child's memoir, "My Life In France," which had inspired me to request a copy of "Mastering The Art of French Cooking" as a late Christmas present from my parents.  Steve and I were were two months away from our heavenly two-week road trip around France and had started discussing possible routes and sites to see.
I had spent three amazing and life changing years in New York City, the Center of the Universe, but at that moment, I was certain my destiny was pulling me somewhere else.  I was having visions of sunlit fields and fresh air and vineyards and dusty old chateaus and country roads.  I felt drawn to a people who were less concerned with deadlines and money and status and running themselves ragged and more focused on quality of life and community.
And then it hit me… I'd rather be in France.
At first it was a very literal statement.  I love France.  I love the food.  I love the language.  I love the wine.  I love the geography and history and even the stereotypical snooty attitude.  I still think running a bed & breakfast in a small town outside of Bordeaux would be absolute heaven.
After my first trip to California last July, however, "France" turned out to be something bigger.  Today, in the context of this blog and my life, "France" represents the life I want to live.  It represents my priorities and realizations of the things that make me happy and fulfilled — and it represents actually doing those things.
Maybe one day I'll return to the original intention of this blog, which was to write about my love of French culture in the context of my Southern, New Yorker and now Californian life.  To this day, the most continuously popular blog entry is the snippet I wrote about the movie Amelie back when this blog was just getting started and I didn't know what else to write about.
So thanks for coming along with me this far.  It is my hope that my journey to "France" will inspire you to take inventory of what is meaningful and fulfilling in your own lives and make those things a priority.
Happy Anniversary!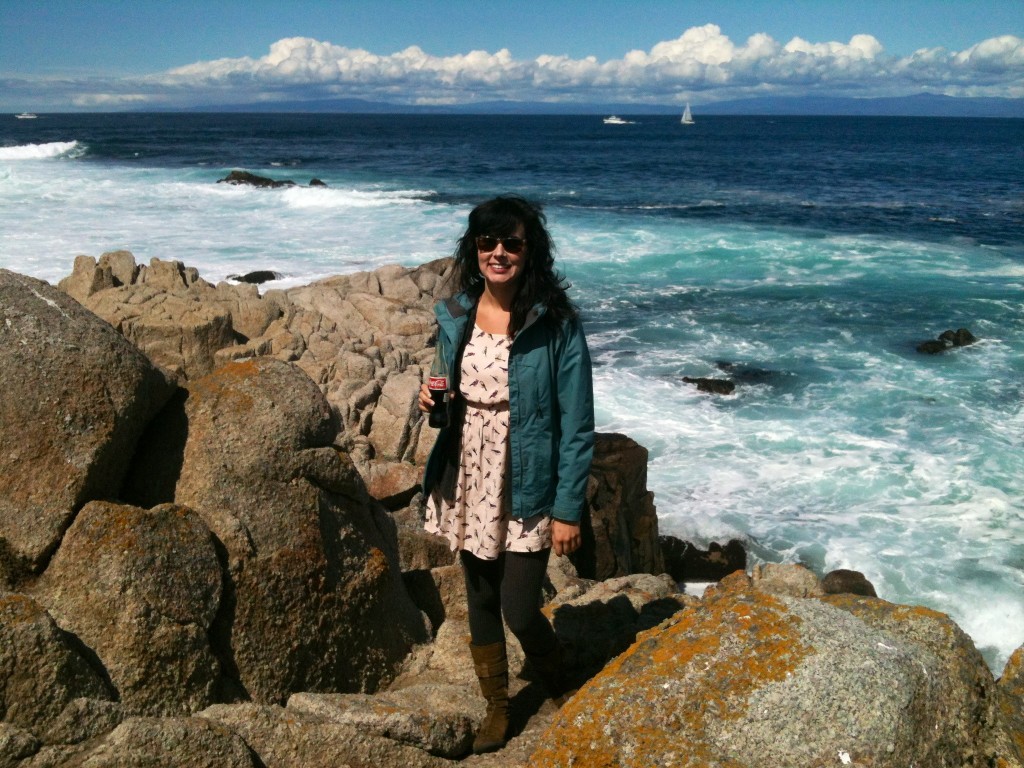 Exploring Pacific Grove, California (outside Monterey) with Steve
May 2nd, 2012 | Rachel
Today's post is more of a poll.  Please feel free to contribute your answer in the comments.
Looking back at my own brief life so far, my choices in location have almost always been inspired by external influences.  I first lived in South Carolina and Alabama (and South Carolina, again) because of my parents (who were influenced in large part by both my dad's jobs and the locations of my grandparents).
As a somewhat autonomous high school graduate, I chose to live in Athens, Georgia to attend the University of Georgia.  That decision was more of a process of elimination.  I didn't want to go to school in South Carolina, and I didn't want to follow my parents' footsteps at Auburn University in Auburn, Alabama, so I somewhat arbitrarily chose UGA and, consequently, Athens.
I next chose to live in Chapel Hill, North Carolina to study at the University of North Carolina at Chapel Hill School of Law.  That decision was a direct result of the influence of my high school advanced placement government teacher, Jerry Willard, who had attended UNC and often referred to it as "Chapel Hole."  I still consider him to be one of the most influential teacher's I've had, and I attribute my choice in law schools almost solely to him.
During law school, people made it seem like a big deal to do these on-campus interviews for large law firms around the country, so I followed suit and ended up with an offer to work at a firm in New York City.  I had never considered living in New York, but the prospect seemed exciting and it was a pretty good job, so that is where I moved next.
In case you haven't been keeping track, my influences for moving so far have been: family, school, school, work.  I suspect those are by far the three most common answers to my poll.
The decision to move to California was completely different.  There were no job offers waiting, and I have enough degrees and student loans as it is.  I also don't have any family west of Texas.
Without diving too much into the question of vocation (which will be a poll for another day), this time the considerations for my next physical home were based on factors such as: proximity to wine country, proximity to a large city, proximity to state and national parks, cultural diversity, proximity to academic community, population size, proximity to food sources, community attitude regarding the local economy, weather and general level of quirkiness.  Eventually I added proximity to water as a major consideration, mostly due to Steve's lobbying efforts.  I should also add "long-held stereotypes about the west coast," because I've always thought I would fit in on the west coast even though I had never been there.
The idea to move to California actually started off as an idea to move to France (hence the name of this blog).  France was presenting itself to be more of a logistical challenge, particularly in light of wanting to open a business, and Steve isn't quite the Francophile that I am.  It was on a mother-daughter trip to Napa and Sonoma that I first felt this deep connection between California and everything I loved about France (minus the romance language and affinity for butter).  It was an immediate, obvious choice, and the factors I listed above were then used to pinpoint a town within this huge state.
It is funny to think about because a majority of the people I have met in Santa Cruz are there either for school or because that is where they've always lived.  Would they choose to live here independently?  If they truly considered the world of possibilities, where would they live?  Where would you live, and why don't you live there now?
March 4th, 2012 | Rachel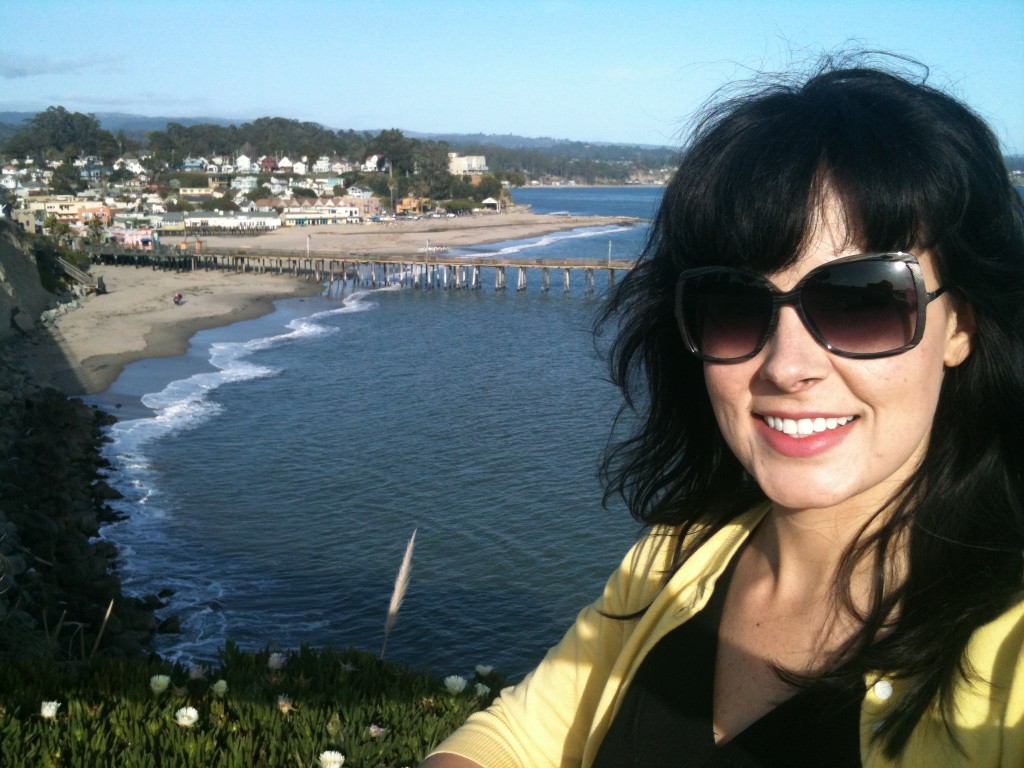 My new home: Capitola, California
After a truly epic cross-country drive, we finally arrived in sunny Santa Cruz County, California.  I say "county" because we stayed in hotel in Scott's Valley the first night and found an apartment in quiet Capitola the next day.
Capitola is a tiny town covering about two square miles between Santa Cruz and another town called Aptos.  Because all of the towns along Monterey Bay run together, you never really feel like you leaving one and entering another.  Despite this close proximity, the people in these communities still maintain a rather surprising sense of loyalty to where they live, and they are quick to tell you why their town is better than the others.  For example, Capitola is superior because it doesn't have the morning fog like Aptos or the crime of Santa Cruz (or, as one man put it, the "psychotic panhandlers").  From what I can tell, Capitola is the Mayberry of Monterey Bay.
Anyway, Steve and I got into town the day before Valentine's Day (I'm one of those Everday-is-Valentine's-Day! people, so  we usually don't explicitly celebrate it), and I told Steve that all I wanted for Valentine's Day was a place to live.
Fortunately for us, we met with the property manager in the morning, the paperwork went through smoothly, and we got our keys that afternoon.  That was the first of several nights that would require sleeping on the floor since we didn't have any furniture, but it felt so good to have a "home" again.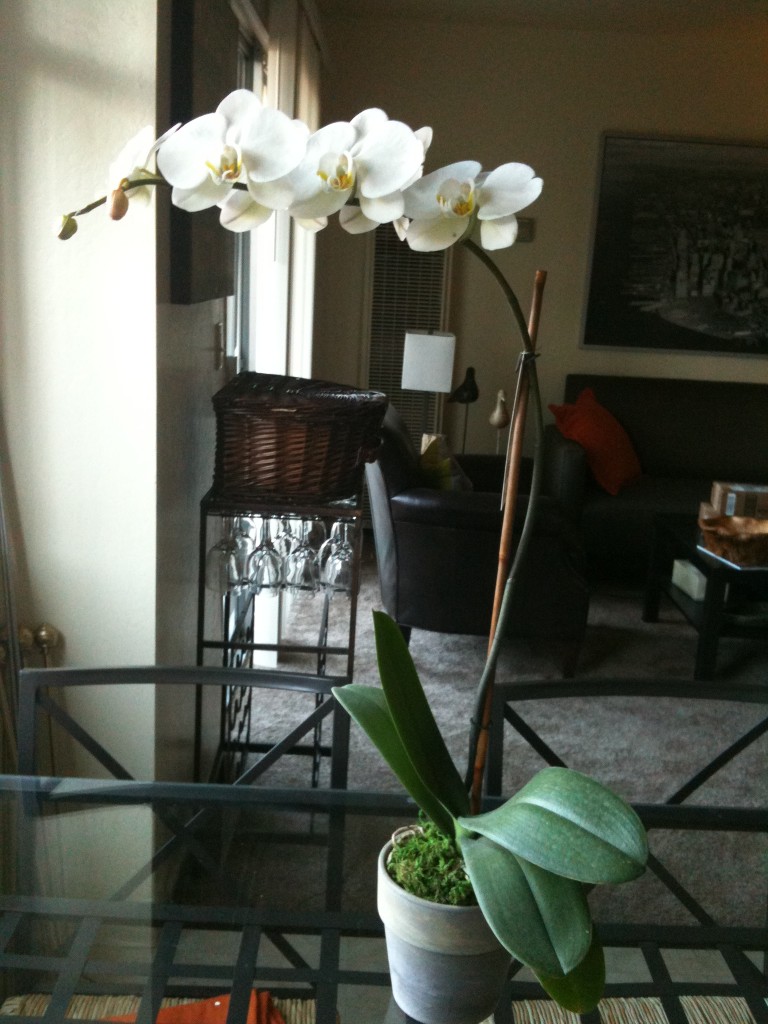 To make the sweet occasion even sweeter, Steve also gave me a cupcake and an orchid.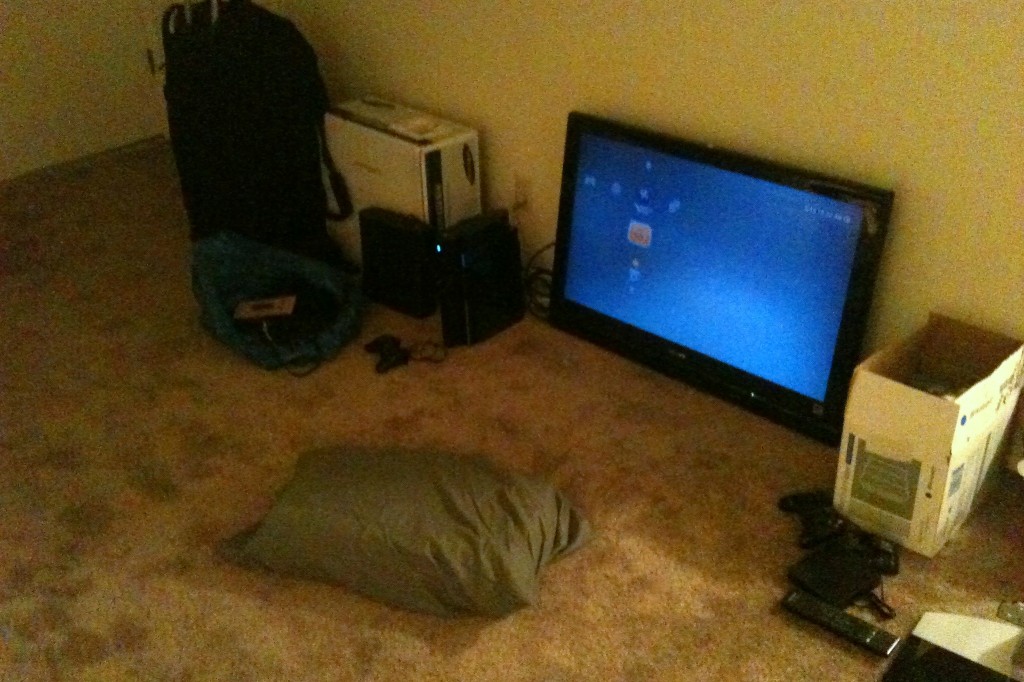 While we waited for the u-Box to arrive, we camped in the living room and watched several movies from the nearby Redbox. The minivan strategically contained, among other things, my tv, Steve's game systems, our sleeping bags and pads, and our clothes.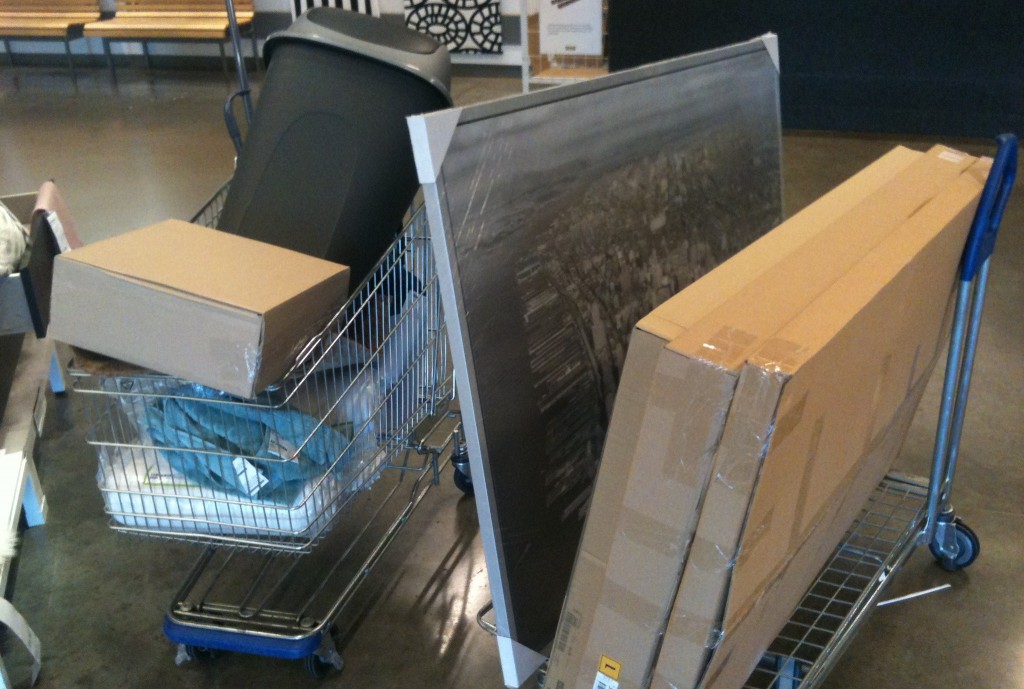 The first of two trips to Ikea (so far!)
While waiting for the u-Box to arrive, we had plenty of time to start exploring the area and stock up on boring stuff like cleaning supplies and groceries.  One afternoon we drove over to one of the popular surfing spots in Santa Cruz, Lighthouse Beach, to see what was going on.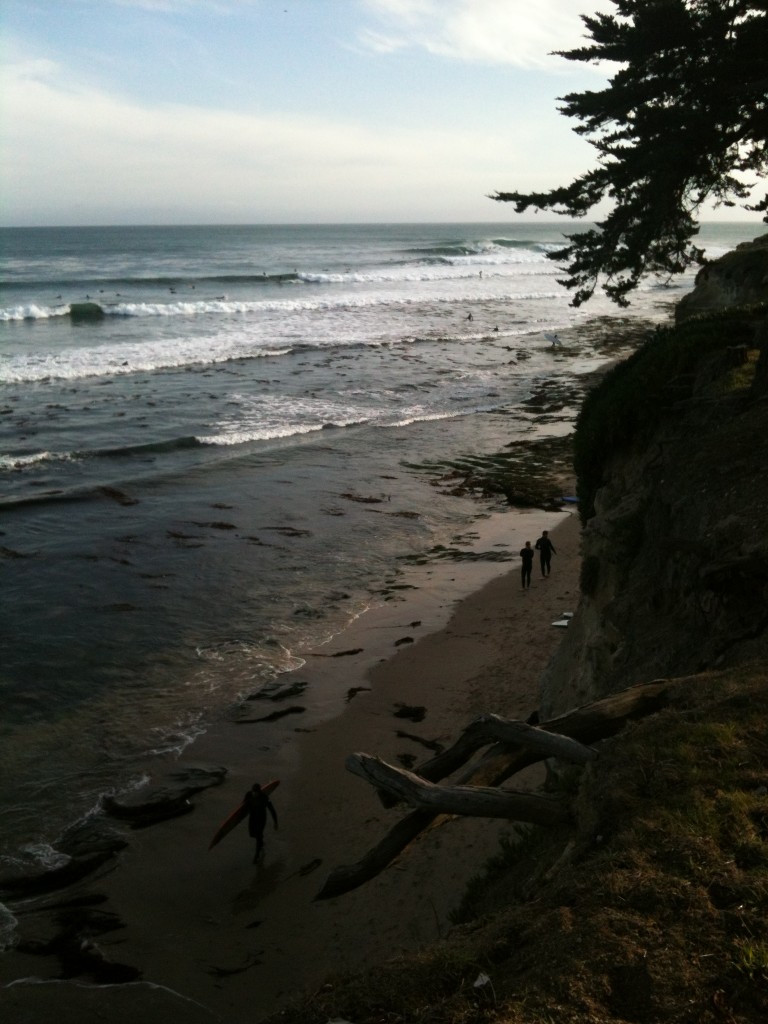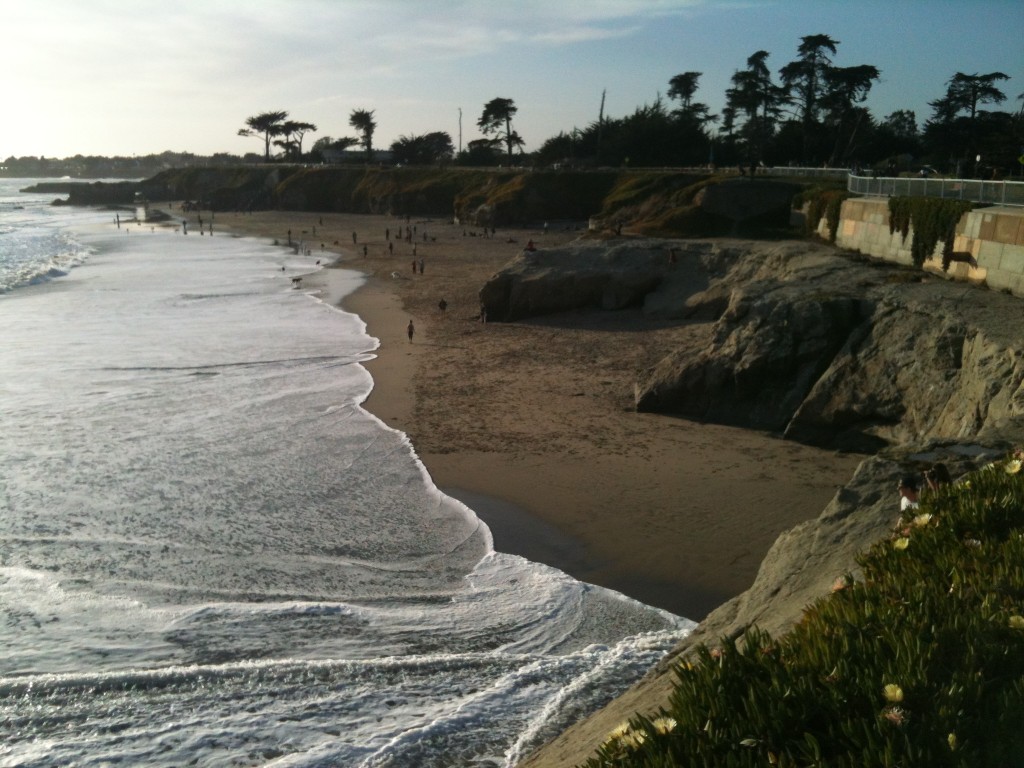 Lighthouse Beach in Santa Cruz (although it appears there aren't any surfers in the water, there were actually hundreds out that day)
When Steve and I were on our scouting trip last fall, we stayed in a bed and breakfast overlooking the bay that was just up the street from this beach.  There was a big surfing competition going on at that time.
There was only one snag in an otherwise seamless experience with the u-Box.  The automated system emailed me to alert me that my box had arrived and I should expect a call from the local u-Haul store in San Jose where it was delivered.  I waited a day to get the call, but since we were running out of time before Steve had to leave, I gave up and called them.  Despite repeated attempts, the store never answered the phone, and I got transferred to a centralized answering service.  That person was very nice and attempted to call the store six times.  The store never answered.  She finally transferred me to a regional office who again tried to contact the local store and, when that failed, called the manager on his cell phone.  The delivery of my box to the San Jose store was confirmed, and I was given the manager's phone number to call and schedule my pick up.  I scheduled it for the next day, and the manager said they would have it ready for me.  When we arrived, it wasn't ready because, the manager admitted, he forgot.  On the bright said, what that location lacked in organization and professionalism they made up in friendliness.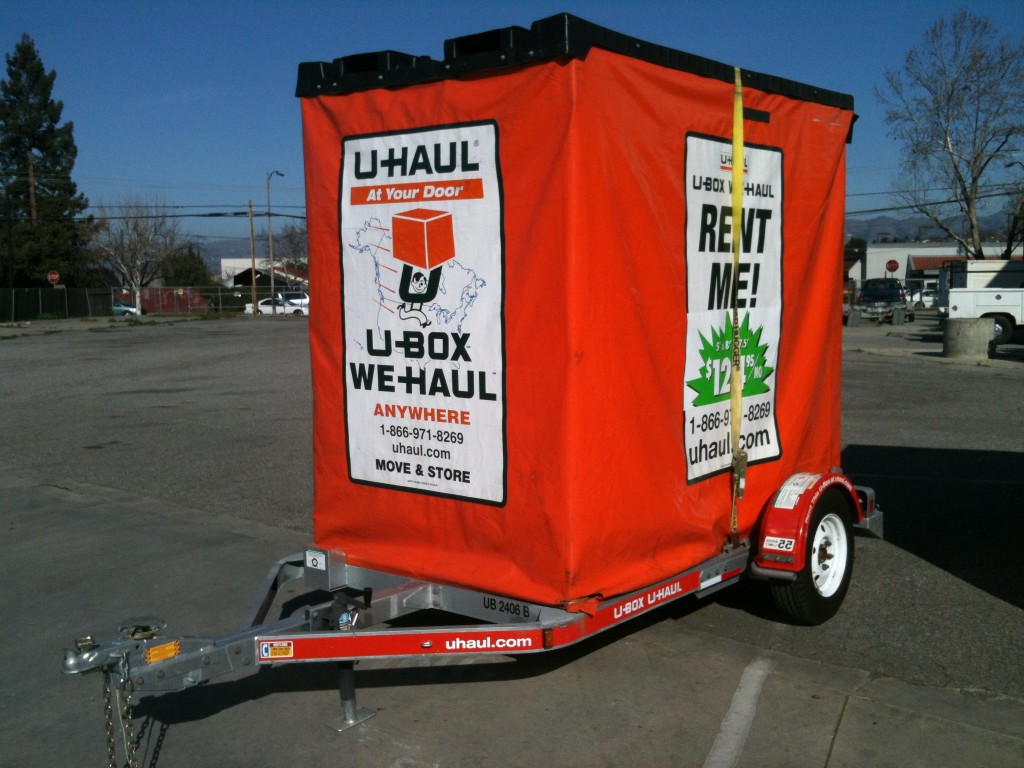 Well, old friend, we meet again
A few hours later, I was sifting through the mountain of boxes while Steve returned the empty box to San Jose.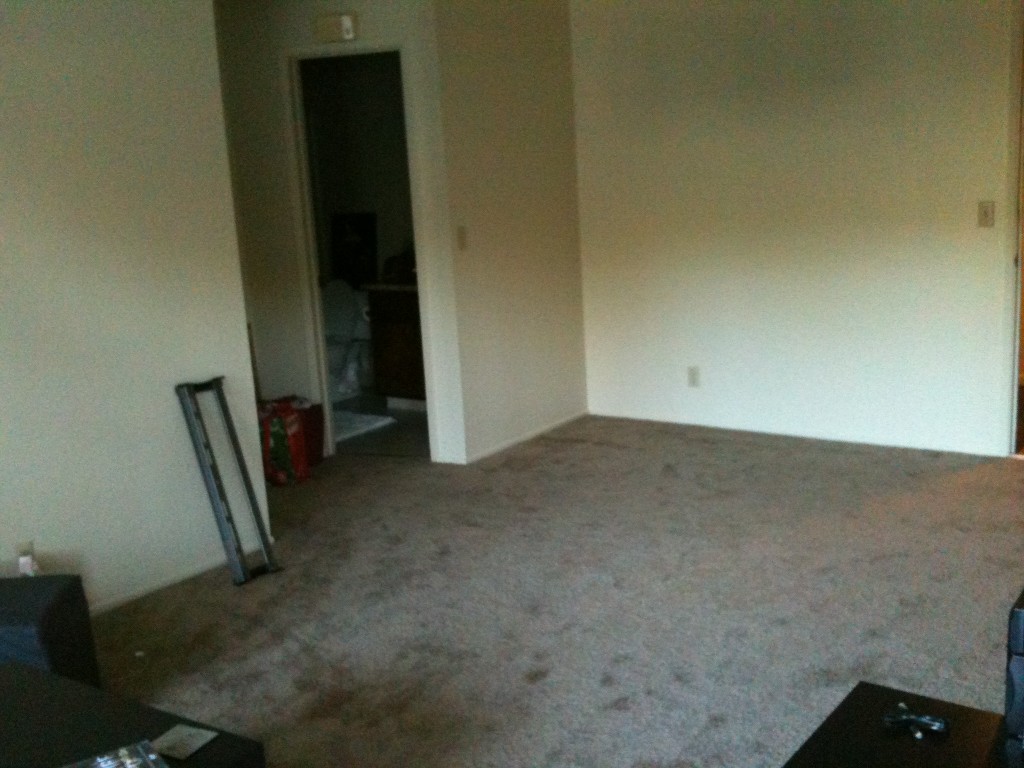 Before the u-Box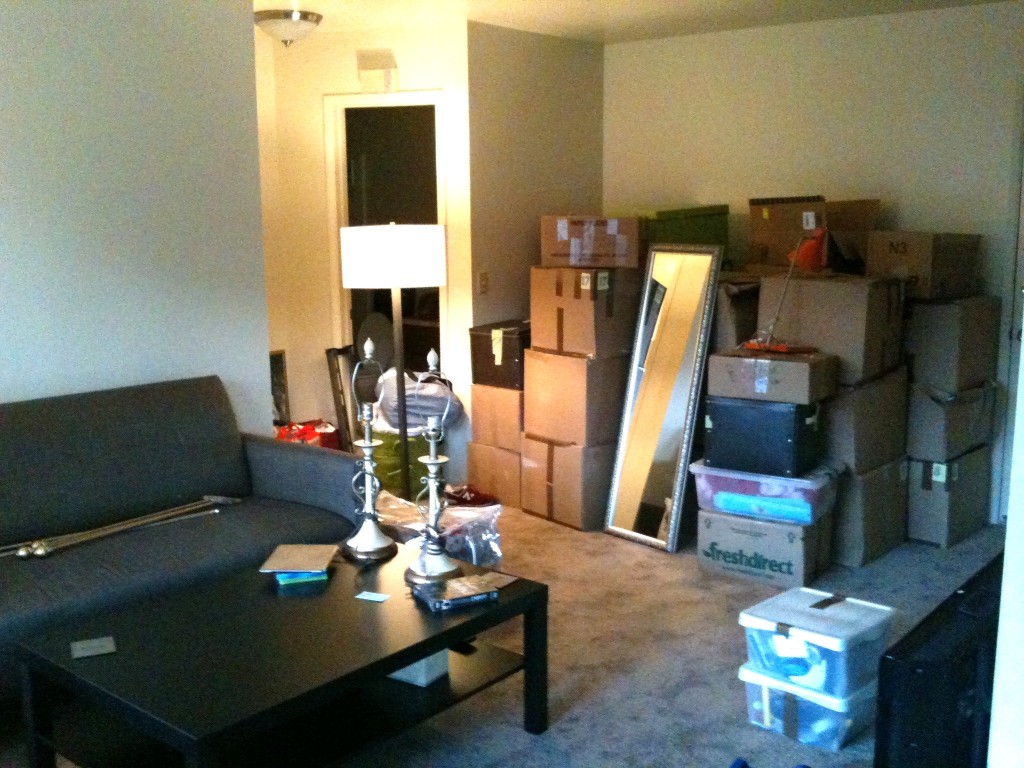 After the u-Box
That was two weeks ago, and I can happily report that all of the boxes have been unpacked or stored out of sight.  We still need to get a tv stand, so I am going to hold off on posting apartment photos.
Now that I've updated you with the physical journey, I'll dedicate the next post to the mental and emotional journey that comes accompanies uprooting an otherwise fulfilling, fabulous, and friend-filled life in New York City and starting anew in an unfamiliar and somewhat arbitrary beach town on the west coast.  Here's a hint: its a roller coaster.
February 27th, 2012 | Rachel
My sincere apologies.  You all were probably wondering if I decided to stay in Houston forever!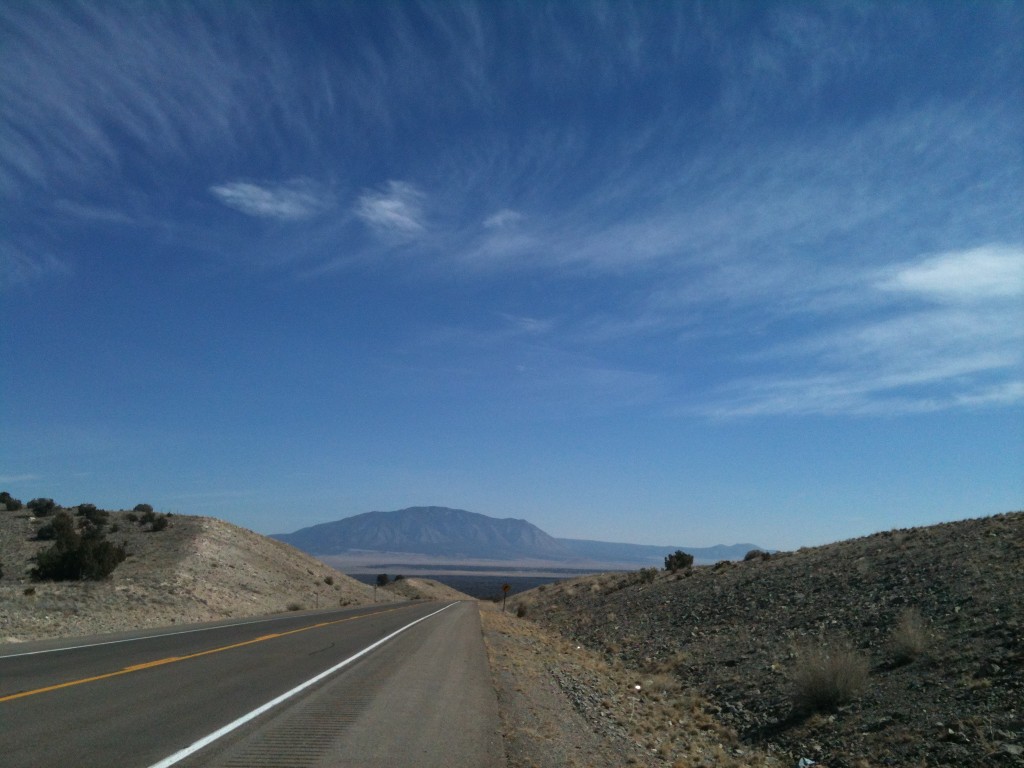 On the road again… (New Mexico)
The drive out of Texas was arduous and comprised our longest day of driving.  This gave Steve and me plenty of time to finish one of our books on CD (because my minivan is still rocking a CD player), John Grisham's The Confession.  Pretty good book, by the way.  Much better than the James Patterson dribble that Steve listened to while we were driving through Arizona.
Our next and completely arbitrary stop was Roswell, New Mexico.  We had no idea what actually was in Roswell, but it sounded like a good idea.  It wasn't until we rolled into town that night and couldn't find anywhere to eat dinner that wasn't a chain restaurant that we began to question our trip strategy.  Fortunately, we stumbled up Billy Ray's and dined on delicious enchiladas.
After a good night's sleep at the Holiday Inn, we headed back into the heart of Roswell in search of extraterrestrials.  We found more than we could have hoped for at The Alien Zone.  We were the first customers in the door so the owner let us in for free, but it would have definitely been worth the $3 admissions fee.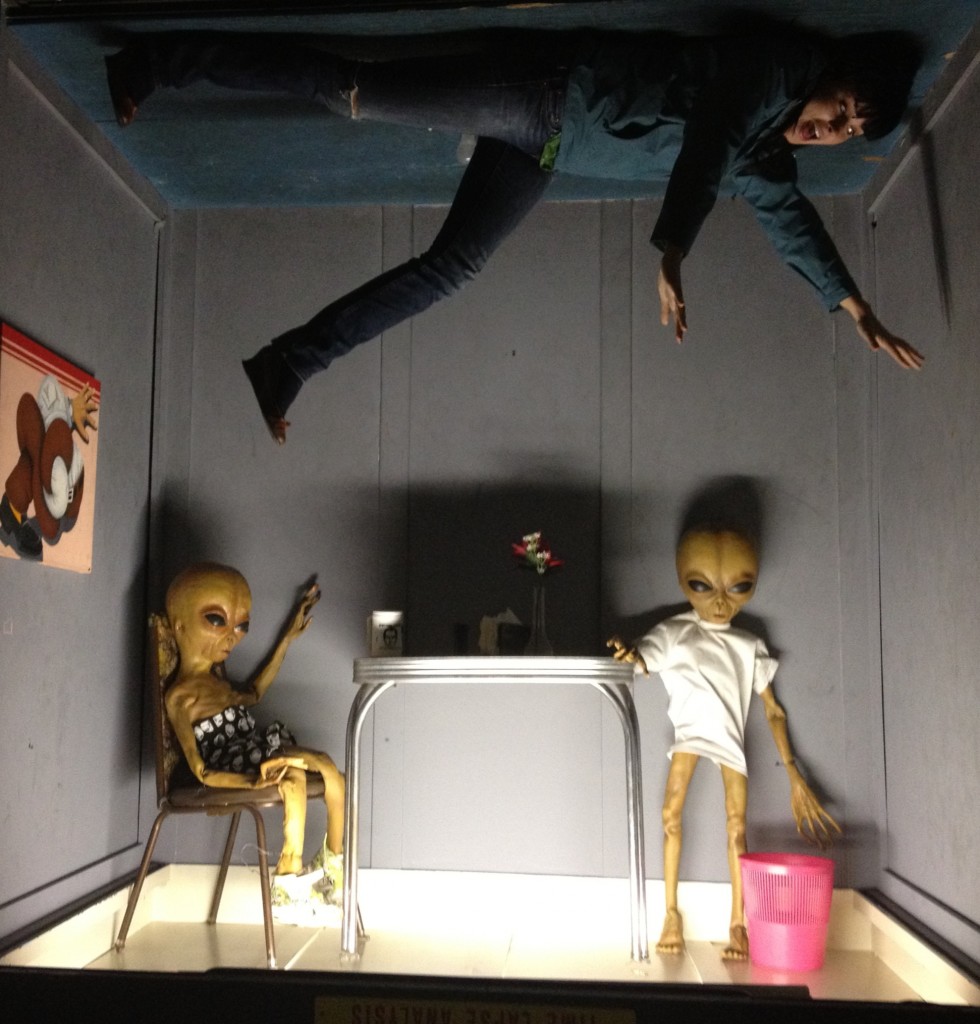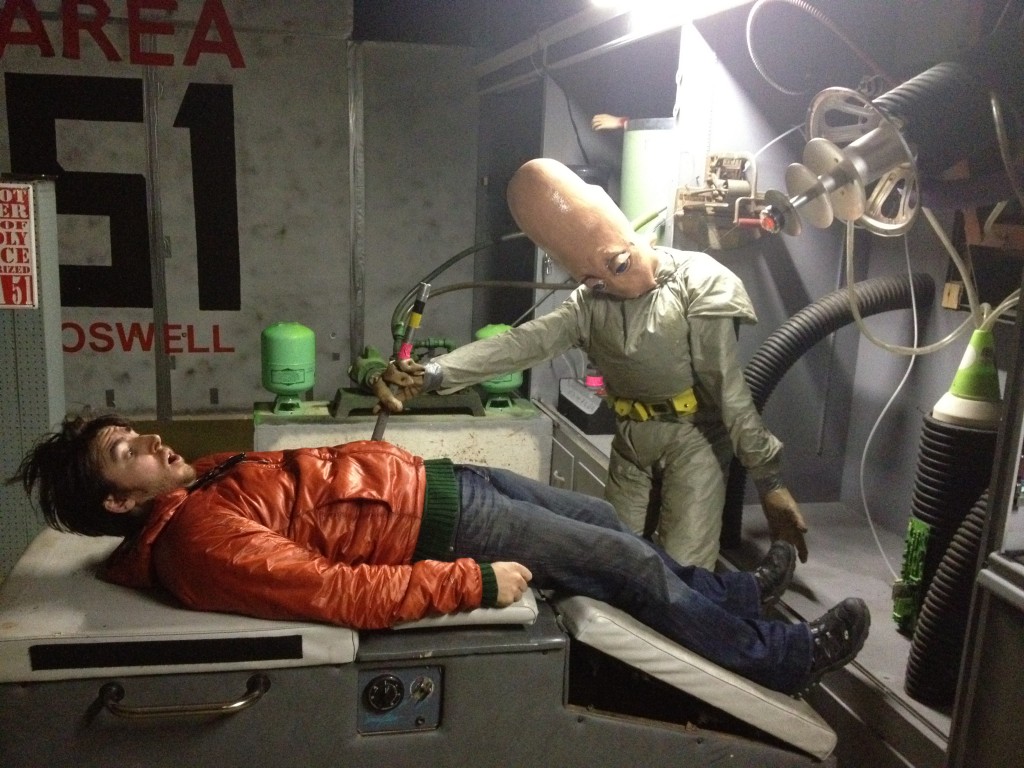 Alien abductions in Roswell, New Mexico
After Roswell, we headed west, stopping in Albuquerque for lunch and a ride on the Sandia Peak Tramway.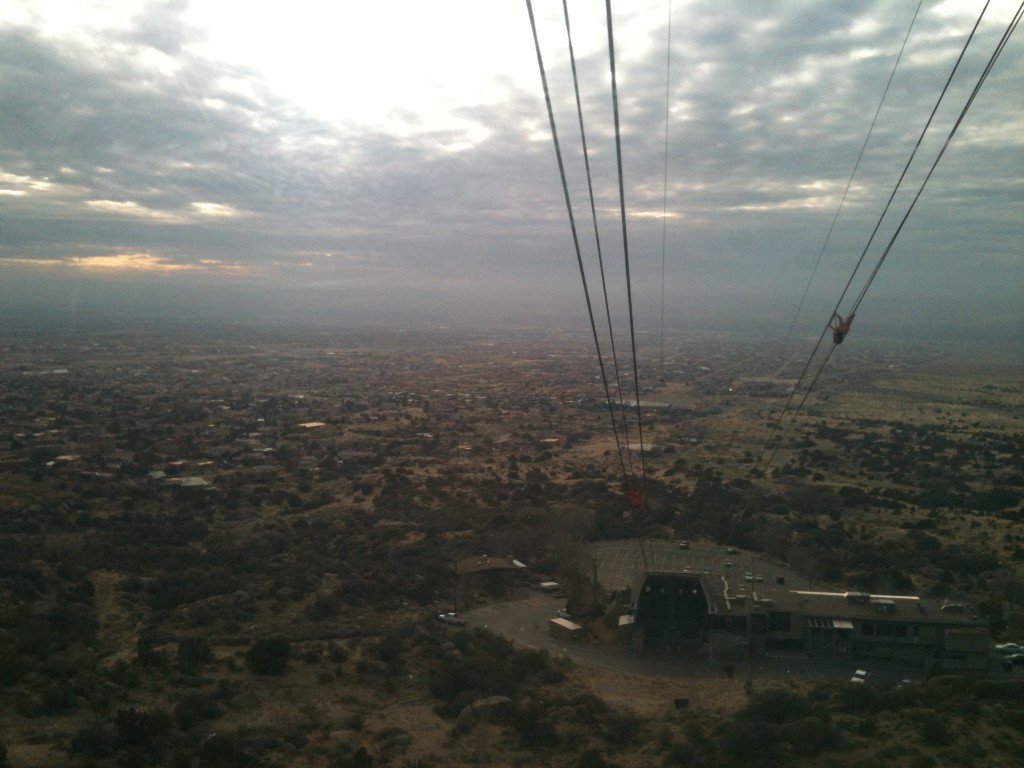 Albuquerque as seen from the Sandia Peak Tramway
We had been hoping to squeeze in the Petrified Forest National Park in Arizona that afternoon, but the distance proved too great and we wouldn't have arrived until after sunset.  We almost passed up on the opportunity to go to that park since we also wanted to see the Grand Canyon, but I looked up a photo of the park while we were driving, and we both agreed the petrified trees and surrounding desert looked too amazing to pass by.
We stopped in Holbrook, Arizona for the night (which turned out to be a remnant of the glory days of Route 66) and then drove to the park the next morning.
Holy geese, it was breathtaking.
But first, before I enchant you with tales of natural beauty and wonder, I must digress to tell you how the day really started.  This might come as a surprise to some, but apparently being within a loving arm's length of another person for ten straight days can result in a build up of unexpressed emotions.  And apparently, when one of the two decides she wants to retrieve her National Park Passport from the over-packed minivan but can't remember which bag or box she put it in and decides to unpack half of the minivan, scattering its contents onto a parking lot in the middle of the Arizona desert and refusing the other person's suggestion of purchasing a second National Park Passport, this might bring some of these unexpressed emotions to the surface.  Throw on top of that the request by one of the two that the other take his negativity elsewhere because she could do a better job packing anyway, and your inevitable result is a disagreement.  The tiff quickly ended when the self-proclaimed superior packer couldn't lift one of the bags she unpacked and was forced to humbly request the assistance of the other person, who sweetly complied.  And that was our one disagreement of the entire trip.
I did find my National Park Passport, by the way.
Anyway, back to the beautiful desert.  I'll give you a peek at the Painted Desert and the Petrified Forest National Park, but these iPhone photos won't do it any justice.  I intend to dedicate a whole post to some of the photos as soon as I get them uploaded from my camera.  As a reminder, you can click on any of these to enlarge.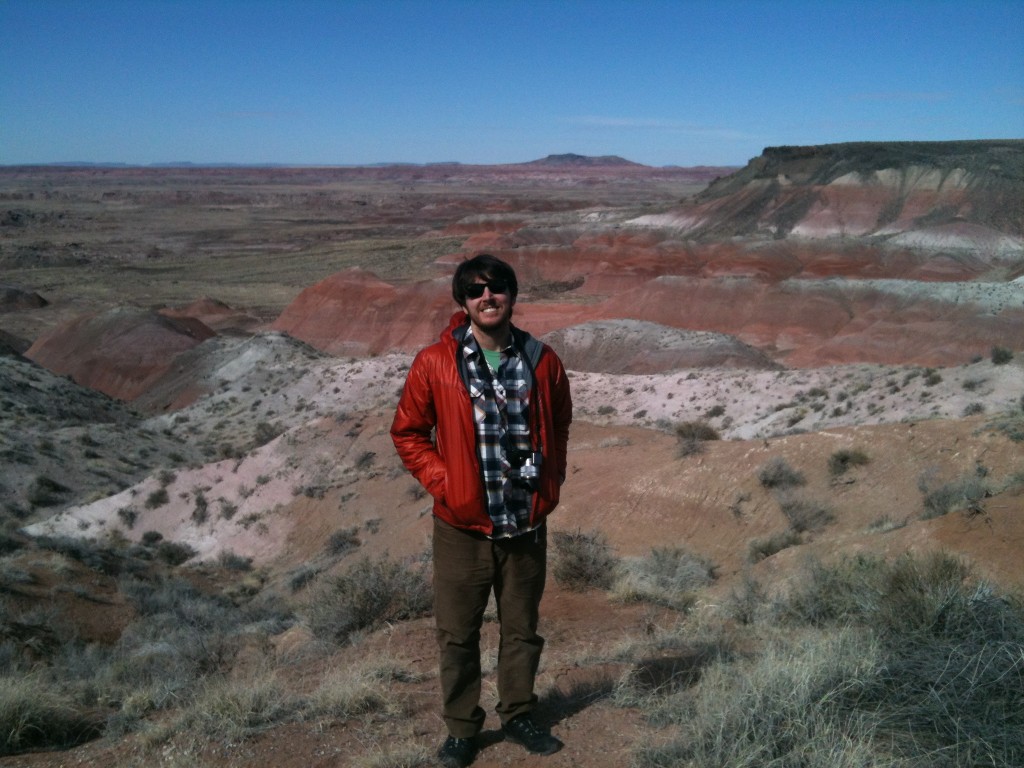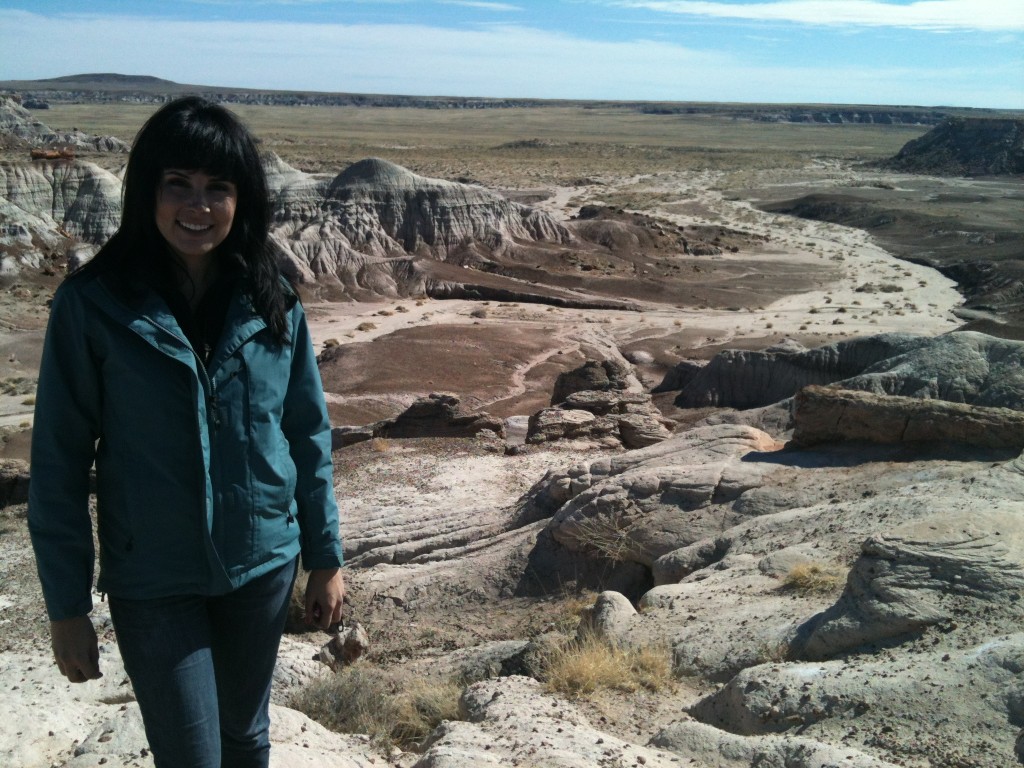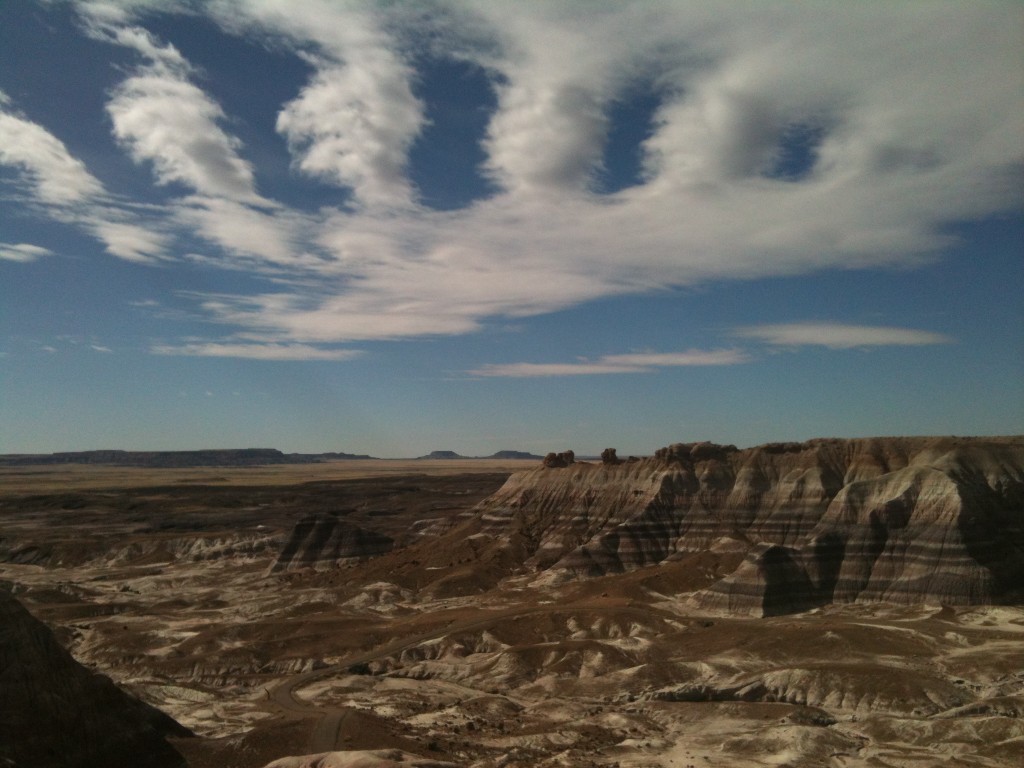 Painted Desert, Petrified Forest National Park
After spending most of the day driving through the park, we stopped back in Holbrook for lunch at Joe & Aggie's Cafe and some browsing at Jim Gray's Petrified Wood Company, which has a great assortment of not only petrified wood but also fossils and other stones.  Steve got a really cool little petrified log that is now sitting on our end table.
That evening, we drove west to the Grand Cayon where we spent a night in the beautiful El Tovar Hotel.  Although the prices there are usually pretty steep, if you call them the night of, you might be able to get their "late night rate" of $100. Perfectly perched on the rim of the Grand Canyon, and with past guests like Einstein and Teddy Roosevelt, the El Tovar Hotel was definitely a highlight of our trip.
Another highlight, the GRAND CANYON!!! *faints in awe*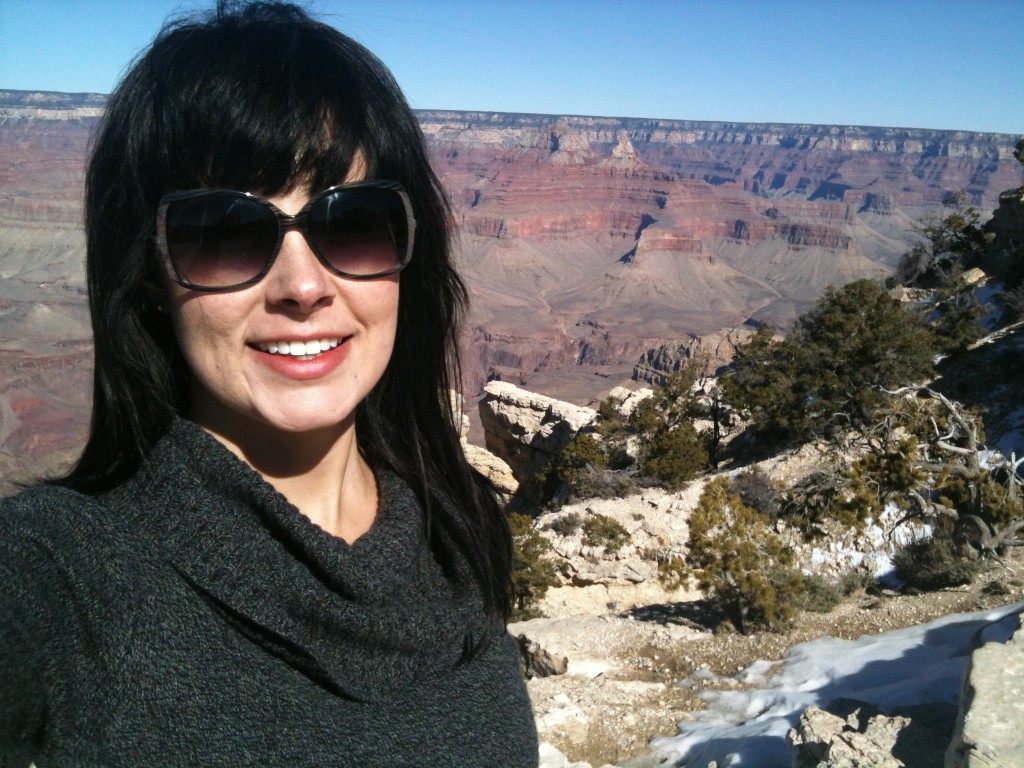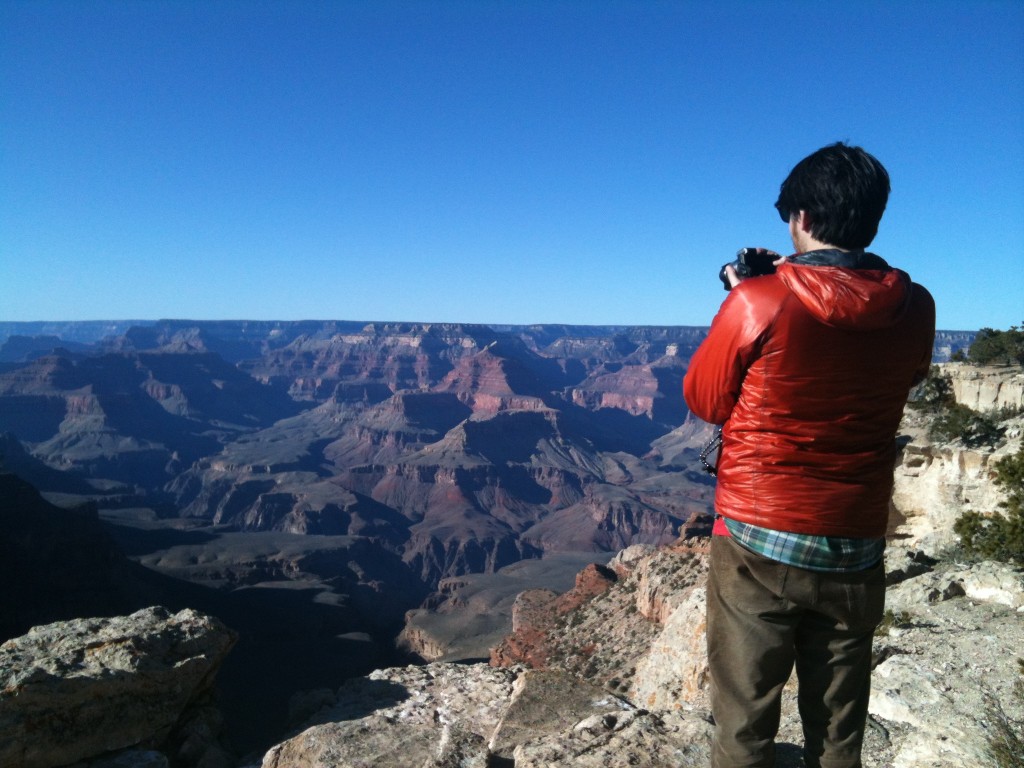 The Grand Canyon
As with the Petrified Forest National Park, I'm only giving you a sneak preview.  I suspect Steve's camera best captured the Grand Canyon, so I will have to wait for him to get back before I can steal his photos.
I will say this: the indescribable beauty of the Painted Desert and the Grand Canyon inspired a surprising and overwhelming sense of patriotic pride.  We in the United States are very blessed to have these natural treasures, and I think we should be very thankful and proud to have them on our soil.  Last year I had the fortune of visiting Yellowstone and Yosemite national parks, and I hope I will get to visit several others this year.  Besides, my National Park Passport needs more stamps.
We hiked and drove up and down the canyon, stopping to take pictures and marvel at the incomprehensible vastness of the canyon.  After the sunset, we got back the minivan and drove to our last stop before California: Las Vegas!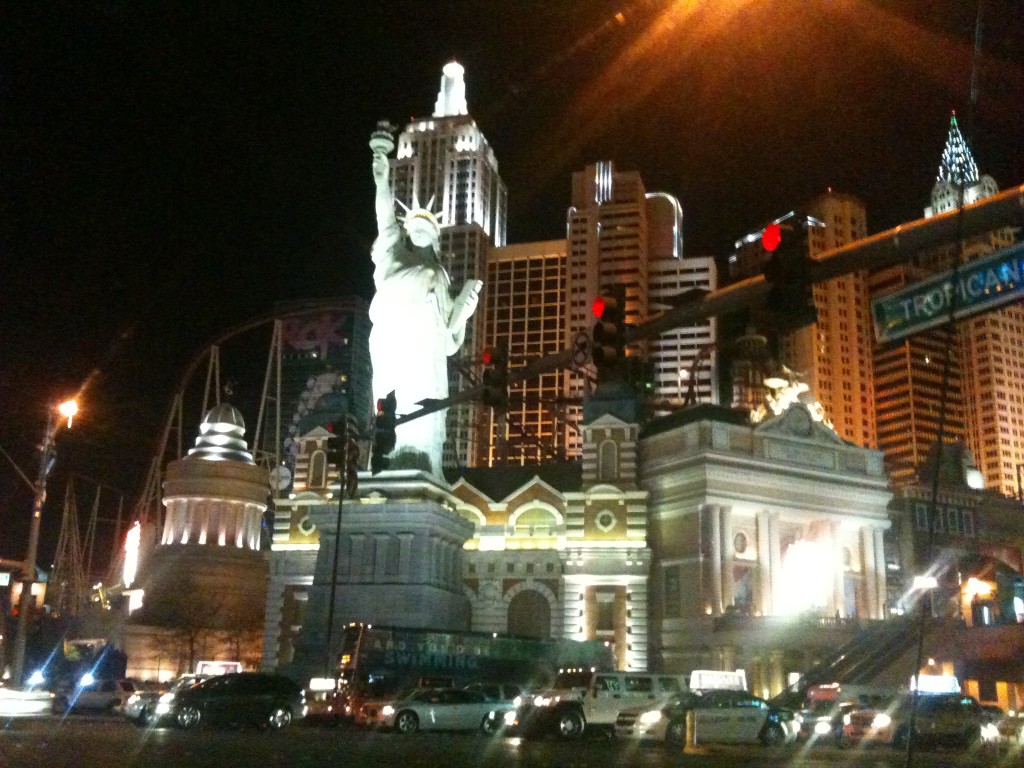 New York New York
I found us a sweet deal at Palms Casino Resort through Hotel Tonight, and we had so much fun the first night that we unanimously voted to stay a second night.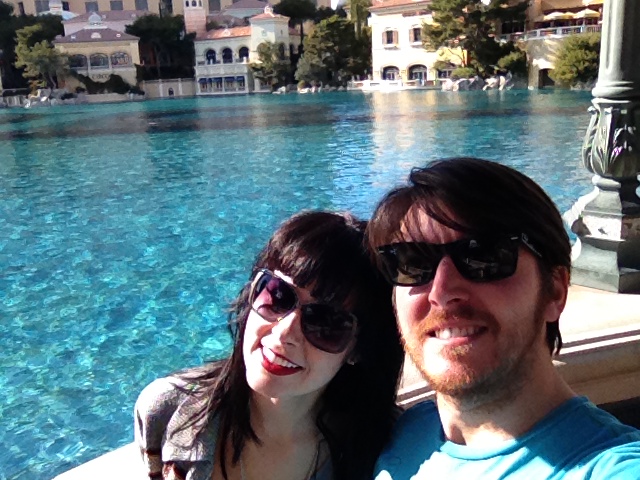 In front of the fountain at the Bellagio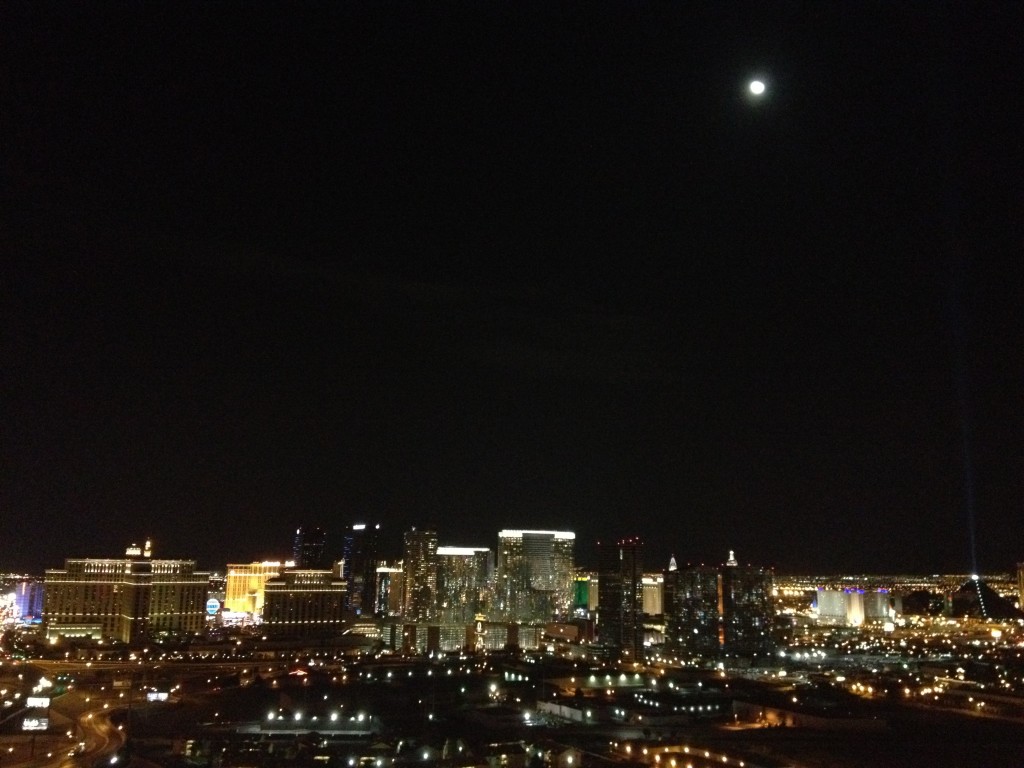 View of the strip from Ghostbar
We explored the strip.  We met up with my friend Laura from New York and saw the "Show In The Sky" at the Rio.  We ate at a casino buffet.  We had a slightly classier dinner at Little Buddha.  We saved ourselves $160 in cover charges by sweet talking our way into some night clubs.  We had some drinks.  We danced.  It was awesome.
I'll save California for another entry.  Just thinking about everything we did during those two weeks is exhausting.
I told Steve before we left that I wanted to make the most of our journey from the east coast to the west coast, and I think we succeeded.  I saw some special people, visited some special places, and made a lot of special memories along the way.  It feels like a proper transition into this new life.  Thanks for staying with me along the journey.