Posts Tagged 'Santa Cruz'
February 8th, 2013 | Rachel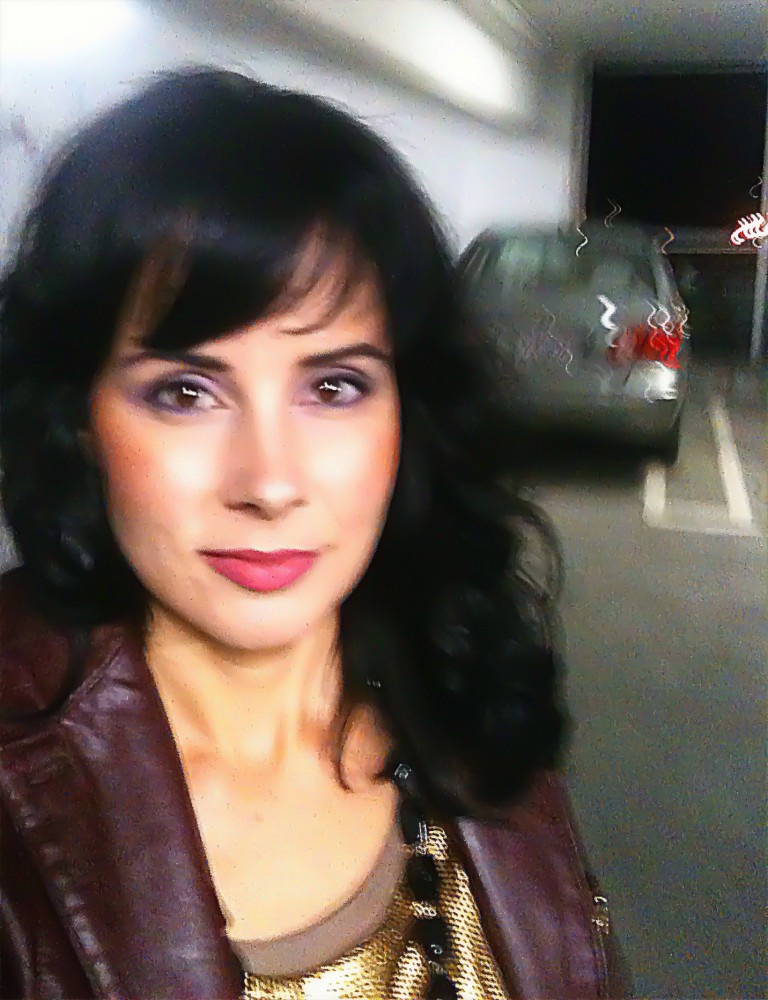 Feeling fantastic after a Birthday Spa Afternoon — I love the color, but I think the cut looks too much like Vivaldi or, perhaps, Howard Stern
Last week was a big week.
Arthur and I officially announced our new business, Drums & Crumbs, a stylish throwback to authentic Southern cookin' made with all-natural, locally sourced ingredients.
I also announced that Steve and I will be moving to beautiful Sonoma, California next month.
I also experienced my first bucket of cold water dumped on my head as a business owner, but I'm afraid I can't discuss it online. I know there will be numerous bumps along the way, so why not start now?
The other huge event of last week was my farewell to my 20s and open-armed welcoming of my 30s!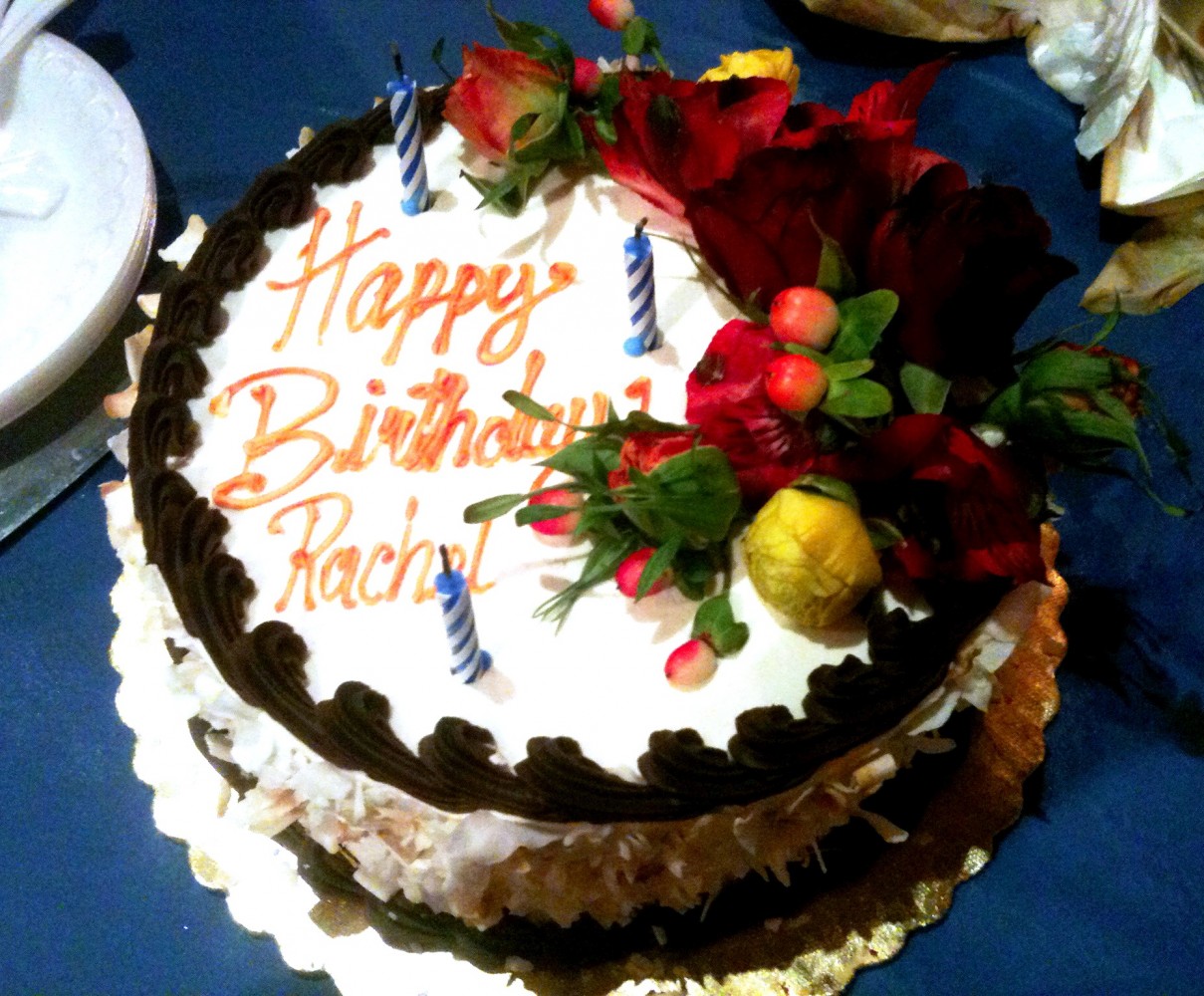 My Breakfast For The Following Week
I was not at my emotional best going into this milestone. I am so consumed with studying for the bar exam at the end of February and getting the new business up and running (and occasionally working my paying job to keep a roof over my head) that there is no time for the grand adventure I always assumed I'd be taking. I was thinking maybe a cruise down to Antarctica or, at the very least, sipping Malbec in Argentina over a steak dinner while people danced the tango around me. I have always declared that I believe in birthdays, and my 30th would be no exception.
Sadly, no time for tango dancers this year. And on top of that, despite having lived here a year, I feel like I barely know anybody.
It's quite a change from my days in New York when Steve and I could celebrate the purchase of a new margarita machine with a healthy crowd of 20. For our last wine and cheese party, we somehow managed to stuff 60 people into our apartment.
Anyone who talked to me in the days prior knows what a sorry pile of marshmallows I was being about the whole situation, especially when I found out Steve wasn't getting back from the ship until late the night of my birthday and would probably miss the whole thing.
The celebrations began the night before when I brought Oreo cheesecake cupcakes and a bottle of champagne to my church group (shhhh…) and drank a second bottle with some cool ladies afterward. The next morning I slept in and rejoiced in the fact that it was my first day off from studying in almost a month. I went into the office for a few hours and had a lovely birthday lunch with my coworkers out on the picnic table because it was such a beautiful day. Then I skipped out earlier for an afternoon at the spa where I had a remarkable massage followed by an equally remarkable facial.
I was walking from the day spa to the salon when I got my unmentionable bad news, and then had the unpleasant and time-consuming drama of ending up with a haircut I didn't like. Perhaps if I hadn't had the bad news I would have been able to fake it long enough to get out of the salon on time, but I couldn't, and the stylist and I found ourselves at an impasse.
The problem is that I was truly spoiled by my hair stylist in New York. I was ready to accept the fact that I had lost a gamble on this particular salon, but the stylist was trying her best to fix the situation. An hour later, I finally convinced her that I wanted to take the 'do out for a test drive to see if I warmed up to it. I didn't. And I still hate it. But lesson learned. And I'm officially a hair snob.
By that time my dinner party had gathered, and I was frazzled because I was wearing a Vera Wang dress and hastily putting on make up in my car. I was also worried about my ragtag group of guests (church friends, old restaurant friends, and Arthur) whose only common denominator was me. As it turned out, those worries were unwarranted because by the time I got to the sushi restaurant (appropriately named I Love Sushi), everyone was bonding over sake and free appetizers. I ranted for a good ten minutes about my hair, and then let it go and had a great time. The owner of the restaurant kept joking that it was my 21st birthday and brought me several free bottles of sake along with a gift of chopsticks (pretty ones… not the plain free ones). And my delightful friends surprised me with a cake from The Buttery.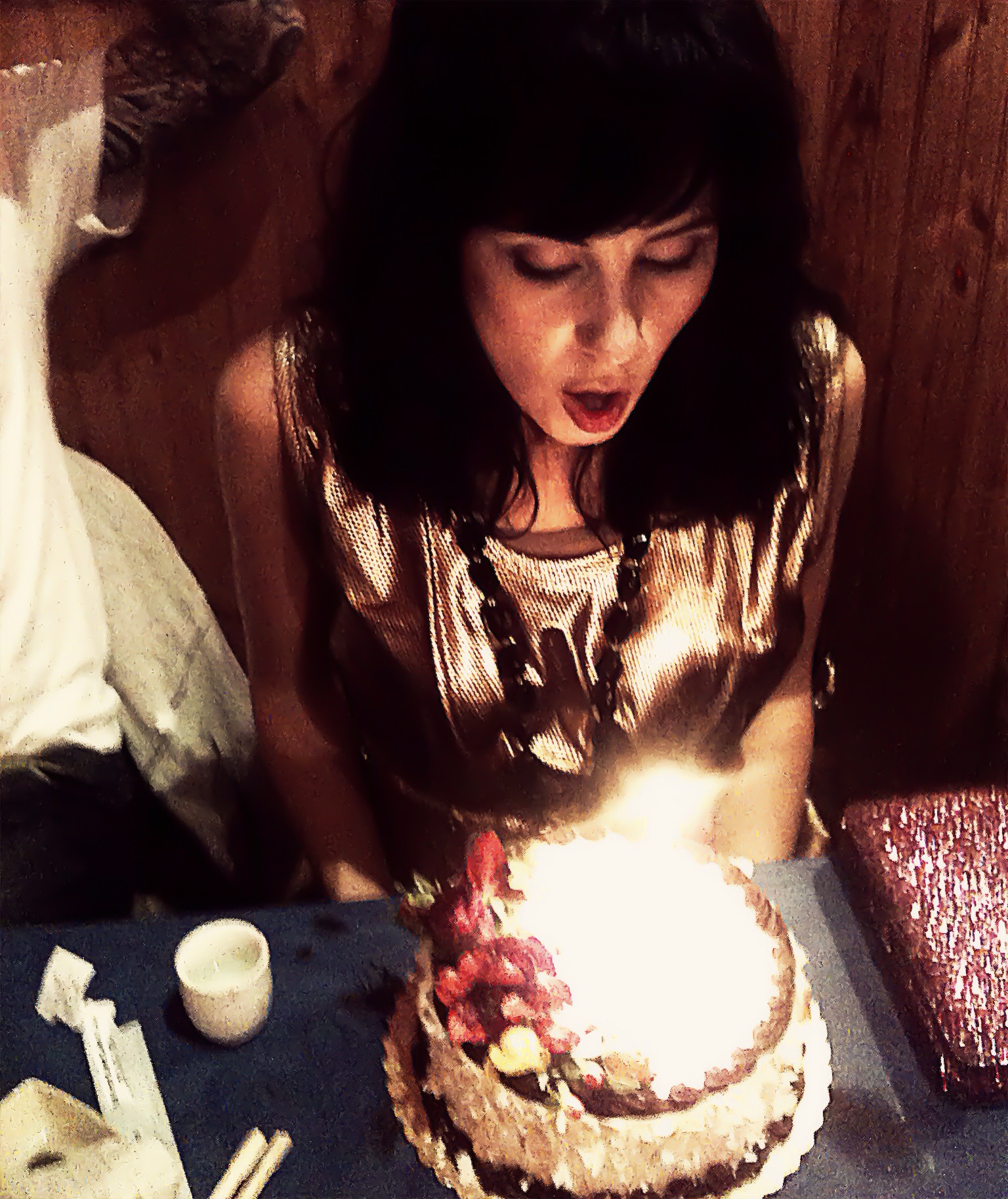 Three Wishes For The Big 3-0
After that we had cocktails at a cool bar, joined by a couple more random friends. And then Steve showed up. :-)
It wasn't the most exotic of birthdays, but it might be one of the more sincere ones I've had. I definitely felt the love.
The next day Steve and I drove up to San Francisco where Arthur and I met with our new graphic designer (!!!). Arthur, Steve and I had greasy burgers for lunch, stopped by some fun little shops, and then Steve and I continued northward to Sonoma.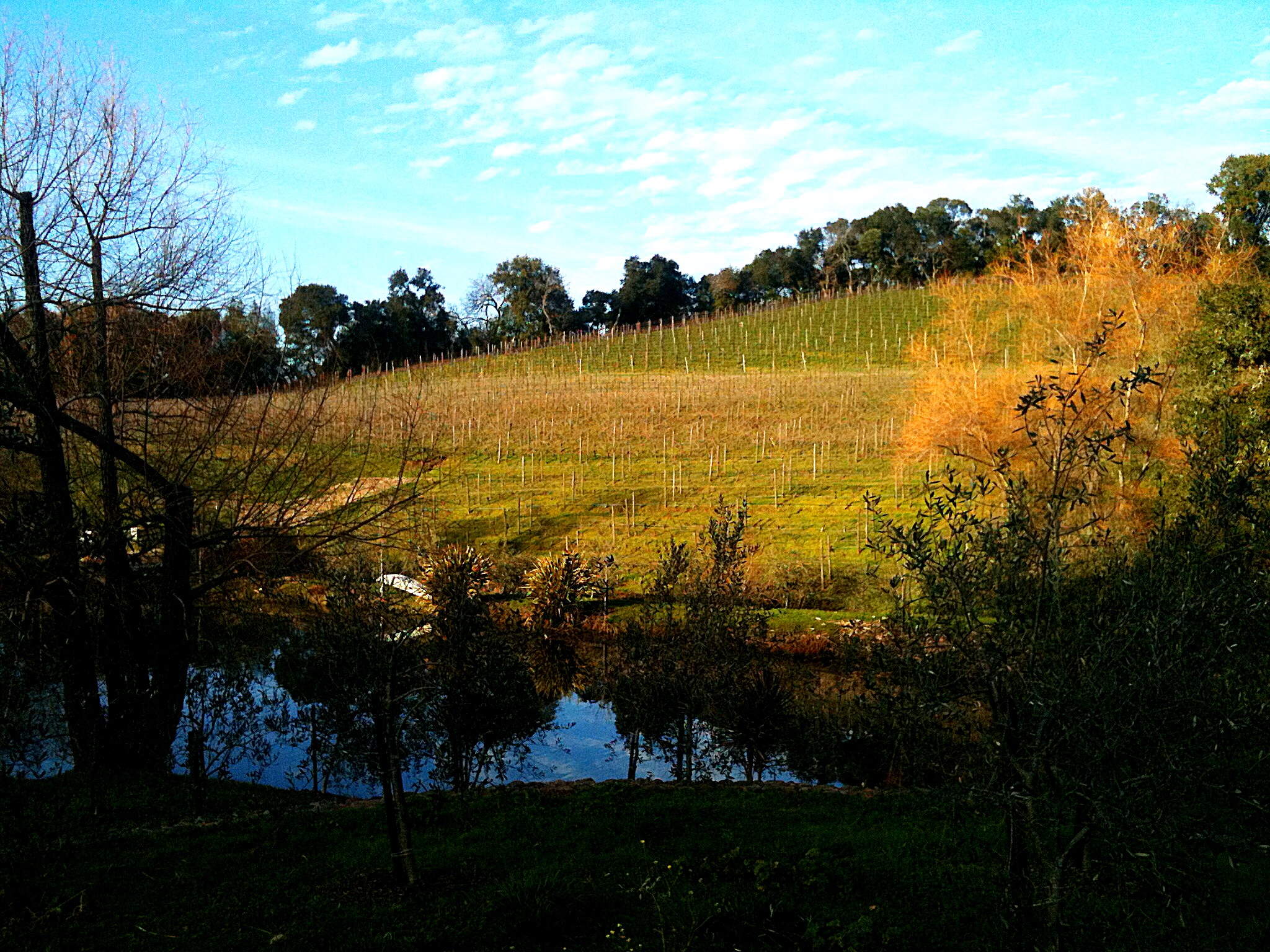 View From Benziger Winery
We stayed at the charming McArthur Place Inn and had an insane chef's tasting menu for dinner at El Dorado Kitchen. The next day we drove around in Steve's new convertible with the top down visiting wineries.
I don't think I can complain about anything.
I felt birthday love from a lot of you out there, so thank you. Who knows, maybe I'll get my grand adventure next year for the big 3-1. In the meantime, I'll just have to settle with the fact that all I got this year was a new business. :-)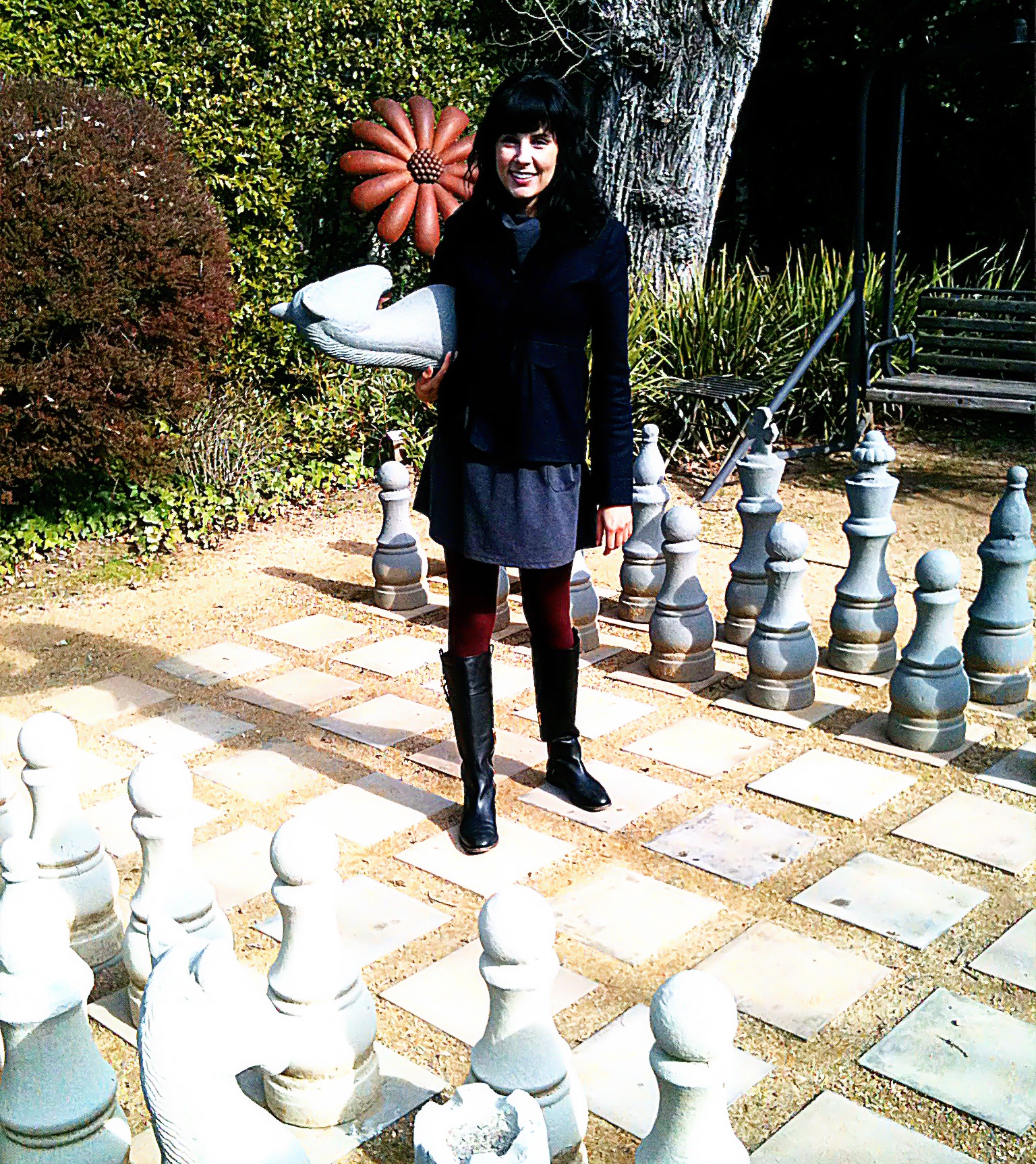 Giant Chess Set At McArthur Place Inn
November 14th, 2012 | Rachel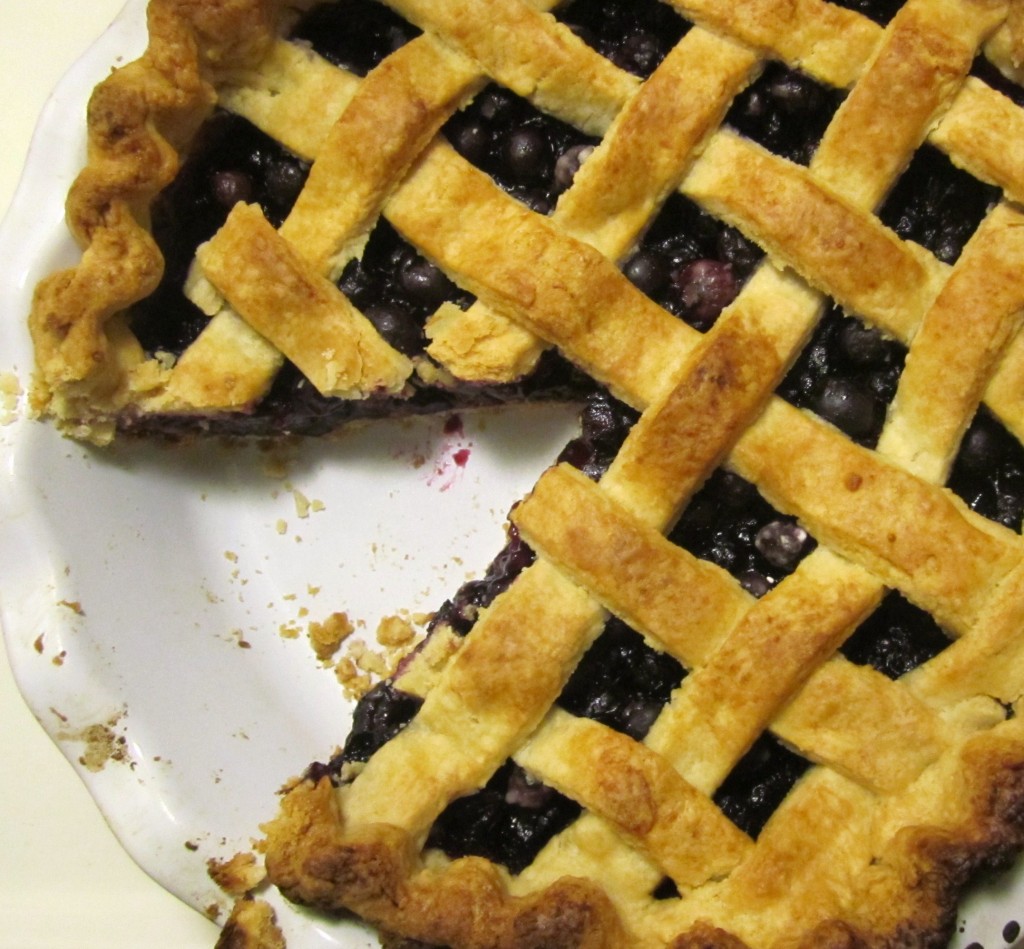 "Steve-Got-His-Captain's-License! Blueberry Pie"
In addition to a few (or six) slices of particularly delicious blueberry pie, I've had a lot on my plate lately. I've been putting in a lot of hours at the day job trying to get more fiscally stable before I have to dive into the new business full time. At the same time, I'm trying to get enough balls rolling with Arthur that we can hit the ground running come January 1 when we become an official business entity.
We actually have a name picked out, but as a somewhat comical oversight, we realized this evening that we never nailed down a particular way to spell it. Arthur sent off the paperwork to have the name reserved with the state of California using one spelling, while I set up a blog on the website on a domain name using another. Oh details.
On top of these two jobs, I've also been coming to terms with the effect of a cross-country move on some of my more significant personal relationships. As a result, I have renewed my efforts to create and grow more local friendships. It's an exciting prospect — after all, I didn't know a soul when I moved to Chapel Hill for law school and only knew one person when I moved to New York City and ended up forming some of my most treasured friendships in both cities — but it is also deflating and frustrating at times.
I'm still trying to figure out how to build cultural bridges to some of these lifelong Californians who haven't spent any significant time away from the west coast. In a weird way it reminds me of my attempted interactions with people born and raised in Long Island who still seem almost culturally incompatible with someone from the south. Its amazing the assumptions we have for how people should act based on the environment in which we were raised. Despite the increasing distance from my homeland, I am still most comfortable interacting with people who grew up south of the Mason-Dixon line and west of Texas.
Of course, life isn't about being comfortable, so here I am in Santa Cruz, California where the only person I knew before I arrived is the person who came with me.
I'm curious to see the effects of west coast living take shape. As I stated in my Ode to New York City, there are a number of things I have taken away from that living experience: "to be a little tougher, a little more confident, a little more open-minded, a little more adventurous." All of those things still hold true. As for California, the biggest change I've noticed so far is that I wear a lot less make up (or, gasp, sometimes none at all). I'm also in noticeably better shape and use the word "gnarly" every now and then. Other than that, only time will tell :-)
In the meantime, I get to ride my bike and take walks along places like this:
Surfing Lessons in Santa Cruz
November 3rd, 2012 | Rachel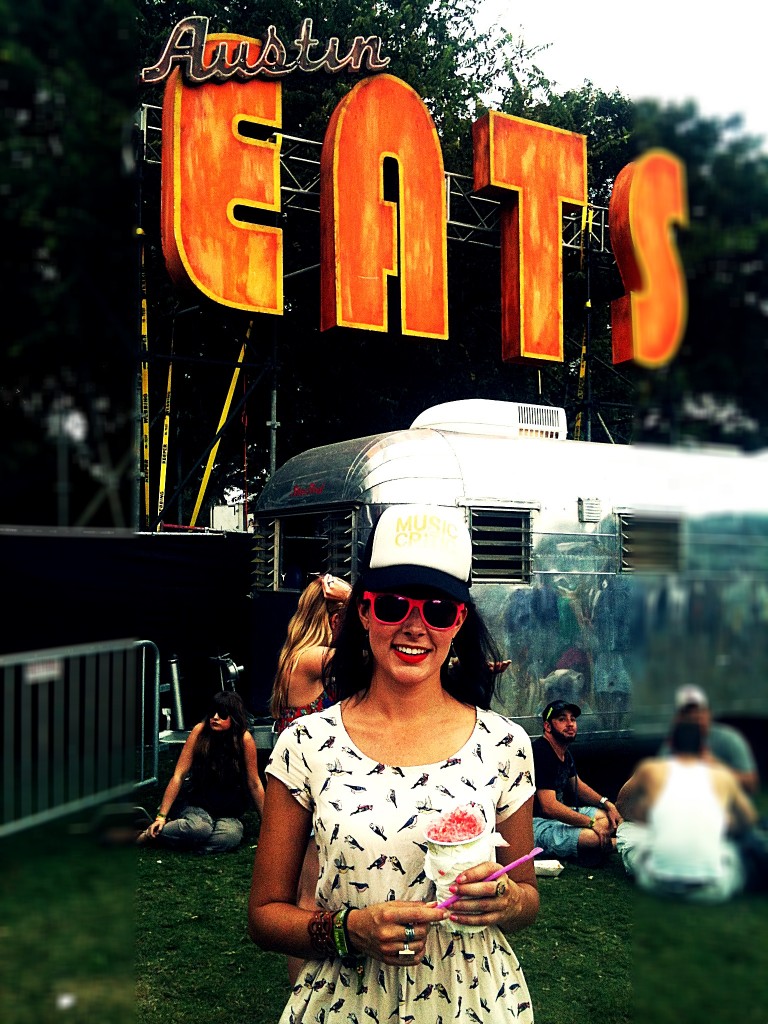 Austin City Limits Music Festival 2012
I still haven't gotten used to the 20-degree swings here on the central coast of California. The air is so crisp and chilly in the mornings that it feels like its going to be one of those Saturdays that you want to bundle up and read a book or watch a movie at home, but by the afternoon it is sunny and 70 degrees and you want to kick yourself for not leaving the house earlier.
I wasn't sure what fall would look like over here, but the leaves on some of the trees are starting to turn red and orange and fall to the ground. Of course they are dispersed amongst the palm trees and Redwoods, but it is still more of a fall than I was expecting. Steve is coming home this week, and I am hoping we will have a chance to take a motorcycle ride up into the Santa Cruz Mountains to see the grape leaves changing colors at some of the wineries.
Fall has always felt kind of "serious" to me. You've had all summer to play and now its time to buckle down and get ready for the winter. Maybe that would make more sense if I lived in a time when winter posed more of a threat to survival (and I didn't live in California), but maybe it also stems from school starting in the fall, so cooler weather means time to get back to the books. Invariably, fall is when I gain the discipline to go to the gym regularly (only to lose interest just in time for swimsuit season).
Things are also getting serious for Arthur and me. Arthur recently returned from his "last hurrah" trip to London and is making his big move to the west coast in less than two weeks. In the meantime, we are starting to get more specific with our plans and cross things off of our long to-do list.
We decided to postpone registering as an LLC until 2013 so we won't have to pay the $800 minimum tax for a business that barely existed in 2012. In the meantime, we are putting together our official mission statement and are collecting inspiration for the brand image.
We are going to be in the market for an awesome graphic designer pretty soon, so if you know someone — particularly an up-and-coming talent — let me know. As soon as we get the trademark registration out the door, we're going to go public on Facebook and a scaled-down website to start getting input from the community and the interwebs to help us make this thing a reality.
We also have a deadline set for finishing the business plan, which will be a satisfying way to end 2012 and set up 2013 to be a pretty exciting year.
In other news, despite its seriousness, October was a very fun month. I went back to New York for the first time since moving and co-hosted a successful Oktoberfest beer crawl. Thank you so much to everyone who came! I also went down to Austin, Texas for a long weekend for the Austin City Limits Music Festival. When I wasn't traveling out of state, I've been taking some beautiful Sunday drives. I have posted photos from two of those drives below.
As always, thanks for reading! For those of you in New York and New Jersey, I think about you constantly, and I wish I was there to help you recover from the hurricane.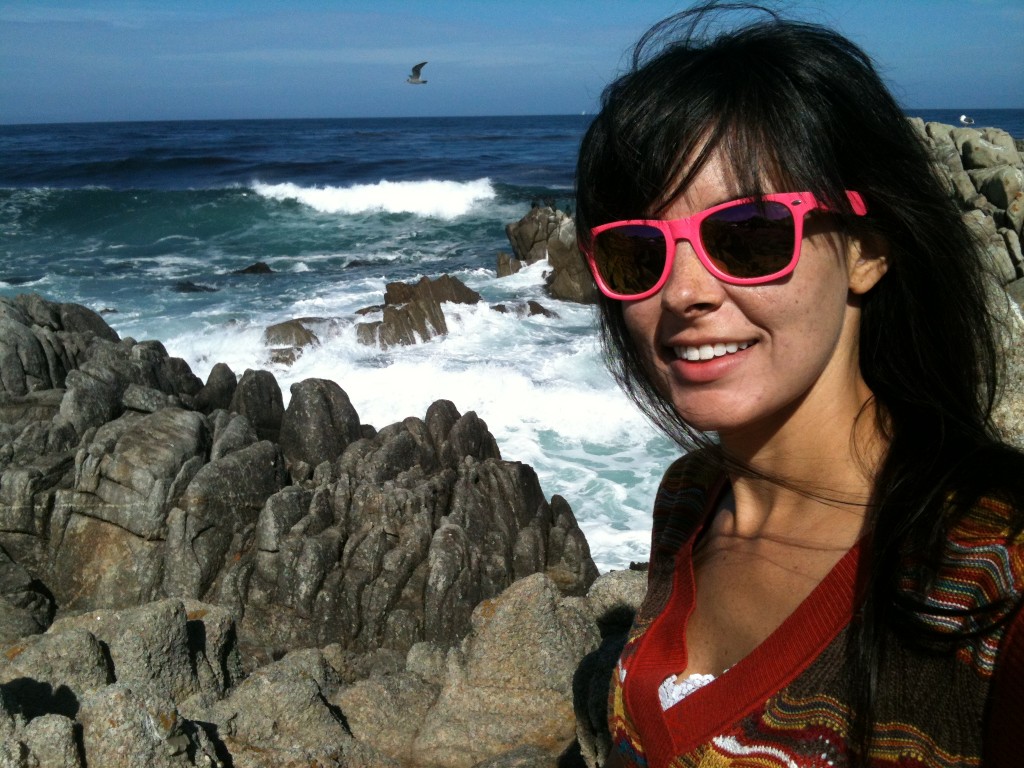 Sunday drive through Pacific Grove, near Monterey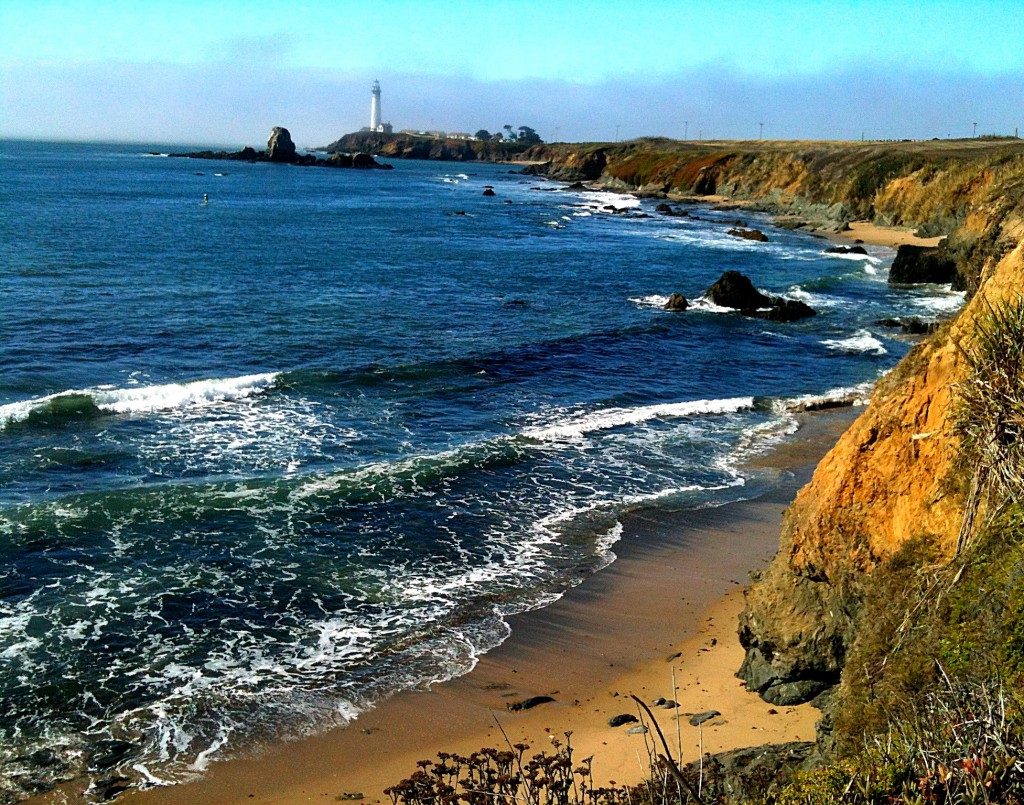 Just north of Santa Cruz
June 13th, 2012 | Rachel
I hate the idea of going more than two weeks without posting, but the truth of the matter is my June and July are looking to be a little lackluster… and rightfully so, because I am taking the California bar exam July 24-26 and should be using the next month and a half to study.  As many of you already know, I have already taken and passed the New York bar exam, so this experience isn't as daunting as it was the first time around.  Preparing for this exam involves learning a lot of information about 17 specific areas of law, and it is not very exciting… so that is all I am going to say about that.
Much easier with a cappuccino
In other news, I'm officially a Californian resident with a Californian license plate and driver's license!  Having the West Virginia plate (a remnant from when it belonged to my dad) made for an easy conversation starter ("Did you really drive that van all the way from West Virgina??"), but I'm pretty sure the other drivers on the road assumed I was a bumpkin who couldn't drive.
Officially a California girl
Also newsworthy is Steve's new apartment in Las Vegas.  He bought it as an investment, but we get to have a sweet party pad for the rest of the year.
We started off one particularly great night at Spiegelworld's Absinthe, which was highly entertaining and almost as mesmerizing as the past Spiegelword shows I saw when the tent came to South Street Seaport in New York City.  Absinthe has the human feats of Cirque du Soleil mixed with the sensuality of burlesque, all on an circular stage surrounded a pretty intimate audience (the Las Vegas tent is bigger than the tent used in New York and Miami).  Leading the show are two very funny but very lewd hosts, so if you are easily offended this show is not for you.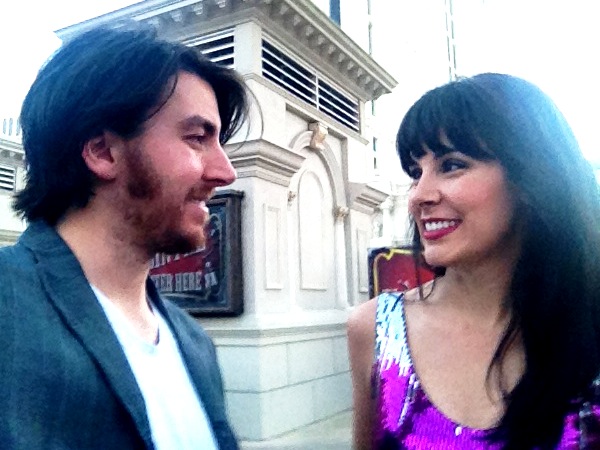 Waiting in line to pick up our tickets for Absinthe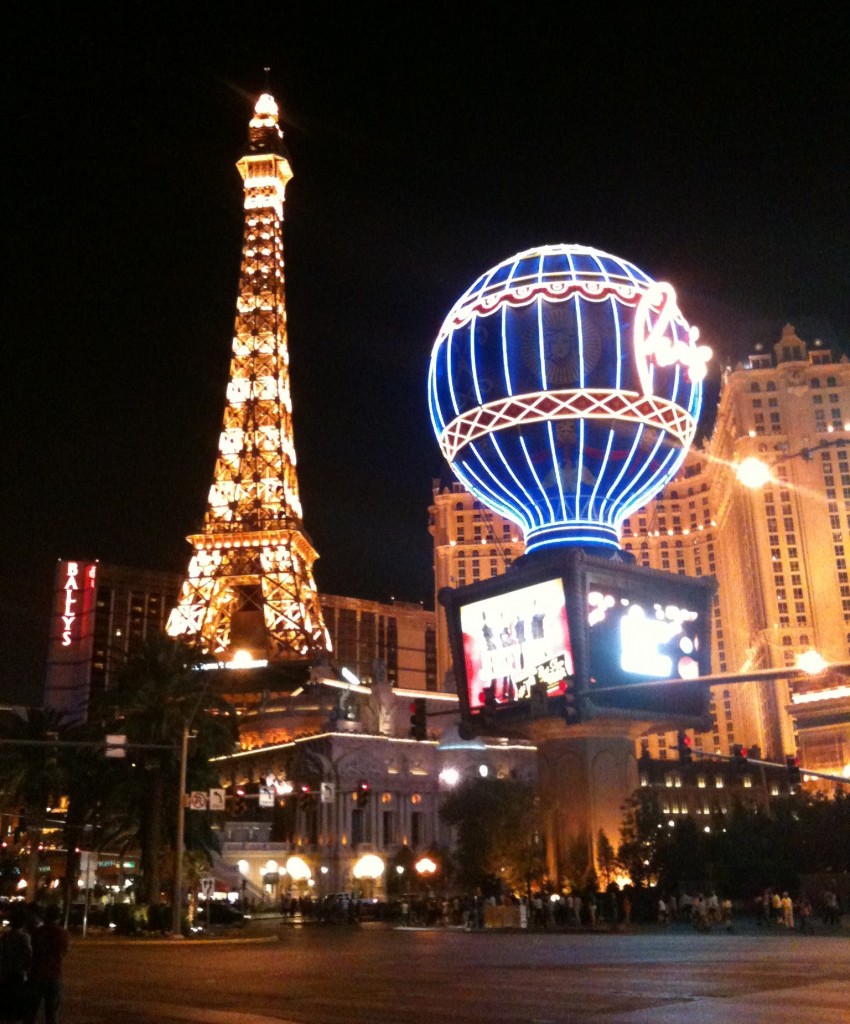 Even in Las Vegas people would rather be in France.
Upon the recommendation of our concierge, we went to the Tuesday industry night at Chateau Nightclub (Paris), which is on the roof of the casino under the Eiffel Tower.  Brilliantly fun night.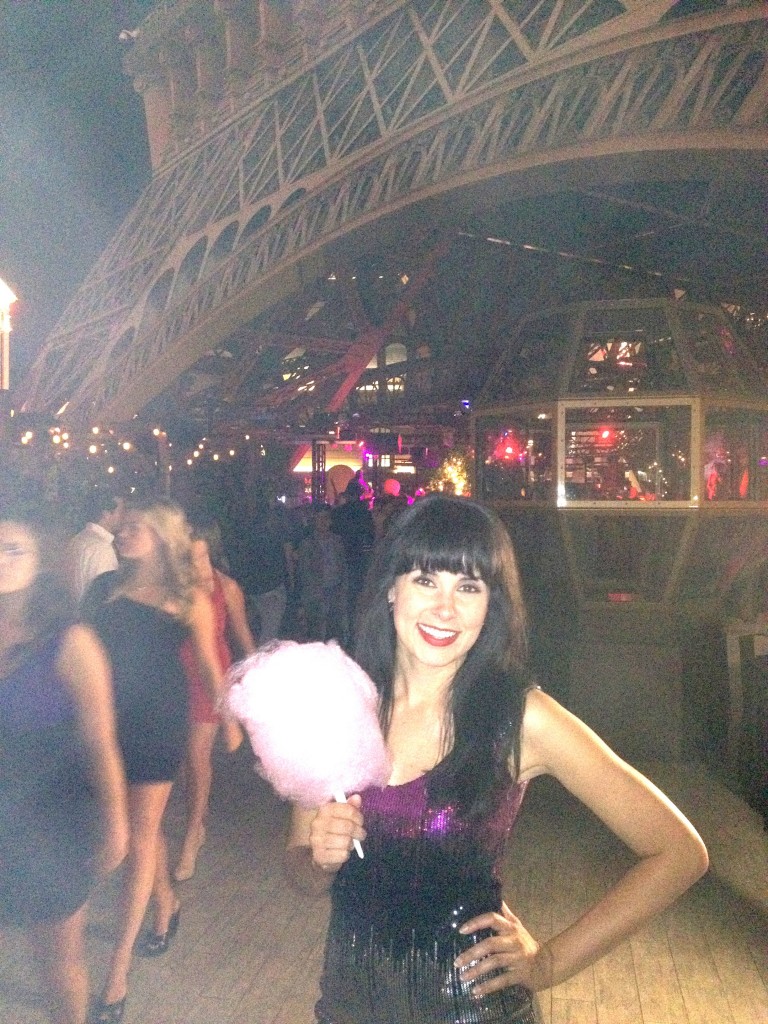 A nightclub with cotton candy?  Yes, please.
I am looking forward to many more fun nights in that city this year.
While I am on the subject of the pseudo-French, I tried out some macarons at Kelly's French Bakery here in Santa Cruz.  Working at the Three Green Ducks took my bakery snobbery to almost impossible heights, and, so far, most bakeries in this area have been nothing short of disappointing.  [I'll save my rant about Gayle's Bakery in Capitola for another day.]  Kelly's "French" Bakery is no exception, and in addition to bad service and bagels (why??), my first experience there involved a terrible cherry pie that was made too many days prior and was served straight out of the refrigerator (cold and gelatinous… awful).  Although Kelly's has managed to make macarons that look right (which I admit is a difficult task), the taste and texture was abysmal, and it hurts my heart to think of all the people whose only experience with French macarons are from Kelly's (and judging from the gushing reviews it gets, there are many).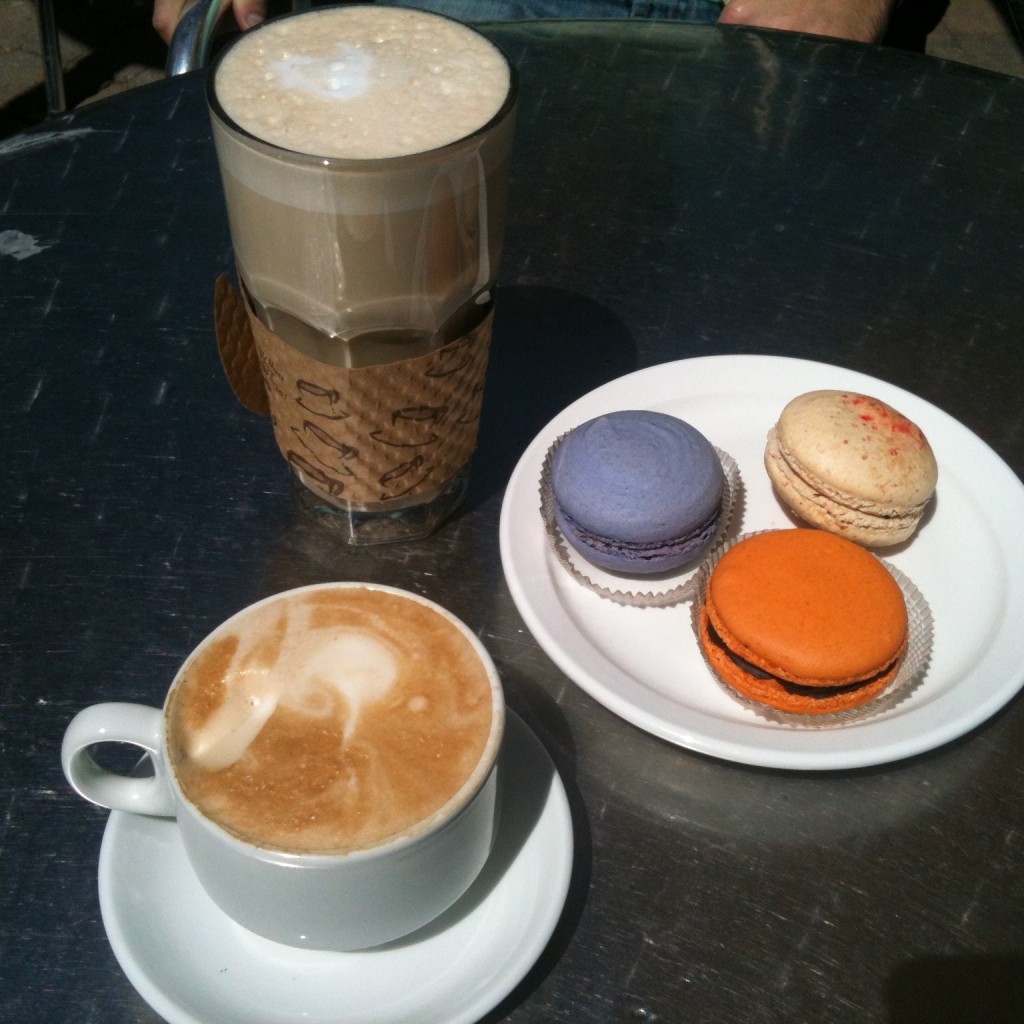 Coffee break at Kelly's French Bakery [sic] in Santa Cruz
The three good things I can say about this bakery are 1. the location is lovely, with a huge court yard and in close proximity to a number of wineries and other shops; 2. I love the font of the sign; and 3. the sandwiches, while overpriced and not very French, are pretty good.
I don't want to end this post on a cranky, negative note, so check out the gorgeous flowers on Steve's cactus in the backyard.  Gardening is one of my study breaks, and now that the afternoons are a consistent 72 degrees, the backyard is one of my favorite places to be.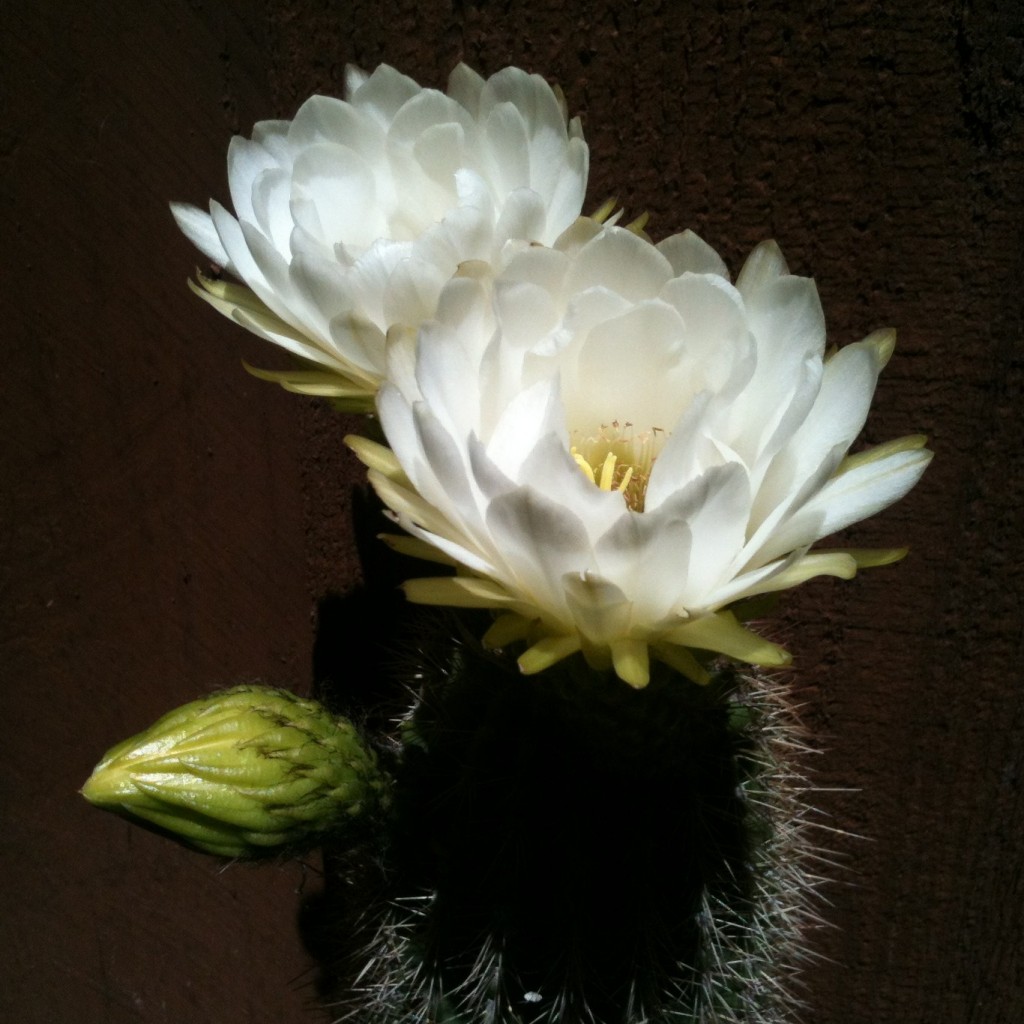 Cactus flower
Well, back to studying.
March 4th, 2012 | Rachel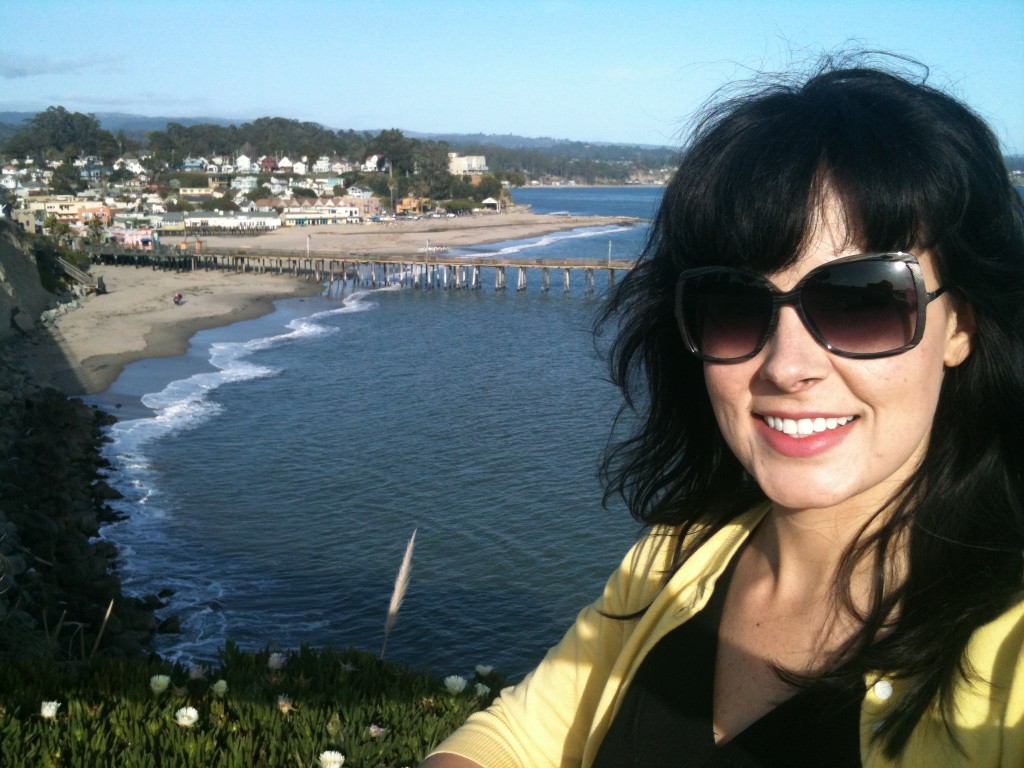 My new home: Capitola, California
After a truly epic cross-country drive, we finally arrived in sunny Santa Cruz County, California.  I say "county" because we stayed in hotel in Scott's Valley the first night and found an apartment in quiet Capitola the next day.
Capitola is a tiny town covering about two square miles between Santa Cruz and another town called Aptos.  Because all of the towns along Monterey Bay run together, you never really feel like you leaving one and entering another.  Despite this close proximity, the people in these communities still maintain a rather surprising sense of loyalty to where they live, and they are quick to tell you why their town is better than the others.  For example, Capitola is superior because it doesn't have the morning fog like Aptos or the crime of Santa Cruz (or, as one man put it, the "psychotic panhandlers").  From what I can tell, Capitola is the Mayberry of Monterey Bay.
Anyway, Steve and I got into town the day before Valentine's Day (I'm one of those Everday-is-Valentine's-Day! people, so  we usually don't explicitly celebrate it), and I told Steve that all I wanted for Valentine's Day was a place to live.
Fortunately for us, we met with the property manager in the morning, the paperwork went through smoothly, and we got our keys that afternoon.  That was the first of several nights that would require sleeping on the floor since we didn't have any furniture, but it felt so good to have a "home" again.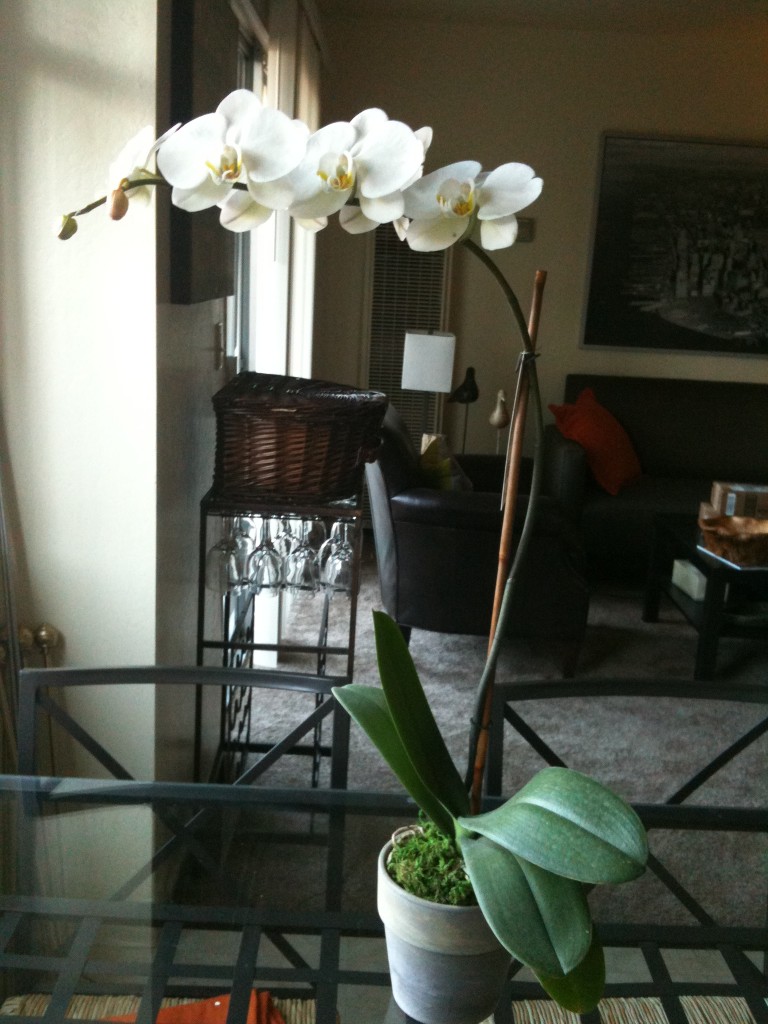 To make the sweet occasion even sweeter, Steve also gave me a cupcake and an orchid.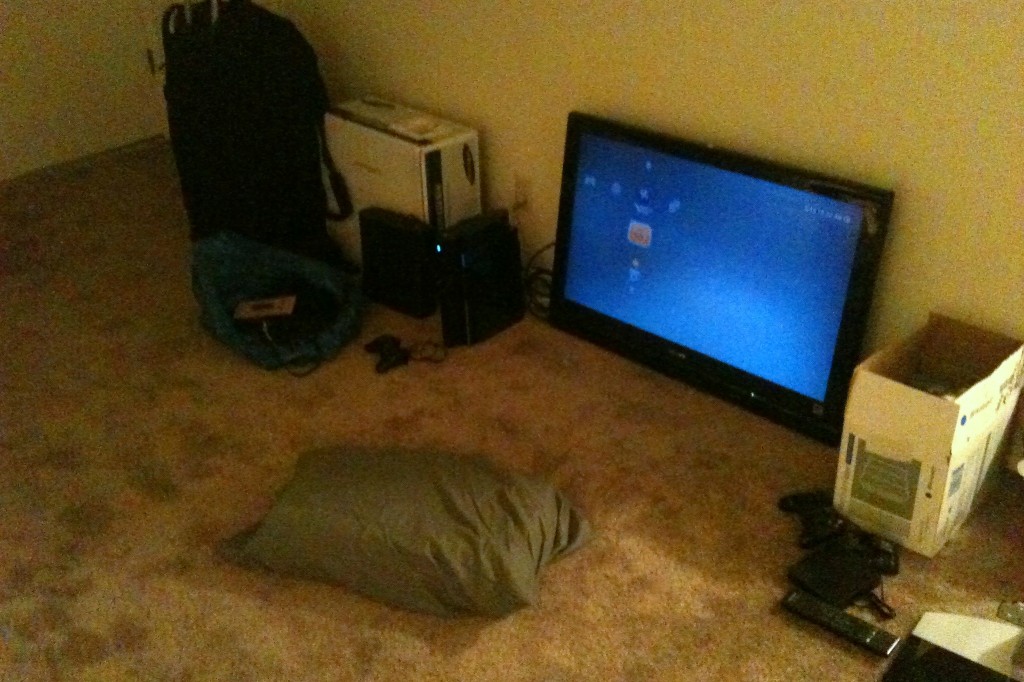 While we waited for the u-Box to arrive, we camped in the living room and watched several movies from the nearby Redbox. The minivan strategically contained, among other things, my tv, Steve's game systems, our sleeping bags and pads, and our clothes.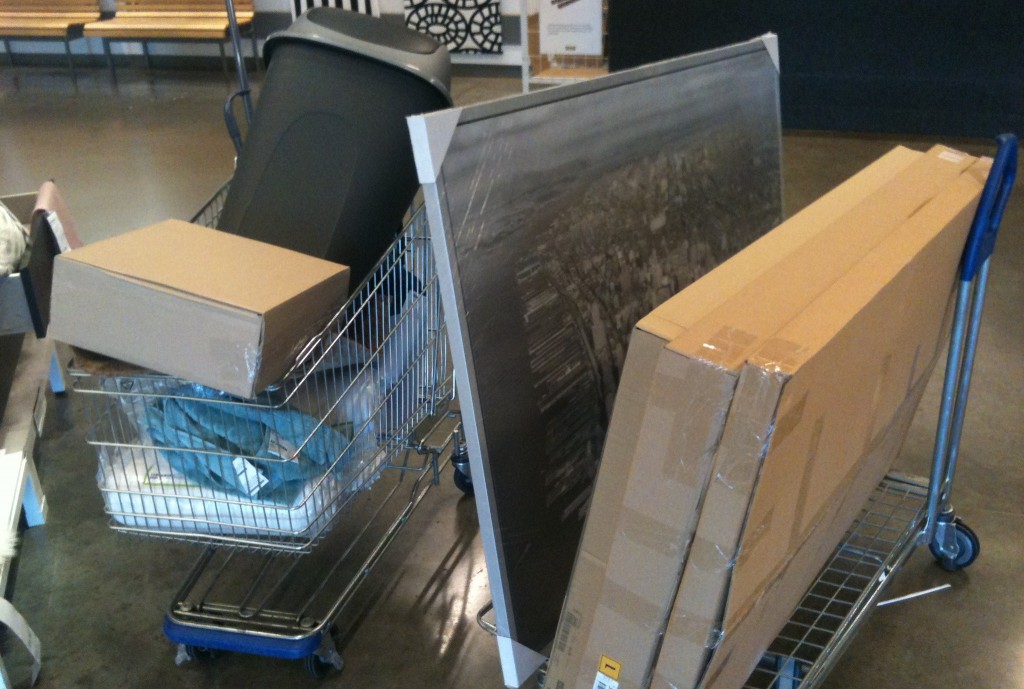 The first of two trips to Ikea (so far!)
While waiting for the u-Box to arrive, we had plenty of time to start exploring the area and stock up on boring stuff like cleaning supplies and groceries.  One afternoon we drove over to one of the popular surfing spots in Santa Cruz, Lighthouse Beach, to see what was going on.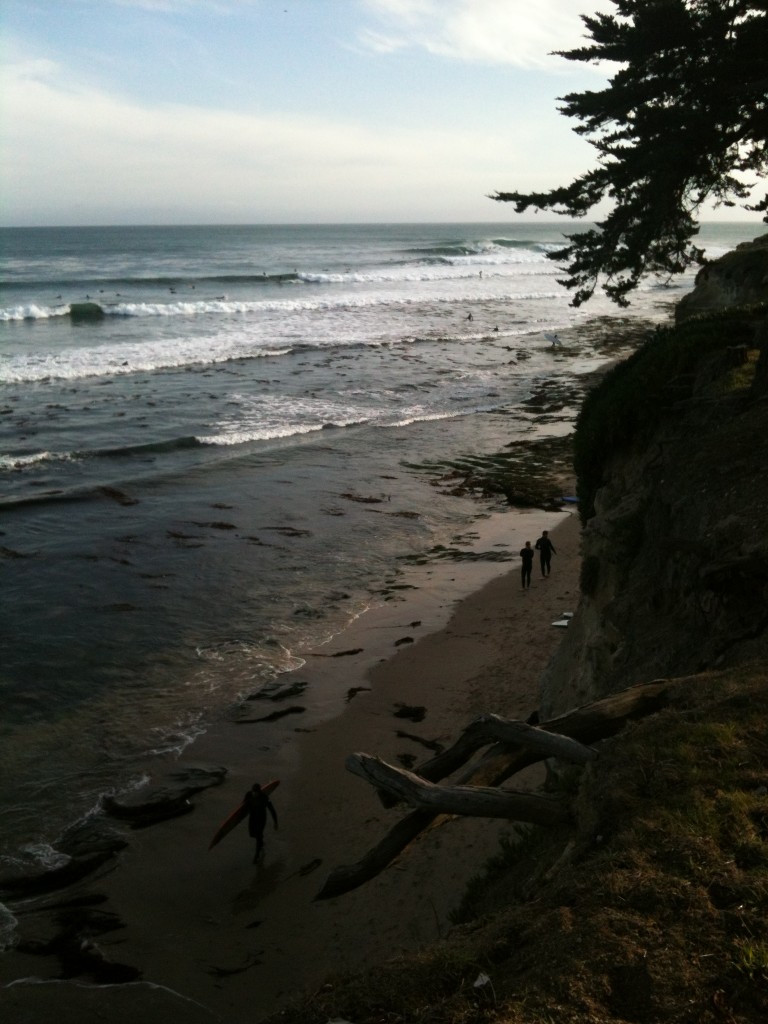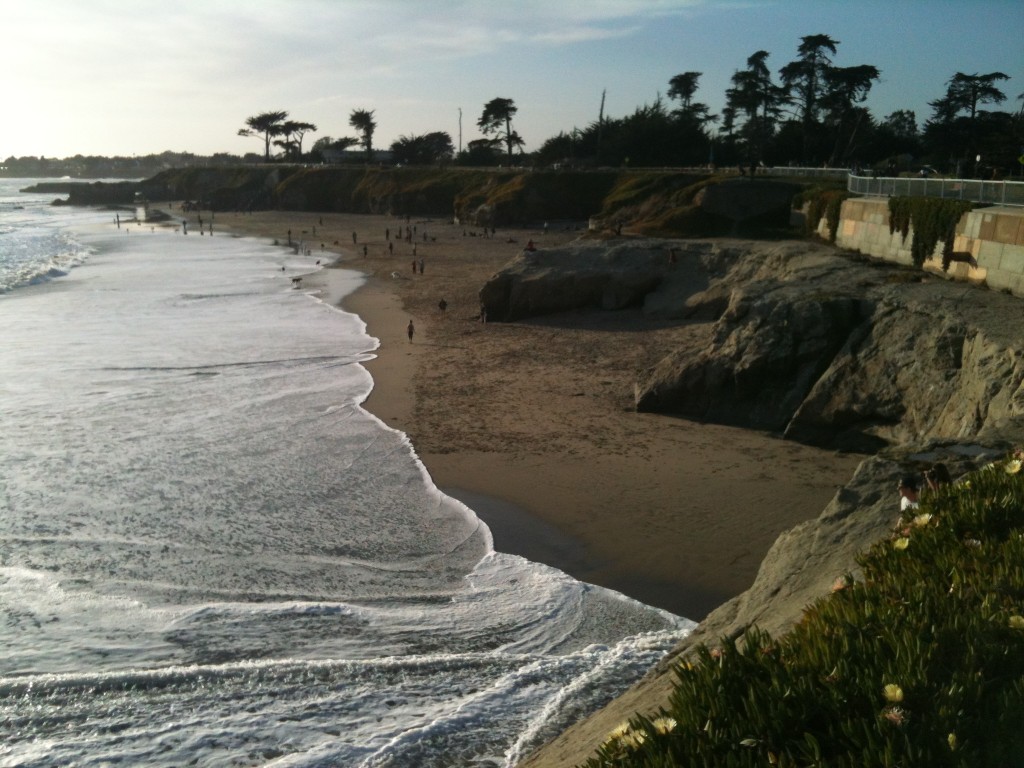 Lighthouse Beach in Santa Cruz (although it appears there aren't any surfers in the water, there were actually hundreds out that day)
When Steve and I were on our scouting trip last fall, we stayed in a bed and breakfast overlooking the bay that was just up the street from this beach.  There was a big surfing competition going on at that time.
There was only one snag in an otherwise seamless experience with the u-Box.  The automated system emailed me to alert me that my box had arrived and I should expect a call from the local u-Haul store in San Jose where it was delivered.  I waited a day to get the call, but since we were running out of time before Steve had to leave, I gave up and called them.  Despite repeated attempts, the store never answered the phone, and I got transferred to a centralized answering service.  That person was very nice and attempted to call the store six times.  The store never answered.  She finally transferred me to a regional office who again tried to contact the local store and, when that failed, called the manager on his cell phone.  The delivery of my box to the San Jose store was confirmed, and I was given the manager's phone number to call and schedule my pick up.  I scheduled it for the next day, and the manager said they would have it ready for me.  When we arrived, it wasn't ready because, the manager admitted, he forgot.  On the bright said, what that location lacked in organization and professionalism they made up in friendliness.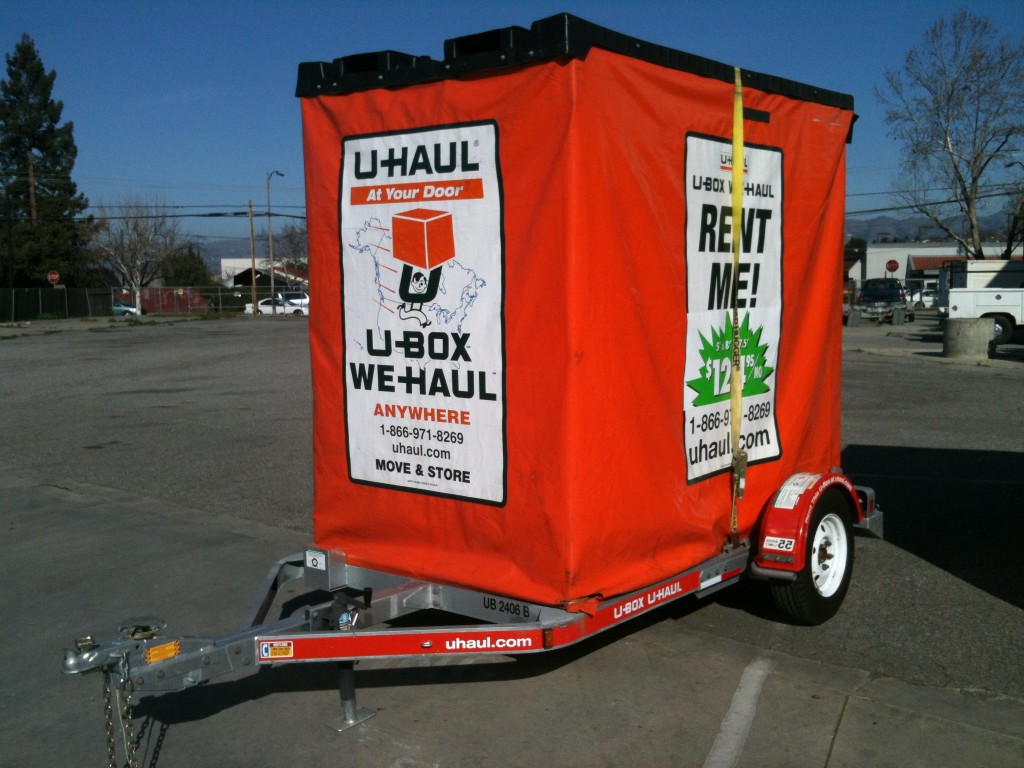 Well, old friend, we meet again
A few hours later, I was sifting through the mountain of boxes while Steve returned the empty box to San Jose.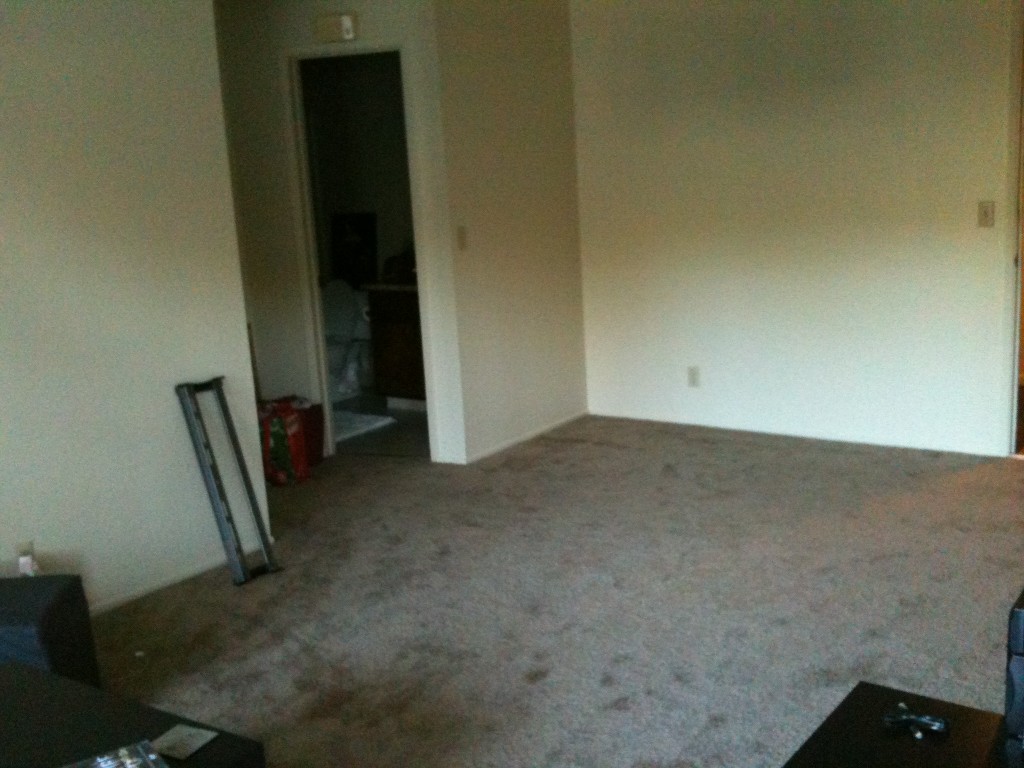 Before the u-Box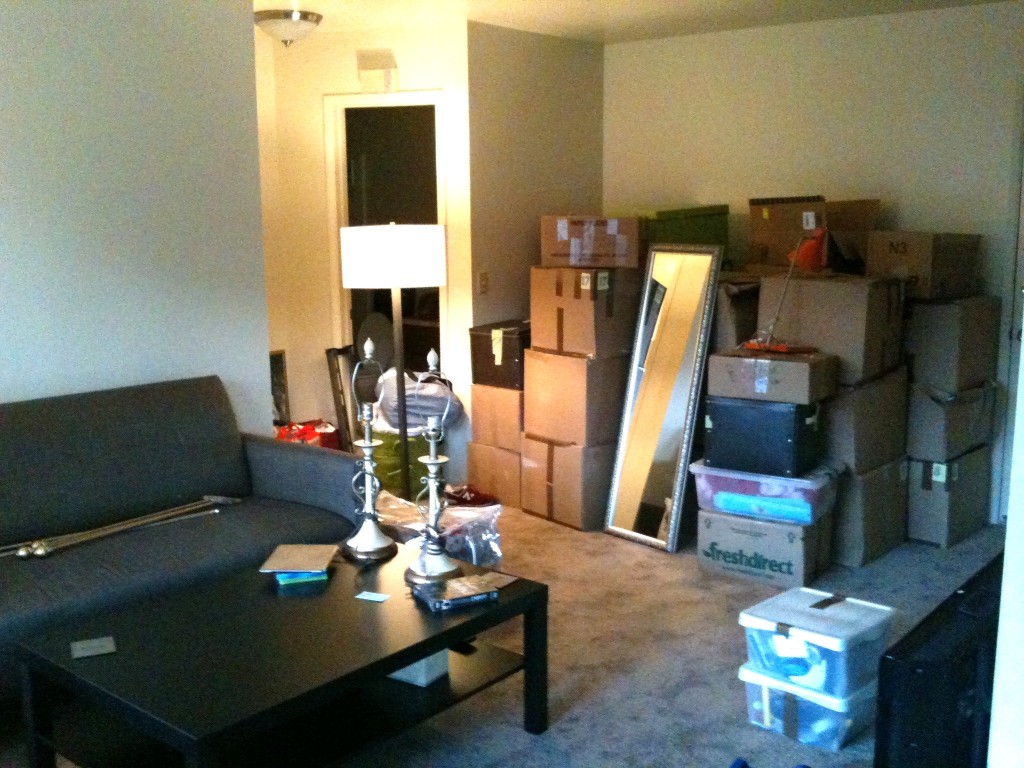 After the u-Box
That was two weeks ago, and I can happily report that all of the boxes have been unpacked or stored out of sight.  We still need to get a tv stand, so I am going to hold off on posting apartment photos.
Now that I've updated you with the physical journey, I'll dedicate the next post to the mental and emotional journey that comes accompanies uprooting an otherwise fulfilling, fabulous, and friend-filled life in New York City and starting anew in an unfamiliar and somewhat arbitrary beach town on the west coast.  Here's a hint: its a roller coaster.