Posts Tagged 'California'
November 14th, 2012 | Rachel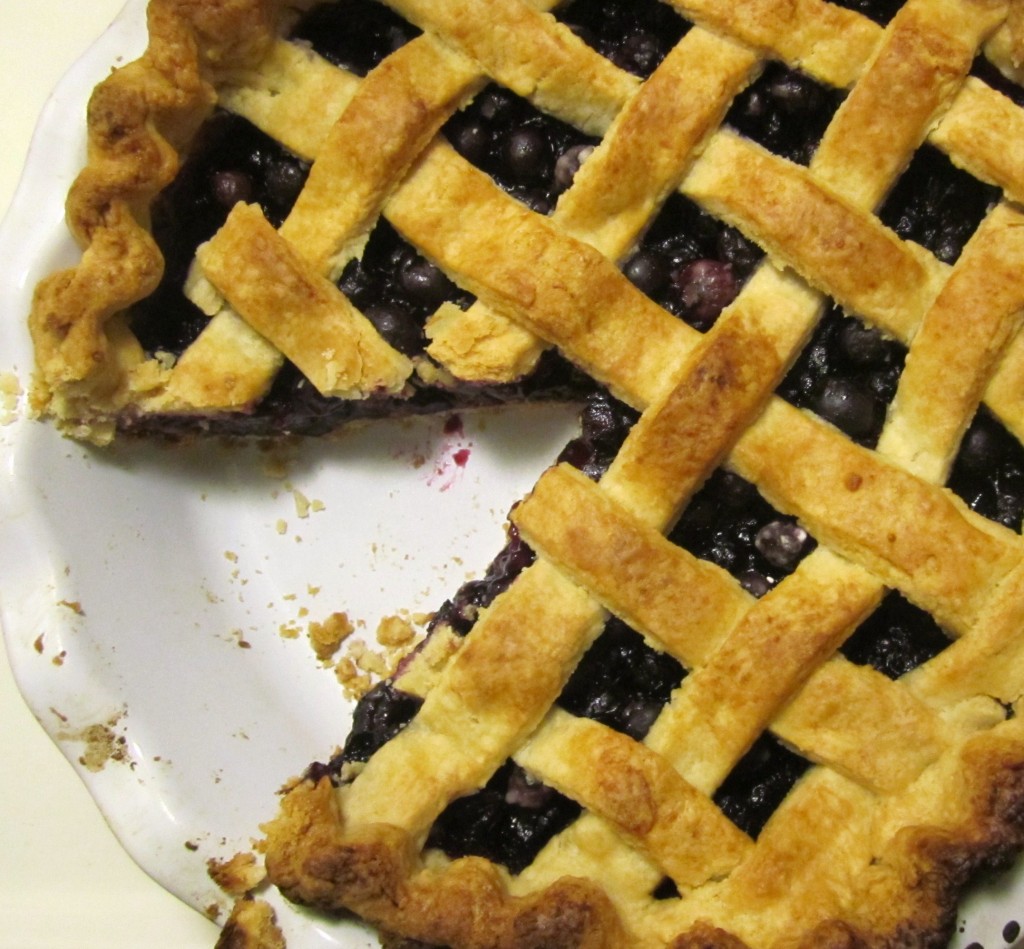 "Steve-Got-His-Captain's-License! Blueberry Pie"
In addition to a few (or six) slices of particularly delicious blueberry pie, I've had a lot on my plate lately. I've been putting in a lot of hours at the day job trying to get more fiscally stable before I have to dive into the new business full time. At the same time, I'm trying to get enough balls rolling with Arthur that we can hit the ground running come January 1 when we become an official business entity.
We actually have a name picked out, but as a somewhat comical oversight, we realized this evening that we never nailed down a particular way to spell it. Arthur sent off the paperwork to have the name reserved with the state of California using one spelling, while I set up a blog on the website on a domain name using another. Oh details.
On top of these two jobs, I've also been coming to terms with the effect of a cross-country move on some of my more significant personal relationships. As a result, I have renewed my efforts to create and grow more local friendships. It's an exciting prospect — after all, I didn't know a soul when I moved to Chapel Hill for law school and only knew one person when I moved to New York City and ended up forming some of my most treasured friendships in both cities — but it is also deflating and frustrating at times.
I'm still trying to figure out how to build cultural bridges to some of these lifelong Californians who haven't spent any significant time away from the west coast. In a weird way it reminds me of my attempted interactions with people born and raised in Long Island who still seem almost culturally incompatible with someone from the south. Its amazing the assumptions we have for how people should act based on the environment in which we were raised. Despite the increasing distance from my homeland, I am still most comfortable interacting with people who grew up south of the Mason-Dixon line and west of Texas.
Of course, life isn't about being comfortable, so here I am in Santa Cruz, California where the only person I knew before I arrived is the person who came with me.
I'm curious to see the effects of west coast living take shape. As I stated in my Ode to New York City, there are a number of things I have taken away from that living experience: "to be a little tougher, a little more confident, a little more open-minded, a little more adventurous." All of those things still hold true. As for California, the biggest change I've noticed so far is that I wear a lot less make up (or, gasp, sometimes none at all). I'm also in noticeably better shape and use the word "gnarly" every now and then. Other than that, only time will tell :-)
In the meantime, I get to ride my bike and take walks along places like this:
Surfing Lessons in Santa Cruz
November 3rd, 2012 | Rachel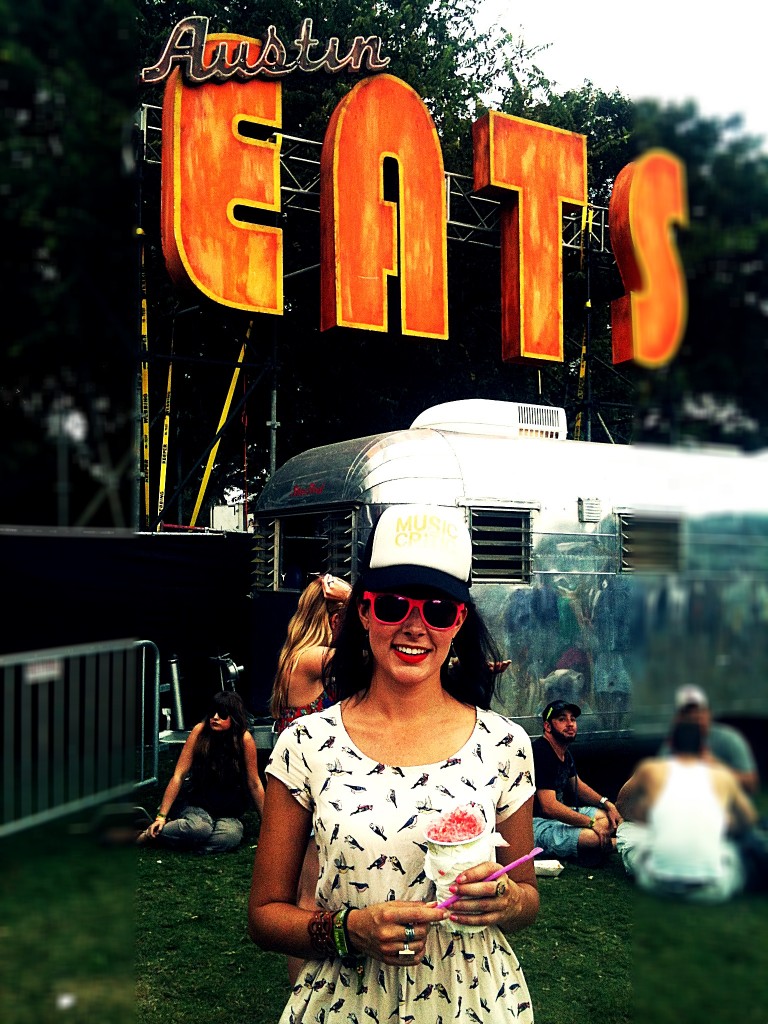 Austin City Limits Music Festival 2012
I still haven't gotten used to the 20-degree swings here on the central coast of California. The air is so crisp and chilly in the mornings that it feels like its going to be one of those Saturdays that you want to bundle up and read a book or watch a movie at home, but by the afternoon it is sunny and 70 degrees and you want to kick yourself for not leaving the house earlier.
I wasn't sure what fall would look like over here, but the leaves on some of the trees are starting to turn red and orange and fall to the ground. Of course they are dispersed amongst the palm trees and Redwoods, but it is still more of a fall than I was expecting. Steve is coming home this week, and I am hoping we will have a chance to take a motorcycle ride up into the Santa Cruz Mountains to see the grape leaves changing colors at some of the wineries.
Fall has always felt kind of "serious" to me. You've had all summer to play and now its time to buckle down and get ready for the winter. Maybe that would make more sense if I lived in a time when winter posed more of a threat to survival (and I didn't live in California), but maybe it also stems from school starting in the fall, so cooler weather means time to get back to the books. Invariably, fall is when I gain the discipline to go to the gym regularly (only to lose interest just in time for swimsuit season).
Things are also getting serious for Arthur and me. Arthur recently returned from his "last hurrah" trip to London and is making his big move to the west coast in less than two weeks. In the meantime, we are starting to get more specific with our plans and cross things off of our long to-do list.
We decided to postpone registering as an LLC until 2013 so we won't have to pay the $800 minimum tax for a business that barely existed in 2012. In the meantime, we are putting together our official mission statement and are collecting inspiration for the brand image.
We are going to be in the market for an awesome graphic designer pretty soon, so if you know someone — particularly an up-and-coming talent — let me know. As soon as we get the trademark registration out the door, we're going to go public on Facebook and a scaled-down website to start getting input from the community and the interwebs to help us make this thing a reality.
We also have a deadline set for finishing the business plan, which will be a satisfying way to end 2012 and set up 2013 to be a pretty exciting year.
In other news, despite its seriousness, October was a very fun month. I went back to New York for the first time since moving and co-hosted a successful Oktoberfest beer crawl. Thank you so much to everyone who came! I also went down to Austin, Texas for a long weekend for the Austin City Limits Music Festival. When I wasn't traveling out of state, I've been taking some beautiful Sunday drives. I have posted photos from two of those drives below.
As always, thanks for reading! For those of you in New York and New Jersey, I think about you constantly, and I wish I was there to help you recover from the hurricane.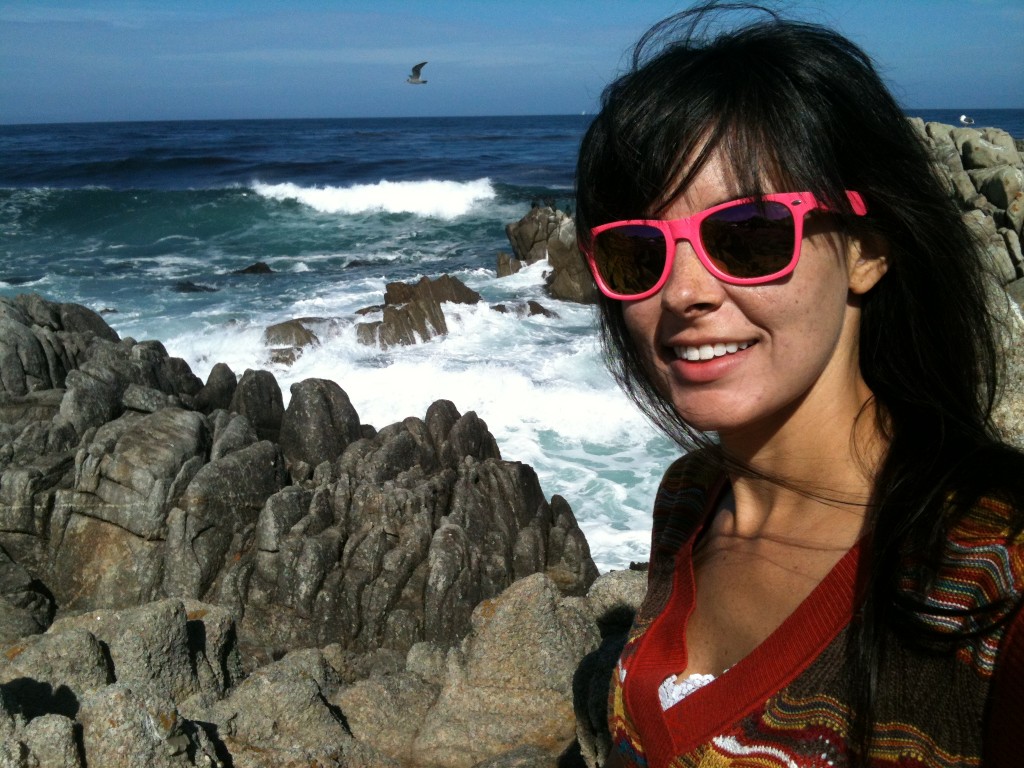 Sunday drive through Pacific Grove, near Monterey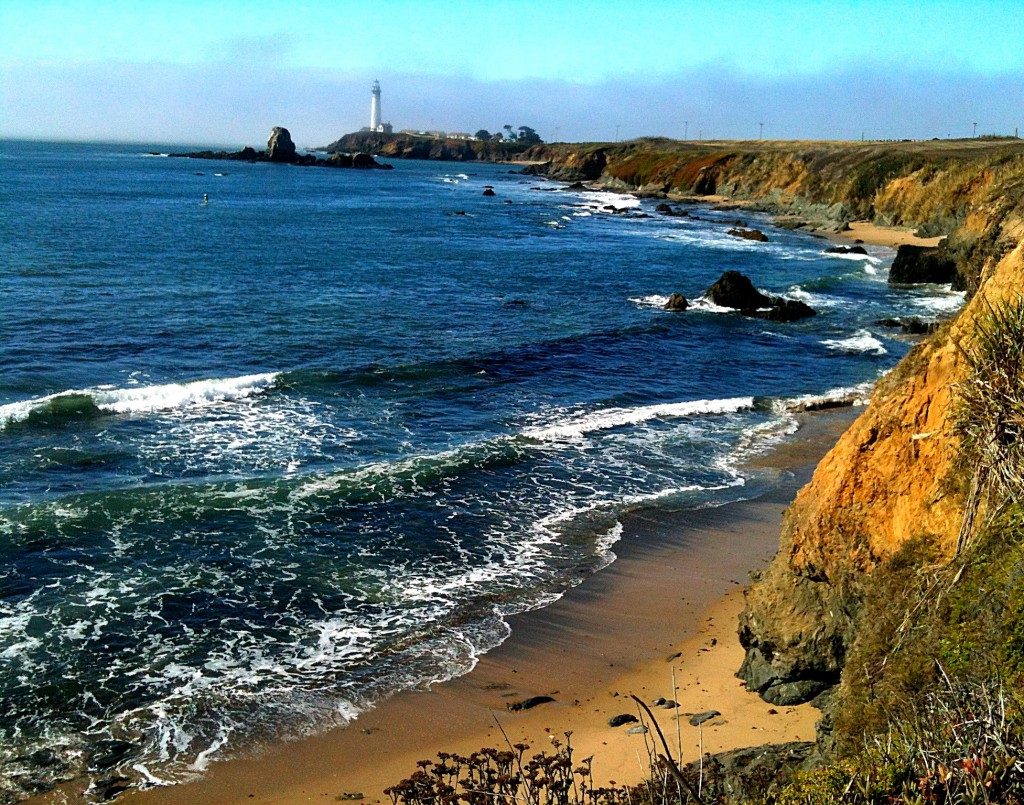 Just north of Santa Cruz
July 13th, 2011 | Rachel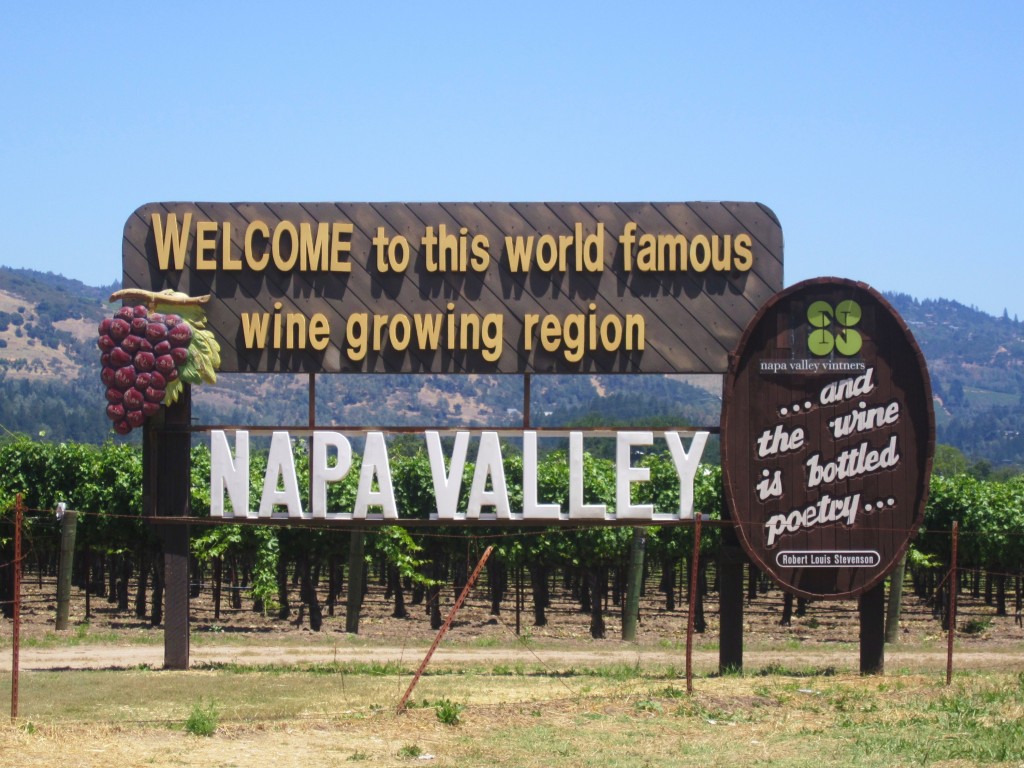 The whole idea behind this blog is my belief that my destiny lies (at least in part) in running my own bed and breakfast somewhere in the French countryside surrounded by vineyards.  This belief was further cemented into my brain (and heart) after my boyfriend and I took a two-week road trip around France and spent three days touring wineries outside of Bordeaux.
Its not that I don't love New York City.  I think this is one of the greatest cities in the world, and I feel blessed to have the opportunity to live here.  Still, I am drawn to a culture focused more on quality of life than on one's bank account balance or job title.  I love sunshine and fresh air and good food.  Throw in a great bottle of wine, and I am in heaven.
This past weekend I went on a trip to California with my mom.  We flew into San Francisco and then drove up to Napa where we spent our first two nights.  We then spent two nights in Sonoma and one night in San Francisco before returning to the east coast.  During the day, we toured a dozen or so wineries and drove around the countryside.  In the evening, we ate at three amazing restaurants in Napa and Sonoma: Bottega, the girl & the fig, and El Dorado Kitchen.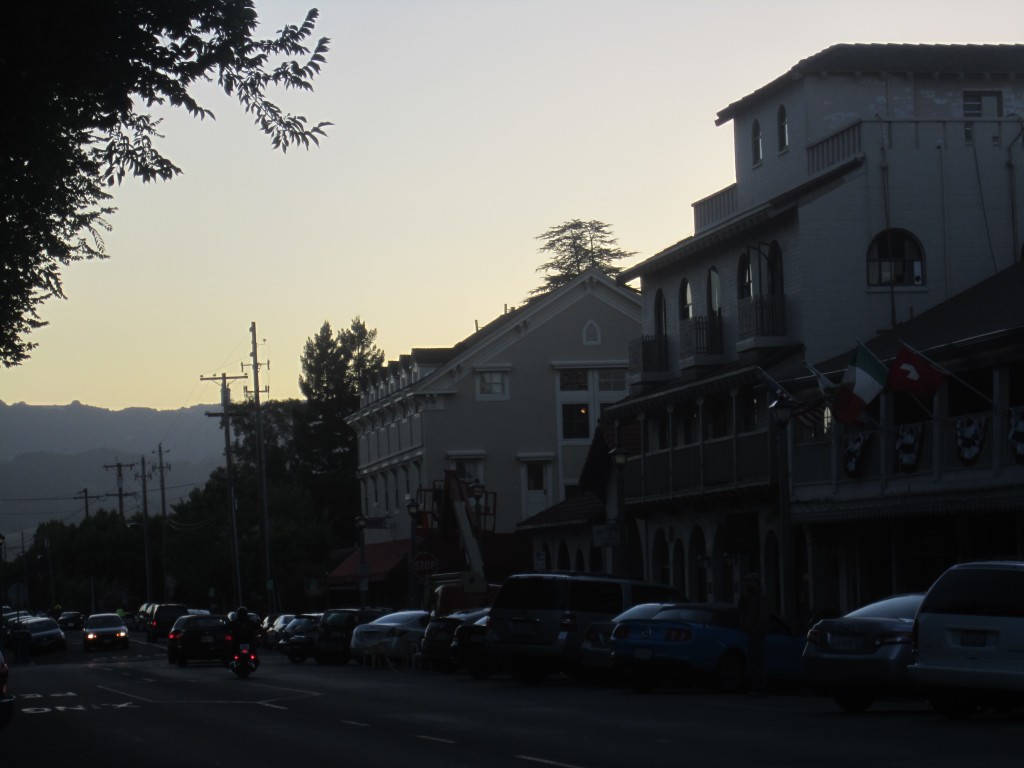 Downtown Sonoma at Dusk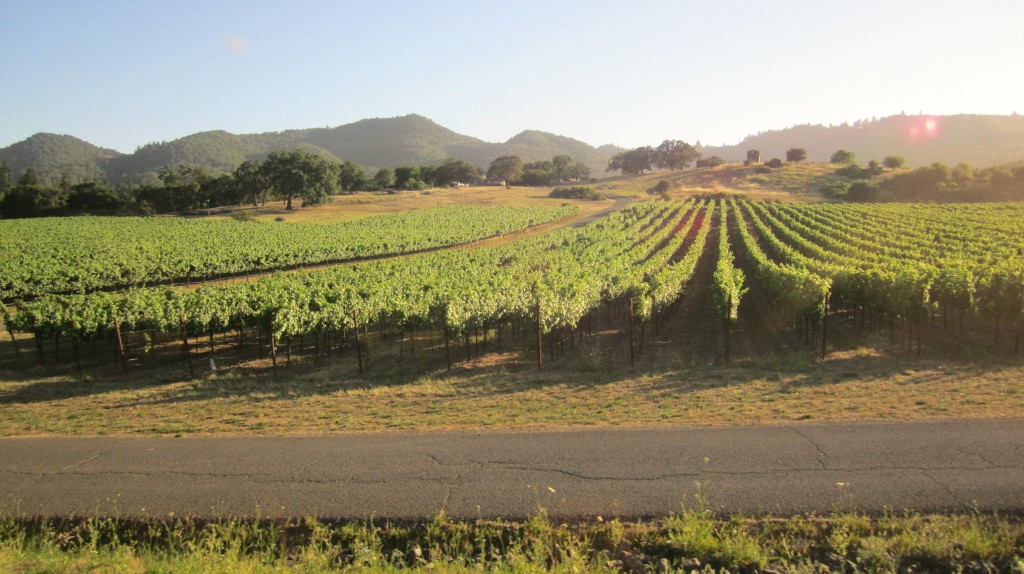 View from the Napa Valley Wine Train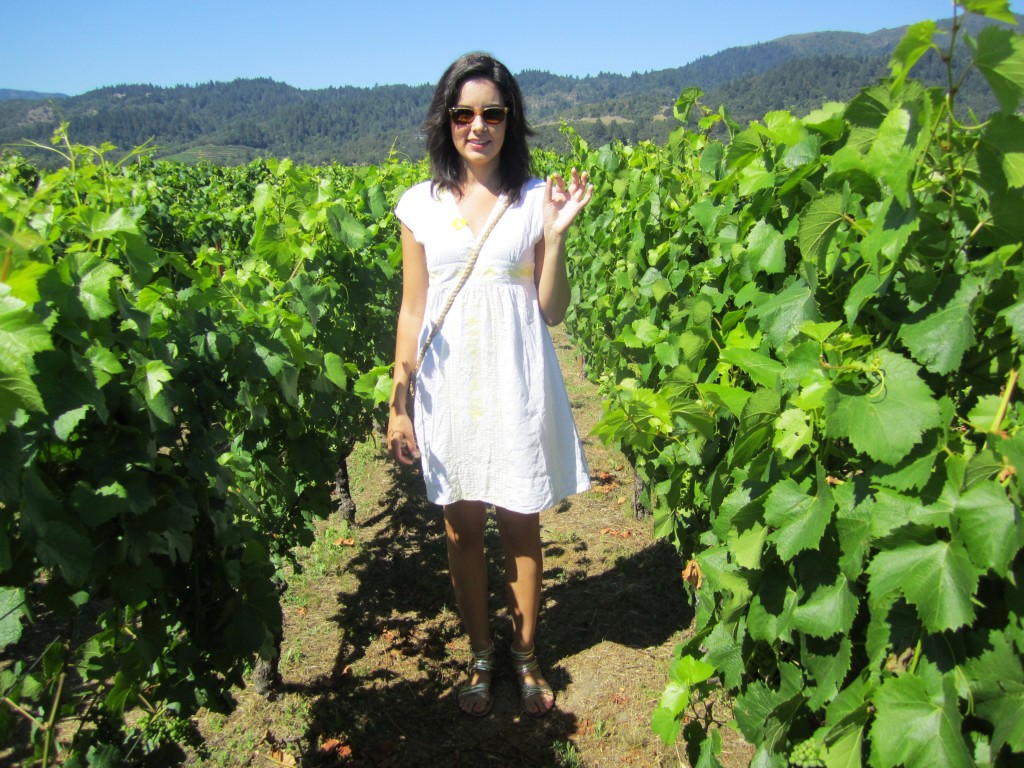 Accepting the challenge of eating an unripe grape
I had never spent any time in California before this trip, and yet I've always wondered if I would like living on the west coast.  Now that I have had the chance to see it for myself, I know the answer is yes.
The people definitely have a laid back attitude you don't see too often in native East Coasters.  As someone whose only work criticism has been that I am too laid back, I think I might have found my kindred spirits.
I talked to owners of both of our bed and breakfasts at length — one has been in business for 21 years and the other 15 — and now a storm of new ideas is brewing in my head.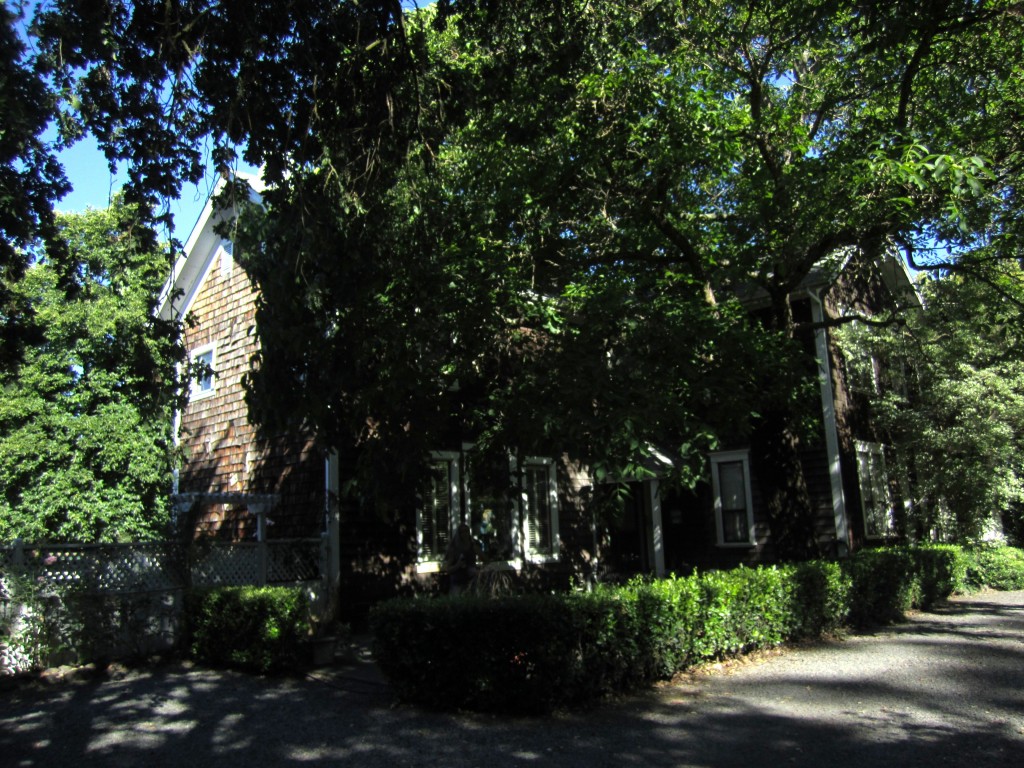 Hillview Inn in Napa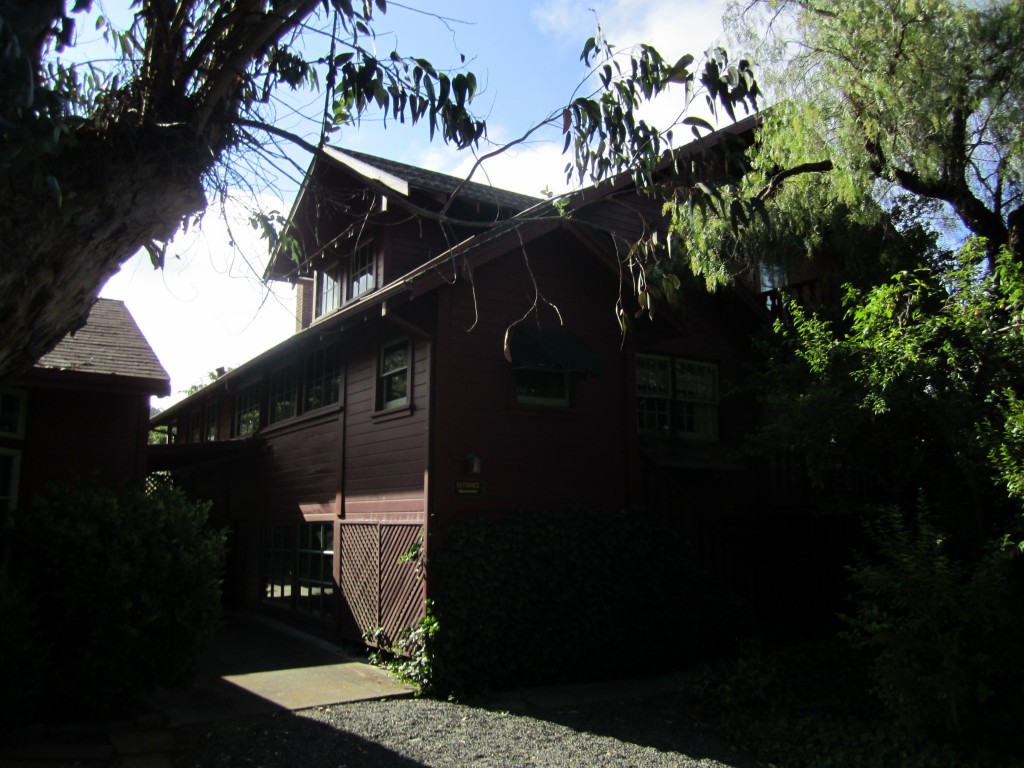 Sonoma Chalet in Sonoma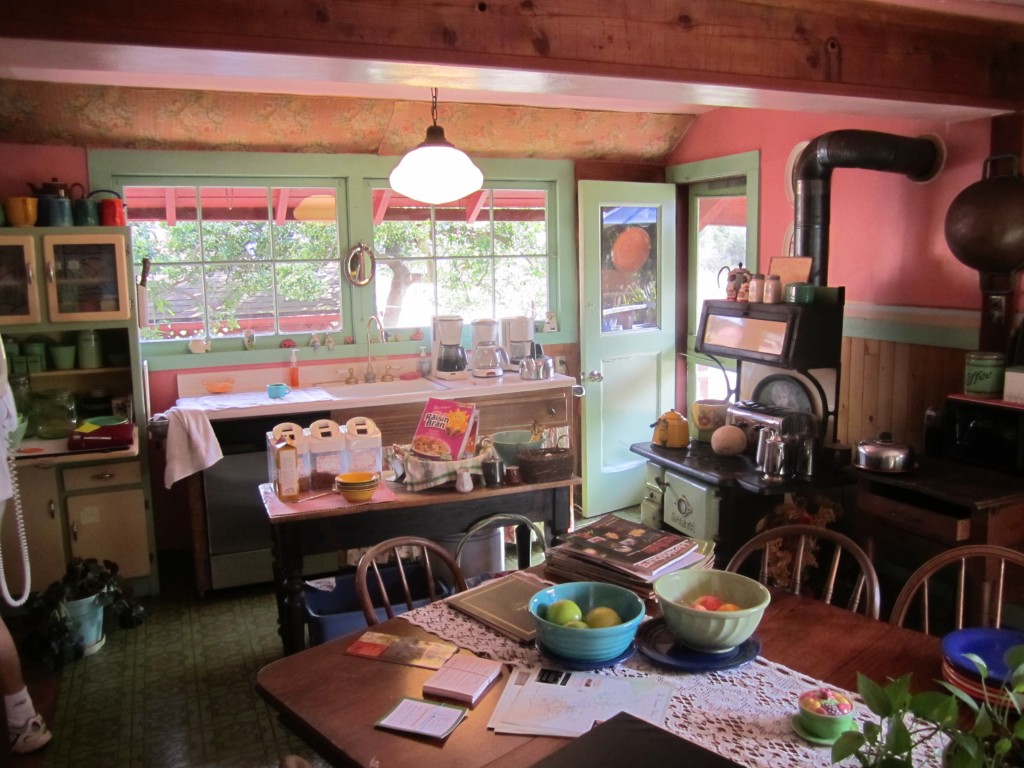 Cute kitchen at the Sonoma Chalet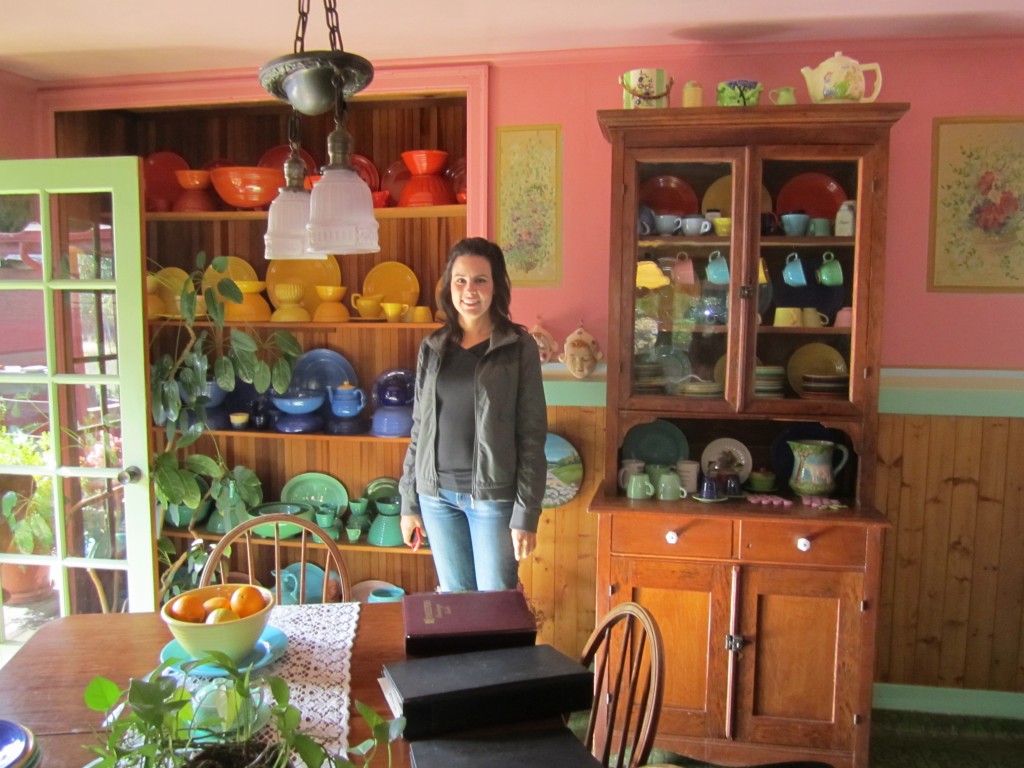 In my element at the Sonoma Chalet
Don't worry… this isn't the end of the France dream.  It might be a practical stepping stone on my way to France or perhaps an opportunity to take my obsession with French culture and create something unique here in the United States.
Stay tuned.