Archive for the 'Random' Category
February 8th, 2013 | Rachel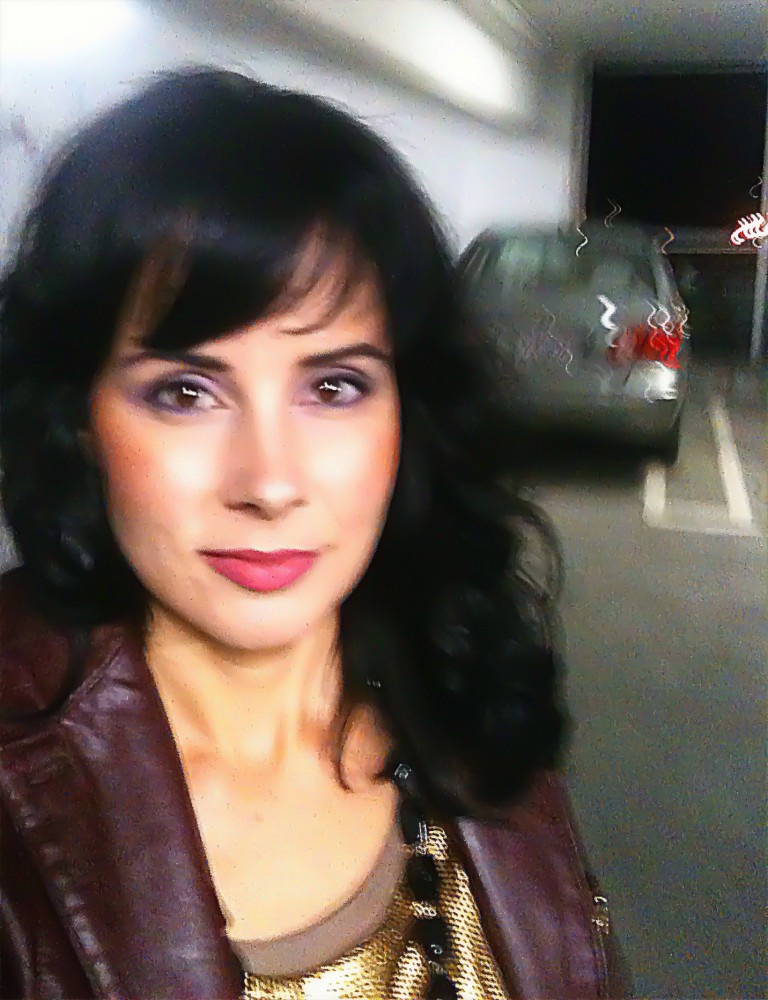 Feeling fantastic after a Birthday Spa Afternoon — I love the color, but I think the cut looks too much like Vivaldi or, perhaps, Howard Stern
Last week was a big week.
Arthur and I officially announced our new business, Drums & Crumbs, a stylish throwback to authentic Southern cookin' made with all-natural, locally sourced ingredients.
I also announced that Steve and I will be moving to beautiful Sonoma, California next month.
I also experienced my first bucket of cold water dumped on my head as a business owner, but I'm afraid I can't discuss it online. I know there will be numerous bumps along the way, so why not start now?
The other huge event of last week was my farewell to my 20s and open-armed welcoming of my 30s!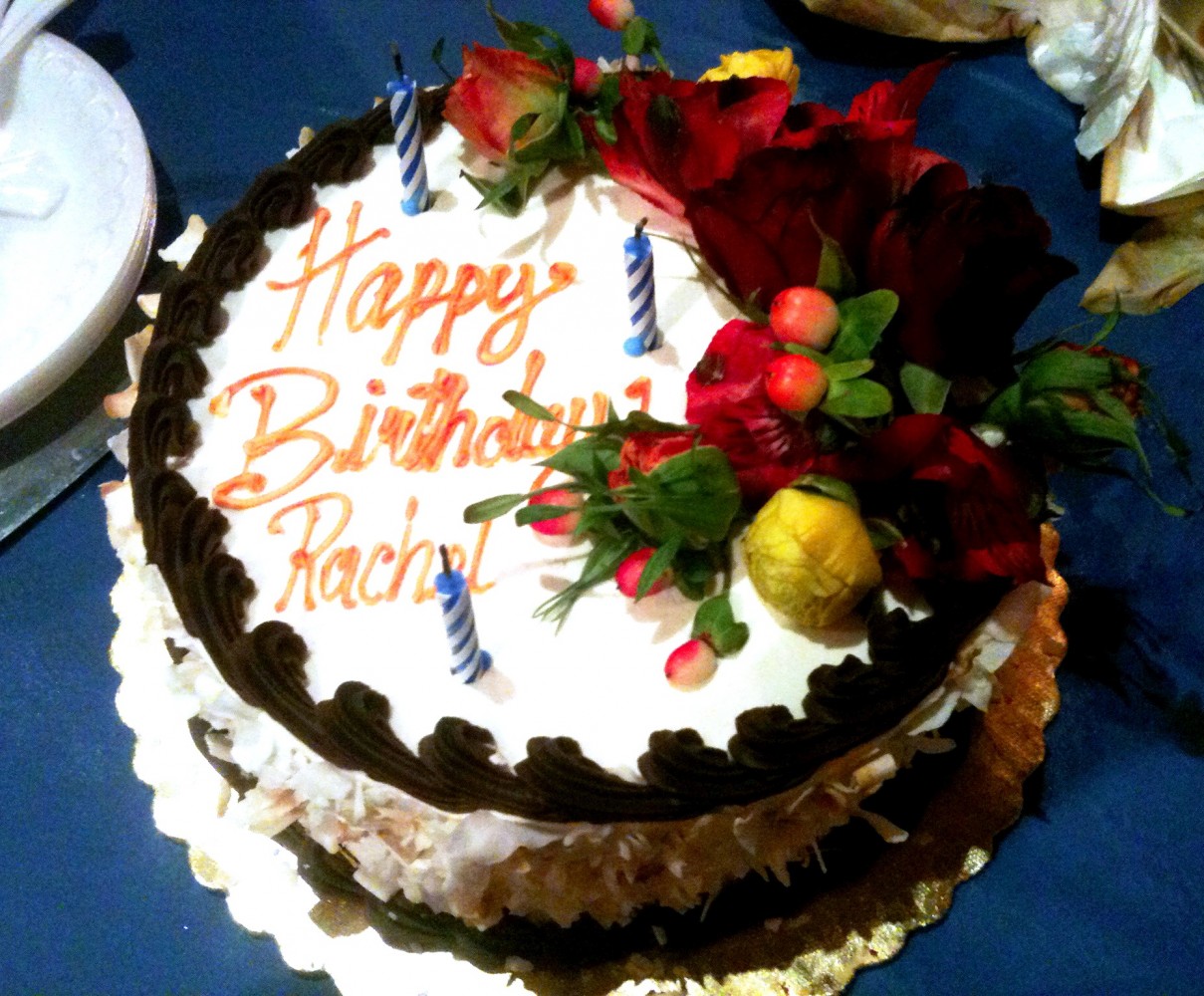 My Breakfast For The Following Week
I was not at my emotional best going into this milestone. I am so consumed with studying for the bar exam at the end of February and getting the new business up and running (and occasionally working my paying job to keep a roof over my head) that there is no time for the grand adventure I always assumed I'd be taking. I was thinking maybe a cruise down to Antarctica or, at the very least, sipping Malbec in Argentina over a steak dinner while people danced the tango around me. I have always declared that I believe in birthdays, and my 30th would be no exception.
Sadly, no time for tango dancers this year. And on top of that, despite having lived here a year, I feel like I barely know anybody.
It's quite a change from my days in New York when Steve and I could celebrate the purchase of a new margarita machine with a healthy crowd of 20. For our last wine and cheese party, we somehow managed to stuff 60 people into our apartment.
Anyone who talked to me in the days prior knows what a sorry pile of marshmallows I was being about the whole situation, especially when I found out Steve wasn't getting back from the ship until late the night of my birthday and would probably miss the whole thing.
The celebrations began the night before when I brought Oreo cheesecake cupcakes and a bottle of champagne to my church group (shhhh…) and drank a second bottle with some cool ladies afterward. The next morning I slept in and rejoiced in the fact that it was my first day off from studying in almost a month. I went into the office for a few hours and had a lovely birthday lunch with my coworkers out on the picnic table because it was such a beautiful day. Then I skipped out earlier for an afternoon at the spa where I had a remarkable massage followed by an equally remarkable facial.
I was walking from the day spa to the salon when I got my unmentionable bad news, and then had the unpleasant and time-consuming drama of ending up with a haircut I didn't like. Perhaps if I hadn't had the bad news I would have been able to fake it long enough to get out of the salon on time, but I couldn't, and the stylist and I found ourselves at an impasse.
The problem is that I was truly spoiled by my hair stylist in New York. I was ready to accept the fact that I had lost a gamble on this particular salon, but the stylist was trying her best to fix the situation. An hour later, I finally convinced her that I wanted to take the 'do out for a test drive to see if I warmed up to it. I didn't. And I still hate it. But lesson learned. And I'm officially a hair snob.
By that time my dinner party had gathered, and I was frazzled because I was wearing a Vera Wang dress and hastily putting on make up in my car. I was also worried about my ragtag group of guests (church friends, old restaurant friends, and Arthur) whose only common denominator was me. As it turned out, those worries were unwarranted because by the time I got to the sushi restaurant (appropriately named I Love Sushi), everyone was bonding over sake and free appetizers. I ranted for a good ten minutes about my hair, and then let it go and had a great time. The owner of the restaurant kept joking that it was my 21st birthday and brought me several free bottles of sake along with a gift of chopsticks (pretty ones… not the plain free ones). And my delightful friends surprised me with a cake from The Buttery.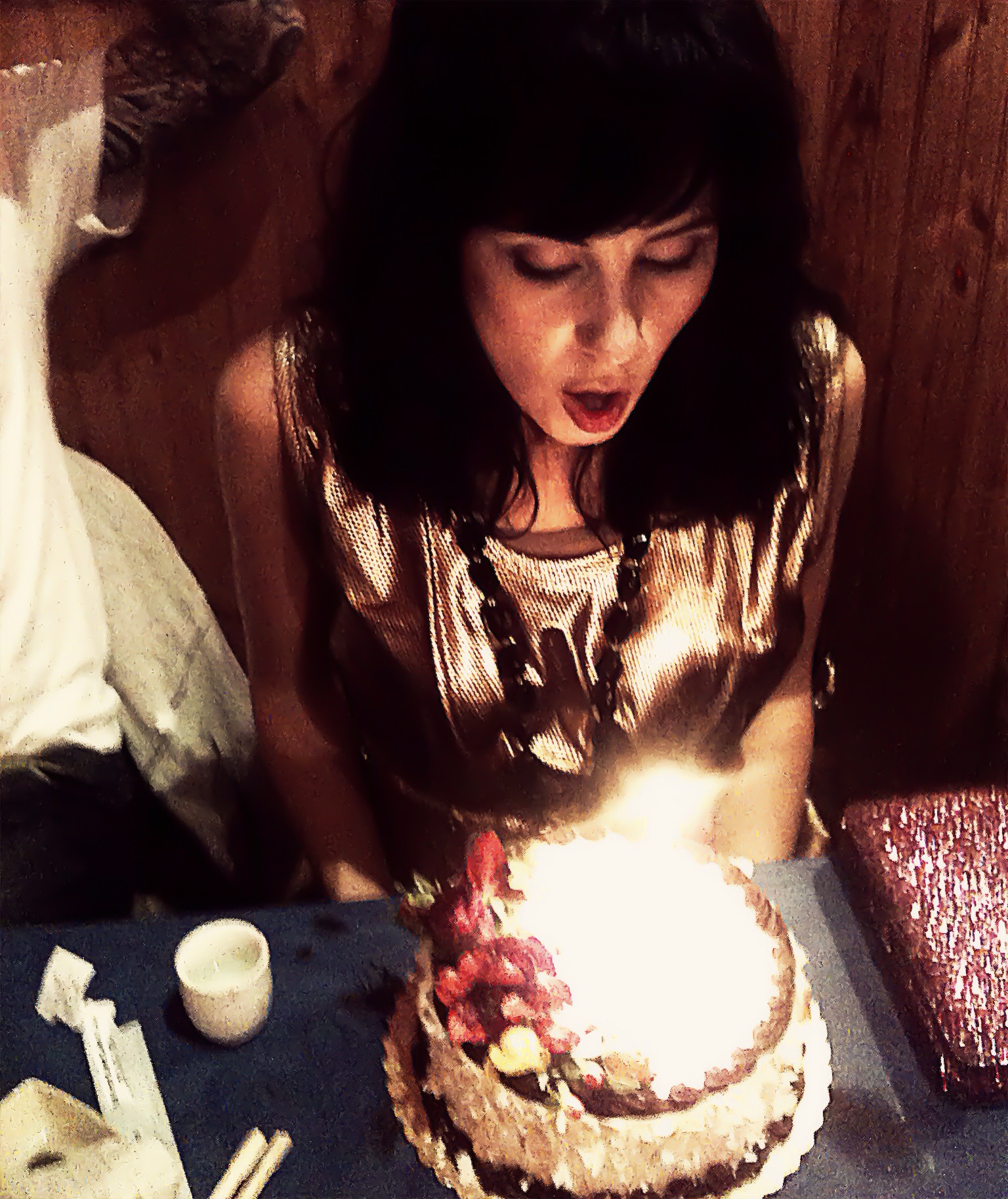 Three Wishes For The Big 3-0
After that we had cocktails at a cool bar, joined by a couple more random friends. And then Steve showed up. :-)
It wasn't the most exotic of birthdays, but it might be one of the more sincere ones I've had. I definitely felt the love.
The next day Steve and I drove up to San Francisco where Arthur and I met with our new graphic designer (!!!). Arthur, Steve and I had greasy burgers for lunch, stopped by some fun little shops, and then Steve and I continued northward to Sonoma.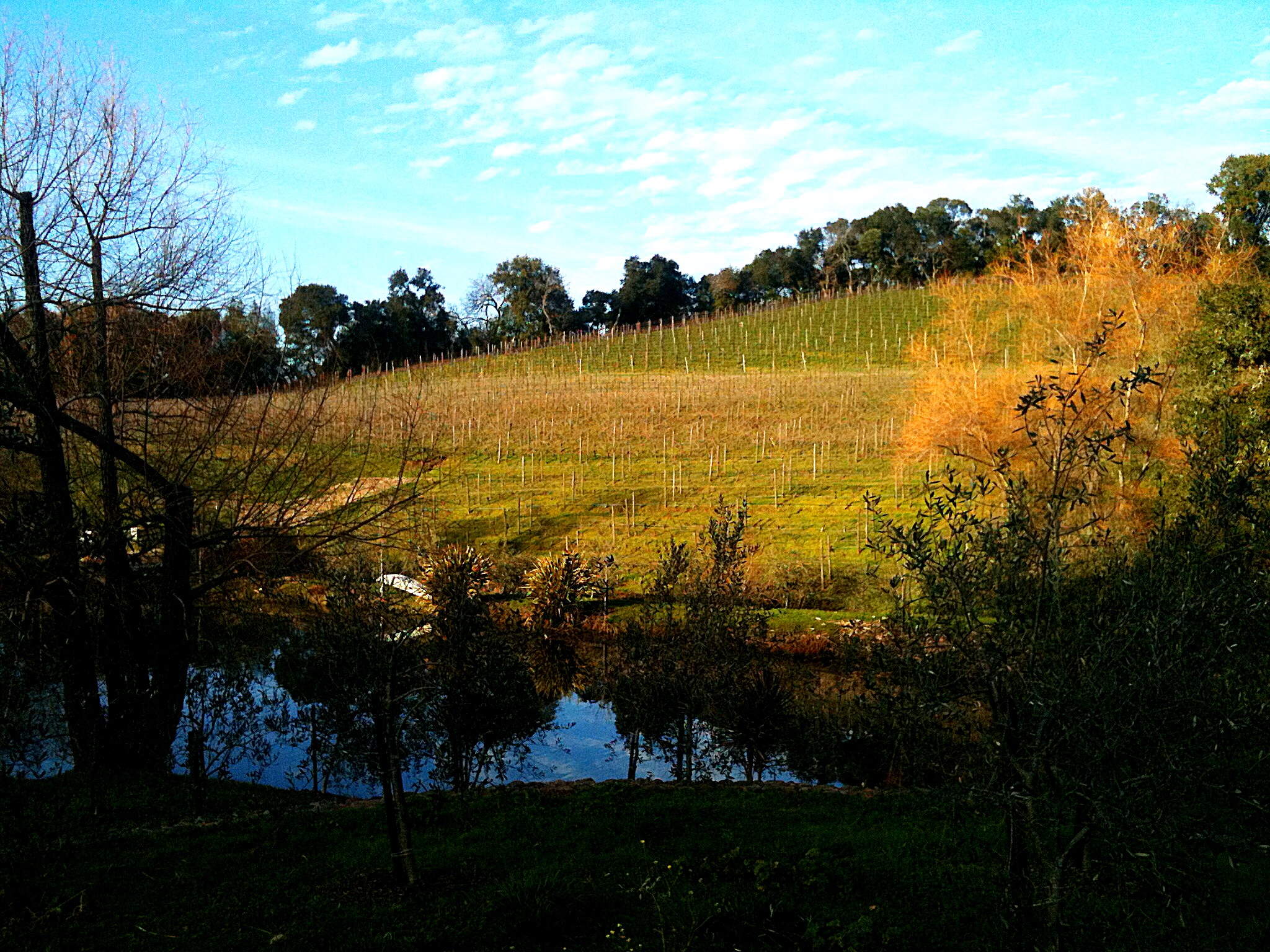 View From Benziger Winery
We stayed at the charming McArthur Place Inn and had an insane chef's tasting menu for dinner at El Dorado Kitchen. The next day we drove around in Steve's new convertible with the top down visiting wineries.
I don't think I can complain about anything.
I felt birthday love from a lot of you out there, so thank you. Who knows, maybe I'll get my grand adventure next year for the big 3-1. In the meantime, I'll just have to settle with the fact that all I got this year was a new business. :-)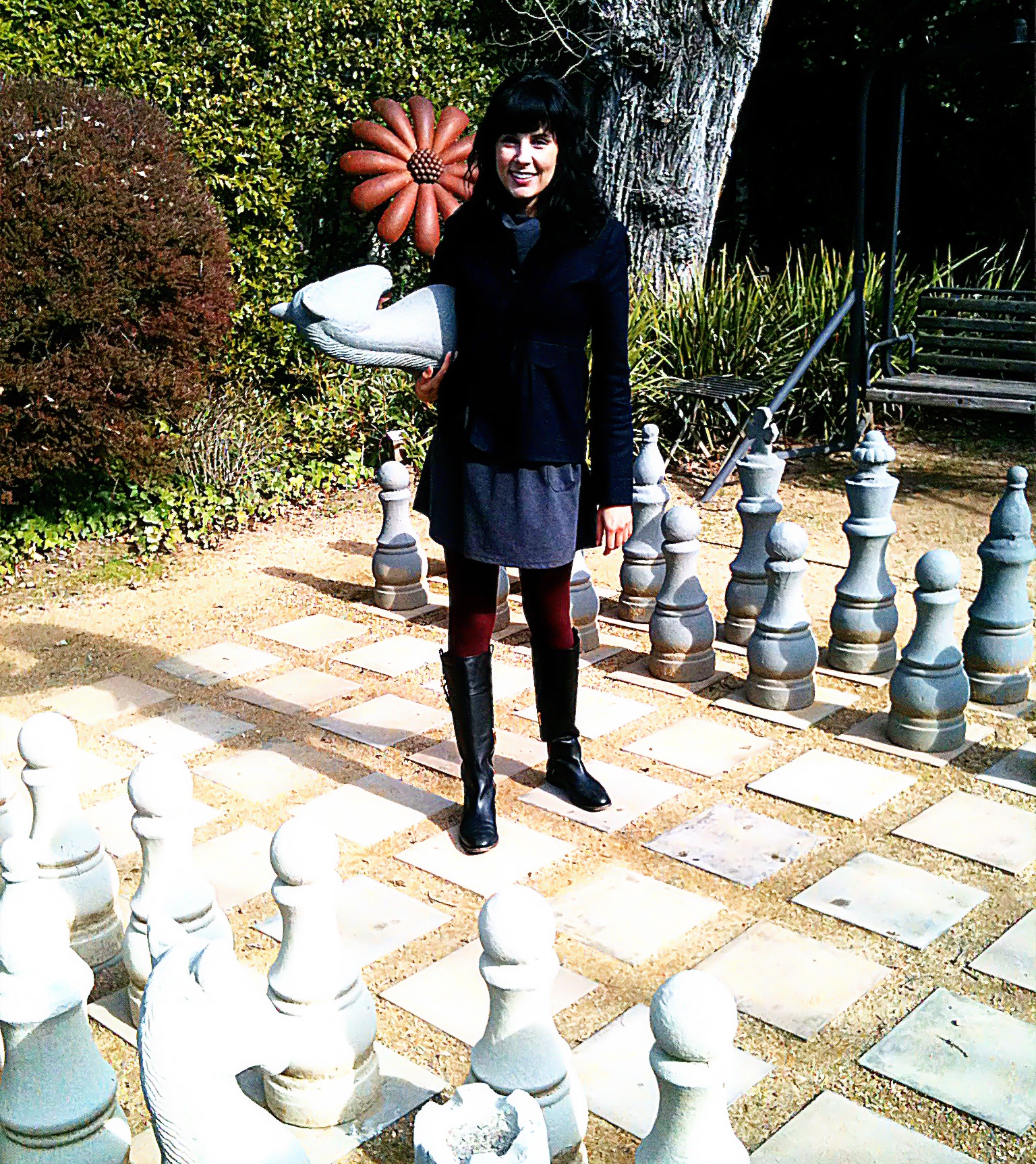 Giant Chess Set At McArthur Place Inn
December 5th, 2012 | Rachel
Sixteen points out of 2000.
That is how close I was to passing the California bar exam. It was so close they graded it twice, and if you took the high scores from the two gradings, I would have passed. Alas, they averaged the scores, and now I find myself in the tough spot of deciding whether it'd be worth it to give it another go.
I was surprised to see that I did fine on the multi-state multiple choice section. True, if I had gotten five more of the 200 questions correct I would have passed, but I didn't bomb the criminal procedure questions like I had predicted. Instead, I think it was actually the format of my essay answers that held me back. All of those new graduates who spent the summer taking BarBri classes had a leg up on me. I should have practiced more.
After two weeks of soul searching and talking to two of the most important men in my life, my boyfriend and my business partner, I've decided to give it another go in February. The thought of having to buckle down and study again is annoying, and of course there is the fear that I'll fail again and prove myself to be even more incompetent than I'm presently feeling after failing a first time, but I think the time is still right, and I know what I need to do.
It'll be a little sticky with the new business. I might have to forgo my paying job and dive into my emergency savings to pay the bills while Arthur and I still aren't making any money, but I will do what I have to do to do it right. I get one last hurrah in December when I travel to India with my mom for three weeks, and then it is all business.
Having my plans shifted all because of sixteen subjective points really gets me thinking about life and plans and control. Sometimes we don't get what we want because we didn't prepare adequately. But sometimes we don't get what we want because someone else was having a bad day or a driver a half an hour in front of us was reckless and caused a wreck that jammed the whole northbound highway for two hours.
"Stuff" happens, and the question is what do we do with it. There's that worn out saying about how every time God closes a door he opens a window. But what about the times where we're really supposed to just kick down the door and keep moving forward?
There are people out there who experience adversity and see it as the Universe's way of telling them that they are headed in the wrong direction. But I think there's also something to the old adage that if it was easy, everybody would do it. I do think that many of the people that experience great success were willing to put in exponentially more effort than those around them.
So what is the answer?
As someone who sees interesting opportunities everywhere I look, the best I can do is to take a realistic assessment of the circumstances and then do a frank and honest evaluation of my heart. If my heart says move forward, even though the path is ridden with pot holes and sharp turns, then that is what I am going to do. I will plow forward, full steam, until I either run into a brick wall, arrive at a junction with new opportunities, or succeed.
This bar exam business has been tricky because its not something that I need right now. I'm not planning on practicing law until well after this food business has lived a healthy life and given birth to several other projects. So why do it? I can't say in any definite terms, but I just feel like it is something I need to do now rather than later. For all of you people who need a more rational answer, then lets just call it a back up plan.
If I called the shots, I would have passed the first time around, my efforts would have been immediately rewarded, and I would not have to divide my focus these next few months. But, I don't, so here we go one more time. I'm interested to see how the next few months go and what insights I gain while preparing to take the exam. I have a sneaking suspicion that the lesson(s) I learn will make it all seem worth it.
Anyway, moving on.
Did I mention I'm going to India in less than a week?!!
September 17th, 2012 | Rachel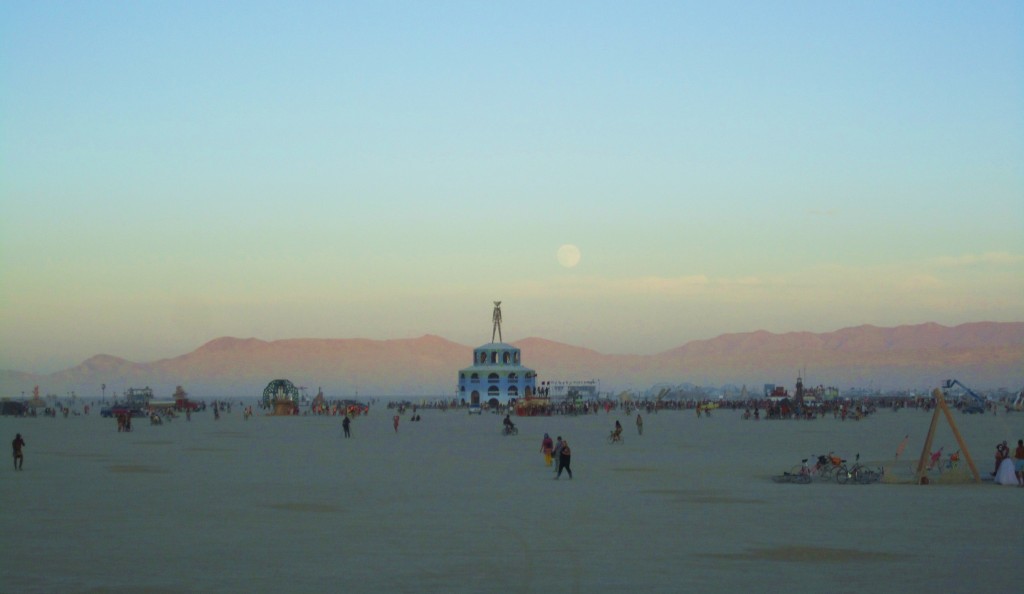 Almost-Full Moon over the Man at Burning Man
I am going to deviate from the true intention of this blog for one more post.  I have a lot of friends on the east coast who don't know much (if anything) about Burning Man, so here are a few photos and a weak attempt at sharing my own experience.  It is hard to describe exactly what Burning Man is, but I can tell you it isn't as scary as you probably think it is.
Going into the week, I was a little nervous about what I was getting myself into.  The prevailing view among those who haven't been is that it is a bunch of naked people doing a bunch of drugs in the desert.  Although it is true that I encountered both, it was such an peripheral part of my experience that I find it hardly worth mentioning.
Instead, I present to you the Ten Principles of Burning Man, as stolen from their website:
Radical Inclusion – Anyone may be a part of Burning Man. We welcome and respect the stranger. No prerequisites exist for participation in our community.
Gifting – Burning Man is devoted to acts of gift giving. The value of a gift is unconditional. Gifting does not contemplate a return or an exchange for something of equal value.
Decommodification – In order to preserve the spirit of gifting, our community seeks to create social environments that are unmediated by commercial sponsorships, transactions, or advertising. We stand ready to protect our culture from such exploitation. We resist the substitution of consumption for participatory experience.
Radical Self-reliance – Burning Man encourages the individual to discover, exercise and rely on his or her inner resources.
Radical Self-expression – Radical self-expression arises from the unique gifts of the individual. No one other than the individual or a collaborating group can determine its content. It is offered as a gift to others. In this spirit, the giver should respect the rights and liberties of the recipient.
Communal Effort – Our community values creative cooperation and collaboration. We strive to produce, promote and protect social networks, public spaces, works of art, and methods of communication that support such interaction.
Civic Responsibility – We value civil society. Community members who organize events should assume responsibility for public welfare and endeavor to communicate civic responsibilities to participants. They must also assume responsibility for conducting events in accordance with local, state and federal laws.
Leaving No Trace – Our community respects the environment. We are committed to leaving no physical trace of our activities wherever we gather. We clean up after ourselves and endeavor, whenever possible, to leave such places in a better state than when we found them.
Participation – Our community is committed to a radically participatory ethic. We believe that transformative change, whether in the individual or in society, can occur only through the medium of deeply personal participation. We achieve being through doing. Everyone is invited to work. Everyone is invited to play. We make the world real through actions that open the heart.
Immediacy – Immediate experience is, in many ways, the most important touchstone of value in our culture. We seek to overcome barriers that stand between us and a recognition of our inner selves, the reality of those around us, participation in society, and contact with a natural world exceeding human powers. No idea can substitute for this experience.
So what does all of that look like in practice?  It looks like a bizarre, pop-up city (called "Black Rock City") in the middle of a very flat ancient lake bed in the Nevada desert that is made up of thousands of camps full of refreshingly friendly people wearing anything from casual hiking attire to elaborate, colorful costumes.  The lay out, which spans two miles, looks like this: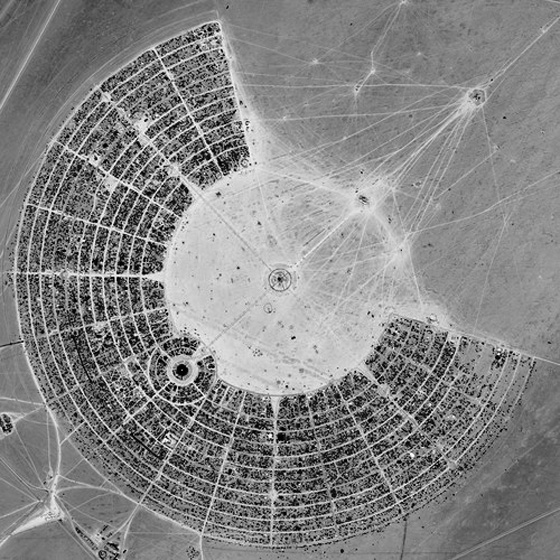 Burning Man, as seen from Google Earth
In the center of the circle is a large structure with a "man" on top that is burned at the end of the week.  You'll see what I mean in the photos below.  The road lining the camps closest to the Man is called the "Esplanade" and features some of the more developed camps.  I was fortunate enough to be a part of one of those camps.
In the center of the city, in the space between the camps and the Man, there are dozens of other very large art installations.  Driving throughout the streets of the city and the empty spaces around the sculptures on the playa are elaborately decorated "art cars" (although many were built out of RVs, trucks and buses) shaped like giant warthogs or fish or toilets or ships or even octopuses with flames shooting out of the legs.
Since we were in the middle of the desert, the elements were pretty harsh at times, and my friend Davina and I built a 6′ hexayurt out of rigid insulation board to keep us cool during the day and warm at night.  Although it was a little small for the two of us, it worked beautifully.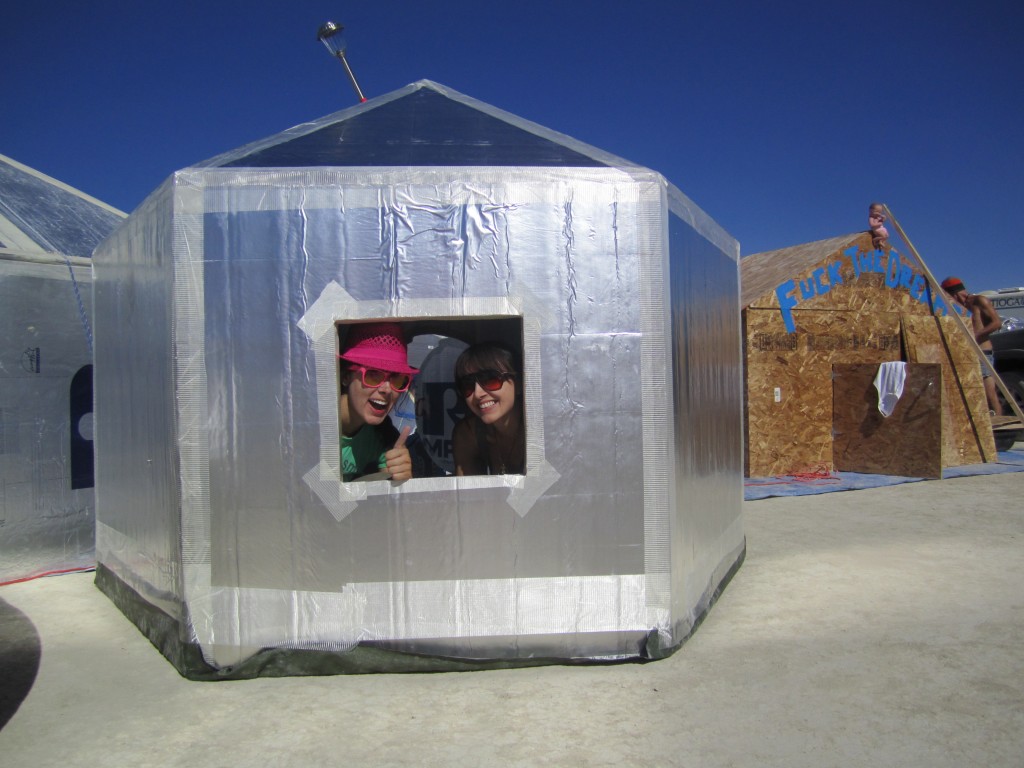 Our Hexayurt
Once you have your housing situation set up, you have nothing on your agenda except exploring Black Rock City and accepting whatever adventures come your way.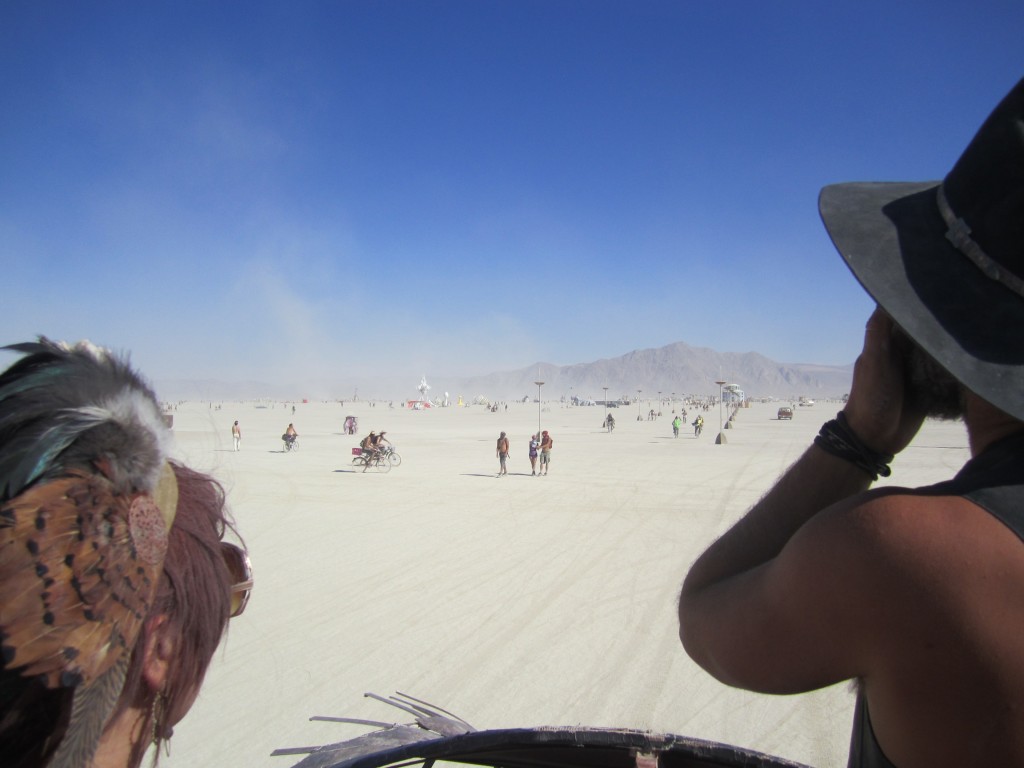 Making an ice run aboard the Warthog art car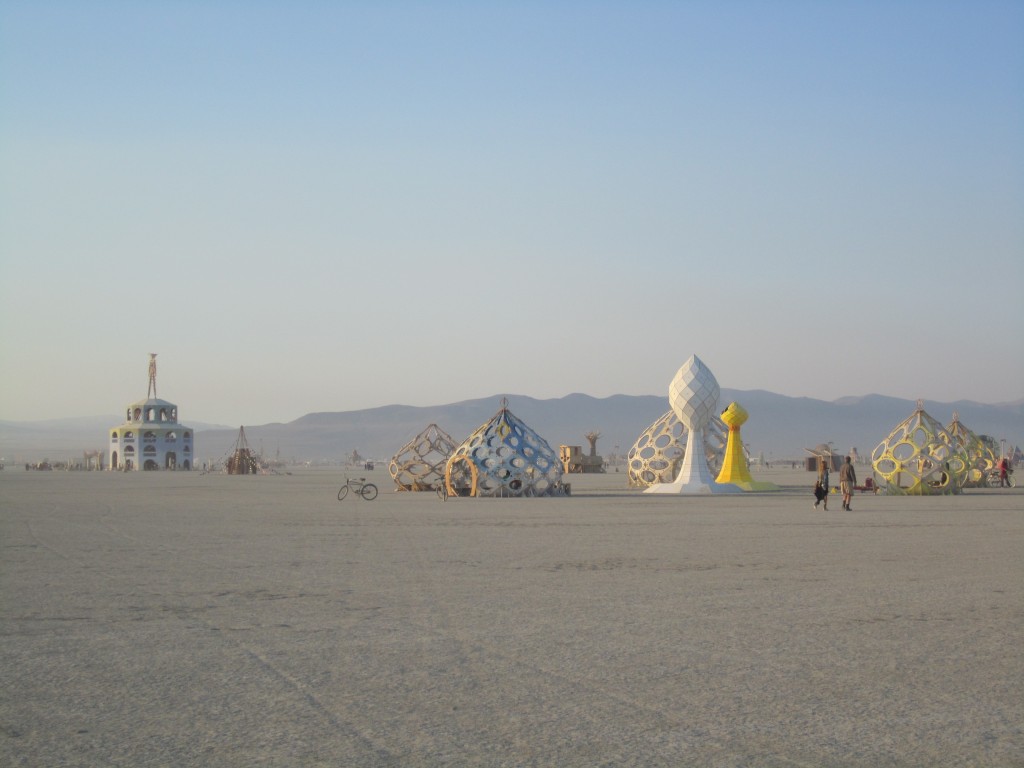 Sculptures and the Man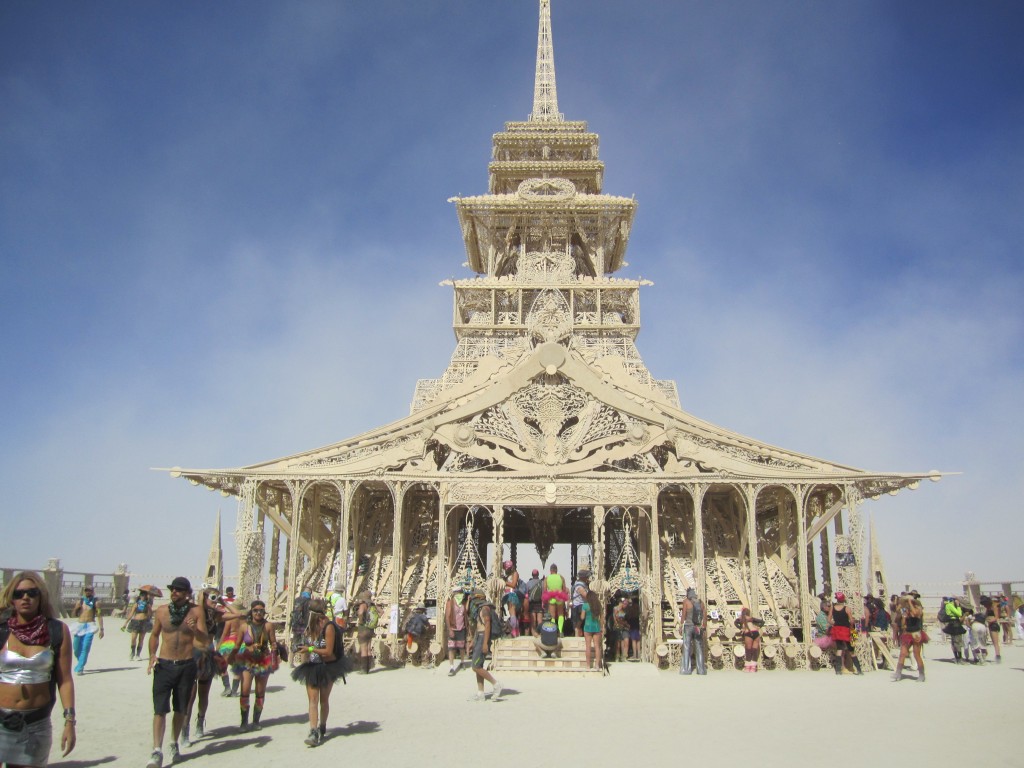 Temple of Juno
My absolute favorite time of day was between 6pm and 8pm because the sun would make its slow decent behind the mountains and for about two hours the temperature would be perfect.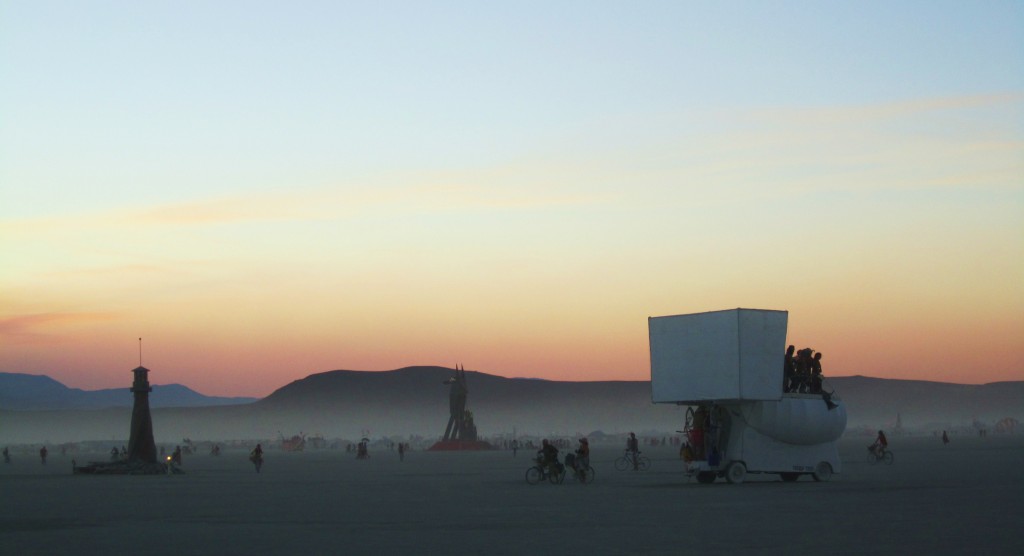 Sculptures and Art Car at Sunset
Sadly, I don't have any photos of nighttime to share with you.  Black Rock City is fascinating to see during the day, but at night it is mind blowing.  The elaborate lights of the theme camps and the art cars are a little reminiscent of Las Vegas… if Dr. Seuss had been the city planner and chief architect.
My week at Burning Man was a little unusual because a big focus of it was the wedding of two friends, Liz and Eric.  They commissioned a sculpture made out of large panels of painted glass (pictured below) and were married in front of it… by a pirate.  No, really.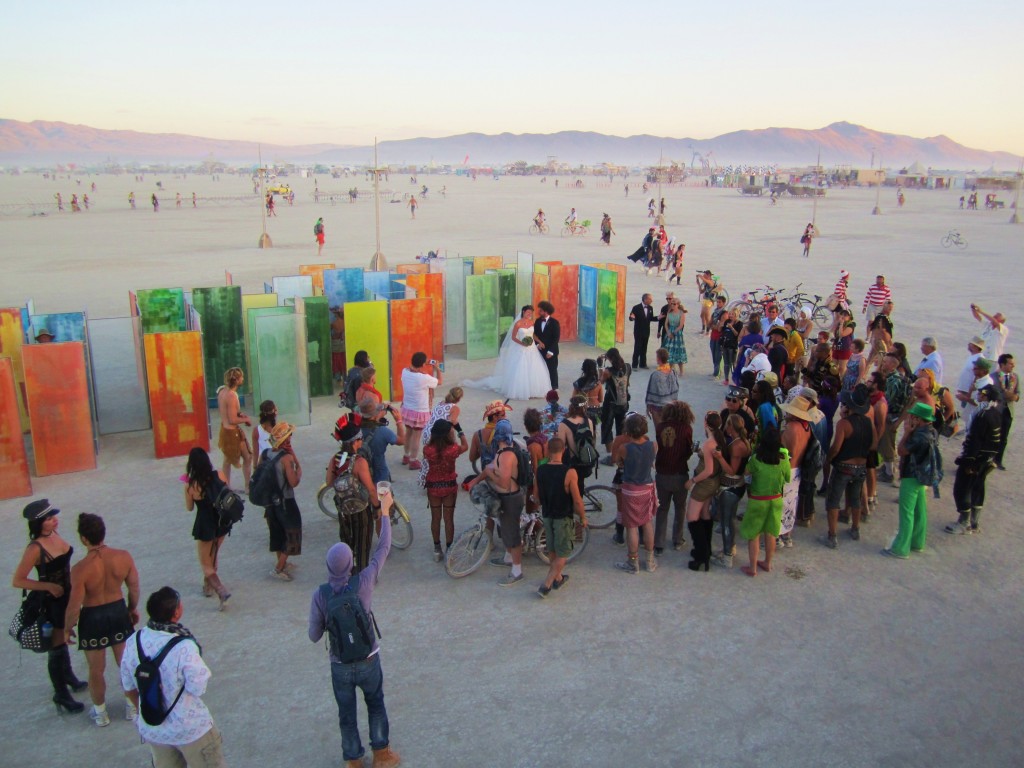 Beautiful day for a Pirate Wedding
I have to pause for a moment and tell you about this wedding.  Although I was camping with a larger theme camp, my sub-camp was the entire wedding party, and included both sets of parents, as well as a number of aunts, uncles, and siblings.  On the evening of the wedding, the wedding guests were picked up in an art car called the Black Light Lounge and were driven out to Liz and Eric's wedding sculpture where the bride, groom, and family were waiting.
We gathered around them, and all of the sudden a small art car shaped like a boat drove up and a pirate stepped out.  The pirate greeted Liz and Eric, and Liz told the pirate that she and Eric were supposed to get married but their officiant was not present (which was kind of true because they had been assigned an officiant by Burning Man but decided it wasn't a good fit).  The pirate told them not to fear because he could marry them, at which point he pulled out a scroll, opened it, and performed a beautiful ceremony.  At the end, after Liz and Eric exchanged very sincere vows, they stepped over the pirates sword and were officially wed.
Liz tossed her bouquet, and we all boarded the Black Light Lounge, which took us back to our camp where a champagne reception was waiting.  We were then ushered back to our sub-camp where we had a cocktails, passed hors d'oeuvres, and a gourmet dinner (keep in mind we are still in the desert).  Several members of the newlyweds' families gave speeches, and then we all boarded the Black Light Lounge once again (only now it was stocked with a full open bar) and cruised the Playa until the sun rose.  A small group of dedicated wedding guests — myself included — gathered at the "Bubbles and Bass" party next door (held every morning from 6am until noon) before finally going to bed.
It was definitely a wedding to remember.
Watching the sun rise became a regular part of my daily events, and my favorite place to do so was with a collection of DJs with their own mobile sound system called Robot Heart.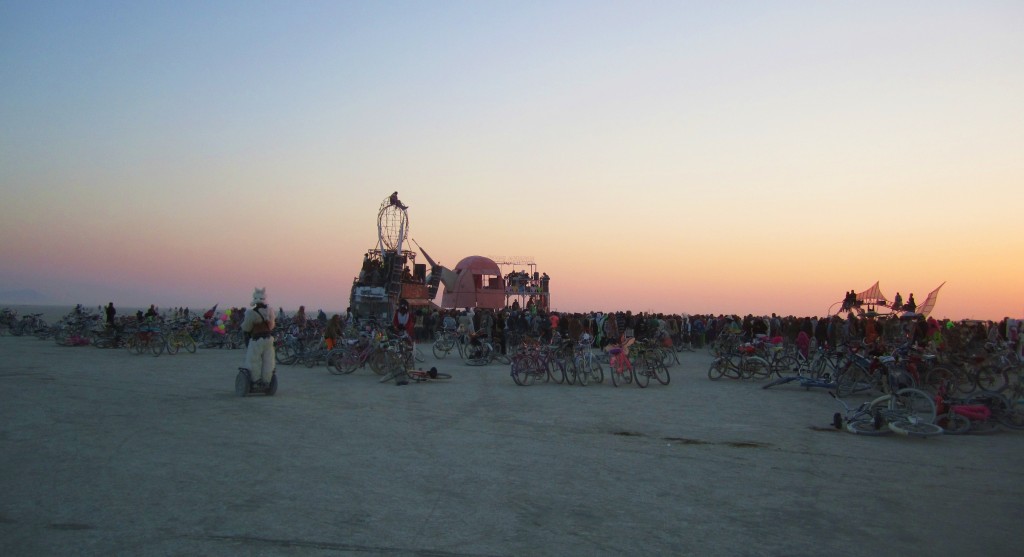 Sunrise with Robot Heart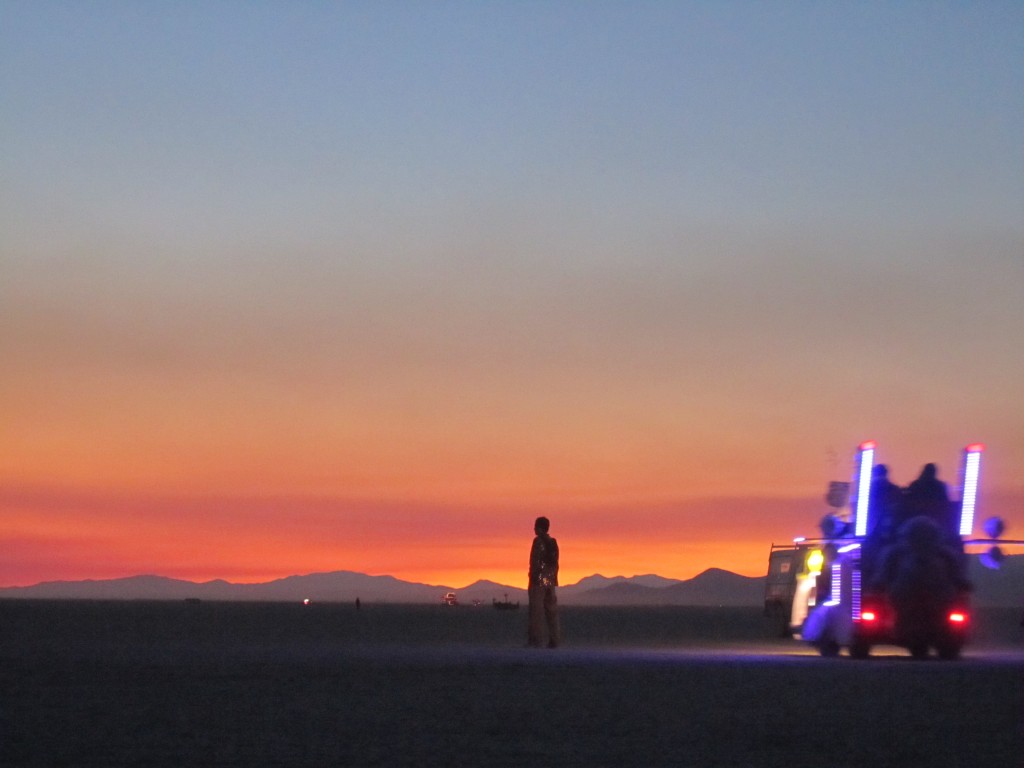 Sunrise on the Playa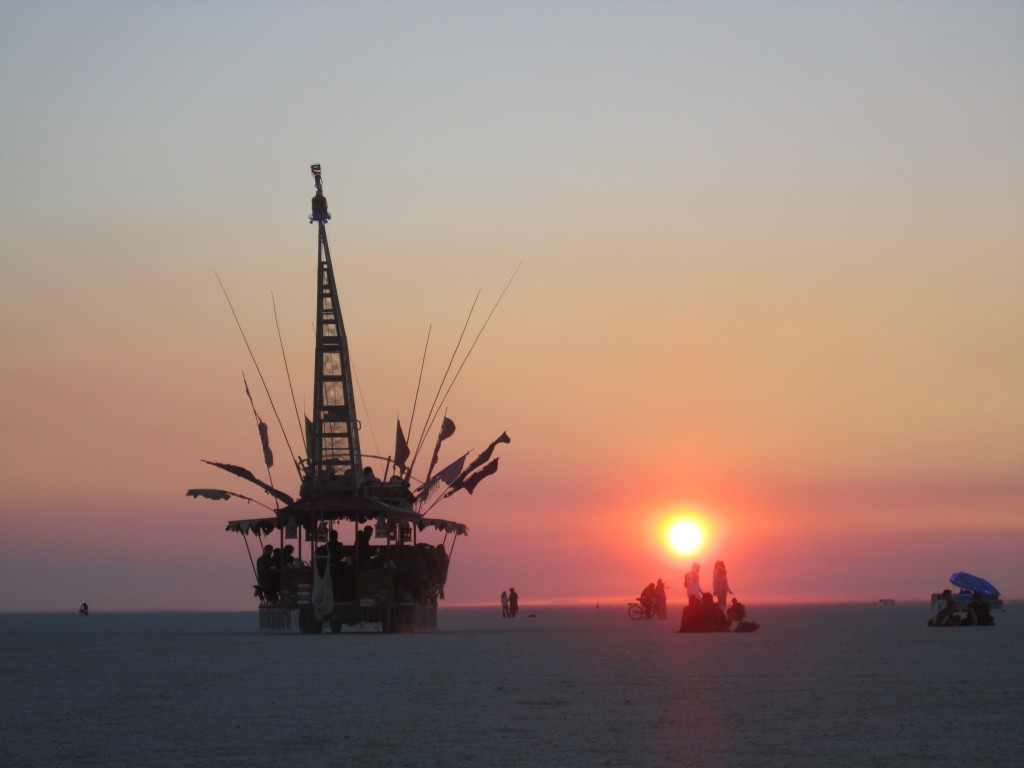 An art car rides off into the sunrise
There were so many things that made my first week at Burning Man very special and life changing, and one of them was the people I camped with.  Just about everyone at Burning Man is extremely friendly and open to the people around them.  It made it so easy to meet new, interesting people throughout the week.  The people I camped with were no exception.  They were all so intelligent and multidimensional and were always fun to be around.  I have no doubt I am going to keep in touch with many of them for years to come.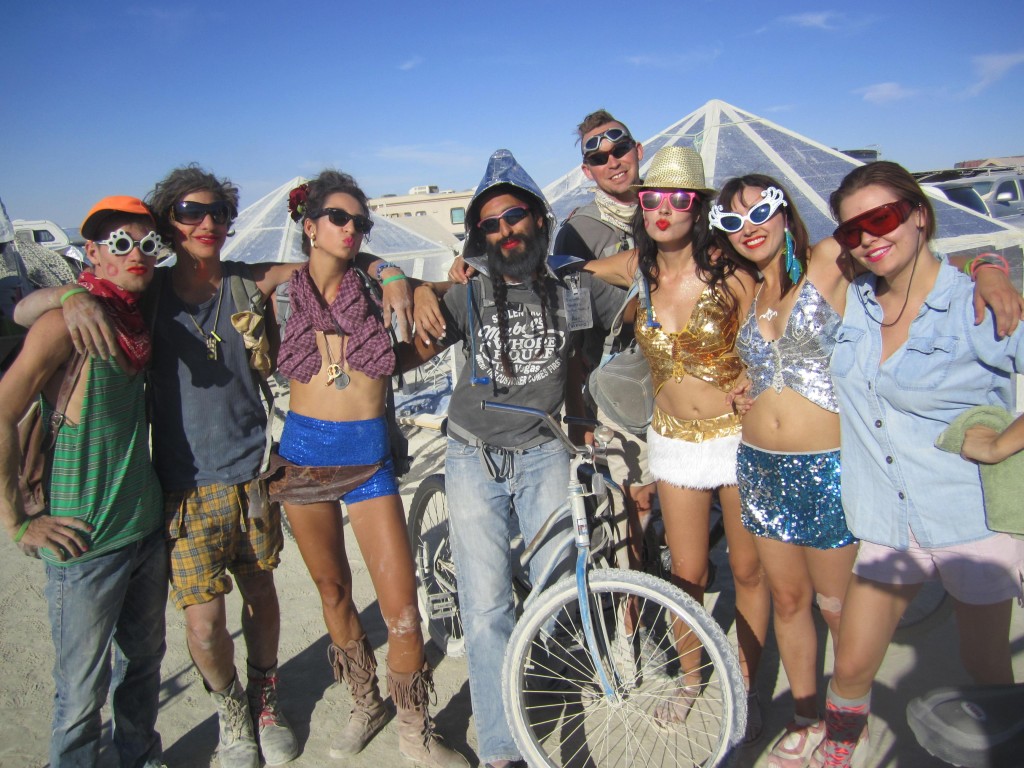 My Wonderful Campmates!
Wedding Guests
And of course I appreciate any opportunity to wear a fun outfit :-)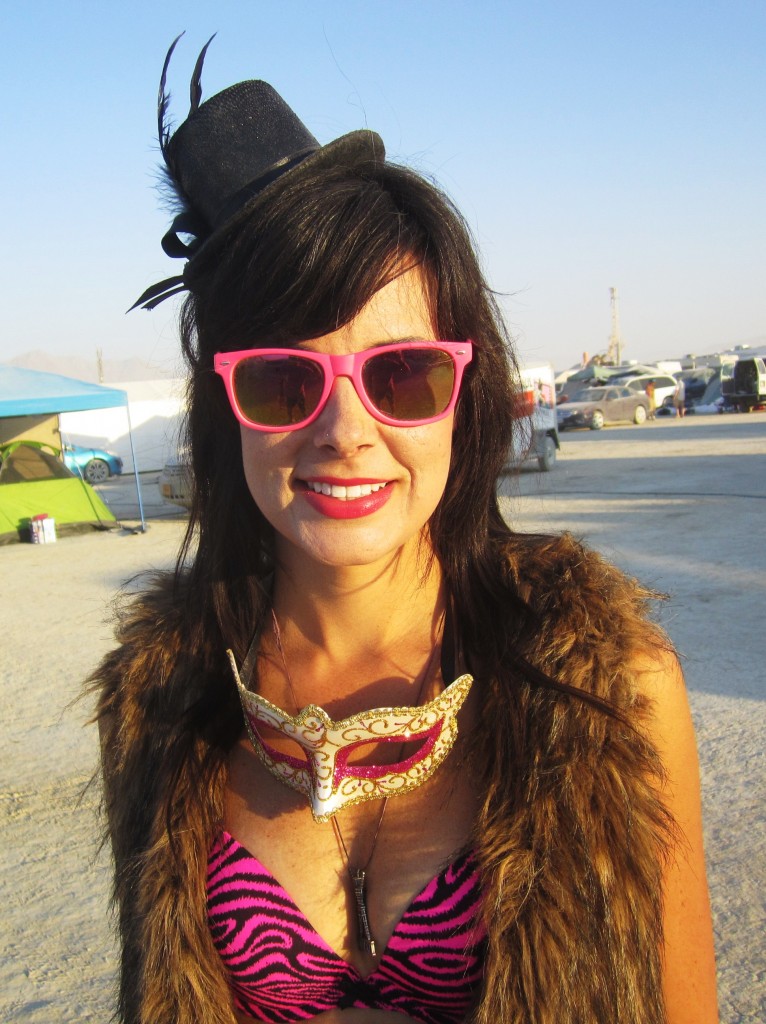 One of many carefully orchestrated outfits for the week
I will end with briefly mentioning the burns.  Burning Man started in 1986 when a small group of people got together and burned a n 8′ tall wooden man.  The exact reasons why they decided to do this are unclear, but the tradition has grown every year, and now a number of other wooden sculptures are burned as well.
Burning something can be symbolic in a number of ways, and each of the burns I witnessed was very different from the others.  The burning of the Man is the peak of the week, and it is marked by a lot of celebrating.  The temple burn, on the other hand, which usually happens the next day, is a very solemn and reflective event.  I also watched the burning of two independent art projects, one of which was called Burn Wall Street.  The sculptures were large buildings modeled after some of the large banks and the New York Stock Exchange.  The buildings were open during the week for an assortment of activities, and then on Saturday night at 1am they burned them down.  I have a video of some of the burn posted on YouTube: Burn Wall Street.
I thought each burn was interesting for different reasons.  For all of them, the 7th grade pyromaniac inside of me was filled with glee.
The burning of the Man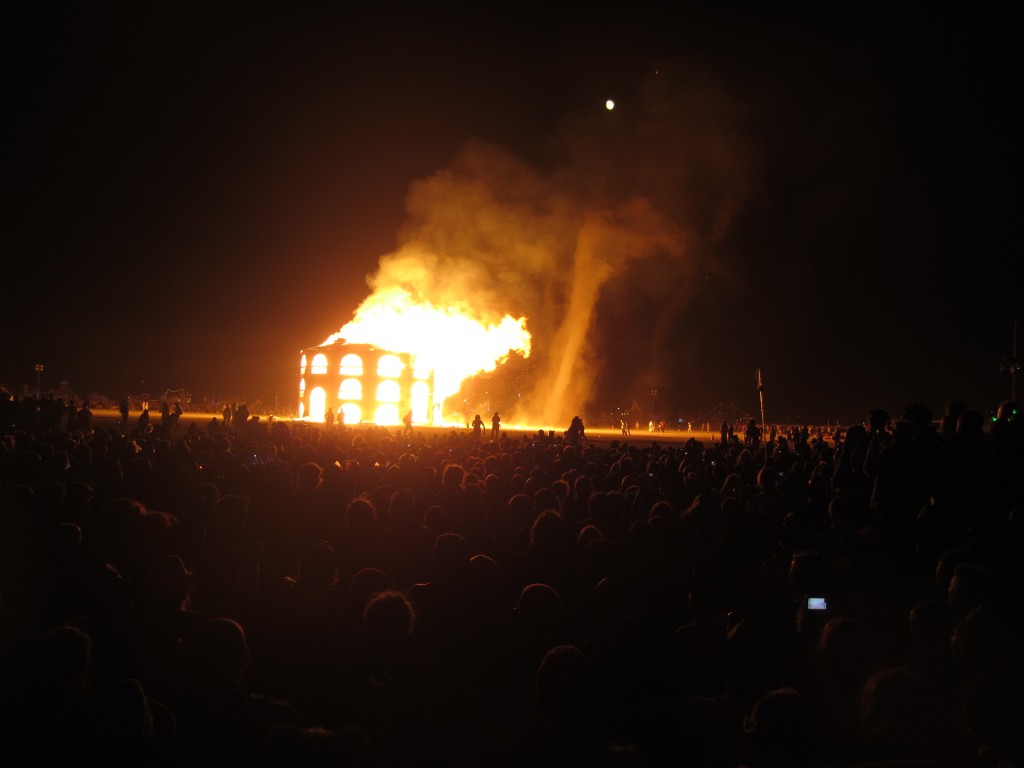 Dust devils created by the burning of the Man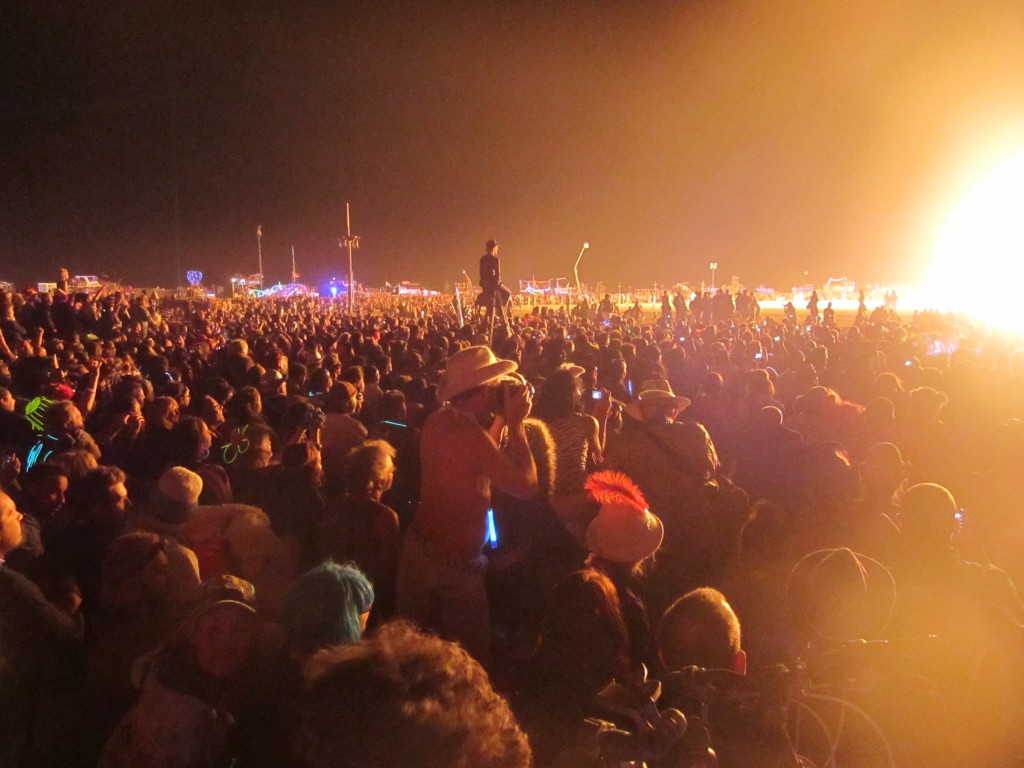 Crowd watching the Man burn
Burn Wall Street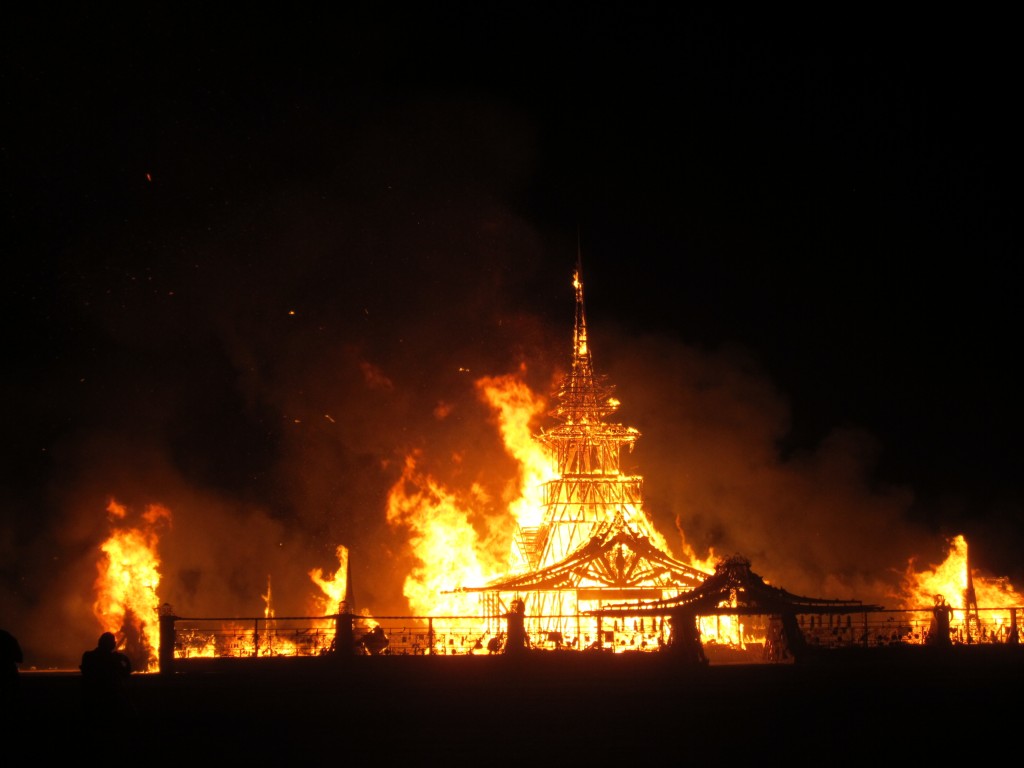 The burning of the Temple of Juno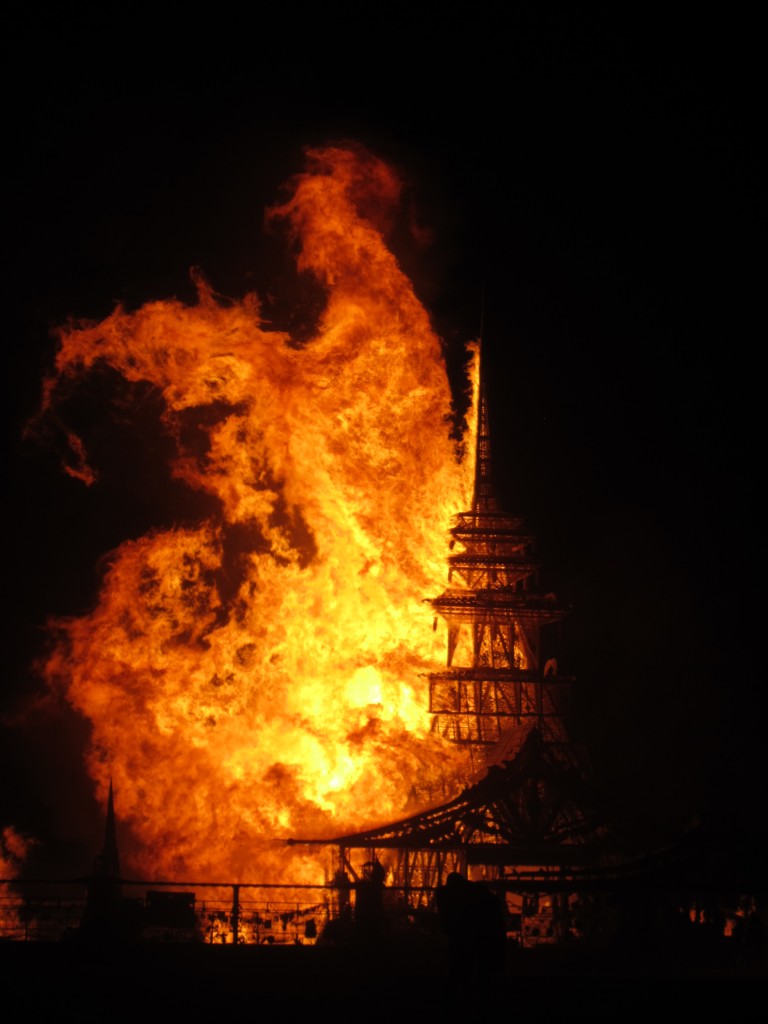 A phoenix rising from the burning of the temple??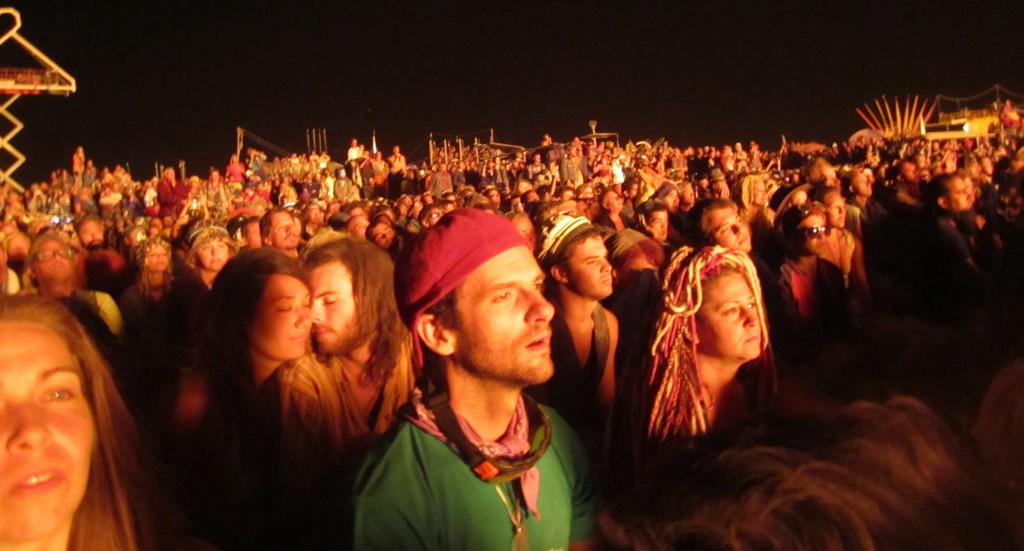 Crowd watching the temple burn
I'm hesitant to write anything about the week because I know I can't do it justice.  My first time at Burning Man was incredible.  A lot of people call it "home" because of the complete freedom and acceptance it provides and the community that is built on those and other shared values.
There was a moment after the Man burned when I walked toward the fallen, burning sculpture and was approached by a random person who handed me a handmade metal Man, gave me a hug, looked me in the eyes, and said "Welcome Home."  It was the first time someone had said it to me since my arrival, and suddenly I understood what it meant.
I will definitely be returning next year.
June 18th, 2012 | Rachel
While I was living in New York, I twice had the privilege of sitting in the studio audience for the taping of The Martha Stewart Show.  The inaugural visit was thanks to my friend Harmony, who was one of the few people I knew who actually took advantage of the many cool (and free!) talk shows filmed in the city.  Although I did sit on the front row for a filming of the Colbert Report and got to give Stephen Colbert a high five (twice!), I regret never witnessing a filming of The Daily Show or Saturday Night Live.
The special guest that first visit to The Martha Stewart Show was, disappointingly, Rachael Ray.  There was a time in my life when I watched more than a few episodes of 30 Minute Meals, but after Rachael Ray ran out of ideas and started recycling her old recipes with added cheese, cut-up hot dogs and/or cans of chili, I lost interest.  Rachael Ray's appearance on The Martha Stewart Show felt a little forced and not once did she look up and acknowledge the audience cheering for her (the announcer, after her segment: "Alright everyone, give it up for Rachael Ray! …there she goes!  …Rachael R–and she's gone" as she made a beeline for the door).
Martha Stewart, on the other hand, was very gracious both times I attended.  She welcomed everyone herself and then stayed afterward to answer questions from the audience.  At one point, the producers pulled her away to film some blurbs, and she turned back to the audience and said, "I would prefer to stay out here and keep talking to you all about your gardening questions, but my producers need me to record some [whatever the official word was].  Thank you for coming."
Maybe it was just a well-executed act, but it felt sincere to me.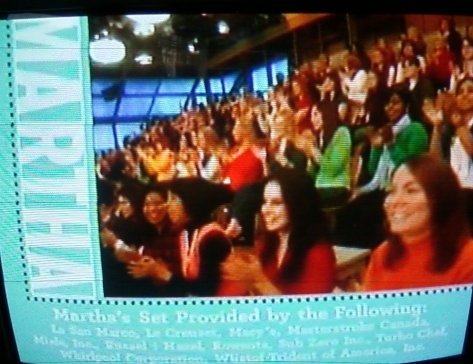 That's Harmony on the lower right corner, with me beside her
As a result of that first visit, I was added to the email list, and a few months later I received an email looking for audience members for a future episode.  As a part of the ticket request, you have to write about the person you would like to take with you.  This is how I ended up going with Harmony the first time (thank you Harmony!).  For my special guest, I wrote about another lawyer-turned-baker friend of mine.  It was accepted, and Melissa and I got on the list.
For my second experience at The Martha Stewart Show, I was determined to sit as closer or closer than I did when I was with Harmony.  The key is to wear solid bright colors, which they love for the cameras, and to arrive early.
I agonized over how early to arrive.  The email said to arrive by 12:30pm for the 2pm show.  I didn't want to take any chances, so I arrived at 9am.  Even then I was worried I was going to be beat by hoards of Martha Stewart devotees.  When I arrived outside the studio, I had to triple-check that I was in the right location because there wasn't a soul in sight. In fact, I awkwardly waited outside the studio by myself for over two hours before the next person showed up.
The awkwardness paid off, and Melissa and I were the first ones in the door!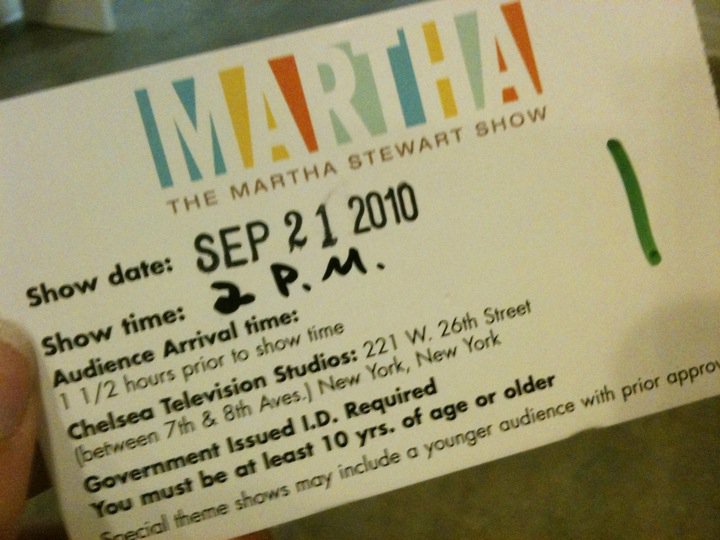 First ticket of the day!
We were seated front and center, five feet from Martha Stewart.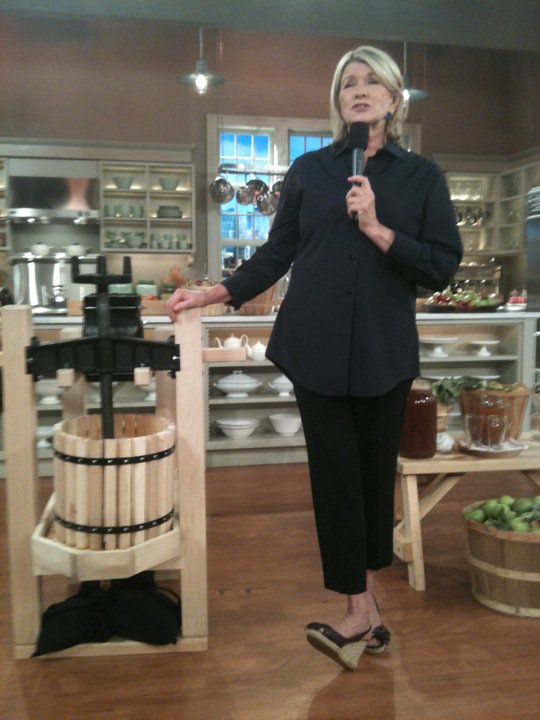 Martha Stewart answering audience questions after the filming of her show
The special guest that day was Tori Spelling, who was very cute despite her six-inch heels and looking extremely nervous when the cameras weren't rolling.  As one of our audience gifts, we received Tori Spelling's ridiculous children's book about a little girl who was so rich she couldn't get along with any of her not-rich classmates and was ultimately saved by an also-rich little boy.
At the end of the show, as expected, the time came for Martha to answer some audience questions.  My hand was in the air as soon as she had the microphone in her hand.  Martha (!!!) asked for my question.  Since the episode that day was all about apples, I asked her why the caramel on my caramel apples always sank to the bottom and how could I get it to coat evenly.  Martha (!!!) said it all depended on my caramel recipe and asked which one I was using.  I shamefully admitted that I had only made caramel apples with store-bought caramel candies.  Martha clucked her tongue and shook her finger.  "You can't cheat," she said, and recommended trying the recipe in her food magazine that month.
So, now you all know.  I've been called out by Martha Stewart herself for cutting corners on my caramel apples.
I have been trying to determine exactly when my appreciation for Martha Stewart began.  The customer service person at Martha Stewart Living says my oldest order dates back to 2007, but I have a faint memory of moving a box of MSL magazines out of my last college apartment, which would have been at least 2004 or 2005.  I've kept every issue, so as soon as I track down that first box, this mystery can be solved.
My appreciation for Martha Stewart extends much broader than just her as a person.  I respect and admire her for creating the modern domestic entertaining market.  I am in awe of the empire she has built on her very consistent philosophy that homemaking is beautiful and worthwhile.  While researching Martha Stewart Living Omnimedia, Inc., I came across this statement:
We are leaders, not followers. We are teachers, not preachers. We innovate and invent, we don't copy or repeat. We strive to surprise, delight and inspire.
I'll save my full Ode To Martha for another entry, so I'll conclude by saying I find a lot of inspiration for my own entrepreneurial pursuits in those of Martha Stewart.  Before she became the Ultimate Domestic Goddess, she was a model, a real estate agent, a stock broker, and caterer.  It makes me feel pretty good about already being on my second career.  It also makes me very excited about the possibilities to come.
May 31st, 2012 | Rachel
According to Google Analytics, this page about my Hanging Window Herb Garden is blowing up today.  Did it get posted somewhere?
Whoever you are, welcome!  If you are wondering what this blog is all about, check out the What's This All About? page (my links are at the bottom of this page).
Also, if you want to keep up with the adventure, please subscribe by scrolling down to the bottom of this page and giving me your email address.  I promise I won't spam you.
Let me know how your herb gardens turn out!