February 8th, 2013 | Rachel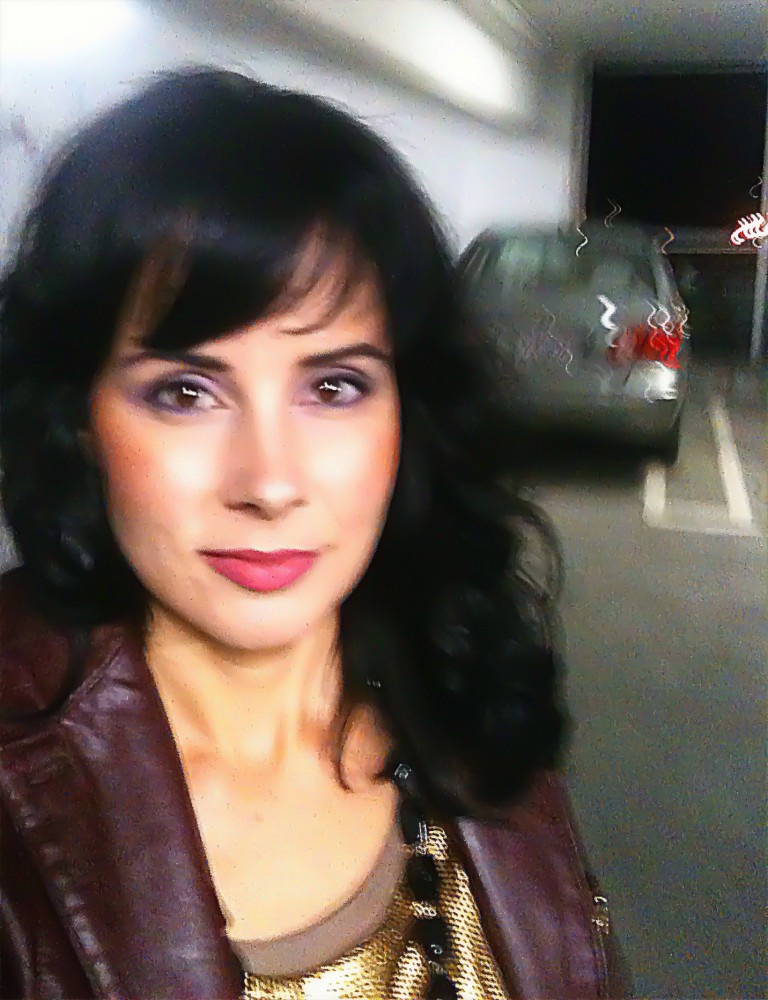 Feeling fantastic after a Birthday Spa Afternoon — I love the color, but I think the cut looks too much like Vivaldi or, perhaps, Howard Stern
Last week was a big week.
Arthur and I officially announced our new business, Drums & Crumbs, a stylish throwback to authentic Southern cookin' made with all-natural, locally sourced ingredients.
I also announced that Steve and I will be moving to beautiful Sonoma, California next month.
I also experienced my first bucket of cold water dumped on my head as a business owner, but I'm afraid I can't discuss it online. I know there will be numerous bumps along the way, so why not start now?
The other huge event of last week was my farewell to my 20s and open-armed welcoming of my 30s!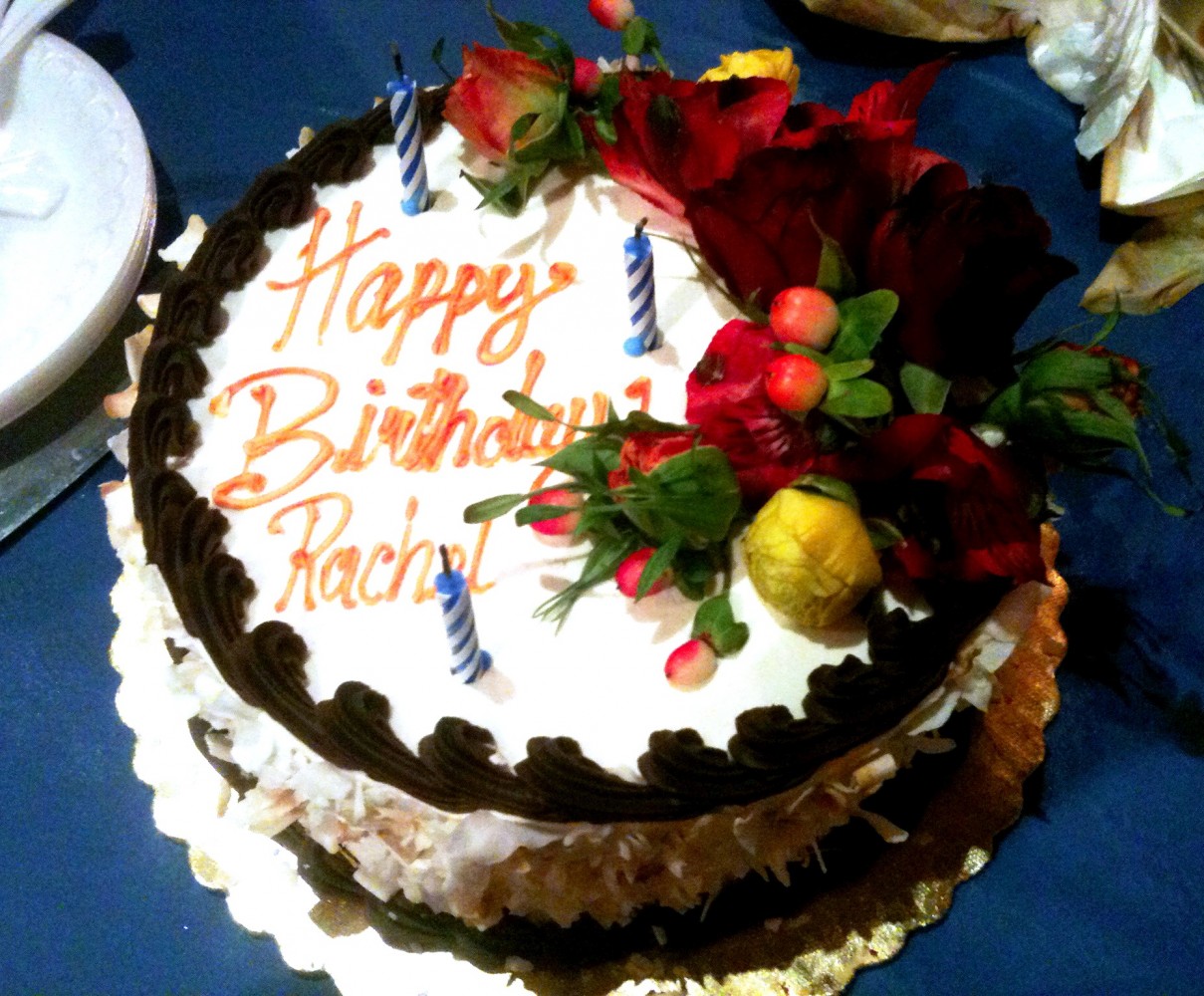 My Breakfast For The Following Week
I was not at my emotional best going into this milestone. I am so consumed with studying for the bar exam at the end of February and getting the new business up and running (and occasionally working my paying job to keep a roof over my head) that there is no time for the grand adventure I always assumed I'd be taking. I was thinking maybe a cruise down to Antarctica or, at the very least, sipping Malbec in Argentina over a steak dinner while people danced the tango around me. I have always declared that I believe in birthdays, and my 30th would be no exception.
Sadly, no time for tango dancers this year. And on top of that, despite having lived here a year, I feel like I barely know anybody.
It's quite a change from my days in New York when Steve and I could celebrate the purchase of a new margarita machine with a healthy crowd of 20. For our last wine and cheese party, we somehow managed to stuff 60 people into our apartment.
Anyone who talked to me in the days prior knows what a sorry pile of marshmallows I was being about the whole situation, especially when I found out Steve wasn't getting back from the ship until late the night of my birthday and would probably miss the whole thing.
The celebrations began the night before when I brought Oreo cheesecake cupcakes and a bottle of champagne to my church group (shhhh…) and drank a second bottle with some cool ladies afterward. The next morning I slept in and rejoiced in the fact that it was my first day off from studying in almost a month. I went into the office for a few hours and had a lovely birthday lunch with my coworkers out on the picnic table because it was such a beautiful day. Then I skipped out earlier for an afternoon at the spa where I had a remarkable massage followed by an equally remarkable facial.
I was walking from the day spa to the salon when I got my unmentionable bad news, and then had the unpleasant and time-consuming drama of ending up with a haircut I didn't like. Perhaps if I hadn't had the bad news I would have been able to fake it long enough to get out of the salon on time, but I couldn't, and the stylist and I found ourselves at an impasse.
The problem is that I was truly spoiled by my hair stylist in New York. I was ready to accept the fact that I had lost a gamble on this particular salon, but the stylist was trying her best to fix the situation. An hour later, I finally convinced her that I wanted to take the 'do out for a test drive to see if I warmed up to it. I didn't. And I still hate it. But lesson learned. And I'm officially a hair snob.
By that time my dinner party had gathered, and I was frazzled because I was wearing a Vera Wang dress and hastily putting on make up in my car. I was also worried about my ragtag group of guests (church friends, old restaurant friends, and Arthur) whose only common denominator was me. As it turned out, those worries were unwarranted because by the time I got to the sushi restaurant (appropriately named I Love Sushi), everyone was bonding over sake and free appetizers. I ranted for a good ten minutes about my hair, and then let it go and had a great time. The owner of the restaurant kept joking that it was my 21st birthday and brought me several free bottles of sake along with a gift of chopsticks (pretty ones… not the plain free ones). And my delightful friends surprised me with a cake from The Buttery.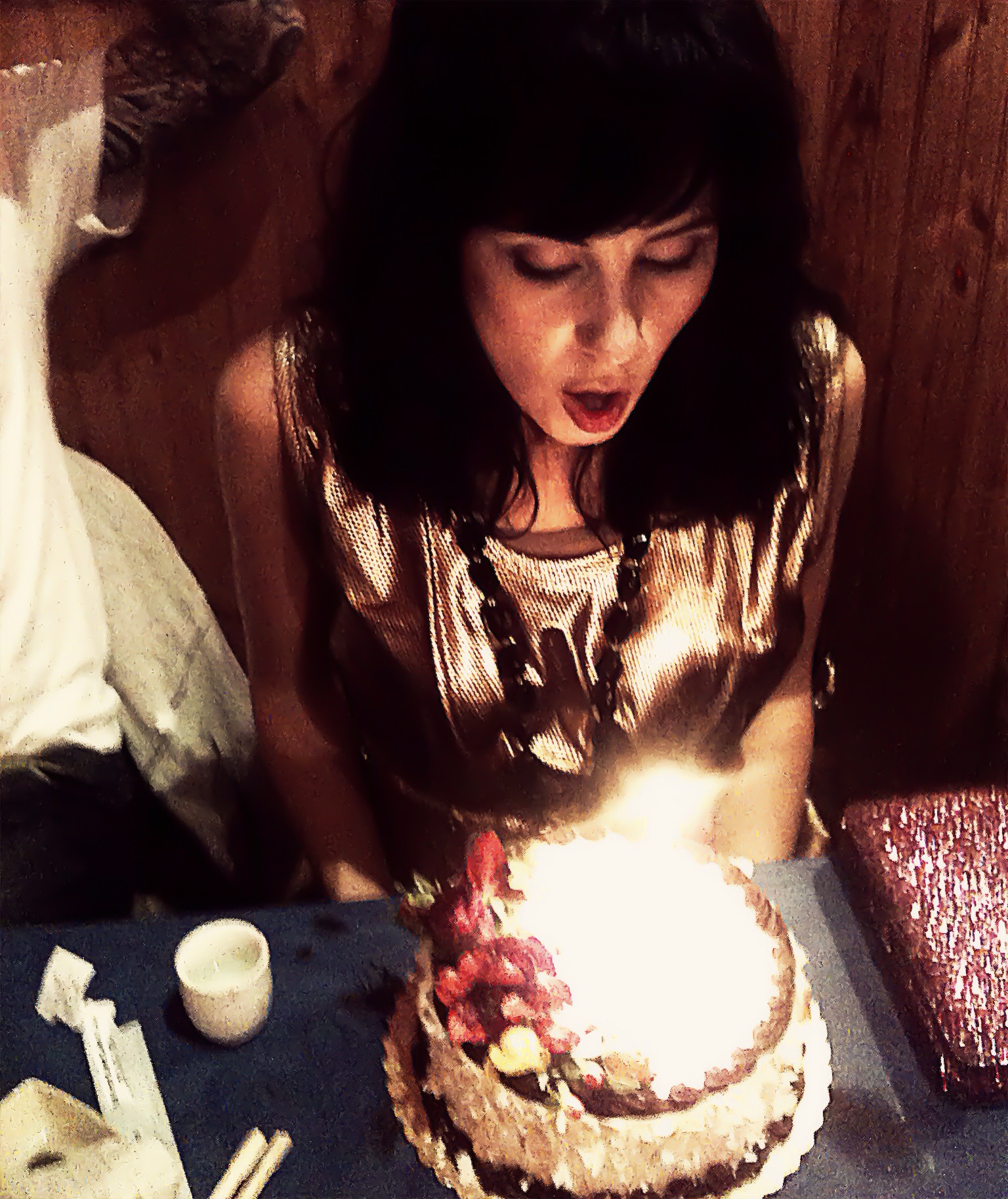 Three Wishes For The Big 3-0
After that we had cocktails at a cool bar, joined by a couple more random friends. And then Steve showed up. :-)
It wasn't the most exotic of birthdays, but it might be one of the more sincere ones I've had. I definitely felt the love.
The next day Steve and I drove up to San Francisco where Arthur and I met with our new graphic designer (!!!). Arthur, Steve and I had greasy burgers for lunch, stopped by some fun little shops, and then Steve and I continued northward to Sonoma.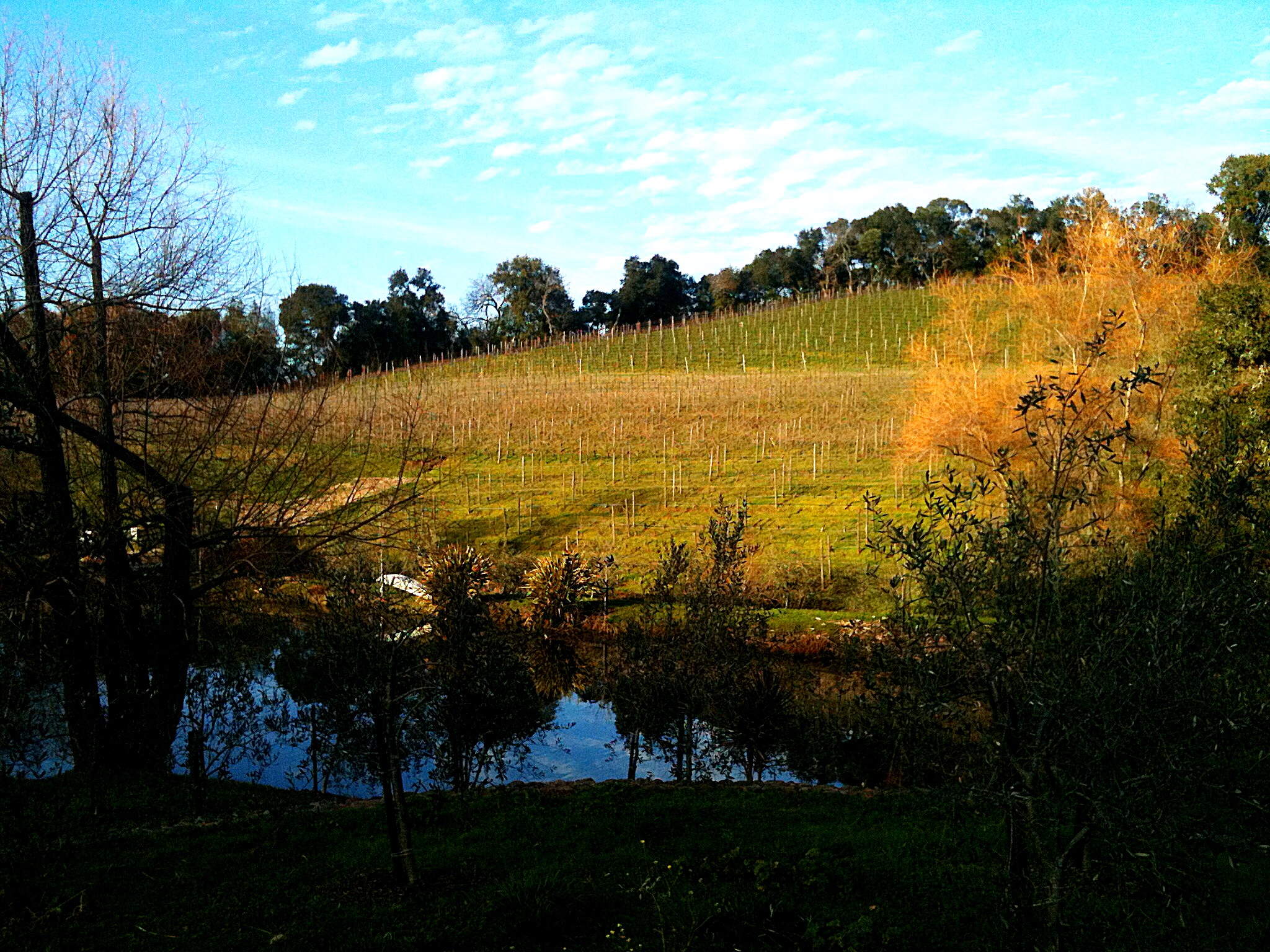 View From Benziger Winery
We stayed at the charming McArthur Place Inn and had an insane chef's tasting menu for dinner at El Dorado Kitchen. The next day we drove around in Steve's new convertible with the top down visiting wineries.
I don't think I can complain about anything.
I felt birthday love from a lot of you out there, so thank you. Who knows, maybe I'll get my grand adventure next year for the big 3-1. In the meantime, I'll just have to settle with the fact that all I got this year was a new business. :-)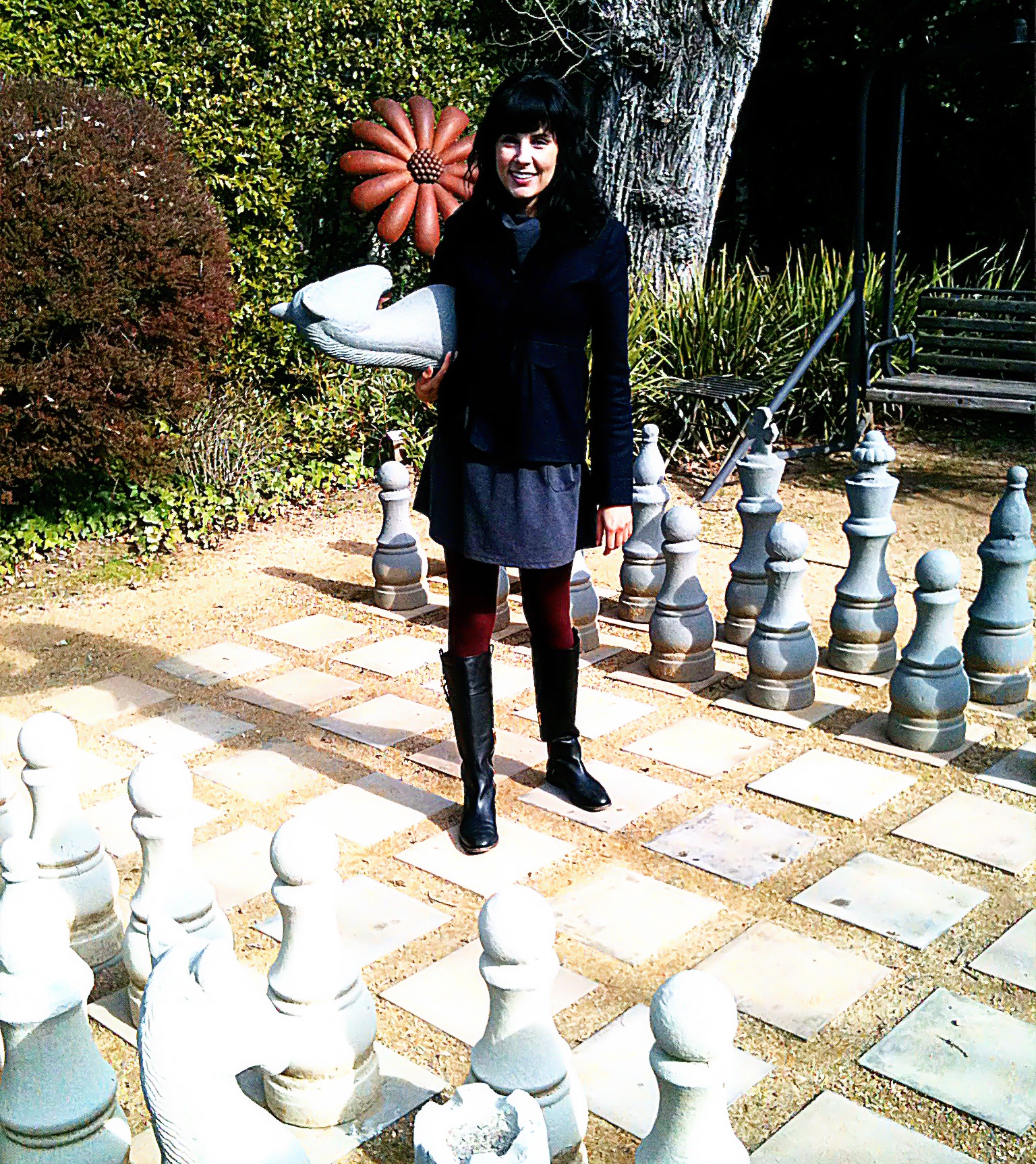 Giant Chess Set At McArthur Place Inn