Archive for August, 2011
August 27th, 2011 | Rachel
If you have followed the news at all the past week, you may have heard that there is a hurricane heading toward New York City.  Its name is Irene.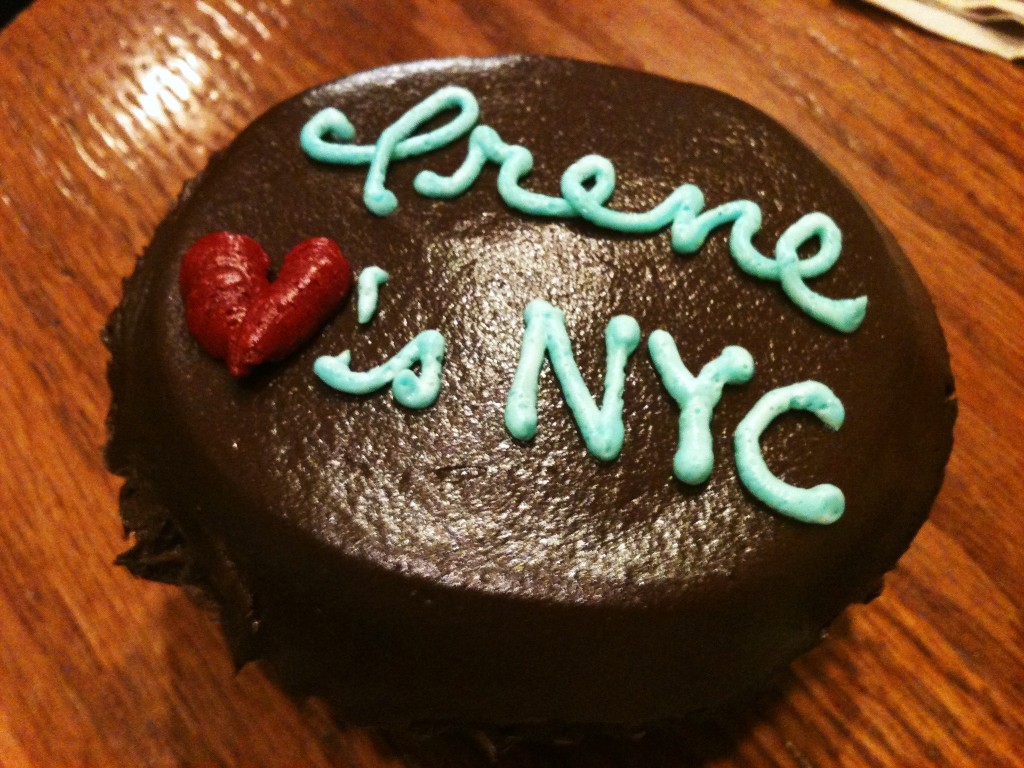 Although Irene is causing concern up and down the whole east coast, if it does hit NYC, it will present some unique problems and possibly cause quite a bit of concentrated damage.
In an abundance of caution, Mayor Bloomberg is shutting down our entire public transportation system starting at noon tomorrow.  Since the subways and buses are arguably the lifeline of the city, this is a huge deal.  Personally, I think everyone is going a little overboard, but after the national embarrassment New York City suffered this past winter when it was crippled by a series of snow storms, the powers that be aren't taking any chances.
I worked the afternoon shift today at the bakery today.  Fridays are great because they are busy enough to be fun but not so crazy that you want to pull your hair out.
Since I didn't have to be at work until 1pm, I ran some hurricane-related errands in the morning and stocked up on water and nonperishable food.  For all of you in the south who have done this drill so many times you could do it in your sleep… try doing it without a car!  I was lucky to find an old rolling cart in Steve's apartment that I used to drag my fifty pounds of water and canned food up the hill and, thankfully, into the elevator of Steve's building.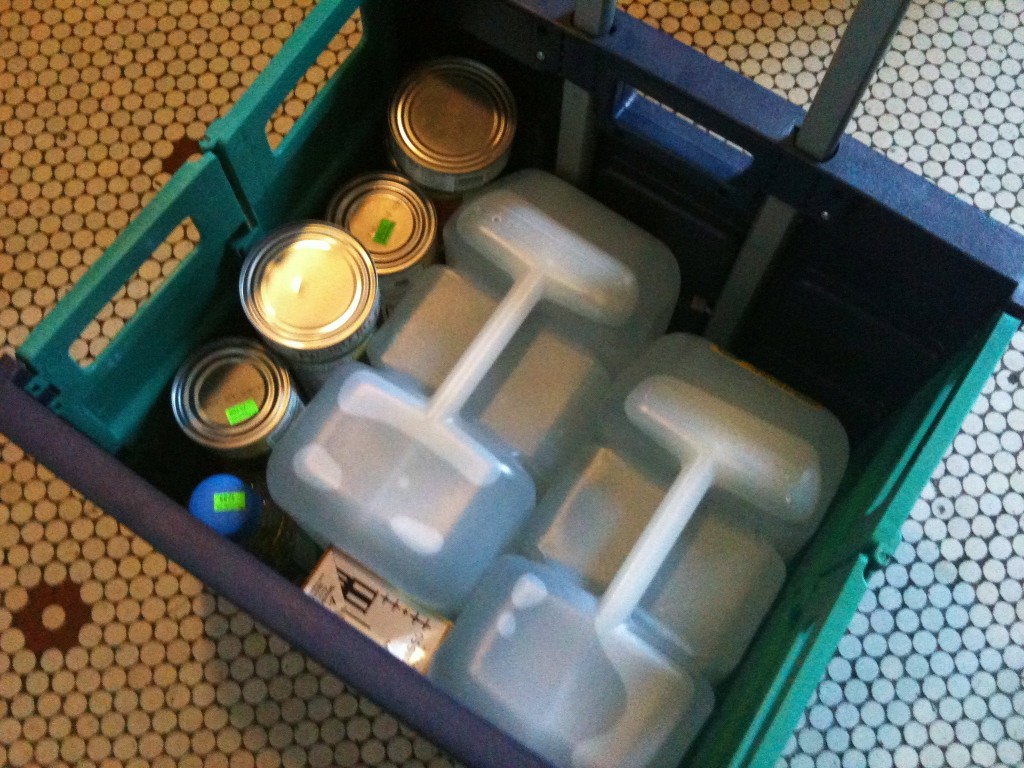 When I later decided to weather the storm at my own apartment, I had to pack one of my 2.5 gallon water jugs (carrying both was unthinkable) with my food in a large suitcase, drag it out to a cab, pay $20 for the ride, and sweet talk my friend Arthur into carrying it up the stairs to my fourth-floor apartment.
Soon after I arrived at work, I learned the bakery would be closed over the weekend due to the approaching storm.  The first order of business for the managers was to call all of the custom cake orders that were scheduled to be picked up Saturday and Sunday and tell them the bad news.  It didn't help that we had so many orders for the weekend that we had reached capacity earlier in the week and had to turn people away.  Meanwhile, the four of us working out front were left to deal with the steady stream of people coming into the shop.
At first we thought it was just the usual Friday business, but then the line reached the door — and out the door — and never died down.  The orders were unusual as well.  Many of our regulars came in, clearly concerned that we would be closed for the next two days, and ordered two or three times as much as they normally did.  A higher percentage of people bought cakes and declined the complimentary inscription — a sign that they would be eating them at home rather than taking them to a birthday or anniversary party.
We quickly sold out of our chocolate cream pies and peanut butter chunk cookies.  The lemon pucker cupcakes and banana chocolate chip muffins soon followed.  All were purchased by worried customers.
A woman came into the shop late in the afternoon to order a cake for her dinner party on Monday night.  The manager politely informed her that the bakery would be closed over the weekend because of the hurricane and would not be able to make any custom cakes for Monday.  "But I have a dinner party!" the woman exclaimed.  "What am I supposed to DO???"
A few customers came in to pick up their custom cakes for events that had already been canceled.  One man in particular picked up two birthday cakes for a party that was supposed to be in a town in New Jersey that had been evacuated.  Sadly, Grandma Jean wouldn't get to see her "Happy Birthday Grandma Jean" cake.  I hope they will at least send her a picture.  The cake was very pretty.
With an hour until close, we were sold out of most of our cupcakes, cookies, scones, muffins and pies.  Since our wholesale orders would not be delivered, we were able to sell those cupcakes as well.  During the final stretch, a customer asked for the last two red velvet cupcakes on the tray.  I told him the people in line behind him were going to hate him.  He said he had been thinking the same thing.  As I picked up those last two cupcakes, I could see a look of panic rise in the eyes of the woman behind him… and the man behind her.  "Are there any more?" she asked, desperately.  I reluctantly said no.  The woman and the man both scanned the rest of the store, considering their options.  Then I remembered the rest of the wholesale cupcakes.  I took the sad, empty tray into the kitchen and returned with it full of red velvet.  More than one person in line breathed a sigh of relief.
At 8:03pm the manager locked the door.  We bagged and boxed orders for the rest of the people in line, and then breathed our own sigh of relief after the last two stragglers finally left.  We ignored the couple with pleading eyes knocking on the door… and the man with the baby.  Sorry buddy, it'll take more than a cute baby to get a cupcake from us once we lock that door.
I'm anxious to see what this storm is going to do, but regardless, I will be eating a chocolate mousse cake while I'm waiting.
August 22nd, 2011 | Rachel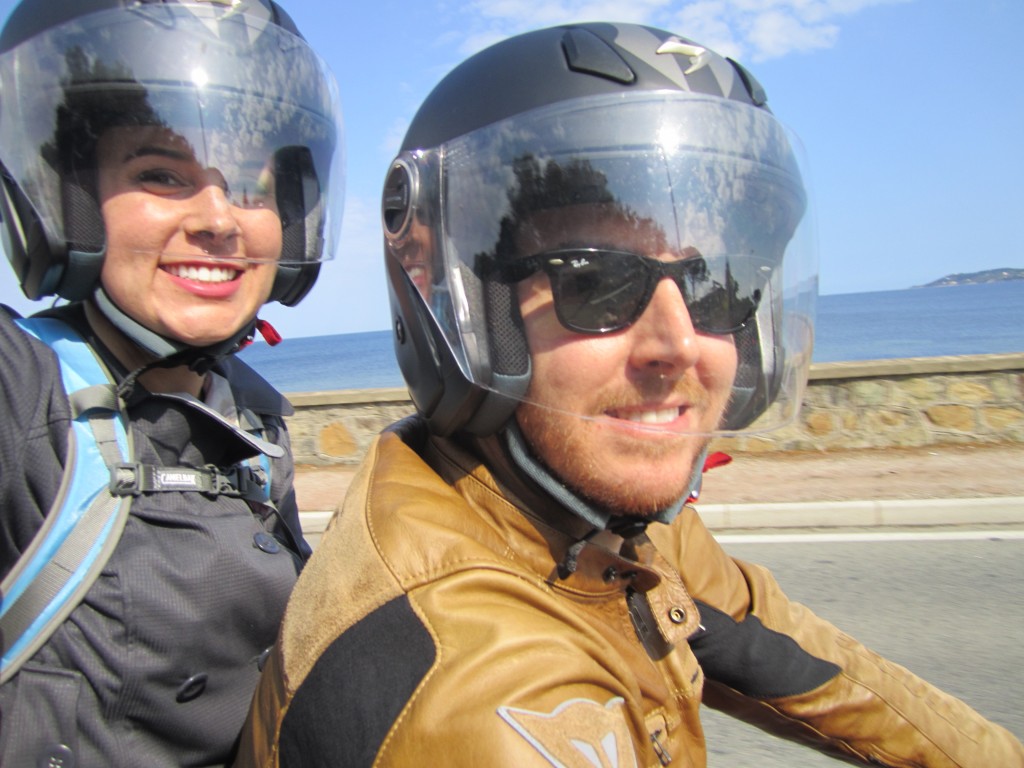 Motorcycle ridin' on the Cote D'Azur
Steve and I are about to set off on a mini motorcycle adventure in honor of the two-year anniversary of our first date.  It's been tough deciding what we wanted to do to celebrate — since tend to do a lot of random, fun stuff — but today is a beautiful day and I am off from work until Wednesday.  So, a ride up to the Hamptons it is.
I'll spare you the mushy details, but I am rather fond of Steve, and I am lucky to have him by my side as I make this transition into the next phase of my life.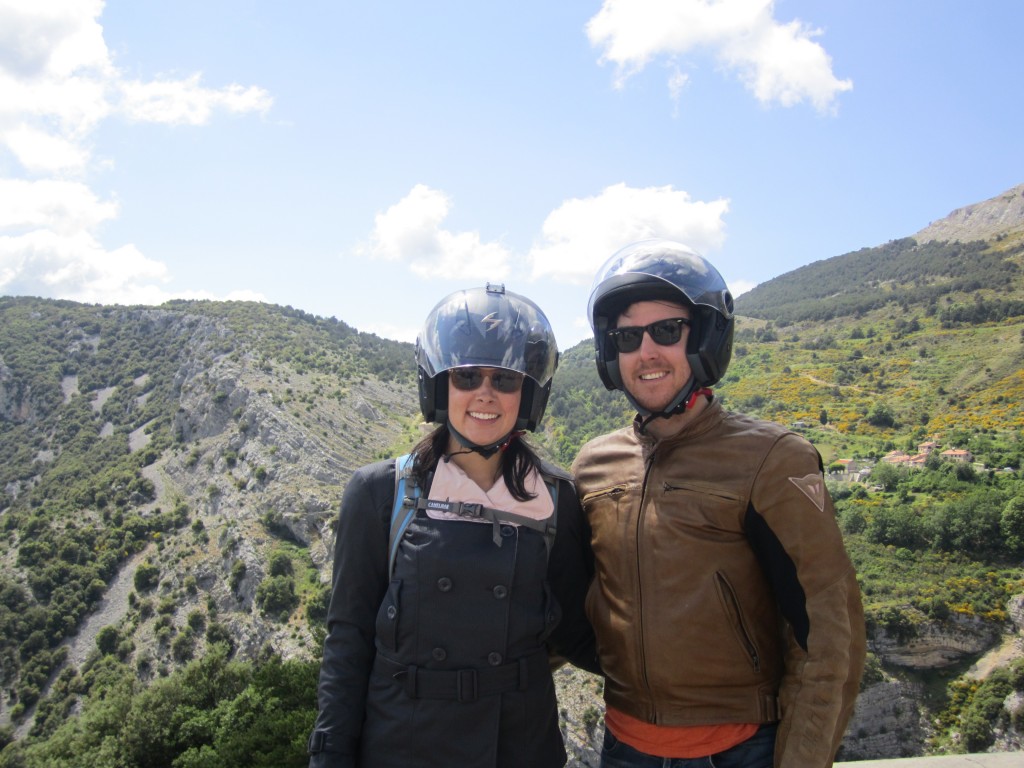 Provence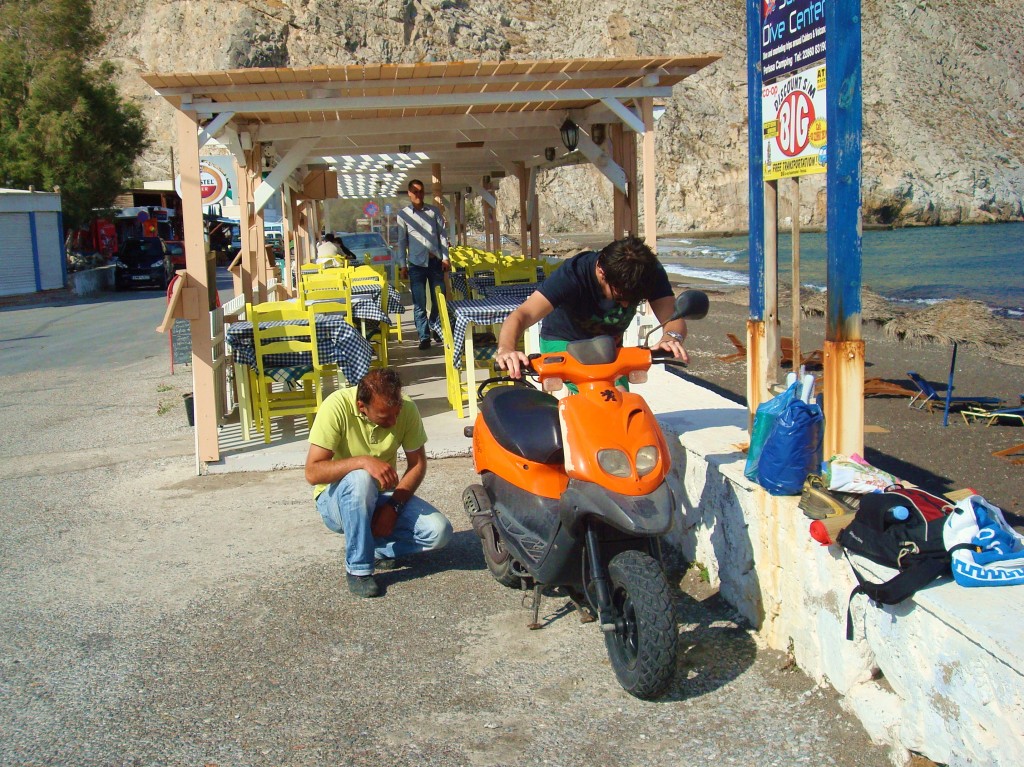 Scooter problems in Santorini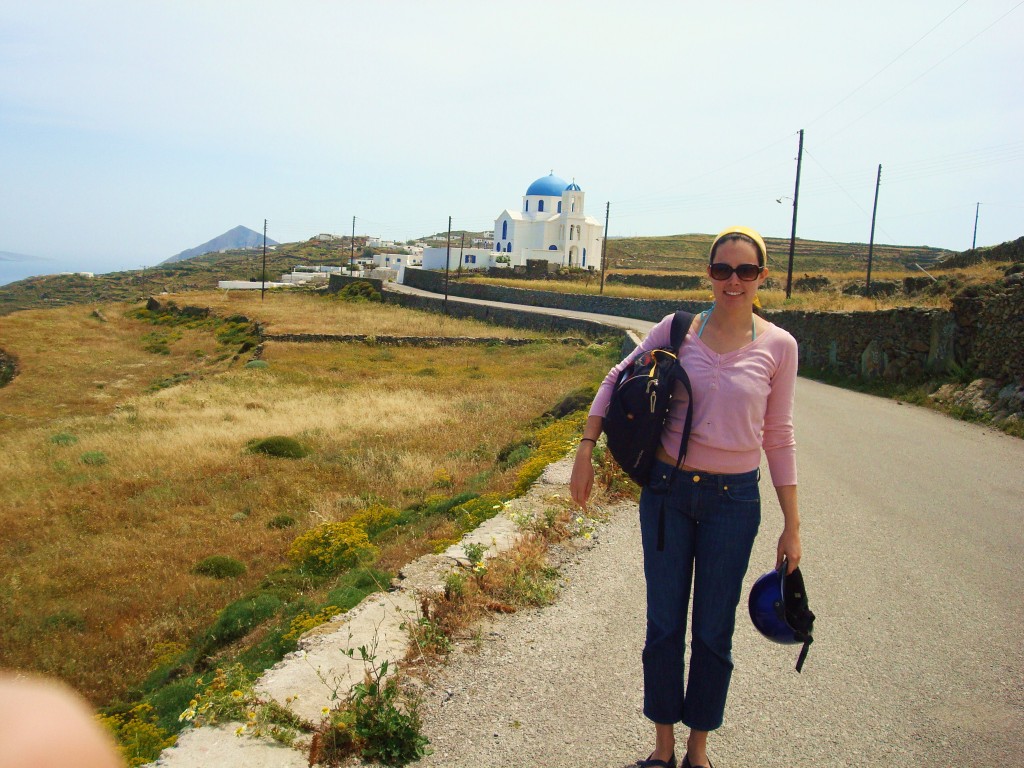 Folegandros, Greece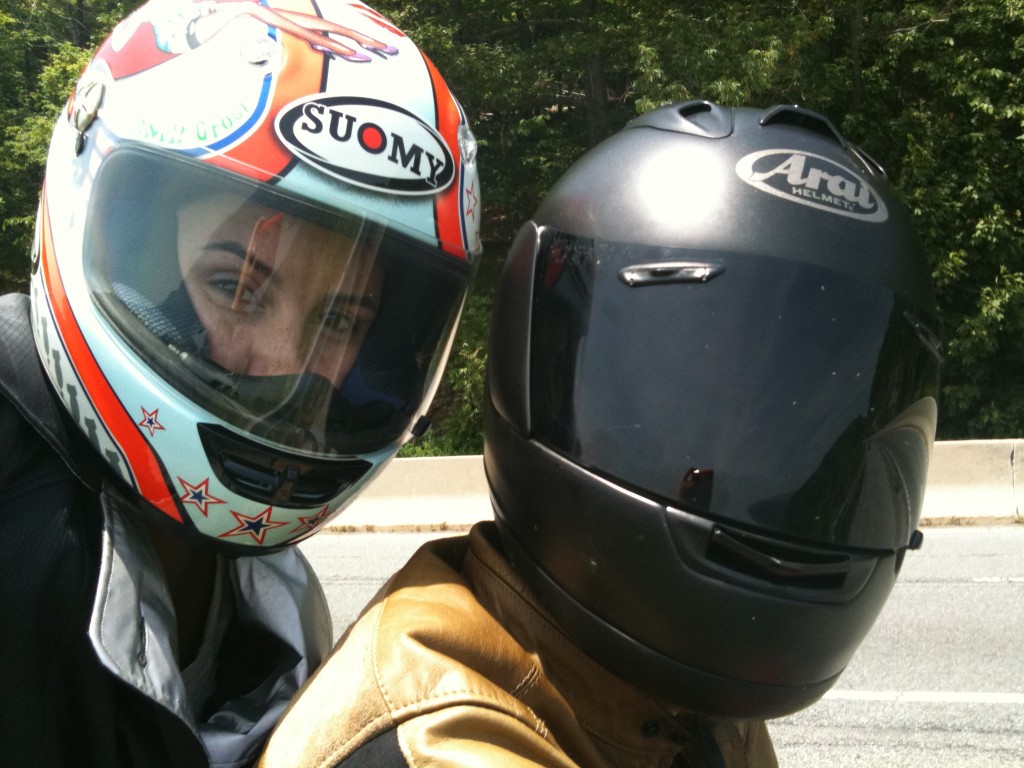 Upstate New York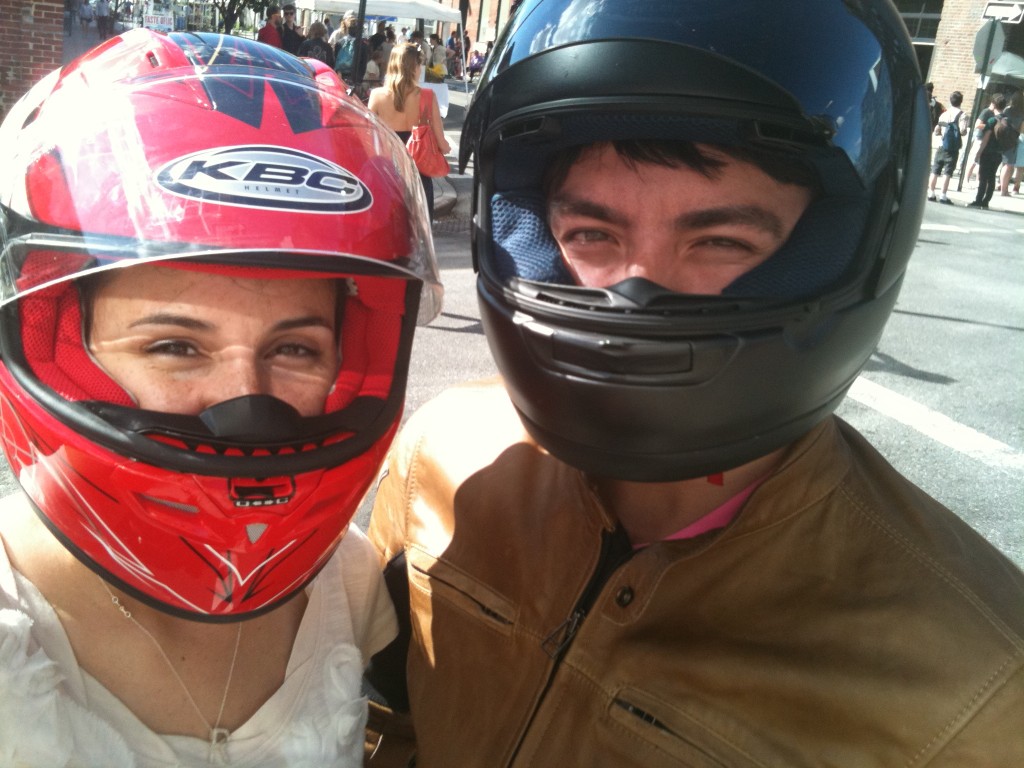 Food festival in Greenpoint, Brooklyn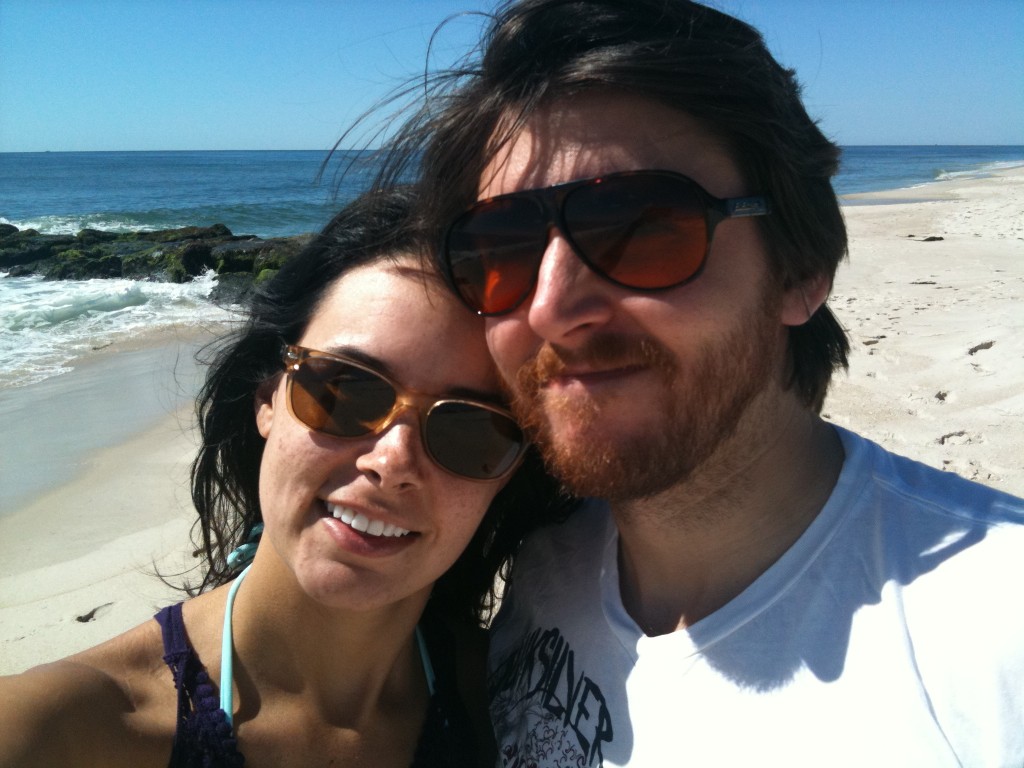 Westhampton, New York
Happy anniversary, baby :-)
August 11th, 2011 | Rachel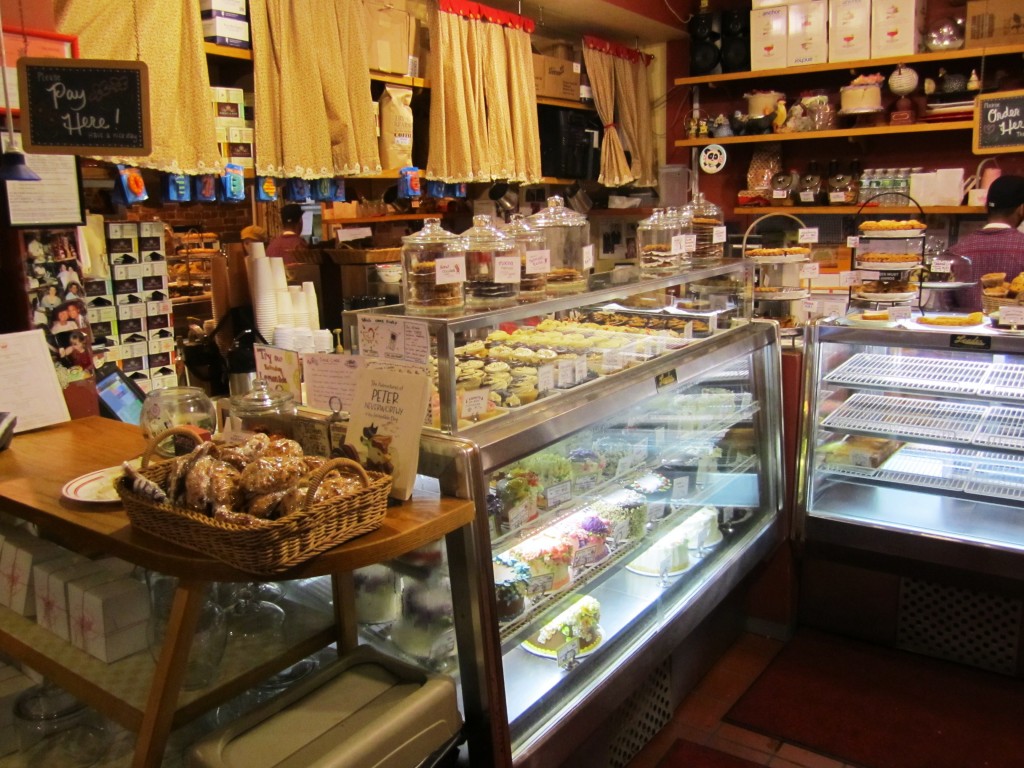 I've been at the new job at the Three Green Ducks for about a week and a half now.  So, what it is like finally living out my five-year-old fantasy of working at a bakery?  Honestly, it's kind of awesome.
I've sampled about 15% of the products in the store — cookies, cupcakes, slices of pie, cake, coffee cake, and muffins (still need to try some scones and bars) — and everything is truly wonderful.  The owner, who is downstairs baking with the team most days, puts a lot of thought into the recipes, and most of them are pretty close to perfect.  The bakers are careful and consistent, and we don't sell anything that doesn't meet the bakery's high standards.  Even if it tastes right but looks kind of weird, we'll cut it up and give it out as free samples (or eat it ourselves).
I've had a slice of the cherry pie every day this week, and if we are slicing it again today, I just might have to have another one.  Its my favorite thing in the store right now.
Coming from my last job, it feels kind of strange to be involved in something I so strongly and personally believe in.  I know, it's sad to say, but I'm not used to it.  At my last job, I was part of the general litigation group at a big law firm.  We usually dealt with contract disputes between large companies.  Our job was to help our huge corporate client protect their money whether they deserved it or not.
I'm not hating on the system.  If a huge corporation wants to spend its own money to hire sophisticated lawyers to try and get more money from another huge corporation that can also afford sophisticated lawyers, then fine.  Everyone knows what they are getting themselves into, and the lawyers all get paid at the end of the day.  The legal side of it can actually be pretty interesting at times… determining which rules and laws are relevant and strategizing about how to present the laws and facts in a way that is most beneficial to the client.  I rather enjoyed the intellectual side of it, and I never had any moral hesitations about the work I was doing.  I was only in the biz for three years, but I never saw any shady deals or unscrupulous acts by the lawyers.
However, at the end of the day, it wasn't something I could really believe in.
I do believe in in cupcakes.
In the past week and a half, many people have asked me, "What do you actually do at the bakery?"  To clarify, I am not a baker, and I am not a decorator.  We have two separate teams for those functions, and they are awesome.  We also have a management team that keeps everything running.  The fourth team, of which I am now a member, is the retail and hospitality team.
We say hello and smile at you when you come into the store.  We ask you how we can help you, and we tell you about the wonderful things we are selling.  We help you decide what kind of cake you should buy and how big it should be.  We write complementary phrases on the cakes (well, I don't, but I have been practicing my cake calligraphy) and tell you the best way to serve them.  We also put muffins and scones in paper bags, make lattes and cappuccinos, and run the cash register.  If you are a regular, we might ask you how the kids are doing or chat about the weather.
I guess you could say I'm a salesperson, but, honestly, the baked goods pretty much sell themselves.  One of the managers told me the other day that Living Social has been calling the bakery relentlessly trying to get us to be one of their daily deals.  For those of you unfamiliar with websites like Living Social, they offer special discounted deals every day for businesses in certain cities.  Living Social takes half of the voucher price (which is usually already discounted 50%), and the business gets exposure.
The Three Green Ducks gets all of the exposure it needs from people taking our baked goods to their offices and family get togethers.  People come in every day looking for something they tried outside the bakery.  I spoke to two women last week from Arizona who were in the city visiting and ventured up to see us because someone told them we were the best bakery in the city.
Going back to my original point, I believe in what I am doing now because my whole purpose is to make people's days a little bit better.  Baked goods make people happy… I discovered that back in law school when I picked up cake decorating as a creative balance to my otherwise wholly academic existence.  Whether someone is buying themselves a treat or picking up a cake for a loved one, they all come into the store with a look of excitement and anticipation and then leave with a smile on their faces.  Most people are truly thankful when I hand over their bag of muffins and scones or box of cupcakes or pie.  They don't come to us because they have to, they come because they want to.
Here's a little bit of what I have to deal with everyday: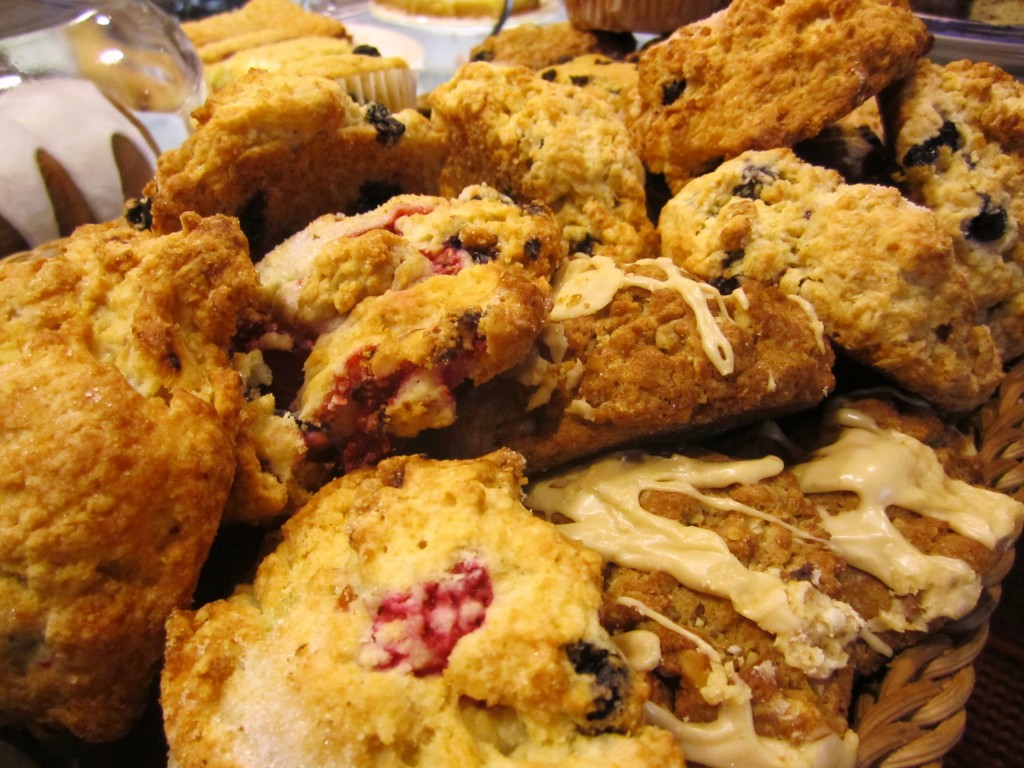 Selection of scones baked daily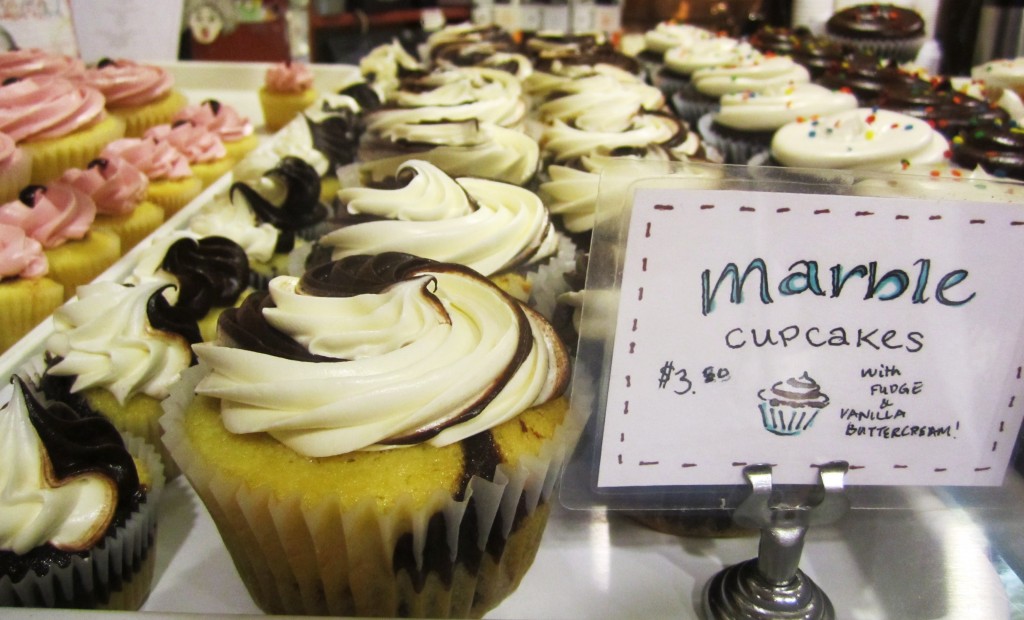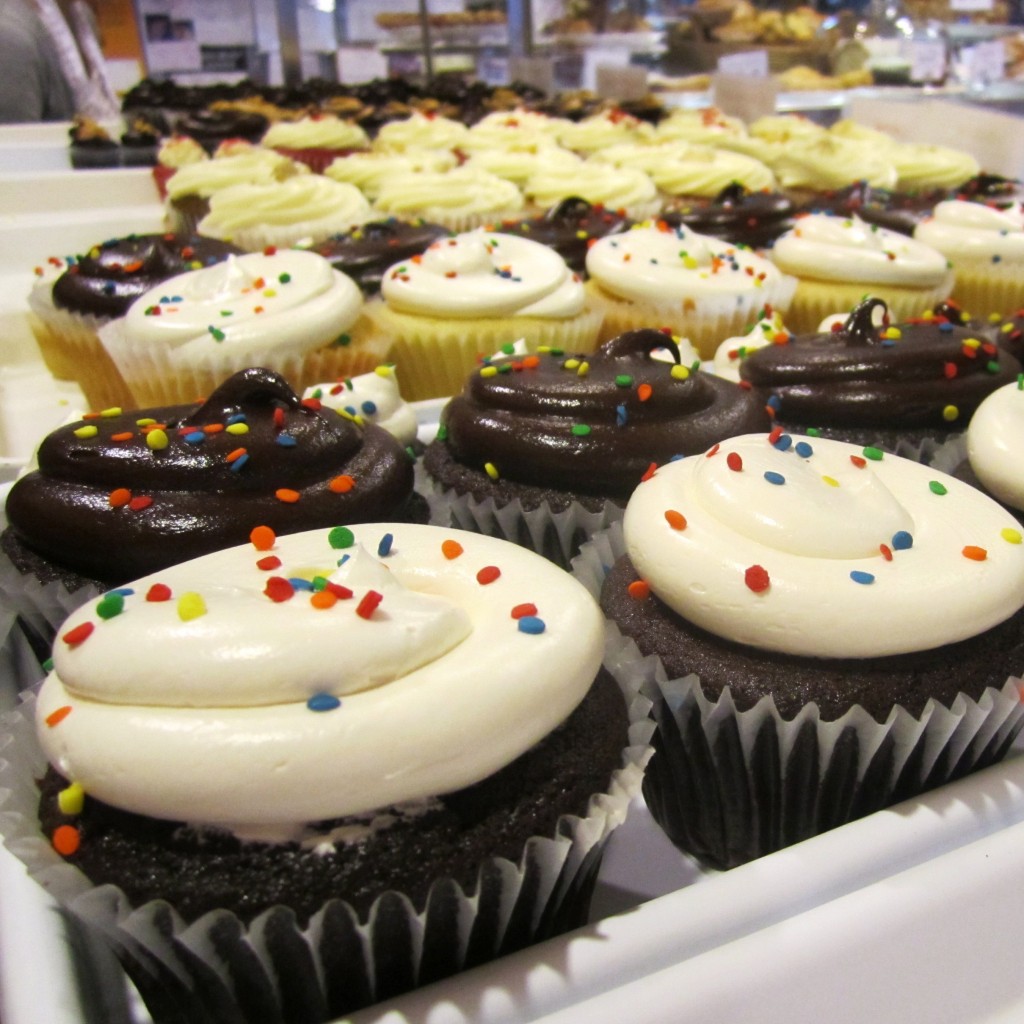 Part of our huge selection of cupcakes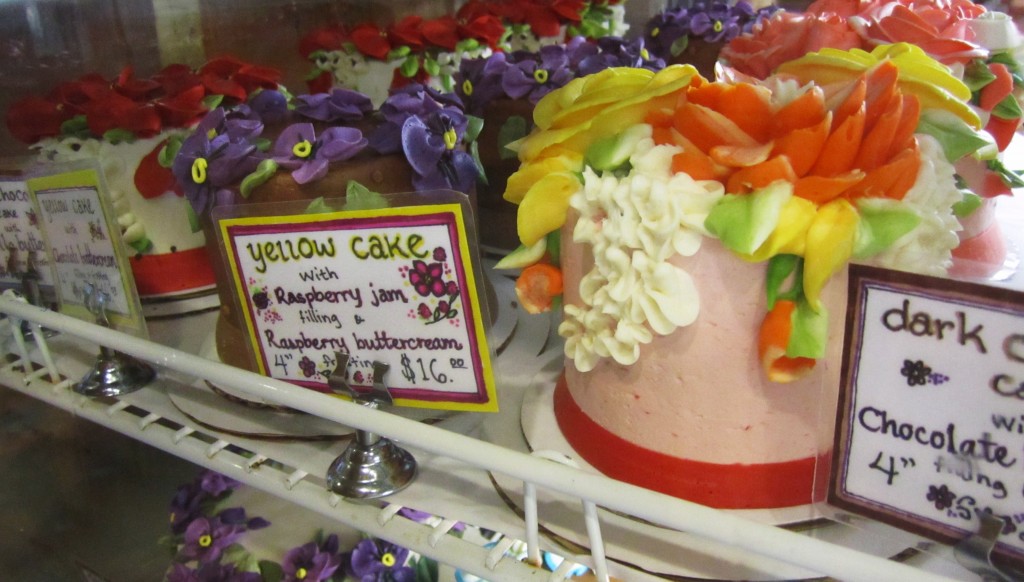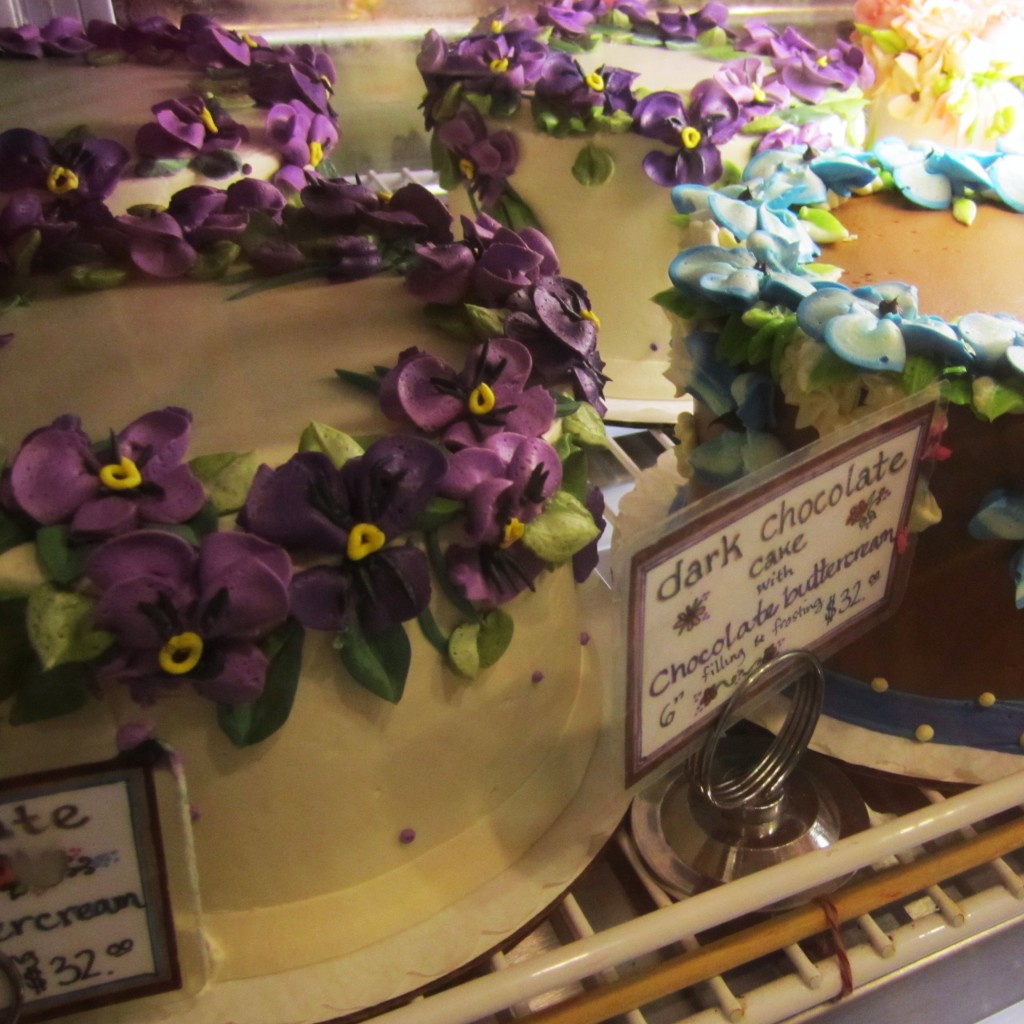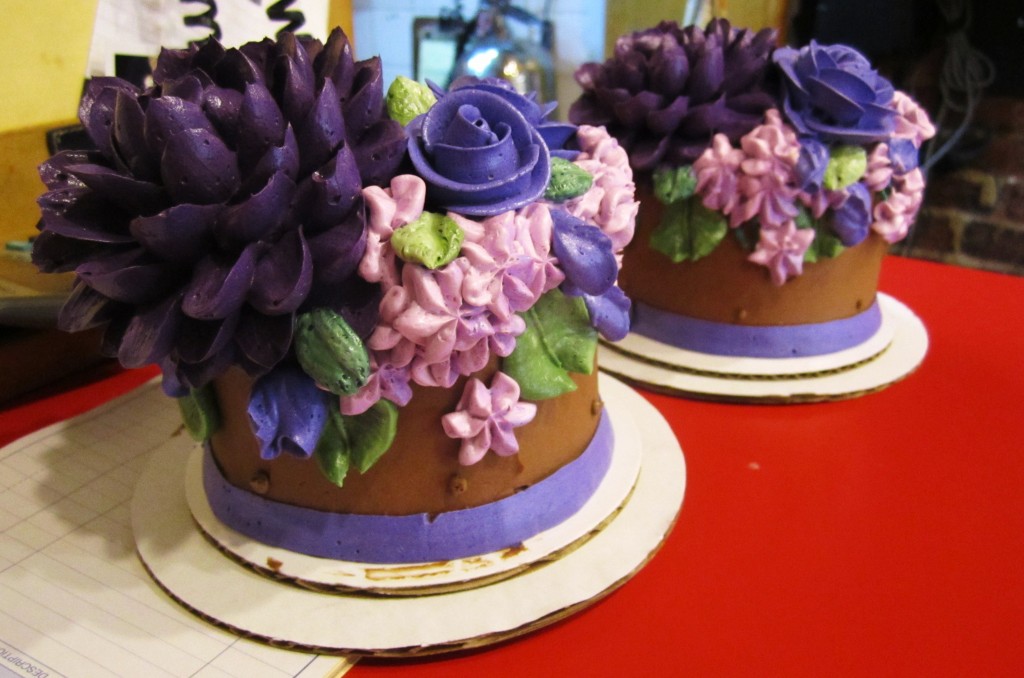 Decorated cakes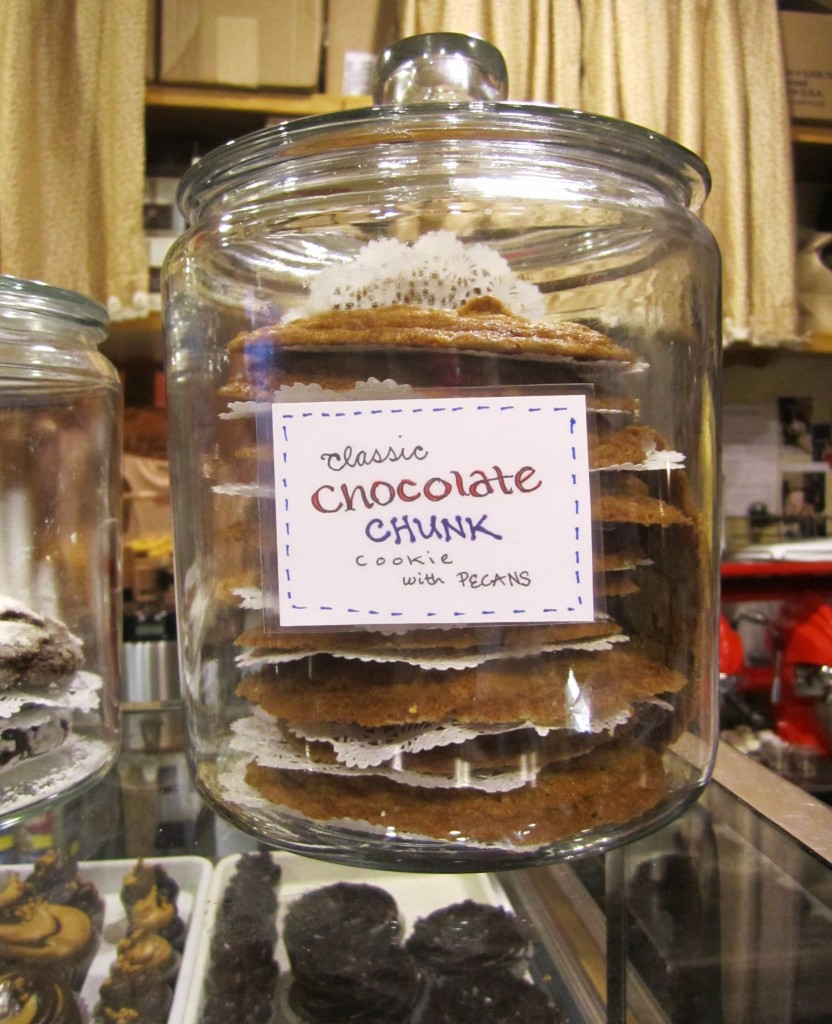 Everyone's favorite cookie
It's refreshing, to say the least.
By the way, thank you to everyone who has stumbled upon my blog.  If you haven't done so already, scroll to the bottom of this page and subscribe to my blog.  That way you can keep up with my somewhat sporadic posts.  I promise I won't spam you.
August 10th, 2011 | Rachel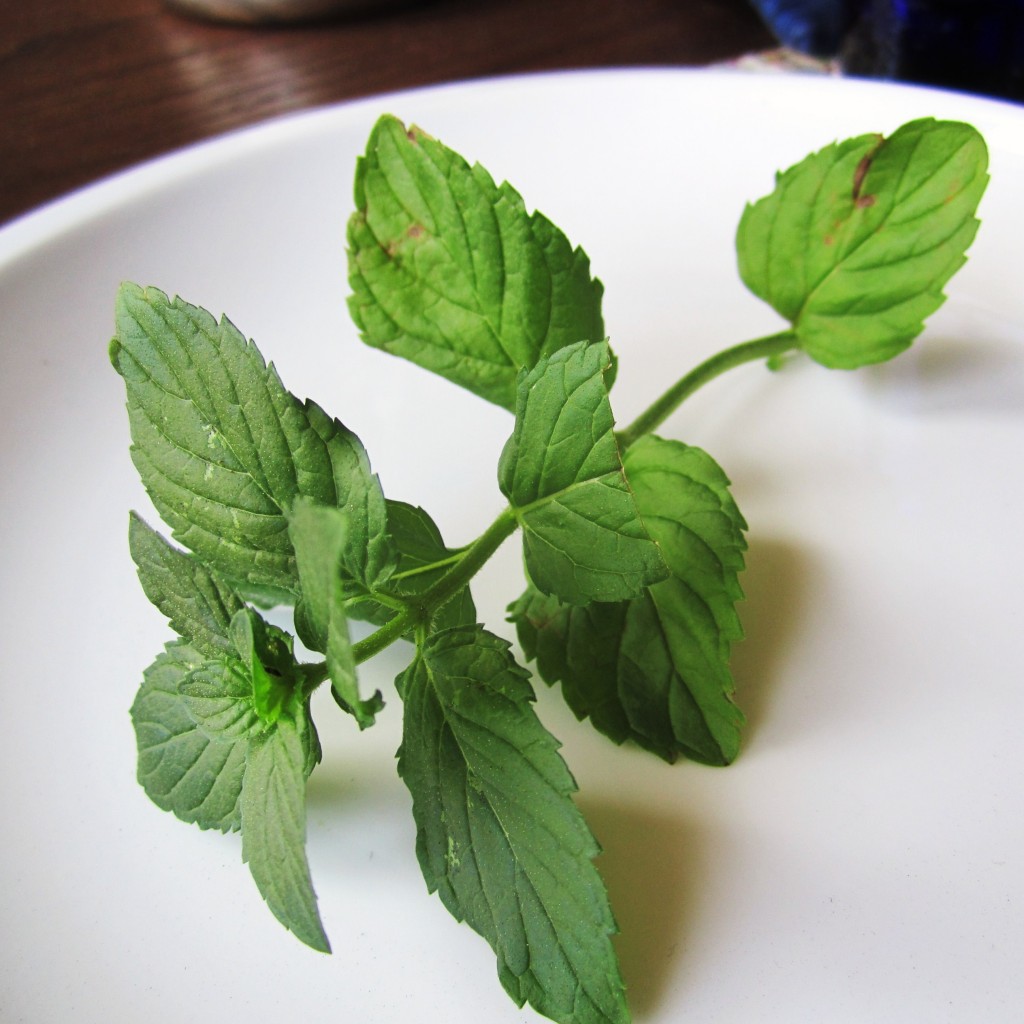 I am straying a little bit from the theme of this blog (whatever it is), but I am so pleased with a batch of homemade mint chocolate chip ice cream I just made that I wanted to share the idea and recipe with you.
My hanging window herb garden is doing great.  The sun is a little too intense for my dill plant, but everything else is growing quickly… especially the mint.  I noticed that the leaves that weren't getting direct sunlight were turning yellow and falling off, and the plant was getting so big, it was blocking its own sunlight access.  I can only drink so many mojitos, so I needed a project that would use a substantial amount of mint.
I was on the city bus coming home from work when the inspiration hit: mint chocolate chip ice cream!  Fortunately, Steve already had an ice cream maker, so all I really needed was the cream and chocolate.  I read through a lot of recipes, and this is the one I liked the most.  Since mint ice cream is supposed to be refreshing, I stayed away from the recipes with egg (which would make it a custard) and cream cheese.  Having tested the recipe, I can personally attest to its accuracy.  I will note that the amounts of mint and sugar are flexible.  I used about a cup and a half of mint, and my ice cream was plenty minty.  I also cut the sugar a little bit — as I do to most recipes — and I didn't miss it in the finished product.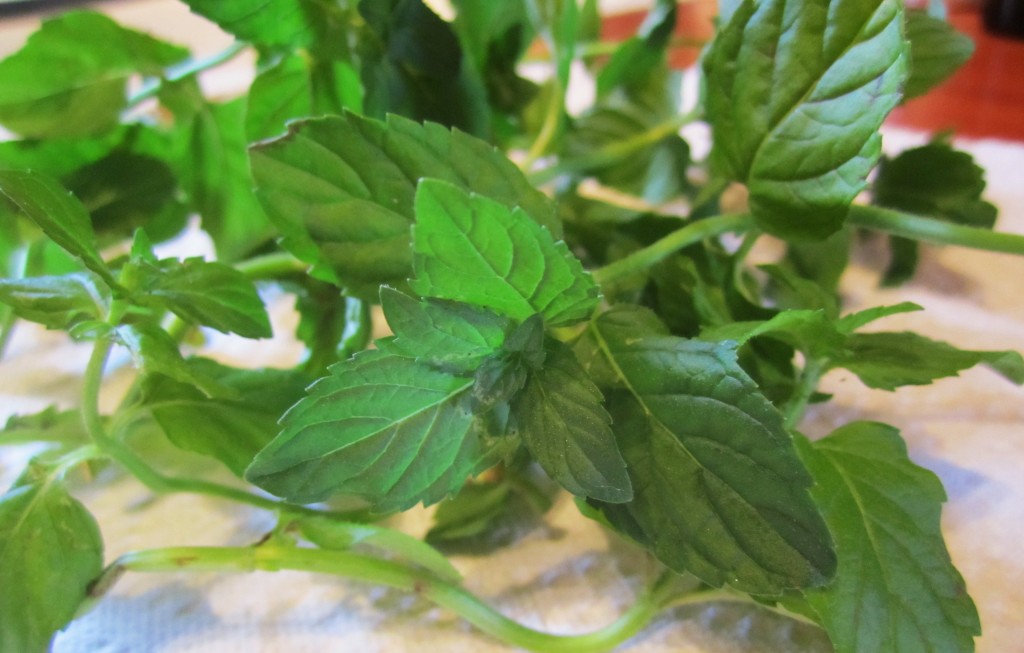 Fresh mint from my hanging window herb garden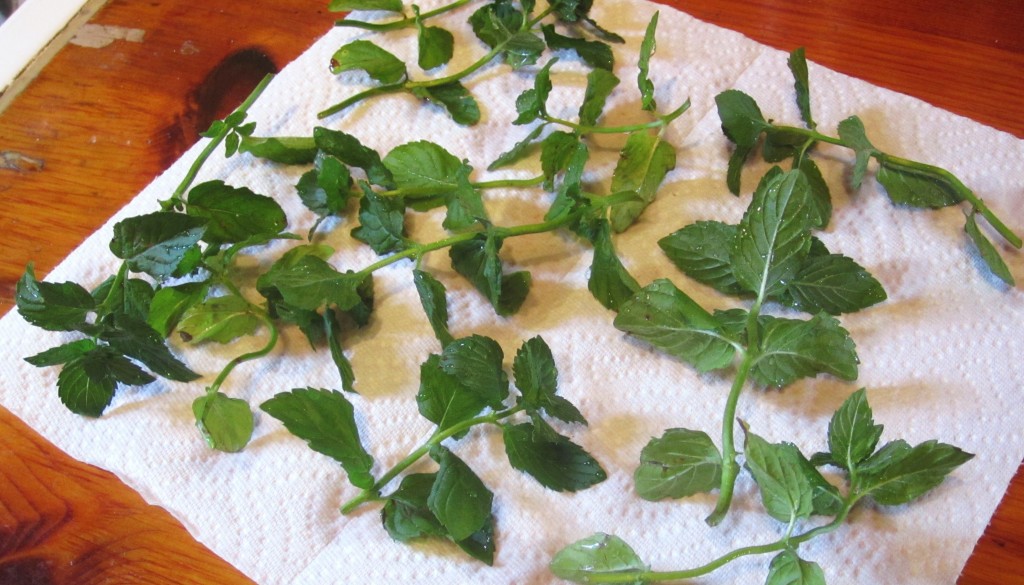 Nice and clean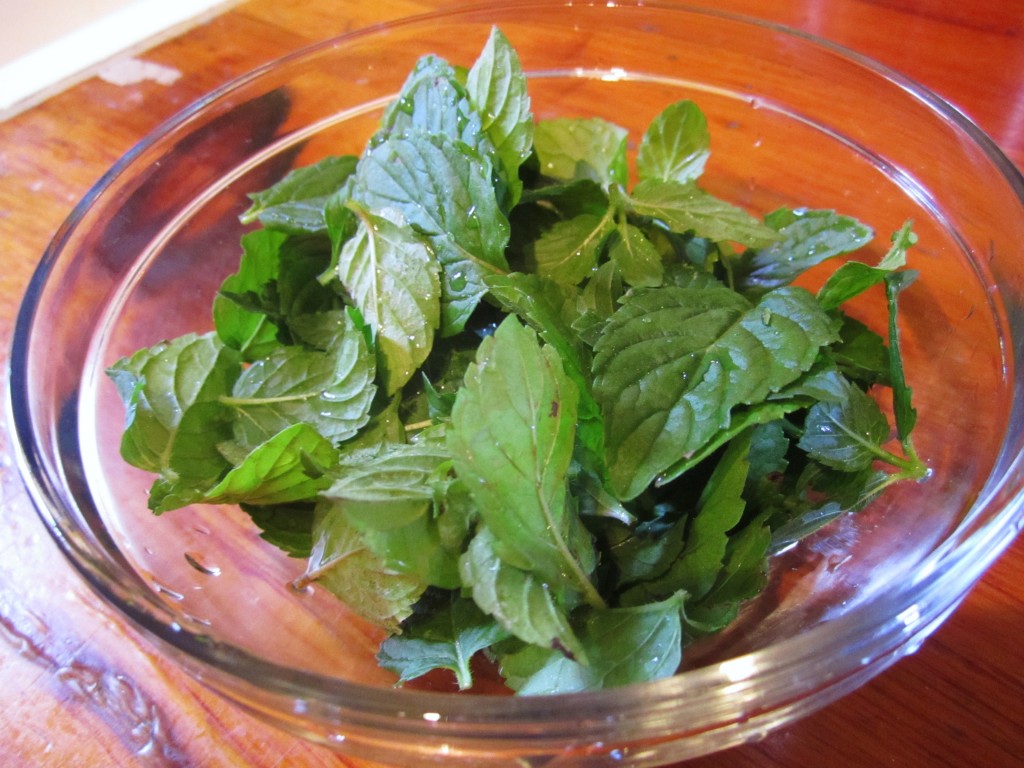 Recipes varied on whether you have to remove the stems.  I tasted a stem and did not find the flavor to be pleasant, so I picked the leaves off of the stems.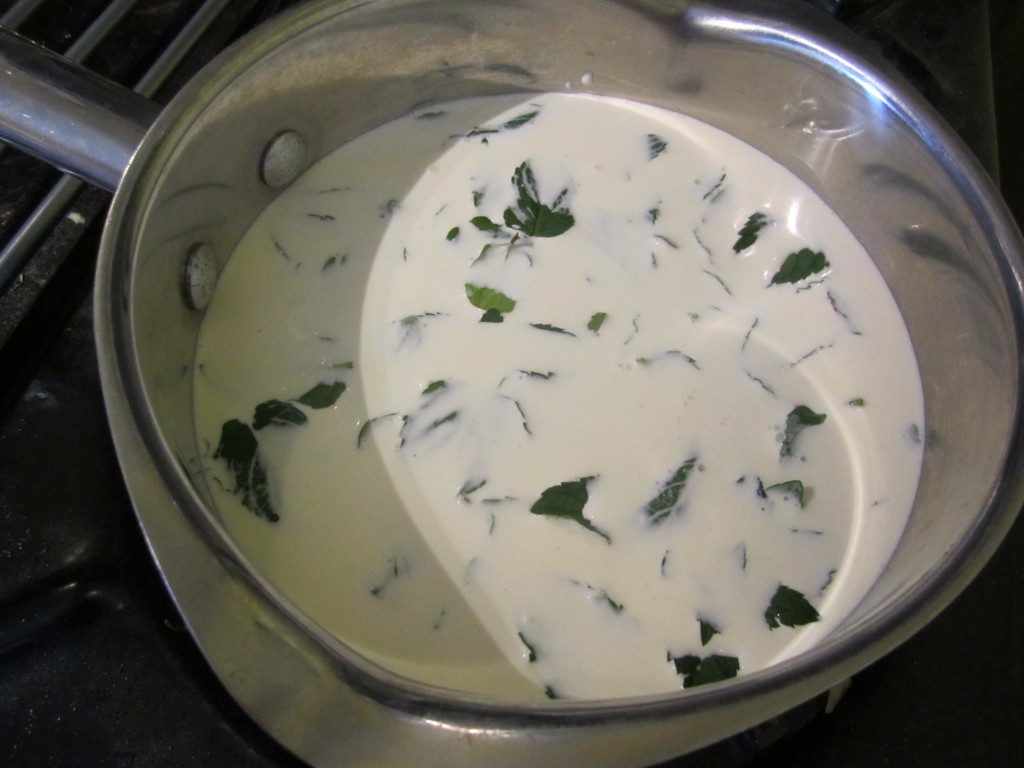 Infusing the cream with mint… after heating the cream and mint, I left it in the fridge for 24 hours, which was probably too long.  I think a more appropriate length of time would be six to twelve hours.
Mixture is ready for churning.  I love Steve's ice cream maker… you don't need salt or ice.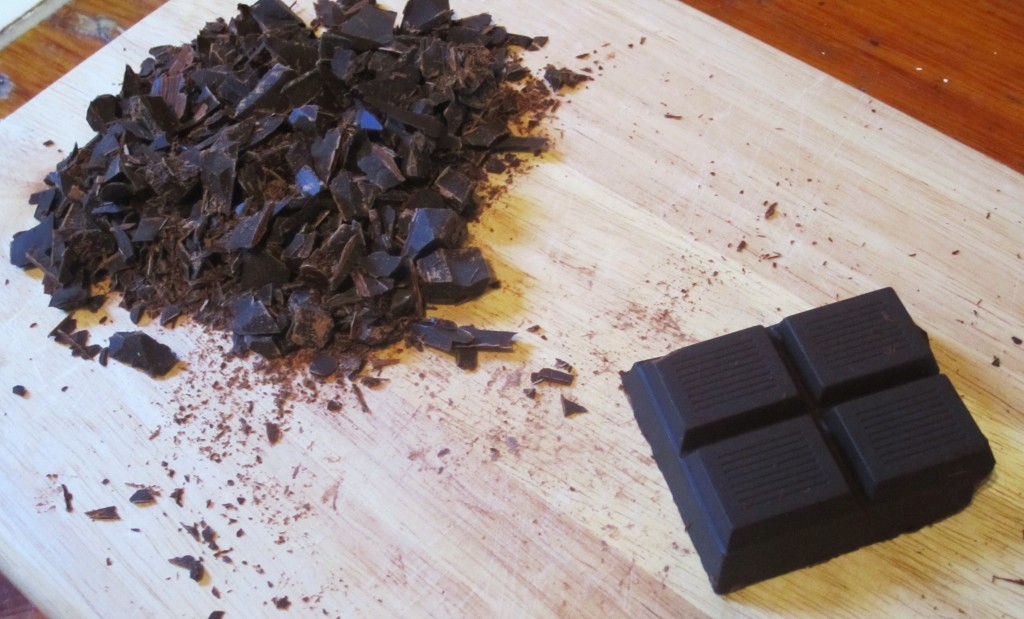 Essential ingredient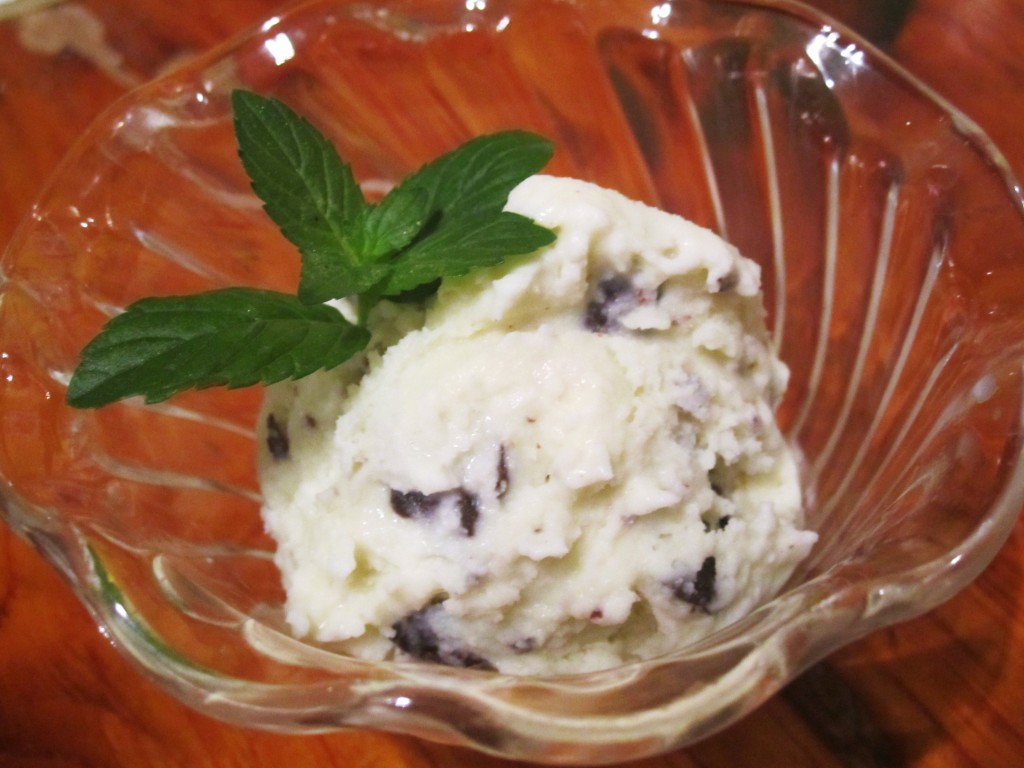 Homemade Mint Chocolate Chip Ice Cream!
This recipe was so simple and delicious that I am already thinking about what kind of ice cream I want to make next.  We've been selling a lot of pie at the bakery, and I think I want to try cutting up a slice of pie and mixing it into a batch of vanilla or sweet cream ice cream.
How about you?  Got any good ice cream recipes I should know about?