Posts Tagged 'Friends'
November 14th, 2012 | Rachel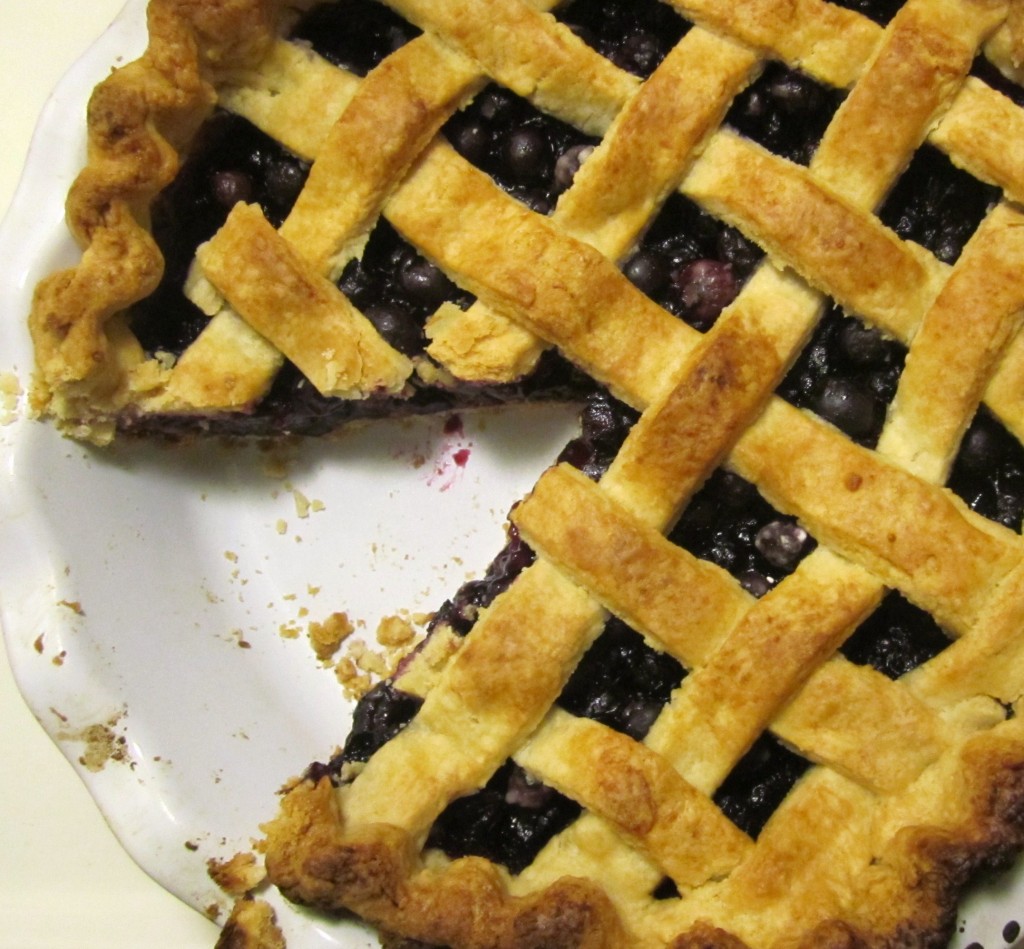 "Steve-Got-His-Captain's-License! Blueberry Pie"
In addition to a few (or six) slices of particularly delicious blueberry pie, I've had a lot on my plate lately. I've been putting in a lot of hours at the day job trying to get more fiscally stable before I have to dive into the new business full time. At the same time, I'm trying to get enough balls rolling with Arthur that we can hit the ground running come January 1 when we become an official business entity.
We actually have a name picked out, but as a somewhat comical oversight, we realized this evening that we never nailed down a particular way to spell it. Arthur sent off the paperwork to have the name reserved with the state of California using one spelling, while I set up a blog on the website on a domain name using another. Oh details.
On top of these two jobs, I've also been coming to terms with the effect of a cross-country move on some of my more significant personal relationships. As a result, I have renewed my efforts to create and grow more local friendships. It's an exciting prospect — after all, I didn't know a soul when I moved to Chapel Hill for law school and only knew one person when I moved to New York City and ended up forming some of my most treasured friendships in both cities — but it is also deflating and frustrating at times.
I'm still trying to figure out how to build cultural bridges to some of these lifelong Californians who haven't spent any significant time away from the west coast. In a weird way it reminds me of my attempted interactions with people born and raised in Long Island who still seem almost culturally incompatible with someone from the south. Its amazing the assumptions we have for how people should act based on the environment in which we were raised. Despite the increasing distance from my homeland, I am still most comfortable interacting with people who grew up south of the Mason-Dixon line and west of Texas.
Of course, life isn't about being comfortable, so here I am in Santa Cruz, California where the only person I knew before I arrived is the person who came with me.
I'm curious to see the effects of west coast living take shape. As I stated in my Ode to New York City, there are a number of things I have taken away from that living experience: "to be a little tougher, a little more confident, a little more open-minded, a little more adventurous." All of those things still hold true. As for California, the biggest change I've noticed so far is that I wear a lot less make up (or, gasp, sometimes none at all). I'm also in noticeably better shape and use the word "gnarly" every now and then. Other than that, only time will tell :-)
In the meantime, I get to ride my bike and take walks along places like this:
Surfing Lessons in Santa Cruz
May 23rd, 2011 | Rachel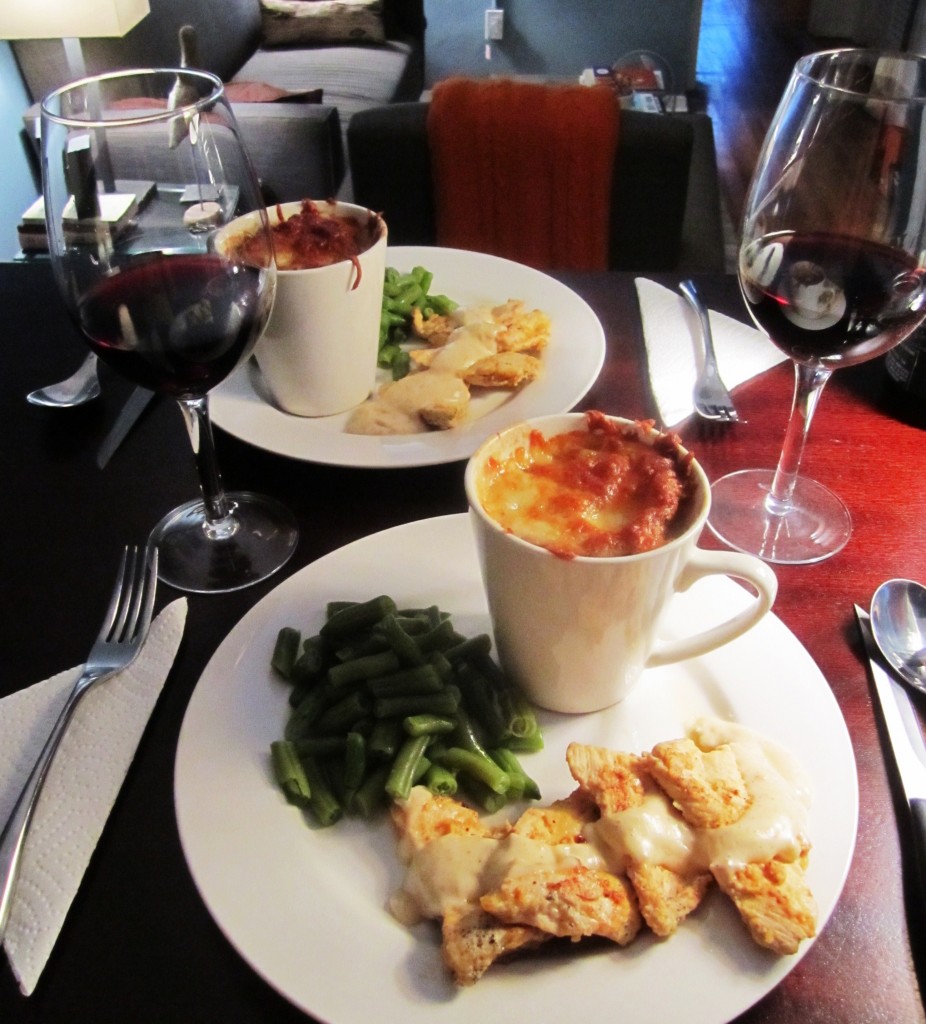 Don't get me wrong, I appreciate my alone time.  In fact, if I don't have regular interludes of solitude, I will either lose my mind or become very, very grumpy.
Still, cooking for and eating with another person is a heightened experience.
First of all, cooking for someone else is like giving them a present — only it is cheaper, and it doesn't add to the ever-growing pile of crap that we all have in our homes.  If you do it right, they'll probably enjoy your home-cooked dinner more than that lotion set anyway.
Second, cooking for someone else just feels good.  Perhaps it is a recessive southern gene I inherited from my grandmother, but ever since I discovered in law school that I can cook a decent meal and people like eating my food, I have felt a need to make people eat.  I'm totally going to be like the mother in "My Big Fat Greek Wedding."
The other useful thing about making food is its bargaining power.  People are more likely to do you favors — or to not mind doing them — if there is homemade food involved.  Throw in a bottle of wine, and they might even spend a whole evening clearing out your closet.
My friend Carey was sweet enough to come over and help me pack up my apartment for the summer.  Carey doesn't always wear big straw hats, btw, although I think she should consider adding one to her own wardrobe. :-)
I cooked us a dinner of chicken with a white wine sauce, green beans, and, of course, French onion soup.  With our dinner (and while we sorted, folded, and packed) we drank a 2007 Cabernet Sauvignon from Napa Valley.  A little heavy for our dinner, but it was all deeelicious.
Carey also patiently waited while I fretted about what to take with me this summer (the dress made the cut, while the Mui Muis did not).
I think this will be my last blog entry state-side.  Next time you hear from me I'll be over in my adopted motherland.
Au revior!
May 17th, 2011 | Rachel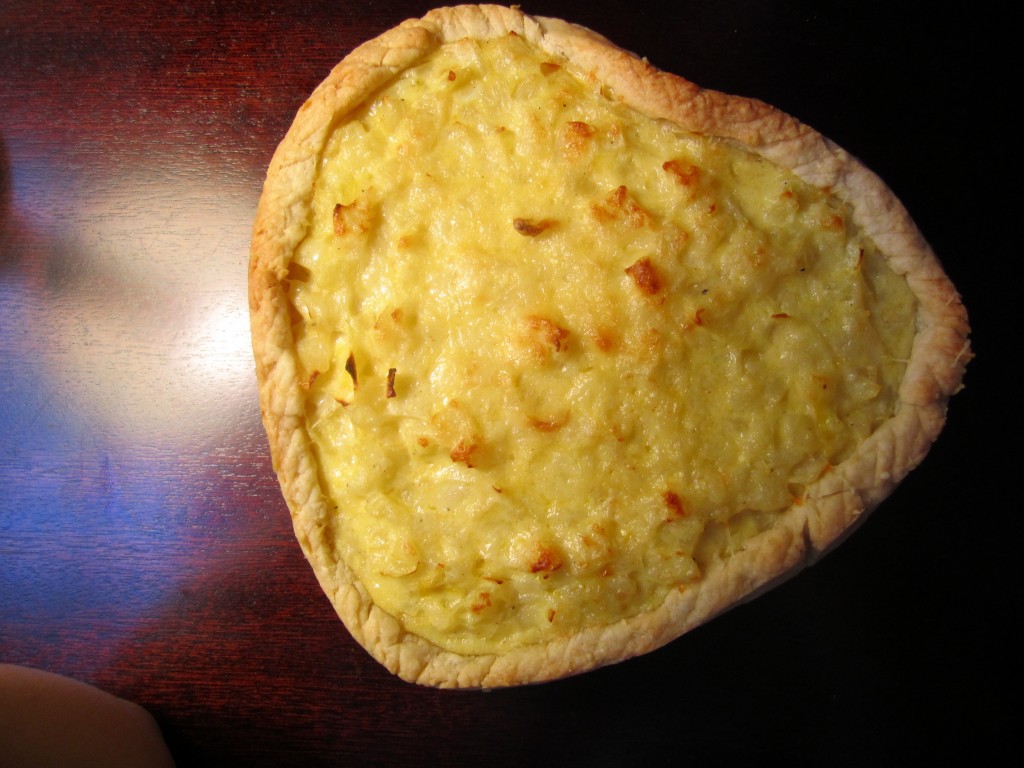 The next time you are invited to a weeknight potluck dinner with your friends and have appetizer duty, consider making an onion quiche.  In fact, because you love your friends so much, why not make it shaped like a heart?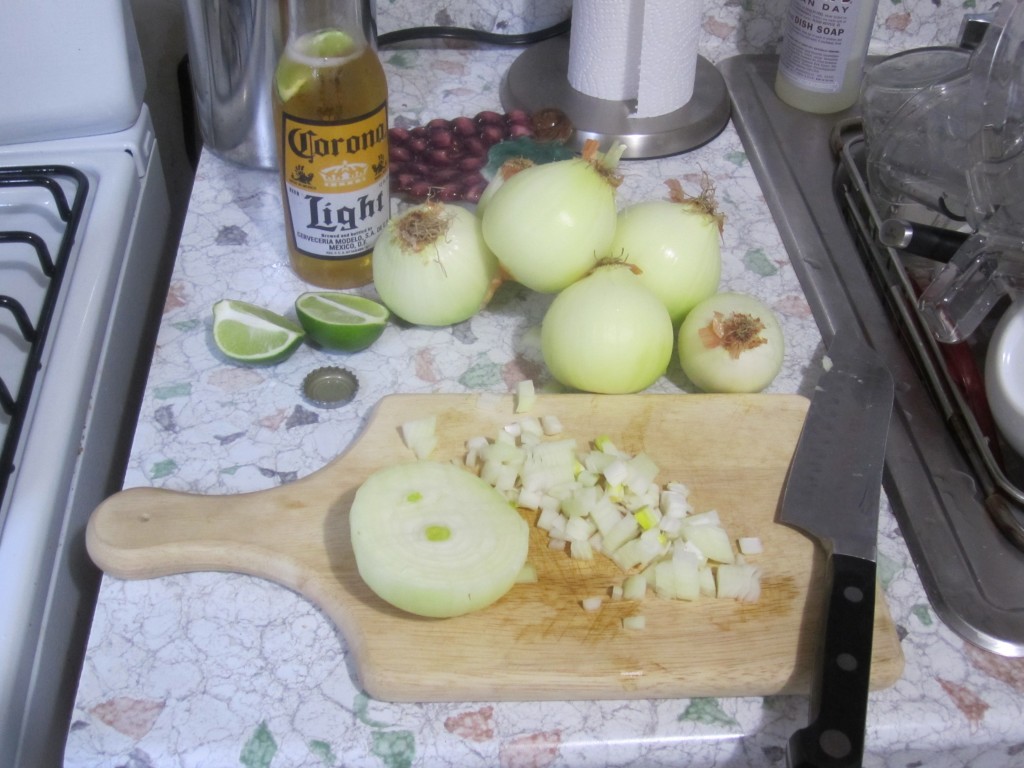 Dicing piles of onions is a little easier with a Coronita on hand.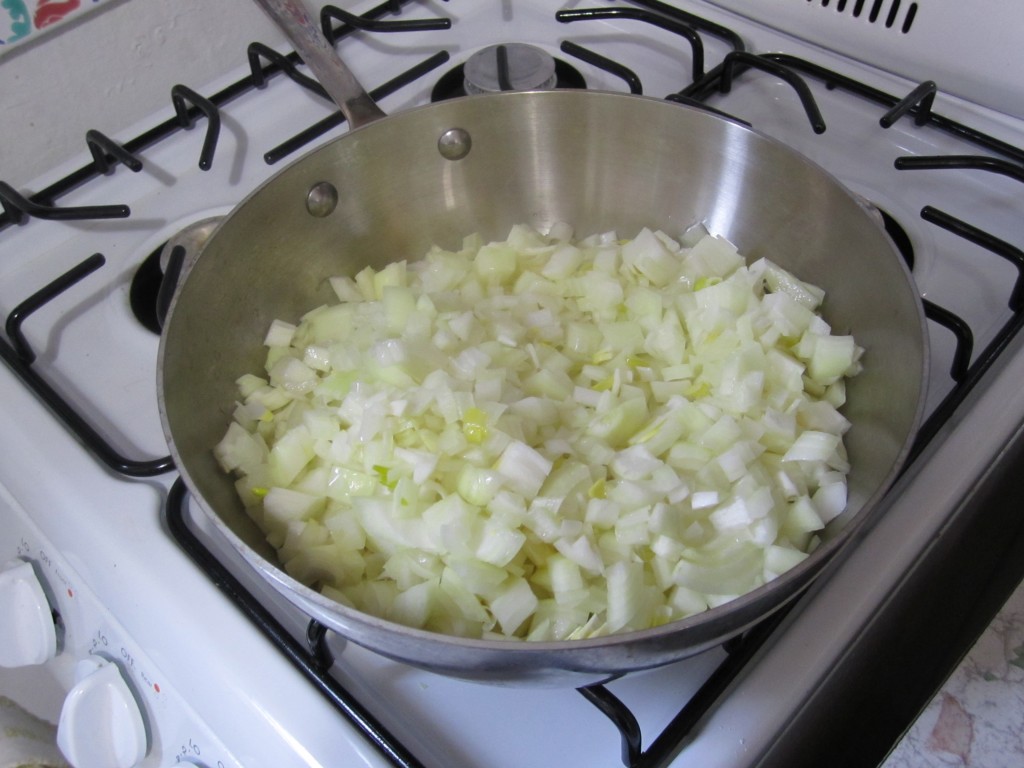 The beauty of quiche is it requires a limited number of ingredients and doesn't need the incessant hovering that so many other French dishes mandate.  Here, I simply sauteed the onions.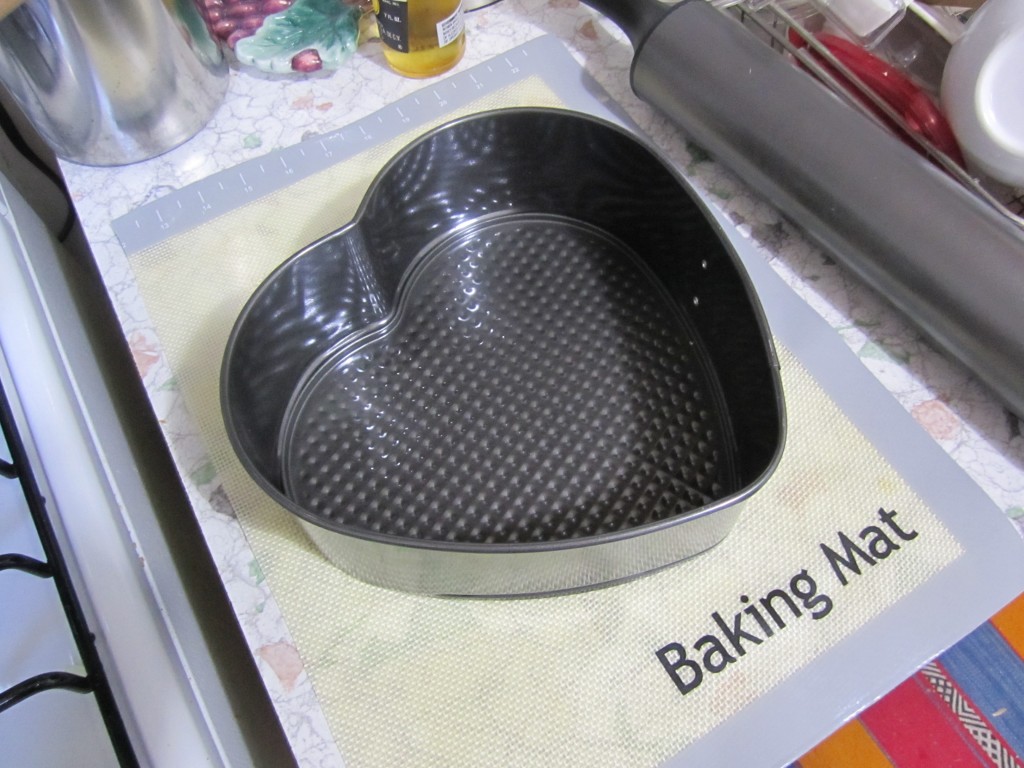 I prepared the quiche dough in a food processor (as with my last attempt at Julia Child's quiche crust I wasn't totally pleased with the result — it is officially time to find a better recipe).  For a mold, I used a heart-shaped springform pan.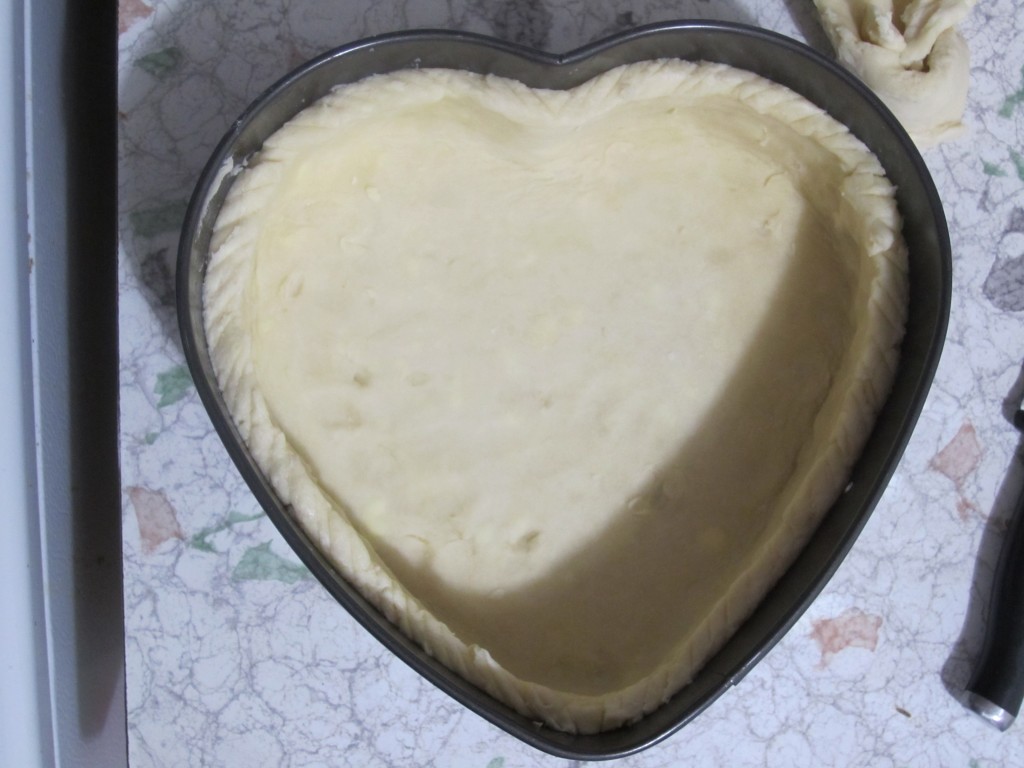 Then I mixed in a simple mixture of egg, milk, and spices.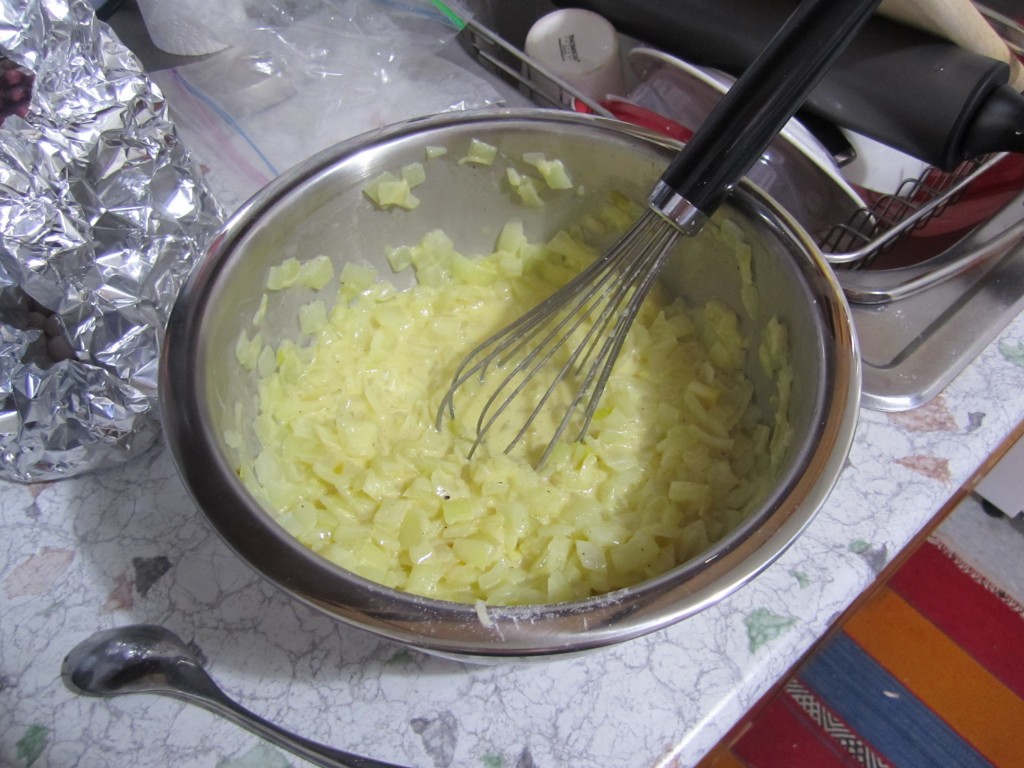 Once the crust was pre-baked, I removed the outside of the pan and poured in the filling and covered with a light layer of cheese.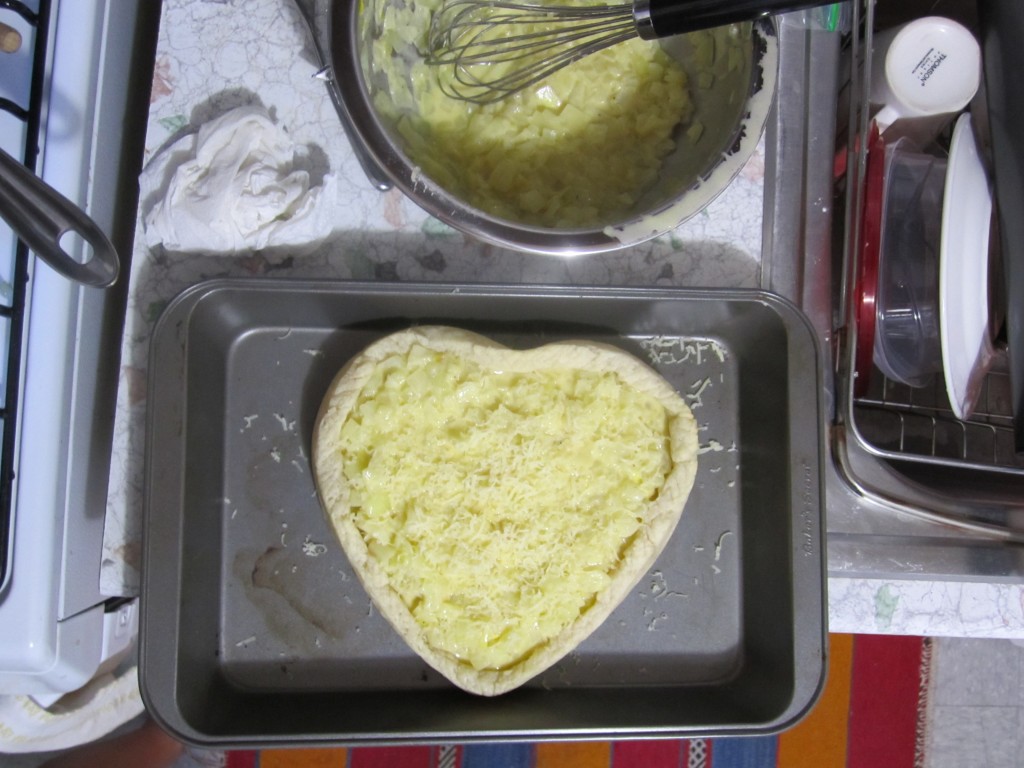 Then it was just a matter of patiently waiting until the cheese and crust were lightly toasted.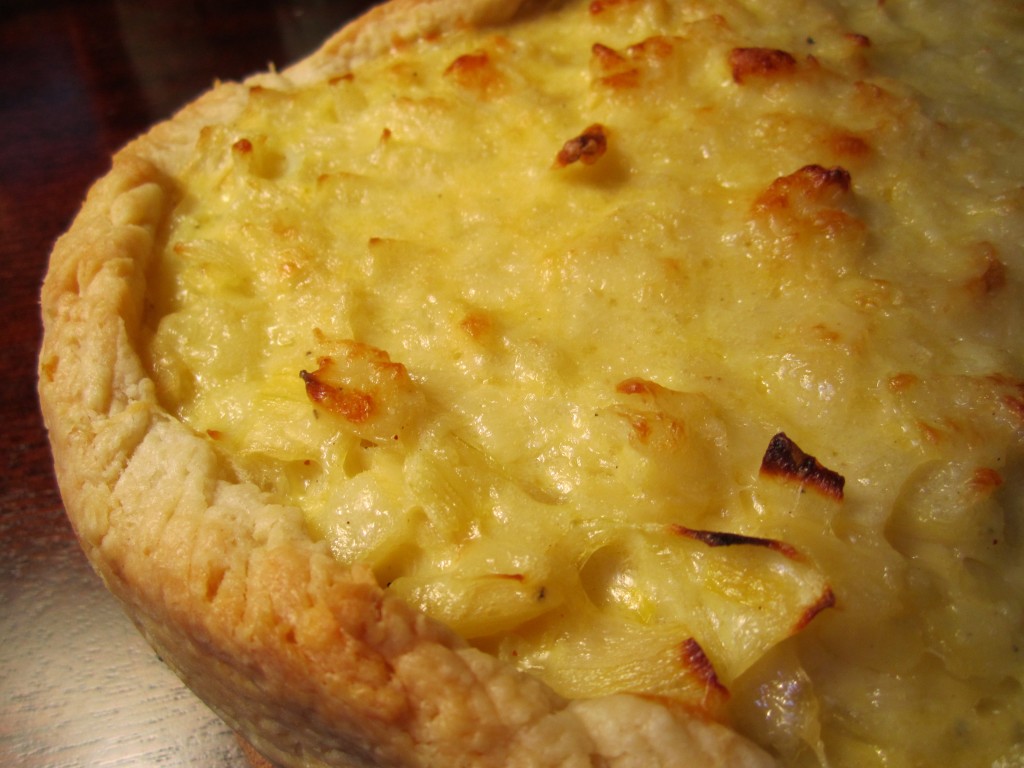 Julia Child's Onion Quiche
The harder part was figuring out how to get my fresh-baked creation to the Upper East Side in one piece.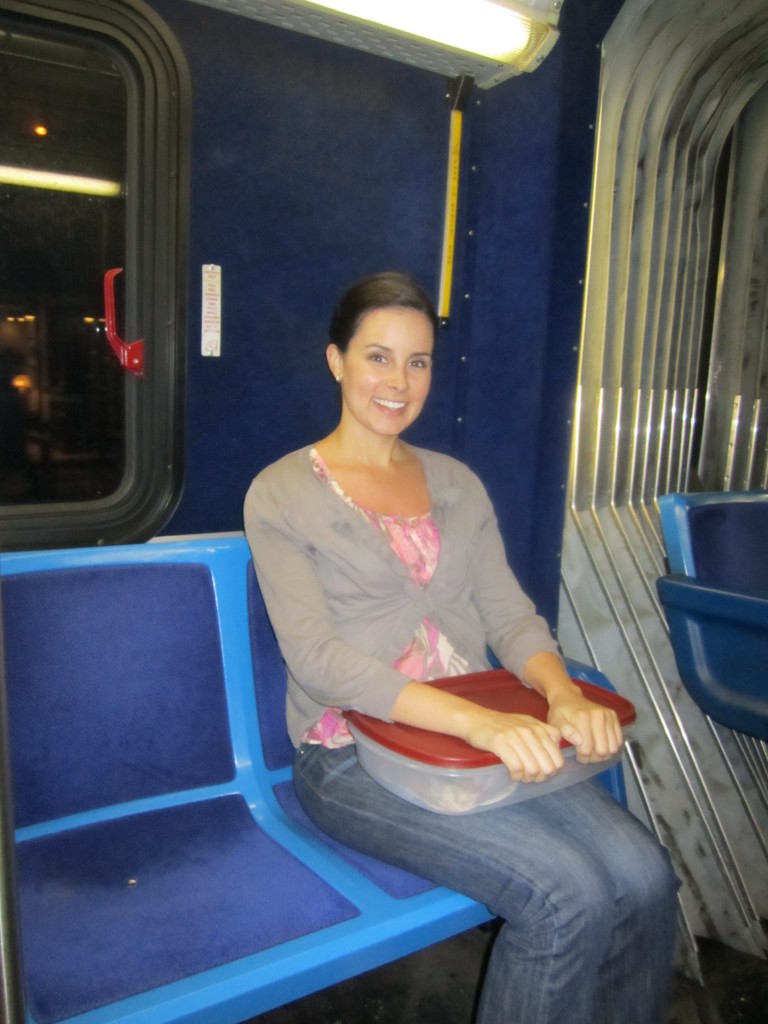 Gotta love New York City public transit!
Nothing brings people together like food.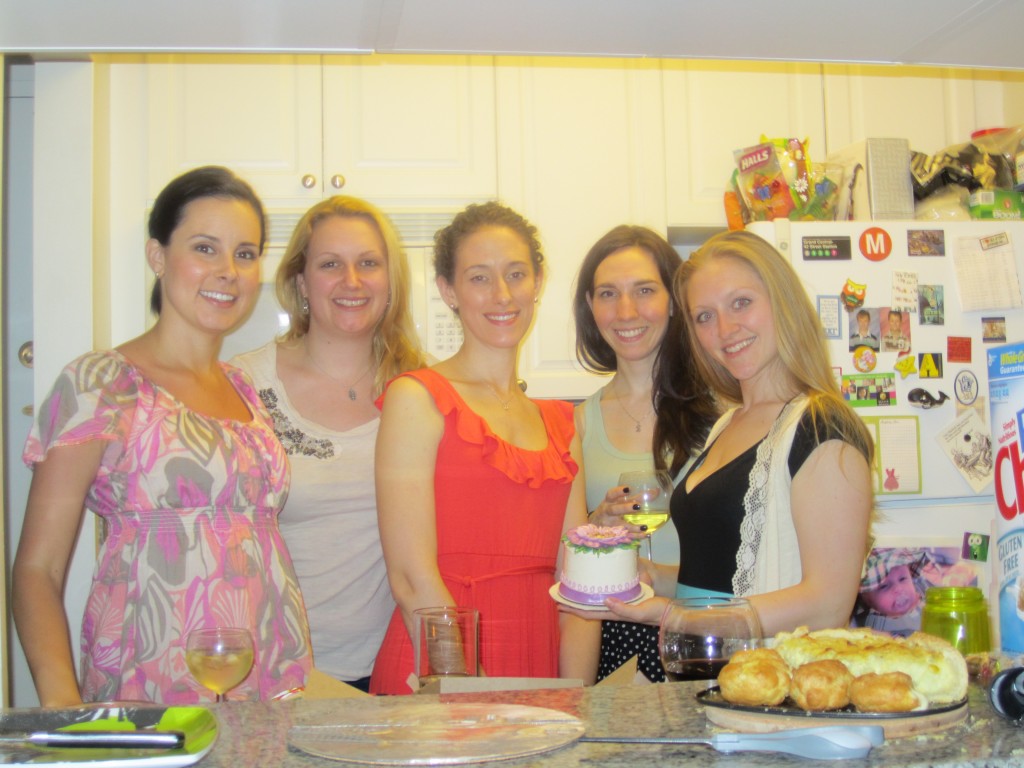 I love these ladies!