Archive for January, 2012
January 30th, 2012 | Rachel
Ok, real talk.
I'm a pretty easy going person.  I stay cool under pressure (too cool, I've heard), and I'm never in a rush.  I'm open-minded and reasonably patient.  I also like (or am neutral about) almost everyone.  In fact, if I had to quantify it, I'd say I like about 97% of the people I meet.
I credit Match-dating for greatly enhancing my interpersonal skills.  I remember moving to New York City after graduating from law school and being really frustrated with my inability to talk to other people.  As my college boyfriend could attest, I was very guarded throughout my early-adulthood.  I think I sat mute through the first two or three dates before I finally opened my mouth.  I could speak freely only with people who had known me long enough to earn a key into my inner sanctum.
Anyway, something about being thrown into one-on-one social situations with complete strangers and having to engage them for an hour or two while simultaneously revealing enough of myself to determine any substantive compatibility revolutionized my social abilities.  No joke.  Suddenly, I was meeting people everywhere I went.
It wasn't just limited to dates.  My entire social network grew exponentially as I made myself more open to other people.  If you've ever been to one of my parties, then you've seen how my "group" of friends is more like a spiderweb that branches out in a lot of different directions and is constantly growing.
So… yeah.  People.  I like almost all of them.  At the Three Green Ducks, I would often come to the defense of particularly ornery customers that everyone else hated but that I found interesting.
The problem is with the people I don't like.  For 97% of the population, I can sincerely respect them as fellow human beings and find something to appreciate.  For the remaining 3%, however, it is like a switch goes off in either my head or my heart and I absolutely can't stand them.  I don't want to talk to them.  I don't want to help them.  I don't even want to look at them.  My gut reaction is to shut them down and get them out of my life as fast as possible.
This is not a good thing if I am going to be a part of the customer service industry.
After working at the Three Green Ducks for about five months and having a handful of negative interactions with customers who were truly horrible people but, alas, were still customers, I had a flash of personal enlightenment.
I realized I needed to turn my ego down a few notches and get over myself.  Part of the reason I quickly jump to detesting someone is my ego feels threatened and my personal defense mechanism springs into action.  Unfortunately, those defense shields don't leave room for compromise or any higher cause, such as making a sale or the business's reputation for customer service.
I resolved to not take it personally the next time someone came in with a bad attitude that historically would have rubbed me the wrong way.  I noticed one of my co-oworkers was a particularly good example of how to handle problematic customers.  The ruder they were, the sweeter she would be.
This turned out to be a good conscious exercise.  Instead of unintentionally growing angry to the point I snapped, I intentionally turned on my biggest smile and sweetest voice.  The customer's bad attitude became fuel for my own patience and positivity.  And it was a challenge, which is always fun.
Toward the end of my time with the Three Green Ducks, I mentally started pretending like the bakery was my own bakery and it was my personal and professional reputation on the line.  This made it a lot easier to remember and exercise principles of good customer service.
When it all boils down, the entire dessert-baking industry exists to bring people happiness and pleasure.  People purchase baked desserts to celebrate special occasions, to express love or other positive feelings, or to simply enjoy the moment.  There's really no point in introducing any negativity into the transaction, and if a customer comes in with a bad attitude, then it is my job as a vendor and customer service agent to make sure they have a positive experience (if it is possible).
Even outside of the business, I hope to be more open and patient with that 3% of people.  Seeing as how I am starting from scratch in building my California network, I will have plenty of opportunities to practice.
January 24th, 2012 | Rachel
Well, I'm officially a homeless vagrant.
I (with my dad's help) emptied my storage unit into a U-Box that is now on its way to the U-Haul center in Santa Cruz.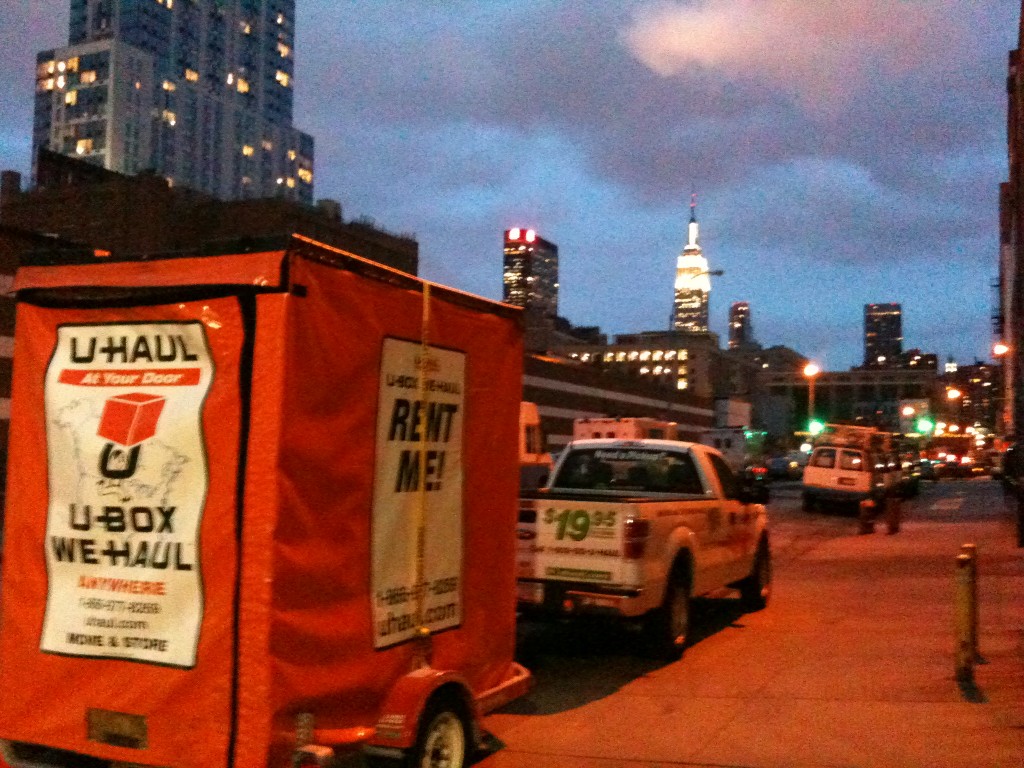 Loaded U-Box under the watchful gaze of the Empire State Building
I said goodbye to my friends in New York City over the course of several farewell gatherings, the first of which was an amazing surprise party organize by my two best friends Carey and Davina.  This is the part that made me sad about leaving.  I was blessed with a lot of amazing friends in the city.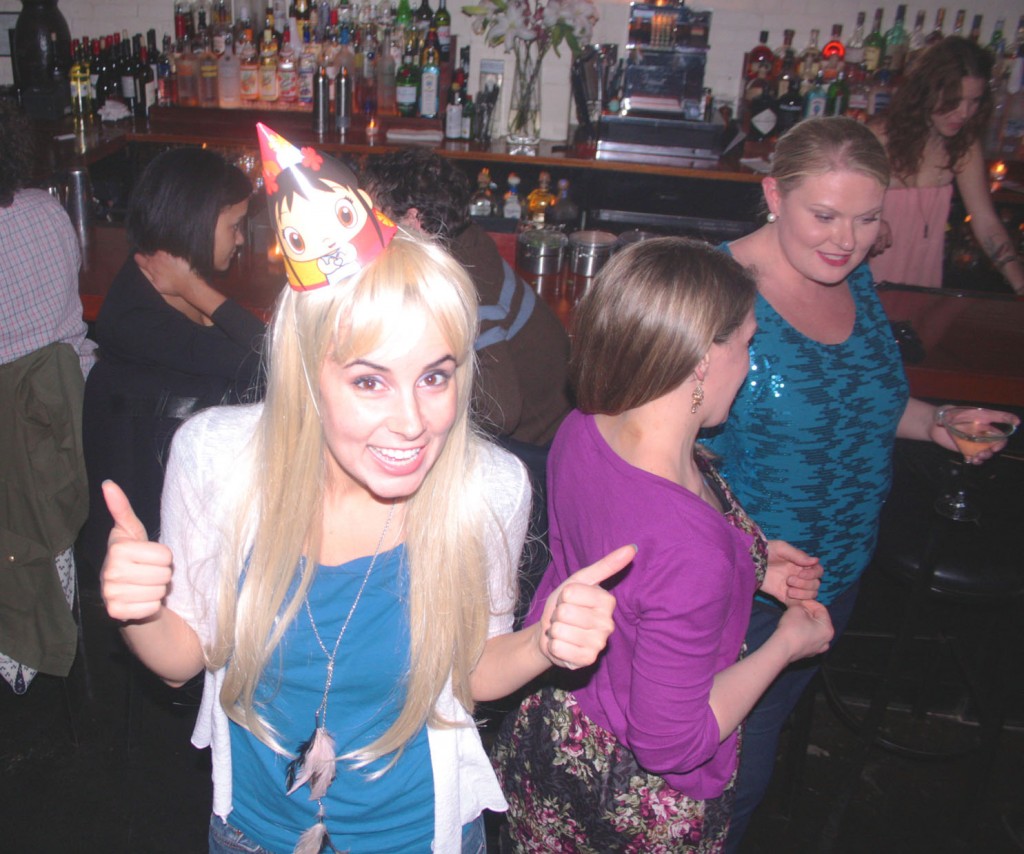 Preview of California Rachel ? (from my surprise going-away party… a huge thanks to Zeke for taking photos!)
The time finally came to pack up the last of my belongings that I've been living with the past eight months at Steve's apartment.  As the pile got taller and taller, I got more and more anxious that it was not going to fit in the minivan I would be driving first to Alabama and then to California.  It took me until 3am to get it all together, and I had exactly three hours to nap before we had to pack the car and leave.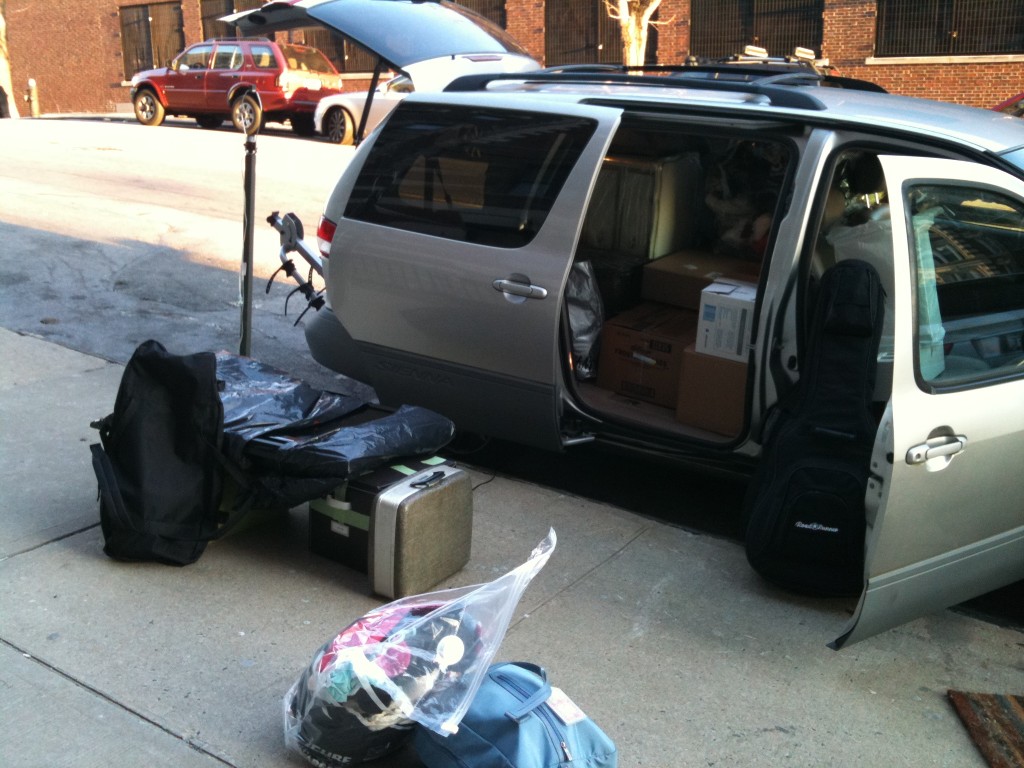 Loading the minivan
As I had feared, there was just too much to take with me.  I could leave a few things at the apartment for Steve to deal with, but I was trying to keep that to a minimum.  My dad suggested taking out the passenger seats (the rear bench was already back at his house in West Virginia), and without them I managed to fit everything except two boxes, a rug and a large painting.
My dad had to leave at 8am to catch his series of flights back to Afghanistan, and Davina and I finally finished loading everything (including the bicycles on my snazzy new bike rack — thanks dad!) at 10am.  It was an hour behind schedule, but I felt 1,000 pounds lighter driving out of the city (well, riding… Davina didn't trust me driving on three hours of sleep).  I kept waiting to feel sad about it, but the overwhelming emotion was excitement.
The first stop was State College, Pennsylvania to see my old friend Travis who is finishing up a phD in higher education at Penn State.  Apparently it had snowed the night before, and everything was covered in a beautiful blanket of snow!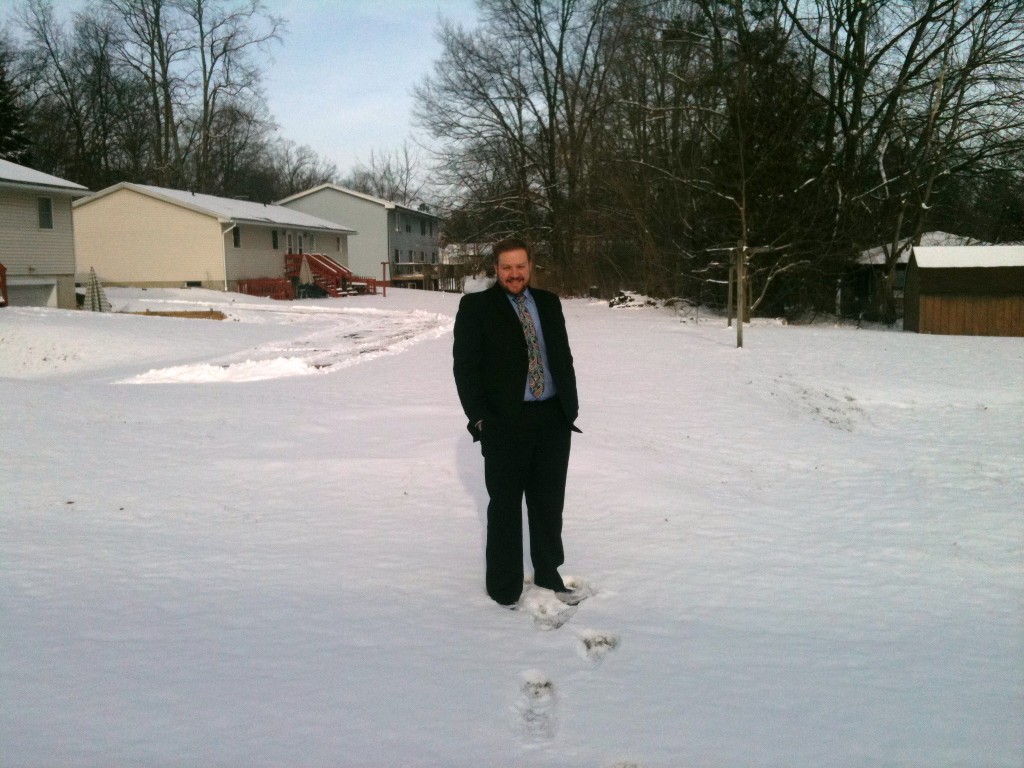 Travis in the snow
We stayed in State College a little longer than planned, so by the time we were rolling out of town it was almost 6pm.  The plan was to drive south to Asheville, but that was a 9-hour drive, and neither of us had slept enough to be driving until 3am.  Still, there was a winter storm coming our way, and weather reports as far south as Virginia had warnings in effect until the following afternoon.  We (and by we, I mean Davina because she still didn't trust my driving) decided to push ahead and get as far south as possible before finding a hotel.
The last couple of hours in Virginia were a little precarious as the snow set in with high winds gusting around us and the surrounding semi trucks.  I was so exhausted I couldn't keep my eyes open, but then I'd wake up startled by the trucks and snow and convinced we were going to die.  Davina, fortunately, stayed cool and got us to Lexington, Virginia where it wasn't going to drop below freezing and thus we didn't have to worry about the roads the following morning.  Our hotel, which I got through Priceline, was a lot nicer than we expected, and we both slept great that night.
The next day was gray but benign, and we finished the drive to Asheville without any problems.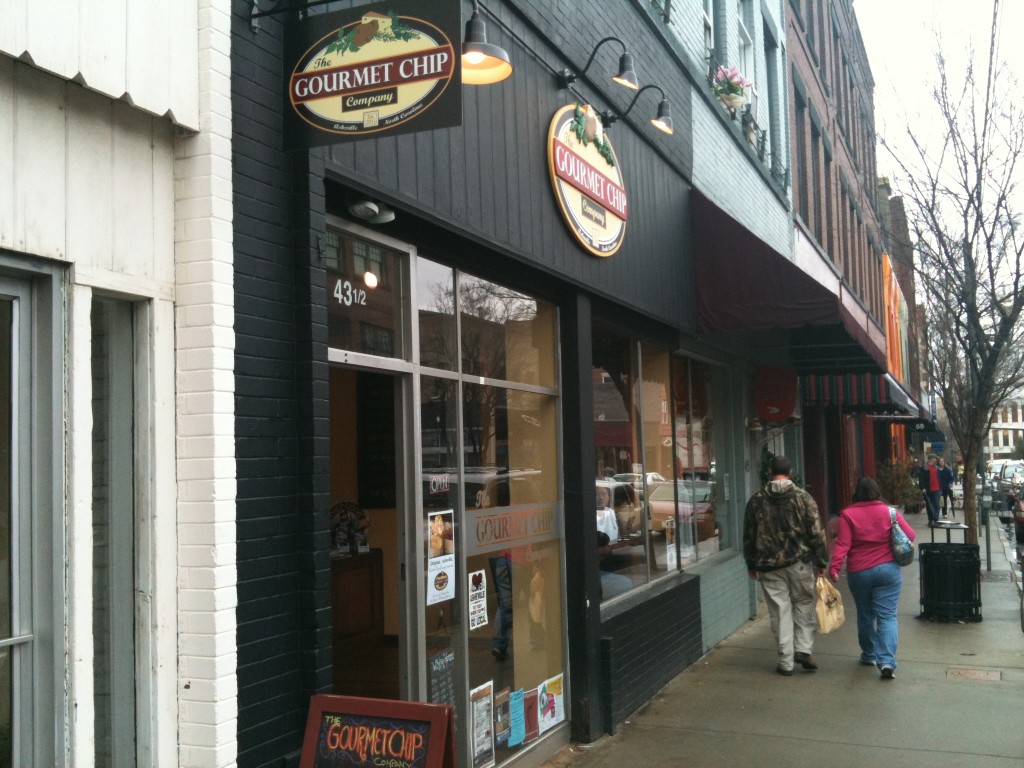 Storefront of the building in downtown Asheville, NC owned by Davina's grandfather
While in Asheville, Davina and I stayed with her aunt and grandfather, got a tour of the downtown area (where Davina's grandfather owns a building), visited her grandmother who is recovering from a back injury, and had dinner with several other members of her extended family.  If felt so good being around so many friendly southern accents.
The next morning we went to breakfast with Davina's grandfather at the Moose Cafe, a restaurant my own family frequented back when my dad lived in Asheville.  The next leg was Atlanta, Georgia, where Davina had a chance to catch up with a friend from a study abroad program in Nice, France.  Her friend, Amy, was also a UGA graduate, and we actually know a few people in common.
The last leg was a short two-hour drive to Auburn, Alabama where my mom, brother and grandmother live.  This was Davina's first time in this great state, so we gave her a proper introduction by taking her to Country's Barbecue, a staple in my family since I was a kid.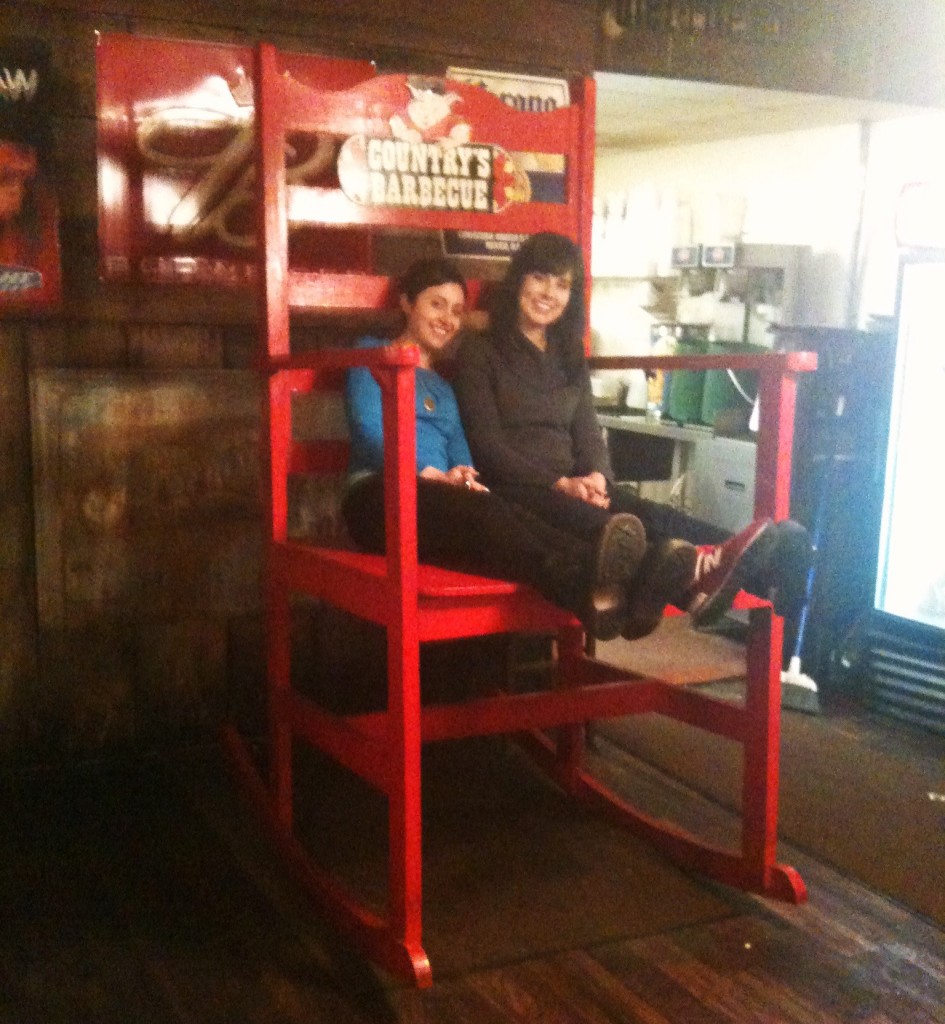 Giant rocking chair at Country's Barbecue
And now, I am hanging out at my grandmother's house for the next week and a half.  I took Davina to the Atlanta airport where she jetted off to California to snowboard for a week before returning to New York City.  I am catching up on my sleep and starting to think about all of the stuff I stopped thinking about when my brain became completely preoccupied with moving.
It is weird to not be in the city right now, but it still feels like I'm just away for a visit.   Maybe it won't hit me until Steve and I are settling into our new home in California.  Or maybe it won't be until I see my friends continuing on with their New York City lives without me.  Regardless, it feels right for the time being, so I guess I'll enjoy that before the inevitable crisis of faith occurs and I feel sad about missing out on some fabulous event in NYC.
January 18th, 2012 | Rachel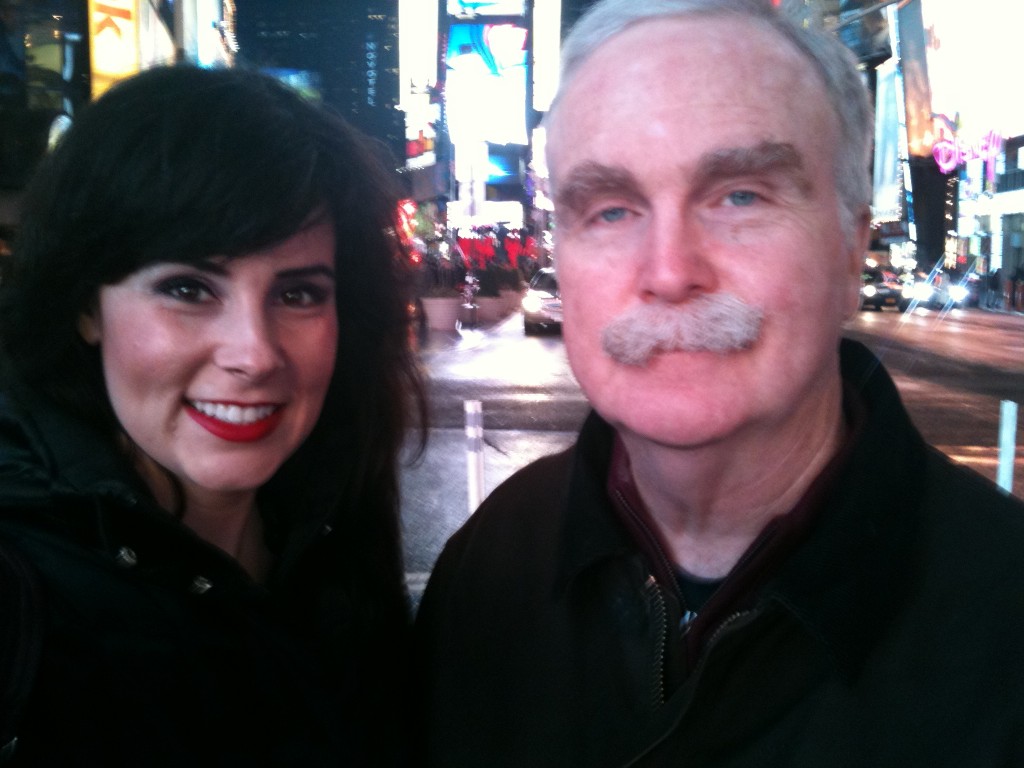 My dad is in town as a part of his three-week R&R trip home from Afghanistan.  He was already planning on coming here before I announced my moving date, but the timing of it all couldn't have been more perfect in the end.
I had been getting a little… overwhelmed by the final week of moving.  It was partially due to my ever-growing to-do list, but a lot of it was just the mental and emotional effects of packing up the life that I have really loved in New York and preparing to leave my friends, some of whom are now in my innermost circle of "best" friends.
My dad drove in yesterday, parking my new (old) minivan in Jersey City and then taking the PATH.  We had some drinks together in the middle of the afternoon, took a break to watch some episodes of Breaking Bad (I am introducing him to the show), and had Korean barbecue for dinner with Arthur.  This morning we went out and got some boxes, had brunch at Community, and then fetched the minivan.
We made it through the Holland Tunnel without any problems, but then we were in Manhattan for exactly ten minutes before I missed the turn (he was driving, but I was the copilot) and ended up in Brooklyn.  If I am going to get stuck driving in circles with anyone, it might as well be my dad.  He stayed in good spirits throughout the driving adventure, even through the three hours it took us to retrieve a few pieces of furniture from Arthur's loft.
We are now taking a little break at home (watching Breaking Bad) before heading out to dinner at my favorite restaurant, Punch, followed by my last little goodbye gathering at Arctica.
I've been hanging out with my dad for about 24 hours now, and I can already breathe better and walk lighter.  Part of it is knowing I have someone to help me load up the U-Box tomorrow, but mostly it is just because he's my dad and he's here.
Thanks, dad.
January 17th, 2012 | Rachel
… is that it is a total logistical hassle.
I have been so worried about my stuff not fitting in the U-Haul trailer (and a myriad of other moving-related matters) that I haven't been able to sleep.  Falling asleep isn't the problem, but then I wake up five hours later with my mind racing with everything I need to do.  Add on top of that the list of things I want to do and the people I want to see, and there just isn't enough hours in the day.  And add on top of that the incredibly loud hissing that comes out of the radiator in my bedroom every morning, and I have no hope of going back to sleep.
Fortunately, I have the unyielding support of my family, my friends and Steve, and everything is slowly but surely coming together.
Speaking of friends, these two criminals (pictured below) totally surprised me last week with a going-away party at one of my favorite happy hour bars in the city, Essex, along with about 25 of my favorite New Yorkers.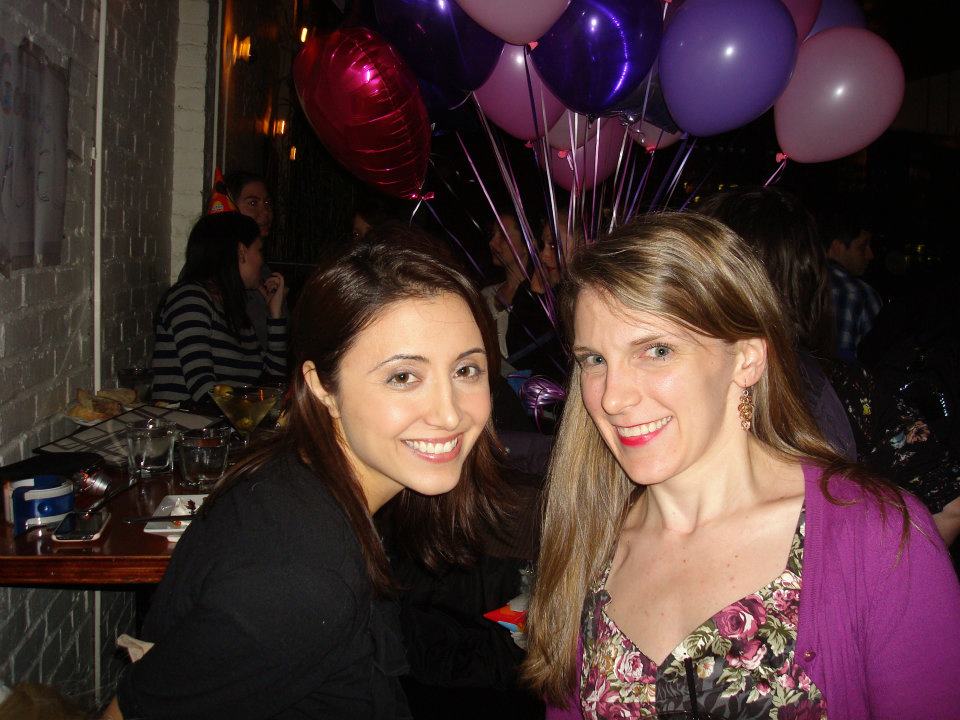 Davina and Carey, the masterminds behind my surprise going-away party
I'll be posting a few more photos from that event (including some of me embracing the full California Girl persona in a long blonde wig) when I get them.  I also had little going-away gatherings with my co-workers from the bakery and my church friends (the latter of which was sweetly organized by Arthur).
This final week I am having a little drop-in get-together at Arctica Bar that was planned well before I knew of the surprise party.  After that, it'll be time to pack up and head out of town.
I'm starting to get sad about leaving all of my friends.  I knew that was going to be the part I miss the most, but it didn't really hit me until the surprise party.  I'm also starting to freak out a little about the fact that I am unemployed and will remain so for at least the next three weeks.
I'm excited to get on the road, though.  Davina is joining me for the first leg, and we have a great itinerary of people we want to visit on our drive down.  I'm also excited to spend some extended time with my family in Alabama while I wait for Steve to meet up with me.  Finally, I am especially excited about seeing Steve on my birthday (January 31st), as it will have been six weeks since I last saw him.
I figured out the space issue with the trailer, by the way.  I opted this morning for a last minute U-Box, which is a small container that will be delivered to my storage so I can load it up.  Then they will ship it over to California and store it until I can come get it.  It was quite a bit more expensive than renting the trailer (although considerably less than hiring a mover), but I think it is more than worth it due to the peace of mind it is already bringing me.
Stay tuned for those photos of me as a blonde.  They actually aren't as bad as I would have expected.
January 14th, 2012 | Rachel
Today marks my last day working at the Three Green Ducks (which, as many of you already know, is not the real name of the bakery).  If you haven't read about how I ended up with the job, here's the back story.
It's hard to believe I've been a paid member of the baking industry for almost six months now.  Its even harder to believe that I haven't done any substantial lawyer work (outside helping a few friends) in almost eight months.
I can't say I've missed being a lawyer.  I guess that is a good sign that I am onto something better suited for me.  Don't get me wrong, working as a corporate litigator was really interesting sometimes.  I know I loved the job when I first started.  I liked how mentally taxing it was.  At the end of a great day of work, my brain would be exhausted from processing and analyzing so much information.  When people asked what I did, I usually told them I was a professional problem solver.  The client would come in with their million dollar problem, and the partner(s) would divide it up into multiple layers of very specific problems, which were then assigned to us associates to solve.  As the case progressed, you got to see how your work product fit together with everyone else's to solve the headlining problem.  Of course that was usually just saving one giant corporation's money from another giant corporation, but it was still an interesting intellectual exercise.  It wasn't something I could put my heart into.
In contrast, as I have mentioned before, I really believe in working at the bakery.  I believe in the physical product itself, and I believe in what it means for the people who buy it.  I believe that operating a bakery is a direct service to the community, and I believe it adds to people's quality of life.
When I get sucked into wondering how my bakery will ever be as successful as the Three Green Ducks, I get overwhelmed and discouraged.  However, when I start thinking about the individual components — the recipes, the presentation, the message I want to communicate to the customers — and why I want to start my own business, I get excited and energized.
My only complaint about working at the Three Green Ducks — and I hope none of my coworkers take offense to this — but after a few months I did start to feel like my brain was starting to melt.  This shouldn't come as any surprise.  After all, I was hired to be a physical body behind the counter… not a brain.
There were little opportunities here and there to think creatively.  I pointed out an inconsistency with the price of pie slices that led to a new pie-pricing scheme.  I made a protective shield out of shopping bags and packing tape to protect a stack of cake boxes that would get dirty every time someone emptied the coffee grinds into a nearby trashcan.  For a couple of months I tried to convince the Powers In Charge that putting everything in the cake case perpendicular to the window and leaving the case facing the window empty discouraged people walking by from stopping in.  If the first thing someone sees when they peak in the window is an empty cake case, its unlikely they are going to investigate further.  (The explanation I was given for not changing the placement of the cakes was that they didn't sell as well when put in the case facing the window.)  On slow days, I recalculated what I thought the price of certain products should be.  For example, if you sell a 10″ cheesecake for $53 whole or cut it into slices that sell for $4 each (totaling $54 for a whole cake's worth) even though it takes an employee a good 30 minutes to cut the slices, then you are making less money off of the slices and should keep more of the whole cakes in the case to sell.
Of course, it is easy for me to sit back at a distance and poke holes in my employer's business model when I have no idea what goes on behind the scenes.
I'm excited to tackle these kinds of issues of my own, and I am looking forward to the intellectual challenge of creating and running a viable business.  There's really no end to the subjects I am going to have to learn: building codes, food safety regulations, employee issues, advertising, finances, business-related technology, in addition to the chemistry of baking in bulk.
I'm sure I will continue to reflect on all of the things I learned while working at the Three Green Ducks.  It was very enriching experience, and I felt like I had a lot of sincere 'goodbyes' today.