Archive for January, 2013
January 31st, 2013 | Rachel
Well, we've made it to the final announcement! This one has been our most closely guarded secret for the last six months.
[If you are reading this in an email, you'll have to click in to see the graphic.]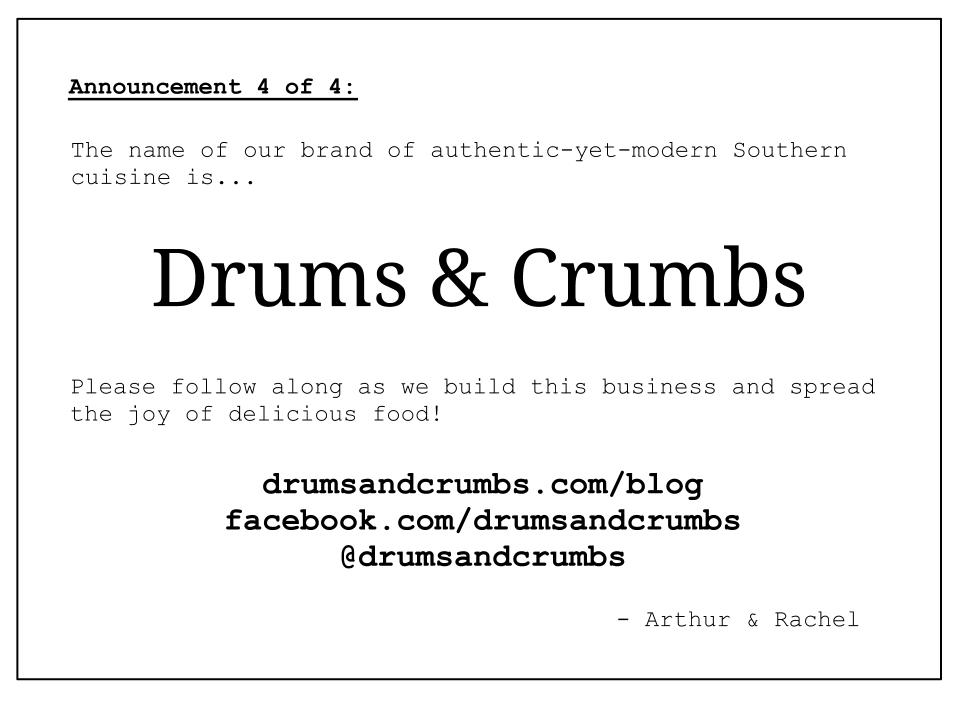 When the concept of the business was born, it was clear that it would be a meeting of Arthur's penchant for fried chicken with my love of baking. We wanted a name that would represent both of these things.
After brainstorming with some friends, we ended up with Drums & Crumbs, a short, fun and clear name of a food brand with two signature dishes: Southern-Style Chicken and Seasonal Fruit Cobbler. It will also have an assortment of other traditional sides and desserts.
Keep in mind that we are still at the beginning of our brand development. We wanted to share the name and the concept with you so that you can help us make some of the fun decisions along the way.
We are keeping a simple blog of our progress while our graphic designer and web developer are putting the real website together. We'll also post those sorts of updates on our Facebook page and on Twitter.
We are currently working on the logo and the design scheme (something we hope you all can help us narrow down when the time comes), so our pages will be looking a little colorless for the next month. All the more reason for you to keep checking in with us to see how things are coming along!
I'll still write about my perspective of the whole process on this blog, but drumsandcrumbs.com/blog will have more regular updates on how the business is coming together.
Thanks again for joining in on this adventure!
On a more personal note, I will always remember this day that we introduced Drums & Crumbs to the world, because today is also my 30th birthday. A very happy birthday, indeed :-)
January 30th, 2013 | Rachel
Before I get into the third big announcement, I want to thank everyone who has turned their attention to our enterprise this week. It's nice to know people are interested in what we are doing, and we certainly couldn't do it without so much support. So thank you :-)
And now for our third announcement: our first venture is going to be a mobile restaurant.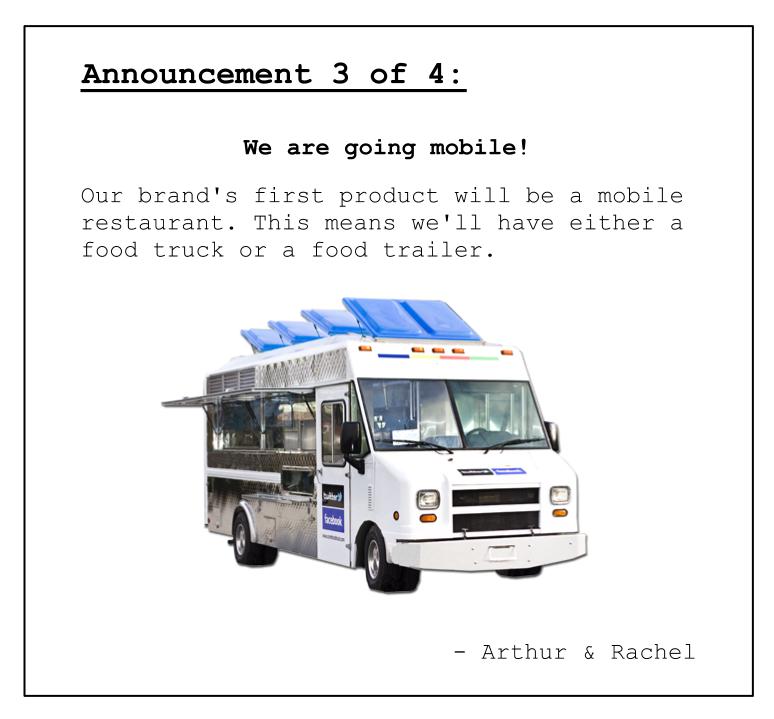 Arthur and I are trying to be a little bold with our new business, but we are also going to be practical. Opening a restaurant (a brick and mortar, if you will) requires a huge capital investment, and you only get one shot to find out if you are in the right market.
As you have probably noticed on a street near you, mobile food has had a huge surge in popularity in the last five years. Not only is it fun to eat gourmet fusion food out of a truck with a catchy name, its also more economical for both sides of the transaction. The business saves on overhead and can focus on a few specialties, and the savings is passed on to you (usually).
I don't think it is a coincidence that food trucks became so popular right as the economy was tanking. Money was tight, but culinary entrepreneurs still had great ideas to share, and customers still wanted to eat delicious, innovative food. Even now that things are picking up, people on both ends are still cautious with their funds.
I'm a lover of all food experiences, whether it is a gyro from a food cart or a five course dinner at a restaurant with a Michelin star. Although the price and the ambiance might vary drastically, the purity of ingredients and attention to detail doesn't have to.
I won't say too much about the projected plans for the brand except that there will be some bricks and mortar involved eventually, hopefully, but in the meantime we are really excited to explore the opportunities for a mobile restaurant in the Sonoma County and North San Francisco Bay area. We want to team up with wineries for regular and special events and will probably head up to Santa Rosa for the weekly lunch crowd. Once we make a name for ourselves, we want to join the San Francisco food trucks (who are super intimidating, by the way) for some of their events. And as I said in the last announcement, Petaluma is already putting itself on the foodie map, so we also would like to join forces with the breweries and other food businesses there.
Going the mobile route has its own set of challenges (many regulatory or political), but Arthur and I think we can handle it. Whether we can handle working in such a small space together without strangling each other, however, is another story.
January 28th, 2013 | Rachel
The second big announcement of the week is that Steve and I are going to have a change of scenery very soon.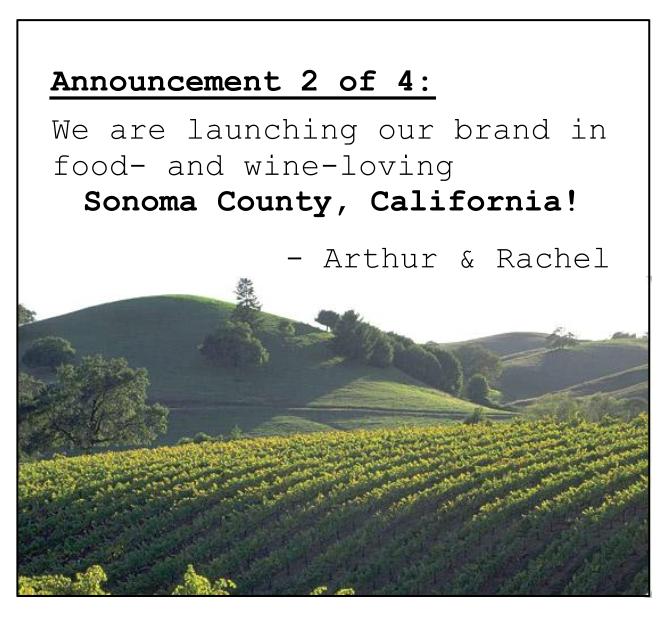 Although I have loved living in Capitola and Santa Cruz the past year, the truth is that there is a much more promising market two hours north of here. Sonoma Valley already attracts a large number of people who love good wine. We suspect that many of them also appreciate good food. When Arthur and I were on a scouting trip a couple of weeks ago, we had lunch at a successful California country restaurant located between Sonoma and Napa and found ourselves surrounded by young professionals from San Francisco who had driven up for the day to enjoy the scenery, wine, and a bite to eat.
Also in Sonoma County is another city, Petaluma, that is already the home to a number of breweries and other food-related companies. The sources of fresh ingredients are plentiful, and we will certainly benefit from being in a community of other culinary entrepreneurs.
And, of course, all of this is conveniently located less than an hour north of a few other cities within our sights, such as San Francisco, Berkley and Oakland.
A small number of you might remember that I originally had my heart set on living in French wine country, and it was a trip to Napa and Sonoma that made me decide to move to California instead. Once again, the vineyards are calling, and I look forward to my daily commute through the rolling hills of Sonoma County and the north end of San Francisco Bay. I also look forward to see you when you come and visit!
January 27th, 2013 | Rachel
The question I've been asked the most frequently in the past year is, "So… what exactly are you doing?"
Today, I will tell you.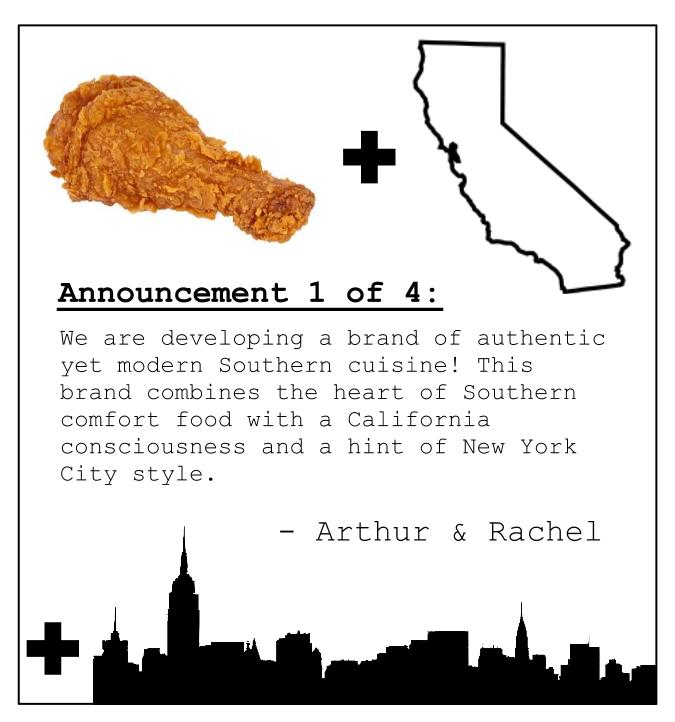 That's right. We are developing a brand of food businesses.
Arthur and I have designated ourselves missionaries for true Southern cooking (or maybe I chose that term, but you get the idea). Although there are a few food establishments in Northern California who purport to serve some sort of "country" food (Arthur and I have termed them "California country"), all seem to be based on generic, undefined caricatures. Indeed, when I mention the phrase "Southern cuisine," no one here seems to know what I am talking about.
In our business planning, we have been hard-pressed to find an existing food establishment that embodies the spirit that both Arthur and I recognize and value in authentic Southern cuisine. We see this void as an open door. Through this brand and the products it produces, we want to explore the roots of "comfort food" and demonstrate how much better this genre of cuisine can be when it is correctly and thoughtfully executed. Also, in joining the world of customer service, we hope to exemplify the truest form of "Southern hospitality."
Of course, we've decided to add a little twist to otherwise old favorites, and so we have committed ourselves to using all-natural (and organic where possible) ingredients from local sources. Further, in recognition of the city that imprinted itself into our hearts and brought us together, we are approaching the brand and the business from a decidedly New York City perspective (read: it is going to look amazing, and we are taking the behind-the-scenes business development pretty seriously).
I realize this might spark more questions than it answers, but please stay tuned for the rest of the announcements this week!
January 22nd, 2013 | Rachel
A special announcement (about future announcements) from my business partner and me: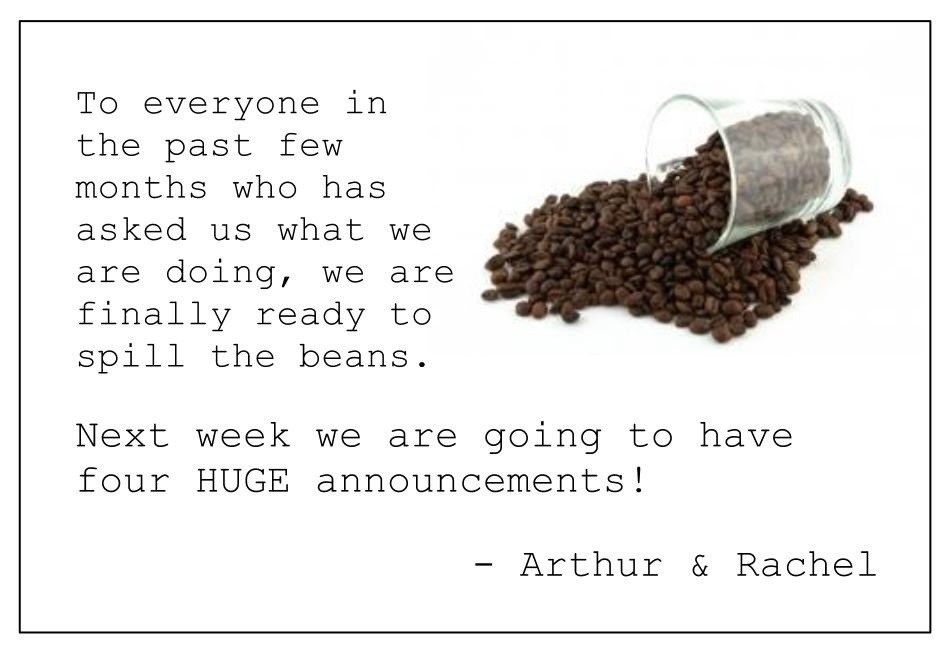 That is all I'll say for now.